What is Zenfolio?
Zenfolio is a website builder that will allow you to build impressive websites with simple drag-and-drop functionality. However, this particular website builder is a niche-specific tool. It is best suited for people who want to build photography websites.
Yes, you read it right! If you are a photographer, Zenfolio is an option you should consider. However, if you are a simple blogger or you are trying to build a business site, there are other options like Wix, Squarespace, Weebly, etc.
Zenfolio was launched in 2006. Since then, over 10,000 professional photographers have used their services to build their websites and online stores. The platform makes it easy for photographers to share their work and communicate with their clients comfortable.
Being a niche-specific website builder, Zenfolio provides all the necessary tools that a photographer needs to create something stunning!
Before I dig deep into the Zenfolio review and give my verdict, I will like to reiterate a point that is universally accepted by everyone.
What platform you use for building your website is dependent on what you need and what your goals are. There is no such thing as "absolute best." There cannot be! Any platform you use will have its strengths and weaknesses. For some people, the strengths outweigh the weaknesses. For others, the drawbacks are a deal-breaker.
So, whatever you read here is my personal opinion that may differ from what you think or believe. Thus, I will always recommend that you try out the services first.
The good thing about Zenfolio is that the starting price is minimal. The amount they charge you per month cannot even cover your daily coffee expenses! So, give it a try.
Talking of price…
The Pricing Structure of Zenfolio
Before I go ahead and give a quick overview of the pricing structure, you need to know that you can use the service for a limited time without paying a dime.
Yes, they have a free trial option that you can use to test their services. Only when you are happy with their platform you can buy a premium plan. To use their trial, you can click on this link.
Yet another great thing about their trial is that you don't have to add any credit card for validation. You can go ahead and create an account. At the end of the trial period (it ends in 14 days), you will have to add a payment mode.
Okay, now talking about the pricing structure, they have three different plans to offer.
The Starter Plan
This plan comes with a monthly price of $5 billed annually. So, you have to make a one-time payment of $60. However, you can also go for a monthly billing in which the monthly price will jump to $7.
This plan will give you the ability to:
Add your own domain.
Upload unlimited photos and videos.
Integrate social media accounts.
Create a beautiful homepage and galleries.
Organize everything with a drag-and-drop feature.
Access through any device.
24 x 7 customer support.
In case you are looking forward to more advanced features, you need to upgrade.
The Pro Plan
This plan will cost you $20 a month billed annually. If you want to go for a monthly billing cycle, the price will be $28 a month.
As far as the features are concerned, you will get everything offered by the Starter plan plus the following:
Ability to customize your site.
Ability to add custom watermarks.
Client proofing and photo-sharing capabilities.
You will also get a built-in shopping cart where you can sell your photographs using PayPal or credit card processing.
You can sell digital products (photos)
You can buy products from or sell products to leading labs.
You will also enjoy a full-service marketing campaign for free.
You can offer custom packages.
You can even create a pre-order ability for your clients.
You will have access to dedicated live chat support.
If these aren't enough for you, you can always upgrade to the next plan (which is also the highest plan available).
The Advanced Plan
If you are purchasing the advanced plan, you will get everything you get in Starter and Pro plan plus the following:
You will get additional tools if you are an event, dance, sports, or school photographer.
You can set the minimum order quantity.
You can define different methods of shipping.
You can add boutique packaging.
Shopping cart recovery with promotional items on pending orders.
Create mini-sites for easy event management.
You can export orders and favorites to Adobe Lightroom.
You can add bonus products for people purchasing a package.
You can create a multi-user account and assign privileges accordingly.
You will get dedicated live chat and phone support.
Well, the Advanced plan is the priciest where you have to pay $30 a month billed annually. If you choose a monthly payment cycle, you have to pay $42 per month.
Okay, now that you have a quick idea of the pricing structure Zenfolio offers and the associated features, it is time to take a look at the core features and understand them properly.
Core Features of Zenfolio
Before you select any website builder platform, you need to look into a few important things. In this case, since photography is your primary business, you need to ensure that the platform you are selecting has the basic stuff you need.
Here is what Zenfolio offers:
Unlimited Uploads
Photography is an interesting thing. However, when you try to take your photographs online, you need to make sure that there is enough space available for storing them. Professionally shot photographs can be heavy. Almost every photo you upload will have a large file size to ensure that they look visually appealing. If your photos lack visual appeal, you will find it difficult to sell.
Zenfolio ensures that you get unlimited storage space no matter which plan you select. This is one segment where other platforms will cripple you if you select their lowest available plan. That's not the case with Zenfolio. Irrespective of which plan you select, you will have the ability to upload as many photos and videos as you want.
Because of the unlimited storage space, you don't have to worry about the file size either. Just ensure that images are processed well enough to maintain their visual appeal but are still light enough to not make your website super slow.
Custom Domain
This is absolutely necessary. Please understand the fact that a certain degree of your professionalism is lost when you are using a third-party domain name. If your photography has your domain name, it is far more convincing for potential buyers. Zenfolio will allow you to add a custom domain name to any plan you select. That's a great feature!
Unlimited Galleries
Professional photographers will usually not settle for a single shot. They will opt for multi-angle shots for the same thing. Of course, that makes sense. They may even photograph similar things. Or, they may photograph and entire event!
Arranging all of these in simple and visually stunning galleries is a must. This allows for easy navigation and better organization. Zenfolio will allow you to create unlimited galleries no matter which plan you select.
Image Sharing Capabilities
You need to be able to share your photographs with your clients so that they can see them and select the ones they like. The thing is that your clients can always come to your website directly and look for new additions. But is that logical or even acceptable? You should be able to notify your clients whenever you have a new set of photographs available.
Zenfolio will allow you to provide secure access to your clients to access the galleries. Apart from this sharing capability, Zenfolio will offer features like custom watermark addition, the ability to save favorite images, etc. These features not only enhance the security of your photographs by protecting your copyright but also provides features that your clients will find helpful.
Marketing Tools
You will not get marketing tools in the Starter plan, but if you are opting for the Pro or Advanced plan, you will get access to certain features that will help you to market your work in a better way. Some of the essential marketing tools that you can use include:
Ability to create free directory listing.
Ability to create a search-engine-optimized blog.
Ability to ask visitors to sign in.
Ability to capture the contact information of your visitors.
Get access to automatic email marketing features.
Use pre-built email and marketing templates.
Provide coupons and discount certificates.
Ability to share work on social media accounts.
Shopping Cart
If you can't sell your photographs, it doesn't make sense. That's the reason why Zenfolio allows creating an online store starting from its Pro plan. The online store you create comes with some advanced features like the ability to take pre-orders or sell digital files, abandoned cart recovery, etc. It also allows payment processing through PayPal and credit cards so that you don't have to worry about those things at all.
On the downside, Zenfolio will charge a 7% flat fee for all photos that you sell, irrespective of the currency, or plan you select. The good news, however, is that you can put a price tag on your photographs accordingly.
The flat fee is applicable if you are selling products that are digital downloads or are self-fulfilled or vendor-fulfilled. Of course, the service fee is not based on the markup that you add. It is based on the total selling price. Also, do not forget that there will be no changes in the service fee when you are offering discounts.
How Easy or Difficult is Zenfolio?
I had to figure this out, and so I decided to try their 14-day trial. When you register (either for the trial or for a plan), you have to tell them the type of photographs you shoot. You also need to tell them the features that you want to use. Here is what you see when you sign up:
Once you provide the necessary information, you will have to move on to the next step to select the design. This is what you see when you move on to the next step:
When you are done selecting the design, you will move on to the next step, where you have to add your photos. For the purpose of this tutorial, I have downloaded a few photos from Pixabay (free stock photo site) and uploaded them. Here is what you see when the upload is completed:
After you have completed uploading the photos, you will have to move on to the next step, where you need to provide a description for your website.
The description field is absolutely necessary for SEO purposes. So, make sure that you are adding proper details. Here is what you see on that page:
After you have added everything, you will see the preview button. In reality, however, when you click on the preview button, you will be taken to your Zenfolio dashboard instead of the preview.
This might be a bit confusing because I expected to see the site's frontend and not the dashboard. Anyway, that's not really a big deal whatsoever. Here is how the dashboard looks like:
If you want to see the website preview, you can click on the preview button you see on the dashboard. Here is a closer look:
Clicking on the preview button takes you to the frontend of the website. Here is how the website looks like:
Clicking on any image will pull up the gallery (lightbox gallery), which looks like this: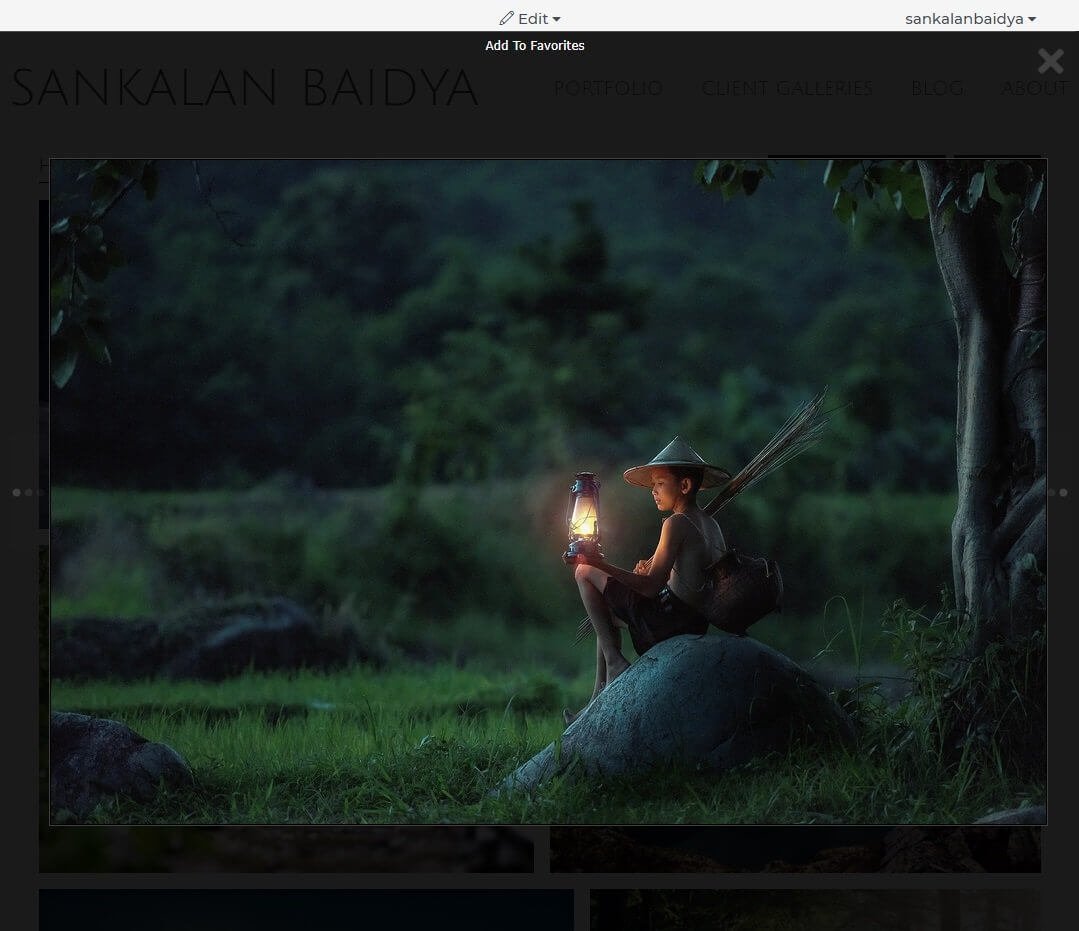 If you want to change the privacy setting or add download rules or even change image display size, enable or disable comments, etc. You have to do all that from the Zenfolio dashboard by clicking on the access button that sits right next to the preview button.
Here is what you see on the access settings page:
If you want to customize your website (change theme, edit header, and footer, etc.), you can do that by accessing the "Website" menu on the top and then selecting the "Customize Website" submenu.
You can also create galleries specifically for clients and hide them from general visitors to your site. To create client galleries, you have to use the menu options you see on the left side of the dashboard:
In case you want to sell your images online, you can set up a store. For that, you need to click on the Selling menu on the top of the dashboard. This is what you will see:
You can get a walkthrough with tooltips if it looks really confusing. However, the truth is that the entire setup process isn't very difficult. Still, if you need, you can get a 40-minute 1-on-1 session with one of Zenfolio's customer support experts who will help you to set up your website and store.
That option can be accessed from the chat option you can see on the dashboard's righthand corner (bottom) or from the bold green button you see on the top menu:
Either way, Zenfolio is really simple to use. The dashboard is very simple to navigate around, and you can access their customer support help anytime you want right from within the dashboard. You can access their training videos or support center articles from the Help menu you see on the top righthand corner.
Overall, I am highly impressed with what Zenfolio offers and how well organized the entire platform is. Of course, there will be some learning curve, but you can overcome those problems by accessing help anytime you want.
What I like most is the astonishingly simple navigation and ease-of-use. Albeit, it is designed with rookies in mind so that people can focus on what is necessary and not on setting up the whole site from scratch.
Shortcoming of Zenfolio
Not everything is good about Zenfolio. There are issues that you need to know. The most astounding downside of Zenfolio is that it is focused primarily on photographer features and not business features.
For instance, purchasing software for photographers might be great, but what if you want to adopt different business models like sponsorship, content, courses, etc.?
With Zenfolio, you can do great things like client viewing, print purchase, gallery uploads, etc., but when it comes to other aspects of business such as content marketing, adding schema, attracting sponsored links, etc., you will find that Zenfolio lets you down.
Yes, they have a basic SEO setup that allows your website to be found and indexed by search engines, but that not all! You might want to create amazing blogs with full SEO support or create courses for novice photographers, or even attract links. Zenfolio will give you limited SEO capabilities that will severely hinder your other business growth opportunities.
I understand that Zenfolio is more focused on pure-play photographers, and you should be fine with Zenfolio if you are one such photographer. If you are looking for advanced marketing, business, and e-commerce tools, you have to look somewhere else.
This brings us to the next segment of the review…
Zenfolio Versus Alternatives
If your business approach is different from what Zenfolio offers, you might want to look at other alternatives. Here are a few of them for you:
Zenfolio vs. WordPress
When it comes to building a website with absolute control minus the burden of coding, WordPress is the go-to software. Everyone agrees to this! It powers more than 30% of the web. You can understand how popular it is!
You can opt for WordPress.com – a hosted solution where you will lack control. It is better that you go for WordPress.org – a self-hosted solution where you have to download WordPress and install it on a server. Luckily most hosting companies offer one-click installation. That means that you don't have to bother about the technical aspects.
WordPress is so powerful that you can build anything you want. If you want a photography site, you can do that using myriads of paid and free photography themes you can access. It is always better to go for a premium theme that will give you maximum control and flexibility.
For selling, you can create an online shop with a simple plugin called WooCommerce and use a photography-oriented WooCommerce theme to set up a shop. It will even allow you to integrated third-party software choices like 500px, Adobe, etc.
Unfortunately, there will be a learning curve that you might find difficult, especially with WooCommerce. If you don't want to learn stuff apart from photography, Zenfolio should work fine.
If you are open to learning, WordPress will give you the ultimate power you need. It is essentially a blogging platform with such versatility that you can create a website the way you want. This leaves room for many things to include the integration of other business strategies like course selling, link building, blogging with full SEO support, and much more!
Zenfolio vs. Wix
Wix is one of the most popular website builders in this world. It is done designed with photographers in mind, but it has features that allow creating a photography website with ease.
What's best is that you can use Wix for every type of website and not just a photography site. On the downside, it doesn't come with built-in features that photographers find essential. You have to use third-party integrations to build a full-blown photography site.
Wix is not really a comprehensive photography website builder, but will some tuning here and there, you can build one.
Zenfolio vs. SmugMug
If Zenfolio has a direct competitor, SmugMug is the one. It is an image hosting service and offers a website builder, print ordering, client management, sales tools, etc. Everything remains bundled in a single subscription.
SmugMug because a formidable competitor of Zenfolio after it acquired Flickr. Post-acquisition, they redesigned and repriced everything, making themselves more approachable for anyone from rookies to advanced professionals.
SmugMug's website builder will allow you to play around with CSS and HTML, and they have cleaner designs and templates. Of course, when compared to head-on, Zenfolio has more features that are photographer-oriented. Compared to SmugMug, Zenfolio has a smoother and easier approach.
The one you select will depend on what you want to achieve, and they type of workflow you need. SmugMug is better if you are looking for editable templates with cleaner plan options. Zenfolio is better if you are looking for more client-focused features.
Zenfolio vs. Squarespace
Squarespace is yet another famous website builder. It is particularly known for its ultra-clean and stunning website templates. You can build a photography website using Squarespace and even sell your work. However, you have to manually integrate third-party software like 500px or Adobe.
If you are looking for a solution that already has photography features bundled, Zenfolio will be a better option than Squarespace.
Pros and Cons of Zenfolio
The Pros
It will allow you to get in touch with a network of professional photographers through photographer central.
Your work will be listed on photographer central (free or paid – depending on your plan) that will attract potential customers.
Allows adding music to image galleries, making it a more soothing experience.
Website templates are optimized for all devices. They have a responsive design.
You can build custom pages or work with built-in pages.
They don't use flash. The websites are all built using HTML, giving them an edge when it comes to SEO.
The Cons
Too many options in navigation can make it a bit intimidating at first.
They don't give web fonts. You are limited to only 12 system fonts.
The WYSIWYG editor you get to build pages doesn't support complex things like columns, forms, maps, etc.
Customer Support of Zenfolio
Their customer support is available 365 days a year and 24 hours a day. However, you have to contact them through emails unless you have a Pro or Advanced plan, which provides live chat support. They respond to your email queries within 4 hours.
However, they do request you to check their help center articles and help videos where you can most-likely find solutions to your basic queries. You can use their user forum, as well, to get help from real users.
They, however, explicitly mention that if you want to ask about a particular gallery or a photographer, you should contact the photographer directly.
Conclusion & Verdict [Recommended]
I recommend using Zenfolio if you don't want advanced business and marketing tools that are usually related to the non-photography business model. Zenfolio gives everything related to photography bundled in a single place. This is ideal if you are a pure-play photographer, and you don't care about any other form of business expansion.
Zenfolio has quite some advanced tools, and it is very simple to use. However, if you are okay with their limited number of templates, inability to use web fonts, and absence of power WYSIWYG editor features, Zenfolio is one of the best options that the market has to offer. It is decently priced and is suitable for all budgets!