While Zapier is suitable for almost anyone, you may have your reasons to look for Zapier alternatives. One of the primary reasons may be that the automations Zapier offers might not be what you need. Another reason may be that Zapier pricing might not be suitable for your business requirements.
No matter what the reason be, if something is propelling you towards finding Zapier alternatives, you have quite a few out there that are ready to solve your specific needs.
In this article, we are going to investigate the 10 best Zapier alternatives. In all likelihood, you are already aware of what Zapier is, and how it works. In case you are one of those handful people who are not aware of the whole concept of Zapier, I have compiled a few quick sections that explains Zapier in its entirety in layman terms.
Read through them and once you are done reading, feel free to jump to the list of best Zapier alternatives in 2022.
Let's begin…
What is Zapier?
Zapier is a web-based business established in the United States that enables users to connect the applications they use on a daily basis and automate their processes appropriately.
Zapier enables busy individuals to transport data across applications for quicker work and simpler automation. It enables you to concentrate on your job rather than switching between apps.
Zapier automates workflows without requiring any code, allowing you to design processes quicker and do more work in less time. The program is well renowned for its time-saving features and ease of app integration.
Zapier Modus Operandi
Zapier enables users to initiate processes from any app.
For instance, in the above screenshot, you can see that if a Gmail message has an XYZ attachment, Zapier immediately performs the operation of copying the attachment to Dropbox from Gmail.
Finally, the user receives an alert for the newly added file in Dropbox through another program, Slack.
Nota bene: The preceding process (Gmail-Dropbox-Slack) is provided as an example. You may use any process with any app.
Zapier Key Features
Zapier's self-automation feature enables users to create zaps (workflows) with just a few clicks. Anyone may construct and customize processes based on their own needs.
Each account has built-in tools such as a message box, a phone app, reminders, and calendars, as well as a variety of additional apps for developing complex workflows.
Excellent client support, rapid development of new concepts, and the delivery of clean and tidy code except for debugging issues.
Small firms may benefit from intelligent automation by concentrating their efforts on sales instead of spending time on data input.
A fantastic tool for marketers looking to develop intelligent marketing strategies and get more leads at a lower cost.
Contribute new thoughts, ideas, and designs to the community and solicit feedback.
Zapier Advantages
Integration with applications is quite powerful.
Intelligent automation.
Simple and intuitive dashboard.
Appropriate file and folder structure.
Workflows that are unique.
Zapier Disadvantages
The price rises as more zaps are used.
Zapier Pricing for Individuals & Professionals
Zapier provides a free plan for anyone to get started with their basic tasks.
Among the paid plans offered by the company are the following:
Starter: For strong automation, one grade above the free plan is this Starter Plan ($19.99 per month).
Professional: Advanced tools for more stringent specifications ($49 per month).
Zapier Pricing for Teams & Companies
It has two distinct options for big teams and businesses:
Team: To facilitate collaboration across huge teams ($299 per month).
Company: For businesses and organizations of considerable size ($599 per month).
Okay, now that you have a fair idea of what Zapier is, how it works, and how much it costs, let us dive into the list of best Zapier alternatives.
Ready?
Great!
Best Zapier Alternatives
#1. LeadsBridge
LeadsBridge is an integrated platform as a service (iPaaS) that helps businesses to optimize their omnichannel strategy by coordinating their company data.
LeadsBridge satisfies your integration demands by bridging the gaps among sales funnels and advertising platforms and customizing integrations to your business's specific requirements.
LeadsBridge is ideal for businesses looking to simplify their advertising efforts by combining their marketing technology stack with LinkedIn Ads, Google Ads, and Instagram & Facebook Ads.
With over 370 out-of-the-box connectors available at the present, you can effortlessly link your selected software to your advertising platform, syncing data for your marketing processes in real time.
Key Features of LeadsBridge
Audience Targeting: By integrating customer lists, email marketing contacts or CRM segments with LinkedIn, Facebook, and Google Ads, you'll be able to automatically develop the greatest audiences while remaining compliant with a wide range of privacy rules, including GDPR.
eCommerce Synchronization: It enables eCommerce businesses to sync their connections and orders between their eCommerce platform and the most widely utilized advertising networks, such as Instagram and Facebook.
Lead Sync: Leads from LinkedIn Lead Gen forms, Google Lead Form Ads, and Facebook Lead Ads may be seamlessly synced with your preferred Email Marketing software and CRM.
Online to Offline Tracking: This application enables you to monitor offline transactions and analyze the effectiveness of internet marketing. LeadsBridge makes this service available on Google via Google Offline Conversions, and on Facebook via the Facebook Conversion API.
Platform to Platform: Through LeadsBridge, you can link your company's platforms to increase team effectiveness and eliminate data silo concerns.
Tailor-Made Integration: It enables complicated processes to be integrated in a customized manner. This is appropriate for businesses with specific requirements that are not covered by the integration list. LeadsBridge assists such businesses in integrating bespoke or internal CRM systems.
LeadsBridge Pricing Plans
LeadsBridge provides a seven-day free trial. After the trial period expires, you must subscribe to one of their premium plans, which include:
Marketer: It costs $23 a month on an annual billing cycle.
Hero: It costs $41 a month on an annual billing cycle.
Guru: It costs $89 a month on an annual billing cycle.
Business: Pricing starts at $999 a month.
#2. APIFuse
APIFuse is a SaaS-specific embedded integration platform. APIFuse allows technology and product executives to react quickly to requests for end-user integration without increasing the development backlog.
If you're a SaaS firm wanting to provide native integrations to your clients, APIFuse is the answer for you. It enables you to concentrate on your primary product offering without worrying about developing or managing third-party connections.
By using APIFuse, you may enable consumers to connect their applications from inside your SaaS platform, without ever leaving it.
Key Features of APIFuse
White-labeled Marketplace: SaaS firms may use their own custom-branded marketplace to display their most frequently requested connectors.
Customer Analytics: SaaS firms may receive important insights about which integrations are being used the most and the sorts of activities being configured by their customers, enabling product managers to effortlessly prioritize which new connectors to deploy.
Monetization: Product managers have complete discretion over how they price their native connections depending on the sorts of integrations offered, the number of API calls, or the amount of personalization they want their clients to have access to depending on their unique pricing plans.
White-labeled Workflow Builder: Allow customers to construct their own unique integrations without relying on third-party tools or system integrators by exposing process automation right inside your SaaS application.
APIFuse Pricing Plans
APIFuse offers three pricing plans that include:
Growth: It costs $899 a month and allows up to 250,000 API calls.
Platform: It costs $1,499 and allows up to 1,000,000 API calls a month.
Enterprise: It comes with bespoke pricing. You can get customized number of API calls a month.
#3. ZigiOps
ZigiOps is an on-premises integration platform for business application data that requires no coding. Additionally, they provide a cloud-based version.
ZigiOps was born out of a desire to assist you in automating procedures and enhancing cross-team communication. It works in your environment effortlessly, extracting and transmitting data across systems in real time. Its recovery features guard against the loss of critical data in the event of a system failure.
Key Features of ZigiOps
Allows anybody to do integrations from any location: Without any technological knowledge, anybody can set up a connection in less than 5 minutes. The template repository with pre-configured use cases simplifies the process even more.
Integrations that are very adaptable and configurable: After an integration has been set up, users may alter it by adding data mapping, additional filters and more.
Adapts to any application: ZigiOps is a mature solution that is capable of supporting almost every client use case, irrespective of its complexity.
Deep integrations: The software goes beyond a cursory examination of data relationships to capture complicated data interdependence. It synchronizes entities that are connected at any level.
Manages a large number of queries: ZigiOps is a strong tool that can process as many requests per day as your systems are capable of handling.
On-premises solution with cloud connectivity: Although the platform is housed on-premises, it supports both on-premises and cloud installations.
Security: ZigiOps serves as a bridge between systems and does not store any data.
ZigiOps Pricing
ZigiOps provides a 14-day free trial and a free proof-of-concept. They do not provide price information publicly. Whichever deployment method you choose – on-premises or cloud – you will get the following with your product.:
Integration of two systems in both directions.
Customer service
Integrating deeply: collecting complicated data relationships.
Readiness of the enterprise.
Synchronization of data in real time.
Intelligent data loss prevention.
Support for an unlimited number of custom fields.
Users are not restricted in number.
Synchronization of processes (ex: incident-task).
#4. IFTTT
IFTTT, which stands for "If This Then That," is a framework for chaining together basic conditional statements known as applets. These applets represent the modifications made as a result of other integrated online services.
For instance, get informed when a new email, tweet, or other kind of post is made. IFTTT simplifies your everyday life by allowing all of your applications to work together in innovative ways. Additionally, IFTTT is compatible with iOS and Android devices.
Key Features of IFTTT
IFTTT is a free service that enables your applications and gadgets to communicate with one another for quicker and smarter automation.
Compatible with social networking applications, allowing you to publish and tweet from anywhere and have them appear everywhere.
It enables you to customise your mobile assistant by synchronizing across your devices.
Additionally, it gives applets for music fans by connecting with SoundCloud, Spotify, Saavn, and Songkick.
Notifies you of new Instagram posts, weather updates, reminders, news updates, and music updates, among other things.
IFTTT Pricing Plans
IFTTT has various pricing plans available that include:
IFTTT Standard: It costs nothing.
IFTTT Pro: It costs $3.99 a month.
IFTTT Developer: It costs $199 a year.
IFTTT Team: Pay as you grow.
IFTTT Enterprise: Custom pricing.
#5. Microsoft Flow (Microsoft Power Automate)
With Microsoft Flow, you can work less and accomplish more. It enables you to construct automatic processes between your favorite apps and get alerted of even the smallest changes.
Flow provides access to many major Microsoft services, including OneDrive, SharePoint, Office Outlook, and Dropbox. It's simple to get started with Microsoft Flow; just choose a layout from the featured library and get started.
Key Features of Microsoft Flow
Consolidate Microsoft's strong applications with the automation capabilities of Microsoft Flow to make smarter choices.
Increase your return on investment (ROI), decrease development costs, and improve business process efficiency using Flow and PowerApps.
Get popular Microsoft services and connection with your favorite applications such as Facebook, Instagram, and others.
Customizable and conditional flows, interfaces with on-premises and cloud systems, monitoring, and data filtering.
Drag-and-drop workflows, automatic workflows, and templates are all supported, and the application runs on iOS, Android, and Windows.
Microsoft Flow Pricing
There are three pricing plans available that include:
Per user plan: $15 per user per month.
Per user plan with attended RPA: $40 per user per month.
Per flow plan: Starting at $500 for 5 flows per month.
#6. CloudHQ
CloudHQ is a famed tool for Gmail productivity which enables you to share, classify, and collaborate on emails, as well as monitor them using a free tracker for emails. The finest element is that it enables real-time data protection for all G-accounts.
Additionally, CloudHQ is trusted by major businesses such as Twitter and Uber. It's the optimal platform for all of your G-suite (now Google Workspace) work and the ideal answer for other cloud environments.
Key Features of CloudHQ
You may seamlessly sync and move to G-suite with all your accounts.
Save emails in Excel, zip file, PDF, or CSV format using Chrome's plugin.
Label sharing enables sharing emails with labels and even collaborate on them, which is ideal for Sales, Customer Service, and Human Resources.
Chrome extension enables you to exchange many emails using an email monitoring service that is completely free.
Free meeting planner, email templates, automated follow-up, SMS and text notifications, video emails, email links, screenshots, and screencast recording, among other features.
CloudHQ Pricing
CloudHQ provides each customer with one complimentary plan. However, its premium plans are somewhat distinct from others; for instance, each function has its own price structure.
Paid plans include:
Premium: It is designed for professionals and costs $118 per user per annum.
Business: It is designed for small companies and costs $300 per year for 3 users.
Enterprise: It is designed for large organizations and come with custom pricing.
#7. PieSync [Now Part of HubSpot's Operations Hub]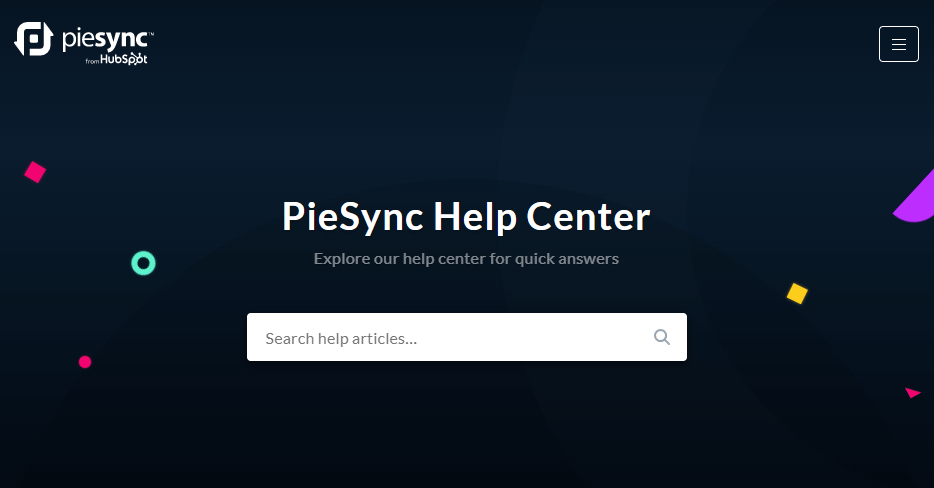 PieSync is a platform that was created specifically for the purpose of real customer data synchronization. It enables you to maintain bidirectional data sync across all of your corporate applications and devices. PieSync was created to save hours spent on manual data input and to keep client information current and safe.
Additionally, no coding is necessary to keep client data. You may quickly develop and add actions to your work in a few easy steps.
Key Features of PieSync
You can simply mix data from several applications and produce a 360-degree view with PieSync's clever two-way synchronization.
PieSync enables you to enhance your sales and profitability by automatically updating and removing duplicate data.
The flexibility to work with any application that is appropriate for your company.
It scales and syncs for businesses of all sizes, allowing you to add team members in one location and managing your work easily.
Maintaining everything on Piesync ensures that your reports and data are always up to date, allowing you to make quicker choices.
PieSync Pricing
PieSync provides a unique approach to pricing plans. It provides a variety of plans based on the quantity of contacts you want to sync.
Plans include:
Starter: $49 a month for 1,000 contacts.
Pro: $59 a month for 1,000 contacts.
Note: PieSync is not available as a part of HubSpot's Operation Hub. Thus, if you want to use PieSync, you cannot use it as a separate service. You must have a HubSpot account.
#8. Integromat
Integromat Integromat is dubbed the "internet's glue" due to its claim to have the most sophisticated online automation system. It enables you to automate laborious processes and is capable of transmitting and transforming data.
It integrates easily and robustly, with a beautifully created editor that enables simpler automation and support for a variety of applications and services.
Key Features of Integromat
Observe how your automation performs in real-world scenarios and how your data flows across various applications and services.
It enables you to get precise information about each workflow and to determine what data was handled and when.
Simpler and more familiar functions, akin to Excel operations, for summarizing data, calculating aggregates and percentages, and so on.
It enables you to choose a beginning point for processing your data.
Integrated routers, aggregators and iterators, execution history, error handlers, scheduling, real-time execution, and templates, among other features.
Integromat Pricing
As with other applications, it provides a free plan with 1,000 operations and a maximum interval of 15 minutes.
It provides four distinct paid plans:
Basic: Designed for 10,000 operations per month at a 5-minute frequency (costs $9 a month).
Standard: 40,000 operations per month at a 1-minute frequency (costs $29 a month).
Business: 150,000 operations per month at a 1-minute frequency (costs $99 a month).
Platinum: 800,000 operations per month at a 1-minute frequency (costs $299 a month).
Custom: Custom pricing.
#9. Actiondesk
Actiondesk is a SaaS or software-as-a-service provider that enables non-technical employees to create automated processes based on data. It enables users to input data, alter and change it, and export it outside. Actiondesk saves business teams time and money by assisting them in developing effective automation using basic abilities.
Key Features of Actiondesk
Workflow management and data-driven automated workflows aid in the management and seamless flow of work.
Metadata management facilitates the description of other data.
Any SaaS, with the exception of enterprise SaaS.
Very frequent updates provided in minutes and hours.
Import data from and export data to any location.
Actiondesk Pricing
Actiondesk offers a 14-day free trial after which you must upgrade to one of their paid plans. They offer the following options:
Premium: $169 a month for 10 users and 5 data sources.
Business: $499 a month for 25 users and unlimited data sources.
Enterprise: Custom pricing for unlimited users and unlimited data sources.
#10. Automate.io
Automate.io is another significant Zapier rival, serving over 30,000 enterprises globally. Unlike Zapier, this drag-and-drop tool enables you to create complicated processes that span many applications. The best part is that this function is included in all plans, even the free one.
The vast number of tasks that users may process is a significant advantage of utilizing Automate.io. This is especially true if you want to automate operations such as newsletter integrations or email marketing integrations that need a high volume of repeated actions.
Key Features of Automate.io
Use the drag and drop interface for creating integrations visually.
Seamlessly connects with 200+ cloud applications using webhooks or REST API.
Powerful tool for adding conditional logic, data formatting, or introducing time delay into workflows.
Powerful sharing and collaboration tools that allow creating and sharing workflows with team members.
Data encryption at rest and in transit to keep data secure.
Audit logs and data retention controls.
Automate.io Pricing
Free: Zero cost for 300 actions monthly and 5 bots.
Personal: $9.99 a month for 600 actions monthly and 10 bots.
Professional: $29 a month for 2,000 actions monthly and 20 bots.
Startup: $49 a month for 10,000 actions monthly and 50 bots.
Growth: $99 a month for 30,000 actions monthly and 100 bots.
Business: $199 a month for 100,000 actions monthly and 200 bots.
Conclusion
Are these the only alternatives to Zapier? Not really, no! There are many more. Some of the other noteworthy names that can easily get into a list like this include:
Coupler.io
Outfunnel
Workato
Tray.io
Zoho Flow
n8n.io
Exalate
Those are just only a few of the many that have not been included in the list. You can find more with some more research. However, as I mentioned earlier, you must consider going through each option to find out the one that suits your business needs.