What is WPX Managed Hosting?
WPX Managed Hosting is a fully-managed WordPress hosting solution that focuses on two things – giving incredibly fast WordPress websites and saving abused and vulnerable dogs (and some cats)!
Surprised? Well, they do that! As a managed WordPress hosting provider, they take care of everything from hosting to caching and even CDN. The company takes pride in offering their custom-built CDN with 26 global end points and even loads DNS from CDN, which gives them the necessary speed boost.
As far as saving dogs and cats are concerned, they have a 3-acre farm where they give shelter to the abused dogs and cats under their Every Dog Matters (EU) initiative!
After years of blogging and struggling with my hosting providers, all I could think of was to take control. That left me with one choice – cloud hosting. But that required learning technical things. I did learn a lot, and there's much more to learn.
But that didn't mean that I stopped looking for options where I could focus on my business rather than spending time learning how to handle a server. That's not my forte. That search landed me on a different variant of hosting – managed WordPress hosting.
Over the days, months, and years, I reviewed several of them, including the famed ones like WP Engine, Kinsta, Flywheel, and more. Some were good, some not so great! So, I continued the search and eventually landed on the WPX homepage that boasted of giving things that no other provider would, which included custom-made CDN and, of course, arguably the fastest WordPress site.
I had to test the service, but before I jumped onto the bandwagon and bought a plan, I wanted to learn more about the company. So, I started reading and found that they save dogs and cats under their non-profit initiative known as Every Dog Matters (EU). Trust me, I had eyes in my tears. I mean, tears in my eyes. I just wanted to use their services.
However, practicality struck me, and I knew that their benevolent act cannot be a parameter of gauging their hosting strength. So, testing was the only way to find out whether they are really worth using or not.
This review of WPX managed WordPress hosting will tell you all my experience with them and whether they are even worth a single penny you spend on them or not! Continue reading…
The Prime Features of WPX Managed Hosting
WPX managed hosting offers a number of interesting features that will make anyone believe that they are needed the best managed hosting provider in the world. We will find out the truth shortly. But before I show you the results of the website speed test and server response time, let's go through the most important features that this hosting provider has to offer.
Here we go…
LiteSpeed Web Server
LiteSpeed web server is the latest breed of web servers. It is way faster than Apache, Nginx or any other web server known. Not every managed WordPress hosting provider will offer LiteSpeed web server. WPX managed hosting is one of those rare service providers that have switched to LiteSpeed.
LiteSpeed plus SSD plus CDN – that's a killer combination you should always be looking for. Together, this combination can give you blazing-fast sites, even if you are running ads on your website. Ads are known to slow down websites significantly. But with that combination, even the worst-performing (in terms of loading speed) ad networks like AdSense cannot slow down your website significantly.
SSD Storage
WPX offers SSD storage on all their servers. SSD is faster than traditional HDD. However, when I asked whether they use SATA SSD or NVMe SSD, the support staff failed to provide an answer. That was not expected. Anyway, even if it is SATA SSD, it should offer excellent results.
Custom CDN
WPX offers a custom CDN that they call WPX Cloud. Their custom-made CDN has 26 global end points. You can enable CDN right from inside the dashboard that they offer. Since WPX uses its custom CDN unlike other managed WordPress hosting providers that depend on third-party CDN providers, WPX claims that it can squeeze their CDN to death to provide maximum speed. We will find it out later.
Custom Control Panel
Many hosting providers have ditched the famous cPanel. Though cPanel is actually a very neat piece of work, this control panel is a bulky thing to deal with and eats up a lot of system resources. That's one of the primary reasons why managed WordPress hosting providers usually never offer cPanel. Instead, they offer a custom-designed control panel that is not only easy to use but also ensures that you get access to precisely what is needed. There's no unnecessary stuff.
Email
It is quite rare to find managed WordPress hosting solutions that offer integrated email solutions. That's not the case with WPX. You get email hosting as well. There's no additional charge for creating email accounts.
Daily Malware Scanning & Removal
Honestly, there isn't much to say about this. They will be scanning their servers and websites hosted on them on a daily basis for any malware infection. If they find anything, they will clean it up free of cost.
Unlimited Free Migration
They will migrate all your WordPress sites for free. You have to request migration by providing them the necessary details using a nice form. They will get things humanly done within 24 hours. This is the first managed WordPress hosting provider I have come across that offers unlimited free migrations, and that too, manual migrations.
DDoS Protection
DDoS attacks are nightmares. I know it because I faced it. Once a DDoS attack hits your website, your website will become inaccessible to regular users. What else? A large-scale DDoS attack can eat up your entire bandwidth in no time. So, DDoS protection is important. Almost every managed hosting provider offers DDoS protection for free, and WPX is no exception to that.
Automated & Manual Backups
With WPX, you will get 28-day automatic backups (simply put, each backup will be retained for 28 days before being replaced by a fresh one). If you want to create manual backups, that's possible, too! You can quickly restore backups from the dashboard with a single click.
Staging Sites
A staging environment is a standard feature of all managed WordPress hosting solutions you can find on the market. This is a nice feature that allows you to create a replica of your website where you can make all the changes you want and then roll out the changes to the production environment.
This ensures that your website readers do not see the changes taking place in the live environment. When you make changes to a live environment, the user experience takes a hit. A staging site helps to eliminate that issue. With WPX, you can create a staging site with a single click.
Unlimited SSL Certificates
With WPX, you get the ability to create as many SSL certificates as you want without paying an extra dime. The free SSL comes from Let's Encrypt – a joint venture between Google and Facebook. The SSL installation process is very simple, and it takes less than 10 seconds to accomplish that.
If you do not want to use free SSL from Let's Encrypt, you can always install a premium certificate that you purchased from elsewhere. It is up to you!
PHP Version
WPX offers PHP version 7.x. The latest and most stable version is 7.4 that you can use. However, if you want, you can always use beta version 8.0 as well. I will no recommend doing that because 8.0 is still in its beta stage, and it may cause serious problems.
There's a File Manager!
Okay, this is something new! No, the file manager itself is not new for me. With shared hosting and cPanel, you have most likely encountered a file manager. The reason why I am saying that this is new is that I have never seen any managed hosting provider offering a file manager. WPX is the only managed WordPress hosting that offers this feature (at least from what I have experienced so far).
Now that you have learned about the features offered by WPX managed WP hosting, let's take a look at the ease of use.
WPX Ease of Use
If the hosting account management interface is awful, you are going to have a hard time. Luckily, WPX takes a completely refreshing take on the interface design and keeps it uncluttered.
Before you can reach the dashboard, you need to register for their service by selecting a plan and creating an account.
During the registration process, you need to provide the domain name you want to attach to the hosting account. If you don't have a domain, you can purchase one through them.
This method was a bit off compared to what I found with other managed WordPress hosting providers. In fact, it reminded me of the plain old shared hosting services where you need to provide or buy a domain during the hosting package purchase.
Honestly, the approach was a bit dated, and I was taken aback. I anyway went ahead after reasoning that this is actually a managed WordPress hosting and not the plain shared hosting.
I provided a spare domain that I had registered a long time back, and it did not take long for me to create the account. Surprisingly, they did not ask for the payment right away. Instead, WPX first created the account and showed me the account with the invoice staring at my face.
The only way I could access the actual dashboard was to pay for the invoice. That's fine. Once I completed the payment, I was given access to the dashboard that looked like this:
The only way I could access the account dashboard was by clicking on the Manage Service button highlighted using the blue box. Though you will see a menu item called Dashboard on the top of the page, clicking on that menu will do nothing because the page you will be staring at is the dashboard. So, clicking the Manage Service button is the only way to reach the actual hosting account management segment.
Hosting Account Initial Look
Once you click on the Manage Service button, the first thing you see is the billing information, FTP and MySQL details, and server details for pointing your domain to the right nameservers.
This is what you will observe:
Yes, the funny, bold colors are quite striking, but you get accustomed to them soon. Eventually, the colors don't matter much. It is the backend, and as long as your job is done without a glitch, everything should be fine.
The menu items can be seen on the left (inside the large orange circle). You will note that there is the option of File Manager. That's new! You generally don't find file managers with managed WordPress hosting providers.
The first tab of the menu is Service Details, and it is selected by default. You can see all the necessary details nicely. You will not get lost! That's the type of simplicity I prefer. After all, the aim is to make sure that I can focus on your website and get things done quickly.
Now, let's take a look at the remaining tabs one by one.
Manage Websites Tab
The next menu tab is the Manage Websites tab. This is where you will see the domain name you added. You can install WordPress from here, enable SSL, and change the primary domain if you want.
The ability to change the primary domain was a big relief because you might simply change your mind and want to make another website your primary website.
This is how the page looks like:
Take a closer look at the option available against the domain you have added:
If you want to create a staging site, you can do that by clicking on the 'Create Staging' button. If you want to change the primary domain, you need to click on the 'Settings' button. Clicking on the 'Settings' button will give you the following options:
If you want to add a different domain and make it the primary domain, insert the domain name in the field provided and click the 'Save Changes' button. If you want to install multisite, you can enable that as well.
Changing the PHP version is also simple. You can click on the PHP tab on the popup and select the PHP version.
You can even manage PHP modules and manage PHP functions from that tab. However, if you don't know anything about those things, you better don't fiddle around with them.
On the 'E-mail' tab, you can turn off email for that particular domain (if you want to do that). Finally, the 'Redirects' tab is where you can decide what happens to the non-SSL traffic.
The entire thing is simple and less complicated. Unlike the other managed hosting providers I have encountered so far, WPX offers everything in a very clear and concise format. You don't have to leave the existing page to get small things done. You can get everything done from a popup window. That's a whole new experience for me.
Databases Tab
The 'Databases' tab has a nice touch too! You can add new users to an existing database, get a list of all users assigned to a database, delete a database, or create a new database. If you want, you can even go to phpMyAdmin to make changes to the database tables.
Unless you are a database administrator or you have a very solid reason to open phpMyAdmin and fiddle around with your database, I will suggest you don't do that. That will be ridiculous! You can brick your site and kill it altogether. Your MySQL database is the lifeline of your WordPress site.
E-Mail Boxes Tab
This is where you create email accounts for your business. There is nothing to explain here. It is as simple as clicking on the 'Add an e-mail box' button and providing a few details to the popup box. There are no complex settings to deal with. It is as simple as creating a Gmail account! Trust me, you are going to love it!
Once you have entered all the details, you need to hit the submit button. That's all! You are all set! You can now configure your favorite email client (you will receive an email with all the necessary settings) to check your email directly from your desktop or mobile device of choice!
FTP Users Tab
This is where you will get the FTP server details. You will need this only if you want to connect to the server using an FTP client like FileZilla. On this tab, you cannot find the password. The password is available on the 'Service Details' tab. You need to grab the password from there.
If you want to create a new FTP account, you can do so with ease. All you need to do is to click on the 'Add FTP account.'
Edit DNS Tab
This tab is designed for advanced users. You should not be poking the setting here. Everything will be messed up if you change anything. Here, you can find all the necessary DNS records for your domain. You can add new records if you want.
If you need to grab some records to add to your domain management interface (provided to you by your domain registrar), you can get that from here. However, all that you need to manage your domain is provided in the 'Service Details' tab. You don't really need to be here.
File Manager Tab
There is where you can access the website files on the server. You don't really have to use this unless you need to specifically change certain files or upload some verification file on the server. You can do that by accessing the website files using an FTP client like FileZilla.
Clicking on the tab will take you to the page where you will get the option to open the file manager. You will also notice a warning stating that editing, deleting, or moving your files without knowing what you are doing can break your site.
When you click on the 'Open File Manager' button you see on the page, you will be taken to a new page on a new tab where the file manager will show up.
The file manager does take some time to open, and that was definitely not what I expected. However, that shouldn't be a big concern because you will rarely use the file manager, anyway.
Backups Tab
This is the tab where you will get the option of creating, managing, and downloading manual backups. You will also get the option of restoring automatic backups. You will notice a calendar with specific dates marked in orange. The orange dates denote that an automatic backup exists for that date.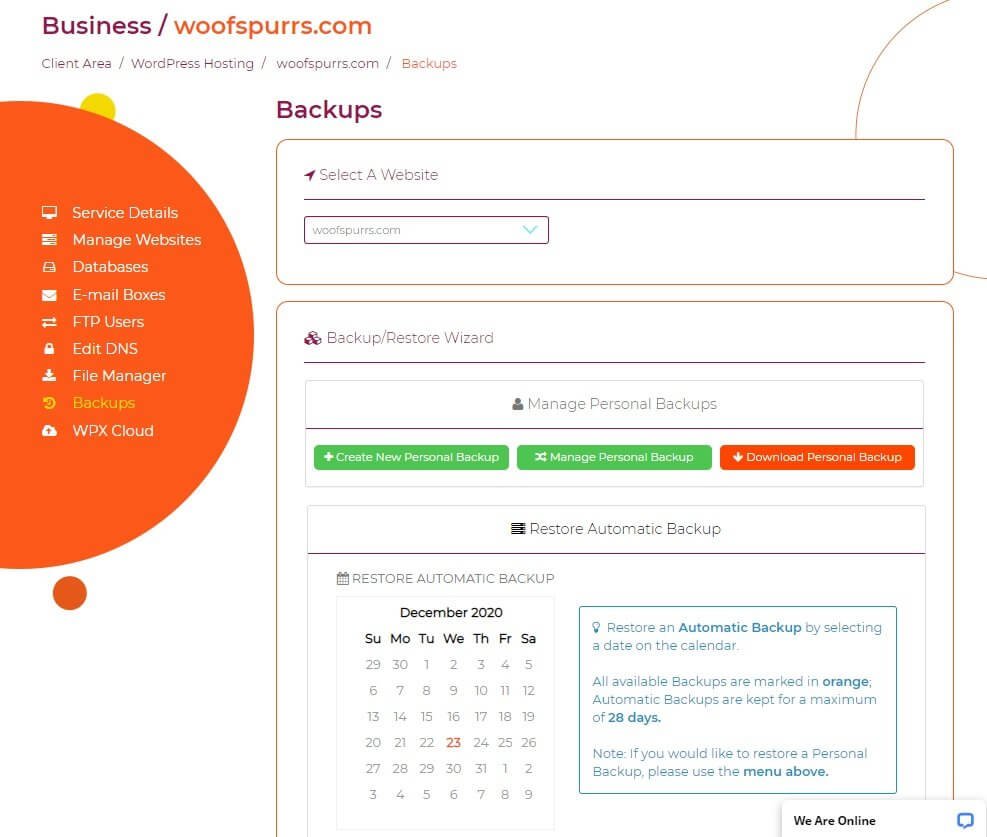 The orange-colored dates are clickable. Clicking on one of the dates will restore the automatic backup from that date.
WPX Cloud
WPX Cloud is the name of the CDN that the company created. You can access it and enable it from the last tab. All it takes is to click a button. You can also empty the CDN cache from this tab. There's nothing much you can do on this tab.
Do remember that you can get the best performance of WPX Cloud if you are using it in conjunction with W3TC or W3 Total Cache. Yes, that's the caching plugin that they recommend. When you install WordPress, it is installed by default with all the recommended settings.
Well, that's pretty much everything that you get with the management area. There's nothing extra, and nothing is lacking either! The interface is clean and well-organized. In fact, it is simpler than all other managed WordPress hosting providers I have reviewed earlier.
While it is really easy to use the WPX interface, the real thing to worry about is the speed. If the website isn't performing fast, then all the ease of use makes no sense, does it?
So, time to find out how fast does a website hosted with WPX load. Let's find out…
WPX Performance Test
To find the performance, I wanted to check how a basic WordPress site performs without any optimization. Well, I can build a complete site, use multiple plugins, and put in some content, enable CDN, and put in additional caching through a plugin. But that won't be a true reflection of what you want to build.
Your site may be completely different from the one I build! It is more logical to go ahead and test the basic site with the basic or default WordPress theme. By default, WPX will install the following three plugins:
Akismet (disabled by default)
Hello Doly (disabled by default)
W3TC (enabled by default)
Also, when you install a WordPress site, the CDN is activated on its own. With these settings, that is, cache and CDN enabled by default, I tested the website speed with Google PageSpeed Insights, GTmetrix, and Pingdom. Here are the test results:
Google PageSpeed Insights – Mobile
That's fast! But these numbers will definitely change when I add plugins, rich media, content (text), themes, scripts, codes, etc.
That's where the optimization steps you perform will make a big impact. I will recommend that you don't use unnecessary plugins. You should use a very well-coded and lightweight theme. You should also ensure that you are using properly optimized images and videos. Combining CSS, JS, and HTML and moving scripts to the site's footer are other tricks that you can use for further optimization.
Google PageSpeed Insights – Desktop
This is what I received for desktop:
Again, that's brilliant, but things will definitely change when you start building your site properly. Make sure you are optimizing everything.
GTmetrix Test Result
Even GTmetrix returned fantastic results for the basic site. In case you don't know, GTmetrix now uses Lighthouse that Google uses for PageSpeed Insights. So, you can expect that there will not be massive inconsistencies in the two test results.
Pingdom Test Result
I really don't count Pingdom as a reliable source for testing website speed, but since almost everyone uses Pingdom, here is what I found:
Pingdom gives a performance grade of B, but the total load time is 222 ms. That's much faster than what PageSpeed Insights and GTmetrix have to say.
I will repeat again… no matter which tool you use, the results will change when you build a complete website. So, optimization is largely dependent on you. If you are using really big images, many web fonts, etc., even a cache plugin and an active CDN cannot give you a massive speed boost. Similarly, if you are using too many ads on your site or adding too many scripts to your site, things will change!
Eventually, optimization is something that is heavily dependent on how you are building your site. A CDN and a caching plugin are only a tiny part of the overall optimization process.
Is WPX the Fastest?
WPX claims that it gives you the fastest loading website among all managed hosting providers. Is that true?
The answer is… NO!
They are the second-fastest among the six managed hosting providers I have tested so far. Here is a quick comparison of Google PageSpeed Insights results.
| | | |
| --- | --- | --- |
| Hosting Provider | PageSpeed Insights Mobile | PageSpeed Insights Desktop |
| Liquid Web | 99 | 99 |
| WPX | 97 | 98 |
| Kinsta | 87 | 96 |
| Flywheel | 80 | 96 |
| WP Engine | 75 | 92 |
| Rocket | 73 | 95 |
Still, what WPX delivers is much better than the rest of the popular options.
Server Response Time
This is where I was disappointed a bit. The server response time is a vital factor, and Google usually prefers the server response time to be less than 500 milliseconds. Unfortunately, that's not the case with WPX managed hosting.
Here is the server response time, according to Google PageSpeed Insights:
Well, the server response time is not really a vital factor in determining the speed score. It is only a suggestion for now. But if the server response time could have been better, the speed score could have improved.
WPX Customer Service
One of the most important aspects of any hosting service is the customer care department. If the support service is not up to the mark, and if they refuse to hold your hand for every problem you face, the overall experience will be awful.
Fortunately, that's not the case with WPX. Their customer support team is fantastic, and they are always ready to help. The interaction with the live chat support is always pleasant, and they indeed respond within 30 seconds.
Here is a chat transcript of one of the many interactions I had with their customer support:
There are three modes of requesting support from them. Live chat is one of those options, and also the quickest. The other two options are to send them an email or raise a ticket!
WPX Pricing Structure
WPX follows industry standard pricing. Their basic plan, known as Business Plan will cost $24.99 a month if you go for a month-by-month billing scheme. However, if you decide to pay yearly, you will be paying only $20.83 a month. At that price, you will have the following core features:
Install 5 websites.
Get 10 GB storage.
Enjoy 100 GB bandwidth.
Get WPX Cloud CDN.
If you opt for the next higher plan, known as the Professional Plan, you need to pay $49.99 a month for a monthly billing cycle and $41.58 a month for a yearly billing cycle. At that price, you will get the following:
Ability to install 15 websites.
20 GB storage.
200 GB bandwidth.
WPX Cloud CDN.
Finally, you can opt for their Elite Plan; it will cost you $99.00 a month for a monthly billing cycle and $83.25 a month for a yearly billing cycle. At that price, here is what you will get:
35 WordPress installations.
40 GB storage.
Unlimited bandwidth.
WPX Cloud CDN.
The Bad Things About WPX Managed WordPress Hosting
I could think of two bad things. Here is what I think are the weaknesses of WPX:
Very limited server choice: Severs are available only in the USA, UK, and Australia. That's not really good!
The staging site is considered a site: A staging site is a temporary site that you can use to make changes and then roll out those changes to the live or production site. No managed hosting provider will ever consider a staging site as a site.
If you opt for their Business plan and have installed 5 live sites, you cannot create a staging environment even for one site until you delete one of the live sites! That's ridiculous. Essentially, a staging site is considered as one WordPress installation.
Final Verdict
WPX might not be the fastest as they claim, but they are definitely one of the fastest out there. In fact, they are better than popular names like Kinsta and Flywheel. They also give some of the most advanced technologies like LiteSpeed, PHP 7.4 (even 8.0), etc., to ensure that your WordPress site loads fast.
Of course, I didn't like that they recommend W3TC caching plugin with LiteSpeed. My experience with LiteSpeed says that if you combine LiteSpeed Cache and LiteSpeed Web Server, you get better results.
However, you are not forced to use W3TC, and neither are you forced to use their proprietary CDN network. You can ditch both and use whatever you wish to. Finally, their customer support is stellar.
With all these factors in mind, I can say with surety that though there are some drawbacks, the advantages of using WPX are far greater. So yes, I do recommend WPX. In case you are looking forward to changing your current hosting provider and settle for a managed WordPress hosting, WPX is undeniably one of the best options you will get!