What is WP Engine Managed WordPress Hosting?
As the name suggests, WP Engine managed WordPress hosting is a hosting solution only for WordPress websites. You cannot host any other website powered by any other CMS or software. Being a managed hosting solution, you can expect to offload the technical burdens related to a WordPress site on the hosting provider and focus on your website.
WP Engine is an industry-leading WordPress hosting solution. They offer something unique called the LargeFS or Large File System, which allows you to extend your hosting plan's storage capacity to practically unlimited. LargeFS is included with every hosting plan. WP Engine offers the Genesis framework to build your website, but you can choose not to use it.
WP Engine is one of the leading managed WordPress hosting providers in the world. They offer integrated CDN, development environment, staging environment, production environment, site caching, SSL, and more! Everything is mostly managed by them to take off the users' technical burdens so that they can focus on the website.
Yes, just like every other managed WordPress hosting provider, they are expensive and for a good reason. You don't have to worry about CDN implementation of caching. You don't even have to worry about running out of storage space [conditional]. They will deal with all those things.
WP Engine will even provide you with a WordPress site development framework and access to various premium themes, and you get all these at the price you pay for the hosting plan you choose.
So, what does WP Engine has to offer? Let me walk you through the basic features before I narrate my experience with the managed hosting provider.
Main Features of WP Engine Managed Hosting
Just like every managed WordPress hosting provider, WP Engine has some incredible features that will help you to build your website quickly. Here are the primary features of the hosting service:
Genesis Framework
Once you sign up for WP Engine, you will get access to the Genesis framework. It is one of the most popular frameworks available for building a WordPress site. Of course, you will not get the Genesis Pro framework, but for starters, Genesis is pretty good to start with. You can, however, use Genesis Pro if you pay for it separately.
Free Premium Themes
You will get access to over 35 premium themes from StudioPress – the creators of the Genesis and Genesis Pro framework. You can install these themes on your site directly from the WP Engine dashboard.
Clean Dashboard
The company offers a very clean and intuitive dashboard with left vertical navigation. It is intuitively built so that anyone with zero-knowledge of building a WordPress site can happily use it.
Different Environments
All the plans of WP Engine hosting come with three different hosting environments. You can get a development environment, a staging environment, and a production environment. What are these?
The development environment is the type where you work on developing your website from scratch. The staging environment is the type where you create a copy of your production site and make changes to the copy to test new features and designs. This will ensure that you are not tinkering around with the live site. In case anything goes wrong during the experimentation, the production site will remain live and accessible to the users.
The production environment simply refers to the live site hosting. It means that you will host your website on their servers, and it will be accessible to all users and search engines.
Whatever you select will depend on what you want to achieve.
Temporary URL
You will get a temporary URL for your website during the registration and account creation process. You can install WordPress and themes or plugins on this URL. Once your site is ready, you can point your actual domain to the server so that your site becomes live.
Site Transfers
They don't engage in manual site transfers. If you want to have your site transferred from another host to WP Engine, you can do so without any problem. You will get an automated site transfer plugin that will allow quick and easy site transfer.
Global CDN
Subscribe to any plan on WP Engine, and you will get access to a global CDN. CDN plays a key role in improving site speed by serving cached static files from the servers closest to the visitors.
Cache system
They use a server-side caching system to improve site performance. Yes, caching is required to speed up the site. Google hates slow sites. Implementing a caching system can be technical. This is why almost every WordPress site uses a caching plugin. However, with WP Engine, you don't have to use a separate plugin for achieving that. Caching happens on the backend, and it is managed by WP Engine.
LargeFS
LargeFS or Large File System is a proprietary technology of WP Engine that you can use to increase the storage space of your hosting account to practically unlimited. For this to work, you have to signup for Amazon S3 object storage. Remember that Amazon S3 is not free. So, if you want to use LargeFS, you have to pay Amazon. If your website uses large files or has many files, and you run at a risk of running out of storage space, you can use the LargeFS.
Page Performance Monitoring
This is definitely a handy tool that you can use to monitor the performance of different pages of your WordPress site. It will help you to identify the problems so that you can fix them. This tool is handy because by using it, you can ensure that your site is flawless. Google loves flawless sites.
PHP 7.4
WP Engine's managed WordPress hosting will give you access to PHP 7.4. It is the latest and most secure version of PHP so far. Using the PHP 7.4 engine will also speed up your website.
Add-on Features
If you want, you can purchase some additional features as well. Those additional features include:
WordPress Multisite
You can select to install multisite on your WordPress installation. However, you need to pay separately for that.
Genesis Pro
If you want, you can purchase the Genesis Pro framework and related themes. Genesis Pro is far more advanced than the Genesis framework, and it gives access to block editing, full-page layouts, and more. I will suggest that you go for the Genesis Pro framework if you want to use Genesis.
Global Edge Security
If you want DDoS protection, safety from malware injection, etc., you can use the Global Edge Security feature provided by Cloudflare. Activating this feature will also provide you with Cloudflare's global CDN, which is, by far, the best, according to me. Cloudflare is known for providing enterprise-grade security and can absorb the largest DDoS attacks you can imagine without impacting your site.
Smart Plugin Manager
If you want, you can pay for a smart plugin manager that will help you manage all the plugins from one place. It will automatically update all the plugins that you are using on your site and close any security loopholes opened up by the older versions of those plugins. If the plugin fails to update your site plugins, you will receive a notification for the same.
Additional Sites
If you want to add more sites to your existing hosting account than what is allowed, you can pay extra for that.
GeoTarget
If you want to geo-target your customers and show specific content to specific segments of people, you can do so using this feature.
Experience with WP Engine
Now, the big part. How easy is it to use WP Engine? No wonder I would take this service for a ride as per my habit. So, I created an account, purchased a plan, and I noticed a few weird things. Weird in the sense that you don't see that approach with other managed WordPress hosting providers.
Here is what I found…
Signing Up and Purchasing a Plan
Signing up with WP Engine and purchasing a plan is very easy. You don't have to do anything extra. You can start by selecting a hosting plan. Once you do that, you will get the option of adding additional features to your plan right at the beginning. Here is what you will notice:
It is during this purchase that you need to create a temporary URL for your website. Once you provide the details, you can purchase the plan. Don't worry; you can later delete the website that you create using this temporary URL, or you can simply point your domain to that site.
You can select the data center location during the signup process. After you complete your purchase, you will see that the environment is being set up for your website.
Once the environment is set, you will be taken to the dashboard, where you will be greeted with some questions. You can answer those questions, and the final question that you will see is what you want to do.
You will have the option of adding a teammate for collaboration or migrate a site or start building with StudioPress (Genesis Framework). If you don't want to do any of those, you can click on 'None of these.'
This is what you will see:
Since they are offering the Genesis framework, I wanted to see how the site performs with that. So, I selected the option "Build with StudioPress."
Building the Site
Once I clicked on Build with StudioPress, the system highlighted the Tools menu on the left. Clicking on it reveals submenu items in which there is an option called Themes.
At this point, if you click on the temporary URL, you can access the site, but it will show the default WordPress Twenty Twenty theme.
I wanted to install the Genesis Framework, and so I clicked on the Themes option. Clicking on it showed a new page with Genesis Framework and the related premium themes.
I clicked on the Quick Install option for the framework and a random theme from the list. Though the framework and the theme were installed, they weren't activated by default. I had to go to the WordPress site dashboard to activate them manually.
One easy way of going to the site dashboard is to click on the Sites menu from the WP Engine dashboard and then clicking on the site to see the WP-Admin dashboard option. Clicking on it redirects to the WordPress site dashboard.
Once you click on the site in WP Engine dashboard >> Sites, you will see the details of your site. It will show a new menu from where you can activate SSL and CDN, set domain, create, restore, or download backups, and more. Here is a close look at the menu options: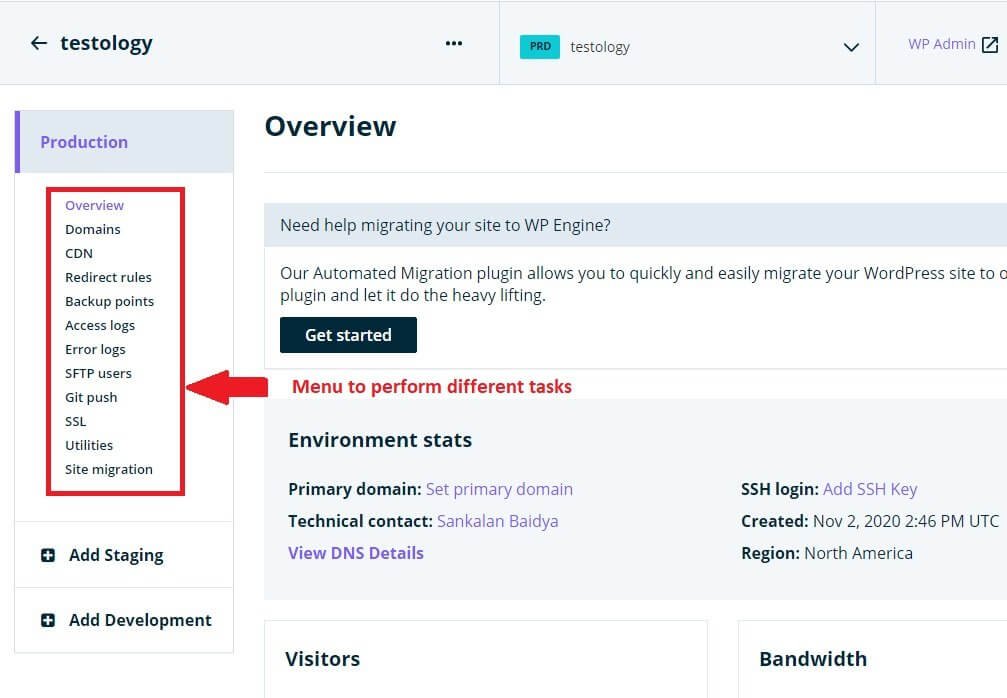 You can also create a staging environment for your site by clicking on Add Staging and then adding the necessary details:
Unlike the Flywheel managed WordPress hosting solution where you can add SSL even to the temporary URL, WP Engine will not allow it. You have to first add your domain to the WordPress site, and only then can you add the Let's Encrypt SSL.
You can add a domain by clicking on the Domains menu on the left. When you click on that option, you will see this:
You can enable CDN by clicking on the CDN menu on the left and selecting the site.
Once you apply the CDN, it will take up to 10 minutes to complete the setup.
Overall, the experience with the WP Engine platform is pleasant, but I must say that options like Kinsta, Flywheel, Rocket, etc. are far simpler and better organized.
Site Speed on WP Engine
After setting up the WordPress site and installing Genesis Framework and a child theme, I decided to test the site speed. That is what matters, right? Google has switched focus to Mobile-First indexing. This means that your website has to be superfast on mobile devices. If your site loads slow, you will not rank properly in Google search results.
For the purpose of this speed test, here are the specifications I used:
WordPress site running on the Genesis framework and child theme.
Only one plugin activated – Akismet (for preventing comments spam, and it was installed during WordPress installation).
PHP engine in use – 7.4 (which is the default engine used by WP Engine).
No ads were running on the site.
CDN active.
Caching active (default in WP Engine hosting).
Like always, I tested the site speed with both Google PageSpeed Insights and GTmetrix. Here are my results:
Google PageSpeed Insights – Mobile Test
The result you see above is after ten (10) consecutive test runs with CDN and cache enabled. Not even for once did the speed cross 76!
That was absolutely disappointing! Remember that there are two factors that are considered for ranking:
First Contentful Paint
Largest Contentful Paint
With the upcoming November update of Google, Cumulative Layout Shift will become another factor.
The First Contentful Paint is a reflection of server speed, while the Largest Contentful Paint is the reflection of how well-optimized your website is (using CDN, minification, caching, etc.)
For me to recommend any hosting provider, the score on Google PageSpeed Insights needs to be 90+ for mobile with ads activated and at least five (5) essential plugins activated.
This site has no ads, has CDN enabled, caching enabled, and has only one plugin, and yet, the results are disappointing!
Compare this with a production site:
This production site has nine (9) active plugins, ads activated (for monetization), and has an effective CDN and caching system in place. The speed you see is on mobile.
Google PageSpeed Insights – Desktop Test
It is again disappointing because the site has only five posts, one plugin, active CDN, active caching, and no ads! The speed should have been a perfect 100 or at least 99. The score of 92 is not acceptable at all!
Compare this with the production site:
Do I have to say anything else? You already know the configuration of this production site. I don't have to repeat myself.
GTmetrix Test Results
Mobile test results:
Looks a bit promising on GTmetrix test, but look at the fully loaded time! That's a whopping 6.1s for a mobile device. No one is going to stay on the site for so long and wait for it to load.
Desktop test results:
On the desktop, the fully loaded time shows to be 1.6 seconds, which is great! The scores are also pretty good.
However, remember the configuration of the test site. What will happen when you put ads on it and when you install more plugins?
I don't even want to think about it. More importantly, GTmetrix is not something I will trust, even though it is a great tool. The problem is that it is not Google, and since Google is the one who determines the fate of your site, Google PageSpeed Insights are far more important than what GTmetrix or Pingdom has to say.
Pros and Cons of WP Engine
If you are wondering about the pros and cons or the strengths and weakness of this managed WordPress hosting company, here is what I think:
The Pros
Easy installation.
Neat interface for management.
Integrated CDN.
Integrated server-side caching.
Free SSL
Free Genesis framework.
Free StudioPress premium themes.
PHP 7.4.
Provides a temporary URL.
Provides staging and development environments.
Free site migration (automated using a plugin).
The Cons
Backend not very intuitive. It could have been better.
The backend is relatively slow.
Charges extra for Cloudflare. You can get a premium subscription to Cloudflare for $20. WP Engine charges $30.
Website speeds are disappointingly slow on Google PageSpeed Insights.
The free StudioPress themes are not meant for building complex and modern sites. They are good only for blogging sites.
Customer Care
The customer care department sounded very mechanical. They aren't as lively as what I found on Kinsta and Flywheel. However, they do respond quickly. Here is a chat transcript:
They have phone support available but only for Starter and Scale plans. The basic plan known as the Startup plan, has only chat support available.
Pricing Structure of WP Engine Managed WordPress Hosting
The company has a high pricing structure considering that it doesn't perform great in the speed segment. I will say that they are offering subpar services against the price they are charging.
Here is a quick table that will tell you about the prices:
| | | |
| --- | --- | --- |
| Plan Name | Monthly Price | Yearly Price |
| Startup | USD 30 per month | USD 25 per month (billed annually) |
| Growth | USD 115 per month | USD 95 per month (billed annually) |
| Scale | USD 290 per month | USD 241 per month (billed annually) |
Do I Recommend WP Engine Managed WordPress Hosting?
No, I don't recommend it! The simple reason that I will cite is the speed of the website you will get. Do not forget that Google hates slow sites, especially on mobile devices that run on a 3G connection.
If your site is slow on mobile devices, Google will gradually push you down in search results. This means that not many people will find your site. What does that mean? Lost revenue.
The company is charging outrageously high prices for such subpar services. I don't care if they are using SSD storage, or they are powered by any cloud platform or not! At the end of the say, the results speak for themselves.
If you are hell-bent on using a managed WordPress hosting service, I will say that you go for Kinsta or Flywheel. They are better!
If you are wondering where my production site is located, then here is the answer – it is hosted on a cloud hosting platform and uses the LiteSpeed server stack and LiteSpeed cache plugin.
I always recommend cloud hosting to everyone, but it will give you the technical burden that managed hosting providers get rid of. In my opinion, however, learning a few things here and there about cloud hosting will not hurt you. It may look a bit intimidating, but all the hard work pays off at the end of the day!