Are you contemplating working remotely? It is not a new development. The concept has existed for many years now. The cosmic rise in its popularity is, however, a new development, and we can point out one reason – the recent COVID 19 crisis that has caught humanity off-guard.
With social distancing becoming a new normal and global health crisis on the rise, the need for working remotely has increased. As of now, it is less of choice and more of a requirement.
No matter what is driving you to think about remote working, you need to understand one thing very clearly – working from home is not as easy as it may appear to be.
There are many hurdles that you need to overcome. Those who have been working remotely for a while know that a switch from an in-office environment to a home environment is not as smooth as one expects it to be.
Companies worldwide are gradually switching to the remote work model, and they have established distributed teams. The problem is not every team member is prepared for the sudden switch. Those with prior experience had a chance to prepare early, but those who are new to it, often struggle to maintain productivity.
Those who do not work for any organization or as a part of a team can struggle finding remote works.
Thus, if you are one of those who is finding the concept of working from home a difficult concept to grasp and practice, this guide will try to help.
So, read on!
What Is Remote Work?
Remote work refers to any full-time job, part-time job, or a project-based job that a person is doing from a location that is different from the office setting of a company.
The person may be performing a job from his house's balcony or bedroom.
The work is performed digitally with the aid of the Internet and the key instrument that you use is a laptop or a desktop, or a tablet or a smartphone.
If you are to believe FlexJobs, in 2017, "remote/work from home" became the fourth most popular job search term. Their report also states that big companies like Dell, Nielsen, Philips, Salesforce, Cigna, Amazon, etc. hired many remote workers.
And there is no denying that in this ongoing pandemic era as more and more people keep losing their jobs, the demand for remote jobs or work from home jobs is experiencing a massive boom.
There are two reasons that can be cited.
First, companies do not want to bring in employees into an office setup to prevent the spread of coronavirus.
Second, people losing jobs are looking for alternatives leading to spikes in searches for "work from home" jobs or "remote jobs."
Is Remote Work the Same as Work from Home Jobs?
It is amazingly easy to get confused between these two. Get it loud and clear – A REMOTE JOB MAY NOT BE THE SAME AS WORK FROM HOME JOB.
Let us assume that you work in an office and you have an appointment with a doctor at 2 PM. You take a leave visit the doctor and instead of going back to office, you ask for a permission to work from your home for the rest of the day.
This invariably becomes "work from home" even though you are a full-time employee in a company, and you go to office every day.
Many companies now allow such flexible work schedules. There can be many reasons like you may catch cold and avoid commuting. You may just need a peaceful and quiet environment to work on your project for a day.
As far as remote work is concerned, you may be an employee of a company, but for your lifetime, you will never go to the office space. That can happen because you may be in a different geographic location but still an employee of the company.
Take the example of say Company X located in Romania hires you as an employee and you are from Germany. It is not viable for Company X to open an office in Germany, but it needs an employee there who can do research work in the city state of Berlin.
So, though you will be on the company's payroll and you will earn a regular salary every month, you will not be working in an office setup of the company. Thus, you become a remote employee.
This is one of the many possible scenarios of remote work. Many companies hire remote workers for several reasons including:
Cost cutting
Building an international team with each team member having specialized skills.
To fill in a gap in their existing team without spending a permanent seat in the office setup, and so on.
Types of Remote Working Teams
A company can build a remote team using three different models or structures. Let us investigate each structure or model individually.
Fully Remote Teams
In this format, the company may completely lack a central office. Employees will not have an office space to come to. They can literally work from just about anywhere including:
Home
On road
In metro (during personal commute), etc.
From day one, such fully remote companies focus on technologies and processes that facilitate the requirements and needs of the employees working remotely.
There are several fully remote companies that have not only succeeded, but also, they are considered as leaders in their respective industries. Zapier, Buffer, Auttomatic, GitLab are some examples.
However, a company does not need to be a fully remote company to build a fully remote team. There are many companies that have central offices with a full system of HR department and an in-house hiring mechanism in place.
Even those companies often build fully remote teams to meet specific requirements and cut down on cost. For instance, a company may need a team for a short-term project. It does not make sense to hire a full team and allocate resources to them in-house!
A remote team hired for a specific time frame makes much more sense.
Distributed Hubs
A company may set up small offices in different geographic locations that are far from its central office. The people working in those small offices are distributed employees.
The company leadership needs to decide which employees will work in those small offices. The role of those employees relative to the central office will also be determined by the executive leadership.
This kind of setup requires an organizational structure. The localized or distributed teams and the centralized teams need to have a clear understanding of workflow, communication direction, responsibilities, and roles. How each office will relate to the other is also determined by the executive leadership.
Again, distributed teams have three setups:
Satellite Office
This setup is extremely easy wherein the central command will hand over different projects to each team. The teams will work on their respective projects and communicate directly with the headquarters. Satellite offices will usually not communicate with each other.
Local Ownership
In this format, remote offices will have local leadership. The local leadership creates a talent-dependent team, and each local team will have special projects overseen by the local leadership. The central office or the headquarters will, in turn, will oversee the holistic vision by communicating with local leadership.
True Partnership
In this setup, there will be sub-teams in the central office and there will be local teams. These teams will have overlapping projects wherein the success of the projects will depend on both the local teams and the sub-teams in the HQ working together through exchange of ideas and workflow management. The teams will require bidirectional communication and information flow.
Flexible Remote Teams
These teams are neither fully remote, and nor do they belong to distributed hubs. They are not even located at the same place always.
For instance, some employees of a company may get the permission for working from home for a couple of weeks.
Again, a company may have an in-house team and a few other team members working remotely for a long term.
Irrespective of the setup, these teams will use the same collaboration tools that any fully remote team normally uses.
What Are the Advantages of Remote Work?
Remote work has various advantages. Let us learn about them.
A More Diverse Talent Pool for Employers
Restricting the hiring process to a specific location limits the talent diversity. The socio-economic background of a location is often a factor that determines the talent pool of specific location.
Employers have realized that as the diversify and opt for remote teams, they can access a way more diverse talent pool. The wider talent pool allows companies to innovate and expand at a much faster rate.
Cost Reduction
Hiring an in-house team comes with many additional costs for employers apart from the salary they need to pay. The employers need to provide an office space, arrange for tools, provide sitting space, ensure continuous supply of electricity, etc.
There is always an operational cost that employers need to cover when hiring an in-house team. Hiring remote teams reduce these costs (often eliminates) greatly.
According to a PGi report of 2019, employers save up to $10,000 a year per full-time employee just by hiring a remote worker.
According to a FlexJobs study, remote workers also save a significant amount a year. The study says that remote workers save as much as $4,000 a year because they do not have expenses for commuting, expensive food from restaurants, hotels, cafes, etc.
Greater Employee Retention Rate
According to Gartner estimates, employee retention rates increase by as much as 10% when companies allow employees to choose their own work style.
This happens because employees get to design the balance they seek between their professional and personal lives. This in turn leads to increased job satisfaction, and hence, lower attrition rates.
Increased Productivity
The same FlexJobs survey that found higher savings by remote workers, also reported that 95% remote worker say that their productivity increases by working from home. Around 51% say that their productivity increases by working remotely.
This direct correlation between remote work and increased productivity can be explained by few factors like:
Quieter work environments.
More focused time.
Fewer interruptions.
Absence of office politics.
A more comfortable workspace.
Better Mental Health
Better mental health equates to increased productivity. Remote working or work from home allows for a better balance between work and life, which improves mental health, a study found.
With flexible work options, employees get the emotional support they need, leading to less burnouts and stress.
Better Products and Increased Financial Returns
From employers' perspective, having a remote team from various backgrounds and locations gives them a competitive advantage because of a diverse talent pool. This allows them to create better products.
If you are to believe the McKinsey report, organizations with racial and ethnic diversity in management were 35% more likely to have higher financial returns compared to the industry average.
Access to Top Talents
Hiring top talents is always a priority for any business. That is the reason why almost all businesses operating in a certain geographic location compete for the same human resources. This means that businesses must compete for limited number talents, reducing the chances for many to grab the top talents.
With remote work, companies get access to a wider pool of human resources, enabling them to get the necessary talents from across the world.
Environment-Friendly
One of the greatest benefits of remote work in ecological sustainability. According to the data from Global Workforce Analytics, remote work leads to the following savings:
Gas: $20 million.
Highway Driving: 119 billion miles.
Oil: $64 billion worth of oil (total 640 million barrels).
Reduction in Greenhouse Gas Emission: 54 million tons (which is equal to 10 million cars taken off the road in a single year).
Several Essential Tools for Remote Work
Remote workers need to connect and collaborate with team members from wherever they are. This means they need tools that will allow them to do so. Here is a quick list of tools that are widely used:
TeamViewer
Available for Android, iOS, OS X, Windows, and Linux, TeamViewer is a great tool for those who are looking for something that will enable basic desktop access remotely. The application has features like clipboard transfer, file transfer, wake-on-LAN, etc. There is no need for port forwarding and it usually does not need firewall configuration. For security, TeamViewer supports two-factor authentication.
Microsoft Remote Desktop and Apple Remote Desktop
Both Microsoft and Apple offer remote desktop applications natively. While Microsoft's option called RDC has somewhat limited remote access, it is free. Apple Remote Desktop costs $80, and it offers complete remote management of systems include system updates.
SplashTop
One of the best TeamViewer alternatives, SplashTop has low-latency transfer, making you feel that you are sitting in front of the computer you are accessing remotely. It allows screen sharing, which makes giving walkthrough demonstrations easy.
Double 3
An iPad (sort of) fixed on a Segway that is teleoperated – that is the best description of Double 3. It is a self-driving two-way video conferencing robot that allows employees to feel more connected to their colleagues.
This self-driving robot has amazing features like 3D sensors to avoid obstacles, click-to-drive, and pan-tilt-zoom feature for the camera that allows the user to read papers or look at specific points. It also comes with integrated microphones and audio system.
Slack
One of the most popular options for real-time team chats, Slack eliminates the need for clunky emails and allows real-time communications through chats. Slack allows making teams around projects, departments, etc.
Slack also allows voice chats, video chats, file sharing and other amazing collaboration features that are required by teams to complete tasks at hand without hiccups.
Slack integrates with Google Docs and Dropbox with ease, and it even allows IT professionals to tailor Slack to meet specific requirements of teams.
Mattermost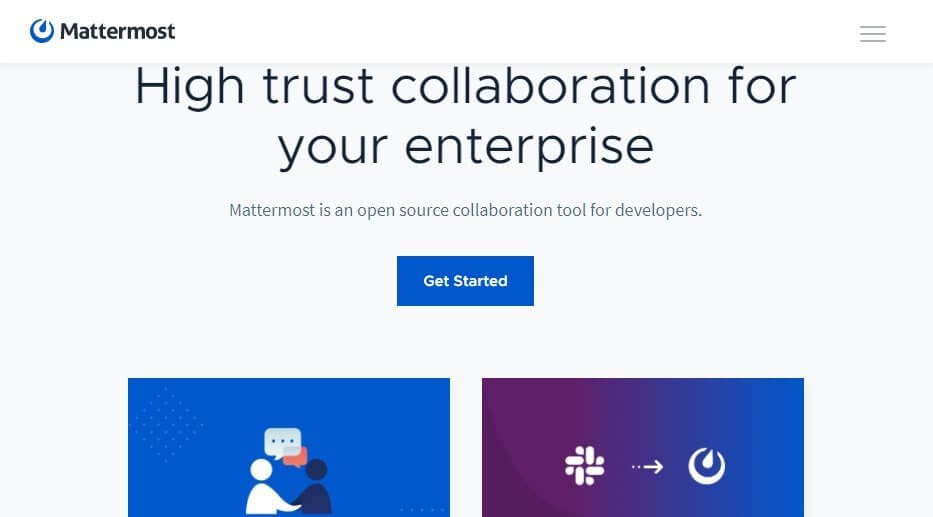 Want something built on open-source ethos and emulates most of the features that Slack as to offer? Mattermost is an excellent choice for enterprises and small teams alike.
It is a self-hosted solution that allows one-to-one messaging, group messaging, search, file sharing, and more. There are unlimited integrations available, multi-factor authentication for safety, custom branding, unlimited search history and more.
They do have paid versions available that bring more advanced features to the table.
Microsoft Teams
If you have an Office 365 subscription, Microsoft Teams is available for collaboration. It allows chats, video calls, file sharing, and comes with a brilliant calendar integration.
It allows team meetings through video conferencing, and even allows real-time collaboration with tight integration with Office 365. All documents shared goes directly into OneDrive where they can be opened using a browser and edited directly on a browser.
Teams also has features for audio calls and screensharing, making it a lovely tool for real-time collaboration.
Skype for Business
Skype for Business is another Microsoft offering that, together with Teams, aims towards taking away some market share from Slack. In fact, Teams is a latter addition and Microsoft wants to replace Skype for Business with Teams.
It comes with various powerful features including easy broadcasting, conferencing, polling, recording & playback, meeting lobby, customized participant views, meeting scheduler via outlook and web scheduler, and more.
Skype for Business is a powerful alternative to Zoom.
Zoom
Zoom is a video chat application that is used often by businesses to conduct team meetings with remote workers. The free version supports dozens of participants, but you can ramp it to 500 participants with a paid add-on. The free version also limits the meeting time to 40 minutes while the pro version removes that limit.
If you are looking for a free alternative and you do not need to host any more than 25 participants, Google Meet is a viable alternative.
Basecamp
It is a web-based project management platform. This platform came from an in-house communications suite designed by a company called 37Signals that specializes in web design.
Though Basecamp is a spinoff company and started with meagre funding, it remains one of the best project management platforms out there.
Basecamp allows collaboration, messaging, task management, file sharing, reporting, scheduling, and a universal search function.
Asana
Asana is a very powerful workflow management application, but it also helps with task management.
Though Asana was considered as a strict collaboration and task management tool, it managed to become a big name in project management because of its new timeline feature.
Tracking projects with Asana works like a charm and it is easy to assign tasks and subtasks. Managers can use it as a task management tool and use it as a log maintenance tool for company's activities or simply use it as a project map.
The flexibility of Asana seems quite interesting, but it does have a steep learning curve that also requires setting up the application properly.
Monday
Monday is cloud-based project management tool that wants to challenge Basecamp. However, despite its pretty interesting features, the company's pricing model is not attractive. The basic version starts at $24 a month, but lacks some serious features like calendar view, timeline view, Gantt view, integrations, automations, etc. It also limits the file storage to only 5 GB.
However, upgrading to other plans can give you access to some powerful features that can help you to organize your projects and enable team collaboration. It can increase operational efficiency and help in successful end-to-end campaign planning and execution.
Paymo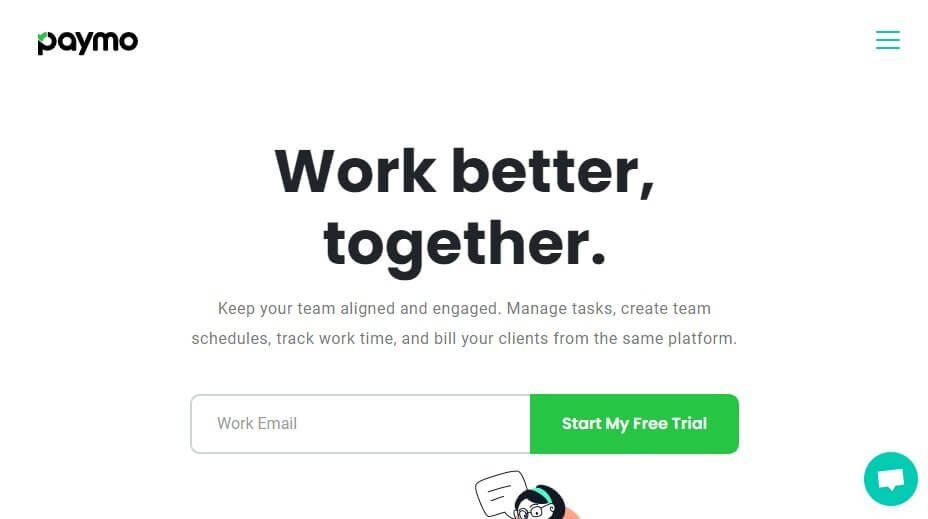 Another work and project management software targeting small and medium businesses like creative agencies, web design and development firms, business consultants, etc., is Paymo.
The core features of the program include timesheet management, team collaboration, project accounting, time tracking, integrations, etc.
Paymo has some interesting and powerful features, but it is quite simple and intuitive to use with minimal learning curve. For very small teams (up to 10 members), the product is free with some limitations.
Trello
Trello is all about baseline simplicity in complex project management. It follows a hierarchical structure taking cues from a bulletin board. For example, every board can represent a project.
In each board, the working teams can create lists and then assign cards to each list item. Each card can be targeted towards specific members of a team. Each card can have defined timelines, attachments, comments, etc.
Demystifying Myths Around Remote Work
Myth 1: Remote Workers are Unhappy and Lonely Folks
No, they are not! While there may be a few that fall in that category and lock themselves up in dark rooms and barely have any interactions with the outside world, the truth is far from what people think.
There are co-working spaces, quiet areas, charging stations, coffee shops, and more! It is a whole ecosystem that has come to existence for helping the remote workers shred off loneliness and burnouts.
On top of that, those who work from home can tailor their work schedule in a way that they have ample time for spending with the family.
So, socialization is very much a part of remote working. And if you remember, we mentioned that remote workers can save up to $4,000 a year. That is a significant saving accounting for financial well-being, as well. In fact, remote workers have a better work-life balance, they are often more productive, and they control their work and life.
Myth 2: Remote Meetings are Ineffective
Wrong! Remote meetings require more preparation and planning well in advance. Setting a meeting agenda, inviting people – all require planning. Moreover, the attendees need to be well-prepared, and they must be action oriented.
Contrary to the widely held belief, remote meetings instill a sense of urgency.
Myth 3: There is No Team Culture
A company's culture is a reflection of the values, views, attitude, behavior, and beliefs of the teams working. Having said that a company hiring remote teams define the work culture and hire only those professionals who can uphold the company culture.
In fact, in case of remote teams, team culture is nowhere diminished. Rather, it remains well-defined. From recruiting to onboarding to project propagation – everything has a plan, and it is always well-communicated, thereby creating a formidable team culture among remote teams.
Myth 4: Communication Quality is Terrible
No! Communication is not an issue. While some projects do require face-to-face communication, it is not necessary the remote communication will be terrible in every case.
There are myriads of collaboration software available with time management features that allow quality communication. Do not forget that there are tools for video conferencing that can bring together remote workers irrespective of their time zones.
Also, time zone difference brings in more autonomy and make team members more intentional in the way the communicate. There are whole companies that thrive on remote-only model and they have become leaders in their industries. If communication were truly an issue, such companies would have struggled creating multimillion-dollar businesses.
Myth 5: Productivity Drops While Working from Home
Contrary to the widely held belief, studies have found that 65% of the people find themselves to be more productive while working from home.
Open offices are often counterproductive because many people feel stressed and distracted. There are statistical data to prove that 31% of the people do not want coworkers to listen to their communications and judge them. Around 16% believe that health quality has significantly declined in open office setups.
Work from home helps regain focus. People manage to speak freely and bond more closely with coworkers. This helps to improve productivity.
Remote Work and Security Issues
While remote work has many advantages, there are certain security issues that workers and employers need to address. Here are some know issues that you should keep in mind:
Passwords
Remote work will call for using various tools that often require passwords. The problem with the internet is that there are prying eyes everywhere, and it is necessary to keep passwords for applications and other services secure. One effortless way is to use strong password managers.
Device Safety
Always keep your devices in front of your eyes. Leaving the devices unattended can cause security threats. So, if you are a remote worker and you travel quite often, it is necessary that you keep your devices like laptops, phones, tablets, etc., with you, and never leave them in checked luggage, hotel rooms, etc.
Encryption
Most collaboration tools you will use will come with integrated security measures like two-factor authentication, encryption, etc. Make sure that you are following the rules.
You may also be using emails for communication, and emails are often ignored. Making sure that your emails are encrypted will keep your data safe and thus, safeguard you and your employer from online threats. You can always use email encryption services.
An Additional Security Layer
Make sure that you are using a proper antivirus program. Keep your antivirus program updated.
Additionally, you can use device encryption and set up a formidable firewall.
Never undermine the threat of viruses, malware, etc., because they can lead to immense losses!
The Dos and Don'ts of Remote Work
Do not try to pick up remote works that you are not interested in. This will lead to a drop in productivity and add stress.
Try going out for lunch with your family and friends. Offline team members who work in the same location often go for lunch breaks together. You may start feeling lonely during those breaks. So, find a friend for such breaks or spend your time with your family.
Ditch the pajamas. They can be one of the major factors to feel lazy. It is important that you dress up professionally even when you are working from home. This will give you the professional vibe you will need for staying productive.
Avoid distractions! YouTube, Facebook, Twitter, a random TV news channel, or a live broadcast of a soccer match, etc. can cause distractions. In the starting days, you may feel the urge to spend a few minutes with those distractions. You will not realize that those few minutes snowball into hours. So, turn off all distractions.
Workspace matters. Do not get into bed with your laptop. Dozing off is a grave concern. Afterall, beds are meant to be comfy. Assign a specific workspace in your house (if you are working from home) and give it a professional makeover. A proper take, a comfy chair, proper lighting – everything matters.
Do not let family members distract you when you are working from home. Your mom may ask you to grab some groceries, or your spouse may look for a few minutes of cuddling, your children may look for a quick story time, and so on! Communicate properly that you should not be disturbed during work hours.
Take breaks just like you would do in an office environment. Define the break times clearly and follow them religious. Spend time with your loved ones during those breaks. A passionate kiss from your spouse or a few goofy jokes with your kids can keep you refreshed. If those options are not there, perhaps you can chitchat with your friends for some time.
Be familiar with the working hours of your remote team members. Decide an appropriate time for breaks and meetings. Everyone should agree to that time. Finetune your routine according to the agreed schedule.
Recreate office culture. Host virtual breakfast sessions, call and wish birthday greetings to coworkers, appreciate your team members, and so on.
Do not give stupid excuses like no internet, sudden power cuts, etc. If you know those things are common in your remote work environment, arrange for alternatives way ahead of time so that you can stay in continuous contact with your team members.
Is Remote Work Meant for You?
Decide what works for you the best
Can you work from your home, or do you need a quite place? Do you need a coworking location? You need to decide what type of working environment you need to be productive. If you need a full-blowing office setup to stay productive, then remote work is not for you.
If you feel like binge watching YouTube videos or some movies on Netflix or Amazon Prime, during the work hours, you are making a grave mistake settling for remote work.
Trial run is necessary
Just because you know someone who is insanely satisfied and happy with remote work or work from home, it does not necessarily mean that you will be just as good with it.
Go for a trial run for a couple of weeks or perhaps a month so find out whether your skills are perfect for this type of work or not! With a trial run you can understand your skills, your strengths, and your limitations, and then you can make informed decisions.
Communication skills
Are your communication skills good enough? Can you communicate efficiently with remote teams efficiently using modes like video conferencing, chats, and so on. Communication is one of the important pillars of remote work. If you are horrible in this department, you should consider fixing your communication skills.
Where Can You Find a Remote Job?
There are many platforms where you can find many remote jobs. UpWork, Toptal, FlexJobs – there is a whole list of platforms where employers look for remote workers. You can go through the list of platforms from where many employers pick up workers and build a team.
If you have some specific company preferences, here are some popular names that allow remote workers:
Auttomatic
Zapier
VMWare
Canva
Buffer
Baremetrics
Convergys
CircleCI
Dell
Pluralsight
IT Pros
Glassdoor
ConvertKit
MeetEdgar
Pearson
Apple
Amazon
Hotjar
Conclusion
Remote jobs and work from home jobs are gaining popularity. More and more companies are offering such job openings. If you have the necessary skills, you can get hired. If you do not have the necessary skills, you can always acquire some. The concept of remote work is here to stay. So, investing time in acquiring essential skills is not a bad idea at all!