If you happen to be an author or a writer, you will perhaps want to build a website where the focus stays on the content that you write, because immersive story telling less clutter and more space where readers should not be distracted.
Many WordPress themes designed for news outlets and magazines are all known for their super busy interface with dozens of articles crammed in a single archive page. That can be quite distracting.
For authors and writers like you, minimalism is the key where focus stays on your story. Do not worry, there are dozens of such themes available that are designed with authors and writers in mind. Yes, some of them are premium, while others are free. In this list on best WordPress themes for authors, I am going to lay down an extensive list of themes that you can use for your website.
But before I go ahead with the list, I would like to draw your attention to important aspects of choosing a good WordPress theme. So, stay with me and read. It will help you.
Things to Look for While Choosing a Theme for Your WordPress Site
Before you settle for any theme, make sure that you are considering the following aspects very seriously:
Clean Typography: For authors, words are important. So, they must be in focus. Awesome typography with minimalism is important so that the focus stays on the content.
SEO: When it comes to SEO optimization, you will want a theme that has built-in SEO optimization to assist you rank higher in search engine results pages.
Speed: Site speed is essential in today's world. In order to ensure that a WordPress theme designed for authors or publishers loads quickly and works properly in browsers, you should test it out before purchasing it.
Flexible: The theme you choose should be adaptable, allowing you to add and remove elements as needed. Furthermore, it should be accompanied by assistance or support. Additionally, there should be thorough documentation describing the setup process and other features step-by-step.
Responsiveness: A beautiful and eye-catching design will entice website visitors. More involvement equals more readers! Do not forget it is the era of mobiles. So, your theme should be responsive and should be able to adapt to any screen size. This is important because you may not have enough money to create full-blown mobile apps for different platforms. A responsive theme can adapt to any screen size, and it is independent of the OS platform.
Page Builder Support: When creating your website, you should choose a theme that has page builder integrations. It helps you rapidly build and modify landing pages. However, do keep in mind that page builders can add fluff to your site and when you change the page builder such unnecessary codes stick around, making it difficult to find and get rid of them.
Plugin Support: WordPress plugins let you integrate additional features and capabilities to your website. The theme you select should be compatible with most of the popular plugins available today. Incompatibility can not only restrict your website's functions, but also frustrate you, forcing you to keep changing themes again and again. That is not good for user experience.
eCommerce Support: Just because you are an author does not mean you cannot sell anything. You can sell digital copies of your work, or you can sell printed copies. You can even charge subscription fees for those who want to read your work online. Make sure that the theme that you are purchasing is ready for eCommerce.
Unless your selected theme has the aforementioned features, it is pointless to go for it. Assuming that you have carefully studied the importance of the factors mentioned above, let us go through a rundown of the collection of best WordPress themes for authors.
Best WordPress Themes for Authors
#1.

Astra
Astra is a versatile WordPress theme that is suitable for authors' websites. It includes a separate blog page where writers may interact with readers. Your website will stand out with a responsive design and sharp typography.
WooCommerce integration, various theme styles, and social sharing icons are supported. Astra includes an "about me" area, homepage sections, custom widgets, a picture gallery, and more.
Astra is compatible with most popular page builders of today. In case you do not want to work with page builders, you can always fall back on WordPress' default Gutenberg editor to design your pages.
Astra is highly optimized for SEO for improved rankings in Google and other search engines. It comes with a responsive design that adapts to any screen size with ease.
The theme comes in both free and paid versions. Of course, the free version has limited features. However, if you want to try out Astra, using the free version will give you a good idea of how good the theme is. If you are satisfied, you can always upgrade to a paid version, the pricing for which starts from $47 and goes all the way up to $249.
The theme is fast and weighs only 50 KB. However, do not forget that the final weight of your webpage will depend on the content you are putting in.
#2.

Divi
A list like this cannot be complete without putting Divi among the top five. It is not only a full-blown theme, but also a drag-and-drop builder that you can use to build just about any design that you can think about.
If you wish to, you can always go ahead and use one of their many premade templates. They even have an author layout that is perfect for displaying your books and quickly connect with your fans.
Divi is designed to be responsive, which means that your website can adjust to just about any screen size. You do not need to make separate mobile applications. The theme is full of features like landing pages, shop, gallery, social buttons, and more.
It is perfect for people with zero knowledge of coding. You can play with unlimited colors and use Google fonts to give your site a unique typography. The theme is highly optimized for speed and search engine optimization.
The beauty of Divi lies in its ability to undo and redo your website's design with simple clicks. You can set global styles that will apply to every page and post of your website, or you can change the design for every page and post individually.
Divi is not going to be cheap, though! It will cost you $89 a year, or you can make a one-time purchase with $249. This price will allow you the use the theme on as many websites as you want.
#3.

Narratium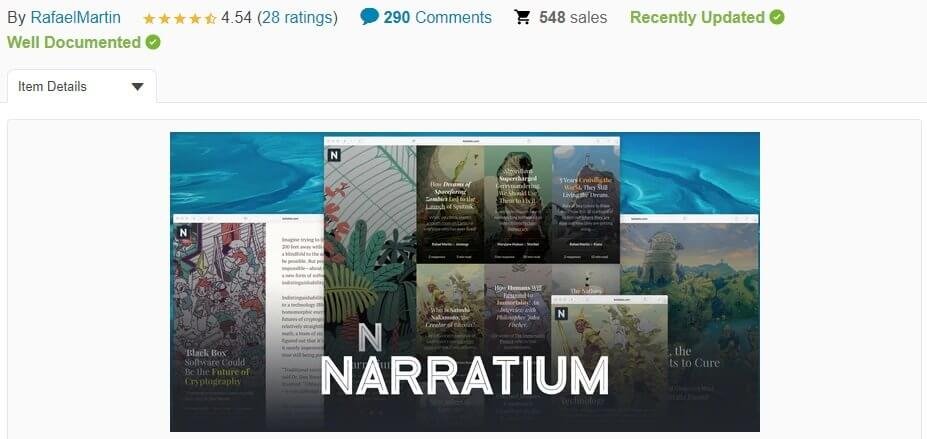 One of the finest themes designed specifically with authors and writers in mind is Narratium. Its strength lies in its clean and minimal design that puts focus on the content. What is interesting is that the theme allows formatting even the titles and subtitles using text format tags such as italics, bold, color, etc.
There are several templates available that you can use. Each template is designed with focus on text in mind. Those templates can be interchanged with ease. The theme is also mobile friendly, ensuring that it quickly adapts to any screen size, and there are fancy and yet, subtle color schemes that can define the overall mood.
The theme comes with some advanced features like dynamic ajax-based navigation, options for adding co-authors, word count tool and more.
As far as the price is concerned, it is quite cheap at $39 for a single site license and 6 months of support. If you want, you can pay additional $10.13 at the time of purchase to extend the support to one year. The theme is available through Theme Forest (Envato).
#4.

Crator
Designed with influencers, content writers, authors, and bloggers in mind, the minimalistic Crator theme is designed to not only help you put your content in front of everyone, but also allow you to sell your services like copywriting, blog writing, and content writing services.
With minimal clean layouts, this theme comes with Mailchimp integration and throws in some additional WordPress plugins like Elementor Page Builder, WPML, Slider Revolution, and Contact Form 7.
You can create an auto-playing slider at the top of your website page to showcase your work or highlight your services. You can also add pricing tables if you are selling services. Overall, the theme is brilliantly designed with smooth CSS3 animations. Well, it is mobile-ready, which means, it can adapt to small screen sizes, making your site completely responsive.
You can purchase the theme for a one-time fee of $49 from Theme Forest with a limited 6-month support. If you want, you can extend the support to 12 months by adding another $13.88 in your bill.
#5.

Odrin
If you are a person who makes a living by selling your books, Odrin is a theme should never neglect. It does not matter whether you are selling your books in physical or tangible form or whether you are selling them in digital format – Odrin will allow you to sell both the variants.
This fully responsive theme comes with some serious features like an option to allow users to read a preview before they can make a purchase. There are templates available for single author books and multiple author books.
If you have upcoming books, you can use the landing page to showcase them in a fancy and eye-catchy format. The theme comes with a unique flipbook animation and a wide range of shortcodes to help you display a variety of things in an elegant fashion.
As for the pricing, you need to shell out $64 one-time fee that will entitle you for 6 months of support. However, you can extend the support duration to 12 months by paying an additional $19.50 during the theme purchase.
#6.

Presence
Complete with a brilliant and minimalist aesthetics, Presence is a theme that targets authors and bloggers alike. You can use it for creating your online store as well, and the developers have thrown in a dark version of theme – just in case you want it.
It has clean typography and offers several premade templates that you can use. There are slider options as well that you can use on your site's frontpage to grab attention for your best works. The theme comes with its very own drag-and-drop page builder, which means that you do not have to depend on third-party services like Elementor, even though the theme is completely compatible with such page builders.
This super responsive theme will ensure that your website looks pretty in different devices irrespective of the screen size.
At €79, this theme is a bit pricey, but it does come with a 14-day moneyback guarantee. In case you are not happy, just ask for a refund.
#7.

Ultra
Ultra by Themify is one of a kind WordPress themes that comes with 17 different header and page styles. That is one of the highest you can find. It is just impossible to not find a style that does not suit the taste of the author inside you. The theme supports well over 600 Google fonts so that you can make your website unique depending on your writing style.
Do not forget, typography plays a vital role! The theme offers 60+ predesigned templates to work with. Just in case you do not like any of them, you can always create your own design using their drag and drop builder that the theme has to offer.
Even better, you can set video backgrounds, parallax scrolling, slider backgrounds and more to grab instant attention. Not just that, you can even add call-to-action button in the sliders.
The price of the theme is set at $59 with 12 months of support and updates. You must keep renewing the theme license every year to keep getting updates and support, making it one of the most expensive themes in the long run.
#8.

Float
One of the most fabulous minimalist themes designed for bloggers, writers, and authors, Float is all about putting focus on your content and eliminating the junk around it. With beautiful typography and a responsive design, it comes with different header layouts and menu designs, allowing you to create a website that not only tunes up to your preferences, but also remains soothing to your readers.
It also comes with fancy parallax layouts and even throws in a drag and drop builder that you can use to create your own design in case you are not happy with the premade layouts.
Float, too, comes from the same developers who created Ultra. Yes, Float is a product of Themify, and you can purchase a single site license for $59 (to be renewed every year). Alternatively, you can always go ahead and join their Master Club by paying $89 a year that gives you full access to all their themes and plugins.
#9.

ChapterOne
ChapterOne is one of the most creative options you will find out there in the market. It is designed in a way that lets you pour in your personality into your site. Yes, you can even set up your shop whether you are selling downloadable or audio books or physical books.
It comes with a massive collection of shortcodes that will allow you to display all your products with ease. You do not even have to know complex coding to use it. Whether you are looking for parallax effects or animation, multiple header layouts or various product variation layouts – ChapterOne has everything you will need and desire to build a site that speaks your personality.
ChapterOne is one of the costliest themes that you can find on Theme Forest. It is priced at $69 for a single site license and 6 months of support that can be extended to 12 months by paying $21.38 extra during the theme purchase.
#10.

Gutentype
Do not want to use external page builders like Elementor? No problem! Say hello to Gutentype – an elegant and modern theme that is designed to work with WordPress' default Gutenberg editor.
This theme is all about minimalism. A lot of open and white space allows people to keep their focus on the content you provide. Do not worry! It is not just for writing stuff. You can set up a full-fledged eCommerce site with WooCommerce and sell your fabulous books to your readers.
Just in case you want to know whether Gutentype is mobile ready or not, then the answer is a big YES! It is totally optimized for mobile devices. Even the image sliders you create are mobile-friendly. It is optimized for search engines, and it even gives you a dark mode – that is all rage nowadays!
You can get this theme from Theme Forest by paying $59 that also gives you 6 months of support. Of course, a few extra bucks during purchase can give you 12 months of support.
#11.

Blog for Writers and Journalists With Bookstore WordPress Theme
That is a really big name, but hey, who cares? Afterall the theme is elegant and designed with authors in mind. Fully optimized for mobile devices, this theme is all about bold and yet clean presentation of your profile and your work.
Ready for WooCommerce, you can even set up your own site and start selling your books – physical or digital! In case you want your site to be completely touchscreen friendly, especially with the sliders, the developers also throw in Revolution & Swiper slider that will ensure that your site reacts to the touches of your website visitors.
With a clean code and minimal design, this theme is a must have if you are looking for simplicity with complete focus on your content. Priced at $59 for a single site license, you can get it from Theme Forest.
#12.

Overflow
Don't raise your eyebrows when I say that this theme was designed with both bloggers/authors and magazine style sites in mind. You can just scratch the magazine part and focus on the blogger segment, and what you will get is a minimal clean design with excellent typography.
If storytelling is on your mind, you can create elegant and captivating video backgrounds. And yes, give your site a unique touch of personality with a large selection of Google fonts that can bring out the true nature of your writing style.
With brilliant header design elements, support for Google's structured data, and perfectly coded for being responsive, Overflow is a theme you just cannot ignore or sideline. This powerful retina-ready theme comes at a cost of $59 one-time purchase price and lifetime updates, but the support will be limited to only 6 months unless of course, you want to extend it by paying extra.
#13.

Leona
Be warned! You will fall in love with this theme because of its minimal and yet bespoke styling that you are not going to find elsewhere. Whether you want to showcase your portfolio or you want to make announcements for your upcoming events, Leona will let you do all that with ease.
Selling your books is on your mind? Well, Leona has you covered. It is completely compatible with WooCommerce, allowing you to sell your work directly from your site. You do not need to depend on other platforms. With a brilliant drag-and-drop feature and tons of shortcodes, Leona does not require you to hold a PhD in coding. In fact, you can hold zero knowledge of how coding works and yet create a beautiful site that your readers will love to come back to, again and again!
At $64 for a single site license, this theme is a bit pricey, but the good news is that it is a one-time purchase. Since it is available via Theme Forest, you are entitled to only 6 months of support with your purchase. You can extend the support if you want.
#14.

MyBook
MyBook is a straightforward theme that is intended to display your publications and other written material. With the MyBook visual composer, you can quickly and easily build pages, adjust the site color and layout, and even modify other design aspects. Also included is an area where you may write and advertise your own works.
Customers' reviews, a sample PDF, book preview pictures – you can add everything in the theme's predefined content blocks, which are very helpful. The theme is well-integrated with WooCommerce, making it simple to sell your books online.
Sold via Templatic, this theme will cost you $49 for a single domain license. Though the purchase itself is for lifetime, the support and updates will be available only for a year. If you want to continue getting updates, you have to pay extra.
What's interesting is that you can get MyBook for free if you are purchasing hosting from Bluehost using Templatic's affiliate link! That is a cool deal considering that Bluehost is one of the most famous hosting providers and WordPress.com actually endorses the hosting company. Even we recommend Bluehost as one of the best options if you are looking for an affordable and reliable shared hosting solution.
#15.

Author
In case you have some coding skills or if you know how to work with page builders, and you are looking for a completely free theme for authors and writers, Author is the one you should be looking at. Yes, it is completely free. You never have to pay for it.
The theme beautifully integrates with WooCommerce and comes with a very clean and minimal design that will allow you to keep focus on everything you write. Though you can sell your books through WooCommerce integration, the only downside is that the theme is not particularly optimized for selling books.
This means that you will not get a brilliantly designed sales page template. You need to design that page by yourself. The good news is that it works perfectly fine with various page builders, especially Elementor. So, you can create a sales page with ease without the need for knowing any coding.
#16.

Hallie
Hallie is one of the most popular WordPress themes for authors on Theme Forest since it is completely customizable and fully responsive. Its straightforward design makes it simple for you to showcase your work while also making it simple for visitors to browse.
It features a contemporary full-width post slider as well as a search bar, which contributes to the overall look. Hallie is the ideal author website template for those who want a more subdued design that focuses on images.
On the downside, however, this theme is not designed for those who want to sell online. It is not compatible with WooCommerce. But if selling is not your priority, only online storytelling is, Hallie still remains an unbeatable theme for small cost of $44 for a single site license. That is a one-time purchase price.
#17.

Foreal
Let us get it straight! If you are thinking that Foreal is not an ideal theme because it was designed way back in 2016, you are wrong! Not only did the developers did an excellent job to keep it updated over the years, but also ensured that it remains a high-resolution theme completely ready for Gutenberg and WooCommerce.
The true strength of Foreal comes from its bold and yet minimalist design that allows you to list your work in a clear, concise, and focused fashion. Though it was originally intended for agencies, people with a creative bend of mind figured out that it can nicely accommodate the needs of an author who want to display his work in a soothing fashion while still making a statement that will hit the psyche of the readers.
It comes complete with various templates and header styles, and not to forget, this theme bundles up some of the most insanely popular plugins and addons that will allow you to build a website of your dreams. They also have separate black and white versions, giving you a choice that you rarely get with WordPress themes.
At $59 one-time cost, Foreal is a great deal for those who want simplicity and yet the ability to make a bold statement.
#18.

True North
If you believe simplicity has unbeatable strength, True North is what you should pick up. What is interesting is that this theme is available for free, but with limited features. You can always try it before purchasing. When you are ready, you can upgrade by paying only $49 for unlimited domain license.
The theme focuses on simple design and beautiful presentation of portfolio with an old and tested method of a grid layout, making it an unbeatable champion when it comes to arranging and displaying your work.
The theme works with popular plugins like Elementor, Divi builder, Beaver builder, Yoast, WPForms, and so on. This theme is highly optimized for both speed and SEO, making it one of best themes you can find. Yes, the theme supports custom widgets, custom headers, and custom backgrounds.
#19.

Writee
Last on this list, Writee is a free WordPress theme designed for bloggers, writers, and authors alike. The theme will allow you to display the best of your content using a full-width slider, that makes content discovery easy.
The spacious layout, high focus on typography, and a neatly place navigation menu is all designed to keep readers focused on the content that matters the most. In case you are worried about its responsiveness, you can happily shed that concern. It is fully responsible and adjusts to every screen size!
Conclusion
I will be honest. This list is nowhere even close to being complete. I can literally put in another 30 themes here. But I do not believe that will be a wise decision. Too many choices can often create confusion. That is the reason why I have put together only those that I have personally tested and liked over the many years of blogging experience.
Of course, the top five on this list are my personal favorite and one that I also like a lot is ChapterOne. If you are confused with which one to select, these six themes should give you a nice starting point.
A great theme and an awesome-looking site with a neat and minimal design can be far more attractive for authors because they allow focusing on what matters the most. Do not settle for magazine themes. They give a very busy feeling, and they can be distracting, specially when you are trying to grab a reader's attention with the magic of your words.
So, what are you waiting for? Tell me which authors you settled for!