Building your site from scratch takes time and effort – a lot of it. The work you put in to building your website, the time you spend researching your content, and the effort you put in for marketing your website – all builds an emotional connect. You start looking at your website not just as a source of income, but something with which your passion is associated. For many, their websites are no less than their children.
It is because of this emotional connection that you will feel completely broken, lost, and frustrated when your site is infected with a malware, or it gets hacked. The chances of such mishap happening are quite high especially when your site is powered by WordPress.
WordPress has many known vulnerabilities, and the most of those loopholes come from the plugins you use. Because of their coding structure, they often end up becoming the vectors for malware infections and hacks.
You surely do not want that to happen, do you?
In case you are a paranoid person like I am, it is better that you put your website behind Cloudflare WAF and use a proper security plugin that will not only help you to avoid malware infections, but also help you to clean up malware from you site in case your site becomes an unfortunate victim.
Now the big question before I give you the rundown of the list of best WordPress malware removal plugins – "how do you know if your site is infected with malware?"
There are some telltale signs that will let you know about the misfortune your site has met with. Here is what you should look for:
Suddenly altered design, but not done by you.
Inability to log in to your WordPress dashboard even when you are putting in the right user ID and password.
There is a sudden and massive unexplained drop in your site traffic even though there are no Google core algorithm updates.
Unexplained user accounts on your WordPress dashboard.
Site becomes unresponsive out of no reason.
Your site redirecting to some shady and spammy site.
Sudden appearances of popup ads and screens on your site.
Something automatically starts downloading when you open your site on a browser.
Sudden appearance of hundreds (if not thousands) of spammy links on your website.
If you notice any of the above, you should know that your website has been infected by a malware. In situations like these, your next best bet is to clean up your site and remove the infected files. The best way to go forward is to replace the WordPress installation files with a fresh version you download from WordPress.org.
If you do not want to do that, the plugins listed below will help you do that. However, do understand that for these plugins to work, you must have the plugins installed on your site and you must have access to your site. Alternatively, you still have access to your site, and you can install the plugins and run them.
If neither is possible, manual removal of the malware will be the only option. Assuming that you have access to your site and that you can install a plugin, or you just want to install a plugin as a precautionary measure so that you do not run into such problems, you can find 14 best WordPress malware removal plugins for your site on this list.
Let us start.
Best WordPress Malware Removal Plugins
#1.

Wordfence Security – Firewall & Malware Scan
Wordfence is one of the most widely used security plugins in the WordPress world. Wordfence Security guards against harmful assaults on WordPress sites. It also protects from hackers, and malicious bot activities on your website.
This plugin includes malware scans, and they even throw in a firewall. The malware scanner helps in removing existing infections. Additionally, it offers security protection, preventing your site from being infected by new assaults.
The Core Features of Wordfence
There is a free version, which is sufficient for most of the WordPress users out there. Unfortunately, the free version will not give cloud based WAF.
For advanced users, the plugin allows changing the login URL to a custom URL.
It allows setting reCAPTCHA to your login, registration, and comments forms, thereby preventing spam activities.
You can manually block malicious networks.
If you want, you can block certain countries from accessing your site. There should not be an iota of doubt that China is one such country from which such massive attacks happen. There are many such countries including Iran, Romania, and so on.
It shows live traffic in real time, allowing you to see hacking attempts in real time. You can see the origin country and even the IP address.
Sends reports directly to the email address of your choice.
It offers restoring original files from WordPress in case it detects unnatural file changes.
The bad side, however, is that the plugin is quite slow due to the fact that it performs in-depth analysis. By slow I simply mean that the scans are performed slowly. It doesn't slow down your website. Still, do remember that Wordfence is quite resource intensive, and hence, it is not a recommended plugin when you are on low-end shared servers.
#2.

MalCare
BlogVault is the parent company of MalCare. It quickly rose to fame because of its easy-to-use interface and simplicity. Ever since its launch, the plugin has maintained a very high reputation of being one of the most powerful WordPress malware removal plugins to exist today.
MalCare's automated scanner notifies you prior to any harm being done. The plugin does all of the hard work on its own servers, ensuring that your WordPress site and your server is never loaded. This means that even if you are on a shared server, you can happily use the plugin.
MalCare was created after an analysis of over 240,000 web pages and employs over 100 signals to correctly detect even the most sophisticated malware.
In case your website is infected with a malware, you no longer need to wait interminably for technical assistance to clean your WordPress site using MalCare's One-Click Malware Cleaner.
A backup is your website's vital safety net in the event that it gets compromised. Powered by BlogVault's robust backup service, you're always safe and have immediate access to your backups.
The Core Features of MalCare
It uses its own server to scan your site for malware infections and hacks.
Fixes hacked websites in less than 60 seconds.
Their Smart Firewall gives real time protection from threats.
MalCare doesn't remove entire files. Instead, it removes the malware codes from the files, ensuring that your website does not break down during repair.
It protects login forms and registration forms using CAPTCHA.
It hardens your WordPress site and prevents hackers from accessing your site.
It prevents Brute Force attacks and ensures that there are minimal false alarms.
On the downside, MalCare doesn't have provisions for database scanning.
#3.

Cerber Security, Anti-Spam & Malware Scan
WP Cerber is a one-stop shop for protecting, monitoring, and securing any WordPress installation.
The plugin includes one of the most advanced malware scanners available, providing tools for monitoring file changes, verifying the integrity of WordPress, and any theme and plugin that you are using. It is very capable at removing dangerous code and viruses from an infected WordPress site.
Once installed, you have the option of doing a Quick Scan or a Full Scan. All files with executable extensions are scanned for viruses during the Quick Scan. The Full Scan checks all files for dangerous payloads. The Full Scan feature scans even the images to check for malicious codes.
The Core Features of WP Cerber
Allows setting a custom login URL. In case you don't want that, the plugin can limit the number of login attempts.
It protects a website against spam by protecting the contact and comments spam.
It constantly monitors the website for file changes including WordPress core files, as well as plugins and themes files.
It hides several key areas from hackers including wp-register.php, wp-signup.php, wp-login.php, and so on.
It can disable various things including automatic redirection to login page, XML-RPC, feeds, and WP REST API.
It allows blacklisting or whitelisting IP addresses.
It even offers protection against DDoS attacks.
On the downside, the plugin settings area can be quite intimidating for noobs, making the plugin an ideal solution only for experienced users.
#4.

Sucuri
No list can be complete without mentioning Sucuri. It is one of the most popular WordPress security companies out there. They have a WordPress plugin that is lightweight and easy to configure, and it offers various hardening measures that will ensure that your website stays safe from the prying eyes of hackers and other malicious actors online.
The Core Features of Sucuri
Audits security activities.
Checks for file integrity.
Provides various hardening measures with just one click.
Allows monitoring blacklists.
Remotely scans for malware.
Offers post-hack security actions.
Offers a robust website firewall.
A very lightweight plugin that doesn't put pressure on
While Sucuri is one of the most powerful WordPress security options available today, the downside is that some of the most important features are available only for the premium users. For instance, the web application firewall is available only for paid customers. Also, for malware removal and hack recovery, you need to pay them. The good thing, however, is that they guarantee a full recovery.
#5.

iThemes Security Pro [Previously Known as Better WP Security]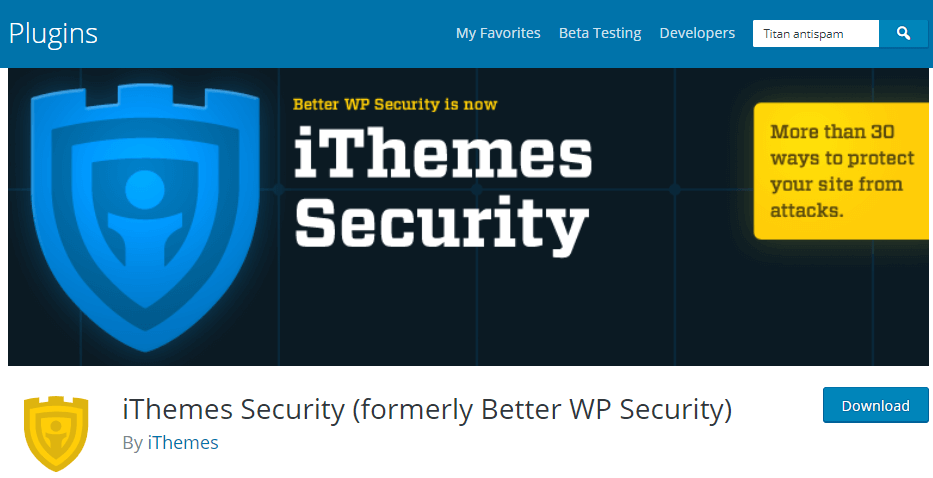 This plugin was previously known as Better WP security, and the updated version has put it among one of the top WordPress security plugins. With over 1 million active installs, iThemes offers more than 30 methods to protect your site.
Malware scanning, anti-spam, virus detection, monitoring changes in files, limiting login attempts, etc. are only a few of the many security features you get with the plugin. This powerful plugin is an excellent choice for people with some expertise who need a high level of security.
I have a full review of iThemes Security Pro. If you wish, you can read it through. What is interesting is that if you decide to go with Liquid Web managed WordPress hosting, you will get iThemes Security Pro for no additional cost.
There is a free version available, but most of the advanced features are absent in that. Well, it is free. You cannot expect to have everything.
The Core Features of iThemes Security Pro
Some of the core features of iThemes Security pro include:
Security checks.
Database backups.
Malware and virus scans.
Local and network brute force protection.
Force users to change passwords.
Change WordPress SALT keys.
reCAPTCHA for forms and login areas.
Passwordless login, etc.
The plugin will allow changing database prefix (don't do that without backups), change content directory, hide backend and more. However, do remember that you must take full backup of your site before performing highly advanced tasks.
On the downside, iThemes Security Pro is quite difficult to use and configuring the plugin can lead to an intimidating experience.
#6.

Titan Anti-Spam & Security
Titan Anti-spam & Security is the next plugin that is well-known for detecting malware. Anti-spam, malware scanner, firewall, and defensive audits are all included in this plugin. This all-in-one protection plugin works wonders for eradicating existing infections.
Their complete firewall, which protects against brute force attacks and limits login attempts, is an excellent feature! Additionally, Titan Anti-Spam & Security features an intuitive user interface. Perfect for individuals in search of a fast fix.
The Core Features of Titan Anti-Spam & Security
It comes with a basic plan with 1000+ malware signatures to scan your site.
Provides WordPress hardening measures.
Checks your site for vulnerabilities and provides necessary recommendations.
Makes it easy to detect infected files.
Offers a web application firewall.
Allows real time blacklisting of IP addresses.
Checks not only the WordPress core files but also the files of themes and plugins that you are using.
On the downside, Titan Anti-Spam & Security is not really sufficient enough for very demanding and established sites. It is, however, a great choice for starter sites.
#7.

Astra Security Suite – Firewall and Malware Scan
One of the newest members in the WordPress security market, Astra Security Suite is quickly evolving to become one of the most trustworthy security options available today. It is a very advanced security plugin with brute force protection, web application firewall, and thorough malware scans.
The plugin is designed to be extremely simple to use. The interface is clean and beautifully designed. The setup process is simple and targeted towards people who do not have immense experience with WordPress security. However, that does not mean that the plugin cannot take care of the needs of the pros. It can!
It does not require you to make any DNS changes while installing and configuring the settings. It is more like a fire-and-forget solution.
The malware scanner is powered by a machine-learning system, allowing it to evolve as more and more advanced threats keep hitting the market.
The Core Features of Astra Security Suite
It has an interesting penetration testing feature.
It has the ability to clean up malware almost immediately.
It performs community vulnerability assessment.
They offer a real-time web application firewall.
The plugin offers a guided setup for easy installation and setting configuration.
Its spam detection capabilities are very impressive.
On the downside, Astra Security Suite does offer a very limited free plan. Since the plugin is relatively new, it does not have a lot of users, which means that there aren't many reviews, if that is what you usually rely on before making a purchase.
#8.

SecuPress
Yet another new service, SecuPress is another security plugin and malware protection plugin that you should take a look into very seriously. It is an all-in-one solution with a majestically beautiful interface that you are going to love working with.
It comes with many advanced features including a powerful firewall, a robust malware scanner, anti-spam features, backups, file scanner and much more.
The Core Features of SecuPress
It offers a powerful firewall that blocks bad bots, doesn't allow connection to bad URLs, scans for SQL injections, and much more.
It offers WordPress endpoint protection by blocking XML-RPC requests and REST API requests. It even comes with an anti-hotlink feature.
It checks for file changes in WordPress core as well as themes and plugins.
Protects user logins with features like enforcing strong passwords, forbidding vague usernames, setting password lifetime for users, and more.
It performs security audits using 35 security points within 5 minutes.
It offers country blocking and malware scans, and in case it finds infected files, it sends an easy step-by-step action plan.
On the downside, most of the advanced features of the plugin are available only in the pro version. However, the free version is powerful enough to give you protection against common threats.
#9.

Ninja Scanner Virus and Malware Protection
This little plugin packs a punch in terms of security. And it should not cause your site to slow down! The malware scanner scans for and detects existing vulnerabilities and security holes. Additionally, this plugin provides malware detection. With this lightweight security plugin, you get enough protection without compromising performance.
The Core Features of Ninja Scanner
The plugin is capable of taking file and database snapshots.
It comes with powerful antimalware and antivirus modules.
It has a sandbox for quarantined files.
It also comes with a file integrity checker and file comparison viewer.
It integrates the safe browsing lookup API of Google.
It can perform background scans and scheduled scans.
On the downside, the plugin's free version is quite basic and in case you want to enjoy its full power, you need to pay for the premium version. Also, the plugin lacks an anti-spam feature, which means that you must deploy some other plugin for that.
#10.

Defender Security – Malware Scanner, Login Security & Firewall
Developed by WPMU DEV, this excellent, all-inclusive security plugin is well worth considering. Defender protection includes a malware scanner, IP filtering, and audit logs. And this is typical for the plugin's free version.
The Core Features of Defender Security
Two-factor authentication, login masking (change location of default login area), and login lockout (blocks failed login attempts).
Adds important security headers to provide protection against problems like code injection, XSS, etc.
Allows IP blocking. It even allows blocking users based on countries.
Comes with 404 detections for blocking bad bots.
Prevents spam by disabling trackbacks and pingbacks.
Disables file editor and updates security keys on demand.
Prevents PHP execution.
On the downside, the user interface is not very pleasing. There are several advanced features, which when deployed, can reduce search engine visibility.
#11.

Anti-Malware Security and Brute-Force Firewall
The Anti-Malware Security plugin by ELI is one of the finest malware detection solutions for WordPress.
The plugin conducts a thorough scan to detect and eliminate known security risks and backdoor scripts. It comes complete with a firewall prevents SoakSoak as well as other malware from taking use of known vulnerabilities in various plugins
Make sure that you download definition updates to ensure that you are protected against the most recent security risks.
The Core Features of Anti-Malware Security and Brute-Force Firewall
It has a powerful malware scanner and provides effective defense against malware infections and SQL injections.
It has a thorough scan feature that removes database injections and known security threats.
It performs thorough checks of WordPress core files.
The plugin regularly downloads definition updates to ensure that your threat protection is always up to date.
The Anti-Malware Security and Brute-Force Firewall plugin is a powerful one, unfortunately however, it is not a complete security suite, and hence, it might not be a right solution for demanding and popular sites.
#12.

Clean Talk
CleanTalk's Security & Malware scan is a plugin that bolsters your website's security. The plugin includes one of the finest malware scanners on the market, a free firewall service, and even offers security log.
The malware scanner may be configured to run automatically at preset intervals or on-demand in the event of a website breach.
The scan will look for harmful code included in changed files, malicious signatures embedded in files, and will try to fix and remove identified malware.
The Core Features of Clean Talk
Allows IP blocking and country blocking.
Offers a web application firewall.
Comes with a powerful malware scanner and antivirus functions.
Limits login attempts.
Prevents brute force attacks for password hacking and finding WordPress accounts.
Provides protection for the login area and WordPress backend.
The plugin offers one-click scans.
It is a lightweight plugin that doesn't impact your WordPress site's performance.
There are some known interface issues with the plugin, however, the developers are constantly working on it to ensure that all the problems are eliminated.
#13.

Quttera – Website Anti-Malware
Quttera is another popular malware protection plugin that helps to prevent malware attacks. The problem with this plugin is that if your site is already infected, you will need their Premium Security or Emergency plans for manual malware removal, hack repairs and full website audits. However, if you think that the automated malware removal is more than enough for you, the basic plan should suffice.
Here is the catch! The plugin is available for free and the best it will do for you is scan your site and notify you of all the infections. You need to perform the cleanup by yourself if you do not want to pay.
The Core Features of Quttera
One click scans.
Ability to identify unknown malwares.
Detects external links.
Uses artificial intelligence for scanning.
Studies and identifies compromised WordPress files.
Uses cloud technology.
On the downside, as mentioned earlier, Quttera will only notify you of malware infections. You can upgrade to enjoy automated malware removal. For manual action from the Quttera team, you need to pay even more!
#14.

BulletProof Security
BulletProof Security is one of the oldest security plugins available on the market. It comes complete with a firewall, a malware scanner, database backup option, login security and various other security measures that you can deploy to ensure that your website remains secure.
The free version of the plugin is often enough for the majority of the new websites. However, if your website is very popular, you should consider getting the Pro version of the plugin that comes with tons of more features that will ensure that your website remains safe and sound.
The Core Features of BulletProof Security
Provides firewall protection and MScan malware scanner.
Allows changing database prefix.
Monitors and provides login security.
Allows taking database backups from time to time.
Comes with the features of Auth Cookie Expiration and ideal session logout, etc.
On the downside, the more advanced features are available only on the paid version. Also, the setup process can be quite intimidating for many noobs who are new to WordPress security.
Conclusion
If you ask me about my top choices, I will recommend you go for any one from the top 5 options. However, I will also recommend that you go through each plugin's full feature list and find out whether they fulfill your needs or not. The plugin you select should be capable of offering the features necessary for your site.
In addition to the plugins mentioned above, I will always recommend that you go for Cloudflare's paid plan that comes with a Web Application Firewall, which happens to be one of the most powerful security options you can find today.
Combine both Cloudflare and one of the security plugins mentioned above, and your website should remain protected from malwares and hackers.
However, make sure that you are performing your roles properly. Do not share your passwords with anyone. Make sure that you keep all software and your themes up to date. One of the biggest security threats for WordPress users is always the use of outdated plugins. You don't want to suffer because of your foolishness. You will have no one to blame.