What is Wix?
Wix is a hosted drag-and-drop website builder that allows you to create a website for almost any business type. It is best suited for those who do not know anything about coding and do not feel like dealing with things like hosting servers, software installs, etc.
Understand it this way, "Wix is for people who love eating. It is not for people who love cooking!"
Wix will give you a browser interface from where you can build your website using myriads of website templates. You can build a website within an hour. It supports SEO, and there are Wix sites that perform well in Google search results.
In this Wix.com review, I am going to walk you through Wix and its modus operandi. I will give answers to all the pressing questions that are bugging you, and I will tell you when to use Wix, and when not to use this popular drag-and-drop website builder.
So, gear up, it is going to be a lengthy narrative. If you feel sleepy in between, you can sleep! I am kidding! Sprinkle some hot water on yourself. I am kidding again! Grab a coffee – that's safe!
Let's start with a few questions and their answers.
What is Wix? Giving a Thorough Answer!
Wix is a cloud-based website builder that will allow you to get a website for your business or personal use. You don't have to know to code. It works with the simple drag-and-drop feature.
You don't have to buy a hosting server, because Wix provides that. There is no need to buy a website theme because Wix will give you hundreds of templates to choose from.
You will be working only on the frontend with visual elements. You don't see any code that works behind. There is no need to access a server or install special software to work with Wix. As long as you have a web browser installed on your computer, you are good to go!
Yes, with Wix, you build a website through the Wix website. That's simple, right! Indeed, it is straightforward.
Wix is an Israeli company that came into existence in the year 2006. Today, it has grown into one of the largest website builder companies in the world.
With 3000 employees serving 109 million websites that are live on the Internet of Things, Wix is, without an iota of doubt, one of the biggest companies you can choose for building your online presence.
The company headquarter is located in Tel Aviv, Israel. However, it has offices in a few other countries, including India, the United States, Ukraine, Lithuania, Ireland, Germany, Brazil, and Canada.
What Type of Website Can You Make Using Wix?
Wix will allow you to make different types of websites. Some of them include (but not limited to):
Business website.
Online store (e-commerce).
Photography site.
Music website.
Events website.
Portfolio website.
Beauty & Wellness website.
Restaurant and Food website.
Design-oriented website.
Blogs.
…and more!
Will Wix Give All the Necessary Functions for Building a Website?
I will be honest! This depends on what you need. I am yet to see a website built on Wix to provide quiz functionality. You can always think of a few more that Wix will not provide.
However, Wix does provide a lot of functions vital for creating websites. They include:
SEO plans
Web apps
Mobile-ready sites
Professional mailbox
Custom domain
Social tools
SSL certificate
Hosting
Analytics
Multiple payment methods (for e-commerce, booking websites, music selling sites, event registration sites, etc.)
Email collection
Yes, Wix offers many tools that you will need to make a professional website. However, you need to remember that not all functions are free. You need to pay for some functions if you need them.
Paying? Yes… this brings us to the pricing structure of Wix.
Wix Plans – Free & Premium
Wasn't Wix Free?
Partially true!
There is a free plan that Wix offers. Just as you can expect from any free-tier plan of any service, Wix's free plan is riddled with many issues.
What are those?
No Custom Domain:
First thing first, there won't be a custom domain. You will not get yourpreferreddomain.com. You will get something.wixsite.com/myawesomesite!
How unprofessional is that second one looking? Yes, that's the problem with the free plan!
Wait, there's more to ward you off!
Wix Ads:
The free plan will force you to show Wix ads on your website or blog. There is no way you can get rid of it. Yes, the free version of Wix is advert-supported, and you need to accept that.
500 MB Storage:
That is ridiculously low! Trust me! That storage space will be gone within a few months if your website or blog is image-heavy!
1 GB Bandwidth:
That I will say, is plenty for a brand-new website, but if you plan on staying for years to come, and keep delivering content that people love, 1 GB bandwidth is like satiating the hunger of an elephant with a single peanut!
What's Good About Wix Free Plan?
All website templates are available for use with the free plan. You will also have access to icons, clip arts, images, fonts, etc. that Wix provides. You can also access both free and paid apps from the Wix App Market.
Who Should Use Wix Free Plan?
Consider situations like these:
You need a temporary website for your birthday.
You need a website to accompany your wedding or anniversary.
You have an upcoming community garage sale that will list all sale items.
You are hosting a Halloween party with your family and friends, and want a platform for registration of guests.
If you notice, these are all temporary needs. Once the important day is gone, people will not come and visit the website. Wix's free plan is perfect for those people.
It is never meant for professionals! For instance, this blog that you are reading now is a professional blog with a long-term plan. It has affiliate links, it will earn money, it can add new functions over the years.
This blog needs something more than what Wix's free plan offers!
The good thing about Wix's free plan is that it doesn't require you to give up your credit card information.
You can try it out for free from here.
Wix Premium Options for Websites
If the free plan from Wix has managed to shoo you off, the premium plans may be interesting for you.
There are different options that you will get to choose from. However, you need to understand that the options you get will vary from country to country.
For instance, here is what you see when you are in the US:
But if you are from India, this is what you will see:
I am not going into the prices for different plans. I will you what these plans mean.
Free Plan: I have already discussed that with you.
Connect Domain: If you see this option, it will allow you to connect a domain to your Wix site. Of course, you need to own the domain. However, that's all you can do! It still remains a very basic plan with Wix ads still showing on your website. You can't remove those ads or Wix branding.
Combo Plan: If you have a small startup business, you can use this one. There will be no Wix ads and no Wix branding. This is what will be gone from the header:
See that top banner with a big call-to-action button? That will be gone. All the way down at the footer, you will not see the text which reads "Proudly created with Wix.com."
This is what you will in a free plan:
The combo plan will give you the following:
Ability to connect your domain. So, your website URL will be yourwebsite.com and not something.wixsite.com/yourawesomesite. The second one sucks, really!
You will get 2GB bandwidth and 3GB storage. That's ample for a new business site.
You will have 30 video minutes. This means that you can upload a single 30-minute video or multiple smaller-duration videos summing up to 30 minutes in total.
The 'video minutes' feature will allow you to sell or rent video content. If you compare this to other website-builder platforms, they will allow you to only embed videos from platforms like Vimeo or YouTube. You cannot sell your video!
Unlimited Plan: Hold on! There is no need to get ultra-excited about the word 'Unlimited.' The plan doesn't have amazing things to offer. It is pretty similar to the Combo plan.
Here is the list of features that you will get with the Unlimited plan:
Ability to connect your custom domain.
10 GB storage space.
Unlimited bandwidth (simply put, there will be no restriction on the number of visitors landing on your website per month).
You will also get 60 video minutes.
You will get one analytics app that will help you to measure your site traffic.
You will also get a site booster app from AppSharp. The app will submit your website to Search Engines.
Finally, you will have $300 worth of Ad Vouchers that will allow you to run ads on Bing Ads, Google Ads, and Local Listing.
Pro Plan: No fancy language! Here is what you get:
Add a custom domain.
More storage than Unlimited plan (20 GB).
Unlimited bandwidth.
More video hours (120 minutes).
Analytics app.
Site booster app.
Logo-making tool.
Ability to customize social icons.
Calendar tool for providing event listing.
VIP Plan: This one sucks! It is Pro Plan + Priority support! Unless you want to engage in a distant romantic relationship with one of the Wix support team members, the VIP plan is a pure bluff!
Wix Premium Options for Businesses
This is going to get funnier.
I warned you! Don't complain later.
They have four different options here – with slight modifications! Let's start!
Business Basic: It is for e-commerce, just like all other business plans. Take a good look at the Unlimited plan above. That's what you get with 10 GB of extra storage and 4 extra video hours.
So, you get 20 GB storage and 5 video hours! The plan will facilitate e-commerce. The 5 video hours is good enough to make 60 5-minute videos and sell them. Fitness videos, anyone?
Oh! I almost forgot! They will give you sales analytics and reports! Also, you can accept online payments because it is for e-commerce.
Business Unlimited: This is Business Basic with:
15 GB extra storage. So, you get 35 gigs of storage.
5 extra video hours. So, you get 10 video hours.
They will throw in a logo-making tool.
They will also give you a social icon tool.
Sales analytics and reports.
Accept online payments.
Business VIP: Unless you want to create a YouTube or Vimeo competitor, this is pure garbage! This is what you get here:
50 GB storage.
Unlimited video hours.
Logo-making tool.
Social icons tool.
Sales analytics and reports.
Accept online payments.
Of course, of course! You will get those site booster apps, analytics apps, unlimited bandwidth, etc. That's available for all business plans.
What's special about the Business VIP plan is that they will make you feel like King or Queen of England! They will give priority response and VIP support! Where's the crown?
Enterprise Plan: Wix will charge a whopping $500 a month for this thing! In return, they will give you the Business VIP and hand over a phone with a hotline to Wix support, who will hold your hand, tell soothing words to you and throw in some tech help during and after the website-building process is over.
Their experts will look into your code issues, design issues, and even conduct security audits for your site!
That's moot!
I don't know of any enterprise in this world that doesn't deploy a Dedicated server with inhouse experts available 24×7. Enterprises control the infrastructure and tweak them as per their needs.
What About SSL, Domain, and Hosting?
Let's talk about the SSL.
Yes, you will get an SSL certificate for any paid plan that you take. I am guessing they will give you SSL from Let's Encrypt because that is free and totally acceptable globally.
Now, talking of domain, if you have one, you can add a domain to your plan, or you can choose to buy a domain from them.
In the case of all paid plans, you can get a domain for free for one year. You will have to pay for the domain after 365 days.
The renewal rates for the domain are quite comparable to popular domain registrars like Name.com, Bluehost, etc. So, there is nothing to worry about.
What's interesting is that you can transfer the domain from Wix.com to some other registrar.
Talking of the hosting, you don't have a choice here. Hosting comes bundled with Wix's offerings. That's the reason why they will not tell you anything separately about the hosting options. You have to accept what they give!
There is no scope for you to choose from different hosting plans! That's sad!
Now the question is, how well do the servers of Wix.com hold? I mean, what about the uptime. According to Wix, they have a server uptime of 99.8%.
Unless that is independently verified, you should not believe this.
While 99.8 may sound great, the industry norm is to offer 99.90% minimum. Anything less than that is not acceptable.
So, if I go by the industry norm, Wix has a poor performance.
Wix Mailboxes
There are two ways you can use mail with Wix. You can buy mailboxes from Wix. The service is offered by G Suite.
In case you want to purchase G Suite mailboxes, you have to shell out $6 per month per mailbox. For each mailbox, you will get cloud storage and 30GB inbox.
Alternatively, you can go ahead and quickly configure DNS settings of the Wix domain and use the email solution of your choice. If you want this, you need to have a premium account.
Compare this with the usual hosting scenario. Even if you are going for a simple shared hosting from a service like HostGator, you can get free unlimited professional emails!
Of course, there are other hosting companies who will not provide you an email for their basic plans, or at the most, what they will offer is 1 email against one domain. If you want more email mailboxes, you have to upgrade the hosting or buy their email package.
There isn't much to frown about the mailbox options of Wix!
Content Management System & Interface of Wix
This is where things get a bit wacky! For starters, things can quickly escalate into widespread confusion.
Why so?
That's because they have three options. They are:
Wix Editor
Wix ADI
Corvid by Wix
Bite me!
There's another one! Editor X.
You already look confused. Aren't you?
Worry not! Me here!
Let's take a look at each one of them separately.
Wix Editor
The classic option or the standard option that you will get with Wix. What you need to do is:
Step 1 – Select a template.
Step 2 – Start editing the template.
Step 2.5 – Get confused, click around on dozens of buttons to finally understand it.
Step 3 – Finish editing.
Step 4 – Feel proud and publish the website.
Step 4.5 – Keep wondering whether you can change the template or not because you spotted a better template after publication.
Step 4.75 – Be heartbroken! You cannot change the template once you have published the website.
Step 5 – Get back to normalcy and make peace with your choice. Create posts.
The complexity of the Wix Editor is a debatable matter. For some, it is quite confusing. For others, it is simple! Those who think it is confusing usually complain about the overall interface, and the lack of simplicity.
Here is eye candy for you:
Enjoying?
Great! You are a hero!
If you are not enjoying it, you may have to spend hours to understand this thing.
Once misplaced click here and there, coupled with a poor memory of the previous action, can land you in a position where restarting the process will make more sense!
Wix ADI
ADI stands for artificial design intelligence. That's a mouthful!
The concept here is that Wix will ask you a few questions at the start. With the answers you give, Wix will do some online research (albeit, in the background), and then boom! You get a readymade website.
What you get is the exoskeleton with pages laid out automatically for you. Now, you can do some clicking, dragging, and dropping magic to change the overall look and feel of the website.
When you are done, publish it. Then create new posts!
Feeling like a pro?
Wait! No need to rush.
The artificial design intelligence can only take you so far. There is more that you need to worry about.
The automatic exoskeleton it creates depends on the analysis of various websites in your niche.
What you eventually get is a run-of-the-mill website that looks very similar to others in layout and functionality.
If you happen to be still okay with that ordinary thing you get, there's some more disturbing news for you.
The Wix ADI doesn't really get rid of the drag-and-drop function. You still need to get your hands dirty.
If you don't believe me, you can surely take Wix's words for it. Check out this video from Wix:
Corvid by Wix
If you are using the Wix Editor or the Wix ADI to create your website, this is definitely something you will want to avoid.
Previously known by the name Wix Code, the Corvid by Wix is all about creating dynamic pages.
Wondering what a dynamic page is?
Well, take Facebook, for example. When you create an account, you see a profile page, and you put in a lot of information there. For example, you give your name, your bio, your profile picture, etc.
Do you think Facebook gives a separate page to every user? Not really! They serve the same page to every user.
Any user who puts in data on that page gets saved in a database. They are all different entries from different users using the same page. That page is a dynamic page.
Corvid by Wix, is for creating a dynamic page.
It will allow you to create new databases first, and then create dynamic pages based on those databases.
Sounds horrible, right?
Think of it as a spreadsheet. You create lots of columns and rows. That's the database.
With Corvid by Wix, you create that database first.
Once you have a database, you create a sample page by using the drag-and-drop page builder. You have all the freedom you need to design the page.
Once you have the design page ready, you need to connect each element of the design page with the respective data field in the database.
After you establish the connection, publish the page!
Okay, I know you might not be very comfortable with this one! Corvid is particularly helpful for developers. So, you may want to hire a developer if you want to use Corvid to create a website with dynamic pages.
Do I like this feature?
Yes, I do! It gives more control and flexibility. However, those who are using Wix to avoid the technical hassle, this isn't something they will ever like to deal with.
Editor X
This is the fourth option you will have. It is in beta testing, and it is here to solve the 'responsive' issue that Wix has.
Wait, what?
Doesn't Wix create responsive pages?
Short answer – Not entirely!
I will cover this shortly. Have patience.
Coming to Editor X, it is targeted towards developers and agencies, and it brings in the mobile-friendly functionality to the Wix platform.
You don't have to worry about it now, because:
It is in beta.
It is not for an individual. It is for, as I said, developers and agencies.
Hopefully, the mobile-friendly features that Editor X has will come to Wix Editor, or Wix ADI, or Corvid by Wix. That's something we can only hope for now.
Website Templates
I know you wanted me to speak of the responsive issue first. However, this one looks more logical segment in here.
I will transition from templates to responsive design. Don't worry.
Talking of templates, Wix has one of the largest collections of website templates among drag-and-drop website builder services.
The templates look professionally designed with great use of typeface and space. Short story, they are visually pleasing, and if you use high-quality images, they look awesome.
Talking of high-quality images, Wix already has a great collection, but if you need more, you can buy from Shutterstock right from within the Wix Editor.
But be careful. Using very high-quality images without proper optimization will lead to slow website loading time. Google doesn't like that.
One great thing is that Wix has arranged these templates in various categories. Categorization is very intuitive and makes it very easy to find the best template for your website.
Though the template collection of Wix is great, there are a few terrible issues that you have to deal with. What problems? Here is a list:
Once you select a template and publish your website, you are stuck with that template. You cannot change it.
If you want to change a template somewhere during the editing phase, you have to start from scratch.
Each template comes with a handful of layouts. You cannot go beyond that. Below are three screenshots for you to understand what I mean.

Compare this with WordPress, and you will understand how flexible you can be. You can use any page-builder to create endless layouts. Or, you can use a theme with endless layout options.
With WordPress, you can let your creativity flow without any limits.
One of the biggest problems with Wix templates is that they are not responsive.
Yes, Wix Templates Are Not Responsive.
Let's talk!
Wix Will Not Give Responsive Websites
Isn't this contradictory to what you see in the image below?
Despite what you see in the image, WIX IS NOT RESPONSIVE!
What Wix uses to give you a mobile-friendly website is 'Absolute Positioning.'
It simply means that it will allow you to position the webpage elements by pixels, but not relative to the screen used by the reader.
A responsive design, on the other hand, positions the webpage elements relative to the screen used by the reader.
Absolute Positioning will give you more flexibility in terms of where you want to place the elements. Elements refer to the forms, images, texts, etc.
So, you may be editing your website on a laptop. You position the elements depending on the size of your laptop screen, that is, by the pixels to get a perfect fit.
What happens when I open the webpage on a desktop with a bigger monitor screen?
Your website will look stunning in say, a 15″ screen. What will happen if I try to open that website on a 32″ monitor? You did not design the webpage on a 32″ monitor, did you?
How many screens can you use for designing your website? You will spend a lifetime designing your website that fits well into every screen size!
So, what about the desktop and mobile icons you see in the image above?
Click on the mobile icon, and this is what you will see:
Look at the red circles and the small circles inside them. Do you realize what they are?
You can literally click and drag using those small circles inside the red circles. The red circles are just the highlights I used to pinpoint the issue.
You can resize every element to make it a perfect fit for the screen on which you are editing.
But that pixel-perfect design is for the designer's screen (in this case, you), and not for the person who is reading the website on a different screen.
In the case of a responsive design, that never happens. Webpage elements position themselves in a way it fits the screen size and not in a way you see it fit on your screen.
Absolute Positioning is not Responsive Design! Keep this thing in mind.
If your website doesn't have a responsive design, you are screwed! Google wants your website to be responsive.
Transferring Your Wix Site to Another Platform
FORGET that if you are using Wix Editor or Wix ADI. Wix will not allow you to access the code, the CSS files, the databases, etc. If you cannot access them, you cannot transfer them to another platform.
If you are using Corvid by Wix, you can do that, but you have to know how to deal with codes. If you don't know how to do that, you will need a developer who can do that for you.
There is a workaround.
Copy & Paste!
If you have the tenacity, you can do this. Copy everything from your Wix site and paste it on the site powered by another platform like WordPress.
But that will work only if you have a few posts to move. Hundreds and thousands of posts will take a lot of time. Good luck with that!
Wix and CDN
One of the most powerful CDN providers in this world is Cloudflare. Can you use Cloudflare with Wix? Can you use any other CDN with Wix?
NO! You cannot!
Wix provides CDN. At least that is what they claim. However, people are requesting Wix to allow integrating Cloudflare, and currently, there is voting going on. You can participate in that voting here.
There is no further explanation needed here. All CDNs work the same. Even Wix's CDN is no different.
Wix and E-Commerce
If you want to launch an e-commerce site with Wix, you will need one of the Business plans that Wix has to offer. Even the basic one will do.
If you ignore the problem of responsive design, I will say that the e-commerce face of Wix is not so scary.
It comes with the same drag-and-drop feature. You can arrange the elements the way you want it, and select any pre-made template that they have to offer.
Play around with colors, typefaces (fonts), animation, etc. as much as you want.
Select a template wisely because if you decide to change your find midway through the editing process, you have to start it from scratch again!
All most all the pages that you need for your store are already there. You don't need to create one separately.
Yes, you get pre-made pages for customer profiles as well.
Here is a list of all member pages, and a single product page in the image below:
So, there is everything that already exists. You don't need to create anything extra. Of course, you can create more pages, such as the coupons page (if you need one).
Here is how a coupons page will look like: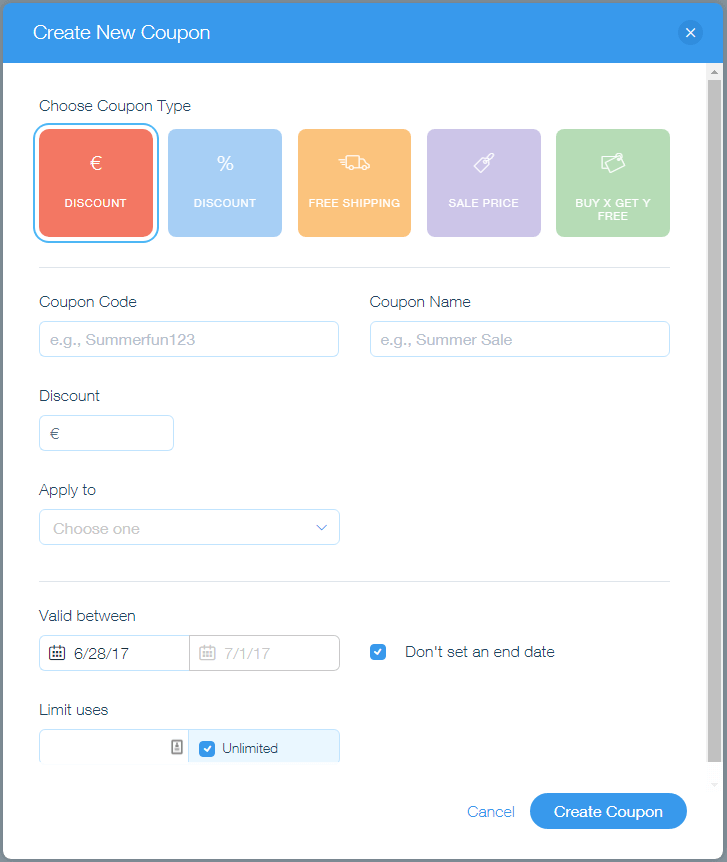 Wix E-Commerce Features
Here is a list of features that you need to understand before you decide to invest in Wix for creating your online store.
Usability: The platform makes it easy to create an online store using pre-made, but editable templates. The menus related to an online store are perfectly arranged and structured.
Flexibility: Wix will allow you to go through hundreds of templates before you can settle for one. In fact, they will allow you to see a fully-functional template and not just a quick screenshot.
Mobile Version: You can make a mobile version of your online store, but that is achieved with Absolute Positioning. This means you can create a pixel-perfect website for your screens, but not for others' screens.
Product Presentation: Wix allows the proper presentation of your products. There is a zoom function available for the product image. You can add product overview and product description.
Ribbon Text: You can add a ribbon text to any product you want. This text will allow you to highlight products using words like Best Seller, New, Trending, Hot, etc.
Individual Product Variants: Wix will allow you to add product variants like color, size, etc. You can even go ahead and edit each variant individually. You can add up to 6 options for each product, and give up to 30 option choices to the customers. These option choices include things like material, color, size (large, small, medium, etc.).
A Functional Cart: The store will have a digital cart where all chosen products are saved. You have the flexibility of changing the icon of the cart icon. You can send abandoned cart recovery emails (with special discounts and offers).
SKU: Wix allows you to add SKU to both the products and their variants.
User Rating: By default, Wix templates do not have a user rating option. However, you can add that function by using an app from the Wix app market.
Dropshipping: You can quickly add the dropshipping option using services like Printify, Printful, Spocket, Modalyst, etc.
Tracking: If you are selling physical products, you will be able to add tracking information from the carrier you choose. You can use FedEx, USPS, UPS, etc.
Filtering Options: The option of filtering products and sorting them using different criteria is available.
Real-Time Shipping Calculations: This feature is available only for customers from Brazil and the United States. Wix can show real-time shipping calculations.
Unlimited Products: There is no limit to the number of products you can sell through an e-commerce store built on Wix.
Digital Products: Yes, you can sell digital products as well. Such products can be anything from videos to paintings, from music to e-books, etc. The maximum file size allowed per product is 1 GB.
Flexible Taxation Options: Since different regions can have different taxation rules, you can adhere to those rules by using per-region basis taxation. If you are selling digital products to the countries in the European Union, you can use the VAT MOSS or VAT Mini One Stop Shop. You can automate the whole process using a third-party app like the Avalara.
Flexible Shipping Rates: If you want, Wix will also allow you to add different shipping rates for different regions. You will have the flexibility of calculating shipping rates using configured rules like weight, price, etc. You can also fix a flat rate if you want.
SSL: You will get SSL. Wix provides that with any plan that you purchase. So, you don't have to worry about protection.
Payment Gateway: If you are using Wix to build your store, you can get access to approximately 30 payment gateways. You can choose whichever you want.
While it may look like a lot of options, there are competitors of Wix who provide more options. For instance, Bigcommerce gives 45+ options, while Shopify gives 100+ options.
Just in case you do not want to use a third-party payment gateway, Wix has its own payment gateway. However, Wix's payment gateway is not available for all countries. The countries that Wix supports include the following:
| | |
| --- | --- |
| Country | The Only Currency in Which Payment Can be Made |
| United States of America | USD |
| Switzerland | CHF |
| Spain | EUR |
| Portugal | EUR |
| Netherlands | EUR |
| Lithuania | EUR |
| Italy | EUR |
| Ireland | EUR |
| Great Britain | GBP |
| Germany | EUR |
| Finland | EUR |
| Brazil | BRL |
| Belgium | EUR |
| Austria | EUR |
If you want to use Wix's payment gateway, you need to pay a transaction fee (just like you would pay to any other payment processor). You can find the fee structure in the table below:
| | |
| --- | --- |
| Country or Region | Fee |
| United States | 2.9% + 30c |
| United Kingdom | 1.9% + 20p |
| Europe | 1.9% + 30c |
| Switzerland | 1.9% + 0.3 CHF |
Problems with Wix E-Commerce
While the various features of the Wix e-commerce platform look very impressive, there are some serious problems. They are:
No Multi-Currency Support: If you want a multi-currency shop and allow the customers to buy products in their local currency, you are out of luck. There is no option for that. You can use a third-party called 'Currency Converter' to show the price in a different currency, but the checkout cannot happen in a different currency.
POS Not Available for All Countries: Wix does have a POS facility, but that is not available for every country. It is available only for Japan, Australia, Canada, the UK, and the US.
POS means Point of Sale functionality that allows you to sell in physical locations as well where users can use their physical cards on the physical hardware you provide (such as barcode scanners, card readers, etc.).
Interestingly Wix integrates POS so nicely that if you are selling something in a physical store, the available inventory will get updated in the backend of the online store.
Product Export Option: One fine day, you may want to exit Wix and use some other platform to build your online presence. What do you do? You export your products (images, details, variants, etc.), and upload the data to the new site.
Unfortunately, Wix will not allow you to do that with digital products. You can do that with physical products, but you will be restricted to only 5000 products.
However, to be fair enough, 5,000 products are more than enough for small shops. Unless you are something like Amazon, Esty, e-Bay, etc., you will most likely not have 5,000 products. And if you are that big, you are not going to use Wix anyway.
Who Should Use Wix's E-Commerce?
Anyone who is looking for easy setup.
Anyone who wants to sell digital or physical products.
Anyone who wants a professional-looking store, but has no coding skills.
Anyone who can live without a lot of custom functions.
Anyone who wants easy SEO solutions.
Talking of SEO solutions, Wix allows SEO for individual products. You can add alt texts, meta descriptions, etc.
Who Should Not Use Wix's E-Commerce?
Anyone who wants to create a massive online store.
Anyone who is paranoid about responsive design.
Anyone who cannot withstand slow backend.
Anyone who wants live support without paying extra.
Talking of slow backend, Wix's e-commerce solution may look nice, the backend isn't particularly smooth. It is terribly slow, raising questions about the overall server quality and coding.
In fact, as your online store keeps growing, the backend will keep slowing down! That's a bad experience.
Advantages of Wix E-Commerce Platform
There are several advantages of using the e-commerce platform that Wix offers. Here is a quick list:
It is pretty easy to set up as long as you don't mind working around with drag-and-drop features. There are pre-made templates to work with.
The pre-made templates come with all the necessary pages for any online shop. If you don't want to modify them, you can use them the way they are.
There are multiple payment gateway options to choose from. You can use the one that is best suited to your needs.
You can manage your online shop on-the-fly using Wix mobile app that will allow you to sell products, view orders, call customers, add products, change the visibility of your product, add discounts and coupons, etc.
You can sell both physical and digital products. There's no limitation to the number of products you can sell.
You get the feature of 'abandoned cart recovery' email that will help you to get back customers who added products to the cart but never purchased anything.
Wix will not charge any sales fees. You don't have to pay any commission. However, if you are using Wix's payment gateway, you have to pay a charge.
You can apply flexible taxation and shipping rates.
You get free SSL to protect all transactions and consumer information.
Disadvantages of Wix E-Commerce Platform
The online shop you create will not have a responsive design because it is based on Absolute Positioning.
You cannot entirely customize a few elements like the confirmation email.
The store background loads very slow. The dip in speed starts getting noticeable when you add more than 50 products.
You cannot export the digital products you sell through an e-commerce platform powered by Wix.
A few features are available only in selected countries.
Okay, now that we have looked into the e-commerce platform of Wix, it is time to move on to a few more pressing things.
Read on…
Wix App Market
Just like the plugins repository of WordPress, Wix has its own app market. You can install apps on your website powered by Wix.
Wix created some of these apps, while the others you see there are third-party apps.
You can add calendars, popups, online chat, etc. to your website using the apps. The app market is accessible from right inside the Wix Editor.
The primary purpose of the app market is to give you tools that can help you to extend the functionality of your website.
However, the number of apps available on the Wix App Market is very limited. There are only 250 apps. Compare this to Shopify's 3000+ apps. Shopify gives you more power, at least in this segment.
Again, the app market, too, loads very slowly. Sometimes, you will feel like saying FTS (you can understand this, I know).
Data Capture and Email Campaigns
Email marketing is one of the best ways to get new readers or retain existing readers. Of course, it is far more effective in the case of online stores.
If you want to engage in email marketing, you will need to start with data capture. It simply means that you need to get a list of email IDs.
One of the best ways to do that is to have a contact form on your website. Wix provides a basic contact form that can capture the email IDs of those who use it.
The email that the form captures is automatically stored in the database of your website under the 'contacts list.'
What do you do with those email IDs?
You send emails! Bravo!
Now, the question is, 'HOW?'
Wix comes with an integrated email marketing solution. You can use it to send up to 3 newsletters per month to up to 5,000 contacts.
If that's enough for you, Wix has your back.
If you need more, you need to spend some money. Exactly $45! That may sound a lot, consider these first:
By spending $45, you can send more emails per month using a variety of automation.
Emails will be sent automatically when a visitor takes action on the site (for example, a purchase, live chat, form completion, etc.).
You can send up to 1 million emails a month for $45!
So, you spend $45 on what? It is called Wix Ascend. It is an email marketing tool with some cool and super-advanced features.
Compare this to other email marketing solutions that will charge more than 1000 dollars per month for sending so many emails!
Wix Ascend definitely grabbed my attention.
It is not just about sending emails. It has a lot of other features, including video creation, chat, and more. Watch this interesting video to learn more about Ascend by Wix:
Well, in case you don't want to use Ascend, you can always connect your Wix site to any external email marketing solution like Mailchimp, AWeber, Campaign Monitor, GetResponse, etc.
What About Search Engine Optimization?
There are many articles floating around on the web which says that Wix is not good when it comes to SEO.
Trust me, they are wrong!
I am no SEO expert. I just learn every day.
John Muller says that!
Here is the proof:
Check out the date on that image. He said that back in 2016. So, Wix SEO features work just fine.
After all, content is king! Do not forget that!
Create good content, and Google will find you. The basic SEO stuff like meta description, SEO title, etc. – you can add them all when you create a post. Here is a screenshot:
If you want some sitewide SEO features, there are a few for you. Check this screenshot:
Some of the most important aspects of SEO include:
Proper URL structure.
Sitemap.
Robots.txt.
URL redirects.
Why URL redirects? There are times when you will just delete an old post and create a new and better one. When you delete the old post, people looking for that post will get a 404 error.
404 means 'not found!'
If they keep seeing a 404 error, what will they do? They will stop coming to your website or blog. You will lose your visitors.
One good way to retain them is to redirect them to the new URL.
The 301 redirect helps to achieve exactly that.
Beware that too many 301 redirects are not good. So, use the feature wisely. A single Wix site will allow you to create up to 5,000 redirects.
What about the robots.txt?
It is basically a text file that tells robots or search engine crawlers to perform or not to perform certain actions. Actions usually refer to the 'crawling.'
For a search engine to index and rank your content on search results, they need to know what pages are there on your website or blog.
There are many backend pages and files that you do not want to show publicly. So, you need a way to stop search engine crawlers from crawling those pages.
The robots.txt file is for that. You can set rules there that will tell search engine crawlers (also known as robots, which explains the name robots.txt) which pages they should crawl and which pages they should avoid.
What are SEO patterns?
You don't do SEO only for the posts that you create. You need to do SEO for static pages as well. For instance, you may have an About Us page. What if you want that page to rank in Google search?
What about the homepage of your website? If that page is a static page, don't you want that page to rank?
Of course, you do!
This is the reason why you need a sitewide SEO pattern that can do that automatically for all static pages.
Also, what about optimizations for social media shares? How should your posts look like when you share a post on your social media account?
If you want, you can always go ahead and create social media posts separately, but that is often too time-consuming. Some sort of automation is a good idea!
The SEO patterns aspect of Wix SEO tools will allow you to do all that.
In fact, those settings are already there. You may or may not change them. If you are not comfortable with those things, I will suggest you leave them the way they are. The default settings work just fine.
Here is what it looks like:
The image above is for SEO for pages. It also shows URL settings, that is, you can set up a particular URL structure of your choice.
Here is what the settings for social media shares look like:
You can step up the SEO efforts even more by adding structured data. You can do that from the page level by getting into the page editor.
Here is how you do it:
There are dozens of options to fine-tune your SEO efforts for posts and pages. They are sufficient to ensure that your website ranks well on Google search or any other search engine search results.
How Easily Can You Create a Blog Post?
It is effortless! From your Wix account dashboard, click on "Blog" and then on Create New Post.
This is what it looks like:
You first need to click on the place highlighted in Yellow. That will open up the area where you can see all your blog posts. Click on the button highlighted in Red to create a new blog post.
The blog editor is pretty powerful and intuitive. Of course, the problem of slow loading is always there. So, expect some frustrating moments.
Here is how the blog editor looks like:
There are many options that you can play around with. You can set the publication date, excerpt, etc. You can also set up a post a featured post, do some SEO, assign a category to the post, and more.
Check out the image below: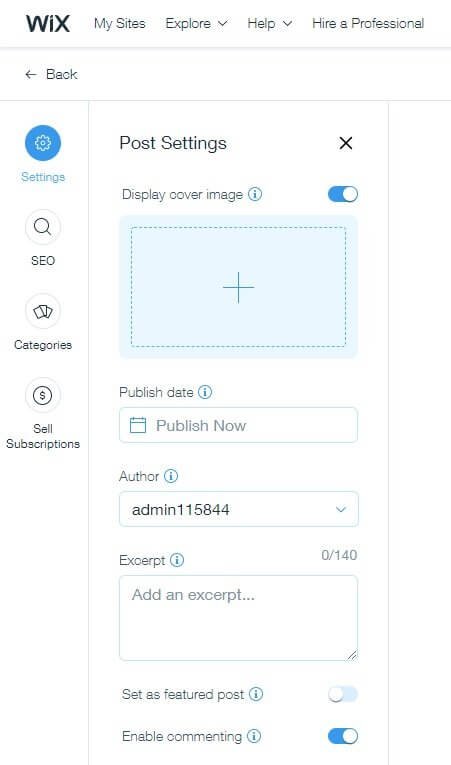 This is how the whole page looks like:
You can add images, videos, or image galleries. You can also insert an HTML code or a code snippet, and even add a file.
You can insert stuff by clicking on the little floating + icon or the icons you see at the bottom. Check out this image:
Yes, adding a blog post is very easy! Though there aren't as many options available in Wix blog editor as in the case of WordPress blog editor (currently Gutenberg Editor), what you have is sufficient to create stunning blog posts.
Any Support for Analytics and Tracking?
Oh boy! I thought you would never ask!
Glad you did!
Yes, Wix supports analytics and conversion tracking. Wix has integrated a few things for you to use with ease.
Here are the things that you can find:
Google Analytics
Google Tag Manager
Google AdWords (today it goes by the name Google Ads)
Yandex Metrica
Facebook Pixel
All you have to do is to connect your accounts right from the Wix dashboard.
Here is a screenshot for you:
You can find all these under Marketing Integrations in your Wix dashboard.
Apart from that, there are more tools that you can use. Some of them include:
Hello Bar
HotJar
CrazyEgg
HubSpot, etc.
You can find all of them in the Marketing Integrations tab.
Wix's Dealing with GDPR is Awful
GDPR compliance is a big thing today. If you are serving people from the EU or if you sell stuff to people living in the EU, you have to comply with GDPR, and you need to have a banner.
If you don't understand GDPR, you need to read through it properly, and at least ask someone to explain that to you in simple English.
This is the problem with people like you and me who are not lawyers.
I will try to give you a brief on GDPR but do not take that as legal advice. I AM NOT A LAWYER!
The key takeaways from GDPR is that:
You have to give clear notice of cookies you use on your website and the privacy policy that you practice.
You have to process all user data securely. You have to store them securely as well (this means that no third-party should be able to access those data sets that you have).
You have to get consent from those who are signing up for your mailing list. They need to explicitly tell you that it is okay with them if you send them newsletters.
There should be a way for users to either opt-in for the cookies on a website or revoke consent for the use of non-essential cookies (that are usually used for advertisement). You have to keep a log of the consent they give!
[So much for privacy coming from the countries that willingly allow mass government surveillance on its citizens!
In case you are not aware, the use of VPNs is on the rise because the governments in many European countries and even the USA are involved in mass surveillance.
They breach the privacy of all citizens, and they come up with something like GDPR! Funny!]
Complying with the first three takeaway points is fairly easy when you use Wix. However, you have to write a privacy policy and clearly mention everything. You have to provide contact options where people can reach out to you and ask you to delete their data.
All that can be done by investing some time.
The problem shows up in the fourth option. You will need some popup or a display that attracts attention and explicitly tell people to either accept your cookie policy or opt-out of the same before they can access your website.
Wix doesn't have that option!
The banner should have the following:
A way for the visitors to choose which cookies they want to run, and which ones they want to opt-out from. Until they do that, they cannot remove the banner and access the website.
The banner should log the consent that your readers are providing.
There should also be a way for your readers to revoke the consent, if they want that, at a later stage.
Wix cannot deal with the cookie consent issue. If you approach and ask Wix about this, they will ask you to contact the cookie provider to comply with GDPR.
What does that mean?
In simple words, you have to write to organizations like Google or Facebook and ask them to tweak their policies to suit the requirements of your website.
Good work, Wix! You need a medal!
Somebody, please, give Wix a medal!
How Good is Wix's Customer Support?
I have to give it to Wix. They have an awesome collection of knowledge-base articles. They solved almost all of my problems.
Not just that, they also have contextual help guides at every stage that will help you overcome any problem you face.
However, if you are unable to find anything, you can always contact customer support.
Unfortunately, there is no live chat available to give you instant help. You can request a callback! Yes, they have phone support, which is difficult to find these days. They have a customer support team available 24×7 (if you speak English).
If you don't speak English, you can get customer support in Portuguese, Russian, Italian, Spanish, and French. This multilingual support is not available 24×7. You have to contact them during their operating hours between Monday and Friday (both days included).
If you are not comfortable talking, you can send them an email. That works too.
If you have a VIP account, you will get treated royally. The email you send will jump the queue and people at Wix will solve your problem first.
If you get the Business VIP plan, you can get first priority if you make a call and ask for help.
Wix In a Snapshot
Here is a quick overview of Wix if you already don't remember a few things:
Ease of Use
It is easy if you are comfortable with the drag-and-drop feature. But too many buttons and options can leave you confused.
Design Flexibility
There are hundreds of templates to select from. You can use any template of your choice. That's great! What's not great is that once you publish your website using a template, you can no longer change it.
Wix Ads and Wix Branding
They are annoying things, but you have to work with those things if you use the free plan or the connect domain plan. You can remove them from the higher plans.
Multilingual
Possible! Wix supports 16 languages. However, if you are trying to create a multilingual website, there will be SEO issues, because you cannot create a unique URL for each language.
Menu Depth
You can create a maximum of two levels. That's not great!
Widgets
You can use the Wix App Market to get apps that will add extra functions to your site. However, the number of apps you get is very limited.
Domain Name
You cannot use your domain with the free plan. You need to upgrade to at least the 'Connect Domain' plan to do so.

If you don't have a domain, you can register one for free for the first year using Wix. Second year onwards, you have to renew the domain name. The minimum price will be $14.95.

SSL
You will get free SSL only if you buy a premium plan. No SSL for a free plan.
Monetization
Yes, you can add Google AdSense using apps from their App Market. You can alternately use affiliate links and banner ads.
Blog
The blog segment is quite powerful. However, there is a lot to desire.
SEO
Wix has ample SEO tools to help you rank in SERPs. The only problem with their SEO is that they change the image name. The image name becomes very cryptic, making it impossible for human readers to understand what the image is all about by looking at the name of the image.
Analytics
Yes, you can add Google analytics and several other analytics.
Data Capture
You will get a simple contact form.
Email Marketing
Wix will give you their integrated email marketing and allow you to send 3 newsletters a month to 5,000 people. If you want to send more, you have to get a separate package.
Password Protection
Yes, you can create a website with specific areas protected with passwords, and accessible to members only. It is great if you want to create a membership site.
Backups and Restoration
What you get with Wix is Site History. It is nothing but a backup and version control system. You can restore a previous version of your website if the need arises.
Support System
No chat support system! Email, phone, and knowledge-base support systems are available.
GDPR Compliance
If you want to comply with GDPR, you need to look somewhere else. Wix cannot give you 100% compliance.
E-Commerce Options
Pretty decent! You can set up an online store with a lot of features.
Responsive Design
Forget it! Wix uses Absolute Positioning. That technology allows you to create pixel-perfect designs for specific device screens. It will not adapt to all screen sizes.
Wix FAQ
So, you made it! We are in the final segment. This is not a review. It simply answers a few questions that people often ask, but you should know the answers to those questions as well.
Let's get started.
Is Wix legit?
Yes, Wix is a legit company. You can build your website, and make money out of it. They have premium plans that you can purchase without the fear of being duped.

There are more than 109 million websites powered by Wix. That should be very comforting!
Why is Wix bad?
There are three specific things that make Wix really bad. They are:
Wix is not responsive. Responsive design is a major SEO requirement these days. Those websites that don't scale properly on all screen sizes are not preferred by Google. Make a note! More and more people are using mobile devices to consume content and even perform online shopping. It is a must that you have a responsive website.

Wix websites are pretty slow despite the fact that Wix provides its very own CDN. Google doesn't prefer a slow website. Today, Google has switched to mobile-first indexing, and they give a lot of weight to website speed. People usually use slow connections on mobiles. If your website is slow, you are in trouble.

GDPR compliance is a big thing today. Failure to comply with GDPR can lead to the closure of your website. In the worst-case scenarios, you can get into serious lawsuits and hefty fines!
Is Wix bad for on-page SEO?
Not really! Wix has a lot of SEO features to help your content rank in search results. However, they do have a problem with image SEO. Also, there is a problem with overall site SEO, because you cannot get a responsive design, and Wix-powered websites are slow.
Does Wix own my domain name?
No one owns your domain name but you. Yes, you do have to keep paying for domain renewal to ensure that you remain the owner of the domain. If you fail to renew your domain, you will lose it. Wix is only a domain registrar. It will register a domain name on your behalf.
Is Wix actually free?
Truly free? No! Free version? Yes!

I mean that yes, you can use the free version of Wix forever and never pay a dime. However, the website you will get will have a Wix branding and Wix banner.

Visitors to your website can click on those branding links and banner, go to the Wix website, and purchase a premium Wix plan. Wix makes money! So no, Wix isn't truly free!
Can I move my website from Wix to WordPress?
There are a couple of ways you can do that. They are:

#Manually copy and paste everything.
#Use a plugin like CMS2CMS. It will transfer your entire Wix data to WordPress. Cool, huh? But it is not free. If you have a Wix site with 100 pages organized in 20 categories and tags, the CMS2CMS plugin will charge you somewhere around 60 USD for a full migration.
Can a Wix website be hacked?
It is not impossible, but it is not easy, either! Wix is a very closed system, unlike WordPress, which is an open system. Wix team is always there protecting their closed system from hackers. So, you don't have to worry about those things.

Even if you are worried about those things, there isn't anything you can do about it. You have to rely on the Wix team. If a hacker bypasses the security of the Wix team, your website can be hacked.
Can I transfer my domain from Wix?
Yes, you can! Wix is a domain registrar too! They have to play by the rulebook. You can transfer your domain from one registrar to another.

But remember, the moment you transfer your domain, your Wix site, and your domain will become disconnected. So, if you want to save your Wix site, you need to first transfer all the content from Wix to another CMS platform like WordPress using a plugin like CMS2CMS. You can do that manually, too!
Are Wix sites secure?
Whether a site is secure or not is determined by whether a site has an SSL certificate or not. You can get an SSL certificate from Wix by buying a premium plan from Wix. In that case, your site will become an HTTPS site, which is a secure site.
Is Wix better than WordPress?
Short answer – NO! Wix is nowhere even close to WordPress in terms of capabilities. WordPress is a monster. It powers 1/3rd of the web. WordPress is extremely powerful by default. You can increase its power using thousands of free and premium plugins.

There are thousands of free and premium themes that you can use to make your website the way you want it. You can change the theme of your WordPress site anytime you want without losing content.

Wix, on the other hand, will give you hundreds of themes to select from. Once you publish your website using that theme, you cannot change it. The apps that you can use with Wix are very limited.

You can migrate your WordPress site from one host to another at whims. It is great for SEO too! WordPress themes are responsive by design.

Wix, on the other hand, will not allow you to move your website to a host of your choice. It is a closed system, and you have to use their hosting only. Wix websites are not responsive.

Coming to blogging features, Wix's blogging feature is neat but limited in functionality. WordPress is meant for blogging, but it can be transformed into anything you want. You can even make a full social media site using WordPress. The blogging features of WordPress are very powerful. The Gutenberg Editor will let you get different layouts for each blog post!

There are many such differences that make WordPress a clear winner. The only two problems with WordPress are:

You need to know the basics – hosting setup, installation, etc. (luckily, all web hosts now give one-click installation for WordPress, while there are some that give pre-installed WordPress).

It is an open system, making it vulnerable to hackers. You need to keep hardening your WordPress site, and run security audits time-to-time to ensure that something bad didn't happen to your site!
Is Wix better than Blogger?
Yes, Wix is the clear winner here. Blogger is too basic. Even if you want to write and publish posts (a simple blog), Wix will give you better tools to do that. Blogger will not allow you to create e-commerce sites! It is meant only for blogging.

Wix, on the other hand, will allow you to create simple blogs and complex e-commerce stores. However, I don't recommend making a complex e-commerce shop with Wix. The back end is slow!

Just like you can use Blogger for free, you can use Wix for free. You will, in fact, enjoy blogging with Wix.
Conclusion: Do I Recommend Wix?
I started my blogging journey with WordPress. So, I will recommend WordPress over Wix – ANYTIME!
If I were to recommend Wix, I would suggest that you go for it only if:
You are not comfortable dealing with hosting.
You don't care whether your blog is responsive or not.
You want a platform that has fewer features and easy to use.
I will not recommend using Wix if:
You want to create a sophisticated blog with lots of functions.
You want to create a magnificent and yet complex e-commerce store.
You are finicky about design and want to keep mixing things up time-to-time.
If you want to rank in Google searches (remember that sites that are slow and sites that do not have responsive design will not perform well in Google SERPS).
If you are a big proponent of the drag-and-drop feature that Wix offers, here is a spoiler for you – WordPress has that too (using plugins).
If you think hosting is trouble, check out the hosting plans with Bluehost or DreamHost that will give you pre-installed WordPress on some hosting plans.
If you like full control of your website – WordPress is the way to go.
However, if you can live with the limitations of Wix, It is powerful enough to give you a nice platform to build your website. Whether you are looking for a blog or an online shop, Wix can do that for you.