What is Wasabi?
Wasabi is an online storage solution that competes directly with biggies like the Amazon S3, Google Cloud, Microsoft Azure, Backblaze B2, etc. It is a relatively new player in the market that has positioned itself with a low pricing tier.
Wasabi's pricing is way cheaper than Amazon S3, which remains its biggest competitor. Wasabi is compatible with Amazon S3 SKD.
Wasabi works pretty much the same way as Digital Ocean's Spaces. You will have to pay for a predefined amount of space in the cloud. You have to pay per month whether you eventually use it or not.
The good thing here is that the price is extremely low. So, keep the storage space available even if it is not in use; it won't hurt your pocket too much.
One of the biggest problems with Wasabi is that it is not user-friendly. In fact, it is best suited for network administrators or people with a good amount of technical knowledge.
Wasabi gives an affordable online backup solution. It offers its services as IaaS or Infrastructure as a Service. It has become a hot talking point among people using cloud storage because of its extremely low pricing.
Additionally, Wasabi also claims that it is way faster than Amazon S3. One of the caveats of using Wasabi is that it only gives you a place to store your files. It doesn't offer much help when it comes to shuttling those files to the storage space.
This is where you will feel the need for having a third-party client that can help you to efficiently upload your files and data to Wasabi storage.
I will highly recommend the CloudBerry Backup solution (comes with a one-time cost of $27), which will allow you to upload your files to a number of cloud storage solutions like S3, Azure, Backblaze B2, Google Cloud, Wasai, Rackspace, etc.
Before I dig deep into the review of Wasabi, I will like to walk you through the pros and cons of Wasabi. This quick walkthrough of the advantages and disadvantages will give you a brief idea of what you will be dealing with if you select Wasabi.
The Pros of Wasabi
It is very developer-friendly, just like Amazon S3.
It uses an object storage API that is compatible with S3. It simply means that you can use any S3 SKD with Wasabi without any problem.
It has the lowest price in the cloud storage industry.
It claims to have 6x the speed of S3. However, the truth of this claim will depend on your Internet connection speed.
Wasabi encrypts every file 'at rest,' whether or not you explicitly mention it.
It has a drag-and-drop option to upload your files to the Wasabi bucket.
It offers a free trial for a whole month. No credit card is required. Also, Wasabi allows storing up to 1TB of data during the free trial.
The Cons of Wasabi
One of its advantages is also its disadvantage. It is not a very friendly option for those who are not technically sound.
They charge an exorbitantly high support price. Yes, their free support is very limited. If you want premium support that includes phone support and priority email support, you have to pay $300 a month!
Its permissions model is similar to Amazon S3, making it a very intimidating thing for those who are non-technical.
Whether you store 1TB of data or you store 1KB of data, it doesn't really matter. You will end up paying the same price. This doesn't make it a very cost-effective solution for those who have small storage requirements.
It has only 5 data centers as of today.
The drag-and-drop upload feature is not so nice in the sense that you have to spend a lot of time backing up all your data. This is where you will need a third-party service. You can, however, use FTP or FTPS for uploading data.
Okay, now that you know what you can expect from Wasabi, let me take you through the review. It will be fun!
But before I start, I will like to quickly remind you that Wasabi is a cloud storage solution. It is not a cloud or online backup solution. There is a difference between the two. Never get confused.
Okay, back to the review.
Features of Wasabi
Wasabi is a cloud IaaS or cloud infrastructure as a service. The whole idea is to give people access to a cloud server so that people can use it for file management.
Wasabi can be used as both cloud storage and cloud or online backup solution. You can even use it to create your own cloud-based application.
You can upload both folders and files to Wasabi storage in the same way you would do in OneDrive, Google Drive, Dropbox, Box, Backblaze, etc.
However, if you really want to use Wasabi as an online backup solution instead of online storage, you should combine it with some other application. CloudBerry Backup is one of my favorite go-to applications for that.
Wasabi by itself will not let you run continuous backups or scheduled backups. You have to do it manually by dragging and dropping files and folders if you want to use the Wasabi interface.
If you want those things to happen, you can always use CloudBerry Backup or Duplicati.
You can make Wasabi buckets immutable; that is, once the data is written on the storage space, it cannot be changed or deleted. This is a great feature for those working on a disaster recovery plan.
Also, Wasabi will perform scheduled data checks every 90 days for the entire duration for which the data is stored. Wasabi claims 99.999999999% that is 11 x 9s durability of the data. In simple English, you will never lose your files.
One more important thing that Wasabi allows is that you can set the retention policies for the files you delete. This means you can actually set the duration during which you can restore the files you delete.
That's pretty much all the features of Wasabi. You really do not get a lot of features when dealing with IaaS.
How Easy Is Wasabi?
To get started with Wasabi, you don't even need to buy a plan. You can try their 30-day trial period simply by signing up for the trail.
No need to worry about automatic deduction from your credit card at the end of the trial period. That's possible because Wasabi will not ask you to add a credit card when you sign up for the trial.
Once you sign up, you will receive an email that will have a button that you need to click on to create a free account.
This is what the mail looks like:
Once you click on the "Create Account" button, Wasabi will create the account for you and give you access to their interface.
This is what the interface looks like:

You will notice the trial version tag on the top left-hand corner. You need to start by creating a bucket.
A bucket is nothing but storage space. When you click on the "Create Bucket" button, you will see this:
Remember that when you are entering the bucket name, you cannot use capital letters.
You also need to select the region, which is essentially the data center location.
Once you are satisfied with the name and the region selection, click on the "Create Bucket" button to create the bucket with default properties or click on the "Next" button to set the properties manually.
If you click on the "Next" button, you will get the option of enabling versioning and logging.
I will suggest that you turn them on. Versioning simply means that the bucket will store the previous version of your data in case you update any data. If needed, you can restore the previous version.
Logging means that the Wasabi bucket will log of all access to the bucket. It will be a text file.
This is what you see when you click on the "Next" button:
I will suggest that you turn on both the options and then click on the "Next" button. It will show a preview of what you are creating. This is what you will see:
If you are not satisfied, you can click the "Back" button to make edits, or you can move ahead and click on the "Create Bucket" button.
Once you click on the "Create Bucket" button, this is what you will see:
Now, if you click on the bucket name, you will see the option of either creating a folder or uploading files.
This is what you will see:
Clicking on the small cog icon on the righthand corner will give you access to various settings that you can use to fine-tune the overall properties of the bucket.
This is what you will see:
You can make the bucket immutable from the Compliance tab. For the rest of the tabs, you can fiddle around with the settings, but I will suggest you not to do so unless you are a pro and you know what you are doing. The default settings are just fine.
Coming back to the bucket, if you want to upload files, you need to click on the "upload files" button that will show you this: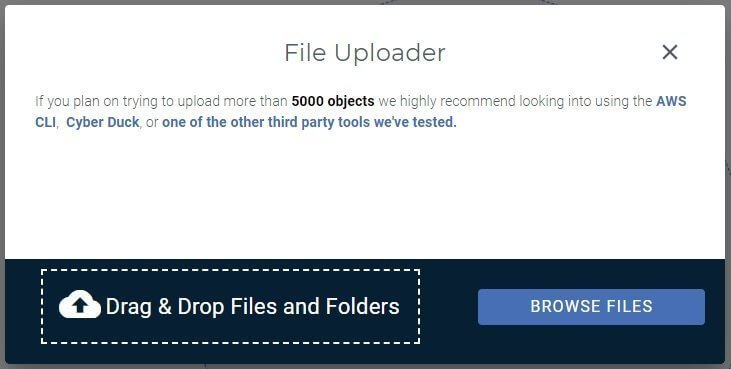 If you know how to use AWS CLI, it is great! If you don't know, you can use Cyberduck or other third-party tools.
I prefer CloudBerry Backup.
You can also create separate folders if you want. Here is what you see when you click on the "Create Folder" button on the bucket interface:
All that you need to do is give the folder a name and create it. You can then upload your files in that folder. You can create as many folders as you want.
You can set individual rules for the folders. You can mark them as public or private. You can even delete folders with ease.
This is what it looks like:
Using CloudBerry Backup with Wasabi
What if you really want to upload hundreds and thousands of files? What if you want to schedule the backup process? What if you want the backups to run continuously?
This is where applications like CloudBerry Backup come in handy. You can download CloudBerry Backup from here.
Yes, it is a premium thing, but you can get a 15-day free trial. For the purpose of this review, I am using the free trial.
Once you install the CloudBerry free trial on your computer, you will see this:
Yes, yes, the interface looks like a colorful dinosaur's remains, but it works just fine.
You can upload files, take image-based backups, or even upload the MS SQL server. For the time being, I will select files because I don't have any intention of backing up any MS SQL server or MS Exchange data.
Clicking on "Files" will give you this screen where you need to select what type of backup you want. I will take the first option (local to the cloud).
Once you click on the "Next" button, you will see this:
You have to add a storage account. Clicking on the link will give you this screen:
You will see Wasabi on the list. Clicking on the Wasabi option will ask you to provide a display name, access key, and secret key.
You need to create the keys from your Wasabi account. To create the keys, go back to Wasabi dashboard and click on the Access Keys menu tab on the left side and then click on the "Create New Access Key" button you see on the top right corner.
This is what you will see:
Once you get the keys, download them and keep them safe.
Use the keys in the CloudBerry screen. This is what you see:
Once you insert the keys, CloudBerry will pull the list of buckets you have. Select the one that you want and click on the "Ok" button. Once you do that, this is what you will see:
You can add more storage accounts from different providers, or you can simply click on the "Next" button to proceed further.
It will ask you to give a backup plan name. This is what you will see:
Now, click on the 'Next' button to select the backup mode. I will leave it to the default option, which is the Advanced mode because it will keep the encryption and will also allow versioning.
This is what you will see:
On the next screen, select the options as you wish. I will prefer selecting all the options: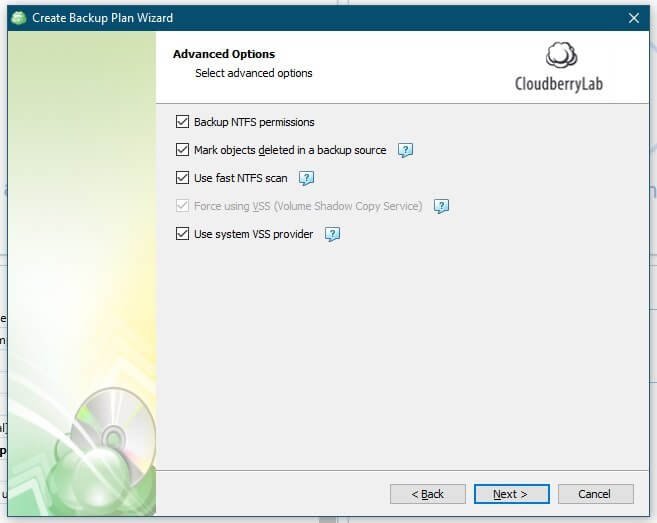 Clicking the Next button will now allow you to select the drives or folders that you want to back up. This is what you will see:
Clicking on the "Next" button will then allow you to fine-tune your backup.
Then click on the "Next" button to select Encryption and Compression. This is what you will see:
To enable the "Next" button, you have to select the display password option. This will ensure that you see and confirm the password. Clicking on the Next button will then allow you to set the retention policy.
This is what you will see:
Once you fine-tune the retention policy and click next, you will get the scheduling option. This is what you will see:
The next screen you see will be the notification options. You may or may not select anything. I don't want to be notified for now. So, I will simply click on the "Next" button.
You will finally see the summary of what all you have created in the plan and then commit to the plan.
This will then start the backup process.
It is really simple!
So, using Wasabi or using CloudBerry and Wasabi together is not such a big problem. Both are rather user-friendly when you try to use Wasabi as an online backup service.
Wasabi Pricing
Wasabi is the cheapest cloud storage option that you can get. It has a pricing of $0.0059 per GB per month, which translates to $5.99 per TB per month. So, the yearly cost comes to $71.88 per year.
Wasabi will not charge anything for API requests, and neither will it charge anything for egress (which means download).
Compare this pricing model with the top three cloud storage services, and you will see the difference instantly.
| | | | | |
| --- | --- | --- | --- | --- |
| Storage | Wasabi | Amazon S3 | Google Cloud | Microsoft Azure |
| 1 TB Upload and 100% Egress | $71.88 per year | $1388.54 per year | $1302.48 per year | $1324.66 per year |
That's a massive difference! No wonder Wasabi is making some noise!
Wasabi Speed
The most important thing (apart from price) that you need to consider while using cloud storage is the speed of upload and download.
Wasabi says that it writes 456 MB data in 5 seconds, while Amazon S3 writes 75 MB data in 5 seconds. That's six times faster!
Well, you really cannot achieve that figure because your Internet connection speed will be different.
It took me 12 minutes to upload one folder of 1 GB. Downloading the same folder took 8.5 minutes. I used a fiber broadband connection hooked directly to the RJ45 port.
I will say that it was quite impressive. However, the data center that you select will also have an impact because of the distance of the data center from your location.
Wasabi Security Features
Here is a quick list of the security features that Wasabi has:
They have hardened tier-four datacenters. That's the highest rating available, which guarantees 99.9% uptime.
CCTV surveillance.
24×7 security patrol.
Biometric scanners.
HTTPS protocol for data upload and download.
The problem with Wasabi is that it will not allow you to get access to the encryption key. It will neither allow you to set the encryption key.
I will always suggest that you use end-to-end encryption. The data should be encrypted when it leaves your computer. Using CloudBerry will allow you to do so.
Wasabi Support
Honestly, it sucks! The free version of the support is too limited. If you want premium support, you have to pay $300 a month. This fee will give you access to priority email support and even telephone support.
If you are using the free support, they will answer your queries between 8 AM and 5 PM EST and that too, only during the business days. For free support, the standard response time for email queries is 24 hours.
If you take premium support, they will answer your questions 24×7. I cannot vouch for their premium support because I never tried it. Come on! Who is going to spend 300 dollars for writing a review?
Conclusion: Do I Recommend Wasabi?
You may ask, what do I use? Well, I don't use Wasabi. I use Digital Ocean because that has, for long, been my go-to destination for both my web hosting needs and my cloud storage needs.
However, considering the fact that Wasabi is cheaper than Digital Ocean, I am considering a move towards Wasabi.
So, should you use Wasabi? Of course, you should! Okay, if you are worried about the scarcity of data centers, they are building on that. They started with one datacenter (yes, they went public with just one datacenter), but they have now grown to five.
They will grow bigger and bigger over the years. It takes time to deploy datacenters with massive capacity. Amazon was not built in a day, and neither was Microsoft and Google.
The unlimited egress and no cost for API calls are heavenly features for developers. So, if you are a developer, these two features should woo you.
On the user-friendliness side, yes, Wasabi is far more user-friendly than Amazon S3, Azure, or Google Cloud. On the costing side, none of them can beat Wasabi. Wasabi is even cheaper than cheap options like Digital Ocean that allows 250 GB data upload for $5 a month, and yes, they charge for egress.
So, if you are on a tight budget, Wasabi should become your next best friend. If budget is not a constraint, I will suggest Google Cloud or Amazon S3 or Microsoft Azure, because Wasabi, as of now, cannot match their datacenter count!