What is Vultr?
Vultr is a cloud hosting provider similar to DigitalOcean and UpCloud. The company boasts high-performance SSD drives. With footprints in 14 countries globally, Vultr Cloud Hosting is stirring up things a bit with its newly introduced High-Frequency Compute servers.
Like every other famed cloud hosting company, Vultr is quite reliable, but it is not really a desirable option for newbies who want to switch from shared hosting to cloud hosting.
They offer a 60-second deployment of compute instances with a wide range of options to select from. Their reliability comes from ultra-fast Intel cores. The company offers cloud computing, dedicated cloud, bare metal dedicated servers, and block storage.
Honestly, I didn't even know about Vultr until one fine day, I came across the name while deploying a cloud server through Cloudways – the managed cloud hosting platform. That's when I decided to take a look at it.
Good that I decided to take a look at it. I was pleasantly surprised by the simple dashboard. However, I didn't like the lack of choices for rookies who usually want one-click deployments with the least configuration possible.
It is not that they don't have 1-click WordPress deployment. They have! What they lack is the OpenLiteSpeed WordPress deployment. Vultr will allow you to install the LiteSpeed server stack instead of Nginx or Apache. But once you install the LiteSpeed server stack, you have to go through the WordPress instalment by yourself.
This lack of feature is in heavy contrast with DigitalOcean that has a great collection of 1-click deployment options, which contains OpenLiteSpeed WordPress.
You must have noticed that I have been talking about OpenLiteSpeed quite a bit lately, and that's for a very good reason. My experience with LiteSpeed tells me that it will give you the fastest WordPress site you can get, even with ads running. Combine that with Cloudflare cache or QUIC.cloud cache, and Google is going to love your site speed.
I am no developer, and hence, I didn't even try installing WordPress on the LiteSpeed server.
A quick look into Vultr revealed a few interesting things that I can break down into pros and cons. Here is what I found:
The Pros of Vultr
Extremely polished interface with an intuitive layout. Anyone accustomed to the DigitalOcean interface can handle Vultr with ease.
It allows one-click deployment of operating systems, ISO images, web applications.
Deployment of a server takes merely 60 seconds.
It allows adding SSH keys easily.
Vultr is good for anyone who is looking for low-cost cloud hosting. Prices start with as low as $5 per month. For High-Frequency Compute servers, the minimum price is $6 per month.
Taking backups, snapshots, etc. is super easy.
You can deploy DDoS protection along with your server (not all servers) for an additional cost of $10 per month.
Offers Maldet, Cockpit, and XHProf.
The Cons of Vultr
The choice of one-click applications is very limited.
It allows 1-click WordPress installment on the Nginx server only.
It allows installing the OpenLiteSpeed server, but you have to install WordPress using the command-line interface.
If you are using a free credit, you can deploy server only in Japan. No other server location is allowed.
There is no way you can deploy a server without attaching your credit card or other acceptable billing information first.
The cost of DDoS protection is very high because you can get the same from Cloudflare without paying a dime.
Vultr is not particularly rookie-friendly. It is better suited for developers.
Okay, now that you know the pros and cons, let me walk you through the Vultr interface. Time to find out what you will get into if you choose Vultr.
Getting Started with Vultr
I know you are smart enough to figure out how to signup for Vultr and get into your account dashboard. I will skip that segment. Once you signup and attach your credit card or other payment information, you will get to the proper dashboard. This is what the Vultr dashboard looks like: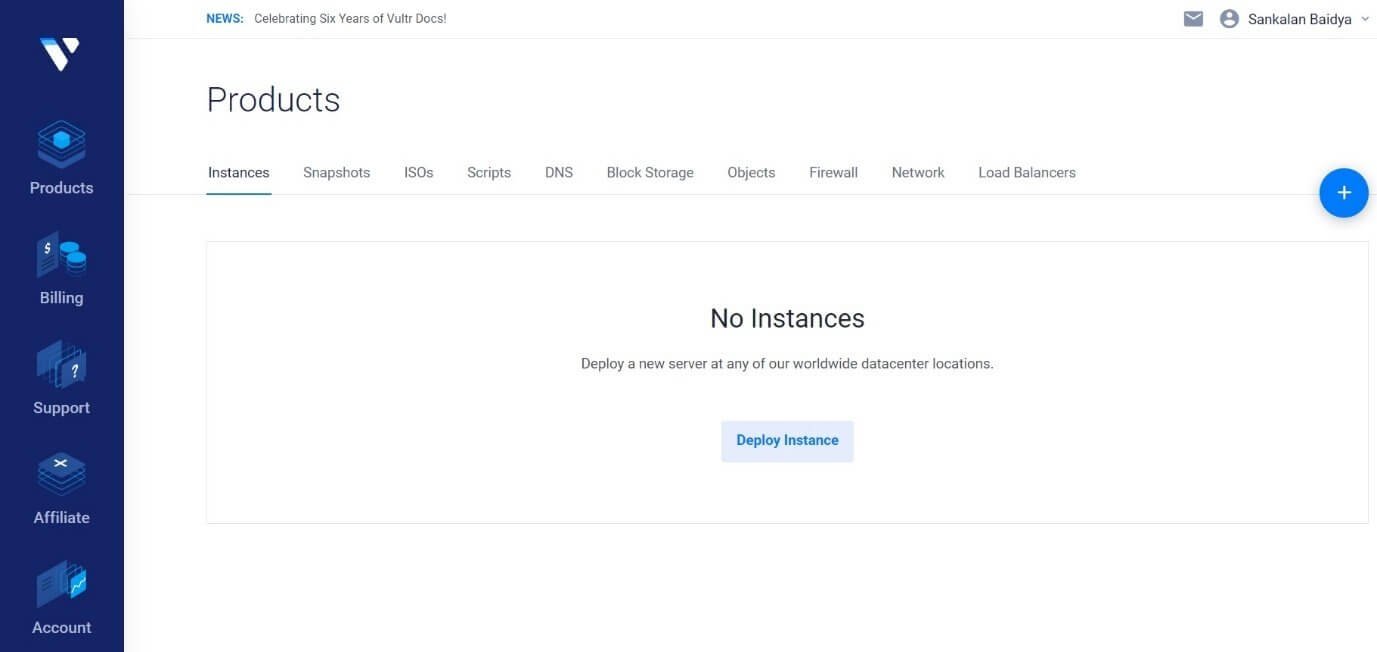 The cool icons on the left panel are eye-catchy. You will see a nice button on the panel's right side, which says, Deploy Instance.
Assuming that you want to install WordPress on the server (this assumption is the basis of this entire review), you need to click on the button.
Once you click on it, you will get to choose between four different types of servers. The options available are Cloud Compute, Bare Metal, High Frequency, and Dedicated Cloud.
I will suggest that you opt for High-Frequency servers that will cost you slightly extra, but they have an I/O that makes it perfect for highly dynamic sites or sites with many visitors. But again, it is your choice. You can opt for the standard Cloud Compute instance as well.
Once you select the server type, you need to select the server location. For a free-credits account, you can only use the Japan data center.
Scrolling further down, you can select the server you want to deploy. Basically, you need to select the operating system or the web application that you want to deploy.
Once you select the server type, you need to select the server size that you want. You can also enable additional features.
I will suggest that you enable auto backups because that will ensure that you retain a copy of your web server in the event of a hack or malicious code injection. The backup copy will help you to restore everything.
After selecting the server size, you need to add the hostname and provide a label for your server. You can add startup scripts and/or SSH keys. You can use a previously created SSH key or create a new pair using PuTTYgen.
Once you add all the information, click on the deploy button. The server will be created instantly, but you will have to wait for about 60 seconds to install the application or OS you select.
Once the installation is completed, you need to click on the ellipses menu to access the option for server details from where you can get all the necessary details like server IP, username, password, etc.
This is what you will see when you click on the Server Details menu option:
This is where you can find everything from the server root password to the URL from where you can complete your WordPress site's installation. The section will also give you the username and password for everything. Some of them are temporary, and you will have to change them later.
This is where you carry on with the WordPress installation. Though Vultr will ask you to point your domain to the server IP (adding A records), I will not recommend that you migrate from one server to the current Vultr server.
Immediately pointing the domain to the new Vultr server will lead to downtime. So, it is better that you visit the WordPress admin dashboard URL, which looks something like this:
Use the username and password provided for that URL to login. Once you log in, you will see the WordPress installation screen.
Carry out the installation process following the screen prompts. Once you finish the installation, this is what you will see:
Use the ID and password you just created during the installation process to enter your new installation's WordPress dashboard.
You will find that the installation comes with Easy WP SMTP and Wordfence security pre-installed in the plugins segment.
I do not recommend using Wordfence, because it will slow down your site. You should opt for Cloudflare protection. Also, the Easy WP SMTP plugin is not needed. You can ditch that to ensure your site remains fast (learn how to speed up your WordPress site). You can buy a business email and configure it with your email client. It is better!
If you want to migrate your site to Vultr, install the FastDup plugin on your existing site, and take backup. Download both the installer.php file and the package file (in zip format). Upload those two files on your Vultr server's html folder (location is: /var/www/html).
I really loved the server speed of Vultr. In fact, I was astonished to look at the speed at which the upload took place. Here is a screenshot:
You don't see that kind of speed with DigitalOcean!
Anyway, when the upload completes, run the installer script using the URL: https://202.182.126.115/installer.php (you can get the full guide in the post on speeding up a WordPress site).
[Do remember that if you try to migrate your site from OpenLiteSpeed to Nignix, the migration will not work due to the PHP version that LiteSpeed uses. LiteSpeed server uses lsws isapi to compile the PHP version, which won't connect to Nginx via normal channels.]
Once you are done migrating your site, you can now point your domain to the server's IP address (add A records in the DNS management area of your domain registrar).
Finally, when the DNS propagation is complete, run the following command in the console:
# certbot –nginx –redirect -d www.example.com -d example.com -m admin@example.com –agree-tos –no-eff-email
This command will install an SSL certificate on your domain. Remember to replace the example.com with your actual domain name.
To access the console of your Vultr server, go to your Vultr dashboard, click on the ellipses menu and then click on View Console. It will open up the console window where you can log in as root using the root password you can find on the Server Details page.
This is who the console looks like:
Overall, using Vultr is not very difficult. If you want to stick with Nginx server for your WordPress installation, I will recommend the High-Frequency Compute servers to minimize the server response time.
The whole WordPress installation process is quite simple, and there is a thorough guide available to guide you through each step. You can find the guide here.
Interesting Features to Note
Vultr gives some interesting features if you are installing WordPress on a Vultr cloud server. Here is what I found truly fascinating:
Maldet
In case you are not aware, Maldet is security software designed for Linux servers. It scans for malware and even removes malware from websites hosted on the server. You can quickly install Maldet on your server through the console using a single command.
Here is the command that you need to run:
systemctl enable –now maldet
Cockpit Control Panel
You can use the powerful Cockpit control panel to manage your server instance directly from a web browser. It is really powerful and monitors network traffic, disk activity, memory usage, and CPU usage.
However, on the downside, Cockpit can look intimidating, and there will be a steep learning curve. But once you learn how to use it, it will be a powerful tool to control your cloud server with Vultr.
XHProf
Vultr also provides XHProf – a performance analysis tool to keep tabs on memory usage and CPU usage. If you see something suspicious, you can drill down on the issue using the timestamps and dates.
Snapshots
Vultr will allow you to take snapshots of your server instance. What is a snapshot? It is an image of the server. In case something goes wrong with your server, you can restore the entire server using the snapshot.
Application Change
If you want to change the application of your current server, you can do so quickly from the Server Details window. You need to select the Settings tab and then click on "change application. You will get a dropdown list from where you can change the application and install a new one.
What Didn't I Like About Vultr?
Vultr is quite similar to DigitalOcean in overall look and feel. However, there are a few things I didn't like about Vultr. Here is what I didn't like:
Scary for Newbies
Vultr can be very intimidating for new-to-cloud people. It is perfectly suited for those who have a great deal of knowledge with cloud hosting.
DDoS Protection is Costly
Cloudflare provides DDoS protection without any charges. You can use it freely on as many domains as you want. Vultr's DDoS protection comes with a cost of $10 a month, which is pretty expensive.
No Screenshots with Tutorials
I guess almost all cloud hosting companies do the same. They will give detailed tutorials, but without screenshots. That's not always helpful. Screenshots are often a vital tool to help new users, especially those moving from shared hosting to cloud hosting.
No 1-Click OpenLiteSpeed WordPress
There is no option to deploy an OpenLiteSpeed WordPress server. OpenLiteSpeed is superfast – faster than Nginx. If you want to install WordPress on the OpenLiteSpeed server, you must first install OpenLiteSpeed with one-click deployment and then manually install WordPress. This route is definitely not user-friendly for rookies.
Customer Support
Their customer support is a little shaky. You won't get replies to your emails or tickets quickly. If you are migrating your existing site to Vultr, you better know what you are doing. If something goes wrong, you should be able to fix it by yourself.
Do I Recommend Vultr?
Yes, I do! Their High-Frequency Compute servers are extremely fast, and even if you are using Nginx, your website should be fast – something that Google loves. However, there will be some learning curve that you need to overcome.
Still, before you set foot on Vultr cloud hosting, I will suggest you get yourself acquainted with cloud servers via DigitalOcean, which is far more user-friendly than Vultr.