What is TotalAV?
TotalAV is a security vendor that offers antivirus and a wide range of other products. There are various of the antivirus products offered by the company. The antivirus programs perform on-demand scans for threat removal. However, the company doesn't offer real-time threat protection for its free trial offering.
Such real-time detection and anti-phishing options come with TotalAV Antivirus Pro and other high-end products. They also offer a few system-optimization tools like junk file removal, browser trace cleanup, duplicate file removal, etc. They can also help to optimize boot times, and manage startup programs.
The vendor offers security solutions for Android devices, PC, iOS devices, and macOS. For different platforms there are a few unique features. Unfortunately, the company doesn't have its own antivirus engine. Rather it relies on the Avira engine, which has quite some reputation.
I know I am sounding harsh, and I also know that I am standing on the opposite pole compared to dozens of websites upholding TotalAV antivirus as rare unicorn that everyone desires. My opinion stems out of my year-long experience with TotalAV, and I have never used anything worse than this thing! Trust me, you will be better-off with Windows Defender!
In this TotalAV antivirus review I am going to share with you my experience with this nightmare that they falsely represent as the industry-best technology. If you have time, you better read through this entire narrative of my ordeal with an expensive, but worthless piece of junk taking up space on your valuable HDD or SSD storage space.
So, what's so bad about this antivirus? I just don't know where to start.
But I will try…
Let's begin with the pros and cons of TotalAV Antivirus (Total Security – the one I used, and yes, they have various versions).
The Pros and the Cons of TotalAV
The list of pros and cons isn't going to be long. It's short and sweet. Here you go…
The Pros
It uses the Avira engine.
It does offer a free trial (for a very limited period of 7 days).
It offers a massive discount for the first year of subscription.
It throws in a VPN service with Total Security version.
There are many configuration options.
The Cons
PC maintenance extras are too few and nearly useless.
Test results are terrible.
Horrible speeds with VPN.
Extremely high renewal prices.
Malware attacks can put this thing to a merciless death.
Different Versions of Antivirus Programs Offered by TotalAV
The vendor offers three different versions of its antivirus program. They are:
TotalAV Antivirus Pro.
TotalAV Internet Security.
TotalAV Total Security.
In case you settle for the Antivirus Pro version, you can get a 1-year license for three devices for a meagre 19 dollars. That may look cheap, but when it renews, the price bumps up to $99 a year.
For Internet Security, the vendor will charge you $39 for the first year, but renewal takes place for an expensive-looking $119. With Internet Security you will get a 5-device license and the vendor also throws in a VPN service.
If you settle for Total Security, you need to pay $59 for the first year, and then the renewal happens for $149.99 a year! That's absurdly high. This one comes with a password manager, an ad blocker, a VPN service, and everything else you find in Antivirus Pro and Internet Security. Oh, you also get a license for up to 6 devices.
In my humble opinion, that's not really great value, especially when it comes to renewing the program. While you may feel that the underlying Avira engine will give you robust protection, you are wrong!
TotalAV managed to take the famed Avira engine and turned it into something worse! If you want the strength of Avira engine, you better get its free version, and if you need something better, Avira Prime for $99 can give your way more features and powerful Windows optimization features.
Minimum System Requirements
This is where things will start going downhill. In the product download page, TotalAV will not list the system requirements clearly. So, you will not know whether your system can handle it or not. You will find that you can either download and install the program easily on Windows, macOS, iOS, and Android, or you will run into some errors.
That's definitely not a good way to tell customers whether the product will work on their system or not. There has to be some concrete way to put across the message. However, you can rest assured that if you have a modern and up-to-date system, you can install the program. Still, that's no excuse to not provide the exact system requirements.
TotalAV Setup
When you reach the TotalAV website's homepage, the vendor will try its best to make you buy the program right away. They aren't going to tell you that they have a free trial available. They don't want you to try it first. Rather, they want you to buy it straight away. That's a very bad business model.
Anyway, you can find their free trial on their applications page from where you can download and use a 7-day free trial.
If you are done with the trial and you decide to purchase the program, you can first purchase the software and download it. You can create your account later. This was not possible earlier. Previously you had to create an account, provide all your information and then download the product post purchase.
Assuming that you purchased and downloaded the application, you can move forward with the installation process. Once the installation is completed, the program will take a few minutes updating the virus definitions. You have to wait, and there is nothing you can do about it.
Only after the virus definitions are updated, the actual installation of the program on your computer is completed. Overall, it will take about 10 minutes for the entire process to complete. This is, for me, quite long!
Post installation, the application will load its dashboard. You will also notice that the application has a small footprint and consumes about 30 MB of RAM, and takes up a small storage space on the HDD or SSD.
The Interface
I have to agree that TotalAV gave quite some attention to the interface, making it visually pleasing and easy to navigate. This is how the interface looks like:
By default, malware protection is the first screen that shows up when you fire up the app. You can either run a smart scan from there or you can edit the real-time protection settings. Here is where you get to edit the settings:
The vertically placed icons on the left give you access to various settings and features including those of web shield, system optimization, VPN, etc.
Overall, the interface is less-cluttered and follows a minimal yet functional design policy. The only thing that I can complain about is the absence of light mode. The default (and the only) mode is the dark mode.
Malware Scanning
There are three different scan options when you try to scan your system for malware infections. Those options are:
Smart Scan
Full System Scan
Custom Scan
With Smart Scan the program will scan a large segment of your system and specifically target those areas where malware is more likely to be found.
The full system scan will scan your entire system. It means that if you have removable discs attached to your computer, even they will be scanned.
The custom scan feature will allow you to select the files and folders that you want the program to scan. I will suggest that you always run a full system scan every single time.
A full system scan will take several minutes to complete, but the scan is non-intrusive and takes place in the background without impacting your system usage.
Once the scan is completed, the program will offer a visual feedback and tell you the number of threats found, the total number of files and folders scanned, etc.
During the scan, the program will not only scan for malware, but it will also scan other things and offer various system optimization recommendations that will include:
Duplicate junk file removal
Cookies and browser history removal
Stopping autorun programs
Removing tracking cookies
Removing potentially unwanted programs, etc.
The total time required for scanning is dependent on the type of scan you are performing. Smart scan can take up to 15 minutes while a full system scan can take up to an hour or more depending on your system.
With custom scan you can have the shortest scan time if you are restricting the scan to a limited number of files and folders of your choice.
Real-Time Threat Protection
The real-time threat protection of TotalAV is designed to detect and prevent malware infections in real-time. For instance, if you are downloading some file from the internet that contains malware, TotalAV will detect it immediately and prevent it.
It also detects malware that infected your system before the application was installed. Those threats are detected during system scan and you get a similar notification as you see above.
VPN or Virtual Private Network
Both TotalAV Internet Security and Total Security come with integrated CDN feature. You can use it to hide your online presence – technically and theoretically.
There are 40+ locations to select from, but the speed after connection is terrible. My internet's base speed is 90 Mbps. Once I connected to any location, the speed dramatically dropped to less than 10 Mbps, and at times, the speed was restricted to less than 1 Mbps.
Yes, the VPN allows to bypass the geo-restrictions of certain websites, but unfortunately, it is not strong enough to bypass the geo-restrictions of streaming services like Amazon Prime, Netflix, Hulu, etc.
Scanning through the knowledge base articles of TotalAV revealed that the VPN uses OpenVPN protocol and 256-bit AES-CBC encryption.
However, that's not enough to convince pro VPN users because this VPN doesn't come with features like a kill switch, DNS leak protection, port changing capability, etc.
Yet another thing is that this VPN cannot have a no-logs policy simply because you are anyway giving away your information while registering for the antivirus.
According to TotalAV, this VPN is their home brew. However, I cannot highly speak about this VPN considering that most of the important features of a dedicated VPN are absent.
TotalAV WebShield
The WebShield feature of TotalAV is designed to block web browsing activity and suspicious websites automatically. To be more precise, the WebShield is designed to block cryptomining URLS, low-trust websites, and sites that act maliciously.
Other Features
Other features of TotalAV include a password vault, junk cleaner, application uninstaller, browser cleanup, setup manager, data breach check, ad-blocker etc.
The Problems of TotalAV – Why I Stopped Using It
While everything you read so far may sound amazing and make you feel like purchasing a subscription right away, the reality is just as elusive as the horizon where you can never reach.
Let's begin with the problems that you will run into when you use TotalAV…
No Quarantine Feature in the Free Version (trial ends in 7 days)
The free version of TotalAV will not allow quarantining files. It will simply delete any file that it thinks is suspicious. This is terrible! There are certain file types that will give false positives. Deleting those files will cause irreparable damage to your system. It is better that those files are quarantined instead of deleting them.
So, there is no point using the free version! Please don't!
Lacks Simultaneous Scanning
Irrespective of whether you are using the free version or a premium version, the application doesn't have a simultaneous scan feature. Suppose you are running a full system scan, and in the middle of that, you decided to plug in a USB drive. You cannot make TotalAV scan that USB drive on demand.
No Integration with File Manager
TotalAV doesn't have a direct integration with file manager. So, it means that if you want to scan a particular zip file (for example), you have to open the application interface, run a custom scan where you set the path to the file that you want to scan and then hit the scan button. That's inconvenient, to say the least.
WebShield is Ineffective
TotalAV's WebShield feature depends on a blacklist to block cryptomining URLs instead of using real-time analysis. This is a bummer! This brings up questions regarding the core engine.
Also, the Safe Site browser extension that TotalAV provides uses Google's safe browsing data. So, I don't understand how WebShield works well when it comes to blocking malicious website! Your humble Google Chrome browser will do the same job, and you don't need to pay a damn thing for that!
Protection Status
When it comes to protection test, I am not really in the best position to conduct such tests. The problem with independent tests is that they usually test some of major brands. Greatly enough, TotalAV started submitting itself to AV-Test and the results in the initial days were pathetic. Yes, it has improved over time and by October 2020, it managed to grab the top product badge from AV-Test.
In July/August (2019), TotalAV managed to detect 99.9% and 99.7% of the well-known threats, but most of the competitors managed to grab 100%.
When it came to detecting zero-day threats, TotalAV only managed to detect 94.1% and 96.7% of all the threats while the industry standard was 98.9%.
Doesn't sound bad, right? Wait for it!
By September/October, things went from bad to terrible. The application managed to stop only 78.6% of the threat in one of the tests and in another test, it managed to stop a meagre 57.4% of the threats!
Things improved over the next few month and in January/February 2020, the application clocked 95.9% and 95.7% while the industry standard was at 98% when it came to protection against zero-day malware attacks.
Things have improved since then, and by October 2020, TotalAV performed as good as any other industry leader.
If that's so, what's wrong with TotalAV?
My Experience with TotalAV
Problem 1: OANotInitialized
Everything with TotalAV looked fine and rosy until suddenly somewhere in the middle of May 2020, I started receiving the message: "Status: OANotInitialized."
Quick search in TotalAV knowledge base said that this message comes when there is a conflict between TotalAV and an old antivirus program, or when a new version of TotalAV is installed on an older version.
The problem is, I installed TotalAV on fresh copy of OS, that is, I reinstalled my operating system and then installed TotalAV for the first time. So, the question of conflict was never there.
In May, the version that was installed on my computer was 5.5. The new version 5.6 did not come out until June 2020.
In May, the problem resurfaced three times. Everytime I had to follow their troubleshooting steps to get the antivirus up and running.
The error message OANotInitialized simply refers to the problem of real-time protection not enabled. That's a dreadful situation.
Upon contacting TotalAV support, they kept repeating the same thing as they mentioned in their knowledgebase article, and refused to accept that the problem could be caused by something else.
Problem 2: Uninstalls Automatically
Another funny problem I faced was I often found TotalAV missing from the system tray. My first thought was that something might have stopped it from initializing (which anyway is never a good thing). So, I searched for the program from the start menu to find the application and start it manually.
To my horror, TotalAV was totally missing! It had been uninstalled by who knows what! This happened even when I never installed a new program or updated my Windows operating system. It just happened! Even more dreadful was the fact that there were absolutely no notifications!
My system was left unsecured for hours! I tried finding a solution to this problem, but unfortunately, there is no mention of this problem anywhere in TotalAV's knowledge base.
The same problem also appeared when I installed NordVPN, WinZip, and several other programs. That was frustrating.
Everytime that happened, I had to reinstall TotalAV, download all updates and get it ready from the beginning!
Problem 3: Engine Not Found
You see the TotalAV icon in system tray and you click on it (for running a scan or for connecting to a VPN server) and you get the error message 'Engine Not Found.'
What do you? You need to download a patch to fix this issue! That was the last nail on the coffin. That's where I decided to ditch TotalAV once and for all once the subscription ended.
Problem 4: No Clear Intimation of an Upcoming Renewal
When you purchase TotalAV for the first time, you will be buying a year-long subscription. It is quite natural to forget the exact date when you purchase, and it is not always a possibility to remember when the subscription is due.
Usually, people rely on an advance intimation email from the service provider. That's true for almost every paid service I use.
One fine night I saw my credit card being charged for $149.99. It was a renewal! I didn't remember of any email notification from TotalAV. I contacted the customer support to which they said that I received an email and I opened it.
So, I went back to my Gmail inbox and searched for TotalAV. Yes, there was an email with the title:
"Award-winning antivirus protection subscription."
I couldn't make a head or tail out of that and dismissed it as another promotional email. I went through the email and found the notification in the last line of the long narrative.
Here is a screenshot of the email: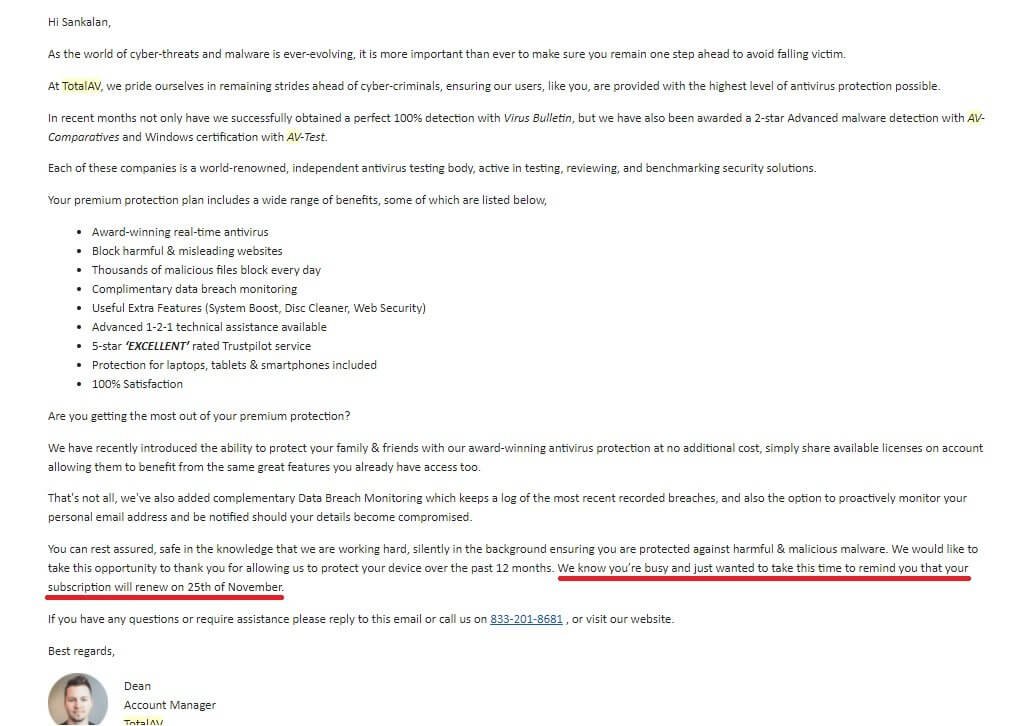 I scrolled down further to find this:
Yes, it is an advertisement email! It was not a notification!
A notification email needs to have a clear subject line. It should say the renewal date or at least say that there is an upcoming renewal. The subject line didn't mention any of those.
I was pissed off and frustrated and I asked for a complete refund of my money from the customer service executive, who was least bothered about the problems I was facing. When I confronted her about the email's dicey nature, all she had to say was, "I understand you are frustrated. So, what do you want to do now? Do you want a refund?"
I was quick to ask for a refund and she sent me a cancellation link. Clicking on the link took me to another page with flashing buttons and texts offering 40% discount on renewal. When I proceeded by declining the offer, another popup showed up offering an 80% discount!
THEY WERE BARGAINING! THROWING DISCOUNTS AFTER DISCOUNTS TO RETAIN ME AS A LOYAL CUSTOMER OF THEIR PATHETIC PRODUCT.
That was pathetic and I anyway declined their offers to grab my refund. It was processed quickly and sent back to my PayPal account from where it was automatically credited to my credit card.
I switched to Kaspersky and this is their performance according to AV-Test:
I am happy with my Kaspersky subscription now and it works like a charm so far. You can check out my complete Kaspersky Review
Bottom line?
DO NOT USE TOTALAV ANTIVIRUS! It is unnecessarily pricey, and a completely buggy piece of work! Even the Windows Defender will work better that TotalAV.