The eLearning platform from Thinkific is a well-known online course creator. However, my purpose in being here is not to sing Thinkific's praises. Rather than that, I'm here to provide you delectable Thinkific alternatives.
If you haven't already heard, developing and teaching an online course is a fantastic way to earn money online. Individuals are constantly on the lookout for methods to improve themselves. Thus, those with in-demand abilities or knowledge bases in a profitable area are entirely justified in monetizing their expertise.
In any case, selecting the appropriate LMS (Learning Management System) may help ensure that you succeed in developing an online course, and also the pleasure of your customers. To clarify, Thinkific is a cloud based LMS.
Not all learning management systems are the same. With Thinkific's e-learning platform, you receive an intuitive interface and a robust set of tools for developing online courses.
However, it does have a number of flaws. Here are a few examples:
SCORM or Sharable Content Object Reference Model files are not supported by Thinkific.
Thinkific does not provide a ready-to-use email marketing solution.
Thinkific does not provide live chat.
SCORM allows developers to build the optimal connection between an e-learning application and course code. It is a technological standard that guarantees the course operates efficiently. It does this by making it simple to import course materials that already exist.
If the online course builder you are selecting is SCORM compatible, you have a competitive edge.
Therefore, here is how this post may assist you. It will inform you whether platforms are SCORM compatible, allowing you to take advantage of SCORM content. However, it will also discuss the advantages and disadvantages of various online learning options over Thinkific.
If you're looking for the finest available LMS to assist you in conducting an online course successfully, please continue reading this detailed blurb. It will come in handy.
Just to be clear, the numbered list here doesn't indicate any ranking. The numbers are only meant for keeping a count of the number of items listed. All options on this list are great. Choose the one that suits your business needs.
Okay, let us begin.
#1: Teachable – A Basic Alternative to Thinkific
Teachable versus Thinkific is a popular search. The primary distinction between these two platforms is that Thinkific has more sophisticated teaching capabilities. It enhances the educational experience by bringing it to life.
Consider Teachable if you're searching for a simple Thinkific alternative.
Teachable e-learning platform enables you to handle student data and pricing structures centrally. The price structure of Teachable is unique. It has a "Free" option with no maximum limit on the number of pupils you can have. Each transaction is $1 plus a 10% fee.
Thinkific's free plan also allows accommodating unlimited students. Additionally, Thinkific has the following features that Teachable does not:
Course templates
Create surveys
Sitemapping for SEO
Slideshow presentations
Superior integrations with big-name apps
WordPress Plugin
Thinkific and Teachable are both great platforms in their own right. However, Thinkific is the superior platform, offering course bundles, subscriptions, and other features.
Teachable Pricing
Apart from its free plan, Teachable offers three paid plans that include:
Basic: $29 a month (with annual billing) and it attracts a 5% fee per transaction.
Pro: $99 a month (with annual billing) and it does not attract any fee for transactions.
Business: $249 a month (with annual billing) and it too, does not attract any transaction fee.
#2. LearnWorlds – Superior eLearning Capabilities
In comparison to Thinkific, the LearnWorlds application complies with SCORM standards. This feature distinguishes LearnWorlds from many other popular LMS systems, such as Thinkific, Ruzuku, Podia, and Teachable.
LearnWorld's software enhances courses via the inclusion of white labeling, social learning features, and the ability to build sales-oriented websites. Learnworlds is a viable option for anybody seeking a more premium service.
Superior eLearning capabilities and teaching features are provided by the LearnWorlds LMS. For example, LearnWorlds protects intellectual property and offers interactive eBooks, videos, and interactive quizzes. None of these functionalities are provided by Thinkific.
However, Thinkific offers helpful templates for creating course material. Additionally, I would argue that Thinkific is the market leader when it comes to providing eCommerce capabilities for selling online courses.
Finally, if you're searching for sophisticated teaching capabilities, LearnWorlds is the way to go. If you're serious about eCommerce success, Thinkific is perhaps the option you should settle for promoting and selling your online courses.
LearnWorlds Pricing
LearnWorlds doesn't have a free plan. However, they do offer a free 30-day trial. Once you are satisfied with LearnWorlds, you can settle for any of the following plans they offer:
Starter: $24 a month if billed annually. A fee of $5 per transaction is levied by LearnWorlds.
Pro Trainer: $79 a month with yearly billing. No transaction fee is levied.
Learning Center: $249 a month with yearly billing. No transaction fee is levied.
High Volume & Corporate: It comes with bespoke pricing.
#3. Podia – A Dearth of Teaching Features
Podia is not a typical Thinkific rival. At least not in the conventional sense of creating online courses. Podia's platform is well recognized for its download-based digital goods sales.
E-books are a typical illustration of the kind of product that merchants with Podia licenses may send. Podia is not a true eLearning platform like Thinkific.
Comparing Podia to Thinkific or even Teachable reveals Podia's dearth of teaching features.
However, Podia's price structure may compensate for its lack of powerful and useful learning tools. It combines over five tools into a single package. Additionally, Podia provides a significantly simpler user experience for course designers. Thinkific is unquestionably very technical and suited to bigger organizations than Podia.
If you're interested in bundling online courses, digital downloads, and memberships, Podia should always make it to your list of good Thinkific alternatives. Due to Podia's intuitive nature, it is ideal for novice course creators.
Podia Pricing
Unfortunately, Podia doesn't offer a free plan. They do have a free trial that lasts for 14 days. I believe that 14 days of trial is not sufficient, but clearly, Podia creators think otherwise. If you are happy with the product after a 14-day trial, you can settle for one of their paid plans that include the following:
Mover: $39 a month with annual billing. There are no transaction fees involved.
Shaker: $79 a month with annual billing. There are no transaction fees involved.
Earthquaker: $179 a month billed annually. Again, transaction fees are waived off completely.
#4. LearnDash – It Is a WordPress Plugin
Certain would-be producers of online courses may already own a WordPress website. This enhances LearnDash's attractiveness as a viable Thinkific alternative because LearnDash is a plugin designed for WordPress users. It will take your existing WordPress website and add LMS functionality to it. LearnDash competitors, such as Thinkific, are better in that they let you upload videos.
Otherwise, e-learning with LearnDash will be harmed by sluggish video loading rates. Additionally, file hosting and web hosting must be obtained via third-party services compatible with LearnDash. Additionally, if you choose to use LearnDash for reporting and analytics, you must connect with a third-party tool like Sales Hub HubSpot.
In general, Thinkific is a better choice if you're not interested in running an online course via an existing website. However, do not forget that Thinkific is also available as a WordPress plugin.
Finally, LearnDash does not adhere to SCORM standards. Unless you utilize a third-party add-on. In general, Thinkific is the superior choice.
LearnDash Pricing
LearnDash does not offer any free plan. It, however, provides a 30-day money back guarantee. There are three pricing plans available that include:
Basic: $159 per year for a single site license.
Plus: $189 per year for 10 site licenses.
Pro: $329 per year for 25 site licenses.
#5. Kajabi – Superior Sales and Marketing
The Kajabi app offers a "one-stop shop" for small businesses. When Kajabi is compared to Thinkific, it becomes clear that Thinkific's sales and marketing capabilities are lacking.
For instance, Kajabi provides a sales pipeline solution that enables marketers to boost conversion rates throughout their marketing efforts. Additionally, Kajabi's better marketing suite, sales and email automation make it simpler to build effective funnels.
Kajabi is a pricey e-learning platform in general. However, if you're an experienced marketer interested in marketing and selling online courses on a large scale, it's well worth the investment.
Thinkific is a superior choice for those who are unfamiliar with online course development. More broadly, Thinkific is superior for creating online courses. Its classroom characteristics are unmatched.
Kajabi Pricing
Kajabi offers a 14-day trial beyond which you must pay for one of their premium plans to continue using the platform. There are three options available, and they include:
Basic: Priced at $119 a month on annual billing cycle, this plan allows up to 10,000 contacts and 1,000 members.
Growth: Priced at $159 a month on annual billing, this plan allows up to 25,000 contacts and 10,000 active members.
Pro: Priced at $319 a month on annual billing, this plan allows up to 100,000 contacts and 20,000 active members.
What is interesting is that none of the plans will impose any transaction fee or commission. You can keep all the money.
#6. Canvas LMS – It Is SCORM-Compliant
Canvas LMS is a cloud-based application that is accessible from any computer with an internet connection. Canvas LMS is very beneficial for educational institutions and big businesses. It is included on this list because of its compliance with SCORM.
If you want to quickly and cost-effectively develop an online course, Thinkific is a better choice than Canvas LMS. However, if you're looking to create a complete online course, Canvas is the way to go.
In terms of educational institution-specific characteristics, it outperforms Thinkific. Additionally, Canvas LMS allows for the import of course materials, the grading of assignments. What is interesting about Canvas LMS is that it offers a 99.9% uptime guarantee via its Service Level Agreement.
Canvas LMS Pricing
Canvas LMS does not offer any pricing plans on its website. You must book a demo with them and spell out your requirements to get the pricing. However, they do have the option where you can try Canvas LMS for free.
#7. Academy of Mine – Pricey but Worthy
Personalization is a phenomenally successful technique for turning one-time purchases into lifetime customers. Personalizing anything is more than just automating the inclusion of a recipient's name in an email newsletter.
It's about establishing a connection between your brand's product and your target audience. Therefore, if you're interested in developing high-quality courses for thousands of customers in the retail, healthcare, technology, financial services, and manufacturing industries, Academy of Mine is an excellent choice.
Not only is it SCORM-compliant, but also offers advanced LMS and advanced e-commerce reporting capabilities that you are going to love. Plus, it comes with a slew of advanced features including CRM and analytics integration, translation to other languages, and much more.
Academy of Mine is a far more advanced option that Thinkific, and not so surprisingly, such advanced features come with come with high cost.
Academy of Mine Pricing
Academy of Mine is quite expensive, as already mentioned. They do not have a free option, but you can always request free trial. The pricing plans they offer include:
Essentials: $599 a month with maximum 250 monthly active users, 75 GB SCORM file storage and a total of 500 GB file storage.
Professional: $899 a month with maximum 1,000 monthly active users, 150 GB SCORM file storage and a total of 1 TB file storage.
Enterprise – This comes with bespoke pricing and allows building your own LMS. You must contact them to get the pricing based on your needs.
#8. Udemy – Little Control in Your Hands
Thinkific is better compared to Udemy than opposed to it, since Udemy is not a platform for creating online courses. It is rather an online marketplace. Thinkific, on the other hand, allows you to build courses. It is not a marketplace. Thus, both Udemy and Thinkific have their merits and demerits.
The most significant disadvantages of developing an online course using Udemy are as follows:
Due to the fact that Udemy does not allow you to delete the courses you create from its platform, it might not be the right option for you. Thinkific, on the other hand, allows you to do anything you wish to with your courses.
Udemy can charge you a fee of up to 50% if Udemy successfully sells your course.
If your course becomes popular, Udemy will not allow you to optimize your earnings. Thus, Thinkific is the superior choice in that regard.
Udemy does not adhere to SCORM standards.
Thinkific is unquestionably a superior choice for developing a customized and scalable experience for online courses, particularly when you combine online courses with subscriptions. Thinkific also has superior teaching tools and the ability to build a classroom environment. Something that Udemy cannot do owing to the nature of its service.
Having said that, Udemy is a very successful online education marketplace. It will drive visitors to your site while also serving as a cost-effective means of managing and hosting your courses. Thus, Udemy may be an excellent match for certain course vendors who lack an audience or the skills necessary to effectively market their product.
Udemy Pricing
There is no direct pricing structure given on the Udemy website for instructors. You can, however, check this page which details some of their pricing policies.
#9. Coursera – Meant for University-Level Courses
Coursera is a marketplace. It is actually a Massive Open Online Courses (MOOCs). In that regard, it is comparable to Udemy.
However, Coursera courses are often more highly certified. Or, at the very least, provide more widely recognized degrees, specialties, and professional courses. The platform collaborates with more than 200 institutions and businesses.
You may still discover courses that meet these requirements on Udemy. Coursera is perhaps best described as a more structured, conventional educational experience.
Coursera lacks the design flexibility that Thinkific teachers and developers have. Having said that, Coursera alleviates some of the difficulties inherent in conducting an online course. An excellent example is search engine optimization. Coursera will drive traffic to your website for you. As a result, SEO is not a problem.
Naturally, submitting a course to Coursera is not for do-it-yourself course designers. Courses you find on Coursera are formal, which is shown by the lengths to which you must go in order for Coursera to showcase your course inside the MOOC. However, to cut a long tale short, Coursera collaborates only with businesses and institutions throughout the course development process.
Just anyone and everyone cannot develop a course and upload it to Coursera. Which makes Thinkific a better option for self-taught course designers or anybody seeking an approach that is much less formal.
Coursera Pricing
Pricing on Coursera depends on multiple factors. For instance, they have different pricing plans for Teams, Businesses, Campus, and Government. So, depending on your needs, you can find different pricing options, and even options for custom pricing.
#10. Teachery – A Very Basic Option for Newbies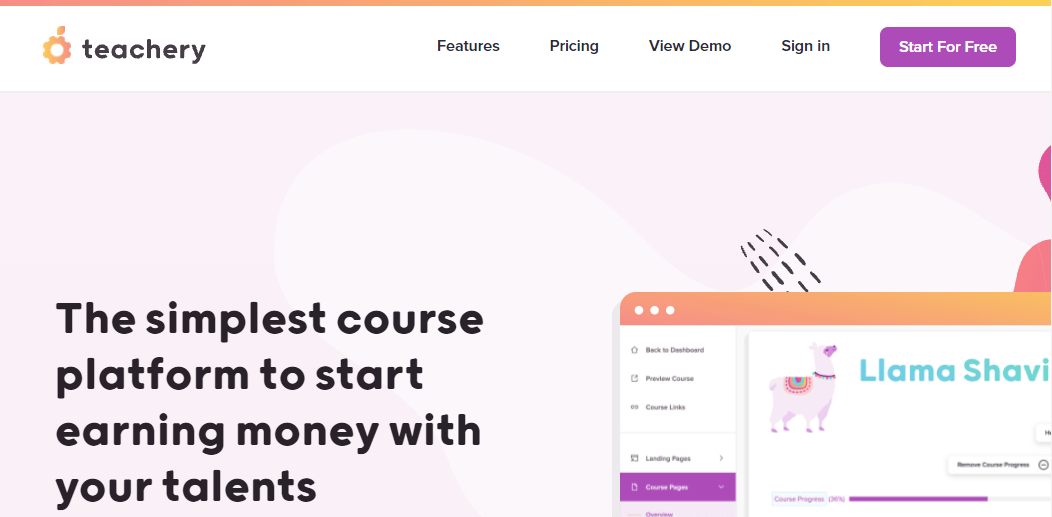 Honestly, you should not be comparing Teachery and Thinkific, because the latter is far more advanced, and comes with tons of features that Teachery doesn't provide. Take for instance, Teachery will not allow content hosting in any form – be it videos, audios, PDFs, or other files.
Again, Teachery will not allow you to bulk import content. You cannot even create time-limited content or set prerequisite courses and lessons. Yes, there are many shortcomings of teachery, but what you will like is that the absence of such advanced features makes it one of the best platforms for rookies who want to get into the business of selling online courses.
If you are a rookie, you will probably be doing much better on the Teachery platform than any other platform mentioned in this list. Having said that, you must know that if you are settling for Teachery, you will get to create unlimited courses, have unlimited students, build unlimited sales pages, and much more. It even allows lesson drip scheduling.
Teachery Pricing
Teachery has only one pricing plan available in two variants – monthly and yearly. The monthly plan costs $49 each month, while the yearly plan costs $470 per year. Irrespective of what you select, you get the choice of using their 14-day free trial.
#11. Ruzuku – Offers Webinar Software Out-of-the-Box
Affiliate programs are available via both Ruzuku and Thinkific's online course creation platforms.
They're likewise fairly priced, with Thinkific being somewhat more economical. Thinkific, on the other hand, provides a free plan, while Ruzuku does not.
Additionally, Thinkific provides a basic subscription "for first-time course creators" that is priced at $39 – Thinkific's lowest option. Compared to that Ruzuku is far more expensive.
However, making up for the high price, Ruzuku surprisingly offers out-of-the-box webinar software. To host webinars with Thinkific, you must connect with Cisco Webex or Zoom that will entail additional costs anyway. No plan of Thinkific includes native webinar software.
Thinkific is a great choice in general. It has a more sophisticated user interface, multilingual course delivery (which Ruzuku lacks), and more payment methods than what Ruzuku offers. Neither platform complies with SCORM.
Ruzuku Pricing
They offer three pricing plans. They are:
University: It costs $125 a month on an annual billing cycle. It allows unlimited courses, students, and webinars.
Up-and-Corner: It costs $83.08 a month on an annual billing cycle and allows unlimited courses, students, and webinars.
Bootstrapper: It costs $74.75 a month on an annual billing cycle and allows unlimited courses, students, and webinars.
Conclusion
There are certainly more options out there in the market, but these options mentioned here are great Thinkific alternatives. Always make sure that you go through each platform and understand what they are offering. If in doubt, do not shy away from asking their support teams whether they have features addressing your specific needs or not.
I will not be recommending any single option out here because I recommend all of them. Each has its own set of merits and demerits, and each platform caters to specific needs. Understand what you need and you can quickly find the option most suitable for you.