TeamViewer is unquestionably one of the most renowned desktop sharing applications available today. It enables users to remotely access and operate systems. People all around the globe use it to hold online meetings and provide real-time assistance, among other things. Such a platform is also used by system developers for quick deployments.
But, like anything else, it has drawbacks. TeamViewer has been embroiled in several scandals. The platform was allegedly hacked internally in 2016, causing many of its customers to lose important belongings, including money, but the business denied any such event.
Furthermore, fraudsters have utilized TeamViewer and other similar services in the past to carry out technical support fraud. While this essentially has nothing to do with security, incidents of this kind have a negative impact on the company's reputation. So, if you're searching for another provider, it's a good idea to check into all your choices before deciding.
However, before I give you the entire list, let me walk you through the advantages of using a remote access terminal such as TeamViewer.
Advantages of using remote access terminal
There are many advantages of using a remote access terminal. Some of them are summarized below:
Access to Location-Limited Websites – Some businesses such as PayPal provide country-specific services. This implies that if you are abroad, you will be unable to access their services because they may end up believing your account has been hacked and, as a result, attempt to block the "hackers." In case you are entangled in a position like this, utilizing a remote access terminal tool will provide a temporary solution. However, do ensure that using a remote access terminal is not against the website's terms of services. If so, you may just have your account banned.
Admin Collaboration – An issue may be solved by more than one administrator by collaborating in real-time.
Eliminates Travel Needs – There's no need to spend valuable time and resources going to distant servers and PCs when you can access them directly from your workstation.
Enables File Sharing – Remote access terminals make file sharing between a client computer and a host computer (and the other way round) possible, regardless of how far the two machines are located.
Personalized Customer Care – Tech businesses can provide greater hands-on service and one-on-one support to their customers, resulting in a good rapport.
Pro-active support – Supporting, updating, and patching PCs and remote servers may be done without the requirement for a physical presence on-site. This raises the profile of tech-support services since a company can wow customers with excellent uptimes.
Reduces IT Expenditures – Businesses do not need to spend on costly equipment for remote access networks and on necessary software solutions. A remote access terminal, and a local area network or an Internet connection between the host and the client computers is enough.
Okay, now that you are totally aware of the advantages of using a remote access terminal tool such as TeamViewer, it is time to find out the various alternatives that you have today.
What are the best TeamViewer alternatives in 2022?
#1. Dameware Mini Remote Control – 14-day Trial
Dameware Mini Remote Control is one of the three primary remote support tools that comes from SolarWinds – a tech company known for state-of-the-art, robust, and innovative solutions targeted towards IT infrastructure, network, and systems monitoring.
Dameware Mini Remote Control is one of simplest and yet, one of the most powerful alternatives to TeamViewer.
The tool has a very tiny digital footprint while being a cross-platform tool that runs on Linux, Windows, and Mac.
One of the greatest strengths of Dameware Mini Remote Control is that it allows multiple sessions at once. It can not only connect computers on a LAN, but also those that are located in some other country. It can also connect to a machine that has been left unattended. It can connect to a computer that has crashed or has even been turned off.
Dameware Mini Remote Control happens to be a very secure remote access terminal. Because it can easily integrate with Active Directory, you can get higher control over privileges and roles, thereby ensuring that role assignments and authorization are enhanced.
#2. Dameware Remote Support – 14-day Trial
Dameware Remote Support is yet another powerful remote access terminal offered by SolarWinds. Compared to the Dameware Mini Remote Control, this one is packed with even more advanced features. For instance, you can use Dameware Remote Support for managing the security of an entire network. Not only that, but you can also use it for managing licenses and user accounts.
The tool comes with smart card and multi-factor authentication support, making it an extremely secure tool for remote connection. Additionally, it can connect with Web Help Desktop (yet another program by SolarWinds), allowing initiation of remote access using open tickets. These features make Dameware Remote Support an excellent option for team management, irrespective of the locations of the team members.
#3. Dameware Remote Everywhere – 14-day Trial
Dameware Remote Everywhere is another remote access terminal designed by SolarWinds. This one, however, is a cloud-based solution, making it platform-independent and lightning fast.
Since it is a cloud-based solution, it completely eliminates the need for any local software solution. Despite this, the tool can be used by system admins to offer support to remote clients.
Dameware Remote Everywhere is a perfect solution for small-to-medium businesses that do not want to invest in dedicated hardware solutions for offering remote support to clients, and yet want to ensure that all powerful and necessary features are included that anyone would normally find in an on-site tool.
#4. Zoho Assist – 15-day Trial
Zoho is an instantly recognizable name. It is known for its multitude of collaboration and other business tools including tools for inventory management, email hosting, social media outreach management, and so on.
Zoho Assist is one such popular tool. Zoho Assist is essentially a remote access terminal, which has evolved into one of the finest TeamViewer alternatives to exist today.
Since it is a cloud-based service, it doesn't eat up business resources. It is a highly secure remote access terminal that is compatible with almost all known and popular antivirus programs. As long as the device you are using has a browser and an internet access, you can use Zoho Assist.
Zoho Assist can quickly integrate with various third-party services like GSuite, Service Now, Jira, Zendesk Support, etc.
It even integrates with Zoho Desk and Zoho SalesIQ, making it a powerful tool for businesses and tech companies.
#5. AnyDesk – Free for Personal Use
One of the most popular alternatives to TeamViewer, AnyDesk shot to popularity pretty quickly. This product has been downloaded and used over 100 million times.
AnyDesk is really fast and offers an excellent user experience. It throws in an efficient system for bandwidth management and has a 60 frames per second refresh rate.
When you transfer images using AnyDesk, it will save bandwidth by compressing the images before transit.
Security is one of the biggest strengths of AnyDesk. It uses TLS 1.2 protocol for security. Also, to very each connection, it uses RSA 2048 asymmetric encryption.
AnyDesk is compatible with all major operating systems including Mac, Windows, Free BSD, Linux, Android, and Raspberry Pi. It is also available on the cloud. You can use Google Chrome browser for using AnyDesk, without having to install the program.
#6. Splashtop – 7-day Trial
Designed for business use, Splashtop remote access terminal allows technicians to take control of customers' devices and resolve issues with absolute ease.
Anyone using Splashtop can use the program in two modes – attended mode and unattended mode.
The attended mode simply means that the remote device will have a user attending to it. The user can see whatever is happening directly on the screen.
The unattended mode is known as the Splashtop SOS mode. This allows a technician to access a remote machine even when there is no user attending the machine.
Splashtop also offers a version of the program targeted towards technicians of managed service providers. This version goes by the name Splashtop Remote Support, and it too, has both the attended and unattended modes.
Splashtop Remote Support is designed for integrating with popular packages for monitoring and remote management such as NinjaRMM, Atera RMM, Spiceworks, Freshdesk, and Zendesk.
There is a third version of Splashtop available. This version goes by the name Business Access edition. This version of Splashtop is designed for businesses that do now want to let the business data move out of the business building, but still want to enable telecommuting staff to access the data safely while traveling.
Splashtop systems allow white labeling, which means that any business using Splashtop can slap the system with its own logo to make it more like an inhouse solution.
As far as security is concerned, Splashtop offers business-grade built-in encryption to ensure safe remote connection and data privacy, making the Splashtop systems compliant with HIPAA, CCPA, and GDPR data regulations.
#7. ISL Online – 15-day Trial
ISL Online is yet another viable TeamViewer alternative that is tailored to give remote access to computers to technicians over the internet. The remote user needs to provide or grant permission to the technicians to access the systems using ISL Online.
It is best suited for inhouse technical support. There are three elements that make up the entire ISL Online system. Those three components include:
A Server – This one controls the communication. It is a cloud-based system that can be easily downloaded and installed on-premises. It can run only on Windows and Windows Server.
ISL Light – This one is the console for the technicians. The support technicians can install the ISL Light on Linux, MacOS, and Windows.
ISL Online Client – This is the end user module that can also run on Windows, Linux, and MacOS.
The ISL Light or the technician console comes with a large view panel, allowing the technicians to view the remote computer. The console has a neatly arranged tools menu on the top that the technicians can use for accessing the data on the remote computer, including executables, files, and folders.
There is also an integrated chat system available that allows the technician and the remote user to chat and communicate.
ISL Online will not allow unattended access to the remote computer. The end user or the remote user can see everything happening. Because there is no unattended mode, it gives confidence to the remote users, because they can rest assured that they are not being duped by any hacker.
#8. GoToAssist – 7-day Trial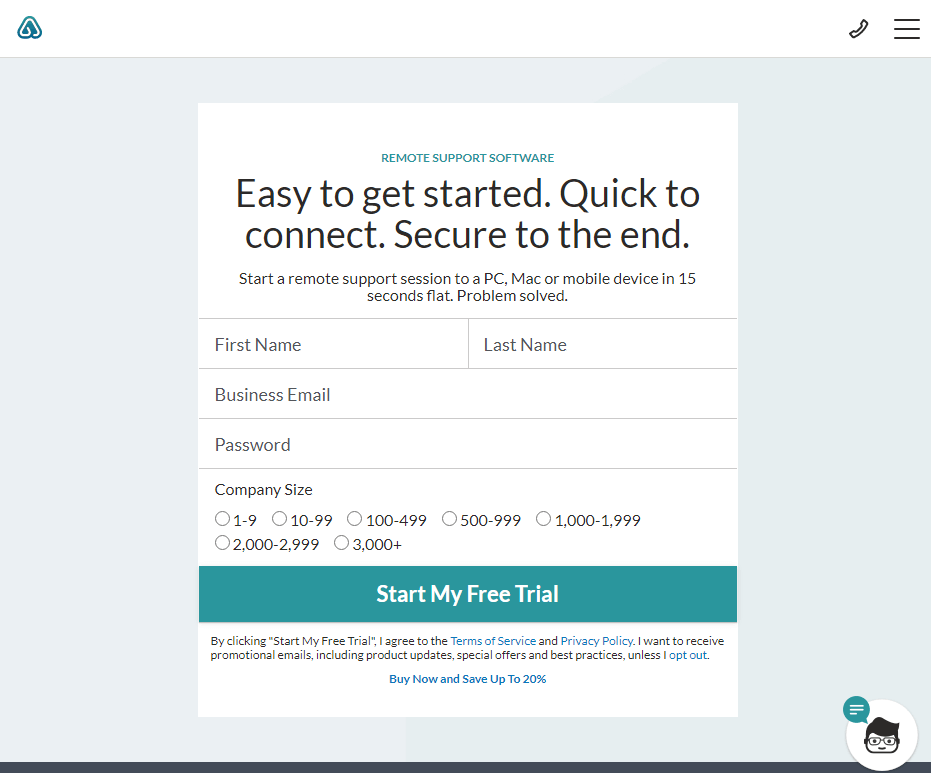 GoToAssist was previously known as Rescue Assist. It is a product designed and developed by LogMeIn. Rescue Assist can be launched directly from a browser. You can even install it on a mobile device and a desktop computer. This makes Rescue Assist one of the best TeamViewer alternatives and, of course, of the best remote access terminals available today.
The program is designed for initiating a remote access session directly from inside a call or a chat using a single click. It even allows unattended access. In case you want to use a browser to use Rescue Assist, you must install a browser plugin or extension.
Rescue Assist is fast. It claims to establish a connection within 15 seconds starting from the time of IP identification to the time when remote access is gained.
After the connection is established, Rescue Assist can generate various detailed reports including whether SLA or Service Level Agreement have been met or not, details of the client computer, etc. It will even show notes that previous technicians have left.
Rescue Assist allows seamless transferring of call to a senior in case an escalation is needed. If escalation is not working, the technician team can communicate with each other in a separate room via Slack integration.
Rescue Assist even allows screen sharing to up to 15 support members. In case of mobile devices, technicians can use the device camera to help in the resolution process. This application supports both iOS and Android devices.
As far as security is concerned, Rescue Assist comes with Secure Remote Password (SRP) to prevent in-transit data from being stolen. It also comes with end-to-end encryption to ensure that even if the data is stolen, it remains indecipherable.
Rescue Assist can easily integrate with all network configurations, and hence, no special configuration is required.
#9. UltraVNC – Absolutely Free
First thing first, UltraVNC is free, even if you are using it for your business needs. However, do remember that UltraVNC is compatible only and only with Windows.
So, you can use this program with Windows Vista to Windows 10. In case you want to use it on Windows Server, you can do that, too. It supports Windows Server 2003, 2008, and 2012.
If you are looking for compatibility with other operating systems, you are out of luck. However, for Windows users, this is a brilliant application with a very small footprint. It will not use immense amounts of system resources.
In fact, it is one of the most efficient remote access terminals you can find with massive data compression capabilities. You can actually configure how you want the data to be compressed for transferring between two connected computers.
You can use the program in both CLI and GUI modes, and it comes with an embedded chat engine that allows communication between the server and the client without any lags.
It is also an extremely secure application that uses the Data Stream Modification Encryption plugin system for keep away man-in-the-middle attacks.
On the downside, however, to establish a remote connection, you must know the IP address of the remote computer. If you are planning on using Router Port Forwarding, you must configure that on the server. Finally, the interface is really outdated. It could really use a makeover.
UltraVNC is not for those who are scared of technology. It is for those who have mastered technology. Despite its shortcomings (that you can maneuver around with some knowledge), UltraVNC is a very powerful tool, and a great alternative to TeamViewer.
#10. WebEx Remote Access – 90-day Trial
WebEx Remote Access comes from Cisco – a leader in network technology. You can blindly rely on WebEx Remote Access as a viable TeamViewer alternative.
Cisco WebEx Remote Access is more like an all-round tool with collaboration and video conferencing capabilities, its remote access and administration aspect is highly impressive.
Once you install the program, the tool will automatically log every computer on the network (provided you enable the feature) and will be ready to host a connection.
There are various security features such as email notifications for letting clients know that their systems have been remotely accessed. There are other features like role assigning, device grouping, phone authentication, access control, etc. Session recordings are responsible for tracking and accountability.
WebEx Remote Access agent is capable of giving unattended access to computers, servers, and even point of sale or POS devices! It can seamlessly integrate with other third-party tools for collaboration and productivity such as Google Drive, Slack, Trello, etc.
You can happily forget about configurations, because WebEx remote access is compatible with most of the known firewall configurations. It even supports machines that are kept behind proxies.
#11. Microsoft Windows RDC – Free with Windows
Microsoft has its very own remote access terminal. It is called Remote Desktop Connection or RDC. It is a simple uncomplicated tool designed with smoothness in mind.
Windows RDC is free to use. You need to enable it first. However, what is interesting is that RDC can work on Linux, Android, and iOS devices, too, and establish a remote connection with other Windows systems.
To connect to a device remotely, you need to provide a username and a password. You can even initiate a remote connection simply by double-clicking on remote devices and servers that you previously connected to.
There are a few drawbacks to Windows Remote Desktop Connection. First thing first, you can copy files by dragging and dropping. That feature is not available. Also, only one client can connect to one machine at any given time. Multiple remote connections are not allowed. Finally, the local user of the remote computer will be locked out during the session.
However, despite its limitations, Microsoft Windows Remote Desktop connection still remains a go-to tool for startups, small businesses, and medium businesses that do not want to invest in a third-party tool and want something native.
This uncomplicated remote access terminal will not only allow you to access a remote desktop, but also allow you to access printers, smart cards, drives, ports, and several other plug-and-play devices that are connected to the remote computer. You don't need to be a part of the LAN to use this remote connection terminal. You can connect to anyone device even if it is on a different network.
#12. Chrome Remote Desktop – Absolutely Free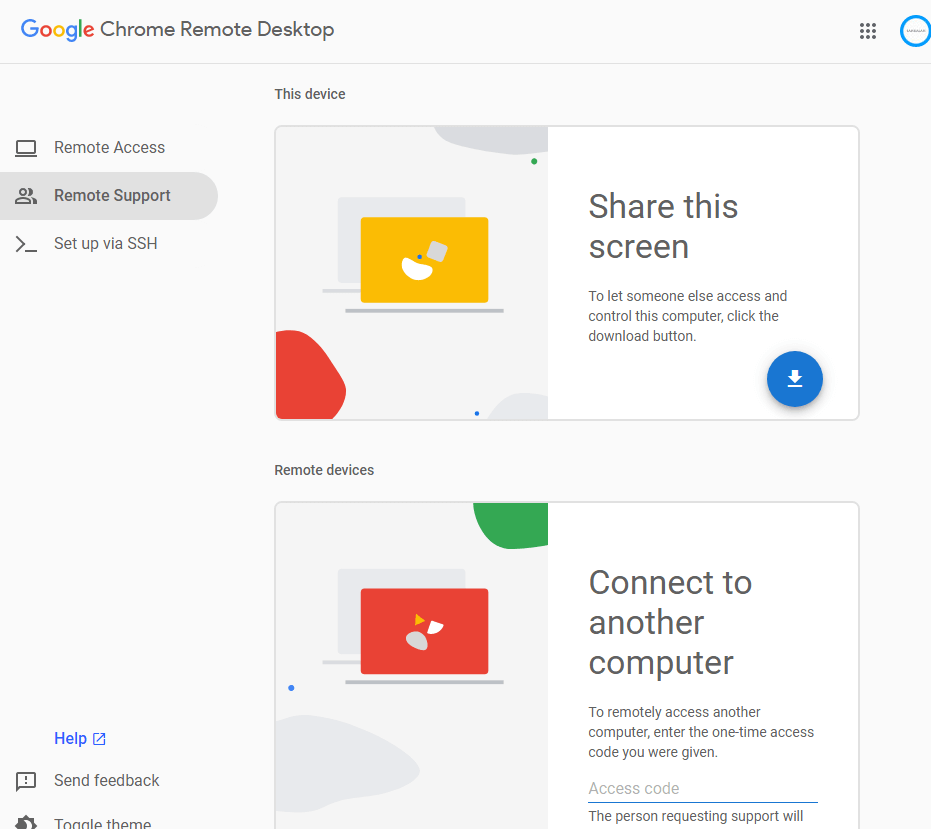 Chrome Remote Desktop is not really a proper remote access terminal. It is just a browser extension enabling remote connection. This means that it is a browser-based tool, making it platform-independent.
However, what is interesting is that since Google Chrome has 70% of global browser market share, you can extend tech support globally using this tool. It is not at all complex, and you do not need to be a tech-savvy person to be able to use it.
It works in a very simple way. You install the browser extension and create a code. You then share the code with those who you want to provide support to you.
The person accepting your code will insert the code in the provided area (of course, that person needs to have the extension installed on Google Chrome Browser) and start the session. It is as simple as that!
The connection you establish using the Chrome Remote Desktop can be one of the three variants mentioned below:
A one-time connection that will lead to only a single session.
A permanent connection that will give round-the-clock access.
A timed connection that will require a login. In this case, a user will be forced to reauthenticate when a session times out.
Of course, since Chrome Remote Desktop is not a true remote access terminal, it comes with some severe drawbacks. To start with, there is no chat feature. So, if you need a chat option, you must either get a third-party communication tool, or use a different remote access terminal with an integrated chat feature.
Also, Chrome Remote Desktop does not support file transfers, making it unsuitable for complicated troubleshooting where file transfers often become necessary.
It has absolutely no support for multi-user and multi-session connections. So, teamwork is not possible. Finally, it does not have the ability to reboot and reconnect automatically. So, if your troubleshooting steps require rebooting and session commencement, Chrome Remote Desktop is not an ideal solution.
#13. TigerVNC – Absolutely Free
TigerVNC is another open-source option just like UltraVNC. It can work only on Windows and Linux systems. Several flavors of Linux are supported including Red Hat Enterprise, OpenSUSE, Fedora, Arch Linux, FreeBSD, and SUSE Linux Enterprise.
Though it is free, the problem with TigerVNC is that you must know the IP address of the remote computer or the remote server. If you have the IP, you can input it and start a secure connection. TigerVNC uses a TLS encryption for securing all connections. Another problem is that it does not support file transfer.
The overall interface is simple and clean, and it provides a very high-performance output. It even allows defining color depth and rate of data compression if saving bandwidth is on your mind.
#14. Remmina – Absolutely Free
Remmina is most famous among Linux users, specifically Ubuntu users. Since Natty Narwhal (Ubuntu version 11.4), Remmina has been the default remote desktop client that Ubuntu has been using.
Debian users can also use it because it is found in package repositories of Debian. Remmina supports various network protocols including SSH, SPICE, NX, VNC, XDMCP, and RDP.
Remmina has support for multiple sessions at once. It even allows file transfers. For security, Remmina uses AES 256-bit encryption. However, to use Remmina, you will need to provide the IP address of the remote server or remote computer. Of course, you can define the color depth, connection quality, and so on.
That concludes the list of 14 best TeamViewer alternatives in 2022. But before you decide to jump and grab one from the list, there is something else you should know. What's that?
What Features to Look for While Selecting a Remote Connection Tool?
Finding the best remote administration solution for your personal or company needs is generally a difficult task. However, there are a few characteristics you should make sure are included in your final choice:
Trustworthy and secure: End-to-end data encryption ought to be there by default, and the use of a remote access terminal should not jeopardize a company's GDPR or HIPAA compliance.
Firewall-friendly: Using a remote access terminal should not raise an alert every time one of its connection requests reaches the firewall; in fact, it should not be banned or placed on a blacklist anyway.
Fast data transmission rates and high-quality connections: The connection between the two ends of a remote access terminal session must always be seamless and consistent. Data packet compression should be high, and the tool itself should have a compact payload with a minimal digital footprint.
Image or screen quality: High-resolution remote device viewing should be commonplace.
Peripherals and media access: Your preferred remote access terminal should provide you with complete access to all peripheral devices on the remote or the host computer. It should allow you to view, play, and listen to media files.
Ease-of-use: An effective remote access terminal is simple to use and enables even inexperienced users to initiate and host sessions. Select one wisely.
Flexibility: A good remote access terminal isn't constrained by the type of a device or by the operating systems; in fact, it should be able to move smoothly between them.
Concluding Remarks
Now that you have learned about the best TeamViewer alternative available in 2022, and you have learned how to select a remote access terminal, which one do you think you will settle for?
In my view, Dameware solutions (all three), Zoho Assist, and AnyDesk are currently the top-of-the-line options that fulfill almost all the requirements of being an ideal remote access terminal. If you need something astoundingly simple, AnyDesk is the best bet. If you need something highly advanced, Dameware solutions can be your best bet. Zoho Assist, on the other hand, is generally great for businesses looking for multiple third-party integrations.
Remmina, which is not only absolutely free, but also lends itself to development at your behest, is a great choice, but only if you are using a Linux system. Of course, there is a workaround for Windows, but that will require you to have exceptional knowledge of deploying Linux Subsystem for Windows, which is a compatibility layer for running Linux binary executable on Windows natively. Unless you know how to do that, you will be restricted to Linux!