What is SiteGround?
SiteGround is a web hosting company that offers different hosting solutions. They don't deal with VPS or dedicated hosting. You can get shared hosting, WordPress hosting, WooCommerce hosting (which too, runs on WordPress), and cloud hosting (for which they use Google Cloud infrastructure).
They are one of the most expensive shared web hosting solutions available today. They even topple GoDaddy in terms of expense. Fortunately, they do provide several free options.
Unlike GoDaddy, their hosting solution is a full-managed service. So, you don't need to worry about the technical things. SiteGround will take care of those things. The managed services they offer totally justify their pricing structure.
Is SiteGround a Reliable Hosting Provider?
Yes, it is! I can vouch for it, in fact this site is hosted on Siteground. Their servers rarely face downtime, they are exceptionally fast, and they are clear about that they will give you. They use SSD storage, which is known to be fast.
What's great is that they offer free site migration using a plugin that works out of the box. Unfortunately, you cannot always trust a plugin. That's the reason why they have a paid site migration feature, as well that will cost you $30.
They offer a very clean and intuitive user interface, staging environment, and access to Git repositories. Additionally, I am impressed with their customer service, as well.
If you are looking for free SSL, free email, etc., SiteGround will not disappoint you. They have all these features available, even for their most basic plan.
SiteGround Quick Overview
Perfect for?
Shared & WordPress Hosting.
Speed
SiteGround takes an average of 230 ms to load a website. While that's fast, it is not as fast as I would like to see.
Uptime
99.99% average. They had 100% for the last 60 days.
Great for which platforms?
WordPress, Joomla, Drupal, Magento, WooCommerce.
Classic features

Unmetered bandwidth,
Free CDN,
Free SSL,
Free Email,
Daily Backup,
Managed WordPress

Site transfer
Yes! Both Free and Paid.
Hosting types

Shared Hosting
WordPress Hosting
WooCommerce Hosting
Cloud Hosting

Pricing
Variable for different plans, but basic Shared Hosting starts at $6.99 per month for a long-term plan.
Refund policy
30-day money-back guarantee. They offer a 100% refund for hosting fees only. If you register a domain through them, you will not get a refund for that.
Support
24/7 chat support available. There is phone support, as well.
Ease of use
Very easy to use.
cPanel availability
No, they don't give you cPanel. They have a proprietary system that they call Site Tools. It is neat and very intuitive. I really loved working with it.
Security features
They have something called SG Site Scanner that monitors sites and identifies active hacks and malicious codes. You can purchase it separately.
Company establishment year
2004
The company is owned by
They are an individual company located in Bulgaria.
SiteGround Server Uptime
No one likes a site that frequently goes offline. Most hosting companies today offer 99% and above of uptime. SiteGround is no different. They offer 99.99% uptime. I have been with SiteGround for a couple of months now and never experienced any downtime. That's impressive.
I know that a two-month data is definitely not as impressive as a year-long data, but I cannot say that I stayed with SiteGround for a year. So, I am sorry if I disappointed you here. However, if you believe other famous review sites, you will notice that SiteGround consistently gives 99.98% (or more) uptime, which is good news!
Server Response Time
I told you earlier in my GoDaddy review that it is virtually impossible for me or any end-user to find out the server response time because we don't have the right set of tools. However, based on the webpage speed test, I can say with almost absolute certainty that SiteGround servers are fast.
Do understand that a webpage speed test is not the true reflection of server response time. There are many other factors that can come in. Those factors include things like:
Website theme.
Plugins in use.
Third-party scripts.
Ads.
Image sizes, etc.
I am going to do the same thing that other websites do. I am going to test the page load time for a functional website that uses the following parameters:
A lightweight theme (GeneratePress premium).
4 plugins.
System fonts (instead of Google fonts).
Cloudflare CDN.
Let's see how it performs:
Google PageSpeed Insights
PageSpeed Insights from Google is, according to me, the most important tool you should use for testing your site speed. While GTmetrix and Pingdom are quite popular, they aren't Google!
So, I will go for what Google says. Later, I compare Google's test results with GTmetrix and Pingdom.
Here is what I found:
For Mobile: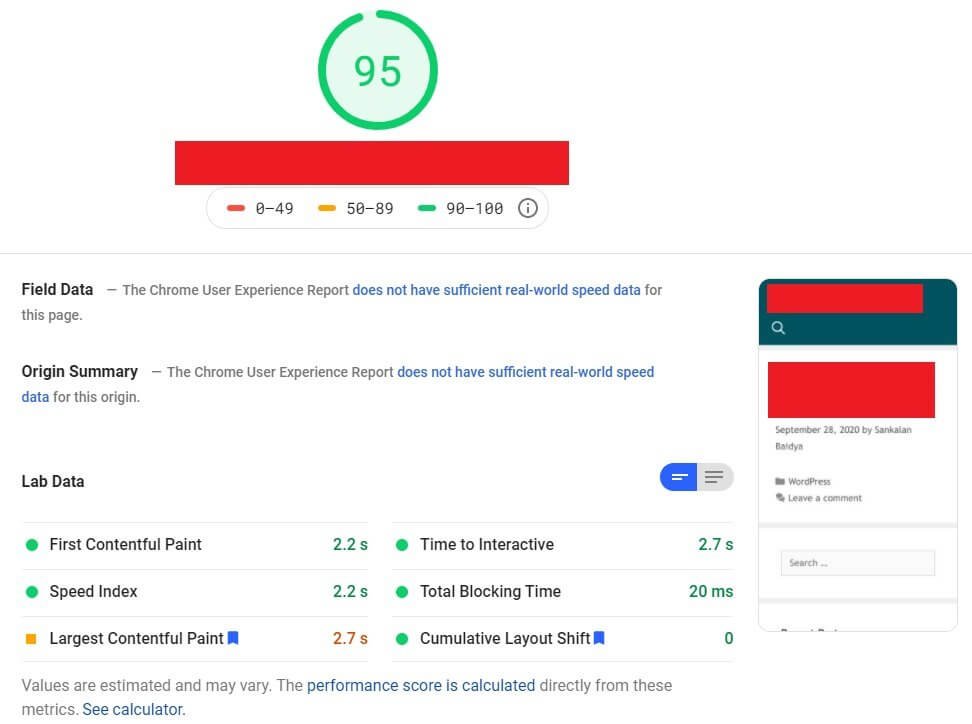 For Desktop:
Okay, they are fast, but what about the server response time? Here is what Google has to say:
For Mobile:
For Desktop:
Yes, both are identical! That is what you should expect. The server should respond the same way for both mobile and desktop browser requests.
Now, 230 ms is a great start. No doubt, SiteGround servers are fast! In fact, they are faster than GoDaddy servers.
GTmetrix Test Results
Damn! I am good at optimization! Okay, fine, that's a great speed. What about server response time? Here is what I found:
According to GTmetrix, the server responded in 313 ms. That's incredibly fast for shared hosting!
Pingdom Test Results
This is what I found with the Pingdom test result:
274 ms for full load time is great. What about server response time? Here is what Pingdom has to say:
According to Pingdom, the server responds in 124.5 ms, which is way better than what Google PageSpeed Insights says. Maybe it is true, but I have an inclination to believe Google more because it's the god of the search arena.
However, the bottom line is that SiteGround servers are fast, really fast!
Don't think that speed test results are some vanity metric that doesn't matter. Google hates slow websites (and even we do). If your site is slow, people will stop coming. If your site is slow, Google will push it down the search results, and in the worst-case scenario, deindex your site.
Your site needs to be fast, especially on mobile. Google has switched to mobile-first indexing a long time back. So, your website's ranking is now heavily dependent on how fast your site loads on mobile devices using a 3G connection. You screw up there, Google will show you the door! So, focus on site speed.
I did have a talk with SiteGround sales rep before I purchased a SiteGround plan. I did ask the rep about the disk I/O data and whether their servers use SSD or not. This is what I found during the chat:
They have a disk I/O of 5000. That's not very high, but great for shared hosting. If you think that's high, you should look at Vultr's High-Frequency Compute servers that give I/O of 38,000, while UpCloud has I/O of 40,000. Definitely, UpCloud is today the fastest-known cloud hosting provider.
But trust me, that kind of I/O is needed for very big sites with millions of visitors a month. For starter websites, I/O of 5000 is more than enough.
Ease of Use
SiteGround is really easy to use. They do not use cPanel. Instead, they created their proprietary control panel that they call Site Tools. It is, I feel, way more organised and easier to use. It doesn't look cluttered like cPanel and gives you everything you need to handle a website.
I am not going to do a walkthrough of it because SiteGround already has a clear walkthrough video. Just go through it.
As a matter of fact, I found SiteGround's custom control panel to be far more intuitive compared to the traditional cPanel. It is easy to navigate around, and everything is clearly arranged. You won't find it confusing.
SiteGround Pricing Plans
As I said in the opening paragraphs, SiteGround is expensive. But their managed hosting solution makes up for the price they charge.
They have both simple shared hosting and WordPress hosting available apart from WooCommerce and cloud hosting. As you can imagine, WordPress hosting is more expensive than simple shared hosting.
Since I am not a big supporter of WordPress hosting, which I feel is a gimmick, I will tell you about the prices of the shared hosting plan.
But before I do that, here is a quick reason why I feel WordPress hosting is a useless thing: 'It used Jetpack and other aggressive caching to speed up the site.' All those can be achieved on a simple shared hosting plan. You can see that from the speed results that I achieved for my site, which sits in a shared hosting server and not in a WordPress hosting server.
Getting back to the pricing, here is what SiteGround offers for shared hosting services:
StartUp Plan
This is the most basic plan that you will get with SiteGround. It will cost you $6.99 a month only if you purchase it for at least 12 months. If you plan on getting this plan for a month only, you will have to pay $19.99.
What's weird is that if you go for a longer tenure (24 months or 36 months), it will cost more. Irrespective of the tenure you choose, you will get the 30-day money-back guarantee (no questions asked).
However, if you lock the price of $6.99 a month by opting for a 12-month tenure, you have to renew it at the regular price after the end of the tenure. The regular price will be $14.99 a month.
GrowBig Plan
The GrowBig Plan will cost you $9.99 a month if you choose the 12-month tenure. Renewal will take place at $24.99 a month. In case you opt for a monthly billing cycle, it will cost you $29.99. The same story as before, if you select the 24-month or 36-month tenure, you have to pay a higher price compared to the 12-month tenure.
GoGeek Plan
The GoGeek Plan will cost you $14.99 a month for a 12-month tenure. Renewal will take place at $39.99 a month. If you select this plan for a single month, you will have to pay $44.99. For 24-month and 36-month tenures, the prices will be higher than the 12-month tenure.
SiteGround Plan Comparison
If you are wondering what you are going to get against those high prices, here is a comparison chart for you:
| | | | |
| --- | --- | --- | --- |
| Features | StartUp | GrowBig | GoGeek |
| Websites | 1 | Unlimited | Unlimited |
| Storage | 10 GB | 20 GB | 40 GB |
| Database (and size) | Unlimited (max size per database – 500 MB) | Unlimited (max size per database – 750 MB) | Unlimited (max size per database – 1000 MB) |
| Email accounts allowed | Unlimited | Unlimited | Unlimited |
| Subdomains allowed | Unlimited | Unlimited | Unlimited |
| FTP accounts allowed | Unlimited | Unlimited | Unlimited |
| Backup | 30 days | 30 days | 30 days |
| Caching | Static only | Dynamic and Static | Dynamic and Static |
| SSL | Free | Free | Free |
| CDN (Cloudflare) | Free | Free | Free |
| Staging | No | Yes | Yes |
| Git | No | No | Yes |
| On-demand backup | No | Yes | Yes |
| Collaborators | Not allowed | Allowed | Allowed |
| Support | Phone, email, and live chat | Phone, email, and live chat | Phone, email, and live chat on priority |
| First Term Price (12-month tenure) | $6.99 a month | $9.99 a month | $14.99 a month |
| Renewal (12-month tenure) | $14.99 a month | $24.99 a month | $39.99 a month |
SiteGround Features
Let's look at some of the unique features of SiteGround shared hosting.
Site Migration
You will get a free site migration option using their plugin. However, if you need a professional site migration service to rule out errors, you need to pay for it. Previously, professional migration was free. They changed it!
Free CDN
They give free CDN via Cloudflare. That's nothing great about it! Cloudflare has a free CDN option, which is free forever. The only thing is that SiteGround allows quick integration directly from their control panel.
Free SSL
This is a generic feature of most of the hosting providers. Free SSL comes from Let's Encrypt. However, you need to keep activating the SSL every three months.
Unlimited Emails
This is good because what you will get is professional emails (example: admin@yourdomain.com) for free. You can create as many emails as you want.
Unlimited FTP Accounts
If you want to access your hosting account remotely, you can use any FTP client like FileZilla. However, to use this feature, you have to have an FTP account with SiteGround. The good news is that you can create as many FTP accounts as you want.
Unlimited Databases
You can create as many MySQL databases as you want. However, the size limitation is something I don't like.
Money-back Guarantee
You will get a 30-day no-questions-asked money-back guarantee. That's something incredible.
Speed-boosting Caching
This option is available on both GrowBig and GoGeek plans. They have Nginx direct delivery and SuperCacher features available to speed up the sites. Unfortunately, these features are not available for the basic plan.
Don't worry, though! It is not really difficult to speed up your site without what they offer. You need to experiment for some time, and I am sure that you will figure out everything.
Collaboration
This feature will allow you to add additional users who can access your site or other sites that are hosted on your server. It is a nice feature, but it is available only for GrowBig and GoGeek plans. That makes sense, because, for the StartUp plan, you will get to host only one website. I don't think you will need collaborators for that.
Managed WordPress
All their plans will give you managed WordPress support. This will all include free WordPress installation, auto-updates, support from WordPress experts, WordPress staging tools, etc.
SiteGround Support
I really liked the support provided by SiteGround. They are extremely responsive, and their technical support team is knowledgeable. What's best is the response time. They respond to chat queries within two minutes.
Their email team also responds within 2 hours. That's amazing! You don't see such responsive support from hosting companies every day, especially expecting the same from GoDaddy is asking for too much!
SiteGround Pros and Cons
In this last segment of the review, I will run you through a quick list of the pros and cons of SiteGround. Ready?
The Pros
Fast SSD storage gives faster server response times and fast page load times.
State-of-the-art proprietary control panel for easy access.
Free SSL, free CDN, unlimited emails, unlimited FTP accounts – all at no extra cost.
Excellent uptime – an important aspect of any shared hosting.
Sever locations on four continents. You can select the one you want.
There are advanced features that are usually not available with other hosts. For example, collaboration, access to Git repositories, staging, caching, etc.
Free site migration using a plugin.
Pro-level site migration for those who don't mind paying extra for error-free migration.
World-class customer support in both sales and technical support.
The Cons
Very pricey.
Renewal prices are even higher.
No free domain with hosting plans. Almost every other hosting company provides that.
Conclusion
SiteGround may be an expensive host, but there are one of the finest shared hosting options this world has to offer. I don't speak so highly about shared hosting companies, but SiteGround is different. It deserves respect.
That doesn't mean that I will not recommend cloud hosting over shared hosting. I will always do that. However, if you don't want to go through the hassles of cloud hosting, SiteGround should be your definitive choice and by the way, this site is hosted on Siteground.
Yes, I RECOMMEND SITEGROUND!