Google search engine is the de facto search engine that we use for our regular use. You cannot deny that! From searching a simple meaning of an unknown word to finding something complicated like books from archives, Google is often the go-to search engine, and for good reason. It has amassed a massive 88% of the global market share!
There is no denying of the fact that Google's search results are very relevant (Except for the year end when Google starts pushing websites of business entities on the top. It is all revenue baby, revenue! Money speaks!).
However, despite the uncanny monopoly of Google over the Internet search world, there are many other search engines that can do exceptionally well. We often ignore them. Many of us don't even know about most of the alternatives that exist today.
In fact, if you really want to see the Internet without that eerie bias towards Google's products, you may, or rather, you should consider using these alternatives. If you are a privacy-focused nut, there are various alternatives that you should comb through, because Google isn't particularly known for protecting privacy of its users.
Sure, you can just Google any damn thing and you will find accurate results because of Google's ever-changing algorithms that offer personalized search experience. But that doesn't mean Google has patented accuracy. Others can be accurate too!
So, if you are wondering about the available choices, read though this blurb. I am darn sure that you most probably never heard of most of them in all your years of online existence.
Let's begin…
Before I give you the whole list, I will like to mention that I have grouped these search engines based on four categories:
Those that store and use your information
Those that respect your privacy
Those that give crowd-sourced results
Those that are driven by a social cause
Now, let's begin the list…
Search Engines That Store & Use Your Information
Bing Search Engine – Google's Nemesis?
Bing is a Microsoft offering, and it is perhaps, the greatest adversary of Google. Its market share is gradually increase. Yet, it has a lot of ground to cover. While Google's market share runs in double figures, Bing is still stuck at the single-digit figure.
Still, Bing is arguably the second-most popular search engine in the world. In fact, there are various aspects in which Bing outperforms Google in the United States.
In case you are not aware, Bing has a rewards program in place. You can earn by using Bing search. All the reward points earn are redeemable in both Windows and Microsoft stores. That's a nice touch to onboard people. Of course, people do need some incentive to give up the old habits.
When it comes to image search, Bing offers a way better GUI (Graphical User Interface) compared to Google or any other search engine that exists today. The best part comes when you are looking for videos. The video search GUI is like that of Bing's image search GUI. That makes searching for videos using Bing an interesting endeavor is that you don't see anything horribly biased towards YouTube.
Switching to Bing search is a great way to get off Google's lap because the overall search interface is pretty much like what Google offers, making the transition simple. Think of it in this way – you have been a lifelong user of Microsoft Windows and then suddenly you want to switch to Linux. Your best bet will be to go for a distro that has a similar interface to that of Windows. That will make your transition smooth!
Yandex – The Russian Search Giant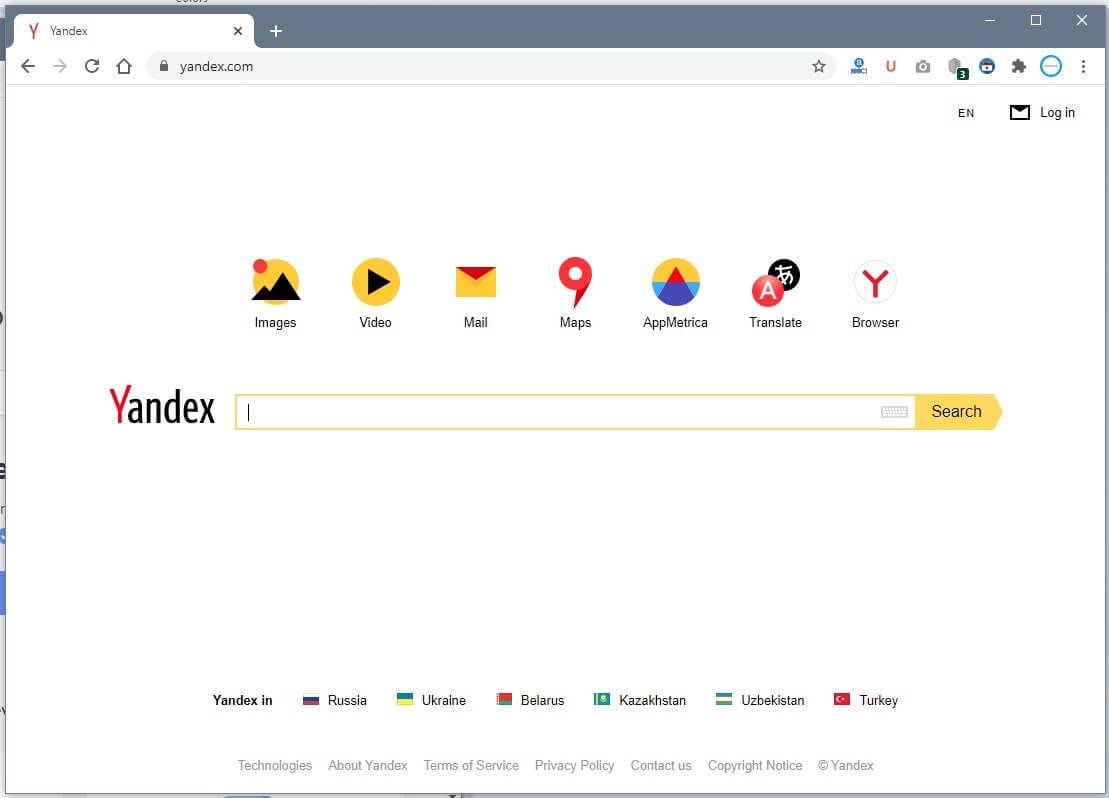 American companies almost always set the narrative. However, if you want to cross borders and see the Internet through a different set of eyes that doesn't have American allegiance, Yandex might be a good place to start.
Yandex is a Russian search giant, catering to over 45% of Internet users in the Russia federation. Russia isn't the only country where Yandex has a strong foothold. There are other countries too that use Yandex as their primary search. Those countries include Ukraine, Turkey, Kazakhstan, & Belarus.
Overall, the Yandex platform is easy to use and offers relevant result. Of course, there's no rewards program with Yandex, but you get access to some cool tools that are great for developers.
Search Engines that Respect Your Privacy
DuckDuckGo – Privacy Focused
If you cherish your privacy and don't want anyone to access your personal data, DuckDuckGo should be your go-to browser. Right from the day of its launch, DuckDuckGo has focused on only one thing – safeguarding the privacy of their users.
That's the reason why this browser collects or stores your personal information. You can search whatever you want without worrying about someone watching. Not just your personal information, you can keep your browsing habits private, too!
Swisscows – Family-Friendly
If you are looking for a family-friendly sematic search engine, Swisscows is the new kid on the block. It has a neat interface and allows easy regional searches with a flip of a button. Talking about being family-friendly, this search engine will filter out anything that is not family-friendly.
What else? They also state that they never collect any information and never share user information with anyone. That's pretty much like DuckDuckGo.
Swisscows uses artificial intelligence to understand the context of a search and promises that over the time, the search engine will deliver surprisingly accurate results.
CC Search – Give Access to Copyleft Content
We all know what copyright is, don't we? We also know what can possibly happen when we use someone's copyrighted work on our website or blog without prior permission or without acquiring a license.
Google isn't particularly good when it comes to filtering out copyright-free (or copyleft as many people say) content. CC Search excels in that. The results that CC Search will give you are all copyright-free material. You can use them without fearing copyright lawsuit from some angry artist!
Search Encrypt – Uses Local Encryption
Search Encrypt is a private search engine that uses AES 256-bit encryption and Secure Sockets Layer encryption. This search engine's local encryption ensures that your search always remain private.
Search Encrypt has a network of search partners. When you search something using this search engine, it will pull out the information from its partners and present it to you.
The search terms that you key into the search engine eventually expire. This means that even if someone gets access to your local computer, he or she will not know what you searched for.
Startpage – Google's Results with Privacy
If you prefer Google's search results, but hate the way Google takes, uses, and sells your data? Startpage might just be the option you need. Startpage will serve all the search results from Google, but unlike Google, it will not save, share, or sell any of your data.
There are no third-party trackers or cookies with Startpage, and the best part is that you get un-profiled search results.
What on earth are un-profiled search results? Well, in case you didn't realize, Google usually serves you the search results that Google thinks you might be looking for depending on your profile. That's not a good thing. You get enclosed in a cocoon.
This is where Startpage does things differently. It will not give you results based on some algorithmic assumptions. It is show you everything so that you get to choose whatever you want or need, instead of choosing from what you are served.
OneSearch – A New Kid
Launched in January 2020 and owned by Verizon Media, OneSearch is a new privacy-focused search engine that promises a few interesting things to its users. First thing first, it doesn't store your search history for retargeting. Most important of all, it doesn't use cookie-based tracking, retargeting and personal profiling.
What else? OneSearch will not share your personal data with anyone including advertisers, and what you get is unfiltered and unbiased search result. The search engine gives you the ability to share your search results with others in form of links that expire within an hour.
Gibiru – Search Engine for Patriots
I don't know what exactly it means but yes, Gibiru advertises itself as the preferred search engine for patriots. Gibiru uses modified Google algorithms to present the search results. This modified algorithm allows users get the information they seek without worrying about the tracking activities that Google conducts.
Gibiru doesn't store, share, or sell your private data. There are no tracking cookies as well. This means that there cannot be any retargeting.
Search Engines that Give Crowd-Sourced Results
In case you are a big advocate of community-led information, you are going to love the below mentioned search engines that show only the crowd-sourced information.
Boardreader – Find Forums & Message Boards
Forums can be incredibly informational. However, it can sometimes be extremely difficult to find the right one. This is where Boardreader comes in. It can help you find a specific message board or a forum around a specific topic.
This search engine combs through different forums and message boards available online to give you the best possible match. It shouldn't be very difficult to find the one that suits your needs!
Wiki.com – Wikis Only!
Wiki.com is a unique search engine that will give you results from an assortment of wikis spread over the Internet. You can refine you search too. It can show results only from Wikipedia, or only from people's wikis, or encyclopedia only.
There is no rocket science here. You will not get information outside of wikis. If you need something else, the aforementioned search engines may serve your purpose.
Search Engines Driven by a Social Cause
Ecosia – Saving the Planet One Tree at a Time
Ecosia is a search engine that is trying to save our planet one tree at a time. What does that mean? It means that the search engine uses the revenue it generates from search queries to plant trees.
One an average, 45 searches of Ecosia generates enough revenue to plant one tree. But why is Ecosia doing this? In case you are not aware, the more you use Google search or any other search, a lot of CO2 is emitted that is directly harming our planet.
Ecosia is only attempting to slow down the process a bit with its unique business model. So, if you are worried about planet Earth that gives us everything we need, it is time you start using Ecosia as much as possible.
Ekoru – Donates 60% of Revenue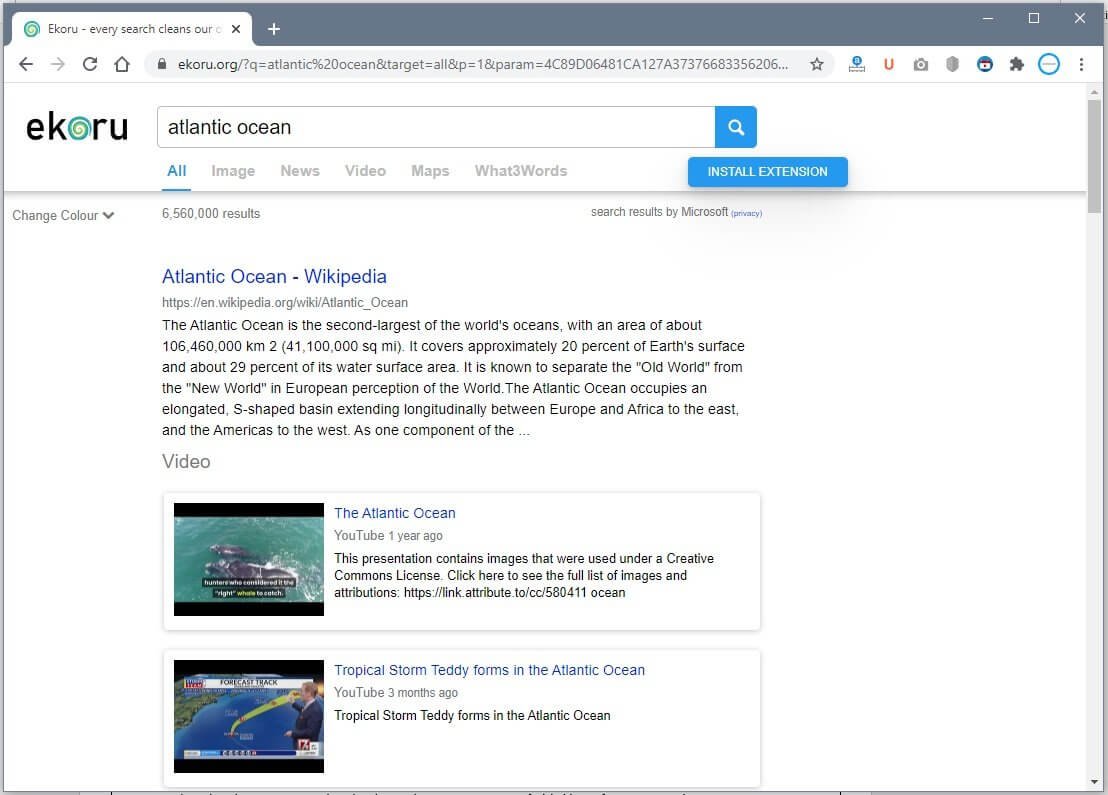 Similar to Ecosia, Ekoru is also trying to protect the planet by countering the ever-growing threat of climate change. This search engine donates 60% of its monthly revenue to various charities that they have partnered with. These charities span over fields like reforestation, climate action, animal welfare and conservation, etc.
They don't donate to the same charity every month. Each month they select a charity with a different cause. What else? Their servers are powered by renewable energy sources and they don't store any personal data of their users on their servers.
giveWater – Clean Water is the Mission
This search engine tries to empower its users so that they can solve the pressing issue of poor sanitation and poor water quality in developing countries. This search engine wouldn't have come to existence hadn't its CEO met the person who founded the charity named 'Water.' The founder of 'Water,' Scott Harrison, inspired the CEO of giveWater to do something good and the result was this search engine.
Final Thoughts
Look, Google may be the most-used search engine, but it is not always the best. What works best for you will depend on what you want to achieve. I, for example, often use CC Search, Wiki.com, Ecosia, and Bing depending on what I need.
Right! Google gives accurate results, but don't forget that if others exist, they are doing something the right way. The only thing is that the behemoth market share of Google often prevents them from coming forward. One of the biggest impediments to their success is that most people don't even know about them.
Now that you know about different great search engines you can use instead of Google; which one do you think you are going to use in your daily life? Let me know through the comments segment.