What is ScalaHosting?
ScalaHosting is a hosting company that specializes in offering simple shared hosting or web hosting along with WordPress hosting, managed cloud VPS hosting, and self-managed cloud VPS hosting. The company started operations in 2007 with an intention of making VPS hosting available to everyone irrespective of their budget.
The company has, however, started providing other hosting solutions too, to keep up with the ever-changing landscape of the hosting industry. ScalaHosting has become one of the most prominent names, and today, it hosts over 700,000 websites globally.
So, how good is ScalaHosting? That is precisely what we intend to find out in this review of Scala's shared hosting or web hosting offerings!
ScalaHosting started more than a decade ago with the aim of making VPS hosting more accessible to everyone. However, they have now introduced other hosting types to stay more relevant in the ever-growing competitive market. The company has done exceptionally well to stay relevant in today's world.
Yes, ScalaHosting makes some interesting and tall claims of 99.9% uptime guarantee, enterprise-grade SSD servers, powerful resources, unlimited bandwidth and much more. In fact, what I figured out was that none of the things that they offer are new and unique. Honestly, nothing can be unique!
Anyway, my aim was to find out how exactly the website hosted with Scala's shared hosting would perform. So, I ended up purchasing their Advanced plan to find out the truth. Want to know whether you can trust ScalaHosting or not?
Continue reading this review…
The Pros and Cons of ScalaHosting
Just like every other hosting company in this world, ScalaHosting has its share of pros and cons. You cannot find a web hosting company that doesn't have a bad side. Anyway, let's quickly learn about the advantages and disadvantages of using ScalaHosting.
The Pros
Industrial-grade SSD servers.
Excellent hosting performance.
Many freebies.
Brilliant support.
Offers trial month to test out their services before long-term commitment.
Remote daily backups.
SShield Cybersecurity (not available for the lowest plan).
Famous cPanel and Softaculous 1-click installer.
Easy client management area.
Money-back guarantee.
The Cons
Very high renewal prices.
Sever locations (data centers) are very limited.
Features of ScalaHosting
ScalaHosting offers a number of features that are pretty standard in the entire industry. Here is a quick list of features that the company has to offer for its shared hosting or web hosting products:
SSD Storage
The company offers enterprise-grade SSD storage for all its web hosting plans. SSD storage is over 300 times faster than spinning drives, making them the ideal choice if you want really fast websites. Though SSD storage is not the norm in the shared hosting industry, various web hosting companies are now offering it. ScalaHosting is one of those few companies.
Free Stuff
ScalaHosting offers a wide range of free stuff. You can find those things in other web hosting companies too. Here is a quick list of freebies that you get with ScalaHosting:
Free SSL
You can get a free SSL certificate from Let's Encrypt. This is good enough to protect your site data as long as you have a simple blog. In case you are thinking of building a large dynamic site or an ecommerce site, Let's Encrypt is definitely not a good choice. There is an option of purchasing a premium SSL certificate. It is an add-on service.
Free CDN
You will get free CDN powered by Cloudflare. The option of activating the Cloudflare CDN is present in the cPanel. You don't have to worry about configuring anything. You just need to activate it from the cPanel.
Free Domain
You can get a free domain if you are registering for a yearly plan. This option is available across all their shared hosting plans.
Free Migration
When you purchase a hosting plan with ScalaHosting, you are entitled to get free migration. If your website is located on some other server with some other web hosting company, you can ask them for a free migration. It doesn't matter how many websites you have. They will migrate all of them for you depending on the plan you select.
Unlimited Stuff
All of their shared hosting plans come with various unlimited features. Those are:
Unlimited Emails
Unlimited Databases
Unlimited Bandwidth
However, you need to know that there is no such thing as truly unlimited, and especially in the case of shared hosting, there are some severe limitations. ScalaHosting is no different. There are various limitations that you need to keep in mind.
Here are some limitations that you should remember:
For their Mini, Start, and Advanced plans, you cannot use more than 3%, 5%, and 9% (respectively) of system CPU and memory at any given point in time.
For emails, the Mini, Start, and Advanced plans will not allow sending any more than 500, 500, and 750 messages per hour, respectively.
Inodes are limited to 150,000 for Mini, 300,000 for Start, and 500,000 for Advanced plan.
If you want to learn about the limitations in details, you can visit this link.
Backups
With ScalaHosting, you don't have to pay for backups. You can get free backups for website and database. They will keep 7 backups for 7 days in a remote location. So, if you want to restore your backups, the maximum you can go back in time is 7 days.
SShield Cyber-Security
The company offers something called SShield Cyber-Security that, according to the company, can prevent 99.998% of the web attacks that can take place on your website. In case a hack occurs, the system will notify you immediately because it keeps monitoring your site 24×7. Unfortunately, you will not get SShield Cyber-Security with the lowest plan available.
Pro Spam Protection
Depending on the subscription you purchase, you will get Spam Experts. This is a security feature that prevents spam emails to your domain. However, remember that this protection is available only for your primary domain irrespective of the plan that you are purchasing.
Plans Pricing Structure of ScalaHosting
With ScalaHosting you will get three different shared hosting plans. However, you will find them to be advertising a fourth one which is called the Managed VPS. Since, I am focusing primarily on the shared hosting only, I will deliberately and conveniently skip the fourth option.
Here are the three shared hosting plans that the company has to offer:
Mini Plan
This plan will offer the following:
Websites allowed: 1
Storage provided: 50 GB
Free migration
Free SSL
Free CDN
Free domain
SSD storage: Yes
Emails: Unlimited
Databases: Unlimited
Bandwidth: Unlimited
cPanel available
1-click installer
7 backups for last 7 days
Start Plan
This plan will offer the following:
Websites allowed: Unlimited
Storage provided: Unlimited
Free migration
Free SSL
Free CDN
Free domain
SSD storage: Yes
Emails: Unlimited
Databases: Unlimited
Bandwidth: Unlimited
cPanel available
1-click installer
7 backups for last 7 days
SShield Cyber-Security
Advanced Plan
Websites allowed: Unlimited
Storage provided: Unlimited
Free migration
Free SSL
Free CDN
Free domain
SSD storage: Yes
Emails: Unlimited
Databases: Unlimited
Bandwidth: Unlimited
cPanel available
1-click installer
7 backups for last 7 days
SShield Cyber-Security
SEO analysis (worth 49 USD)
Pro Spam protection
Priority support.
In case you are wondering about the pricing structure, here is what you need to know:
Mini Plan Pricing
| | | |
| --- | --- | --- |
| Plan Duration | Introductory Price in USD | Renewal Price in USD |
| Trial Month | 0.99 | Renews for one year |
| 1 Year | 5.95 | 7.95 |
| 2 Year | 4.95 | 6.95 |
| 3 Year | 3.95 | 5.95 |
Start Plan Pricing
| | | |
| --- | --- | --- |
| Plan Duration | Introductory Price in USD | Renewal Price in USD |
| Trial Month | 0.99 | Renews for one year |
| 1 Year | 7.95 | 10.95 |
| 2 Year | 6.95 | 9.95 |
| 3 Year | 5.95 | 8.95 |
Advanced Plan Pricing
| | | |
| --- | --- | --- |
| Plan Duration | Introductory Price in USD | Renewal Price in USD |
| Trial Month | 0.99 | Renews for one year |
| 1 Year | 11.95 | 15.95 |
| 2 Year | 10.95 | 14.95 |
| 3 Year | 9.95 | 13.95 |
What I liked about ScalaHosting is the trial month offering. You don't see this with other shared hosting providers. You have to commit for a minimum duration of 1 month or 1 year or more. The trial period or the trial month offered by ScalaHosting is a great way to find out how good they are!
What's interesting is the pricing structure for the trial month. For the trial month, all you have to pay is 0.99 USD. However, the moment it renews, it will be renewed for a minimum of one year!
Here is what my account with ScalaHosting shows:
The overview you see here is for the Advanced plan. The recurring amount will differ depending on the plan you purchase.
Ease of Use
How easy is it to use ScalaHosting? This is an important question to be addressed. In case you are not comfortable working with the hosting provider's management interface, you will anyway be frustrated and want to leave.
Luckily, ScalaHosting has managed to create a beautifully designed and unified client management interface. The interface offers easy access to everything from chat support to cPanel, from webmail access to domain registration options, from renewal to cancellation, and more.
Here is a quick look at the account management interface:
Clicking on the blue Manage button you see at the center will produce a new dropdown menu where you will get different options including the option of managing your server, request a cancellation, change your plan, renew your subscription and much more.
Clicking on the Manage Server option will take you to a new page where you will get quick access to certain elements from the cPanel.
You can click on any one of those to reach that particular segment of the cPanel. You can also access the entire cPanel direct by clicking on the Actions menu you see on the left: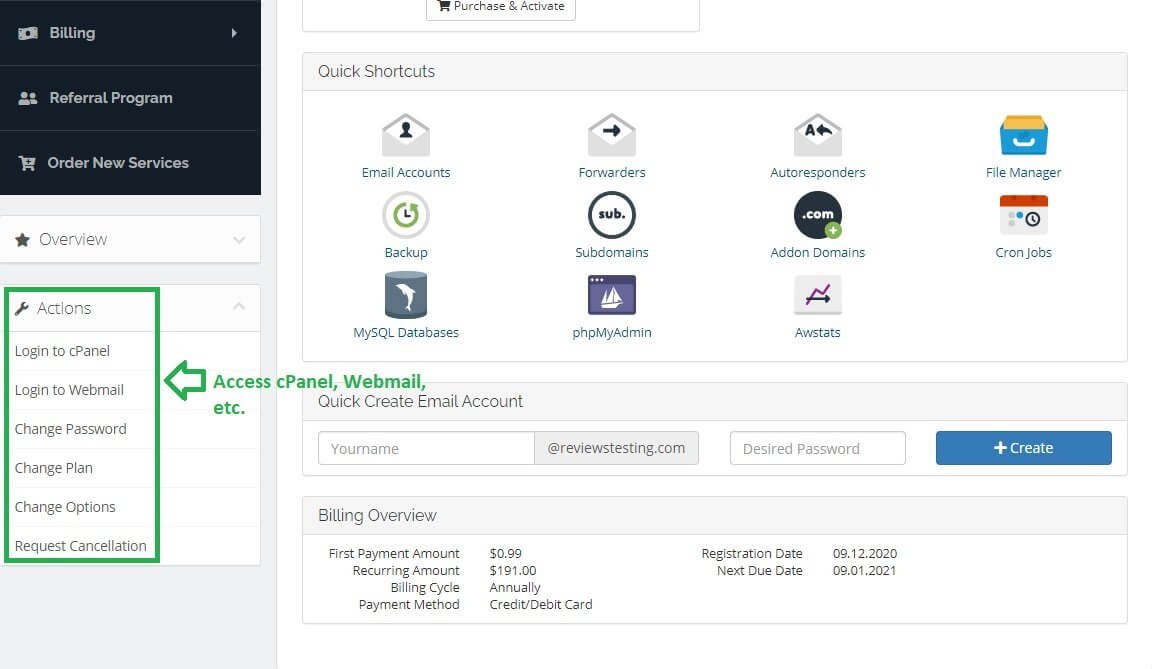 There is nothing different in the cPanel. It is the same old thing that you find with other web hosting companies who offer a cPanel. However, some hosting companies will add some customizations and even change the color theme of the cPanel. In the case of ScalaHosting, they have added a few extra options here and there. Here is how the overall cPanel looks like:
What you see here is a white-label cPanel with no ScalaHosting branding. Notice carefully that you will see Weebly as one of the options. Weebly is a website builder that you can use for creating your website using a drag-and-drop feature.
However, Weebly is not included in any of the subscriptions. If you want to use it, you have to pay for it.
There is option for selecting the PHP version in the cPanel. You can also install WordPress with a single click or even enable Cloudflare directly from the cPanel. You can get all the option in the Software tab. Here is what you will see:
You can also access spam protection, hotlink protection, etc. from the cPanel. In case you want to create email accounts and FTP accounts, you can do so from the cPanel. These options can be found under different tabs. For instance, you can find hotlink protection, free SSL, SSH access, leech protection, IP blocker, etc. in the security tab. Here is how the security tab looks like:
Overall, the cPanel has nothing dramatically different. Everything else remains the same.
WordPress installation is also simple. You can go through the Softaculous tab or you can directly click on the option which says WordPress Manager by Softaculous (in the Software tab). This is what you will see when you proceed with the WordPress installation:
Overall, the whole interface is simple and easy to use. In case you are confused with something, you can always access their chat support from inside the account management interface. You can see the chat icon at the bottom righthand corner of account management screen.
ScalaHosting Performance
This is the moment of truth for any web hosting company. Tall claims are easy to make. However, living up to the promise is not so easy. Everyone claims that they will offer blazing fast websites. Unfortunately, most of them fail.
In order to find out the performance of ScalaHosting, I built a WordPress website on the domain reviewstesting.com (you can see the domain associated with hosting plan) and put it under three different scanners or test platforms.
Here are the results that I obtained:
Google PageSpeed Insights
Google PageSpeed Insights is the most effective way of testing your website speed. It uses what is known as Lighthouse that tests your website on various parameters. The reason why I am saying that Google PageSpeed Insights is the most effective way is that Google is the de facto king of Search Engine world.
Whatever Google says is the final word. It has monopoly. So, you need to make sure that your website is passing the test of Google.
Here is what I found on PageSpeed Insights test:
Mobile Test Results
The speed is quite impressive on a basic site with no plugins, no optimization, no images, and no CDN. Implementing Cloudflare CDN will help to enhance the speed further.
However, what I did notice was the server response time. The server took 820 milliseconds to respond. That's not a good score at all. Your server should respond in less than 500 milliseconds. That's what Google wants. However, you should not really be extremely worried about it. As long as your website is loading fast enough to give you a score above 90 in both mobile and desktop tests. You can always implement proper optimization and CDN to increase your website speed.
Desktop Test Results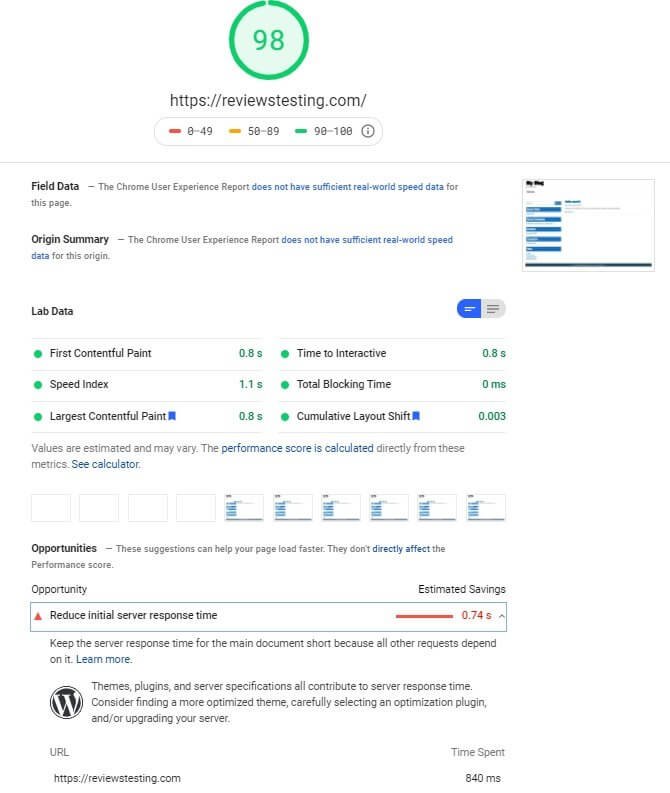 The results on desktop are very impressive, but the same problem of high server response time remains. This makes me believe that the SSD servers used by ScalaHosting are not NVMe SSD. They are SATA SSD and there is always a lot of room for improving on other server hardware.
Why is Server Response Time High?
Did I mention that the default PHP version used by ScalaHosting is 7.3? That is yet another issue. Version 7.3 of PHP is slower than version 7.4.
Another issue is that ScalaHosting uses Apache web server. There is no Nginx or LiteSpeed. Apache is the slowest of all and that is one factor that you can happily blame when it comes to high server response time.
Nginx is faster than Apache and LiteSpeed is the fastest. Most of the hosts will not offer LiteSpeed because it is not open-source. Because of the proprietary nature of LiteSpeed server, many hosts avoid it to reduce their server maintenance costs. ScalaHosting definitely did that.
Hosting companies that offer LiteSpeed server almost always manage to offer fast website and low server response time. One such example is ChemiCloud hosting.
GTmetrix Speed Test
GTmetrix test results weren't impress and the biggest red flag was the server response time. This is what I found on GTmetrix test:
Look at the server response time shown in the screenshot. It is 750 milliseconds. Something to worry about if you are more focused on how fast the server responds.
Pingdom Test Result
Even the Pingdom test results weren't very impressive either. However, do note that this score will change when you implement proper optimizations and include the Cloudflare CDN that you get with ScalaHosting.
Essential Tips to Improve Website Load Time
There are ways in which you can improve the load time of your website. Here are a few things that I will suggest:
Select a host with either of the following two combinations: [SSD + Nginx] or [SSD + LiteSpeed].
Find a super-fast and highly optimized lightweight theme [GeneratePress Premium is a good example].
Use a proper CDN. I will always recommend Cloudflare not only because it is free but also because of its incredibly massive global presence, and even offers free DDoS protection.
Use optimized media files like images, videos, etc. Preferably, use WebP and WebM versions. Also, make sure that the images that you are using are below 50 KB each and try to maintain consistent dimensions.
More all scripts and codes to the footer of your website.
Try to use as few ads per page as possible.
Make sure that you are using only and only those plugins that are essential for the functioning of your website.
Don't integrate a contact form. Rather provide a contact email and use a third-party email server. Even better, if you can use Google forms and keep them separate from your website and server. Only provide a link to the form.
If you want to learn how to speed up your WordPress site, I have a full guide for that. Feel free to read it here.
ScalaHosting Customer Service
Okay, this is a very important aspect of any web hosting company. If the customer service is not good, you are going to have a hard time using the host. My contact with the ScalaHosting customer service was 'Okay.' I won't say that it was a pleasant experience, because the support staff sounded more mechanical and duty-bound rather than willing to go the extra mile.
Here is the chat transcript with the customer service executive:
While chat support is one of the methods of accessing their customer support, you can also opt for their ticket system or you can use their knowledge base articles. Everything can be accessed directly from the account management panel.
To access the knowledge base, you can scroll down to the footer where you can find the link to reach their knowledge base segment.
Clicking on the link will take you to a new page where you can see the well-organized knowledge base articles.
Getting access to support is not difficult with ScalaHosting. Their response time for chat support is very impressive. They typically respond in less than a minute. I did not try out their ticket system, but according to the company, they respond to ticket queries within 15 minutes. It true, that's industry-leading!
Conclusion and Verdict
DO I RECOMMEND SCALAHOSTING?
Well, that depends on what you want to achieve. If you want your website to load superfast, ScalaHosting is capable of doing that, but you need to ensure that you are taking care of optimization.
If your concern is the server response time, the results are not very impressive and you should thing about selecting some other hosting company. I will recommend ChemiCloud, FastComet, SiteGround, A2 Web Hosting and GreenGeeks.
The best of all, you should think of going for a cloud hosting service like Digital Ocean, Vultr, or UpCloud for the best results.
In short, yes, ScalaHosting is reliable with some minor glitches here and there. There's nothing extraordinary about the hosting solutions offered by the company. Everything is pretty much same as with other hosts. You can always use ScalaHosting!