What is Rocket.net?
Rocket.net is a managed WordPress web hosting company. It is a new player in the market and offers one of the best platforms I have seen. It is extremely simple to use, and of course, it takes out the technical load, making lives easy for rookies who want to start their blogging career without any hiccup.
On the downside, however, it is pretty expensive. But that's not uncommon. Managed WordPress hosting platforms are expensive in general. However, Rocket manages to compensate for the price they charge by offer two valuable things – global CDN and WAF or Web Application Firewall.
Another concern is site speed. A site hosted on the Rocket hosting platform performs well for desktop on Google PageSpeed Insights, but the mobile speeds are disappointing.
Rocket Managed WordPress hosting is a brand-new player in the market. It appears, at least for now, that Rocket will give a tough competition to all the existing players in the market in the managed WordPress hosting niche.
Unlike other market players that heavily depend on Jetpack for providing optimized WordPress hosting, Rocket takes a different route. Their globally distributed CDN network allows them to generate the necessary speed that other hosting companies try to achieve with Jetpack.
In this review, I am going to take their platform for a ride and see whether they stand up to their promise of blazing-fast websites or not!
Let's begin…
The Pros of Rocket Managed WordPress Hosting
Fully-managed service, so much so that the SSL certificate comes preinstalled.
Wonderfully designed dashboard.
Very easy to launch a site within less than two minutes.
Allows creating a staging site with a single click.
It allows publishing a stating site with a single click.
It preinstalls some lightweight plugins that are pretty popular.
It allows enabling auto-updates for themes and plugins.
It allows installing multisite WordPress or WooCommerce or both with a single click.
Rocket has the option of manual backups and automatic backups.
You can set up cron jobs and add SSH keys.
It even allows adding FTP accounts.
You can select the PHP version too. However, the default setting is version 7.4, which is the latest PHP version available.
The Cons of Rocket Managed WordPress Hosting
It doesn't offer a file manager for the easy management of files. FTP or WinSCP or SSH terminal are the only methods of accessing the site files.
It doesn't allow fine-tuning caching (but I think that's good, especially for those with no experience).
Publishing the staging site takes an annoyingly long time.
They are fast, but not blazing fast as they claim.
It is expensive.
Getting Started with Rocket Managed WordPress Hosting
I will spare you the pain of going through the lengthy narrative of how to create an account. Simply head over to Rocket.net, select a plan that fits you the best, and buy it! Once you do that, you will receive an email to get access to your dashboard.
There is no option for registering your domain with them. They don't act as a domain registrar. You have to buy your domain name from somewhere else. You can later point the domain to the nameservers of the hosting account.
In the Dashboard
The dashboard is super clean, and intuitive. I just loved it! Here is a quick look at the dashboard:
The dashboard's top row shows the quick data on the number of sites available, visitors, disk space used, and bandwidth consumed.
Underneath that segment is a big button that you can click to create your first site. You can also create support tickets right from the dashboard.
There isn't much to explore until you create a site.
Creating a Site
Once you click on the Create Site button, you need to enter the site name, choose the server location. This is what you will see:
Once you are satisfied with what you have added in Step 1, you need to click on the Continue button to move on to the next step of WordPress installation. Here you can see the URL of the site. It looks really ugly. Don't worry; once you point your domain to the server, the URL will change.
You can also add an administrator name and password and add an email account. They will be hosting the email account your create. So, there is no need to purchase a business email separately.
You can also enable Multisite and/or WooCommerce on this page. Here is what you will see: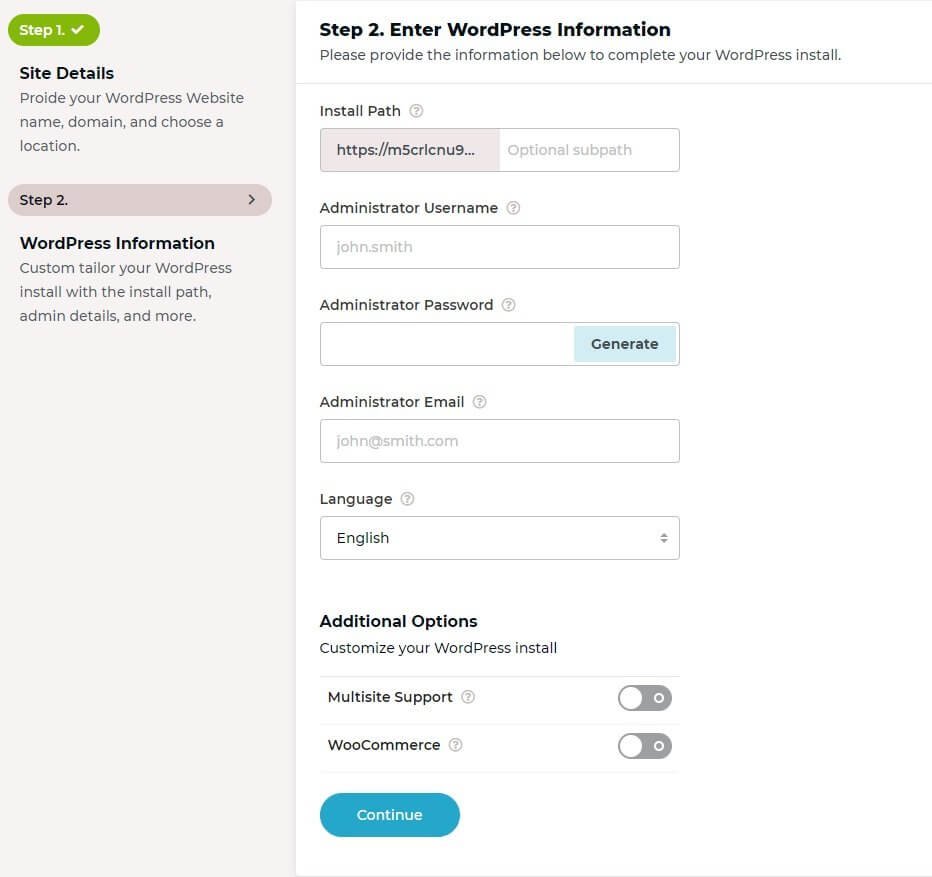 After you add the details, click on the Continue button, and the WordPress installation will take place by itself.
Wait for some time, and the installation will complete. After installation, you will see this:
Notice carefully! You will see a blue button on the top, which says Create Staging. You may choose to create your staging site or choose to point your domain to the hosting server by clicking on the Get Started button.
I will suggest that you create a staging version of your site and do all the customization before making your site live. Don't customize your site after publishing it.
Once you click on the Create Staging button, Rocket will start creating the staging site. Wait for it! Once staging is created, this is what you will see:
You can quickly switch between staging and development from the dropdown menu you see on the left.
Now go to the WP-admin dashboard and customize your site to your heart's content. Any changes you make in the dashboard will stay limited to the staging site only. It will not go live until you come back to the Rocket dashboard and hit the Publish button.
The Different Tabs in Dashboard
There are five tabs you can see clearly. They are:
Overview tab
The Overview tab will give you a snapshot of visitor data for the last 30 days by default. You can change the range to the last 24 hours or the last 60 days.
The overview tab will also give you details of your site and allow you to create FTP accounts.
If you click on the Add FTP Account button, you will see a popup where you can add a login ID and password and select the directory to land once you connect to the server using any FTP client.
This is what you will see:
Plugins tab
This tab will show you the list of plugins that are installed on your site during the installation process. You can also search for new plugins directly from the control dashboard and install them without even visiting your website's dashboard.
Themes tab
Like the Plugins tab, the Themes tab will also show you the list of themes installed on your WordPress site. There is a segment for searching new themes and installing them directly from the Rocket dashboard. There's no need to visit your WordPress site dashboard to install a theme.
Backups tab
This is the tab where you will see a list of all automatic backups, and you can also create backups manually.
Advanced tab
In this tab, you can enable auto-updates for themes, plugins, and WordPress core. You can also select the PHP version, create cron jobs, and add SSH keys. You can even delete the site completely from this tab.
The WordPress Dashboard
If you want to visit the WordPress dashboard, you need to click on the WP Admin button that you see on the top of the Rocket dashboard.
Clicking on that button will take you directly to the WordPress site's backend (admin area). When you do so, you will see the welcome screen from Optin Monster, which is a plugin installed by default. This is how it looks like:
You can work on this staging site and customize it. Once you are happy with what you have done, you can publish the staging site.
Publishing the Site & the UI Glitch
To publish the staging site, go back to the Rocket dashboard, and hit the Publish button.
Once you click on that, you will get a confirmation popup which looks like this:
Click on the Publish button on the popup to continue. Once you hit the Publish button, it will take some time. In fact, the wait time is quite long, and it's annoying!
After 30 minutes…
After waiting for 30 long minutes, I felt something was wrong. So, I canceled the publication process and talked to the support team via live chat!
They said it might be a UI glitch because they could see that the site was already live and published. When I asked them to fix the issue, they said it was my local connectivity issue. That's totally not acceptable.
My connectivity issue couldn't cause a glitch in the UI. I could lose connection, and that would become evident quickly because my connection was working just fine. I watched videos, browsed the internet, etc. while I was waiting for the site to be published. If my connectivity was an issue, those things wouldn't have been possible!
Here is a screenshot of the chat transcript:
Anyway, I manually switched from Staging to Production and saw the site was live. Barring the UI glitch that they mentioned, everything else was just perfect.
The Speed Test – Not Satisfied At All!
Before directing or pointing the actual domain to the server, I decided to test the server speed and its performance on Google PageSpeed Insights. There was no option of fine-tuning the cache setting or the CDN settings. They all happen in the background.
So, here are the test results with all installed plugins activated and the Hueman WordPress theme installed:
Mobile results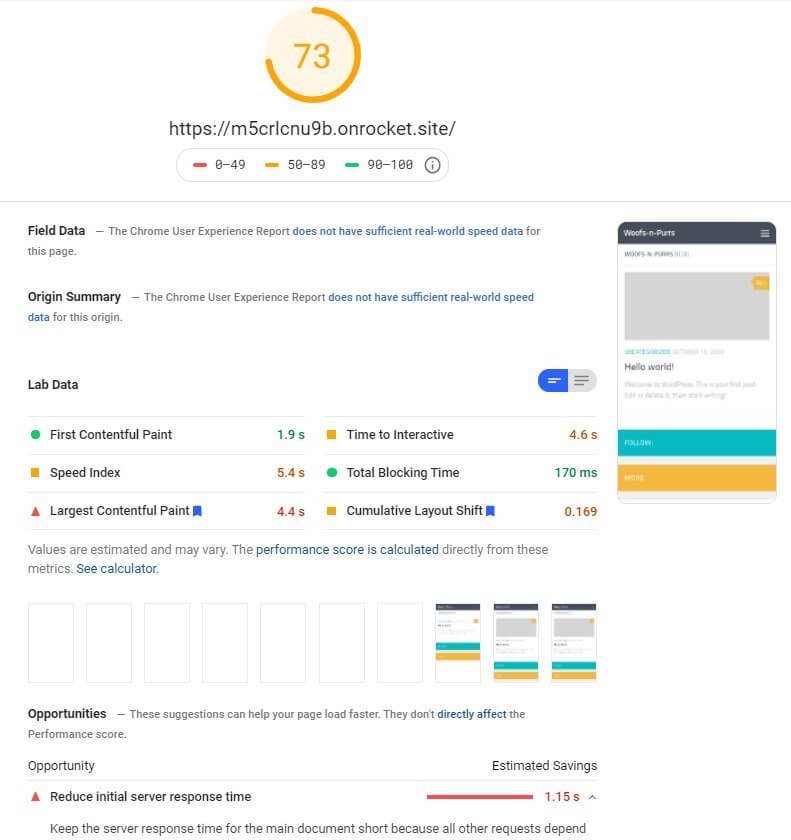 Desktop results
Notice the URLs in both the screenshots. That's the live site URL, and the performance on the mobile was not satisfactory at all. For me, anything less than 93 on mobile is not a good score. Google says it should be between 90 and 100.
Since there is no way of fine-tuning the cache and CDN settings, I don't know what's going on behind the scene. The absence of such controls is not really acceptable.
On top of that, The server response time was worrisome in both cases. If the site was full of content, things would have been different, and there could have been a possible explanation.
But with a blank site with no images and no text, the server response time is something I cannot accept.
So…
A second test and a third, and then a fourth test, and this is what I get in all three instances: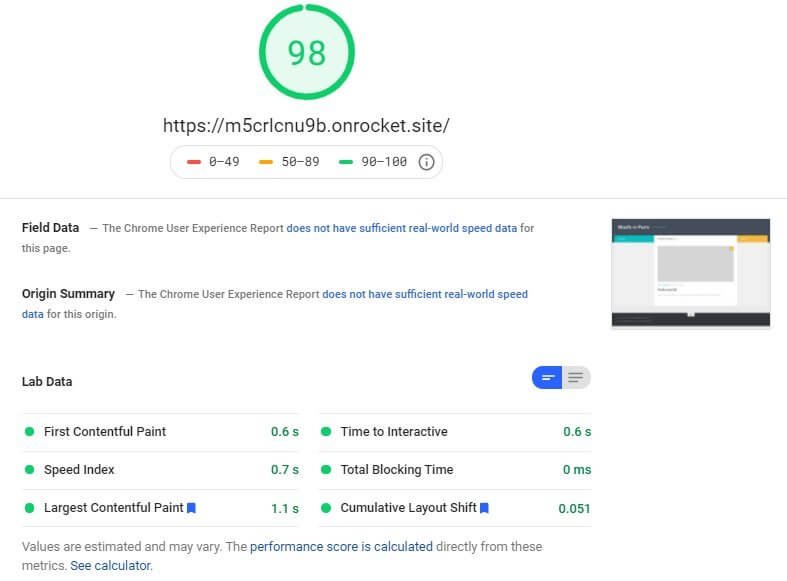 This time, the results for server response time were satisfactory, but the mobile test results were still not satisfactory.
Compare this with a true production site running on OpenLiteSpeed server on cloud hosting (the site has thousands of posts and images):
Here is what it gives on the desktop:
Rocket hosting gives great speeds on the desktop, but I cannot say the same for mobile. As of today, Google is going for mobile-first indexing. So, your site needs to be very fast on mobile devices.
So, Rocket managed hosting didn't really impress me in this segment, which is, by far, the most important part!
Pricing of Rocket Hosting
It is expensive! There are four different plans to choose from – Starter, Pro, Business, and Agency.
The minimum monthly price you need to pay for the Starter plan is $30. If you go for the annual plan, the monthly price falls to $25 a month.
For the Pro plan, you have to pay $60 a month for the monthly plan and $50 a month for an annual plan.
For the Business plan, you have to pay $100 a month for the monthly plan and $83 a month for the yearly plan.
Finally, for the Agency plan, you have to pay $200 a month for the monthly plan and $166 a month for the yearly plan.
The Starter plan will give you 1 WordPress installation with 25,000 visits and 10 GB storage. The Pro plan will allow 3 WordPress installation with 100,000 monthly visits and 20 GB storage. The Business plan gives 10 WordPress installations with 250,000 visits and 40 GB storage. Finally, the Agency plan gives 25 WordPress installations with 500,000 monthly visits and 50 GB storage.
Note that the monthly visit allowed for the Pro, Business, and Agency plan is the collective number, not for individual sites!
Albeit, Rocket hosting is pretty expensive!
Conclusion – It Is Good, But Very Pricey
The Rocket.net hosting platform is great if you want to offload the technical burden. It is very simple to use and allows creating a staging site. The UI glitch that I talked about earlier is not really a big issue.
Being someone obsess with site speed (for a good reason), I find the performance on mobile disappointing and hope they fix it quickly, aside that, everything works fine if you have the money.