RoboForm is a password manager that targets low-budget individuals. It has tons of features, but at the same time, it also lacks some key features that other premium password managers offer.
Interestingly RoboForm is not new in market. It has been around since the late 90s. As you can figure out, the product is designed to keep your personal information and passwords safe and secure from prying eyes.
Many people have raised concerns over the fact that the company is based out of United States of America – one of the founding members of the 5 Eyes alliance. However, you can ditch that worry because all the encryption takes place locally at your end. Even the decryption happens at your end.
This means that even if the US authorities want to get to your information, they cannot unless you decrypt your data and hand it over to them.
The three key features that you should be aware of are:
Encryption: They offer 256-bit AES encryption.
Password Audit: They will audit your passwords and let you know whether it is strong or weak.
2FA: They have two-factor authentication available for additional security apart from the master password.
No, do not think that those are the only features available with RoboForm. There are many more. I will discuss about them shortly along with setup, pros & cons, etc.
Let us begin with the pros and cons first so that you can get a fair idea of what you are dealing with.
Ready?
Good!
Jump in!
Pros and Cons of RoboForm
You need to know that there cannot be any product in this world that does not have a weakness. RoboForm is no different. It has its fair share of advantages and disadvantages.
Here is what you need to know:
The Advantages
Password saving works well on computers.
Offers AES 256-bit encryption.
The interface is clean and intuitive but dated enough.
Installation process is simple and fast.
There are mobile apps present for both Android and iOS.
The application has extensions for different browsers.
Free trial is available. No credit card needed for that.
They have a free subscription available, but you need to have the free trial for that.
Form filling is very robust.
Premium tier is incredibly attractive.
The Disadvantages
Top competitors offer better features.
The web interface could have been better.
Though the app interface is intuitive, competitors do it better.
RoboForm Safety Features
When you use a password manager, the first thing that you need to worry about its safety features. After all, you will be trusting that application with your passwords and valuable information.
RoboForm does an excellent job in this segment. The application uses AES 256-bit encryption to secure all your information. It is one of the strongest encryptions available on this planet, and even NSA recommends it.
Interesting thing to note here is that the encryption does not take place on RoboForm servers located in the US. That country is a founding member of the 5 Eyes Alliance. The encryption and decryption happen locally on your device.
It does not matter whether you are using their desktop application or mobile applications or the browser extensions – encryption and decryption are always local.
You must set a master password and remember it to access all the data that you store using that application. Until you use the master password, the data cannot be encrypted even if authorities try to access.
To amp up the security measure, RoboForm throws in a two-factor authentication feature that will allow you to unlock the application only after you provide the authentication code (apart from the master password).
Let us go through the security features of RoboForm one at a time.
Two-Factor Authentication
You can sync up the application with Authy, Microsoft Authenticator, or Google Authenticator. All these apps will generate temporary one-time authentication codes lasting only 60 seconds.
This means that for anyone to open your RoboForm application, the person needs to have physical access to the authenticator app that you install on your mobile device.
The only problem is that the two-factor authentication is available only with the paid versions. The free version will not offer this feature.
If you are using the paid version of the application on your mobile devices, you will also enjoy biometric authentication. It also allows biometric authentication even for Windows Hello.
Unfortunately, RoboForm is not compatible with USB token authenticators like YubiKey. This is a highly advanced security feature that allows access only with a physical USB token. If you want that advanced security feature, you should consider using Dashlane.
Security Center
This is RoboForm's password auditing tool. This tool will go through every password you save in your vault and give you an overall score. The score is dependent on strength of every password, number of duplicate passwords, and the number of passwords you have used.
RoboForm performs password evaluation using "zxcvbn," which is an algorithm that determines the likelihood of a password getting hacked. This algorithm is far more accurate than most of the password strength tools that you will come across today. Interestingly, the algorithm is an open-source algorithm.
But here is the thing – once the Security Center tells you which sites have poor passwords, you need to visit each site manually and change the password. Unlike Dashlane that allows you to change the passwords of over 500 sites in a single click, RoboForm does not have that feature.
Password Generator
RoboForm comes with a password generator that is highly effective in creating strong and unique passwords. You can define the number of characters you want in your passwords. You can include hexadecimal characters and even special characters.
One-Time Passwords
The application can send you one-time passwords through email or SMS. You can use these passwords for unlocking your RoboForm vault. In case you are using a mobile device with biometric features enabled, you can use fingerprint or face recognition system for unlocking your RoboForm vault.
Other Features of RoboForm
Save Unlimited Logins
There is no limit to the number of login credentials you can save to your RoboForm account. You can save just about anything from your login credentials to OTT apps to your social media networks and even your banking login credentials.
What is interesting is that you can create folders and arrange your login details accordingly. So, you may have folders for entertainment, social media, work, financial, and so on!
That is a neat feature because it allows you to stay organized.
To create a new folder, you need to keep the "Home" folder selected and then click on the new folder icon on the top. If you keep any other folder selected and try creating a new folder, you will end up creating a subfolder.
Another interesting feature is that of dragging and dropping login info into folders.
That is a neat feature, I must say!
Bookmarks
RoboForm also allows you to bookmark webpages and organize them in one place. Bookmarks are all stored in the "Home" folder by default, but you can also create separate folders for bookmarks.
Adding bookmarks is quite simple. However, you will need the browser extension for adding bookmarks.
The process is as simple as clicking on the RoboForm extension while on a webpage and then clicking on the Save icon.
Once you click on the save icon, you will get the option of adding a name and saving it as login info or bookmark. Here is what it looks like:
Login Sharing
Sometimes, you just need to share your login credentials with others. For example, you may want to share your Netflix or Amazon Prime login credentials with your family members.
RoboForm will allow doing that directly from inside the application interface. However, there is a slight problem. The person with whom you want to share your login details through RoboForm needs to be a RoboForm user.
This kind of limits the usability of this sharing feature, but hey, it is there, right?
Form Filling
RoboForm also allows filling web forms with a single click. For that, however, you need to work with a range of form templates that RoboForm has to offer. You can fill in your details including stuff like name, position, email, contact numbers, Skype ID, gender, tax ID, income, driver's license, and so on.
You can select form templates based on country. You can create such templates either from your RoboForm app installed on your computer, or you can head over to RoboForm website to achieve this.
You add such details using the "Identities" menu you find in the app.
Alternatively, you can head over to the browser extension and click on the Fill ID tab and then on the + icon you see. It will take you directly to RoboForm website where you can add such details.
While this might not be fully accurate always, it does save your time to a great extent. Even when you use this feature, there may be some information on web forms that you may have to add manually.
You may even want to create a list of contacts that you have. You can add such contacts directly from your RoboForm app. You can add all your contacts in a custom folder or an existing folder.
The number of details you can add for your contacts is much less that what you can add for under "Identities" where you will mostly be adding your personal information.
Note Keeping
RoboForm also comes with the feature of Safenotes where you can create literally any note. For instance, you may want to keep a note on your medicine schedules or even a note for your locker combinations and so on.
There is no restriction on what type of notes you want to create. If you even create a list of people you want to take revenge on! Or you can create a bucket list of places you want to visit after this global pandemic is over.
Just get creative!
Applications
Not just web login, RoboForm can save application login details on your computer and mobile. If you have any application that requires you to add username and password before you can access it, RoboForm can save the details and help you log in automatically the next time you try to access the application.
Import
RoboForm will allow you to import your logins from other third-party applications like browsers and various other password managers such as 1Password, Dashlane, LastPass, and so on.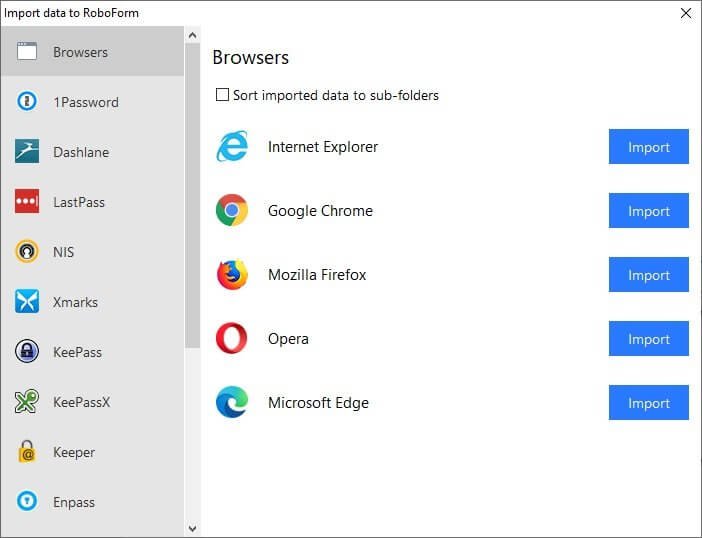 I noted that the import feature does not support an emerging password manager called NordPass. If you want to switch from NordPass, there is a way out. You can always export all the NordPass entries in a CSV file and upload it to RoboForm because it does support CSV uploads.
Emergency Access
This is one of the most interesting and perhaps one of the most satisfying features of RoboForm is Emergency Access.
There may be instances where you will need this feature. For instance, you may lose your master password, or you can lose your device, or you may become incapacitated for some reason.
In situations like that, your emergency contact can view your vault and retrieve the data.
Setting up an emergency contact is easy. You can start by clicking on the RoboForm browser extension and click on the three dots (vertical ellipsis menu) on the top and then select "Emergency Access."
This will take you to RoboForm website where you can set the emergency contact. To add an emergency contact, click on the blue + button you see at the bottom of the webpage.
Once you do that, you will get the option for setting the contact email and the timeout period.
The timeout period is an interesting concept here. It is amount of time after which your emergency contact will get access to your RoboForm vault.
This feature comes in handy when you may suddenly change your mind about giving access to the contact. Just in case the emergency contact requests access to your vault before the assigned time frame, you can decline the request. You can revoke emergency access anytime you want.
Do remember that if you do not revoke the access and if the waiting period is over, the contact will get full access to the vault.
There is at least one important use that I can think of for this ability to revoke access. For instance, you are working in an organization, and you decided to quit the job. You must transfer all the access details to the person who is supposed to take your place. What if you suddenly decide not to quit?
You can always revoke the access and continue working with the organization. There are scenarios where certain companies will restrict the use to certain applications and assign only specific people who can access them.
For example, I used to work with a real estate company that allowed me to access its social media account because I oversaw its online marketing department. Anyone else from their offline marketing department was not allowed to access any of the online tools that were in use.
When I left the job, I had to hand over all the details to the person replacing me. Of course, I did not use RoboForm, but they had different tools.
Remember that if for some reason the emergency contact gets access to your vault, he or she can download all your data in a CSV format.
This, too, has a good application. For example, you lose your master password. In that case, your emergency contact can hand over the CSV file to you so that you can use it somewhere with some other password manager or simply get back your access to all your online data.
Installation of RoboForm
Installation of RoboForm is quite simple. You can visit RoboForm website and download the installer file. It will detect your system and provide you with the appropriate installer.
Just click once on the installer and it start installing, guiding you through the installation process. Once the installation is complete, you can create an account directly from inside the app.
Of course, it will ask you to set up a master password. Make sure that you are saving it properly. If you forget it, you cannot access your vault.
RoboForm Mobile App
I tried RoboForm of my Android device and the installation was straightforward. During the installation process it asked me to set up a four-digit access pin and a biometric access. Since my phone supports fingerprint access, I could quickly set it up.
The interface is quite simple and well organized. What I realized during the review was that once you have setup the biometric access, which is the last step, you cannot take screenshots. The app does not support that. That is quite understandable because you are there to protect your sensitive information. Allowing screenshots is a vulnerability that you do not want.
Overall, navigating through the mobile app was easy and everything was well-organized. The application synced up during the installation process and updated all the information that I saved from my desktop.
RoboForm Personal Plans and Pricing
RoboForm offers three different pricing plans. Let me walk you through each one of them quickly.
RoboForm Free
It is a forever free plan that you can use. The plan will allow you to keep RoboForm on a single device and comes with a handful of useful features like:
Password auditing.
Secure sharing of passwords.
Auto saving of online login details, and of course, auto filling them.
Auto filling of wen forms.
Unlimited password saving.
The feature that you will lack with a painful pinch is the multidevice support. Since you can use it only and only on a single device, that will be disturbing when you try to access your online accounts from another device.
There are better alternatives that will allow multidevice sync. LastPass is one such alternative. Even the free version of LastPass will give you two-factor authentication, which you do not get with RoboForm Free.
RoboForm Everywhere
The RoboForm Everywhere is the first of the two premium versions you can get. First thing first, it comes with multidevice support, which means that you can use RoboForm on multiple devices.
The other essential features of RoboForm Everywhere include the following:
Two-Factor Authentication.
Emergency Access (yes, it is not available in the free version).
Secure folders allowing you to share multiple logins.
Cloud backup.
Web access.
Priority support.
If you want to purchase this option, you will get one-year, three-year, and five-year subscription plans. There is no monthly pricing available. The one-year plan will cost you $23.88. If you go for their five-year plan, you will get the app for $99.50.
RoboForm Family
RoboForm Everywhere is for a single person. If your family wants to get its protection, you can always opt for the RoboForm Family plan. The features you get will be the same as you get for RoboForm Everywhere with the only difference being that a single subscription will allow five users.
If you have a family of more than 5 users, you will need more than one license. If you go for their 3-year plan in category, you will enjoy a 10% discount while the 5-year plan will fetch you a 16% discount.
Want to use RoboForm for your business?
Well, they have you covered for that as well. Their corporate-focused solution is called RoboForm for Business.
RoboForm for Business
As you can understand, this is meant for businesses, and hence, there will be features that will be available exclusively for businesses. Personal users will find those features useless.
Here is quick overview of features of RoboForm for Business:
Centralized policy deployment.
Centralized employee onboarding.
Unlimited admins.
Secure group sharing.
Access permissions based on roles.
Advanced reporting.
Active directory integration.
Password audits for users and groups.
Extra two-factor authentication.
Of course, you will be entitled for dedicated tech support, too!
The pricing will be dependent on the number of employees you have. The pricing is based on per user per year. A single user subscription will cost you $34.95 a year. Depending on your organization size, the total yearly price can shoot well above a thousand dollars!
The Big Flaw of RoboForm
Everything feels hunky-dory so far, right? Wait before you jump into a purchase. There is one thing missing and that can be haunting.
The Security Center will audit your passwords for sure, but what it will not do is "password breach monitoring."
This is a tool that can scan the dark web and find databases of breached passwords, leaked financial information and so on. It is a vital tool. 1Password has this feature and it gives up-to-the-minute scans allowing you to change your passwords and details immediately if you see something out of the ordinary.
Keeping your passwords and financial information safe is vital. This one feature can make a lot of difference. I really hope that RoboForm introduces this feature quickly even if that means increasing the pricing a bit.
Customer Support
Customer support is a big part that you need to consider when you purchase a product like this. If you are a free plan user, the maximum you can get is their email support. However, their email support is available 365 days a year and 24 hours a day. They respond very quickly, and their usual response time is 30 minutes.
If you are a paying customer, you will get priority email support along with telephone support and live chat. However, live chat and telephone support are not available 24x7x365. You will be restricted to 9 AM -5 PM EST from Monday to Friday.
They have other support channels as well, but there will be no human interaction there. You guessed it! Yes, you will have their manuals and help center articles that can solve most of your technical queries. Their help articles are beautifully illustrated with screenshots and detailed instructions.
Should You Go for RoboForm?
Barring that flaw of password breach monitoring, RoboForm is great! In fact, being a veteran in its field, the company does everything perfectly. To add to all the great security measures, it has put in place, what I like the most about this application is form-filling capability, which turns out to be arguably one of the best you can get today.
While at times, RoboForm's interface may look a bit dated, you will feel the difference when you start using it. It so artfully arranged that you will eventually start enjoying the clarity it offers.
To top that, their customer support is great! It is difficult to find a customer support that responds within 30 minutes through their email support channel. RoboForm does that!
If monitoring for breached passwords is an absolute necessity for you, you should not be using RoboForm, but if you can live with that feature, RoboForm is a must have solution. Its robust security features and its brilliantly designed interface is treat for anyone looking for a good and reliable password management tool.