What is Qustodio?
Qustodio is a cross-platform parental control tool that helps them to keep an eye on the online activities of their children. It comes with features like web content filtering, activity log, app blocking, location tracking, etc.
It is meant for both home and school usage. In schools, teachers can use Qustodio to keep an eye on how students are using school computers.
It is available in both free and premium versions. The premium version has different pricing plans and also provides extra features over the free version.
If you are looking for a parental control tool, it is always a good idea to go for a service that offers cross-platform support. You also need to ensure that it provides a holistic approach in which it will not only monitor the online activities of your children but will also alert you when anything that is not supposed to happen happens.
So, you should never settle for a parental control tool that can run only on your home PC. Remember that today the world has become a multi-device world where mobile phones, laptops, tablets, desktops, smart TV, etc. all offer a seamless and immersive experience.
So, restricting or monitoring the online activities of your child on one device is just not enough. Qustodio will bridge the gap and let you monitor multiple devices at once through its clean web interface or through its mobile app.
I don't have a child yet, but I did take Qustodio for a ride, given the fact that it gives 3 days full-access to its premium version without spending a dime.
Trying out Qustodio revealed a few interesting things that I am going to lay down as pros and cons before I start telling you the full experience!
Sounds good? Let's start!
Pros and Cons of Qustodio
Just like any software, Qustodio has its strengths and weaknesses. There are many strengths, but there are some alarming weaknesses that leave a lot to desire. So, here is what I found out during the review.
The Pros of Qustodio
Cross-Platform Compatibility: It is intelligently designed to work across various platforms. It works on iOS and Android devices. It works on desktops (Windows or macOS). And also supports Amazon Kindle devices.
I did not try it on Kindle, so I cannot tell much about its interface or ease of use. Since they are a premium service, it is quite natural to believe that it indeed works on Kindle.
Neat Web Interface: One of the strengths of Qustodio is its neat web interface. It is neatly designed, and it is very user-friendly. You are definitely not going to feel confused.
Blocking: It can block apps on both desktops and mobile devices.
Not browser-independent: Browsers like Tor Browser can bypass the restrictions of parental controls set forward by parental control software. There are many such parental control software that will not block browsers like Tor.
To get around this problem, Qustodio simply blocks such browsers and refuses to work with them. This is a great feature!
In short, Qustodio is browser-dependent. It will work only for certain browsers and block other browsers.
Time Limit: Qustodio will allow you to set a time limit for the daily usage of devices. This will ensure that your children get a limited amount of screen time.
Intuitive Apps: Qustodio has designed its apps to be very intuitive. They have a clean interface with easy navigation.
VPNs Cannot Bypass Web Filter on Mobile: On a mobile device, installing a VPN will not help your child to bypass the web filters.
The Cons of Qustodio
Expensive: Compared to similar software from some big names like Norton and Kaspersky (yes, they are antivirus software, but they have parental control programs too), Qustodio is quite pricey.
VPN Can Bypass Web Filter on Desktops: On desktops, even a free VPN can bypass the web filters set using desktop browsers. That's problematic!
Limited Social Media Tracking: When it comes to social media tracking, Qustodio is limited only to Facebook. That is not acceptable at all!
Limited Features on iOS: This isn't really the problem of Qustodio alone. iOS often gives limited capabilities to many apps compared to their Android counterparts. That's partly because of iOS settings.
Okay, now that I have told you about the strengths and weaknesses of Qustodio, let me walk you through the pricing model.
Qustodio Pricing
In case you want to enjoy Qustodio for free, that is possible. There is a permanently free version available that will allow you to track only one device. You will get no more than 7 days of the activity log.
The other features that you can get from the free version are time quotas for a few selected activities and some basic web filtering options! That's all.
If you want to enjoy all the premium features, you have to upgrade to a family plan.
There are three different plans available under the premium structure. They are:
Small: Subscribing to this plan will give you the ability to track five devices.
Medium: This plan will allow you to monitor 10 devices.
Large: This plan will allow you to track and monitor 15 devices.
As far as the pricing is concerned, you will get the Small plan for a yearly price of $54.95. You can also opt for a monthly payment schedule that will cost you $4.58 per month.
The Medium plan will cost $96.95 per year. You can opt for a monthly payment schedule where you need to pay $8.08 per month.
Finally, the Large plan will cost you $137.95 a year. For this plan as well, you can get the monthly payment model where you need to pay $11.50 a month.
Interestingly, there is no discount if you are going for a yearly plan. However, you can get a 10% discount on all premium plans if you buy a subscription now. That's what the company is currently advertising. This offer may soon evaporate just like its previous entry-level plan that allows monitoring 3 devices against a yearly cost of $39.95 a year.
Qustodio is not for families only. It is available for schools and businesses as well. Of course, the pricing structures for schools and businesses differ. In case you are wondering about the prices for schools and businesses, here is what they have to offer:
| | |
| --- | --- |
| Number of Devices | Pricing |
| 5 devices | $34.95 per month |
| 10 devices | $44.95 per month |
| 25 devices | $70.95 per month |
| 50 devices | $114.95 per month |
| 100 devices | $194.95 per month |
| More than 100 devices | Custom pricing |
Yes, they have the same pricing structure for both schools and businesses!
Compared to what Qustodio charges, Norton Family Premier is cheaper. Norton charges $49.99 a year for unlimited devices. Kaspersky, on the other hand, beats both Qustodio and Norton by charging a mere $14.99 per year for unlimited devices.
While Qustodio, Norton Family Premium, etc. all software-based parental control options, you can always go for something that combines both hardware and software.
One such option is Circle Home Plus, which is a part hardware and part software solution that will cost you $129 for a year worth of premium subscription, after which you need to pay $9.99 a month for maintaining that service.
Compatibility and Apps
Qustodio will run on Android, iOS, Kindle devices, macOS, and Windows. However, you need to keep in mind that some features will be available on specific platforms. Features on iOS are limited to what you will get when you use Qustodio on Android.
This primarily happens because of iOS settings. For instance, you will not get a screen time capping feature on iOS. You can, instead, Apple's integrated screen time feature.
What's interesting is that to use Qustodio, you have to install it on every device that you need to monitor. The program will allow you to configure the settings for all devices from a single computer. You can alternatively configure the settings for individual devices.
This is a great option because you may, for instance, want to give different screen times to different children. The ability to configure the settings on individual devices will allow you to do so with ease.
There is something called silent installation. This will allow you to hide the presence of Qustodio on a device. I really didn't like this feature because silent installation is more like spying rather than monitoring.
This gave me a big revelation! YOU CAN ACTUALLY USE QUSTODIO FOR SPYING!
That sucks!
One good thing about Qustodio is that it has a single app on both iOS and Android platforms. There is no separate app for children and parents. You install a single app, and all you need to do is tell Qustodio whether you are installing it on a parent's device or a child's device.
When you install Qustodio on an Android device, you have to give all types of permissions to the application. The permissions include:
Device-level access to calls, SMS, media, and contacts.
Accessibility access.
Usage access.
Also, you have to allow it to work as a device admin.
If you are installing it on an iOS device, you have to install an MDM device profile to be able to configure Qustodio properly.
If you are already feeling alarmed, don't be! These are all standard permission that you need to provide if you want to install and use any parental control software.
One big problem when it comes to Android devices is that you cannot forget to lock down the Android settings with a password, and at the same time, remove the guest account.
The guest account will never follow any restrictions that you apply through your Qustodio parent account. The generic account remains accessible to kids, and they can create new accounts, even if the time limit for the device has been reached.
Children can even create new accounts users directly from the pull-down menu of Android's Quick Settings.
So, don't forget to block the Android setting! IT IS IMPORTANT, PERIOD.
Creating Account, Onboarding, and Configuration
Now, it is time for the truth to reveal! Behold, read, and see!
That wasn't too poetic. A failed attempt, albeit. But, bear with me. For the purpose of the review, I went to Qustodio's website on my desktop and clicked on the GET STARTED FREE button.
Clicking on the button took me to the signup page, where I had to enter my details. Luckily, I didn't have to give any credit card information. I really love that!
This is what the signup form looks like:
The form clearly states that you get 3-day premium access. This means that I can use the premium version for free. That's enough for the review. Once I signed up, I received an onboarding message and a verification email.
This is how the onboarding screen looked like:
I won't bother you with a screenshot of the verification email, because all you need to do is to click on the verification link!
Clicking on the bold blue button removes the popup and shows the actual screen where I was asked to create a profile for my child. Since I don't have a child, I created a sample account with the name "Hurricane Trouble."
This is what the profile creation option looks like:
Clicking on SAVE AND CONTINUE gave the next screen where I had to connect the child's device. This is what it looked like:
All I had to do here was to click on the CONTINUE button, and the next screen asked me to choose the device type. This is what I saw:
I clicked on the Desktop/Laptop option. Clicking on this option gave me a pop up says this:
Clicking on YES will give access to the installer file download. You will see this option:
Clicking on NO will give access to a link that you need to open from the device where you want the software to install. It should be the device of your child.
My intention was to install it on my computer. So, I clicked on YES and then on the PROTECT THIS DEVICE button. The installer file downloaded, and all I had to do was to install it.
Clicking on the installer file started the software download, which took about 40 seconds to download and install.
Before the installation was completed, I received a notification to close any open web browser to complete the installation process. This is what I saw:
So, I closed the only open browser and clicked on the "OK" button. Once the installation was complete, I saw a new popup that asked me to choose the option of creating a new account or using an existing parent account.
I proceeded by selecting the existing parent account option, and I was greeted with the login screen. This is what I saw:
Once I logged in, I was asked to give a device name and an option to hide Qustodio on the device. This is what I saw:
I did not choose to hide Qustodio because it is my freaking desktop! You can hide it on your child's device. I clicked on the Next button, where I had to select the user. This is what I saw:
I selected my yet-to-be-born child, the one and only 'Hurricane Trouble' to see this screen:
Thank you, Qustodio, for the gentle reminder!
Clicking on the Next button told me how to customize the settings. This is what I found:
Then I clicked Next, Next, Next… and finished the installation to finally see this:
Clicking on the big blue button, which reads 'Go to my Family Portal,' takes you to the web browser where you need to log in to configure the settings.
This brings me to the questions – what will happen if I click on the taskbar icon?
Driven by my curiosity, I went to the taskbar and clicked on the Qustodio icon, and nothing happened. So, I resorted to right-clicking and bingo! I saw a menu. This is what I saw:
Clicking on the Configure Qustodio link in the menu took me to the same web page where I needed to log in. This is what it looked like:
Entering my details and clicking on the login button, I was greeted with this screen:
It showed that the configuration was complete, and I was ready to explore the dashboard. Clicking on the Explore My Dashboard button took me to the main dashboard where I saw this:
On the left is a menu from where you can access all connected devices and your Qustodio account details. At the center of the screen, you can see the profiles you are protecting. On the top right corner, you can add more children.
I didn't know I had a kid named 'Sample Kid!' Just kidding! It only shows sample data. Clicking on Hurricane Trouble's profile greeted me with a summary of all activities. Here is what it looked like:
On the top right corner, you can edit the child's profile or add more devices under the child's name. On the left, you can see a menu from where you can set different rules.
At the center of the screen, you can see the summary of the activities. It is a pretty neat interface.
Looking closer at the left menu, you can see various options like setting screen time, or restricting the time of the days, setting up web filters, and more.
This is what you will see:
When you click on the Daily Time Limits, you will see a dial where you can set the screen time for different days. This is what it looks like: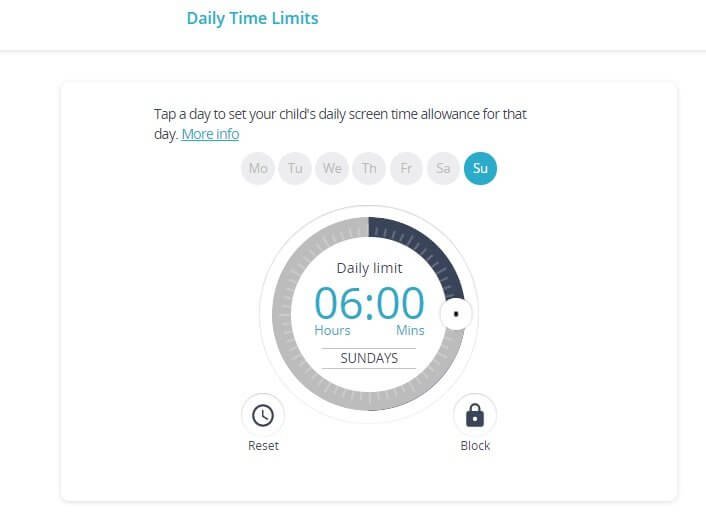 Moving to the next tab, you can see the option for defining the hours of the day when your child is allowed to go online or use the allotted screen time. This is what you will see:
These are clickable blocks. Once you click on a block, it turns red. Red refers to restricted time, that is, your child cannot use screen times during those hours.
Moving on to the Web Filters tab, you can see different categories of websites that you can either allow access to or deny access. There are pre-configured options. You can change them.
This is how the enabled options look like:
This is how the disabled options look like:
The three small dots you see adjacent to each option will give you more options. This is what you see when you click on them:
It is neat! But there are a few things that I will definitely like to see. Unfortunately, those features are not present. I will talk about them shortly.
You can also use Qustodio to monitor your child's YouTube activities or Social Media activities.
If you want to turn off Social Media monitoring, the only option you will get is Facebook. That's something disturbing. Many more social media networks should be monitored.
Anyway, turning on Social Media monitoring will say that your child needs to log in to the Facebook account. If you have the login credentials of your child's Facebook account, you can make it connect quickly.
This is what you will see:
Just in case you want to activate Calls and SMS monitoring, and if you want Location monitoring and Panic button activation, you will need to install Qustodio on your child's phone.
I will get into the mobile segment shortly.
You can also restrict games and apps access by going to that tab. This is what you will see:
You can monitor individual app usage. Set screen time for individual apps or completely block individual apps and games.
Mobile Installation
The mobile installation is pretty simple, as well. I tested Qustodio with my Android device. Installation took a few seconds over Wi-Fi. It may take longer if you use mobile data.
When I first installed the app, this is what I saw:
I went ahead and selected the 'I have a parent account,' and I was greeted with the terms and conditions screen. This is what you will see:
Once you accept all the terms and conditions, you will see the login screen where you need to log in using your parent account. This is what it looks like:
Post login, you will have to tell Qustodio whose device it is. If you select it as a parent device, you will get the account management and configuration options. However, if it is your child's phone, select that option.
For the sake of this review, I selected my phone as Hurricane Terror's phone. Once I make a selection, I was asked to give a name to the device.
This is how it looks like:
Clicking on the Next button will take you to the device setup screen where you have to again select whose device it is. You can even add a new user if you want. This is what you will see:
Selecting Hurricane Trouble's profile landed me on the screen where I have to allow Accessibility access, App Supervision access, User Permission access, Device Location access, Contact access, Media library access, Uninstall Protection access (no third-party app can uninstall the app), and final grant Qutodio the Device Admin access.
Once you give all access, the device will be protected. Once the protection is on, this is what you will see:
You can carry out some configuration on the device. To do that, you have a tap on the profile icon on the top right corner of the device. You will then have to provide your password to see this screen:
I purposefully disabled the protection to enable me to email the screenshots of the app screen. Well, Qustodio was not allowing me to use Gmail.
If you want, you can tap on the "Configure this device" option to enable Android settings protection. This is what you will see:
Once you have set up your phone, you can go back to the web interface to fine-tune the settings even further.
Back to the web interface, you can turn on the Panic button option and invited trusted people. The panic button will then show on your child's phone. This is how it looks on the web interface:
This is how it will look on your child's phone:
Once the panic button is activated, the emergency contact will receive an email or an SMS alert with a location viewing option.
This is what you will see in an email:
The Qustodio app on your child's phone will send the GPS location to you.
If your child taps on the SOS button again, only then the SOS mode will be turned off, and you will stop getting location details.
The Panic button is not available for iOS users.
Sideloading
Google Playstore changed its policy, and it no longer allows apps to ask for Calls & SMS permission. That's the reason why you cannot get those features if you install the Qustodio app from Playstore. For that, you need to use the sideload.
You can get the full instructions here.
Sideload is all about installing Qustodio on your child's phone by using a download link. Use extreme caution while doing so. Your phone may show alerts that a third-party APK file will be downloaded.
You need to allow that. Once you download it, you can go ahead and install the app using the APK file.
Do note that even if you are sideloading Qustodio, it cannot monitor text messages from third-party services like WhatsApp.
Also, you cannot monitor all block texts and calls on an iOS device because of the way Apple locks its operating system. There is nothing you can do about it.
If you use sideloading to install Qustodio, you can monitor SMS and calls. You can even deactivate outgoing calling or prevent incoming calls. This is what you will see on the web interface:
Things I Didn't Like About Qustodio
Absence of SOS in iOS Devices
I will really love it if Qustodio manages to add some version of the SOS or Panic button to the iOS app in the future. It is an important feature that you need to have.
Problem with YouTube Monitoring
On Windows, Android, and macOS, you can see all the videos that you child is watching on YouTube, and also see the things he or she searches on the YouTube website and YouTube Android app.
For iOS users, parents are allowed to see only the viewing history and search on YouTube mobile.
Lack of Social Media Monitoring
Facebook isn't the only social media platform. There's Instagram, Snapchat, Twitter, Tumblr, and more! Who is going to cover all those?
VPNs are a Trouble on Desktop
If there is a VPN installed on your child's desktop, your child can quickly bypass the web filters and use the VPN connection to browse anything.
Location Tracking and Geofencing
Location tracking is different for different platforms. On mobile devices (if you are installing it on your phone instead of your child's phone), you can see a separate menu item by the name Family Locator. In the web interface, you can get it under the Location tab of profile configuration options.
On the web, you can see the last location of your child's phone. Also, you can see the location history of your child for the last 30 days.
Geofencing is available only for mobile. You can use it only if you are installing the app as a parent. You can create a virtual boundary around any geographic place. When your child's mobile leaves that boundary, you will get a notification. You can literally define how large the boundary should be. The minimum distance to use is 100 meters.
This feature should have been available on the desktop client of Qustodio.
App Blocking is Faulty
Qustodio can block only a few selected apps on iOS. There can be many apps that Qustodio cannot block on iOS. For instance, if there are games published by EA, the app cannot block them.
Also, Qustodio lacks the feature of app whitelisting for Android and iOS devices. One should be allowed to whitelist apps.
Web Filter Lacks Categories
Web filter will block everything once you ask it to do so. There is no contextual blocking. There are options that allow contextual blocking. For instance, there is Net Nanny that will allow you to block gambling pages on Wikipedia, but it will entirely block gambling websites.
Blocking everything is not very ideal.
Also, Qustodio doesn't have all categories in the web filter options. For instance, there is no option or category for blocking VPN sites. A child can browse to a VPN site, download a free VPN, and voila! He or she will have unrestricted access! What's the point?
Conclusion: Is Qustodio a Good Choice?
Yes! Qustodio is a good option if you are looking for a parental control software that works out of the box, and if you don't need fine-tuned controls.
However, if you need options like keyword-based page-specific filtering (contextual blocking), ability to track most of the major social media platforms, SOS service for both Android and iOS devices, there are better options.
Also, if pricing is a concern, there are cheaper and equally good, if not better, options. So, don't just blindly buy a parental control software. Study deeply, try out a few before you settle for one.
If you are not very tech-savvy, Qustodio is a great choice! You can go for it! However, I will say that it is definitely not the best option.