The Verdict
PrivateVPN is a comparatively smaller VPN provider in terms of the server pool. It has only 100+ servers, making it one of the smallest server networks among major VPN providers. It is good for torrenting and streaming, but its slow speeds are not good for online gaming.
Yes, PrivateVPN comes with industry-standard AES 256-bit encryption and boasts a strict no-logs policy. However, all that comes crashing down with the very fact that it originated and is located in one of the 14 Eyes Alliance countries – Sweden.
Despite their claim of being privacy-focused, the Swedish origin makes it difficult to believe anything. Eventually, Swedish laws can trump the company policy. So, I will suggest that you better opt for options like NordVPN or ExpressVPN.
My Ratings for PrivateVPN | Overall: 7.5
Just like every other VPN review I write, I will break down this review into several segments and give a rating to each segment. So, here are my ratings:
| | |
| --- | --- |
| Parameter of Rating | My Rating |
| Security | 8 |
| Speed | 7 |
| Streaming | 9 |
| Features | 6 |
| UI and User Experience | 10 |
| Gaming | 0 |
| Customer Service | 10 |
| Pricing | 10 |
| Overall Rating | 7.5 |
The Pros and Cons of PrivateVPN
Before I take a deep dive into the review, let me walk you through the pros and cons of PrivateVPN so that you can get a quick idea of what to expect and what not to expect. Let's start:
The Advantages of PrivateVPN
It uses AES encryption, which is military-grade encryption.
It also has perfect forward secrecy to keep your details away from hackers.
It has a consistent user interface across Windows, macOS, iOS, and Android.
It supports routers.
It has robust customer service.
It has one of the cheapest pricing tiers in the VPN industry.
It has a no-logs policy (at least on the books).
It supports multiple VPN protocols, including OpenVPN and IKEv2.
It uses HMAC SHA256 data authentication, which is great for torrenting.
It supports torrenting on all servers.
It supports streaming and unblocking geo-restricted content.
It is capable of bypassing the Great Firewall of China using Stealth VPN mode.
Its interface clearly mentions which servers support streaming and for which particular streaming services.
The Disadvantages of PrivateVPN
It doesn't use RAM storage.
It never allowed any independent security audit.
It is located in Sweden, which is a member of the 14 Eyes intelligence-sharing alliance.
It doesn't have a kill switch for all platforms. The kill switch is available only for Windows users.
It doesn't allow split tunneling.
Its speeds are very inconsistent.
PrivateVPN At a Glance
If you are wondering about how many servers the VPN provider has, or which platforms it supports, here is a quick overview of PrivateVPN:
| | |
| --- | --- |
| Location of PrivateVPN | Sweden |
| Year of Foundation | 2009 |
| Storage Type | Hard drive storage |
| Logging Policy | No-logs policy |
| 5 Eyes, 9 Eyes, 14 Eyes | Located in a country that is a member of 14 Eyes intelligence-sharing alliance |
| Number of Simultaneous Connections | Six connections against a single license |
| Supported Platforms | Windows, macOS, iOS, Android, Routers, Linux |
| Refund Policy | 30-day money-back guarantee |
Okay, now that you have a fair idea of what PrivateVPN has to offer, let me walk you through the review. Grab a coffee!
Security | Overall Rating: 8
When it comes to security, PrivateVPN follows the industry standards. Here is what Private VPN has to offer:
AES Encryption
The encryption that PrivateVPN uses is AES 256-bit cipher. However, they also have AES 128-cipher. The AES 256-bit encryption is military-grade encryption that even the NSA openly advocates.
I told it many times before, and I will repeat it again! Even the fastest supercomputer in this world will take billions of years to crack the encryption.
Apart from AES encryption, PrivateVPN also uses HMAC SHA256 data authentication and RSA-2048 handshake.
In addition, they have various VPN protocols that include OpenVPN (TCP and UDP), PPTP, L2TP, HTTP Proxy, IKEv2, and SOCKS5.
I will suggest that you use OpenVPN, which is far more secure than all other protocols. If you want fast connections, you should opt for IKEv2.
No DNS/IPv6 Leaks
I tested only 10 servers of PrivateVPN, and none of them showed any DNS leak or IPv6 leaks. That's commendable.
Here are the test results:
This is important because in the event of a DNS leak or IPv6 leak, your ISP, hackers, and anyone eavesdropping can know what you are doing online. A good VPN should always manage to prevent such leaks.
No-Logs Policy
PrivateVPN says that they do not maintain any logs. That's not entirely true. They do keep some logs. Every VPN in this world will simply because they need to cap the number of simultaneous connections that you can use against a single license. So yes, they keep logs.
Also, you need to provide your email ID for account creation. Again, you will not have the option of paying with cash. You need to pay using PayPal, credit card, or debit card. You can choose to pay with Bitcoin if you want.
I cannot say for sure whether they actually erase all activity logs or not. At least that is what they claim.
They don't provide any clarity on how many government or security agency requests they get to disclose user information. They have not published anything anywhere on their site. I didn't even see anything on private and independent audits.
This is quite disturbing! So, maybe they don't keep logs, or maybe they do! You just have to believe that they don't.
Jurisdiction
This one reason is good enough for me to steer clear of PrivateVPN. The company is a Swedish company. Sweden is a member of the 14 Eyes alliance. It is needless to say that these alliances (5 Eyes, 9 Eyes, and 14 Eyes) share intelligence among themselves, and they do engage in mass surveillance of their citizens.
It is really hard to believe that they will never come down heavily on the VPN providers operating in those countries and force them to give data.
Be careful about this! I will suggest you opt for VPNs originating in true privacy heavens. Some of them are NordVPN, ProtonVPN, ExpressVPN, etc.
PrivateVPN Speed | Overall Rating: 7
When you are choosing a VPN, speed should be an important consideration. So, testing out the speed is one of the most important parameters for me when it comes to reviewing any VPN service.
PrivateVPN was no exception, and boy, I must say, I was disappointed! First thing first, the jurisdiction of PrivateVPN took away most of my enthusiasm to run a rigorous test. So, don't expect a comparative study. I didn't do that.
However, I did test some servers randomly in the US, Europe, and Australia. What I found was terribly disturbing. There was a lack of consistency in the speed in the same geographic location.
Here is what I found:
| | | | |
| --- | --- | --- | --- |
| Server Location | Download Speed | Upload Speed | Ping Time |
| Washington | 64.87 Mbps | 4.87 Mbps | 35 ms |
| Georgia | 25.54 Mbps | 8.65 Mbps | 67 ms |
| Illinois | 58.26 Mbps | 4.25 Mbps | 84 ms |
| Australia | 3.12 Mbps | 4.28 Mbps | 384 ms |
| Germany | 19.23 Mbps | 5.21 Mbps | 216 ms |
| United Kingdom | 49.68 Mbps | 4.88 Mbps | 129 ms |
Do I need to say anything else? It is appalling to see how the speeds differ in European countries and in American states.
One glance at the results told me that PrivateVPN is not an option you select when you want to play online games. I didn't have high hopes even for torrenting. However, barring Australia's and Germany's speed test results, the remaining data did tell me that streaming would work just fine.
I was right! You can find the details in the later segments.
As with any other VPN review, I used the following parameters:
Windows 10 PC (64-bit).
Core i5 processor clocked at 3.00 GHz.
16GB RAM.
85 Mbps fiber broadband connection.
Internet cable plugged directly into RJ45 port instead of a router.
Test timing: between 11 AM and 12 noon.
I was not at all impressed with the test results. Private VPN has to work harder to provide not only consistent speed but also better speed!
Streaming with PrivateVPN | Overall Rating: 9
There are many VPN providers who say that they can unblock streaming services like Netflix, BBC iPlayer, Hulu, etc. However, they simply fail to do what they promise.
There are some providers who will unblock those streaming services, but they will not mention which servers can do that. This is where PrivateVPN comes in. It not only manages to unblock most of the famous streaming services but also clearly mentions which servers can unblock which services.
Yes, they have labeled the servers clearly. This is excellent! There are very few VPN providers who do this.
In my tests, I found that most of the servers with labels actually work perfectly fine. Those that are not designated with labels often fail to unblock services like Hulu, Netflix, and BBC iPlayer. That's fine! They did clearly tell which servers will work best.
As far as streaming quality is concerned, I did not experience buffering in full HD videos, which is quite good. Of course, the speed that PrivateVPN offers is good enough for buffering-free streaming.
I did not try all services. But I did try Netflix and Hulu, and PrivateVPN unblocked both with ease.
PrivateVPN Features | Overall Rating: 6
Private VPN has a long way to go when it comes to offering features. However, the service provider has started with a good footing. Here is the quick list of all features that you find with PrivateVPN:
Obfuscation – Works with Great Wall of China
One of the pressing questions that people keep asking about VPNs is whether they are capable of bypassing the Great Firewall of China or not. Good news for those who want that feature! Yes, Private VPN works with the Great Wall of China, and it can comfortably bypass the firewall.
There is something called Stealth Mode. All you need to do is to enable it. That's all. There is nothing more to do.
Once you turn on the Stealth mode, the client will send the VPN traffic as normal internet traffic by stripping off the VPN-specific codes.
That is how it works. However, PrivateVPN never says whether they actually use that method or not. To the best of my knowledge, obfuscation works in that way. So, I think PrivateVPN uses the same route.
But again, who cares? As long as it works, I am game!
Torrenting – Unlimited
It is needless to say that torrenting is one of the primary reasons why people want to use a VPN. Of course, downloading something from a torrenting website is illegal, and yet people do it anyway.
After all, who doesn't love to see their hard disks full of movies, songs, games, and those videos that serve the late-night cravings?
I have a 6TB + of movies, TV shows, and music that I downloaded over the years. I download some even today. When I do download, I ensure that I am behind a VPN client.
I did try out PrivateVPN for torrenting and download 4 movies at once. I am not going to tell you which ones. All I can say is that I downloaded horror movies because I love the way my wifey clings on to me after watching them.
Anyway, back to the point, torrenting with PrivateVPN wasn't a problem at all. I did expect slow download speeds. With three torrents downloading simultaneous, the maximum download speed that I saw was 758 kbps.
It is needless to say that I could not expect anything higher than that considering the Private VPN is not one of the best when it comes to overall speed. Nothing beats NordVPN in this area.
Of course, I choose those torrents that had high numbers of peers and very few leeches. Still, the results weren't too impressive. Of course, when I pause all torrent except one, the max download speed I saw was 1.8 Mbps. That's decent.
Kill Switch
PrivateVPN does have a kill switch, but only for the Windows client. The switch will do what it is meant to do. It will kill or block all incoming and outgoing connections if the VPN connection drops.
The reason is simple! The job of a VPN is to protect your privacy, and the only way it can do so is if it prevents you from going out in the wild without a shield. So, killing the connections make more sense.
However, the availability of the kill switch only on Windows makes it a little troubling.
The kill switch can be configured to kill traffic at an application level or complete traffic termination.
HQN Servers
PrivateVPN uses High-Quality Network servers. According to the company, they plan on purchasing internet capacity from IP transit providers directly. This approach supposedly gives high connection speeds by eliminating middlemen.
Definitely, PrivateVPN has better speed than some competitors, but it is not that great as NordVPN or ExpressVPN.
Remote Installation
PrivateVPN allows remotely installing the VPN client on a user's computer. That's a good service for those who are technophobes. However, I don't see how this thing is needed in the first place. The installation process of PrivateVPN is simple and straightforward.
Perfect Forward Secrecy
I will not go into too much technical detail on this. All you need to know is that PrivateVPN changes the security key required for encryption and decryption of data with every single session. This ensures greater safety because even if someone manages to steal the private key for one session, it will not work for the next session.
Simultaneous Connections
PrivateVPN allows up to 6 simultaneous connections for a single license. However, since you can install PrivateVPN on routers, you can easily extend its protection to more devices. Private VPN supports many routers that include:
pfSense
Tomato
DD-WRT
Synology
Linksys
QNAP
Asus RT models
User Interface of PrivateVPN and User Experience | Overall Rating: 10
PrivateVPN installer application is only 25.7 MB. It is quite small and lightweight. The installation was smooth. I could get the desktop client up and running in less than 2 minutes.
I was slightly surprised to see that the VPN client offered both simple and advanced mode. The simple mode is available by default. However, if you want to go through some configurations and dictate how the connections take place, PrivateVPN will give you the Advanced mode.
The simple mode is perfect for rookies who do not want to fiddle around with advanced settings. In case you are a pro, you can always go ahead and tweak the settings.
However, for those who are rookies, the simple mode has everything covered. All they need to do is to click on the "connect" button. The connection screen shows the server location and gives the ability to select a server.
It also has the option of select the Stealth mode. Here is what the interface looks like: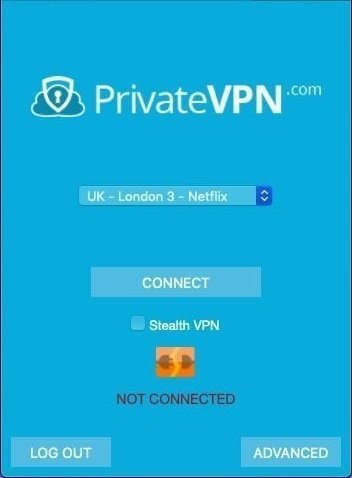 If you want to go into the "Advanced" mode, all you have to do is to click on the button, and this is what you will see:
In the Advanced mode, you can always fiddle around with the VPN connection type, the encryption strength, etc. You can also turn on the stealth mode from here, and even select the server location.
When you have played around with the options, and you are satisfied, all you have to do is to click on the big button that reads "Connect with Above Settings."
Once you connect, the VPN client will show some interesting stuff. It will tell you the connection status, which is obviously 'Connected,' the external IP, the server location, and the streaming labels if any.
The overall interface is intuitive and easy to use. Anyone can happily navigate around. However, if you have no idea about the different VPN protocols or the encryption strengths, I will suggest that you do not opt for the Advanced settings option until you familiarize yourself with everything.
The mobile apps of PrivateVPN are quite polished, and they maintain the same consistent design. All you need to do is to download the apps from Android's Play Store or Apple's App Store and install it.
Once you install and start the application, you will see the same interface that will ask you to input your login credentials. Once you do that, the app interface will show the connection details.
Here is what it looks like on the iPhone:
And here is what it looks like on the Android interface:
In the macOS version, you will find one thing missing. You cannot find the "Advanced" tab in the macOS client when you log in.
This is how the application looks like on the macOS:
I don't like inconsistencies, but since I am not a Mac user, its absence didn't really affect me much.
When it comes to the Linux interface, you can use it only if you have some experience with Linux. I tried installing it in Linux using the command-line interface. The distribution that I use is Ubuntu 20.04.
The installation was simple. The command that I used was "sudo apt-get install openvpn curl" for setting up the stage. Of course, it is not the end, and it is not something I made up. I copied it from PrivateVPN's guide.
Following that, I had to run the Install.sh file that I downloaded from their site.
I forgot to tell you that my first attempt to install it on Ubuntu failed because I was not logged in as root. If you are to install PrivateVPN on Ubuntu or Debian, you need to log in as root.
I did not like the idea of being a root user to use the VPN. So, I dropped the idea of using it on Linux. Anyway, Linux isn't my daily-use OS because of some serious limitations, and I don't even care about using PrivateVPN on Ubuntu.
For the rest of the operating systems, the experience was pretty nice and streamlined.
Gaming Experience with PrivateVPN | Overall Rating: 0
Mark my words – PrivateVPN is not good for online gaming. If you try, all you will get is frustration. As with every other VPN that I review, I tried playing Valorant using the PrivateVPN connection to a Valorant Server.
The connection was pretty steady. The problem was with the ping time. With ping time often exceeded well over 100 milliseconds, I was facing significant lags, that eventually cost me my game.
You need to know that in the case of online gaming, there are two terms – low ping and high ping. Low ping is when the ping time is below 55 milliseconds. High ping is when the ping time is above 50 milliseconds.
Under any circumstance, your ping time should not exceed 55 milliseconds while playing online games. That is, you must always have low ping.
I did manage to play the game without a problem when I connect to a server in Washington, DC, where the ping time was below 55. Connecting to a server in Australia gave me a high ping of 324 milliseconds!
Of course, when you have high ping, not only will you experience lag, but the game server can disconnect you because of that. That was precisely what was happening in my case.
Apart from that, I did experience some jitter, but that was not so significant that I couldn't tolerate it. There was some packet loss as well. The packet loss was at around 0.7%, which was perfectly within the allowed limit of 1% for a good online gaming experience.
Still, despite everything else, high ping doesn't make PrivateVPN a good option for playing online games.
Customer Support | Overall Rating: 10
In this department, I had a pleasant experience with PrivateVPN. I wanted to know whether they had a free trial option or not. I sent them a query, and they replied within 10 minutes. That was incredibly fast, I will say.
They explained that there used to be a free trial option, but that's no longer available.
They have a live chat option too, but that is not operational 24×7. That's fine. I do understand that offering phone support is not a viable option because they have clients from all over the world. Operating phone support will mean that they need to stay operational 24×7.
They have a helpful FAQ segment as well. In addition, they also have detailed guides available on their website. Overall, customer support is just fine, and they kind of practice what is standard in the VPN industry.
Pricing | Overall Rating: 10
Old story, same sweetness! Just like every other VPN provider in the market, PrivateVPN also plays the same old trick. You buy a subscription for the long term, and you pay a low price. In fact, PrivateVPN offers one of the best long-term pricing structures I have seen so far.
There are three pricing structures, and they are:
One-Month Plan: This is a monthly subscription plan in which you pay every month. You need to pay $7.12 for this subscription plan.
Three-Month Plan: This is a plan where you will pay only once every 3 months. The pricing for this plan is $4.20 per month. So, you pay $12.60 every 3 months.
Two-Year Plan: This is basically a 12-month or 1-year plan extended to 12 more months of free subscription. You need to pay once every 24 months at a rate of $1.89 per month. The total money you pay once every two years is $45.36.
Opting for the two-year plan will give you the lowest price. It is one of the cheapest VPN plans available as of today.
Things I Don't Like About PrivateVPN
After going through PrivateVPN, I found a number of flaws that cannot be overshadowed by the solid security that they keep boasting. Here is a quick list of things that I found were terrible:
Jurisdiction: You should stay away from any jurisdiction that belongs to the 5 Eyes, 9 Eyes, or 14 Eyes intelligence-sharing alliances. PrivateVPN is in Sweden. No matter how much they shout about being safe, I am staying away. I don't know about you.
No Split Tunneling: They don't have the feature of split tunneling. This is an important feature that a VPN should have. Split tunneling helps you to selectively protect some traffic through VPN while leaving other unprotected.
This is especially important when you engage in online banking. Repeatedly changing servers to log into the internet banking facility will make your bank flag your account on the grounds of suspicious activities. This is why you should use split tunneling.
Again, there may be local streaming services that you need to access a VPN. This is when split tunneling comes to rescue.
No RAM Storage: I love VPNs that use RAM storage. RAM storage is temporary storage that automatically deletes all data when a server is restarted. This is an effective method to deal with nosy government agents and hackers. In an emergency, all that is needed is a quick restart of the server.
No Independent Security Audits: There have been no independent security audits so far. The company has not published anything about its security practices. It has said nothing about the government requests it gets to reveal user data. The absence of these things makes it really shady.
Inconsistent Speed: The inconsistent speed of PrivateVPN is a serious issue. Such inconsistent speed can hamper the user experience. At least, it did that for me.
No Free Trial: They do have a link for a free trial on their website, but a quick query with revealed that they no longer allow free trials. That's disappointing.
Conclusion: Do I Recommend PrivateVPN?
If protecting yourself from hackers is concerned, yes, PrivateVPN is a good option. However, I cannot vouch for the privacy protection you get from a VPN located in Sweden. So, if you are concerned about your privacy, I will suggest you go for a VPN that is not located in any country that is a member of the intelligence-sharing alliances.
In short, I don't really recommend PrivateVPN! Whether you want to go for it or not is up to you. I will keep my honesty and leave the decision on you.