For any professional photographer, it is critical that they provide their pictures in a timely way that is commensurate with the quality of the images that they click. That is where Pixieset enters the frame.
For a monthly charge, the platform enables any professional photographer to effortlessly exchange big files with customers. This ensures that the customers are pleased, satisfied, and more inclined to deal with them in the future!
People say it is one of the best file sharing platforms for professional photographers. Is that true? We decided to put it under the microscope and unravel the truth ourselves.
By the time you finish reading this review (and of course, we finish writing this review), we will all come to know just how good Pixieset is, and whether all those rave reviews are meant only for tricking you into buying a subscription so that they can earn affiliate commissions.
So, what are you waiting for?
Let us begin!
What is Pixieset, really?
It is an online platform that will enable any professional photographer to seamlessly deliver files to their clients. So essentially, it is a file sharing platform. You can share your work with your clients without bothering about burning out the bandwidth of your server where your website is sitting.
Of course, you can implement features on your website that will enable your clients to download your work, but that might not be the right solution. Not only will it cost you server bandwidth, but it will also take a lot of time, effort, and money to build features like that.
With Pixieset, however, you can set up galleries for every shoot or photography project, and then customize the galleries as to suite the requirements of your customers or clients.
What is interesting is that the platform will allow uploading photos to the gallery directly from Lightroom using a plugin.
The galleries that you create can be shared with clients allowing you to submit proof of your work, or for submitting the final work.
Alright, now that you know what Pixieset is, it is time to understand how it works. So, let us get started with that and understand how easy or difficult it is to work with Pixieset.
Ease of Use – Signing Up & Dashboard
The first obvious step is to sign up for their services. What is good is that you get to sign up for free. You do not have to submit your credit card information.
Yes, that is a free account we are talking about!
Albeit the free account comes with limitations like limited storage, Pixieset branding (that you cannot remove), and so on.
When you sign up, you will be requested to provide some basic information including your business name, your website (though optional), your email, and a preferred password.
Once you have provided all these, you can move forward and hit the signup button.
After the signup is complete, you will get a choice. You can either move forward and select their "Client Gallery" product, or you can create a whole 'Website.'
This is the screen you will see after you sign up.
For the sake of this review, we will move forward with "Client Gallery."
Do not worry! In case you feel like changing your mind and building a website you can do that later. Once you select the Client Gallery option, you will see a screen like this:
You will see a dropdown menu right on the top. Clicking on it will give you the option for building a website.
There is a simple horizontal menu on the top with the first option (the Collections tab) selected. This is where you can start by selecting sample photos, or you can start by creating your own gallery.
The Settings tab will give you fine control like adding custom domain, logo, branding, watermark, and so on.
This is what you will see on the Settings tab:
Notice carefully and you will see options like Homepage, Analytics, etc. The Homepage option is essentially the homepage of all your collections that will be displayed in the order you select (like old to new or new to old). You can show a variety of information on the homepage like your biography, contact details and social profiles, and so on.
You can even set a password to your homepage to prevent unauthorized access to your collections.
The Analytics tab is where you can set your Google Analytics tracking ID to track the performance of your collections (or website/store) in Google search.
The Defaults tab will allow you to set default settings for all the galleries you create. You can even set expiry reminders, or you can create gift cards (coupons) that your clients can use during checkout.
Finally, the Tools tab is where you can download the Pixieset Lightroom plugin and use it to directly upload the images to your Pixieset gallery.
Overall, the startup interface is quite simple, and it is needless to say, the interface is neat and intuitive. You will enjoy working with it.
The overall dashboard can be accessed from the top dropdown menu (alternatively, when you verify your email address after signing up, you will be taken directly to the dashboard.
This is how the dashboard looks:
Again, the dashboard is neatly arranged where you can select your website, client gallery, store, or even the mobile gallery app.
Yes, they will allow you to create a new mobile gallery app.
Talking of the store, Pixieset will allow you to create your online store for selling your photos to you clients. This is especially important if you want to sell prints or allow digital downloads.
When you set up a store, you must set up taxes, shipping rates, and so on. For shipping, you will have options for self-fulfillment or automatic fulfillment.
Order fulfillment is an important aspect, and it can make or break your business. So, it is better if you go for automatic fulfillment to allow the lab to handle those things, especially when your client is based in a different country.
As far as the website is concerned, it is just a portfolio site you can create using the platform. There are predefined themes to start with. You can select any theme you want. Of course, you can check the theme demo before settling for one.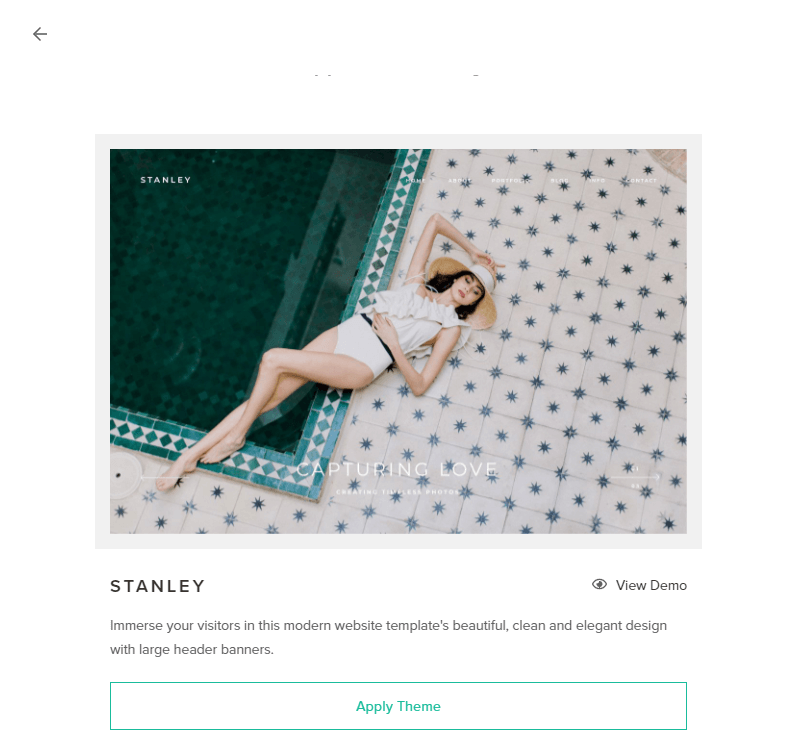 If you are happy with the theme you are checking out, you can click on the 'Apply Theme' button to set the theme for your website.
Overall, the dashboard is super-intuitive, clutter-free, and elegant.
Working with Collections
What really is 'Collections?'
Well, a Collection is merely a client gallery. To create a Collection, you can start from the dashboard and select a sample gallery, or you can start from scratch.
Now, within each gallery (that is Collection), you can create multiple sets (albums). What is interesting is that you can set an expiration date for each Collection. Once the date is over, the Collection will be automatically removed, and the space will be freed up.
Creating a Collection starts with giving it a name and picking a date.
Once you fill in the details, you will move on to the next step where you need to upload the photos.
Once you are done uploading the photos, hit the Next button where you must choose a template for displaying your images.
Once you have selected a template, click on the Create Collection button to create the collection you want.
After you click on the button, this is the screen you will see:
Essentially, it will show you a preview of how the gallery will look on a desktop and on a mobile. To see the actual preview, click on the Preview button. You can even customize the collection.
Clicking on the Preview button shows the preview. This is a sample view of a Collection:
Now, if you want to customize, you can click on the Customize button and this is what you will see:
Customization allows changing the cover photo, adding a new album, dragging and rearranging images in a current album, and so on.
To change the settings of the collection, you must click on the small cog icon you see on the left side.
In the settings segment, you can play around with various things like design, privacy, download settings, and more.
Going through the settings segment, you will notice a lot of options. The first option is Collection Settings, and this is where you edit the Collection name, event date, tags, expiry date, status, language and so on.
The Design settings will allow you to play with things like typography, color, grid style, thumbnail size, grid spacing, navigation style, and so on.
You can even change the gallery style, cover, and so on.
The Privacy settings will allow you to set a password for your Collection. You can even set it to Client Exclusive Access (that is, only your client can access the Collection, and they can mark photos as private), and select whether you want to show the Collection on the homepage or not.
The Download settings is where you can allow or disallow downloads, set download resolution, set download PIN, and so on. You can even allow Collection access to certain emails and limit the total number of gallery downloads.
The Favorite segment is where you enable or disable the ability that clients can have to mark your photos as their favorite. You can also turn on Notes allowing clients to add notes to the photos they mark as favorite.
To access the Store settings, you must enable Store from the dashboard and set up everything there. You can then come back to individual collections and fine tune the settings.
Publications
If you want to sell printed copies of your photos, you can do that directly from Pixieset platform. It interacts with several providers including MPIX, Miller, ProDPI, White House Custom Color, and so on.
You can select any service provider you want, and you will have the choice of going by the pricing they offer, or you are free to set your Pixieset price list. The second option is great when you think that there are certain print sizes that you sell more.
The platform will also allow you to customize the sales tax amount, delivery options, and payment options. When a customer buys something directly from your Pixieset website, the funds are transferred to your bank account directly within 3 working days.
Pixieset Pricing
Of course, you can use Pixieset for free with limited features. The free account will give you 3GB storage on the cloud. You cannot even add a custom domain, and you cannot get rid of the Pixieset branding.
If those limitations are not acceptable to you, you can always upgrade your account anytime. There are four available plans. They are:
Basic: It costs $8 a month and gives you 10 GB of storage, unlimited mobile gallery apps, custom logo, custom domain, commission-free sales, and no Pixieset branding.
Plus: This will cost you $16 a month and you will get 100 GB storage and all the features you get in the Basic plan.
Pro: It will cost $24 a month with 1000 GB of cloud storage allocation and all features you get in the Basic plan.
Ultimate: It will cost $40 a month with unlimited cloud storage and all features you get in the Basic plan.
So, the higher the plan, the more storage you get with all other features remaining constant. Well, that makes sense because photographs often require a lot of storage space.
Pros and Cons of Pixieset
Of course, like any other service, Pixieset has its fair share of strengths and weaknesses. Here is what we found out:
The Pros
Allows creating unlimited galleries.
Even the most basic paid plan will give you access to all features.
Fantastic integration with Lightroom plugin.
Brilliantly designed interface, which is easy to navigate and understand.
Offers a forever free plan that is good for budding photographers.
Allows setting expiration date that automatically destroys Collections, thereby freeing up storage space.
Allows creating beautiful mobile gallery apps.
The Cons
It does not have features for contact management, contracts, email templates, and session invoicing.
It is not an ideal solution for mass marketing.
Conclusion
Do we recommend Pixieset?
Yes, we do! We recommend Pixieset.
It is a brilliant platform for both novice and seasoned photographers. In case the absence of complete workflow management is holding you back, you can always use it in conjunction with a project management system such as 17Hats.
Overall, the simplicity and the power that Pixieset brings to the table is worth giving it a try. In fact, it is one of the finest options you will find for professional photographers. The platform is quite pocket-friendly, too!
We will recommend that you try out Pixieset before purchasing a paid plan. You can upgrade anytime you want if you feel that the platform is suitable for catering to your needs.