Peacock TV is one of the best streaming service available in the US today. With a catalog of movies, series and sport programs that includes the Champions League, Sunday Night Football, there is no shortage of what to watch. But is Peacock worth the price? We examine it in this Peacock Review.
Are you looking for an ideal online streaming platform subscription to enjoy your free time? An ideal subscription should have unlimited content but comes at a reasonable price. Isn't it? However, it is pretty tough to find a subscription that offers everything at a low price and keeps to the audience's parameters. But what if we let you know that there is a subscription with everything you want?
Want to know which online platform subscription we are talking about here? Well, it is absolutely a Peacock TV subscription. Peacock TV subscription is one of the best subscriptions ever launched, and it has attained a great extent of popularity in a brief period. But does Peacock TV have everything that your ideal subscription should have? Let's find out!
What is Peacock Streaming Service?
Whether you o to watch your favorite TV shows, movies, live shows, or news or want to enjoy some fun cartoons with your kid, Peacock TV has it all for you. During the quarantine period, many people stayed at home and didn't have many activities to enjoy. Peacock TV was first launched to provide unlimited entertainment at an affordable cost.
Peacock TV was launched in 2020 and had been growing; why shouldn't it be? After all, Peacock TV offers almost a 20,000-hour premium watch time which seems impossible for many online streaming subscriptions. Isn't Peacock TV doing a fantastic job? Well, we think so!
You might not be familiar, but Peacock TV is an online platform by the NBCUniversal group so that you can enjoy their live channels, shows, news, and sports. Moreover, many different channels and things are available such as WWE, Sunday Night, Live news, Football Premier League and live cricket, etc.
Why Should You Choose Peacock TV?
Peacock TV provides a free, ad-supported plan with access to a limited amount of content on your app. However, Peacock TV offers two premium tiers for those who want extra content, with an all-access package including ads and an all-access, ad-free plan.
People who are already a user of Comcast Xfinity Flex and X1 will also have free access to Peacock Premium and can enjoy unlimited content without any restriction. So, if you want to avail the fantastic services of Peacock TV, then you should sign up for it!
Who owns Peacock TV and Why Peacock TV?
There's always a thought behind the foundation of anything, and so does Peacock TV. The primary goal of Peacock TV was to provide the NBC shows available to everyone online so they could watch them whenever they wanted. Many teens are struggling in college and don't have much finances to spend on online streaming subscriptions.
If you are a college-going, then you might understand the situation. That is why Peacock TV wanted to create an app where you can enjoy everything without paying. You don't have to compromise on the content's quality or availability of Peacock TV Free services. It is a fantastic deal!
Moreover, if you want to enjoy more content than the free one, you can buy the Peacock TV premium plan for just $5 per month. Do you know any other online streaming subscription for just $5? You don't. Now, it's time to decide whether you want an affordable Peacock TV subscription or another expensive one that doesn't even work.
Peacock TV Review
You might be thinking that the free services of Peacock TV won't be able to beat the video quality of other online streaming platforms. Isn't it? We suppose you might be wrong because Peacock TV doesn't compromise the video quality of the content, even in the free version. Shocking, isn't it?
Peacock TV experts know how much a good video quality and audio experience matters to an audience, which is why they haven't made any compromise on the quality of their content. It doesn't matter whether you are watching for free or with a premium subscription to Peacock TV; you can watch it in HD quality.
But for the premium plan customer, Peacock TV has some extra services. Are you curious to know? Peacock TV premium customers can watch their favorite shows and movies in 4K HDR. Isn't it a fantastic piece of news? So, if you want to binge on your favorite show, you watch it in 4K with the excellent services of Peacock TV.
Peacock TV Free vs Peacock TV Premium Plan?
The Peacock TV service's free tier offers 40,000+ hours of content, including many blockbuster films like The Godfather trilogy, American Psycho, The Matrix, and The Sting. After they air, you can watch 50+ live TV channels and NBC TV episodes weekly.
The Peacock TV premier tier includes live coverage of selected Premier League matches, the US Open Championship, Sunday Night NFL games, the Super Bowl, WWE wrestling, and Major League Baseball. Peacock Premium also grants access to all 60,000+ hours.
Is Peacock TV Available Globally? – Movies
Peacock TV was first available in the United States and selected US territories on July 15, 2020. Later, Comcast announced at the end of July 2021 that Peacock would arrive in Europe as part of a deal with Sky. On November 16, 2021, the first Sky customers received early access to Peacock TV.
According to Sky, Peacock TV will continue to roll out across Sky platforms in territories including Germany, Italy, Austria, and Switzerland in the coming months, after a soft launch in the UK and Ireland.
At launch, only the free, ad-supported tier is available in Europe. It will also have less content than its counterpart in the United States, which is most likely due to licensing issues going on right now. However, the best part is that; Peacock TV is expanding its global roots.
What to Watch on Peacock TV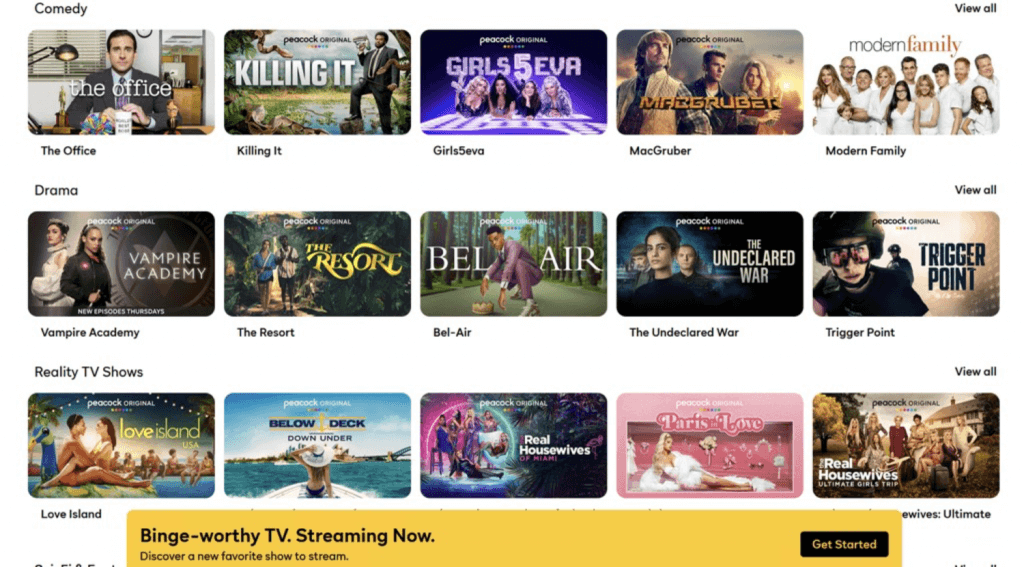 Many subscribers come to Peacock for two reasons; the first one is WWE matches, and the second one is Premier League. Although many viewers loved the old WWE Network app, it's an excellent deal for Peacock subscribers who get every WWE premium live daily for as little as $4.99 per month, plus all of the archive.
However, they don't have the most recent RAW and Smackdowns and original wrestling content from wrestling history. The former WWE Network is now entirely contained within Peacock. After striking a multibillion-dollar deal with NBC Universal, WWE shut down its standalone service in the United States.
NBC has moved more games to Peacock, which is excellent for cord-cutters. The biggest games, such as Manchester United vs. Liverpool in August, would typically be broadcast on the primary cable channel USA Network or the free-to-air NBC 6. It's now up to Peacock TV.
You would be shocked that NBC Universal paid $2.7 billion for six years of Premier League coverage, so it will choose the most effective way to recoup that investment. You can watch all 380 games live with a TV sub and Peacock.
Peacock alone has 175 lives channels, and the rest are on-demand shows. Peacock also has replays, highlights, news-related videos, and another special programming. Undoubtedly, Peacock TV has everything that you need to watch; right now.
What Are The Top Picks Of Peacock TV For You?
If you are new to Peacock TV, you might not know where to start watching. But don't worry; we have a list of top picks for Peacock TV. Let's find out!
Yellowstone
Bad Girls Club
This Is Us
New Amsterdam
Grand Crew
Girls5Eva
Showpiercer
Law & Order
America's Got Talent
Late Night With Seth Meyers
The Tonight Show Starring Jimmy Fallon
Saturday Night Live
Winter House
The Real Housewives Of Salt Lake City
The Office
30 Rocks
The Real Housewives Of Potomac
How Much is Peacock TV?
If you want to enjoy the free services of Peacock TV, you can, but if you want unlimited content on Peacock TV, you must buy the Peacock TV premium package. Here is a Peacock TV price list that might help you choose a package of your choice.
Peacock Free Pack
Peacock Premium for just $4.99 per month includes Ads
Premium Premium Plus Ad-Free for just $9.99 per month without ads
What Are The Pros Associated With Peacock TV?
Before buying the Peacock TV premium package, you must know its pros. It will turn much easier for you to decide whether the Peacock TV subscription is for you or not. Here we have enlisted Peacock TV pros.
Unlimited content with the free plan
Many on-demand shows and movies are available
Access to some NBC and Bravo shows
Unique fun content for kids
Affordable Premium plan prices
4K HDR Resolution for video content
Ad-free content with the premium plan
What Are The Cons Associated With Peacock TV?
Peacock TV does have a few cons, want to know about them. Here we have Peacock TV cons enlisted for you. Let's find out!
Ad-free content is only available with premium
It doesn't have live local NBC access
Peacock TV doesn't offer offline download features
Peacock TV's major shows, movies and live sports are not available in free version; you can get them only in premium plan
Conclusion
Peacock TV also offers a free trial for seven days which will help the audience to understand the nature of their content. It will let them decide whether they want to invest in the Premium plan of Peacock TV or not. Undoubtedly, Peacock TV has everything that any ideal subscription should have. Want to buy or not? We leave that choice to you.
FAQ
How much Peacock Premium Plus
Peacock Premium Plus cost $9.99 while Premium cost $4.99
Does Peacock have a free premium trial?
Peacock offers a 7-day free trial to all new subscribers. The first-time users are able to use the 7-day free trial on Peacock premium and Peacock Premium Plus. The free trial allows subscribers to watch live sports such as; Premier Football League, WWE Wrestling, Sunday Night Football, and golf.