Online courses are gaining traction. After the recent health pandemic that crippled the world, the importance of online teaching has increased manifolds.
This grave health situation has ramped up the search for the best online course platforms. If you are looking for the best of the best platforms that you can rely on for yourself or your kids, you are at the right place.
Did you know that e-learning and online courses industry is going to hit $325 billion by the year 2025?
With this thing in mind, online entrepreneurs or many would-be entrepreneurs are considering encashing the opportunity.
Are you one of them?
You may or may not have the expertise of creating online courses and selling them. Having the knowledge is great, but not having the knowledge is also okay. You can always hire people who can create those courses for you.
Once you have invested in course creation, you can start selling them and generate a recurring earning stream.
What can you expect from these online course platforms?
Here are a few things that you can expect:
They can help you to integrated your courses into your existing website, or allow you to create an entire separate website for courses.
You can put a price on your course and sell them. You can decide to go for a one-time payment, or an installment method, or a recurring payment method.
You can create webinars and membership communities.
You can create interactive content and quizzes, upload videos, add assignments, and engage with your students online.
You start marketing your courses and build a good online presence with an intelligent strategy.
Of course, you need to develop the marketing strategy. The better you market, the faster your business grows.
Okay, now that you have a fairly good idea of what an online course platform can do and how it can help you to earn, it is time that I walk you through the best online course platforms of 2021.
1.

Thinkific
If you don't want to build a website from scratch, if you want a platform where you don't have to worry about hosting and designing your website, Thinkific is one of the best options that you can lay your hands on.
With Thinkific, you can upload assignments, collection payments, integrate videos, etc. Their Pro plan comes with a 30-day free trials. However, you can also settle for any other plan if the Pro plan doesn't meet your requirements.
With Thinkific, you will get the ability to create unlimited course using a simple drag-and-drop interface. There are features like membership bundled, advanced pricing, certificates, landing pages, marketing tools, etc.
The number of features you get will depend on the plan you are selecting.
Once you create the courses with Thinkific, you need to select from one of their premade layouts and you are done! Your course website will be ready.
All you need to do from here on is market your courses and get subscribers or buyers. You do have to set up payment methods to collect the payments. You can accept payment in 100+ currencies.
Apart from that, you can integrate your online course school with Zapier and connect with over 1500 apps. You can even integrate Thinkific with your email provider to send targeted emails to your subscribers.
If all these sounds too complicated, you can always go through the plenty of tutorials that will help you to get started.
Here are some advantages of using Thinkific:
You can add custom domain to your website with Thinkific to make it more personalized and professional.
You can customize course certificates.
Depending on the plan, you can edit the code of your site to make it the way you want.
It comes with marketing automation and email marketing features.
You can partake in affiliate program and earn above and beyond your courses.
Pricing Structure of Thinkific
Thinkific has three different plans that you can select from. They are:
Basic: This will cost you $49 a month, and you get to create unlimited courses and add unlimited students. You can create drip content, offer coupons, add a custom domain, and even enjoy email integrations.
Pro: This plan will cost you $99 a month, and gives you access to all the features you get in the Basic plan plus additional features like plus memberships and bundles, certificates, private courses, assignments, live lessons using Zoom, capability to edit the CSS and HTML of your website.
Premier: This plan will cost you $499 a month. Yes, that's a massive jump. You will get all features offered by Basic and Pro plus an onboarding package, add 50 course admins, and unlimited growth package.
Essentially, the Premier plan or package is best suited for large teams. If you are the only person teaching or selling courses, you must settle for either the Basic plan or the Pro plan.
2.

LearnDash
LearnDash is a Learning Management System (LMS) designed specifically for WordPress. It is a plugin! There is no free version to work with. You have purchase LearnDash to use it.
It is one of the most powerful LMSes you can find today. Of course, the onus of configuring your WordPress site with LearnDash falls on you, but that is a positive aspect, because you get absolute control over your website.
Among the coolest features of LearnDash are:
Drag and Drop course builder.
Focus mode to create your own branded course platform.
Advanced quizzing with eight different question types, question banks, custom messages, etc.
Give access to courses, quizzes, lessons, etc. based on a set of prerequisites.
Enjoy drip-feed lessons and other dynamic content delivery options under which students need to complete specific tasks to move on to the next segment.
Create leaderboards, enable assignment submission, create badges and certificates, send automated notifications depending on actions, and more.
What else? Well, you get to sell your courses with either one-off purchases or with a subscription model, and LearnDash integrates with different platforms like PayPal, Stripe, MailChimp, BuddyPress, bbPress, Slack, ConvertKit, Zapier, Gravity, and more.
Here are some advantages of using LearnDash:
You can host your website anywhere you want. You don't have to settle for a single option as in the case of options like Thinkific.
If you want a better hosting provider, you can simply shift your entire website to a different hosting company.
You will get options like group management, detailed reporting, gradebook, assignment management.
You can use images, videos, SWF files, and more.
You can easily customize every aspect of your website using colors, logo, course display, and more.
LearnDash is even compatible with page builders like Elementor, Divi, Beaver Builder, etc.
This LMS platform works with any theme you use. You don't have to stay restricted to a small collection of themes.
Pricing Structure of LearnDash
There are three packages to select from. There is no monthly payment option available. You need to pay for an entire year at once.
The three packages available are:
Basic: This will cost you $159 a year, and it will give you access to 1 site license, unlimited courses, unlimited users, course content protection, 1-year support and updates.
Plus: This will cost you $189 a year, and it will give you access to 10 site license, unlimited courses and users, course content protection, 1-year support and updates.
Pro: This will cost you $329 a year, and it will give access to the same set of features as in Basic and Plus, except that you can install it on 25 sites.
All the plans come with ProPanel, which is an addon to improve the admin experience with a wide range of features like assignment and essay management, consolidated reporting, learner data display, email features, etc.
3.

Learnworlds
In case you are looking for a platform that will allow you to provide an interactive course experience to your students and keep them engaged, Learnworlds is the one you should eye for.
With Learnworlds, you can create and sell courses with ease. The company offers the ability to determine the look and feel of your courses with custom sales and landing pages. They have a whole library of responsive templates that you can use for building your course site.
If you want, you can even create pages like contact, pricing, about, etc.
Here are some advantages of using Learnworlds
You can offer some free courses to attract customers.
You can create interactive videos, add downloadable attachments, provide e-books and more.
You can add a custom domain name and even white label your site with your own branding.
The platform can extract transcripts from your courses.
You can provide certificates of completion.
You can allow students to take notes and highlight the points that are most important.
You can create coupons and discounts.
You can create membership sites as well.
You get access to a brand new analytics platform for better optimization of your sales.
You get the features of social media integrations.
With Learnworlds, you can get a custom mobile application for iOS users. The app will give access to your course to the users.
If you feel lost, they have 24/7 support available, and yes, they also have a very powerful knowledgebase that solve many of your problems in a jiffy.
Pricing Structure of Learnworlds
There are three plans to select from. They are:
Starter: Billed annually, this plan will cost you $24 a month. For every course you sell, you have to pay $5 to Learnworlds. Of course, you can add custom domain, get access to four payment gateways, create drip feed courses, create unlimited courses, and get access to a page builder tool.
Pro Trainer: Billed annually, this plan will cost you $79 a month. You don't have to pay anything to Learnworlds when you sell courses. You will get the ability to add unlimited courses, unlimited landing pages, create memberships and subscriptions, offer custom certificates, get integrations with Zapier, Zoom, etc., hold live classes and webinars, and more.
Learning Center: Billed annually, this plan will cost you $249 a month. You can add up to 20 admins or instructors as opposed to 5 in Pro Trainer. You get every feature you get with Pro Trainer, and also get full white labeling, premium cloud servers, premium account manager, premium support and much more.
If you need something more, you can contact them for custom pricing and solution.
4.

Teachable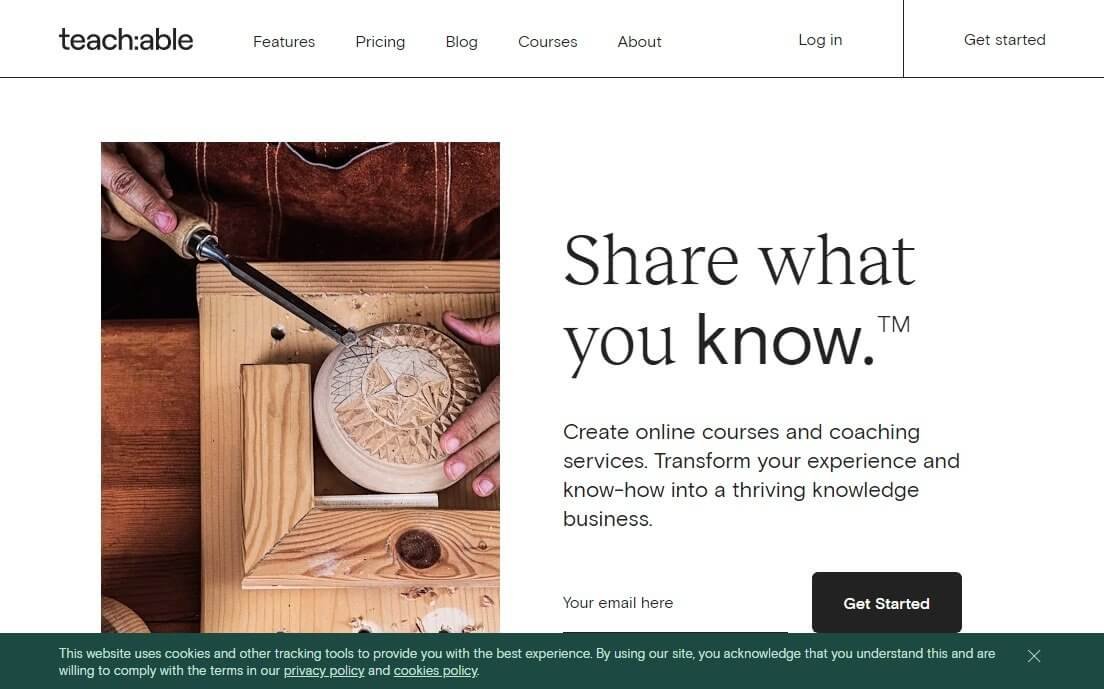 Yet another one of the most famous online course platforms is Teachable. The company has well over 100,000 users. Unlike many other options you will find today, Teachable offers a free plan under which you can sell your courses, but pay them a fee of $1 + $0.10 for every transaction. If you don't want their free plan, you can select from their premium plans.
The platform will allow you to offer graded quizzes, certificates on course completion, create engaging multimedia content, coaching sessions, videos, etc.
With the paid plans you get unlimited video bandwidth, unlimited coaching services, unlimited courses, etc. You can even run one-on-one sessions with your students, add custom domain or use their domain, and more.
Here are some advantages of using Teachable:
The setup process is very easy.
Paid plans give everything unlimited – coaching, courses, students, video bandwidth.
One-click checkouts.
Ability to add custom domain.
Optimized storefront.
Optimized sales pages.
One-on-sessions.
130+ currencies for selling internationally.
Pricing structure of Teachable
The premium plans include the following:
Basic: You need to pay $29 per month billed annually. For every transaction, there will be a 5% transaction fee. You can add two admins, and you will even get a course-creator training.
Pro: You need to pay $99 a month billed annually. There will be no transaction fees. You can add up to 5 admin-level users. Additionally, you will get an unbranded website, access to graded quizzes, and advanced analytics.
Business: You need to pay $249 a month billed annually. You get everything that the Pro plan includes plus the ability to add 20 admin-level users, bulk student enrollment, advanced theme customization, group coaching calls, and more.
5.

Podia
Podia is yet another course platform that makes a mark with its simplicity. You can create, host, and sell your courses through Podia.
Interestingly, the platform will not charge you any transaction fee. However, their payment processors will. The payment processors will charge a fee of 2.9% + 30¢.
The membership options you get with Podia are excellent and best-in-class. You can create a thriving online community where you can not only interact with members, but also create courses specific to certain groups.
You can even host webinars. Both on-demand and live webinars are supported. With Podia, you can quickly connect with Slack and Facebook Groups.
If you want to earn apart from selling your courses, you can actually run your very own affiliate program right inside Podia. This will create a passive income stream for you.
They have a 14-day free trial available if you want to try out Podia before committing to a premium plan.
Here are some advantages of using Podia
You can add drip content to make students understand the correct structure of your course.
You can even add sales pages.
You will get the ability to pre-launch courses.
You can add memberships and coupons.
Pricing structure of Podia
There are only two plans to select from, which I believe is good to ensure there is simplicity.
Here are the plans:
Mover: You need to pay $39 per month. You will get to create your own website, create courses, digital downloads, webinars, zero transaction fees, everything unlimited (unlimited file hosting, customers, emails, sales, etc.).
Shaker: You need to pay $79 per month. You will get everything that the Mover plan offers and get extra features like memberships, free migrations, Zoom integration, offsite buy buttons for embedding on any website, affiliate marketing, and ability to add third-party code snippets.
If you want to add extra team members, you need to pay $20 per member in both the plans.
6.

Ruzuku
Ruzuku is a ridiculously easy online course platform. You can quickly create step-by-step courses using their platform, text, and PDFs. You can edit your courses anytime you want. You can reorder them, launch them and start generating income very quickly.
Ruzuku has a very desirable community that helps new course creators to succeed. The platform has easy integration with tools like Infusionsoft, MailChimp, etc. You can even integrate different payment gateways like PayPal and Stripe.
Here are some advantages of using Ruzuku:
You can set multiple price points for each course.
You can set subscription model for any course type.
For each payment type you can create custom coupons.
Live courses with automatic email notifications.
Create free courses.
Invite people or remove people from courses.
Create drip content courses.
Host and display different types of files like PPT, PDF, Word, etc.
Host and stream video and audio files.
Course-wide Q&A forum.
Email notifications for student-posted questions.
Allow students to upload PDF, images, videos.
Student Dashboard to show student activity.
Host teleconferences using automatic recordings, group chat, and slides.
Allow students to track progress by marking activity as 'Complete.'
And much more…
Pricing structure of Ruzuku
They have a 14-day free trial available along with a 30-day money-back guarantee. There are three plans to select from. They are:
Bootstrapper: You need to pay a monthly price of $99. This plan will allow only one instructor, but allow creating unlimited courses and add unlimited students. You can also enjoy unlimited data, audio, and video hosting. There are no transaction fees for your sales.
Up-and-Corner: This plan will give you everything that Bootstrapper has to offer. Additionally, you will get the ability to create unlimited quizzes and polls, and create unlimited webinars. For this plan, you need to pay $149 a month.
University: This is their top-tier plan and costs $199 a month. You will get everything that Up-and-Corner has to offer. Additionally, you get to add your own custom domain. You can also have multiple site managers and multiple instructors. You will also get a dedicated account manager to sort out all your problems and help you with your issues.
Are There Other Online Course Platforms?
Yes, there are several others. The ones that I listed here are my favorites. Your opinion may certainly differ on this matter. If you want to check out the other options available, here is a quick list that you can use:
Kajabi
Academy of Mine
WizIQ
In case you are not an instructor or a teacher, but a student, you can always go ahead and look for the following options:
Udemy
Shaw Academy
Skillshare
LinkedIn Learning
Treehouse
Coursera
Answers to Some Basic Questions (FAQ)
How much does it cost for online course creation?
That depends on the course. However, the most liberal estimates are that it will cost you anywhere between $6,000 and $16,000 for producing professional courses.

This cost covers everything from paying an expert to teach the courses to professional video creation, market research, email automation, course promotion and marketing, webinar software, and more.

However, that cost is for professional course development. If you don't have that budget, you can consider creating courses by yourself. That will slash the costs to bare minimum. You can literally create a course under $200.

However, when you try to create a course by yourself, you need to invest time, and yes, you should be a subject matter expert.
What equipment do you need to create online courses?
You definitely don't need any high-end equipment for creating courses. You can use a few essential items that are available at low cost. The things you will need include:

Microphones
Headphones
A program for recording screen
A webcam if you want video conferencing
Software for editing audio and video
Lighting

Of course, for creating downloadable items, you will need tools like PDF creators, Word, PPT, etc. You can even use Google docs, Google slides, etc. You can even make use of Google classroom if you want.
What type of content works best for online courses?
It depends on the type of students you are addressing. Interactive content like interactive videos, quizzes, etc. tend to perform better and engage students more deeply.

If you are creating downloadable items, make sure that you are sticking to the basics like short paragraphs, clear explanation, a logical arrangement, etc.
Is it necessary to have a custom domain for selling online courses?
Yes, absolutely! You need to create your own brand, a community on which people will trust. Using a third-party platform is great, but if they are not offering the ability to add custom branding and custom domain, steer clear.

This is one of the reasons why I always recommend people to go for LearnDash even though there is some learning curve to cross.
How important is marketing for selling online courses?
You have a website, you have dozens of courses and no one is coming to your site or purchasing your courses – is that something you will want? That's why you need to go for marketing and ensure that your website and courses get the attention they deserve.

There are many things you can do. Start with social media promotions and move on to PPC ads. Leverage email marketing and ensure that you are actively engaging with students across forums and other platforms.
Do you need analytics and other tools integration for selling online courses?
Yes, you do! Integration with email marketing tools and other marketing tools will give your marketing efforts the necessary boost. Do not forget that analytics is important. You need to understand how well your customers are engaging with you and what you can do to improve engagement.

With analytics you can find important data that can help you to improve your courses and engage more efficiently with your students. This in turn will improve your sales and revenue! Do I need to say more?