About the Mozilla VPN
Mozilla VPN is a newly-released VPN service. It is currently available in the US, the UK, Singapore, New Zealand, Canada, and Malaysia. It has teamed up with Mullvad VPN and uses its server network. It offers the WireGuard VPN protocol, which is more secure and faster than both OpenVPN and IKEv2/IPsec protocols.
I wrote in-depth reviews of some of the most popular VPN providers in the market that include names like NordVPN, ExpressVPN, SurfShark, and CyberGhost. However, this quick review of Mozilla VPN will not be similar.
It is far from being a top-rated VPN, and there are way too many shortcomings that Mozilla needs to address before it can qualify for an in-depth review or even a comparative study. However, do not think that I will leave it by simply scratching the surface.
For the purpose of this review, in particular, I will use a different approach.
Let's start.
The Verdict – It Is Not Yet Ready to Become a Preferred VPN Provider
Unlike NordVPN or ExpressVPN, the Mozilla VPN has some serious shortcomings. You can feel that everywhere – from the number of platforms supported, the number of servers available, etc. It is plagued by frequent disconnections, and it is not really a strict-no-logs-policy VPN even though it claims to have that policy in place.
In short, I will tell you that if you are planning on using a VPN to access streaming services, or if you want a VPN with many features like obfuscated servers, Tor over VPN support, etc., I will suggest you go for the established options.
The Pros and Cons of Mozilla VPN
For now, Mozilla VPN has a few strengths and a lot of drawbacks. Let me sum them up for you.
The Pros
Mozilla VPN is fast because of its WireGuard protocol.
It has a very simple and easy interface.
It has very affordable pricing if you go for a monthly plan.
It has a kill switch for the Windows client.
It is available for Windows, iOS, and Android.
The Cons
It is a US company. The US is a member of 5 Eyes, 9 Eyes, 14 Eyes alliances.
It is not available for macOS, Linux, routers, gaming consoles, etc.
The number of servers available is very limited. The servers this VPN uses are of Mullvad VPN.
It is available only in six countries, of which four countries are members of 5, 9, and 14 Eyes alliances.
It cannot unblock major streaming services like Hulu, Netflix, Disney+, etc.
Because it is available in a limited number of countries, it is impossible to test this thing against the infamous Great Wall of China.
It is plagued with frequent connection drops.
The no-logs policy is more like a gimmick.
Mozilla is yet to come up with its privacy policy for its VPN service. It redirects users to Mullvad's privacy policy page.
Okay, now that you have a quick idea of the advantages and disadvantages of Mozilla VPN, I will tell you about my experience with Mozilla.
Ready?
Mozilla VPN at a Glance
Before I go into the review, here is a table that will give you a quick overview of the VPN service:
| | |
| --- | --- |
| Country of Origin | United States of America |
| Jurisdiction | 5 Eyes |
| Number of Servers | 380+ servers in 30+ countries |
| No-Logs Policy | They say yes, but it is questionable |
| Kill Switch | Available |
| Split Tunneling | For mobile apps only |
| Price | $4.99 per month (no long-term plan available) |
| Number of Simultaneous Connections | 5 |
The Interface
Mozilla has done an excellent job of keeping the interface very clean and user-friendly. Here is how it looks like: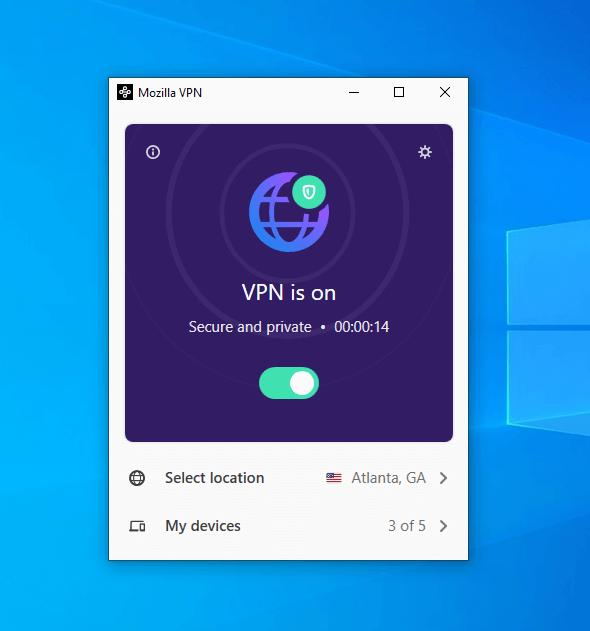 The screen that you see above is for Windows 10 PC.
And here is what it looks like on an Android device:
The simplicity of the interface is commendable, but it is nothing new. All big names provide an equally simple interface.
Supported Platforms & Simultaneous Connections
Mozilla VPN is severely crippled when it comes to the number of supported platforms. Currently, you can use it only on Windows PC (64-bit only), Android, and iOS.
According to Mozilla, the developers are working on versions for macOS and Linux, but they have not given any time frame.
There is no support for routers or gaming consoles. This is bad news for gamers and those who use the VPN app to increase the VPN protection to many devices.
Unfortunately, Mozilla VPN allows only 5 simultaneous connections. That is fine, considering that it is an industry-standard practice.
One very annoying thing about the simultaneous connection feature of Mozilla VPN is that it requires you to register your devices. If you want to use the VPN on a 6th device, you have to first unregister one device.
The problem of device registration is absent in big VPN providers like Nord and ExpressVPN.
Fast Connection but Average Speed
Mozilla VPN uses the WireGuard VPN protocol. It is faster and more secure than both the OpenVPN and IKEv2 protocols.
The reason why WireGuard is faster and secure is that it uses only 4000 lines of code as compared to OpenVPN's 70,000 lines of code.
In my tests, I could connect to a VPN server in 1 second. The maximum it took was 2 seconds. Compare this to NordVPN and ExpressVPN that take anywhere between 3 and 5 seconds to connect to a server.
Yes, Mozilla VPN is very fast.
I ran a quick speed test to see the download and upload speeds.
Here is what I found:
As the story goes, the farther away from the VPN server you try to connect to, the slower is the speed. The results you see above should not come as a surprise.
However, what was surprising to me was that NordVPN gave me better speeds. This might be a problem with the number of available servers. Another reason might be the overall server speed.
So, it is difficult to say!
I used the same configuration that I use for testing any other VPN. The configuration that I opt for is:
Fiber broadband internet with 84 Mbps download speed.
Windows 10 PC (64-bit) with 16GB RAM and 1 TB SSD storage.
Core i5 processor clocked at 3.0 GHz.
No router – I plug in the internet cable directly into my CPU's RJ45 port.
I tested the VPN at 11 AM.
With the same set of conditions, I found NordVPN and even Express VPN to be faster. However, the speed of Mozilla VPN is not bad. It is very decent if you want to play online games.
Gaming Experience
I tried playing Valorant – the high-octane game that I always use for testing any VPN. I used a US server to connect to the Valorant server. The only problem was the frequent drop in connections that caused the problem.
If I overlook the problem of frequent connection drops, the results were pretty impressive. The ping time was 32ms, which was a low ping. This is perfect for gaming as it reduced lags.
There was a packet loss of 0.8%, and that wasn't really a big concern. There was absolutely no jitter either.
As I said, the frequent connection drops were causing problems, and I had to quickly get out of the game. It was unbearable.
Frequent Connection Drops
This is one very disturbing aspect of Mozilla VPN, and they need to fix it ASAP. Whenever I was disconnected from a VPN server, the VPN client gave a notification. That's it!

This frequent loss of connection brings the next big question – is there an automatic kill switch? Read on…
The Kill Switch
The Mozilla VPN comes with a Kill Switch, which is great! One thing I noticed about the Kill Switch on the Windows platform is that you cannot toggle it on or off. It is turned on by default, and it stays that way.
Is that a good thing? Yes, it is!
Not being sarcastic, why will you want to turn off the Kill Switch and expose your traffic? You want to protect your privacy. So, keeping the VPN's Kill Switch will keep you safe if the VPN connection drops unexpectedly.
Speaking sarcastically, it is good that the Kill Switch cannot be turned off! With such frequent disconnections, it was a good move.
The Kill Switch is also available on mobile apps. However, you can toggle the switch on or off at your whims.
Split Tunneling
Split tunneling is a desired feature. It should be present there. This feature allows you to pass the traffic of selected apps through a VPN while leaving the rest of them unprotected.
It is important in scenarios like online banking where you need to log in from your country of residence, or a specific VPN server (you cannot keep changing the server frequently).
Many banks will immediately flag your activity as suspicious if they find that you are using different IP addresses to login.
Split tunneling is present in the mobile apps, but it is absent in Windows desktop client. That was very surprising to me.
Streaming Capabilities and the Great Firewall of China
Don't use this VPN if you love Netflix, Hulu, Disney+, etc. I tried to unblock these streaming services using Mozilla VPN, and it blatantly failed. It, however, did manage to unblock YouTube and Showtime.
Seriously! If streaming is on your mind, you better opt for something like NordVPN or ExpressVPN. They are undisputed champions in this field.
Mozilla doesn't offer any obfuscated servers as of now. So, you simply cannot bypass the Great Firewall of China. Don't even try it!
Pricing Structure
Mozilla VPN comes with a flat price of $4.99. That's way cheaper than the monthly plans of NordVPN or ExpressVPN or any other famous VPN who usually charges $10 to $12 a month for monthly plans.
Don't be too excited! There is no long-term plan available with Mozilla VPN. This means that if you are purchasing a subscription, you will end up paying way more than the long-term plans offered by the established VPN providers.
Privacy and No-Logs Policy
I will say that Mozilla made a mockery out of itself in this segment. They don't have a privacy policy as of now. Clicking on their privacy policy link takes me to Mullvad VPN's privacy policy page. Is that a joke?
No, it isn't! Mozilla actually uses Mullvad's servers. So, it makes sense that they link to Mullvad's privacy policy.
That brings me to a very critical question. How are Mozilla and Mullvad different? Mozilla only provides a repackaged client interface! That's it! The servers belong to Mullvad VPN.
I don't know about you, but I didn't really like this arrangement.
Coming to the no-logs policy, it is a joke!
Mozilla VPN uses the Data Privacy Principles that the Mozilla Corporation uses. Those Data Privacy Principles state that the VPN collects the following information from the users:
Firefox account information.
Technical and interaction data.
Location.
When I say account information, it means your email ID, your IP address, your location.
That's personally identifiable information, right?
Did I even say that you need to log into your Mozilla Firefox account?
One relief is that the Firefox account is an SSO service. SSO stands for Single Sign On. The SSO service uses oauth2 just like a Google account does. Fortunately, it is not tied to Google account in any way.
This means that even if you are using your Gmail account ID that is connected to your Android device, the device will not be logged in automatically.
Still, as long as Mozilla VPN. is keeping records of personally identifiable information, I and you should be worried.
Of course, they are not keeping logs of my online activities, or the DNS requests I am making, or the bandwidth I am using. But that doesn't convince me.
What's more disturbing is that you can pay for the service using only your Credit Card. That means your name and other details stay with them.
There is no Bitcoin payment or cash payment facility available.
There is more to worry about. Third parties get access to your day. First of all, the Mozilla VPN will send traffic through Mullvad servers. So, Mullvad gets the encrypted data first. Since those servers are Mullvad servers, Mullvad can easily decrypt them.
Second, the payment processor for Mozilla VPN is Stripe, which gets all the user payment information. Though Mullvad and Stripe are in a contractual agreement with Mozilla Corporation not to share user data, there is always some concern.
Stripe is also a US-based company! This American company is headquartered in San Francisco, California.
Again, Mullvad is a Swedish company. Sweden is a member of the 14 Eyes alliance!
RED FLAG! RED FLAG!
If these things sound alarming, there are more surprises for you.
The Jurisdiction
The Mozilla VPN comes from Mozilla Corporation, which is a US-based company. Okay, Mozilla does have a track record of a privacy-focused approach, but that doesn't mean I should not be worried.
It is a business registered in the United States of America – one of the founding members of the 5 Eyes alliance.
US polices on data retention, NSA, CIA – anyone else worried?
The US is also a member of both 9 Eyes and 14 Eyes alliances. I am sorry to say, but when it comes to protecting privacy, countries belonging to those alliances are not trustworthy at all.
No one can say for sure how well Mozilla will hold up if the law demands customer data for surveillance.
Support
Mozilla provides customer support through the phone. You can call them up 24×7. If calling isn't your thing, you can consider getting into the Mozilla VPN online community where you can get help from peers.
Mozilla also provides an extensive knowledge base for whatever features they are offering for the time being.
Do I Recommend Mozilla VPN?
NO! I DON'T!
If privacy is your prime concern, Mozilla VPN is not the one you should be using. If you want to protect yourself from hackers, it is a good option to start with.
The companies involved (Mozilla, Mullvad, Stripe) are the members of 5, 9, and/or 14 Eyes Alliances. I always recommend not to opt for any VPN service that belongs to the jurisdiction of those countries.
It is an unprecedented risk from the privacy aspect. If you are willing to take that risk, it is up to you.