Best WordPress website monitoring Tools and Plugins?
The best WordPress website monitoring tools and plugins include:
AlertSite

SolarWinds Web Performance Monitor

Pingdom

AppDynamics

Jetpack

Uptime Robot

Freshping

Super Monitoring

ManageWP

Broken Link Checker

Google Analytics
Why do you need to monitor your website?
The answer is simple. You need to ensure that your website is live, and it is protected from cybercriminals.
There are many factors that can bring down your website and make it unavailable for readers.
For example, a sudden surge in traffic can bring your website to a halt if your web server doesn't have enough resources allocated to handle traffic spikes.
There can be a sudden DoS or DDoS attack by cyber criminals just for fun, or because they want to harm your business.
The two scenarios above are just two of the many possible options that can bring down your website or tarnish its image.
Will you ever want that to happen?
If not, you need to monitor your website.
If you are running a WordPress website, you should be concerned even more! While WordPress itself becomes vulnerable at times (because of updates), the major problem shows up from the side of the plugins.
Most of the plugins that you use are not developed by the developers of WordPress. Many times, these plugins are terribly coded, and consume enormous amounts of server resources.
Poorly coded plugins also open a gateway for cybercriminals who find backdoors and infiltrate the websites.
I don't think you want your website hacked!
So, do you now agree that you need to monitor your website?
If you still need reasons, here are few quick points to remember:
If you have a broken or a non-functional site, sales will plummet.
You will lose readers, because the first impression is the last impression.
Your customers or readers will not be satisfied, and they will switch loyalty.
Your brand reputation will take a hit, give others a competitive edge over you.
Convinced yet? I hope you are!
Read on!
What exactly do you need to monitor?
Website monitoring can be a complex job. If you don't have a technical inclination, you might not know what to monitor and how.
This is where you ask for help.
So, here is the help you need for now:
You need to monitor 7 things!
Let's go through each of them one by one.
Monitor Uptime
Uptime monitoring is the first basic thing you need to do. Uptime monitoring simply refers to whether your website is live or not. If the website is not live for some reason, you visitors cannot access it.
If your visitors fail to access your website for an extended period, it will translate into these three things:
Loss of reputation for your website: People will get frustrated and ask those they know, not to visit your site.
Loss of readers and subscribers: Existing subscribers and readers will stop coming to your site.
Loss of revenue: Loss of readers and subscribers, and failure to get new visitors will eventually translate into loss of revenue.
So, you need to keep monitoring your site to ensure that it is up and running.
Page Load Time
Both Google and people hate slow websites. That's the reason why Google is rolling out the Core Web Vitals that will measure user experience. One of the parameters that Google considers as a ranking factor is the page load speed.
If your page is slow, Google will act, and gradually push you down your website in the SERPs. So, you need to keep monitoring the speed of all your website or blog pages.
Database Performance
Database performance is important. Identifying queries that are taking a lot of time can help you to optimize your website performance. You can remove unnecessary data from your website's database that remains even after you remove plugins and themes over the years.
Broken Links
Broken links do not slow down your website, but they will return 404 errors. While they don't directly impact your website's overall performance, they can hit the user experience. Too many 404 pages are never desirable.
You need to keep monitoring the links on your website, be it an internal link or an external link. Do not forget that enormous amounts of dead internal links can stop the search engine bots from properly crawling your website.
If this keeps happening repeatedly, your site may be deindexed from search. You do not want that to happen.
Server Hardware
CPU usage, memory, disk space, etc. all constitute your server resources. You need to ensure that there is nothing on your website that is overloading them.
For instance, too many images and videos can quickly eat up your allocated disk space. This in turn can impact the performance of your website.
Similarly, if your database size grows extremely large, that can cause problems, too.
Also, hardware errors can cause read/write issues, data loss and frequent errors. Website failure because of the high CPU load is nothing new. High CPU load can happen because of too many processes running simultaneously, thereby overwhelming the CPU.
User Journey
Assessment of user journey on your website can reveal vital data about how your website is performing, and how your users are interacting with your website. You can drill deeper to learn whether users are completing expected tasks or not.
If not, what is stopping them from doing so? Is your content subpar? Is there a problem on the page where users are supposed to act?
Visitors
You need to study your visitors and find out things like how many people are visiting your web page over a specific time and data range. If the numbers are consistent, that's great, but if there are sudden spikes, what is causing such spikes?
You may be frequently hit by bots that eat up vital server resources, forcing your visitors to go away.
What else?
You can know where your visitors are coming from, what are they most interested in, what is their age and gender, and much more!
Monitoring visitors can help you to get vital data about your website performance, and help you monitor goal completion when cross-referenced with different data points.
Okay, now that you know what to monitor, the question is, 'how do you monitor?'
Let's find out.
Best Website Monitoring Tools and Plugins
Here I will be listing several website monitoring tools and plugins that you can use for monitoring your website, web applications, API, and more. Some of these are paid while others are completely free.
Let's begin!
AlertSite by SmartBear
One of the best paid options you can get for your small or midsize business is AlertSite. It helps you monitor a lot of things including your website.
However, you can also perform API monitoring, SLA monitoring, Mobile monitoring (for mobile web applications), Application monitoring, and even cloud-based application monitoring,
AlertSite will give you the following benefits:
Fast and intelligent alerts when something is not right.
Robust reporting and analytics to help you determine the root cause of the problem.
Create complex monitoring scripts with just a few clicks.
Honestly, this isn't for you if you are running a simple blog. If you have a complex website or application, AlertSite is one of the finest options you will get. Of course, it is quite technical, and you need to possess the knowledge to use it.
However, SmartBear will give you training on how to use AlertSite to monitor your applications and websites to ensure that they are providing optimal performance.
SolarWinds Web Performance Monitor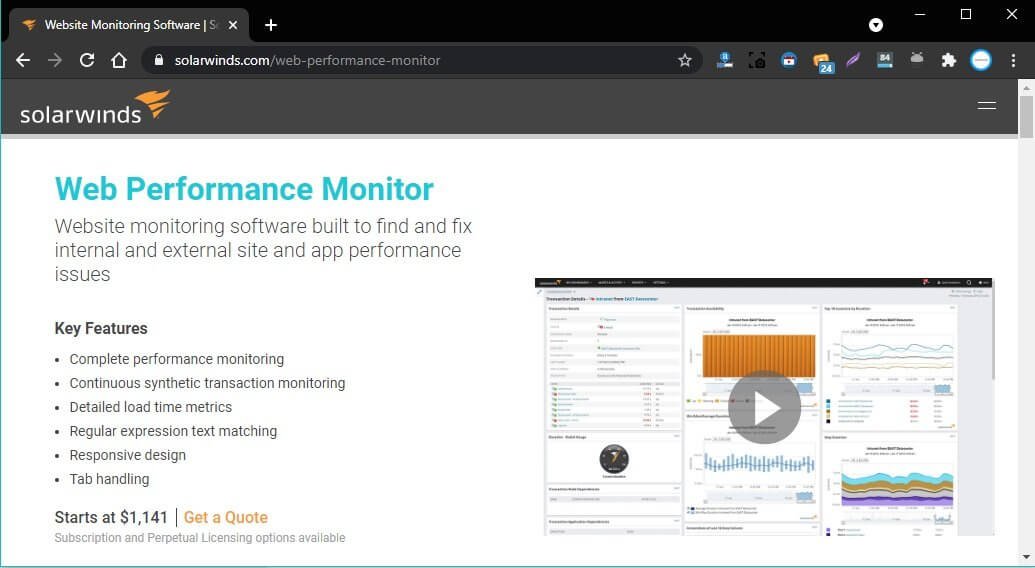 SolarWinds Web Performance Monitor is designed for midsize businesses. With this tool, you get complete application monitoring, detailed load time metrics, multi-location monitoring, performance reporting and more.
The Web Performance Monitor is fully scalable, which means that you can monitor one application or hundreds of them from multiple locations.
It has a synthetic monitoring tool that allows users to capture the issues even before they start causing trouble.
Once again, this paid tool is not designed for average Joes. If you have the financial and technical resources, this tool is for you.
Pingdom
One of the most popular website monitoring tools to exist today is Pingdom. It is meant for smaller and individual websites. However, it can also serve the purpose of operations professionals and developers, because it comes with various control components.
Pingdom is a product offered by SolarWinds!
The tool is fast and reliable. You can get instant insights that can help you quickly resolve the issues that your website is facing.
The basic uptime monitoring tool is free. However, if you need something advanced, you need to settle for their paid plans that start from $15 a month, making it a reasonably priced tool for small businesses and individual websites.
Pingdom also has a WordPress plugin just in case you want to use it. Pingdom offers both synthetic monitoring and real-user monitoring.
AppDynamics
AppDynamics is a part of Cisco. Well, that should give you a clear understanding that it is not meant for average users. It is targeted towards large businesses that have the resources to implement and use it.
AppDynamics gives business-focused reports, analytics, and alerts that help businesses to make data-driven decisions.
You can use it for cloud monitoring, cloud migration, AWS monitoring, SAP monitoring, Microsoft Azure monitoring, and more.
This full-stack application monitoring application was named as a leader in 2021 in APM magic quadrant by Gartner, making it one of the reliable applications and web monitoring tools available today.
AppDynamics offers everything from infrastructure monitoring to application performance monitoring, database monitoring, end user monitoring, business performance monitoring, and more. Pricing starts with $6 per month per CPU core.
Jetpack
Jetpack by Automattic is a free plugin for WordPress. However, there is a paid version available, as well. Jetpack is full of features, and one of them is monitoring. This feature allows you to track the uptime of your website.
Once you install Jetpack on your WordPress site, it will send you emails whenever your website experiences downtime (that is, it becomes inaccessible). When the website comes back online and becomes accessible, you will receive another email alerting you the same.
You will also get to know the exact amount of time for which your website was down.
That's a very handy feature as it allows you to calculate the total downtime in a month that you can use for confronting your web hosting provider if the promised uptime is not met.
To use Jetpack, you need to have an account with WordPress.com. This means that Jetpack will integrate your website with WordPress.com. If that is something you don't want, you need to look for some other tool.
UptimeRobot
Just like Jetpack, UptimeRobot also uses a freemium model, which means that you will have a free plan, and you can always decide to upgrade to a premium plan.
This application will check your website every 5 minutes and send you an alert whenever there is a downtime. The free plan will allow you to monitor up to 50 websites.
If you need more features, you can upgrade to a premium plan that will allow you to monitor up to 1,000 websites. Under the premium plan, your websites will be checked every 1 minute. You will also receive 85 SMS credits, and you can access a 12-month log.
The SMS feature is a brilliant idea, because it will allow you to know the status of your website even when you don't have access to your email.
Freshping
Like UptimeRobot, Freshping also has a freemium model. However, Freshping stands out from the herd in one aspect. The free plan will allow you to monitor your websites every 1 minute (as opposed to a 5-minute interval by other free tools).
Freshping will monitor your website from 10 global locations, and you can monitor up to 50 websites with the free plan. The tool will also allow you to monitor individual response time and average response time.
You can get instant notifications for downtimes by integrating Freshping with applications like Skype, Webhook, Twilio, Slack, and Freshdesk.
As far as monitoring is concerned, the application will allow you to monitor various things like DNS, web socket, UDP, TCP, ICMP ping, HTTP/HTTPS, etc.
They also have a nifty feature that allows you to display your website's uptime on your website's homepage using a small banner. This can infuse confidence in your visitors!
Super Monitoring
Super Monitoring is yet another website monitoring service that can tell you about uptime and downtime. They have a WordPress plugin available. The tool is extremely easy to use, but that doesn't mean that it lacks features.
There are quite a lot of powerful features available that will not only allow you to monitor the availability of your website, but also allow you to check your content, individual process functioning, loading times, SSL and domain expiration times, etc. It will even detect the presence of blacklists.
If you accidentally block a search engine, Super Monitoring will let you know that as well.
Super Monitoring offers both cyclical reports and on-demand reports in addition to SMS and email alerts. What else?
The application will also give you HAR files, HTTP headers, HTML snapshots, and screenshots to help you drill down into the root cause of the problem.
Unfortunately, Super Monitoring doesn't have a free plan. However, you do get a no-obligation 14-day trial during which you don't have to enter your credit card details.
ManageWP
ManageWP is a free plugin with a premium flavor available for those who want advanced control and insights. Unfortunately, the free version will not allow you to monitor uptime. That's a part of their premium plan.
The plugin offers a multitude of features that can help you to ensure that your website remains healthy and available to your visitors.
Some of the key features of ManageWP include:
Update management for themes and plugins.
Monthly cloud backup.
Website cloning.
Safe updates.
Performance checks.
Security checks.
Code snippets.
Analytics.
Maintenance mode.
Vulnerability updates.
SEO ranking.
Uptime monitor.
Link monitoring.
Some of the features are available with the free version while others are available only under a premium package.
What's interesting is that you don't have to purchase all premium addons at once. You can buy only those that you need, allowing a certain degree of control over your budget.
Broken Link Checker
It is a free WordPress plugin that monitors your website constantly to find broken links – external or internal. The plugin shoots an email whenever it finds a broken link. For visual aid, the plugin will apply a strike-through text decoration on the anchor texts of the links that are no longer active.
The Broken Link Checker is a very handy plugin as it allows you to reduce the number of 404 errors, and thereby helps with both SEO and user experience.
On the downside, however, the plugin is a resource hog. If you are using a shared hosting plan, I will never recommend leaving the plugin active. Activate it once every week to find all broken links on a weekly basis and fix them. Once you are done, deactivate the plugin to ensure that the server performs optimally.
Google Analytics
You already know about Google Analytics, don't you? It is a tool you use to monitor your visitors. It is a very complex tool, but worth learning, as it will give you granular data on your visitors.
You can find things like the duration of visits, gender of the visitors, age range of the visitors, devices the use for visiting your website, pages from where they exit your website, countries from where you are receiving your visitors, and much more.
Yes, there are many other such tools available that will tell you about your visitor behavior, but nothing beats Google Analytics.
While other such tools take out the complexity of data analysis by offering simplified dashboard and visual data representation, they also cut short on many advanced features that Google Analytics offers.
However, that doesn't mean that I am advocating ditching other tools. The other similar tools can give you many valuable insights that you cannot find easily or cannot find them at all with Google Analytics! For example, Google Analytics will not give you heat maps that will visually tell you the locations on your web page where visitors are clicking the most.
It is always a good idea to use Google Analytics in conjunction with other analytics tools to get more robust information about your visitor behavior.
Google Analytics is a free tool. If you have a Google account, you already have access to Google Analytics.
Conclusion
Thousands of people ditch their day jobs to get into active blogging so that they can open an independent income stream. If you are one of them, and your website or blog is your primary income source, it is important that you keep monitoring your website on a regular basis.
Lost visitors or readers translate into lost revenue. You will never want that, will you? Also, don't forget that if you cannot keep your website up and running always, or if you don't know how your readers are interacting with your website or blog, you will lose to your competitors.
Also, Google never likes websites that frequently go offline. This can hamper the overall search rankings!
Big businesses have all the resources they need to invest in powerful monitoring tools like AlertSite, SolarWinds, AppDynamics, etc.
You don't need to do that. If you are starting out, I will recommend using Jetpack, Uptime Robot, or Freshping. If your website or blog has some visibility, and you are earning a sustainable amount from it, I will always recommend sparing some money for a premium website monitoring tool like Uptime Robot or Freshping.