What is Microsoft OneDrive?
The Microsoft OneDrive is a cloud storage service that comes with seamless integration with Microsoft Windows and Microsoft 365 (previously Office 365).
Technically, it is Microsoft's answer to Google's Google Drive and Apple's iCloud. Technically, OneDrive came first while Apple and Google followed. However, it is needless to say that the wide acceptance of Google's services made Google Drive shoot up in popularity.
As it goes with all other cloud file storage services in this world, OneDrive allows seamless syncing across devices. It comes with a very polished interface for both mobile and desktop versions.
Its deep integration with Microsoft 365 and Windows makes cloud storage with OneDrive a smooth experience.
Cloud storage has gained traction in recent years. It allows seamless access to documents and files across devices. There are some key players in the market, including names like Google Drive, iCloud, Box, Dropbox, etc.
Microsoft's OneDrive is yet another popular name that offers similar services, but with an added advantage of a close-knit environment of Microsoft's product ecosystem.
OneDrive is feature-rich, reliable, and at the same time, boasts a slick interface. Some of the key features of OneDrive include:
Real-time collaborative editing.
Photo AI tagging.
Powerful search.
Access to online office apps.
Integrated file sharing.
Powerful web as well as mobile interfaces.
A powerful vault feature to store documents with sensitive data.
Supported Platforms
One important thing that you should look into while selecting any cloud file storage service is its cross-platform support. It should support the major desktop and mobile operating systems.
Since OneDrive is from Microsoft, it will provide support for Windows desktop. However, OneDrive is also compatible with macOS, iOS, and Android.
Apart from this, if you have recently switched to a Linux desktop, you can still access OneDrive, because it is a web-based solution.
How to Get OneDrive?
You are free to use OneDrive. However, do remember that a free-tier plan has limitations in terms of storage space.
If you want to get OneDrive, you will need a Microsoft account. Creating one is very easy. If you had ever created a Hotmail account, an Outlook.com account, a Live account, or an Office 365 account, you already have OneDrive access.
All you need to do is to search for OneDrive on Google or Bing search engine and log into your existing Microsoft account. That's simple!
However, it is not necessary that you have to have a Microsoft account to get access to OneDrive. You can use any other email provider as well for signing up with this cloud storage service.
OneDrive Versus Other Providers in Terms of Storage Space
Almost every cloud storage service in the market offer free storage. Some offer more, some offer less. So, where does OneDrive stand in this segment? Here is a comparison of the six most popular cloud storage services:
| | |
| --- | --- |
| Service | Storage |
| Google Drive | 15 GB |
| pCloud | 10 GB |
| Box | 10 GB |
| OneDrive | 5 GB |
| Dropbox | 2 GB |
| iCloud | 1 GB or 5 GB (only if you purchased an Apple device) |
What Can You Store on OneDrive?
OneDrive will allow you to store different types of data, including documents, music, video, photos, and even settings.
The different ways you can use OneDrive is syncing files and folders, playing, viewing, and simple storage.
OneDrive is rich in functionality. If you want quick access to your media files and documents, you can use the web interface to quickly access them from anywhere.
The folder syncing function allows you to replicate the same set of files on different PCs.
If you are using Windows 10 (most-likely you are), OneDrive can back up your device settings as well, which include browser favorites, wallpapers, lock-screen, etc.
It will allow you to sync office documents with ease, and it will also enable coauthoring in those documents.
Pricing Plans of OneDrive
In case you are wondering how much you need to pay to get a premium subscription for OneDrive, so that you can unlock all it features, here is a quick look at the different pricing plans of OneDrive:
| | | |
| --- | --- | --- |
| Plan | Storage | Price |
| OneDrive Basic (Free Tier Plan) | 5 GB | Free. |
| OneDrive Only* | 100 GB | $1.99 per month. |
| Microsoft 365 Personal** | 1 TB or 1000 GB | $6.99 per month for a monthly plan, or $5.83 per month for a yearly plan billed at $69.99 per year. |
| Microsoft 365 Family** | 6 TB (1TB per member) | $9.99 per month for a monthly plan, or $8.33 per month for a yearly plan billed at $99.99 per year. |
| OneDrive for Business Plan 1* | 1 TB per user | $5.00 per month per user for a yearly plan billed at $60 per year. |
| OneDrive for Business Plan 2* | Unlimited | $10 per month per user for a yearly plan billed at $120 per year. |
| Microsoft 365 Business Standard** | 1 TB per user | $15.00 per month per user for a monthly plan, or $12.50 per month per user for a yearly plan billed at $150 per year. |
* Refers to only OneDrive storage access without any integration with Office tools.
** Has deep integration with Office tools and allows downloading Office tools.
Summary of Features of OneDrive
| | | |
| --- | --- | --- |
| Features Category | Individual Features | Availability |
| Syncing | Folder Sync | Yes |
| | Selective Sync | Yes |
| | Block-Level Sync | Yes |
| | Any Folder Sync | No |
| | Bandwidth Management | Yes |
| File Sharing | File Link Sharing | Yes |
| | Link Expiry Date | Yes |
| | Link Password | Yes |
| | Folder Sharing | Yes |
| | Folder Permission | Yes |
| | Upload Links | No |
| | Link Download Limits | No |
| Productivity | File Preview | Yes |
| | File Editing | Yes |
| | Office Online | Yes |
| | In-App Collaboration | Yes |
| | Notes App | Yes |
| | Google Docs Access | No |
| | Mobile Apps | Yes |
| | Media Playbacks | Yes |
| | Versioning | Yes |
| | Deleted File Retention | Yes |
| | WebDAV | No |
| Security | Two-Factor Authentication | Yes |
| | In-Transit Encryption | Yes |
| | At-Rest Encryption | Yes |
| | Encryption Protocol | Yes (AES 256-bit) |
| | Zero-Knowledge | No |
| | Server Location | In the United States |
| Support | Knowledgebase | Yes |
| | User Forum | Yes |
| | Email Support | Yes |
| | Telephone Support | No |
| | Live Chat Support | No |
| | 24/7 Support | No |
| Free Plan | 5 GB Storage | Available |
So, what do these feature categories mean? Let us take a look at all of them one by one.
Syncing File & Folders
No matter which cloud storage service you select, the first most important thing that you should be looking at is the ability to sync and share files. Microsoft does a darn good job with this one.
By default, OneDrive will sync all files present in the following folders:
Because of the close integration of OneDrive with Windows, you can find a separate folder named 'OneDrive' in your file manager. If you want to save any file (that is not present within the Desktop, Documents, and Pictures folders) into that folder, you can do that individually. Doing so will sync those files into the cloud storage.
You can even directly create a file or folder into the OneDrive folder by right-clicking your mouse and selecting New >> Folder (or document).
Just in case you want an existing file that is outside of any location that OneDrive automatically selects, to sync with OneDrive's online store, you can right-click on the file and select 'Move to OneDrive.' This will move the file into the OneDrive folder.
If you want to move an entire folder into OneDrive from some other location on your computer that is not selected by OneDrive by default, you will not have the 'Move to OneDrive' option. You have to cut the folder and paste it into the OneDrive folder.
Block-Level Syncing
Microsoft's OneDrive offers block-level syncing for faster file sync and near real-time collaborative editing.
What on earth is that?
I mean that when you are uploading a file to OneDrive cloud storage, it will break each file into small blocks. Each block is hashed using SHA-256 encryption. The list of all the hashes created from a single file is then stored in a list known as blocklist.
This blocklist becomes the reference. The blocklist is stored in a server which is not the same as the one where your files are stored.
Now, when you edit a document on your desktop and then try to upload or sync it to the OneDrive folder, the OneDrive client will check it against the hash blocklist.
It will upload only the portions that have been changed or added, eliminating the need for uploading and syncing the entire file. This not only increases the speed of upload but also aids in near real-time collaborative editing.
But there is a problem with OneDrive's block-level syncing. It is available only for Microsoft's Office files (like .docx, .xlsx, etc.).
Because it doesn't support any other type of file, the effectiveness of the feature is limited, especially when you are working with other types of files. This is where Dropbox beats OneDrive comfortably.
Sharing Options with OneDrive
Sharing both files and folders from the OneDrive folder is easy. All you have to do is to right-click on a file or a folder and click on the Share option.
This is how it looks like for folder sharing in the OneDrive folder:
This is how the file-sharing option in the OneDrive folder looks like:
Once you click on the Share option, this is the popup window that opens: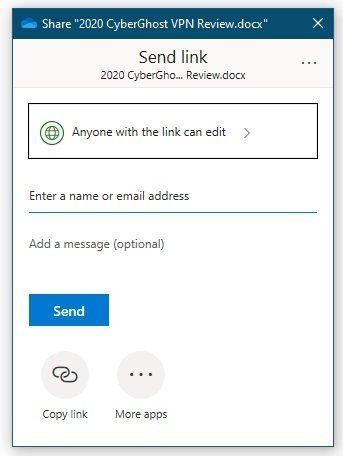 You need to enter the email ID of the person you want to share the file or folder with, provide a message (not necessary) and click on the send option.
If you click on the "Anyone with link can edit" option, you will see this:
You can set an expiration date for the sharing link, or you can set a password or both.
However, these options are available only and only when you are buying a premium plan.
You will also have the option of making the file a 'read-only' file by unchecking the 'Allow editing' box. This means that the person receiving the link can only read the file. He or she cannot modify any content present in the file.
Personal Vault
There is something called Personal Vault in OneDrive. Microsoft introduced it in late 2019. It provides an additional layer of security for those files that have sensitive information in them.
You can find it in the OneDrive folder on your hard drive and even in the web interface.
Here is how it looks like:
Once you set it up and store some files in the vault, the only way you can access them is by opening the vault using 2-factor authentication.
If you leave the vault open and idle for 20 minutes, it will lock automatically. That's the minimum time that is allowed. You can increase the idle lockout time to one hour or more.
To do that, click on the system tray icon of OneDrive and click on the Help & Setting icon to pull out the menu.
In the menu, click on Settings to pull out a popup window. In the popup window, click on the Account tab, and you can set the time there.
The unique feature of the vault is that you cannot share any file you keep in it. Sharing is automatically disabled to keep the files private and secure.
The files that you store in the vault do not get encrypted. They are protected only using an extra security layer.
Security of OneDrive
Microsoft did a pretty good job in the overall functionality. However, there are some concerns that you should be fully aware of. I am going to cover them here in this segment.
OneDrive supports both in-transit encryption and at-rest encryption to keep your data protected.
For in-transit encryption, OneDrive comes TLS along with AES 256-bit encryption to ensure that the data doesn't fall into the wrong hands while moving in and out of OneDrive servers located in the US.
For at-rest encryption, Microsoft uses its own BitLocker encryption for securing your files. It adds an AES 256-bit encryption layer to ensure that the data is safe even when it sits on OneDrive servers.
What's problematic is that OneDrive doesn't support zero-knowledge encryption. In a nutshell, zero-knowledge encryption means that the service provider will have absolutely no control over the encryption of your data.
This means that you will control the encryption keys. No one can access it – not the service provider, not a hacker, not even a nosy agent from the government of the country where the storage servers are present.
Because Microsoft is a US-based country, the absence of zero-knowledge encryption is a red flag. You know about the Freedom Act, don't you? It gives the government authorities the right to access your data if they want to.
The problem with Microsoft is that it has been, in the past, blamed for working with US security agencies. If this lack of zero-knowledge encryption is a deal-breaker for you, you can always go for the Boxcryptor service.
Other Features of OneDrive
If you are wondering whether OneDrive has to offer something more, something streamlined or not, here is a quick list:
Understanding Which Files Are Locally Saved and Which Are Not
The OneDrive desktop client interface shows you the status of all your files and folders. A quick look at them can tell you whether they are locally stored or synced to the cloud.
Take a look at the image below:
If you notice carefully, you will see some icons here.
The small tick or checkmark in a circle tells you that the file is locally stored. Any file that you keep in your Personal vault will have that icon.
The small cloud icon that you see will tell you that the files are already synced to the cloud storage.
The small circular-arrows icon will tell you that the file or the folder is waiting for upload.
This circular-arrows icon appears for many reasons. You may not have an active internet connection, or you may be currently editing a file.
Live Status of File Update on the Cloud
If you are working on a file or a folder, and you are unsure whether it is being updated on OneDrive cloud storage, you can quickly check that by clicking on the OneDrive icon on the system tray. You will see this:
Also, notice the small circular-arrows icon on the OneDrive icon you see on your system tray.
The Web Interface
The web interface of OneDrive is quite refined. It has may online services of Microsoft stitched within it.
The interface is clean and soothing. Take a look:
When you log into the web interface, you will see the same files and folders that you see in your OneDrive folder on your desktop.
Selecting any one file or folder will then give you several options that show up on the top.
Check this out:
Also, on the left side, you can see a menu that will allow you to browse through your recent files or photos or the ones that you have shared with others. You can even go through Recycle Bin to see the files you deleted. You can restore them.
You can upload files and folders directly from inside the web interface. This is how it looks like:
You can also create a new office document by launching a new online Word or other online office apps. This is how it will look like:
Clicking on the top switcher menu on the top left corner will give you access to all online Office tools in one place. Clicking any option will take you to the online interface of the tool.
Here is how it looks:
From the cog icon on the top right corner, you can access the options and various settings for your OneDrive account.
Here is what it looks like:
Overall, the web interface is very clean and intuitive. There is very little scope of you getting confused while working on the interface.
Automatically Save Camera Roll
What will happen if you connect your camera, phone, or other devices to your PC? You can make OneDrive save the photos and videos automatically.
For this, you need to turn on the option. How? It is simple! You need to click on the OneDrive icon on your system tray and click on Help & Settings icon. From there, click on Settings to pull up the popup window for settings.
In the popup window, you will find the option under the Backup tab. This is what it looks like:
You can also save the screenshot to your OneDrive. That's a cool feature, and it works great for me when I need to take a screenshot of any funny meme that I cannot easily save.
You can also start taking backup from your computer. By default, OneDrive will allow you to back up only the Documents, Desktop, and Pictures folder.
To enable automatic backup, all you have to do is to click on the Manage Backup button you see on the image above. A new window will appear where you can select which folders to back up.
Here is what you will see:
OneDrive Mobile App Interface
The mobile app of OneDrive is available for the following:
iOS devices (tablets and phones).
Android devices (tablets and phones).
Apple Watch Series 3.
Android Wear.
If you want to use OneDrive on smartwatches, all that you can do is swipe through the recent photos. That's all. Not a big thing, but often quite relieving when you are outside your home and feel like browsing through some memories captured as photos.
Coming to the mobile interfaces, it is quite neat and gives you access to all the folders and files that you see on your desktop's OneDrive folder or on the web interface. Here is how it looks like:
The mobile app, too, has all the menu items that you see on the web interface. The menu is placed horizontally at the bottom of the screen.
The photos tab on the menu will give you a nice grid view of all your photos and videos.
Here is how it looks like:
You can turn on the camera upload to ensure that every image you click using your phone's camera is uploaded and saved in OneDrive cloud storage.
You can access the settings menu from the Me tab at the bottom. Once you tap on it, you will get a host of options and the settings tabs. Tapping on the settings tab will give you access to all settings options. This is how it looks:
Setting tab:
You can also create Word, Excel, or PowerPoint document from the mobile app. It will even allow you to scan something or create a photo, or upload a file.
To do that, you need to click on the small + icon you see on the top of the app. The app also has a search option that allows you to search for your OneDrive folders and documents.
This is how it looks like:
Overall, the mobile interface offers a seamless experience to those who have used the web interface. There is a great deal of consistency in design.
I agree I have not worked with the iOS app, but I guess it will be just as polished as its Android counterpart.
Privacy of OneDrive
With the Personal Vault feature in place, Microsoft does quite some talking when it comes to privacy. The problem is, Microsoft will never tell you that they are bound by the CLOUD Act, which makes any US company (including Microsoft) bow down to the law enforcement bodies.
Yes, US firms are legally bound to engage with the government if needed, and the CLOUD Act ensures that they oblige.
So, no matter what features Microsoft shows to woo you, don't forget that if the US government asks for your data, Microsoft will not think twice before handing it over to the government.
So, the Personal Vault isn't really a great feature that you should be feeling happy about.
Also, don't forget that even if you try to delete your OneDrive account and all the data you store there, Microsoft will retain some of it depending on how much data you save.
If you are concerned about your privacy, you can contact Microsoft directly, but that isn't going to make a big difference.
Yes, Microsoft does allow you to selectively opt-out of some privacy tracking features they have, and you can stop seeing personalized ads, but as I said, that's not going to help you much.
One sure-shot way of keeping your privacy intact is to opt for cloud storage companies that are located outside the jurisdiction of 5 Eyes, 9 Eyes, or 14 Eye intelligence-sharing countries. I talked about this extensively in my article on VPN. Feel free to read it.
Customer Service of OneDrive
This is where Microsoft has a lot of room to improve. Well, they do have a knowledge base where you can find answers to many questions. You can also head over to their community forums. However, that should be reserved only for basic or free-tier users.
For premium users, I believe that should have a phone or at least live chat support. The lack of these two options for at least premium users is something that I cannot digest well.
Yes, there is email support for everyone, but that doesn't really make up for the lack of quick options for telephone support and chat support.
Can't See OneDrive Folder in Windows File Browser?
It is a possibility! It is possible that you may not see the OneDrive folder in the File Browser. That happens because the OneDrive services are not enabled in your Windows settings.
You can enable it by running gpedit.msc.
To do that, press the Windows Key and the R key on your keyboard and type in gpedit.msc and hit enter.
This is what you will see:
Once you hit enter or click on the OK button, this window will show up:
On the left navigation panel, navigate to Computer Configuration > Administrative Templates > Windows Components > OneDrive.
Once you click on OneDrive, you will see this:
On the right-hand side of the window, you need to enable or disable the services. Double-clicking on each option will open a new window where you can select from enabled or disabled options.
Use the settings as you can see from the image below:
Once you have configured it, close the windows. You should now be able to see the OneDrive folder in your File Browser.
If you still don't see it, go ahead and download the OneDrive setup file directly from Microsoft website. Type in 'Download OneDrive for Windows' in your Google or Bing search bar and hit enter. Click on the first link you see. This is what you will see:
Click on the download button and wait for the download to complete. Once done, double-click on the downloaded file, and it will install quickly. Now, enjoy it!
Verdict – Should You Use OneDrive?
Why not? If you are working with simple files, images, etc. that has nothing of great importance in them, you can always use OneDrive. Even I use it despite being concerned about privacy.
Well, my way out is to ensure that I do not store any personal data or data of high value in OneDrive.
Anything like that, I keep them stored in separate SSD storage units secured with biometric authentication. Yes, those storage units cost a lot, but they offer me peace of mind. I keep them off the network and multiple copies of them.
The chances of all the external storage units breaking down at once are nil. Not only that, but the SSD also drives that I use have AES 256-bit hardware encryption.
And when it comes to protecting my privacy online, I use a VPN. What you want to do is up to you. Overall, OneDrive is a great solution if you want to keep your everyday files, videos, and images secure. Its streamlined interface and cross-compatibility with different operating systems make it a good cloud storage option.
It does have shortcomings. If you want cloud storage that will allow block-level syncing for all file types, using Dropbox will be more meaningful. But yes, for average Joes like you and me, OneDrive is quite good!