What is MEGA.nz?
MEGA.nz is a cloud storage service just like Google Drive, Microsoft OneDrive, UpCloud, Sync, and many more. The company is known for providing rock-solid security features. However, there are several controversies that surround this cloud storage service.
Like every other cloud storage service, MEGA also provides free storage. Unfortunately, the free-tier program is more of a bait-and-switch approach that I wish was absent. Controversies and the free tier bluff aside, MEGA is often looked upon as one of the most secured cloud storage services to exist today.
MEGA.nz is a great cloud storage service that offers end-to-end encryption. This security-focused company offers a free tier plan in which you don't have to spend a dime. Despite its greatness as a secured cloud storage service, its zero-knowledge encryption makes collaboration extremely difficult.
In this MEGA review, I will tell you everything about this service, be it the controversies or the good and the bad! So, stay tuned and read until the end!
So, let's begin…
MEGA Introduction and the China Link
MEGA was founded in the year 2013 on the shoulders of the dead Megaupload that was quite infamous. It was taken down in Hong Kong, and all its services ceased to exist in 2012. MEGA came to life the very next year.
There is a relationship between MEGA and Megaupload. Both were founded by Kim Dotcom. After the takedown of Megaupload, Kim incorporated MEGA in New Zealand. It was an instant hit and acquired 100,000 users within 60 minutes of its launch.
Kim Dotcom is no longer associated with MEGA, but he did not shy away from leveling some serious charges against the service.
What charges you ask?
Well, Kim stepped down as the director of MEGA in September 2013 (the company was founded earlier that year). By 2015, Kim had severed all ties with MEGA and started claiming that the Government of China, the Government of New Zealand, Hollywood executives, and even Chinese fraudsters have taken over the company.
MEGA denied and refuted every charge leveled against it by Kim Dotcom. Unfortunately, Kim wasn't totally wrong. A Chinaman named William Yan indeed had an 18.8% stake in the company, and he was indeed a fraudster. New Zealand government seized all his shares under money laundering charges.
After Yan's stakes are taken over by the Kiwi authorities, they were transferred to law firm of New Zealand. The law firm represented another Chinese known as Zhao Wu Shen. Shen, however, sold everything after Yan's incident and transferred MEGA shares to yet another Chinese from Beijing named Li Zhi Min.
Li Zhi Min today holds 43% of MEGA's shares!
So, that's problematic. 43% of the company is today held by a person who is directly under the rule of the evil Communist Party of China. The CCP isn't famous for respecting privacy. We are all aware of that, aren't we?
Now, the concern about privacy is addressed by the zero-knowledge encryption feature. Still, there are people who are not really comfortable with their data being stored on servers of a company, 43% of which is under Chinese control.
If you are aware of how zero-knowledge encryption works, the Chinese control shouldn't bother you because no one can get access your data without decrypting the files, and that's impossible because you hold the decryption key.
50 GB MEGA Free Storage – The Fool's Game
MEGA will offer you 50 GB of free storage. That's a lucrative bait to get people on board. Unfortunately, if you are not aware of the conditions, selecting MEGA solely on the basis of 50 GB free storage will reduce the whole thing to a fool's game.
You need to know something about MEGA's 50 GB storage bait. The 50 GB of storage is broken down into 15 GB and 35 GB. The 35 GB part will expire in 30 days, and your storage will be reduced to 15 gigs, which is permanent.
If you want more storage for free, you need to install MEGASync – the desktop app of MEGA. It will earn you 20 gigs of storage and 40 gigs of transfer as a bonus. This bonus will last for only 180 days.
If you install the mobile app as well, you will earn yourself another 15 gigs of storage with 30 gigs of transfer quota as a bonus. The bonus will expire in? You guessed it! 180 days!
If you want more of those bonuses, you can invite friends to join MEGA. For every confirmed referral, you will earn 10 GB storage and a 20 GB transfer bonus that will last for 365 days or a whole year!
The bottom line is that apart from 15GB of storage, nothing else is permanent. You will eventually lose all the additional storage. This bait-and-switch policy of MEGA is something I don't like. If you are to offer 15 GB permanent free storage, then just say that! I don't see why they have to advertise something that is not permanent and make it a USP!
Pros and Cons of MEGA
Like every cloud storage provider, MEGA has its strengths and weaknesses. Here is a list of what I think are the pros and cons of MEGA:
The Pros
Offers Zero-Knowledge Encryption.
Offers Encrypted Sharing Links.
Allows Previews for Media Files and Documents.
Clean Interface with Intuitive Design.
Offers Secure Communication with MEGAchat.
The Cons
43% of the Company Controlled by a Chinese.
Doesn't Offer Live Chat Support.
Lost Password Means Lost Access to the Account.
Bad for Collaboration.
Free Plan Has Awful Conditions.
Pricing Structure of MEGA
Okay, MEGA has a free plan, and they offer a generous amount of storage space to everyone. But the story doesn't end there. They have different types of plans with different pricing structures.
If you want more storage space than what MEGA offers in the free version, here is a list of different plans and their prices:
| | | | |
| --- | --- | --- | --- |
| Plan name | Price | Storage | Transfer |
| PRO LITE | 4.99 Euros per month | 400 GB | 1 TB |
| PRO I | 9.99 Euros per month | 2 TB | 2 TB |
| PRO II | 19.99 Euros per month | 8 TB | 8 TB |
| PRO III | 29.99 Euros per month | 16 TB | 16 TB |
| BUSINESS | 10 Euros per user per month | Scalable | Unlimited |
There is a transfer cap to all plans, and that's sad! This means that you have to be very careful about how many times you upload or download files.
Features of MEGA
MEGA has some interesting features. It prides itself as very secure file storage and sharing service. Here are the key features of MEGA:
Multi-Layered Protection
MEGA offers multiple layers of protection. The first notable feature is that of the zero-knowledge encryption. Everything you upload to MEGA is encrypted, and the only person who can decrypt that data is you.
Yet another protection you find is that of an encryption key for each link you share. Yes! There is a separate encryption key for each sharing link. You can send the encryption key separately to the person with whom you are sharing a link.
If you are on a paid plan, you can set an expiration date and password for each link you share. If you are using MEGA's free plan, you will not be allowed to set an expiration date or password. That, however, doesn't really matter because the encryption key will work as a password.
If you are not aware of zero-knowledge encryption, it simply means that all the data that you upload to MEGA will be encrypted from your end. You will be the only person holding the key to decryption. MEGA cannot decrypt it, and neither can any malicious person in between posing as MEGA (man-in-the-middle attack).
MEGA uses 128-bit AES encryption, which is rock-solid. Yes, 256-bit AES encryption way better, but even the 128-bit encryption cannot be broken even by a supercomputer in a million years. Any hacker who attempts to decrypt the data without the encryption key will fail simply because he or she will not have the type of computing resources required for achieving the feat.
Apart from the AES encryption, MEGA also uses TLS protocol to transfer data from your computer or device to MEGA servers. TLS further encrypts the already encrypted data. So, you can rest assured that your data is secure even during transit (both when you upload and when you download).
MEGA throws in an additional layer of security in the form of two-factor authentication for login. So, if someone wants to get into your MEGA account, he or she will need the secret code that only you can access because of the two-factor authentication.
Thus, MEGA has ensured that your data remains safe, even if 43% of the company's stakes are under the Chinese control. Xi Jinping cannot see your cute cat's derpy faces even if he wanted to see without your permission.
Sharing Features
If you want to share files, you can do so. If you want to share a folder, you are allowed to do that as well. Even better, MEGA will provide you an individual encryption key for each sharing link. You are allowed to share a folder with anyone who has a MEGA account. You can set folder permissions to selectively allow people to upload files to that folder or alter the existing files.
Productivity and Collaboration
Not really as effective as the features of Google Drive or Microsoft OneDrive or Dropbox, the productivity features offered by MEGA are kind of OKAY!
The company has a few things to offer. For instance, they have something called MEGAbird – an extension of Mozilla Thunderbird email client. Using this extension, you can send large files over an email. The best part of this is that the person receiving the mail doesn't need to have a MEGA account to access the file.
MEGA also offers something called MEGAchat. It is an encrypted chat protocol that will allow easy collaboration. However, you need to understand that the metadata will not be encrypted. The example of metadata, in this case, will be the email address of your contact. You can avail of the chat feature from both the web interface and the mobile app.
If you are looking for the ability to edit documents, that's not really possible. MEGA doesn't have that feature. MEGA will not allow integration with third-party services like Google Docs. The lack of such ability comes from the fact that MEGA focuses on security and privacy that doesn't really allow room for such integrations.
Versioning
Versioning is an important feature that almost all cloud storage companies provide. MEGA is no different in this case. MEGA has turned on the versioning feature as a default. It will save the previous version of your file so that you can restore them if you accidentally change or edit a file. To identify the previous versions of your files, you need to look for those files that have a little clock icon next to them.
MEGAcmd
MEGA has a feature called the MEGAcmd. It allows you to access the MEGA account using a command-line interface. However, to use this feature, you need to be a nerd. If you are a nerd and you know your way around the command-line interface, you can set up automatic and scheduled uploads and backups using MEGAcmd and WebDAV integration of MEGA.
File Management System
MEGA has a very neat file management system in place. You can find separate tabs for incoming shares and outgoing shares, recent and deleted files, storage management (to see the overall usage statistics of your storage).
Previews
You must be aware of the file preview feature of your Windows OS. You can preview a file on the Windows file manager. When you enable that feature, you can see all files on the left side of the window and a preview of the selected file on the right side of the window.
MEGA has a similar feature. It will allow you to preview all your files, including documents, video files, and audio files. This is a nifty feature that eliminates the need for downloading a file to know exactly what's inside that file.
MEGA Ease of Use
Using Mega is fairly easy. To start, you will need to signup, where you will be clearly informed that once you lose your password, you can no longer access your data. The signup form is simple. You need to provide your name, email ID, and create a password.
Here is what it looks like:
Once you sign up, you will need to verify your email account. You will receive an email for that. Once you click on the verification link, you will have to verify your account by providing the password that you have set during the registration process.
Once the signing up process is done, you will be asked to choose a pro plan. You can skip that and continue with the free plan. Once you skip it, you will be asked to download the desktop app.
You can either download the app, or you can skip the step. I will suggest that you download the app for easy usage. You can also get the bonus storage for doing so.
Whatever you choose, you will then see the recovery key. You need to make a note of it. If you lose your password, the only way you can get the account back is by using the recovery key. So, it is better that you go the old-fashioned way and write it down in some diary or notebook.
You can also download the recovery key. It will be in .txt format.
Once you download the key or skip the step, you will see the interface where you can upload files or folders. This is what you will see:
You can also see the account usage stats by click on the first icon of the left menu (the vertical black bar with icons on it). This is how the statistics tab looks like: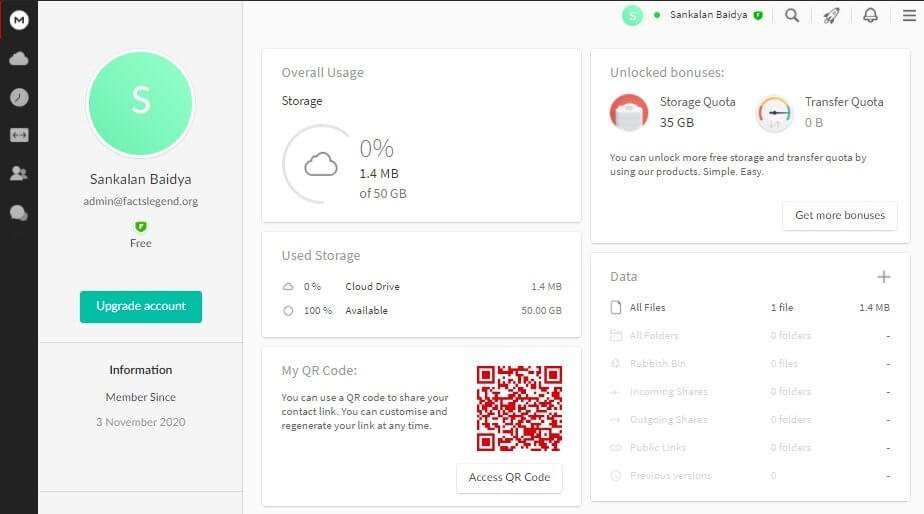 If you want to share a file with someone, you will need to get the sharing link. For that, you need to hover your mouse over the file or folder you want to share and click on the ellipses menu icon to open the menu. In the menu, you can see the option called Get Link.
Once you click on it, you will get the option of sharing the link with the person you want. You can also get the encryption key.
You can add contacts to your account by clicking on the "users icon" on the left and then adding the email id of the person you want to add as contact.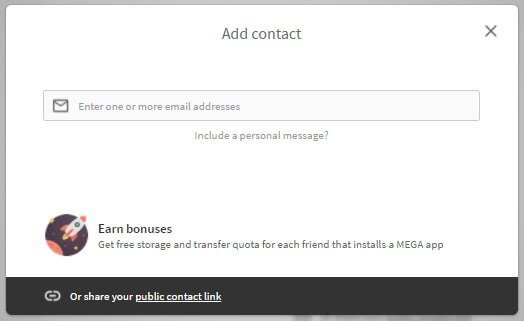 By clicking on the chat icon, you can create an encrypted chat group and create a chat link. People with that link can join your chat. However, the person will need a MEGA account to do so.
The chat system is pretty advanced, and it allows audio calls, video calls, and even file sharing.
Overall, the experience with MEGA's web interface is pretty good. The whole interface is neatly designed and organized, making navigation an easy task.
Unfortunately, I couldn't download the desktop application of MEGA. It consistently gave me network failure. Here is what I saw:
That was pretty disappointing! For once, it occurred to me that it was possibly caused by my Internet connection. I tested it to find that there were no issues with my connection. As a matter of fact, I was engaged in torrenting at the moment of this writing, and everything was working just fine.
Maybe the problem was caused by MEGA's end. I am not sure about that either! So, had to stop testing MEGA.
However, I am pretty sure that the desktop app of MEGA works in the same way as those from other providers like Sync.com or similar providers.
You should be able to upload files or get sharing links directly from your desktop. Since I couldn't use MEGA's desktop app, I cannot vouch for its ease of use.
Problems with MEGA
MEGA has some issues. Well, unable to download the desktop app when the Internet is working just fine can be counted as one of those problems. However, since I am not sure about what was causing the problem, I will not put it as a separate point.
Unfortunately, there are a few other issues, and they are:
Overlapping Features
MEGA has introduced many features, but some of them are overlapping features. For instance, if you want to delete a file, you can do so either by using the Remove option or using the Rubbish Bin option through the Move feature. Here is what I mean:
Such overlapping features can be extremely confusing for people.
Problem with Folders
MEGA will not allow you to create an upload link for folders. It will instead allow you to convert a folder into a MEGAdrop folder. Anyone with a link to the MEGAdrop folder can upload files to it.
Now, if you want to share download links for MEGAdrop folders, you cannot do so. You have to first convert them into regular folders and then share a download link. That's ridiculous.
This issue could have been solved by allowing the users to create upload links for the normal folders! That's it. How difficult could it be?
Variants of Desktop App
Another big issue is that you can get the desktop app of MEGA by either downloading it from MEGA website or you can get it from the Windows store. Why do you need to provide the same thing in two different places?
While some may argue that it boils down to the matter of preferences, it is not particularly good for older people or non-techy people who can easily get confused. People get the option of downloading the desktop app during the registration process. There was absolutely no need to put that app in the Windows app store.
Customer Care
Two words – IT SUCKS!
Yes, MEGA has a great knowledge base collection with neatly arranged categories and a multitude of articles that can help you resolve an issue. However, there are times when you don't get the answer in those knowledge base articles. That's when you resort to customer support.
Sometimes, you are just too lazy to go through the help articles and decide to contact the support.
The problem with MEGA is that they do not have chat support. The only option is email support. They have a response time of up to 24 hours for email queries. This means that you may have to wait for hours before someone can respond.
That's not an ideal thing! Sometimes, you may need immediate help. So, customer care is somewhat troubling, and MEGA should proactively fix this problem if they want to catch up with providers like Dropbox.
Dropbox has 500+ million users; MEGA has only 150 million users. Of course, numbers speak for themselves!
Do I Recommend?
MEGA is a great cloud storage provider considering that it is highly focused on privacy and security. If that is what you want, yes, MEGA is a great choice, and you should go for it.
If you are concerned about the Chinese stake in the company, that is definitely your personal choice. I, for instance, never like to use things made in China or use a company's services where China has some stake. This includes anything and everything, including banking.
Of course, it is very difficult to find products and services that do not have Chinese involvement, but I try as hard as I can. I will never knowingly step into something where China is involved.
But that's my personal choice. My preference shouldn't influence your choice or decision. That's absolutely ridiculous.
I will have to admit that security-wise, MEGA is top-notch. There are very few providers that can match MEGA in this field. But if transfer limits and poor customer support bother you, you might be better off with some other provider.