Magento is a gargantuan name when it comes to eCommerce platforms. This open-source platform makes up 1.4% of the market share of all websites using a content management system. In sheer numbers, that is around 250,000 merchants globally that use Magento for operating their online stores. That makes up 12% of all online stores that exist in this world.
But does that mean Magento is right for you?
Might not be!
In fact, there are people who are moving out of Magento. Despite its powerful and openness to customization, Magento has many problems, and often, the very cost of owning a Magento-powered store can be overwhelmingly high because of factors like development, design, security, hosting, maintenance, and so on.
Whatever is driving you to look for Magento alternatives of 2022, you are at the right place. This blurb will give you all that you must know at this stage before you set out to build a new eCommerce store or migrate the existing Magento-powered store to a different platform.
But before we start with the best Magento alternatives of 2022, let us quickly go through a couple of questions. Learning the answers will help you.
Question 1: What is Magento?
Magento is an eCommerce platform. At its core lies an open-source technology. Because of this, once you download Magento, you are free to alter its code to customize it as per your needs. If you do not have the necessary coding knowledge, you can always hire a Magento developer to do so.
Yes, Magento is powerful, but unfortunately, it is also a very complicated platform. Thus, Magento makes sense only for those companies that have teams of skilled Magento developers who can handle every aspect of running a Magento-powered store. This includes everything from design and development to security and maintenance.
Honestly, the platform is not for businesses running on shoestring budget. To unlock the full potential of Magento, you must have an appropriate budget.
Magento is available in three flavors. They are:
Magento Open Source: Previously it was known as Community Edition. Anyone on this planet can download it and build a Magento-powered eCommerce site. However, once you download and use it, you will be responsible for everything from hosting to development, and even finding support. Of course, you can look for support in forums, but that is not really a great option.
Magento Commerce: This is an on-premises solution which is targeted towards enterprises that can afford a steep monthly cost. This flavor of Magento comes with support and additional features.
Magento Commerce Cloud: This is the same as Magento Commerce with only difference being that Magento is hosted on the cloud, thereby eliminating the requirement for self-hosting. Yes, Magento Commerce Cloud is hosted on the cloud, but still, it is not a SaaS (Software as a Service).
Question 2: What are the possible reasons for seeking Magento alternatives?
There can be several reasons to look for Magento alternatives. Maybe, it is too expensive to deal with, or perhaps, it is too complicated for your taste. Whatever the reason be, there are several Magento alternatives available. But before we jump into the list of alternatives available, let us quickly go through the reasons why one could possibly look for Magento alternatives.
Reason 1: High Cost
Magento is often associated with large expenditures. Naturally, the cost of your Magento license is dependent on your chosen product. While downloading Magento Open Source from Magento's website does not involve cost, this does not cover your entire cost of ownership.
You will be responsible for all development and design expenses associated with getting your online store up and operating, as well as ongoing costs associated with eCommerce security, hosting, design, and development.
Magento Commerce costs between $22K and $125K based on how complex and big your business is. Magento Commerce Cloud is much costlier, with some estimating it to be between $40K and $125K.
Many companies do not have this sort of yearly budget for maintaining an eCommerce store, and the need the funds for prioritizing other important aspects of their business operations.
Reason 2: Lacks Speed
Magento's biggest strength — the ability to build any kind of website — also results in one of its major drawbacks. The large variety of plugins and extensions available for the Magento system may potentially cause your system to slow down in comparison to competing systems.
Due to the system's intricacy, optimizing the site for performance for speed may also be a time-consuming job for developers.
Reason 3: High Development Time
Magento's flexibility to extensive customization is one of its strongest selling features. However, to make complicated modifications while maintaining appropriate connections and data flow, you'll need a strong team of Magento developers on hand that understand Magento's sophisticated architecture.
This is essential not only during the initial setup of your site, which may take 6 weeks to 12 months, but also throughout the ongoing monitoring and updating of online store. You'll need skilled developers to maintain, fix, and discover essential plugins your store will require. Their time is equivalent to your money.
Reason 4: Difficult Maintenance
Magento contains hundreds of variables that you must monitor; if you ignore them, your site may slow down, or crash, or may even just stop working entirely. As a result of all of these variables, you are likely to face a variety of software problems and malfunctions.
Magento and its community of talented developers are excellent at generating patches to address these problems; nevertheless, your developers will still require time for keeping track of those fixes and implementing them.
Of course, you cannot ignore security updates, since failing to do so exposes your site to needless danger. That is time your developers are not investing on higher-value, creative ventures.
Reason 5: Forced Migration
For others, the decision to migrate away from an existing Magento platform is not entirely their own. For instance, Magento ceased support for its Magento 1 back in June 2020.
By ceasing to deliver essential patches and upgrades, Magento has exposed shops currently running on Magento 1 to the danger of losing payment providers, PCI compliance, and access to the developer tools and extensions necessary to maintain a functional site.
Magento is urging businesses that are still using the defunct and insecure Magento 1 platform to migrate to Magento 2.
However, owing to the remarkable differences between Magento 1 and Magento 2, migration will be time consuming. If this describes you, and you recognize that you will need to spend time replatforming, this may be the right chance for exploring the available alternatives.
Reason 6: Something Else
Perhaps you're tired of dealing with hosting since it's not included with your Magento services. Or maybe you've discovered that Magento support is unable to assist you in a timely manner. Alternatively, maybe your consumers are encountering problems on your online store that you believe alternative solution might be able to resolve.
In all likelihood, it is one of these six reasons that has brought you here on this page. So, I will not disappoint you. The list you read below will have two broad segments. One segment will deal with eCommerce website builders and the other segment will deal with open-source alternatives that you can use.
Shall we begin?
Let's start!
Best Magento Alternatives of 2022 – eCommerce Website Builders – PAID Options
#1. BigCommerce
BigCommerce offers a wealth of sophisticated capabilities for creating an online shop, yet it is very simple to use. All options enable you to sell via various channels like Amazon and eBay, and to quickly provide discounts, gift cards, and coupons. There are even templates available to help you create your gift cards!
PayPal is the industry-standard payment processor, backed by Braintree. This has several benefits, including specifically negotiated processing rates based on your selected BigCommerce plan and quicker payments. Braintree also supports other payment methods, including 2Checkout, Amazon Pay, Stripe, and Square along with options like Google Pay and Apple Pay.
BigCommerce is a true SaaS platform providing businesses with an easy-to-use eCommerce solution against a monthly charge. It has attractive site designs and dependable uptime, making the overall hosting experience a pleasant one.
Benefits of using BigCommerce
It is an efficient SaaS platform allowing quick launching of an eCommerce site.
There are many out-of-the-box features that don't require coding or additional settings. They just work!
The platform is optimized for SEO, and hence, you don't have to hire an SEO expert.
It is PCI compliant and offers reliable uptime.
Flexible webhooks and APIs generate provisions for headless commerce, giving you an experience similar to any open-source software. You can continue working with JS, CSS, HTML, and PHP.
It allows catering to a worldwide audience with support for multiple currencies.
It offers a robust DDoS protection.
It offers advanced analytics, and even allows real-time monitoring of sales and traffic. It even allows producing sales tax reports.
It supports 65+ payment gateways.
They do not have a transaction fee irrespective of the plan you select.
It offers 24×7 customer service to resolve all your issues via live chat, email, community forum, and phone.
Disadvantages of using BigCommerce
It lacks a multi-store feature that you can find in Magento. However, the headless configuration can help you find a workaround.
The UI has some complex terminology that can be confusing for users. However, the support team is always there to provide a helping hand.
BigCommerce pricing
The company offers four different pricing plans that include:
Standard – $29.95 a month
Plus – $79.95 a month
Pro – $299.95 a month
Enterprise – Bespoke pricing
#2. Shopify
Shopify is an all-in-one ecommerce platform that powers over 600,000 businesses globally. It integrates easy design tools, outstanding sales features, beautiful templates, and devoted customer support. In short, it has everything you will need to run a hassle-free online store.
Unlike open-source systems, Shopify has a standardized pricing structure, which means you will always be aware of how much you will be spending every month.
Shopify is also SaaS solution that is famed for its ability to power small as well as medium-sized ecommerce businesses. Their Shopify Plus service is an effort to expand their presence in the midmarket.
Benefits of using Shopify
The platform is super easy to use.
The online sites you design using the platform are mobile-friendly and elegant.
The platform is PCI compliant.
The platform offers a very reliable uptime.
They have the abandoned cart recovery feature.
There are over 1200 apps for increasing functionalities.
The platform allows selling through Amazon, social media platforms, and other channels.
Shopify has support for 100+ payment gateways.
Shopify has its very own payment gateway that does not attract any transaction fee. It supports 10 currencies.
Disadvantages of using Shopify
Many of the add-ons are not on-out-of-the-box functionalities. You must pay for using those add-ons. These apps can quickly add up the cost.
Unless you use Shopify's own payment gateway, there will be a transaction fee.
Shopify pricing
Shopify offers a free trial that lasts 90 days. Once that free trial is over, you must purchase one of their premium plans if you want to continue using the platform. There are five premium plans available, and they are:
Shopify Lite: $9 a month. This will allow adding eCommerce features to your Facebook page. You cannot have your own store.
Basic Shopify: $29 a month.
Shopify: $79 a month.
Advanced Shopify: $299 a month.
Shopify Plus: Bespoke pricing.
#3. Volusion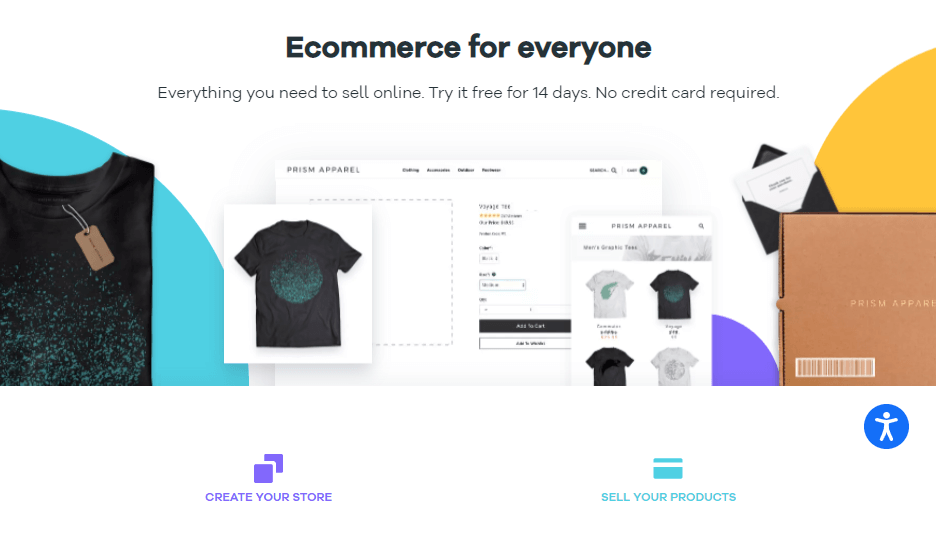 Volusion is a specialized e-commerce platform focusing on providing you with the sales tools necessary to succeed with your online shop.
For your online shop, there are about 14 free, customizable themes available. They're visually appealing and optimized for speed both on mobile and desktop devices.
Volusion simplifies the process of adding goods to your online shop and offers many choices for customizing their appearance. You can easily differentiate pricing for various versions, and the number of variants you may build is unlimited.
If you're new to online retailing, you'll like the design wizard that Volusion offers, which allows you to build an online shop in just a few minutes. Simply answer a few straightforward questions about what you intend to sell and to whom you intend to sell, and the wizard will create your online shop for you – stress-free.
Benefits of using Volusion
Volusion offers a very user-friendly interface.
The design wizard can churn out a website in a matter of minutes just by asking a few questions.
Website templates are responsive, and they look great even on mobile devices.
Volusion has brilliant order management and fulfillment capabilities.
There are many integrated marketing tools that you do not need to pay for. Tools like direct campaign, promos & discounts, all-in-one SEO, etc. are all included.
Volusion comes with a built-in dropshipping feature.
Using this platform will allow you to accept all major credit cards, Amazon Pay, Stripe, and PayPal.
There are no transaction fees involved.
Volusion is PCI compliant.
They have 24×7 support available.
Disadvantages of using Volusion
You have to pay for SSL integration. That will cost you $100.
Their fee structure is complicated. Not everything is clear right at the beginning. SSL fee is one such hidden fee.
There are many premium templates available for your website, the price of which can be as high as $900. That is outrageous. The minimum price for a premium template is $180, which still happens to be extremely high.
Volusion pricing
Volusion offers four paid plans that include:
Mini – $15 a month.
Plus – $35 a month.
Pro – $75 a month.
Premium – $135 a month.
Remember, the SSL price is extra and so will be the prices for premium templates for your website.
#4. Squarespace Commerce
Squarespace, the design leader, is one of the finest ecommerce website builders available today for creating stunning stores. Its ecommerce features are also very capable. Squarespace Commerce is an excellent platform for building visually appealing magazine subscription websites and restaurant booking systems.
Benefits of using Squarespace Commerce
The platform offers flexible product variations, that is, you can add products by size, shape, and color.
It allows selling unlimited products.
It allows selling service products, physical products, and digital products.
It comes with robust inventory management.
It comes with various built-in features that work out-of-the box.
It comes with excellent analytics tools.
The platform offers one of the best design templates you can find on the market among all other such SaaS eCommerce platforms.
They offer 24×7 support through email and Twitter.
Disadvantages of using Squarespace Commerce
There is no app store. So, you will be forced to stick with whatever features are available by default.
There are advanced design tools that will require you to go through a learning curve.
Squarespace Commerce pricing
Squarespace Commerce has a 14-day free trial. You must upgrade to a paid plan after the trial ends just in case you want to continue using their platform. The paid plans available include:
Basic Commerce – $30 a month.
Advanced Commerce – $46 a month.
You can go for an annual billing cycle to get discounts.
Best Magento Alternatives of 2022 – Open-Source Options – The FREE Options
#5. WooCommerce – No. 1 Open-source alternative to Magento
We all know about WordPress. It powers 40% of the web. So, it is not unusual to expect that WooCommerce will be on the top of the list among the open-source alternatives to Magento. It is a plugin that can work only on a WordPress installation and convert the site into a full-fledged eCommerce site.
The plugin itself is free just like the WordPress core, but there will be hosting charges, theme charges, and add-on charges. While the very flexibility of WordPress gives WooCommerce extreme flexibility, it also comes with serious flaws.
For starters, WooCommerce is difficult to set up and the entire process can be frustrating. Of course, there are hundreds of add-on plugins available for extending the functionalities of the online store, but most of those plugins are premium plugins. They can quickly increase the overall cost of building an eCommerce site.
Moreover, WooCommerce lends itself to extreme customization, which also happens to be one of the drawbacks. For instance, to be able to customize WooCommerce to fulfill certain requirements, a lot of development work will be needed, which again calls for additional costs.
In case you want to rely on plugins, you shouldn't forget that these plugins are developed by third-party developers who are not affiliated to WordPress or WooCommerce. Many of these plugins may have compatibility issues. Some plugins dropped out of active development, causing security threats.
So, running a WooCommerce-powered online store may sound fascinating, you should always consider having a team, or at least a very good developer in hand to deal with such nuisances.
Benefits of using WooCommerce
It is completely free.
There is a huge pool of add-ons (plugins) available to extend its functionalities.
There is a large community of developers out there, always willing to help through support forums.
Hundreds of premium and free themes are available to create a visually stunning store. Premium templates are usually less than $60.
Disadvantages of using WooCommerce
There is no dedicated support available. If you need help, you must turn to its community of developers and wait for someone to answer. Alternatively, you can have your own developer to deal with problems.
Setting up WooCommerce is not easy. In short, it is not noob friendly.
The core WooCommerce plugin has limited functionalities. You need paid add-ons to increase its capabilities.
#6. OpenCart – Free but Paid Customer Support
OpenCart is one of the most powerful alternatives to Magento. In fact, if you already have a Magento-powered store and you are looking for an open-source alternative that comes close to Magento, OpenCart should be your best bet.
Both the platforms use the same code, making migration from Magento to OpenCart or vice versa, relatively easy. There are thousands of plugins available that you can use for customizing the core functions of your online shop.
OpenCart supports multiple currencies and multiple languages. It has features like recurring payments, product reviews and ratings, guest checkout options, downloadable products and much more.
Benefits of using OpenCart
Allows easy migration from Magento, because both the platforms use the similar template-based product upload, making the transition extremely easy.
Supports multiple languages and multiple currencies.
Open-source and free option. Being open source, the core code lends itself to editing and heavy customization.
Offers an app market with 13,000+ apps to extend the functionalities of the store.
Disadvantages of using OpenCart
If you want support directly from the developers, you must pay $99 a month, or $99 per fix. It is your choice. Alternatively, you can always go for community-based help, or you can hire a developer, or a team of developers.
The template designs are not very fascinating. They appear to be a bit dated. So, look for premium templates, or have one designed and coded to suit your needs.
#7. PrestaShop – Easiest Open-Source Option
PrestaShop is one of the easiest open-source eCommerce platforms. There are two ways to approach this. You can download the core platform and install it on your server. The core platform is free. However, you will need a hosting plan that supports PrestaShop hosting.
The other option is to get their Starter Pack that gives you the free core platform plus a set of premium add-ons that will help you to get started quickly. This Starter Pack will cost you €191.99.
Whatever you select, is entirely up to you. No one is going to force you. However, do remember that for extending the features of your online store, you will require add-ons and none of them are free. The more features you add using plugins or add-ons, the higher the price gets. For instance, for something as simple as GDPR compliance cookie banner plugin will cost €55.99.
What is weird is that you will even need to purchase their SEO Pack Start addon for performing search engine optimization. The built-in features of the core PrestaShop are just not sufficient.
There are over 3,000 modules that you can use for increasing your online shop's features.
Benefits of using PrestaShop
They offer a demo to show how to build your online store with PrestaShop.
They do not have a chunky CMS, thereby allowing faster load times.
It comes with many features like free shipping, gift wrapping, coupon codes, automated emails, etc.
It supports four payment options including checks, bank transfers, PayPal, and Stripe.
They offer 1,500+ brilliantly designed templates to make your shop stand out.
Disadvantages of using PrestaShop
They have dedicated support, but the support plans are quite expensive. Depending upon the support plan you select, you may end up paying as high as €719.20.
Once you have installed PrestaShop, you cannot upgrade to a newer version without paying for an upgrade. They have a support plan specifically for upgrading your shop to a newer version of PrestaShop.
The payment options are quite limited. There are only four payment options.
The add-ons can quickly increase your price, and weirdly enough, most of the essential features are available only through paid add-ons.
#8. Zen Cart – Cheap but Dated
Zen Cart is cheap because it is open-source and free. They also don't charge for dedicated support because there are no such provisions! You have to turn to their community to get support and hope that someone will come up with a solution.
If you do not like waiting, you can always go ahead and hire a developer. That is where you will incur some cost. Depending on your development needs, you may have to shell out hundreds and even thousands of dollars.
When you start using Zen Cart, you may get the feeling of traveling back in time, like some 18 years back in time. Yes, the dashboard is dated and so are the theme templates. All of them look like they never managed to get out of the year 2003.
On the good side though, there is a large community of experienced developers who can help you out with your problems. However, there will be waiting time. You can overcome that by hiring a developer.
Benefits of using Zen Cart
Completely free and open source.
Lends itself to intense customization.
Comes with a drag-and-drop page editor. It even throws in a WYSIWYG-style page editor.
There are various built-in features like discounts and coupons, multiple product images, gift certificates, shipping estimator, SEO tools, etc.
You also get an option for hiding product prices when selling products to other businesses.
Cons of using Zen Cart
The dashboard and the themes appear very outdated.
Customer support is available only through a forum. No dedicated customer support is available.
No demo or trial exists. You need to build an online shop to figure out how it works for your needs. This is time consuming.
Okay, now that we know the list of best Magento alternatives, I have a piece of advice or suggestion to offer.
SUGGESTION: Settle for a SaaS platform. BigCommerce and Shopify are my top choices. They take out the technical hassle and offer 24×7 support. You can always go for open-source platforms, but they can quickly become a headache because of plugin incompatibility, dropped plugin support and development, and much more.
This suggestion brings up a very vital question that I must answer.
Question: What features should you look for in a SaaS eCommerce platform?
You should not blindly settle for any SaaS eCommerce platform. I understand that your business may be unique, and hence, have unique requirements. So, you should find a platform that can cater to all your needs.
However, there are some core features that any powerful SaaS eCommerce platform should provide. If any of these core features are missing from a platform, steer clear of that platform. It is never a good choice.
Here are the 5 core features you must look for in a SaaS eCommerce platform:
Feature 1:

A Website Builder
The platform should give you an easy website builder that you can use for building your website in a matter of a few minutes or few hours tops. If the platform requires you to get a developer to build a website for you, you are looking at a very wrong option.
The website builder should have a drag-and-drop feature allowing you to quickly build pages, menus, and other aspects of your site.
I could have easily included Wix on this list, but I deliberately left it out because its website builder is quite confusing. Yes, Wix has an artificial design interface that allows building a website in minutes, but again, customizing that output will not be easy. Wix's interface is a bit complicated. You can master it with quite ease, but again, there are easier options.
Feature 2:

Free Themes & Templates
A SaaS eCommerce platform should give you a collection of free themes and templates to use. Of course, as a starter business, you might not have the budget to spend on new themes. The best SaaS eCommerce platforms offer a host of free themes and templates and keep them updated from time-to-time.
Feature 3:

Easy Add-on Integration
As of today, there is no SaaS eCommerce platform that will come with all features (that you can ever dream of) built straight into the system. There will always be a few missing, and this is where add-ons come in. They allow extending the functionalities with absolute ease.
Essentially, they should not take anymore than a few clicks and a few minutes to tightly integrate with the platform, thereby saving you valuable time. There are certain mission critical systems like inventory management, order management, etc., that should be up and running in minutes. You should not be investing too much time in building those functions from scratch.
Feature 4:

Choices of Several Payment Gateways
Payment gateway integration can be a painful experience. You should settle for a platform that offers several payment gateway options out-of-the-box. The most important ones are Venmo, Stripe, PayPal, etc.
Feature 5:

Rockstar Support
SaaS platforms are what? Piece of technology! Technological glitches can be there. You may have a problem understanding a few things. This is where support comes in. A good support can make or break your business. Imagine what happens when your website suddenly stops working or certain elements of your website breaks during Black Friday sales!
You should have 24×7 access to support so that they can immediately resolve your problem so that your losses are minimized. BigCommerce, Shopify, Volusion, and Squarespace Commerce are all known for their stellar support. You can rest assured that in times of emergency, they will lend you the much needed helping hand.
Conclusion
No matter how powerful or famous Magento is, it may not be the right option for your business, especially when you are starting a new business. It is therefore suggested that you settle for something easier and cheaper.
Of course, open-source eCommerce platforms can help you. They are highly customizable. However, they are open-end systems, requiring a lot of technical knowledge for such customizations. If you don't have the knowledge, you may have to end up hiring developers.
Also, being open-end they have quite a lot of vulnerabilities, too! You need to arrange for security measures by yourself.
On the other hand, the SaaS eCommerce platforms usually take care of those things. They give hosting, security, and all the necessary technical upgrades and patches. You just need to build your website, find the necessary add-ons, and start selling!
Using a SaaS eCommerce platform gives you peace of mind and relieves you of technical burdens. You can use that time and money to focus on more important aspects of your business like stocking, marketing, and other aspects.