What is Kaspersky?
Kaspersky is a security vendor offering a range of security products starting from a basic antivirus to all the way up to high-end Kaspersky Security Cloud. It is one of the highly-rated security products available today that has score perfect or near-perfect scores in independent security audits by various firms.
Yes, Kaspersky can get expensive as you move towards the high-end of the spectrum of products offered by the vendor. To compensate for the high price, the company offers a full-scale security suite with tons of features.
In my review of TotalAV, I clearly asked you to avoid it (for obvious reasons) and ended up stating that I switched to Kaspersky. What instigated that move? What makes Kaspersky good? What features does it offer?
In this Kaspersky review, I am going to let you know everything you need to. To be clear, this review focuses on Kaspersky Total Security, which is the second-highest or top-end product that Kaspersky has to offer. If you want something better, the only option that beats Total Security is the Kaspersky Security Cloud.
Kaspersky Total Security is a comprehensive security suite, at the core of which sits the antivirus. If you need only the antivirus, you can settle for the Kaspersky Anti-Virus that offers the basic protection against online threats that can potentially infect your computer.
Total Security is well above the entry-level product and combines everything that the starter product and its Internet Security offers along with extras file encryption, comprehensive and parental control, and a backup system.
Range of Products Offered by Kaspersky
Kaspersky offers four different products depending on what you want. Here is what the vendor offers:
Kaspersky Anti-Virus
Kaspersky Internet Security
Kaspersky Total Security
Kaspersky Security Cloud
They had different pricing structures. As with many other security vendors, you will get a rebate when you purchase a subscription for the first time. When you renew, the price will increase (nearly doubling in this case).
Pros and Cons of Kaspersky Total Security
Like any security product you will come across, even Kaspersky has its fair share of pros and cons. Here is what I found:
The Pros
Excellent report card from four different independent security audits.
File encryption available.
File shredding option available.
Extensive parental controls.
Backup system available.
Cloud protection available.
Offers an on-screen keyboard to fool key-logger programs.
Offers Kaspersky Rescue Disk for disinfecting severely infected disks.
Offers vulnerability scan.
Offers multiple PC optimization options.
Offers application control for monitoring application and blocking dangerous activities.
The Cons
Relatively expensive compared to other top-of-the-line security suites.
Doesn't offer hosted storage for online backups.
Getting Started with Kaspersky Total Security
Getting started is quite simple. You need to head over to Kaspersky website, create an account, select the product of your choice, make the payment and you are ready to download the program.
Kaspersky products are all cross-platform compatible. There are versions available for Windows, macOS, Android and iOS. So, select the version accordingly. Once your payment is cleared, you will get access to the installer file which is merely 2 MB is in size.
Install the file and it will start downloading the application from Kaspersky server. Once the download is complete, follow the onscreen instructions complete the installation process.
In case of Total Security, you will see the following screen after installation:
You will notice eight buttons neatly arranged. There are options for more settings, tools, and license duration information.
If you purchase the Internet Security edition, two buttons will be missing. You will see only six buttons. The two missing buttons will be Backup and Restore and Password Manager.
If you go for the Anti-Virus edition, you will find only four buttons – Scan, Database Update, Reports, and On-Screen Keyboard
In case you decide to go for their Security Cloud edition (free option), you will see eight buttons, slightly different from the eight buttons you see on Total Security options. as in the case of Total Security with some buttons having a shield overlay. To use the features on those buttons, you have to upgrade.
The Scan Button
The Scan button is where you can perform different types of scans. You will get the options of performing a quick scan or a full system scan. The quick scan will look for viruses and malware in the areas where they are more likely to be found.
The full system scan will perform a complete scan on all drives and storage devices attached to your computer.
You can also perform selective or custom scan, removable drive scan, and vulnerability scan.
The vulnerability scan is an interesting feature in which Kaspersky will scan the applications installed on your computer and check them for vulnerabilities that might be exploited by malware.
What's interesting is the ability to scan from the context menu. Kaspersky integrates directly with the file manager of Windows and when you right-click on a folder or a file, you will get the option of running a scan.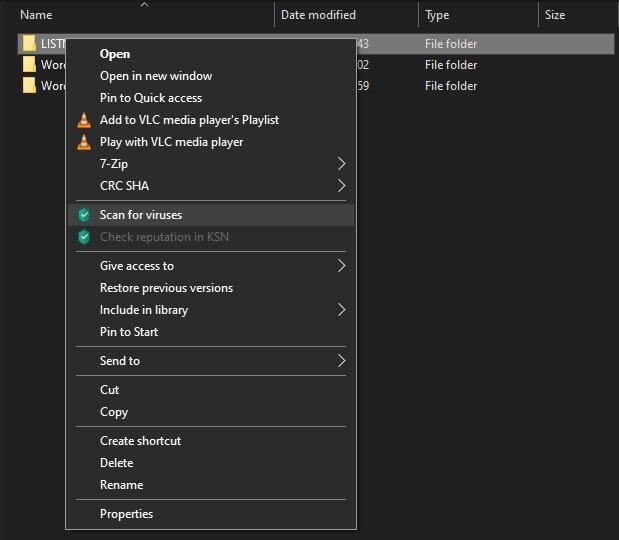 Irrespective of what type of scan you are performing, you can finetune the settings for each scan type by clicking on the little cog icon you see next to each scan option.
Clicking on the cog icon will open an assortment of options to finetune the way Kaspersky performs a scan and deals with the threats it finds.
The Database Update Button
Clicking on this button will give you the option of updating the virus definition database. It is anyway set to automatic and you need not change anything. However, if you want, you can quickly run a manual update.
The Safe Money Button
This feature allows you to add websites where you perform financial transactions. For example, you can add bank pages or you can add online shops like Amazon, eBay, etc. Once you add them to Safe Money, the next time you try to perform a transaction, the window will open in protect browser with a green frame indicating that your transactions are being protected by Kaspersky. You can even use the onscreen keyboard.
The Password Manager Button
There is nothing to explain here. This is from where you can save all your passwords onto the Kaspersky password manager. It works pretty much the same way as LastPass, 1Password, Dashlane and other password managers.
However, since Kaspersky is a full-blown security suite with a primary focus on malware and virus detection and removal, you should not be expecting the password manager to be as effective as that of Dashlane or 1Password.
To work with Kaspersky Password Manager, you will have to set a master password. In case you lose your master password, you cannot access any data you keep in the password vault. So, make sure that you are using a master password that you can remember. In case you cannot remember it, you better write it down in your diary or somewhere where you will never lose the password.
This is how the password manager interface looks like when you install it:
The password manager you get with Kaspersky Total Security is the premium version. With Internet Security, you will not get password manager.
The password manager is actually a standalone software from Kaspersky that you can get for $14.99 a year. However, with your Total Security subscription, you will get the full version.
The password manager, as the name suggests, will manage your passwords and sync them across Windows, iOS, Android, and macOS – if you have all of them at your disposal. There are a few unusual features, but that doesn't make it stand out from the herd and even compete head-on with dedicated password managers.
On Windows, when you install the password manager, you will be prompted to add an extension to the most popular browsers that include Google Chrome, Firefox, Internet Explorer, and Microsoft Edge. The duty of the extension is to capture and replay the passwords.
The syncing across different platforms take place through Kaspersky's online portal. You can visit the portal directly to access your data.
The password manager is designed to check for the password strength, and it can even generate new passwords. In the event that it finds any duplicate, it will immediately flag it. The manager is also capable of filling up credit/debit card details, and even personal data on web forms.
The password manager also has a secure document storage feature that will seek scanned images and PDFs that look like documents. Once such documents are identified, the password manager will offer moving them into online storage. However, you will not get the options of password inheritance, secure sharing, and two-factor authentication.
The Privacy Protection Button
This is where you can let Kaspersky block access to your webcam by different applications. You can also allow Kaspersky to block data collection by websites. It is pretty straightforward. You can turn the options off or you can leave them on (the default settings).
You can further finetune the setting by clicking on each option. There is no rocket science involved here.
The Backup and Restore Button
Backing up your files is always a good idea. In the event of a ransomware corrupting your files or a rouge asteroid knocking off your computer, you can always get back your data.
Unfortunately, Kaspersky doesn't come with a hosted online storage. You have to add your own online storage option (Dropbox in this case). If you want a hosted online storage option, you can check out Norton 360 Deluxe or other Norton bundles that can offer you 50GB to 500GB of online storage.
If you fire up the option, a wizard will show you the path where you will get to back up the default document and desktop folders. However, you can select other default folders too. In case you want to backup something else (other drives), you can do that as well.
The default setting is to run backups manually. However, if you want, you are free to set a schedule. The scheduler that you get with Kaspersky will allow you to set daily, weekly, or monthly backups.
One thing that I found to be surprising is that if you want to schedule backups, you need to provide your Windows account password. That's weird and something I did not find in other products.
I do love the restoring features of the backup manager. You are free to restore all files or the files you select. You can restore a previous version of the files (yes, versioning is available), and if you want, you can restore the data to its original location or put it in a new location!
The system is quite simple. Though it is not highly advanced, the Backup and Restore feature of Kaspersky will get the job done pretty effectively.
The Protection for Kids Button
The Protection for Kids button will give you access to Kaspersky Safe Kids, which is a standalone product costing $14.99 a year. However, this premium product comes bundled with Kaspersky Total Security, and you don't need to pay anything extra.
When you click on the Protection for Kids button, you will be prompted to download the Safe Kids applications. You can, alternatively, download the application directly from Kaspersky's website by selecting the right version for the right platform.
The management of Safe Child happens online. You can define child profiles and align each profile with the devices that your children use. There is no upper limit to the number of children you can add or the number of devices you can add.
Each device will have a local agent that will enforce all the rules that you define online. The local agent will also provide a summary of all those rules to your child.
Safe Kids will allow you to block websites or allow website across 14 different categories. You can also set Safe Kids to let the child access websites, but at the same time, warn the child that a notification will reach the parents.
Just like any other child safety software, Safe Kids will allow you to set screen times or just how long your child can use each device.
Installed on mobile devices, Safe Kid will inform you about the location of your child. It also comes with a geo-fencing feature that will allow you to set safe areas where your child is permitted to go and even the times when your child is allowed to be at those places.
Kaspersky Safe Kids is designed to monitor your child's activity on social media (Facebook or VK). Unfortunately, such monitoring will require a cooperation from your child. This application will allow you to mark applications as Limited, Forbidden, or Allowed. Limited simply means that you can define specific schedules for each application.
Also, if your child is using iOS, application control feature will be limited. At the best what Safe Kids can do is hide certain apps that have high age rating.
There is another thing you need to know. Kaspersky relies on its browser extension for content filtering. This means that if your kid uses an off-brand web browser for which Kaspersky doesn't have an extension, he or she can access forbidden websites that are using HTTPS connections.
So, if your kid is smart enough, he or she can use a secure anonymizing proxy and evade the content filtering rules that you set. Thus, the best bet for you is to use the application control feature and completely ban any browser that doesn't have a Kaspersky extension. If your child has an Android device, you need to ban all browsers except Google Chrome. In case your child is using iOS, you need to ban every known browser, because content filtering can work only and only on Safe Kids browser.
Overall, Safe Kids is a great parental control tool. It may not be extremely advanced like Qustodio, but it definitely gets the job done, and as a standalone application, Safe Kids is much cheaper than Qustodio.
Other Features of Kaspersky Total Security
On Kaspersky application startup screen, you can see a green button called More Tools. You can access additional features of Kaspersky Total Security from that button.
Clicking on More Tools will open a new screen where you will get access to an assortment of tools. Here is what you will find:
Under My Network you will get access to Kaspersky VPN and even see the network activity of all applications installed on your device.
If you want to use VPN, you will get the basic free version with Kaspersky Total Security. If you want to use the premium version, you will need to upgrade. The free version will give you the daily data of 300 MB only. That should be sufficient enough to browse a website or two for some time. However, if you want unlimited data, upgrading will be the only option you will have.
If you do upgrade, you can unblock Netflix for both US and UK. There will be a kill switch too, and you can get the VPN on up to 5 devices.
Unfortunately, I did not test the VPN because I already use NordVPN, which is by far, the best standalone VPN you will get today with way more advanced features than what Kaspersky VPN has to offer.
Also, Kaspersky VPN has a very limited number of servers located in only 24 countries and regions. That might not be an ideal solution if you are a VPN power user.
Kaspersky will also provide data encryption feature with Total Security. It is available under Data Protection tab.
Data encryption works just the same way it works with ESET, AVG Internet Security – Unlimited, etc.
What Kaspersky will do is create virtual drives that it calls Vaults. These vaults will hold all your sensitive data. When the vault is open, you can access it as any regular drive. However, if the vault is locked, no one can access it.
To create a vault, you will first need to select the files you want to protect. Alternatively, you can drag and drop the files on the application interface. This is how the data encryption interface looks like:
Once you have added the files, you can move forward to create the vault. You can give a name to the vault you create. You have to define the size the vault during the creation that's because you cannot change the vault size once it is created.
You will also have to select the location of the vault. The default location will be in your C drive; however, you are free to select the location of your choice.
Once you are satisfied with the settings, you need to set the password for the vault. If you forget the password, you cannot open the vault. So, make sure that you are using a password that you can remember.
Once the vault is created, it is still not locked. You have to lock the vault by right-clicking on the vault and then selecting 'Lock'.
As the last step of this vault creation, you will be given an option of shredding the files using the file shredder so that even the forensic recovery tools cannot bring back the data you are protecting.
The shredder will overwrite the area of the data first with zeros and then with random bits. That's more or less enough to keep people from recovering the data.
However, if you are not happy with the "more or less okay" thing, you can directly open the file shredder and put your data there and select from various algorithms to delete the data.
Those algorithms are all approved by the military. So, you can rest assured that once your data is shredded, not even the finest of geeky minds in this world can recover the same.
Kaspersky Total Security will also provide you with some powerful PC cleanup tools. You can access it from More Tools >> Clean and Optimize.
All the tools that you see in the list are self-explanatory, and easy to use. All of those tools are pretty handy, and in particular, I like the Privacy Cleaner, Unused Data Cleaner, and Microsoft Windows Troubleshooting.
Using them is as simple as clicking on the options and following the onscreen prompts. You can, however, fiddle around with the settings for each option. There isn't much to explain in those things. If you are subscribing to Kaspersky Total Security, you can go through each option and find out what they can do for you.
Performance of Kaspersky Total Security
This is the most important part for any security software. If the performance is not good, there is no point purchasing a subscription. Let's go through Kaspersky's performance, starting with its footprint and its resource usage.
Kaspersky Total Security – Footprint and Resource Usage
Kaspersky Total Security consumes 562 MB of disk scape. This includes Kaspersky VPN, Safe Kids, and Password Vault installed along with the main antivirus engine.
That's a small footprint for a full security suite working to protect your PC for as long as it is operational and connected to the Internet.
Also, the total system resources used by Kaspersky is minimal. It comes anywhere between 0.2% to 0.7% of the CPU, 0% GPU and 125.5 MB RAM.
For a full security suite, the amount of system resources used is almost nil. That's great! Kaspersky will not put pressure on your system resources, and neither will it make your system sluggish.
That's great! But what about its actual job? Does it do it the way it should have performed. This is where the third-party independent tests become important.
Kaspersky – How Efficient Is It?
I am not a security expert and hence, I am in no position to tell anything about Kaspersky's performance. That's the reason why I depend on third-party professional tests performed by independent security audit company.
The tests that I follow are performed by AV Test (av-test.org). In their tests, Kaspersky has consistently performed well, scoring a perfect or a near-perfect score.
Let's take a quick look at some of the test results…
The test performed by AV Test in September-October/2020 revealed that Kaspersky Internet Security (Total Security includes everything present in Internet Security plus a few extras) was capable of identifying and blocking 100% of the 0-day malware attacks. The industry average was 98.8%.
That's an incredible result, to say the list.
Tested against 12,316 known and prevalent malwares, Kaspersky scored 100% in detecting all known malware.
In terms of performance, the application performed better than the industry average across all categories. Performance refers to influence the application has on computer speed and daily usage.
What else?
In terms of usability, Kaspersky did not give any false alarms, and did not perform any false blockages while the industry average has been 9 and 1 respectively for false detections and false blockages.
That's a stunning performance.
But what you just saw was for September-October 2020. What about its historical performance? Did Kaspersky perform just as good earlier. That's the question that forced me to look into the historical data and here is what I found:
AV Test rated Kaspersky as a TOP product since February 2016. That's an incredible feat to achieve. Not everyone can do that consistently for five consecutive years.
Though Kaspersky was not a top product before February 2016, AV Test still gave it high scores for several years. You can find the entire archive here at this link.
No wonder, Kaspersky is trusted by millions of users across the world.
My Experience with Kaspersky Total Security
Unlike TotalAV Total Security, my experience with Kaspersky Total Security has been pleasant so far. In fact, before I made a switch to TotalAV, I use Kaspersky Internet Security for three years without any issues and false alarms.
The only reason why I switched to TotalAV was that I was pretty bored with Kaspersky's dull interface with a lot of white spaces. Also, I was looking for a solution that would give me unlimited data on an integrated VPN. TotalAV's introductory price looked like a nice catch.
I was so wrong! Kaspersky was better in every way, barring the VPN segment which required me to upgrade to the premium version for unlimited data. That upgrade was above and beyond the price I already paid for the Internet Security.
Later I realized that if at all I wanted a VPN, the best thing to do was to opt for a dedicated VPN. That's the reason why I opted for NordVPN.
After a painful time with TotalAV, I switched to Kaspersky, and this time, I went for the Total Security option. I am very satisfied with the purchase. So far, there has been no false alarms, and it has blocked every malware-infested download that I tried.
It even told me that 7z archiver that I use is vulnerable to exploitation by malwares. This made me make a switch to WinZip, which comes clean in Kaspersky vulnerability scan.
What more? Kaspersky allows parallel scans. This means that even though I initiate a quick or full system scan, I can still launch a second scan on a USB drive that I attach in the middle of a full system scan. You will not find this feature in TotalAV.
I cannot say a damn word about Kaspersky VPN, because I did not test it. I don't need to when I have a dedicated VPN available. But from what I can see from Kaspersky's advertisement of its VPN, it includes a kill switch – one of the most revered features of a VPN. That kill switch is absent in TotalAV VPN.
Conclusion
Yes, Kaspersky Total Security is more expensive than similar security applications (suites) you can find on the market. However, given the impeccable performance of Kaspersky for years, and its feature-rich and easy-to-use interface, the price looks quite justified.
Also, their customer support is very responsive and always ready to help. They also have a 30-day unconditional refund policy in case you are not happy with the product purchase. From my previous experience with Kaspersky Internet Security, I can say for sure that you will get a clear notification of an upcoming renewals.
Apart from that, you can clearly see the remaining days of your subscription directly within the application interface.
Considering its ease of use and its simple interface and great performance, I highly recommend Kaspersky to anyone looking for a great and reliable security application for system protection.
YES, YOU CAN AND YOU SHOULD BUY IT!