What is IDrive?
IDrive is a cloud storage service that allows you to upload data from your computer to a remote server. The data remains store in the servers and is available for download anytime you want.
Of course, just like every other cloud storage service like Google Drive, Dropbox, OneDrive, Backblaze, etc., the data you store on IDrive servers remains encrypted to protect it from unauthorized access.
You can share the data that you store on the IDrive with others. The desktop interface of IDrive will allow you to select the backup schedule.
IDrive Cloud Storage Review
Keeping a backup of your data is essential. Computers, hard disks, flash drives, etc. can crash anytime. Often, such crashes are beyond recovery.
Losing your important documents, images, songs, videos, etc. can have a profound impact on your life – both professional and personal.
So, you need to back up your data. You may be already using services like Dropbox, Google Drive, OneDrive, etc., but if you are looking for an alternative, you can take a look at IDrive Cloud Storage.
Just like every other famous cloud storage provider, IDrive also offers both free and premium plans.
It is needless to say that the free plan is limited in the storage space you get. If you need more storage, you have to get the paid plans.
Talking of free and paid options, let me take you through the pricing options of the service.
IDrive Pricing Structure
Drive is quite expensive when you look into the Business tier. However, when it comes to the Personal tier, the pricing structure is quite similar to that of Backblaze. Unlike Backblaze, IDrive will not give you an unlimited storage option. What it however gives you is the option of backing up unlimited computers.
Here is the pricing structure of IDrive:
Free Plan:
5 GB of storage space.
Never expires.
You will never need to provide your credit card details.
IDrive Personal:
5 TB or 10 TB storage option.
$52.12 for the first year and $69.60 from the second year onwards for 5 TB storage options.
You can go for a 2-year plan for the 5 TB storage option by paying $104.25 for the first two years. You will be charged $139.00 for every two years after that.
$74.62 for the first year and $99.50 from the second year onwards for the 10 TB storage option.
You can go for a 2-year plan for the 10 TB storage option as well. You have to pay $149.25 for the first to years. From the next billing cycle, you will have to pay $199.00 every two years.
The pricing option is for only one user but unlimited computers.
IDrive Business:
It is better that I provide this in a tabular structure. Here is what IDrive offers for its Business plan:
Storage Space
Yearly Price
Bi-Yearly Price
Monthly Price
250 GB
74.62 USD for the first year and $99.50 from the second year
$149.25 for the first two years and then $199.0 for the next bi-yearly billing cycle
Not Available
500 GB
149.62 USD for the first year and $199.50 from the second year
$299.25 for the first two years and then $399.00 for the next bi-yearly billing cycle
Not Available
1.25 TB
374.62 USD for the first year and $499.50 from the second year
$749.25 for the first two years and then $999.00 for the next bi-yearly billing cycle
$49.95 per month
2.5 TB
599.62 USD for the first year and $799.50 from the second year
$1199.25 for the first two years and then $1599.00 for the next bi-yearly billing cycle
$79.95 per month
5 TB
1124.62 USD for the first year and $1499.50 from the second year
$2249.25 for the first two years and then $2999.00 for the next bi-yearly billing cycle
$149.95 per month
12.5 TB
2249.62 USD for the first year and $2999.50 from the second year
$4499.25 for the first two years and then $5999.00 for the next bi-yearly billing cycle
$299.95 per month
All plans support unlimited users, unlimited computers, and unlimited servers.
Business plans are too pricey! Even for the personal plans, the prices are quite high, but reasonably within reasonable limits. For the type of pricing they have, businesses will definitely opt for options like Amazon S3, which allows amazing flexibility, scalability, availability, and security.
There are better and cheaper object storage services available, and honestly, IDrive isn't something people will usually go for when it comes to business requirements.
Before we look into the setup and interface, let me walk you through the features of IDrive. I know, I know, my approach here is diametrically opposite to that of the Backblaze review, but hey, sometimes, change is fun!
Features of IDrive at a Glance
Features Category
Individual Features
Availability
Backup
Scheduler
Yes
Continuous backup
Yes
Incremental backup
Yes
External drive backup
Yes
Image-based backup
Yes
Server backup
Yes
NAS backup
Yes
Hybrid backup
Yes
Unlimited backup
No
Unlimited devices
Yes
Mobile device backup
No
Speed throttling
No
Block-level copying of files
Yes
Multithreaded backup
Yes
Backup Restoration
Deleted file retention
Yes
Versioning
Yes
Mobile app access
Yes
Browser or web version
Yes
Courier service
Yes
Support Options
Knowledgebase
Yes
User forum
No
Email support
Yes
Chat support
Yes
Telephone support
Yes
24/7 support
Yes
Security Options
HIPPA compliant
Yes
Proxy server settings
Yes
Hardened data center
Yes
2FA
Yes
Encryption
Yes (AES 256-bit)
In-transit encryption
Yes
At-rest encryption
Yes
Private encryption
Yes
Other
File sharing
Yes
Device sync
Yes
Free trial
Free version available with 5 GB storage
Okay, now that you know what features are available and what is not, it is about time I walk you through the desktop and web client of IDrive to help you better understand the service.
Ready?
Signing Up and Installation
Honestly, I have absolutely no reason to signup for the service (even for the free option), but for the sake of this review, I did signup for the free variant.
The signup screen looks like this:
Once you provide the details, you will see this screen:
It clearly says two things:
If you are setting up a private encryption key, you will not be able to share your files and folders.
You have to keep your private encryption key safe because if you lose it, you cannot retrieve your data.
So, it is better that you use the default encryption key that IDrive offers.
Once you are done selecting the encryption key type and hit the continue button, you will see the web interface and the desktop client installation file will appear for download.
This is what it looks like:
Install the downloaded file to get the desktop client up and running. The installation process is quite simple. You don't need to run the application as an administrator (as opposed to Backblaze that requires you to install it with administrator privileges). Just double click the installation file, and it will start installing with on-screen instructions.
Follow the instructions and complete the installation process.
During the installation process, you will have to agree to the terms and conditions to proceed with the installation. Here is the screen that you see:
Once you click on 'Agree and Install,' the installation process will start.
Once the installation is complete, you will see the desktop client interface where you need to sign in.
This is what you see:
Walkthrough of the Desktop Client Interface
Once you see the desktop client interface, use the same credentials that you used to create an IDrive account.
You will have two options to sign in:
The usual option where you need to enter both your username and password.
The Single Sign-On option where you need to enter only the username or email ID.
The Single Sign-On option looks like this:
If you want to use the Single Sign-On option, you have to enable it.
So, the first option you will have is to use the usual login method where you need to use both your username and your password.
Once you log in, the menu options that you see on the left will become accessible.
After you log in, the IDrive client will scan the basic drives, that is, Desktop, Documents, Music, Pictures, and Videos. You can backup all of them or back up a single folder.
The first folder on the list is selected by default. If you want to back up all of them, hold the shift key and click on the last option on the list to select all the folders.
If you want to change the backup folders, you need to click on the 'Change' button that you see at the bottom. This will open the folder selection screen.
Note carefully that you can backup the files to IDrive account (that is, on the servers of IDrive), or you can back them up locally on your computer on a different drive.
This is what I mean:
This is outright ridiculous because why on Earth will I backup my computer files on the same computer? The very idea is defeated. So, ignore this option!
Moving on to the restore tab, you will see this:
You will notice that there is a device selection option. If you have installed multiple devices to your IDrive account (that is, installed the desktop client on multiple devices), you can select the device from here.
You can restore files from the IDrive account (that is from the IDrive servers), or you can restore files from the local backup location.
You can select the restoration location (that is, the place where all the backup files will be downloaded or copied). Once you have selected what to back up and where to backup, you need to hit the 'Restore Now' button.
That's all! The restoration process will begin.
The next tab is the Scheduler tab, where you can schedule your backups. The scheduler screen looks like this:
You may select specific days for backup, or you can opt for a daily backup schedule.
You can decide when the backup starts and when it ends. You can choose to get notified on backup completion or backup failure.
This segment doesn't require you to have the IQ of a nuclear scientist. It is all about your preference.
The next is the sync tab. This can be slightly confusing. First, take a look at what you will see on the Sync tab:
Here is how sync works:
First, you create a sync folder somewhere on your computer (let me call it Comp-A). There is a default folder already available. You can change it.
Add files in that sync folder. You can add up to 5 GB in the free account.
Now, install IDrive on multiple computers. Activate sync on all computers.
Now, you can access the synced folder on Comp-A from all your computers apart from having access to the backup up files from the IDrive server.
I have to agree that this is a cool feature!
Moving on to the Server Backup tab, you can see something scary unless you know a thing or two about servers, and you know how to back them up.
This is how the Server Backup tab looks like:
Server backup works great for network administrators. If you are an average Joe like me who is happy working with word documents and spreadsheets, you can happily ignore this tab.
If you are a network administrator, you will know what to do. No need to ask me. I am a noob!
Moving on to the Settings tab, this is what you will see:
On top of the settings tab, you will see something called Continuous Data Protection. You can use this only for files that are less than 500 MB in size. It is independent of the scheduled backup. This means that it will work even if the scheduled back is running or vice versa.
Essentially, it works for very high-value files that you cannot afford to lose. For instance, it is great if you have an NSA-class classified document that you need to work with regularly, and you need to keep it safe no matter what.
Also, if you are working with important databases or you have some important research work, you should be using this feature.
Rest of the options pretty self-explanatory. If you are confused with Bandwidth Throttle and CPU Throttle, allow me to explain.
The Bandwidth Throttle is the option that you use when you are on a limited bandwidth Internet plan. So, you have to preserve bandwidth for other jobs as well. Using this option will force IDrive to use a limited amount of your bandwidth, leaving behind enough bandwidth to perform other tasks.
The CPU Throttle option will allow you to determine how much of your computer's processing power is used by IDrive. For example, I have a 4-core processor, and I want IDrive to use only 2 cores while leaving the remaining two untouched and available for other use.
This is a good feature because it will prevent IDrive from using all your CPU cores. If that happens, that is, if IDrive uses all the CPU cores, you cannot use the computer for other tasks.
Finally, if you have NAS or Network Access Storage, you need to use the Mapped Drive Setup option. Since I don't use any NAS, I will not need it. You may need this option if you know and use NAS. Else, you can simply ignore this.
Finally, you need to take a look at the other setting options available with the desktop client of IDrive. You can access them by clicking on the three vertical dots you see on the top righthand corner of the client interface.
This is what I am referring to:
The Proxy Settings option will allow IDrive to work if you connect to the Internet using some proxy. You can configure them from there.
If you want account-level settings access or online help or video tutorials, click on those options that will take you to the web interface of IDrive.
Walkthrough of the Web Client Interface
This is how the overall web client of IDrive looks like:
It has a similar and streamlined appearance as a desktop client. The navigation menus are on the left.
The first menu item is Cloud Backup, which will display you a list of devices that are connected. Clicking on each device will show you the list of all files that are backed up from that device.
This is what it looks like:
The next menu tab is Sync and Cloud Storage. Click on it will show you all the files that you placed in the Sync folder of your computer. I placed a few of the screenshots I used here in this article. This is how the sync and cloud storage folder looks like on the Web client:
You will then have the Dashboard tab. It is quite interesting. Clicking on it will reveal two sub-tabs. One is 'Computers,' and the other is 'Settings.'
Clicking on the 'Computers' tab will show you a list of all computers attached to the account. This is what it will look like:
Next to each device is a settings option. It looks like this:
Clicking on the highlighted option will open a new segment on the web interface. It looks like this:
It is more like remote access to your individual devices. You can access any device completely from here and take new backups or restore backups. You can change backup settings, change the backup schedule, and view logs.
That's a nifty feature I really liked.
Moving on to the Settings sub-tab under Dashboard, this is what you will see:
This is where you can change settings and apply them across all connected devices at once. This is particularly helpful if you are using IDrive in your company, and there are hundreds of devices connected to a single account.
You don't have to configure each device separately. You can alter the settings from the web client and push the settings to all devices at once by clicking on the network icon button you see against each setting option.
The next menu tab is the Web Logs tab. It only shows you the log of all activities on the IDrive web interface. This is what it looks like:
The next tab is the Trash tab, where you can see all the files that you deleted from backup folders and those that you deleted from Sync folders. You can quickly restore those files if you want.
The next tab is the IDrive Express. To access this, you need to have a premium plan. IDrive Express will allow you to request a physical drive with your data shipped back to you. Yes, you can get a drive loaded with your data.
When you buy a premium Personal plan subscription, you will get one drive free of cost every year. If you have a Business plan subscription, you will get those drives for free three times a year.
When you request a backup drive outside the free quota or all of a sudden, you have to pay $99.50 for each request you make.
Finally, you have the More tab, which will show you the list of files that you shared with others, the files that others shared with you, and a timeline that will show you the timeline of photos you back up from your mobile device. For the timeline option to work, you will need to install IDrive on your phone.
That's it!
File Sharing Option with IDrive
If you want to share a file with someone, you have to select the file. Once you select, the sharing button shows up. Clicking on the sharing button will give you the option of sharing the file either in view mode or edit mode.
Here is what it looks like: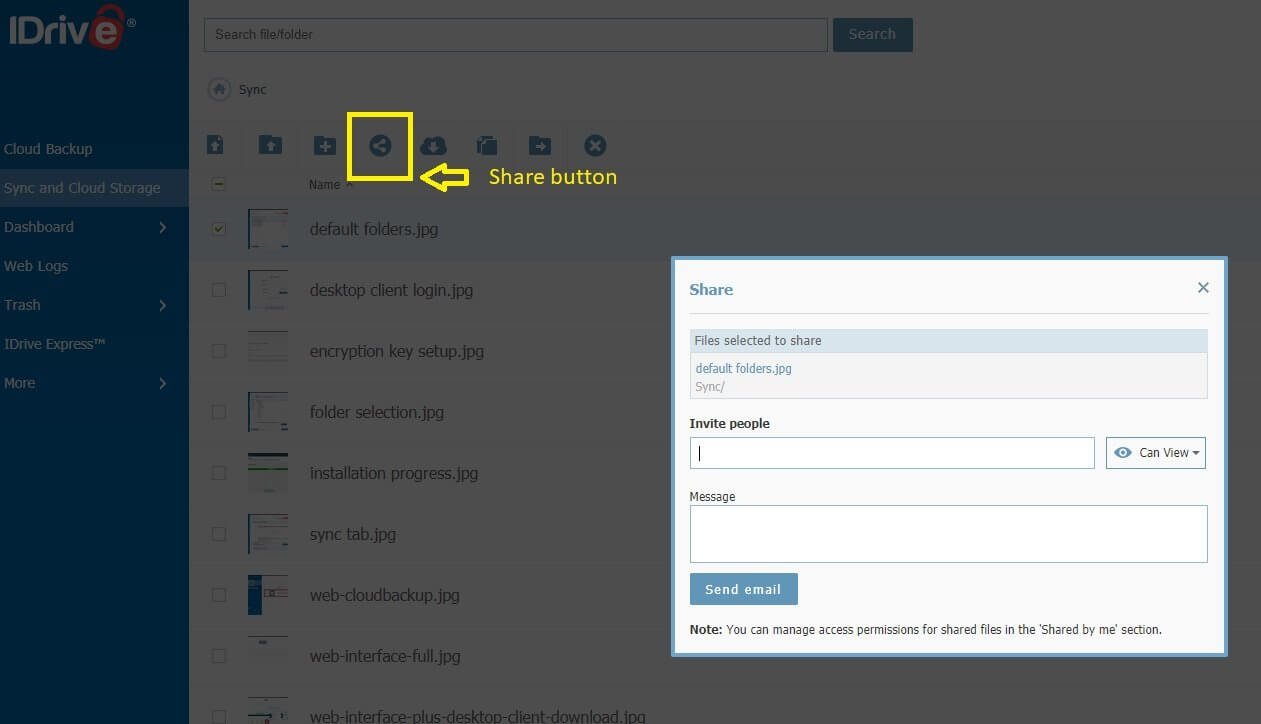 Disk Cloning Feature
Right from inside the desktop client, you can backup your computer's drives or the whole computer as image files. If you select to clone your computer, it will back up everything from your operating system, system files, boot files, program files, etc.
This is a great feature, but you will definitely need a whole lot of storage space for that. So, you should consider upgrading to a premium plan.
This is what the disk/computer cloning feature looks like:
File Transfer Features
IDrive allows both multithreaded and block-level file transfer. Multithreaded transfer simply means that it can transfer multiple files at once. This leads to a lot of CPU consumption, and hence, you can use the CPU throttle feature that I mentioned earlier.
The block-level file transfer feature means that if you make changes to the file after it was backed up, IDrive will, instead of backing up the entire file, will only transfer the edited parts. This leads to faster transfers.
IDrive Security
One of the problems with IDrive is that it will hold on to your encryption key if you want to use their file and folder sharing option.
If you are not interested in sharing options, IDrive will allow you to set your own encryption keys.
You can also enable two-factor authentication (2FA) to further improve security.
In physical terms, the data centers of IDrive have seismically braced racks and raised floors for protection against earthquakes. They also have cooling zones, temperature control systems, smoke detection systems, fire suppression systems, etc.
To prevent unauthorized access, they have video surveillance, security breach alarms, 24/7 secured access, motion sensors, etc.
Also, IDrive claims to run period third-party reviews of their network infrastructure to test, detect, and close vulnerabilities that can be exploited by hackers.
Privacy
IDrive has a nice privacy policy in place. They are HIPPA compliant, and they are GDPR compliant too.
However, do remember that they store user information like billing details, physical address, etc. On top of that, they are located in the USA, which is not known for being safe privacy heaven. You should be aware of their Patriot Act.
If the US government forces IDrive to give access to all data, IDrive will do that to stay in business. So, think before you use IDrive.
Conclusion
Overall, IDrive is a feature-rich cloud storage service. It has many features that some various famous names in the cloud storage industry doesn't have. On the pricing side, they are a bit expensive. So, if you want to use their premium service, be ready to shell out a lot of money.
On the downside, I didn't like their web interface much. There is nothing wrong with the design. It is neat and very user-friendly. Unfortunately, it is painstakingly slow.
Also, when you download or restore your data, you will experience slow speeds. That's because they don't compress the data during restore. Compressing the data would make restoration quicker.
Finally, their location is something I am not comfortable with. If you are okay with all these drawbacks, IDrive is a good option that you can select.