HubSpot is one of the leading customer relationship management(CRM) providers in the market. With their free offering, they quickly changed what they had to offer to their users.
In this article, we will review HubSpot CRM and learn what it has to offer in terms of features and functionality.
HubSpot launched its free CRM along with their Sales Tools in 2014. With time, they added more features to the CRM solution with no added cost. It is primarily aimed at growing teams who want to engage, attract, and delight their customers.
If you are in a hurry, then you can check out the table for HubSpot CRM Review.
| | |
| --- | --- |
| What is HubSpot | HubSpot CRM is a cloud-based customer relationship management solution. |
| Site URL | http://www.hubspot.com/ |
| HubSpot CRM URL | https://www.hubspot.com/products/crm |
| Aimed at | B2C and B2B businesses |
| Can be used by | Salespeople, Sales Leaders, Marketers, Operations Managers, Business Owners and even Customer Service Teams. |
| Free Option Available | Yes |
| Reach | They have more than 80K customers across 120 countries |
| HubSpot Company Founded In | 2006 |
| HubSpot CRM Release Year | 2014 |
| Starting Price | $50 per month with free option available |
| Free Trial | Yes |
| Support | Offers 24/7 Live Rep |
What Is HubSpot CRM?
HubSpot CRM is a cloud-based customer relationship management solution. It is aimed at companies with different business requirements. This means small businesses and even enterprises can effectively use it.
We can easily infer that it is suitable for B2C and B2B business, including real estate, construction sales, and so on!
They gathered the market's attention with their free CRM offering.
The free CRM offers tools that are usable by the team. The CRM can be used by Salespeople, Sales Leaders, Marketers, Operations Managers, Business Owners, and even Customer Service Teams.
So, if you are a sales team and want to get started with your workflow, HubSpot free is a good way to get you started. The HubSpot CRM is also ideal for companies that are exploring the idea of CRM and learning its scope in their business. Enterprises can also get value from HubSpot CRM as they can figure out the limitations of their current CRM solution.
HubSpot CRM comes with the basic features that you would expect from any customer relationship management solution. It does contain advanced features, but they are managed effortlessly to integrate it into their CRM, which ensures excellent ease of use for the user.
Apart from that, HubSpot CRM is Google certified premier partner. This will give small businesses trust HubSpot solutions in a better way.
As a business, you will have complete control over your customer relationship from one single place. You can communicate with your customers and organize them. By doing so, you will be able to track deals, control agent performance, manage team members and monitor company activities — all from a single dashboard. With HubSpot CRM, you will improve your inbound sales.
Hubspot Integration
Hubspot can be integrated with all the major solutions.
It offers integrations with Shopify, WordPress, Salesforce, Microsoft Dynamics and many other popular tools, services and applications. This makes Hubspot one of the best free CRM solutions with the best integrations out there.
Getting Started With HubSpot CRM
To get started with HubSpot CRM, you need to go to their CRM page. There, you need to click on Get Free CRM, as shown in the image below.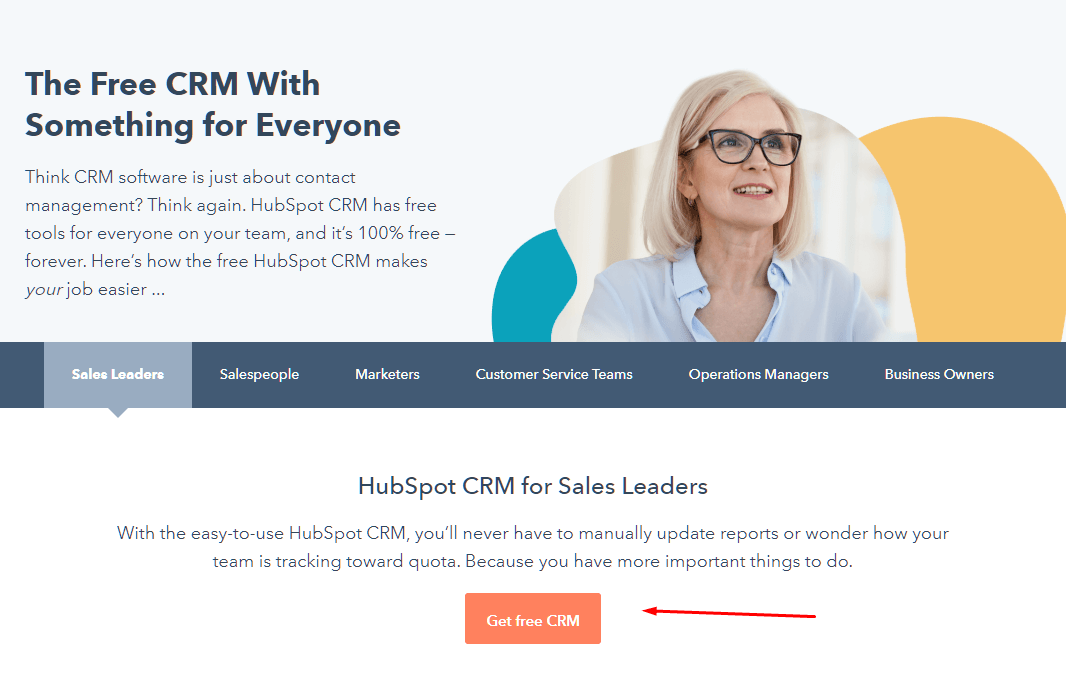 Before you choose, you may want to select the closest possible identity, as shown in the image. For example, if you are a business owner, click on it first and then click on Get Free CRM.

Once you click on the button, it will redirect you to a signup process where you need to enter personal information such as your name, email, company name, company address, and other things.
The onboarding process will also ask your past experience with CRM or HubSpot. Once done, you will be redirected to their back end. You will get a Demo Tour(depending on your familiarity with CRM or Hubspot). We choose the option of "No knowledge about CRM or HubSpot" to understand how HubSpot CRM to onboard beginners.
The demo has 12 steps that walks you through its key features that it has to offer to you as a business owner.
Once your demo tour is done, you will be redirected to the Setup Guide to set up your CRM. You can get started by importing data, followed by filtering contacts, connecting inbox, customizing sales extensions and finally inviting your team.
Is HubSpot Really Free?
Every feature on HubSpot CRM is completely free. Apart from that, you also get access to other free aspects of HubSpot, including sales tools and some marketing tools. The only limitation with the free account is that you can store up to 1 million contacts and have a maximum of 2500 users. That's more than enough for small businesses, but if you grow beyond that, you need to get one of their paid plans.
HubSpot CRM Benefits
There are many benefits of using HubSpot CRM for your business. Let's discuss its core benefits that are applicable to all types of its users.
It's Free
HubSpot CRM is a free CRM that offers excellent features for any business out there. It doesn't matter if your budget is low or none, you can use it at its full potential. Infact, you can also integrate it with your business applications or systems to get the best possible utilization.
The only limitation is the number of contacts that you can store along with maximum users on the platform. So, if you are a big business or enterprise, then you need to check out their paid plans.
Flexible and Powerful
HubSpot CRM is powerful. With it, you can customize your CRM solution and create a sales funnel that brings more deals. You are in complete control of your sales pipeline and can use the CRM to understand it in a much better way. So, if you see that your team is not meeting the sales goal, you can assign team members contacts on the fly and let them know about potential sales opportunities.
The key here is to organize and track sales in the best possible way and HubSpot CRM lets you do just that. The insights provided by the CRM saves you hundreds of hours of research. On top of that, those insights can also help you to make better decisions using the data.
The HubSpot CRM is also flexible and can fit business requirements of B2B and B2C businesses that can be from different industries such as construction, real estate, accounting or other industries.
Connect all your sales processes location
HubSpot CRM gives you the ability to connect your sales processes to one central location. So, you can pick up your sales process on social media profiles, your website, phone calls, email services providers, and others and connect them through your HubSpot CRM. This will give you the advantage of having all your sales processes at one single location.
Works will with Ongoing Sales Process
As a business, you do not have to drastically change your sales process if you decide to opt for HubSpot. There are a plethora of solutions that already provide integration support with HubSpot CRM including from the likes of Google Forms, Google Chrome, Base CRM, Bigcommerce, SugarCRM, Dropbox, and so on.
This means that you can easily connect HubSpot CRM with your existing ongoing sales process and use it on top of the existing pipeline.
HubSpot has invested heavily in their software ecosystem and hence provides top-level integration with existing operations and processes. This reduces the friction for businesses who are thinking of adopting HubSpot CRM for their sales operations.
Intuitive Interface
With HubSpot CRM, you will not feel stuck as it offers an intuitive interface for the users. It is best defined as an automation solution with an intuitive interface which cuts down the time required to manage deals and improves the overall revenue flow. With such an intuitive system, you do not have to invest heavily in training your team members or even complex installations.
Besides that, you also get access to the training material that is created by HubSpot themselves. There are also various online resources you can use to master HubSpot.
Seamless Lead Importing
HubSpot is also excellent when it comes to lead importing. For instance, you can import email leads with just one click.
HubSpot Integrations
Even though we have covered HubSpot integration mildly above, it needs special mention. In this section, we will take a more in-depth look at what HubSpot CRM offers when it comes to integration with other platforms or services.
HubSpot has a very attractive HubSpot App Partner Program. These programs list all the apps that support integration with HubSpot and its tools. Here, you can find more than 200+ powerful integrations options that cover all the popular platforms out there. The program is also working behind the scene to bring more integrations to the ecosystem.
Apart from that, HubSpot offers its API for integration CRM to any custom platform. Integration documentation covers how to use their API to do the integration.
Also, the database used by the CRM is similar to that of their marketing platform. This means that there is no requirement to integrate the database as Hubspot natively supports their own HubSpot marketing tools and ensures a smooth transition if you decide to use any of their marketing tools.
So, if you decide to shift to their other offering, you don't have to worry about integration.
Lastly, Hubspot CRM offers great integration with other CRM solutions as well. For instance, you can integrate Microsoft Dynamics or SFDC, and still use both CRM simultaneously.
HubSpot CRM Features
HubSpot is a feature-rich customer relationship management solution. To understand what they have to offer, let's look at the key features below.
You get access to contact storage up to 1,00,000 for free. Until and unless you are an enterprise solution, the amount of contact storage can be counted as unlimited for any business.
The sales dashboard offers a pipeline to manage your deals and lead information.
The Hubspot CRM offers a proper lead management system where you can do email sequencing or meeting schedule.
It offers email tracking for customized or automated email campaigns.
It also offers a good collection of email templates.
A proper contact management solution where you can store and manage every aspect of customer communication
You can manage deals with deal stages in HubSpot CRM. All you need to do is move a deal from one stage to another using the dragging option.
HubSpot CRM comes with a daily dashboard, which is ideal for learning about your campaign performance and other vital information.
You can manage different types of tasks using the in-built task management.
HubSpot CRM also offers automated data capture, which stores vital information about customer interactions, including emails, call recordings, and so on!
It provides access to proper reporting features.
HubSpot CRM has proper mobile apps for both Android and iOS. This is really helpful for field sales teams who interact with customers on the move.
You can automate your marketing by integrating it with marketing automation software.
Email integration is supported for major email providers, including Outlook or Gmail. The HubSpot CRM is capable of properly logging email information, including names, addresses, email messages, and other vital information.
You can also do a meeting schedule using Hubspot, where you can create meetings, store information about them, and archive them when needed.
Apart from that, you also get access to other features such as:
Drag and Drop Communication
Phone Integration
Website Integration
HubSpot Marketing Synchronization
Social Media
Customizable views
HubSpot CRM Pros
In this section, we will take a look at the Hubspot CRM pros.
Free to Use
There is no doubt that using such a feature-rich and powerful CRM for free is an advantage for any business out there.
Better Insights
HubSpot CRM offers amazing insights for businesses as it tracks every customer interaction with the business system. As it has a wide range of integration support, you can connect any third-party system and track it as well.
Live Chat
They recently added a live chat tool that helps businesses convert better. It is available for both free and paid users, with paid users getting access to more functionality.
Tons of customization
HubSpot CRM offers great customization for its users. You can customize the CRM based on your business requirement by using customizable forms, reports, sales tunnel and more!
Proper integration with other CRM and marketing platform
With Hubspot, you can integrate with other CRM solutions and use them simultaneously without conflict. You can also transit to their marketing solution as all of their solutions utilize the same native database solution.
HubSpot Cons
Let's now take a look at HubSpot cons.
Not advanced enough
HubSpot is a great CRM, but it might not fit the needs of businesses who are looking for advanced features or a completely customizable CRM solution for their business.
Relatively New
The platform is relatively new when compared to other already established CRM solutions. This means that you might not get all the desired features as HubSpot CRM is still in its growing phase.
Technical Difficulties
Our research also showed that many users had had technical difficulties when using the HubSpot CRM. These technical difficulties include data-loss or bugs that didn't allow users to save the data to the CRM database. These problems are mostly uncommon, but can easily hamper the business's ability to perform CRM-related actions.
Lack of Flexibility
Even though HubSpot CRM is flexible, it has a limit to it as well. For instance, it cannot fit complex sales processes. In those cases, businesses need to either choose a more advanced and sophisticated CRM solution or create a custom CRM solution.
How does HubSpot CRM compare against Salesforce?
Salesforce is at the epitome of the customer relationship management solution. So, where does HubSpot CRM sit against the likes of Salesforce?
First of all, HubSpot CRM does not directly compete with it, but sees it as a part of its ecosystem and provides integration for it.
However, HubSpot CRM is a perfect fit for businesses who never used CRM before. This is because Salesforce is too complex and also requires a lot of investment when it comes to implementation, training, and integration.
Any business that is starting out can rely on HubSpot CRM as they are free and offer good enough features to reliability work on their sales funnel.
HubSpot Sales Tools
In this section, we will take a look at the HubSpot Sales tool. CRM provides great features to get started. Eventually, you will get invested in their ecosystem and use their sales tool.
Their sales tool offers more opportunities for businesses to explore further and improve their business. These sales tools consist of meetings, snippets, email templates, tasks, documents, sequences, and more!
By using their sales tools, you will be able to scale your business accordingly. Once you reach the free limit, you can transit to their paid packages, which starts at just $50 per user/month. Like their CRM packages, they also offer enterprise-level packages that offer advanced features such as team, multiple pipelines, native Salesforce integration, and so on.
HubSpot For Developers And HubSpot Content
As a business, there is always a need for some customization. That's where HubSpot for developers comes in. HubSpot knows that there will be businesses that would require customization and has proper content for them to explore their platform.
Developers can get started with HubSpot development by visiting their HubSpot Developers.
There, you can create a developer account and go through the CMS and API documentation.
Apart from that, they also offer access to HubSpot Academy, which covers a wide variety of content, including HubSpot CMS courses and certification.
Some of the courses that you will be able to get there include:
HubSpot CMS for developers
HubSpot CMS for Marketers
HubSpot CMS themes quickstart for developers
HubSpot CMS templates
And so on! You can check their whole list of courses and tutorials about HubSpot CMS to know more about what they have to offer.
HubSpot Pricing
HubSpot uses a freemium model where users can start from a free model and transit to a paid model when the need arises. This means that you can use HubSpot CRM for free for as long as you want without paying a single penny.
However, the limitation is put on the number of active users on-board, and the number of customer contact information that you can put on the platform. For now, that number stands at 2500 users and 1 million contacts.
This approach is very different compared to other similar service providers, where most of them provide free services for a given period of time, i.e., 14 or 30 days.
So, how does HubSpot make money?
Well, they charge users money for add-ons that provide additional features.
Their pricing page lists their prices for Marketing, CRM & Sales, Customer Service, and CMS.
Each of their services has three main plans. For instance, Sales and CRM has three packages.
Starter → Starts at $40 per month for two paid users. It gives access to free tools plus better sales process tools and better connectivity tools.
Professional → Starts at $400 per month for five users with free service plus more features.
Enterprise → Starts at $1200 per month for 1,200 per month for ten users with access to their free service and enterprise-level features.
Conclusion
HubSpot CRM is undoubtedly one of the best CRM providers out there. Their free plan is an invitation for companies and businesses to try out what they have to offer. With good customizability options, tons of features, and good support, you may find it attractive, which can lead you to expand your business using it.
So, what do you think about HubSpot CRM? Are you going to give it a try? Comment below and let us know.