Why should you hire a freelancer?
There are two very valid reasons I can think of. First, it reduces cost. You do not have to keep paying when there is no work.
Second, you get access to a wide range of talents. If you do not like the work of one freelancer, you can hire someone else very quickly. This saves time as well.
You can always think of other good reasons if you have time.
Instead of focusing on why to hire a freelancer, let me turn your attention to a list of places where you can find exceptionally talented freelancers.
I am never claiming that these places have only talented freelancers. That cannot happen. There will some who are callous, irresponsible, and do not know what they are doing. Their talent is as good as 'non-existent.'
You, as a hiring manager, need to filter out the bad crowd and focus on the skimmed cream. You need to interview them and ask for work samples to further narrow down your search.
I guess, you already know the drill.
So, let us save our precious time and get straight to the list of best places to find and hire freelancers.
Best Places to Fine and Hire Freelancers
If you are short on time, here is this list without any description (for descriptive narratives, continue reading beyond this bare list):
UpWork
Freelancer
PeoplePerHour
SimplyHired
Toptal
Fiverr
Crowded
99designs
FlexJobs
Guru
Designhill
Writer Access
The Creative Group
Nexxt
Aquent
Hireable
TaskRabbit
Skyword
We Work Remotely
Behance
Dribble
DesignCrowd
Webflow Experts
YunoJuno
Authentic Job
Codeable
EnvatoStudio
Gigster
CodeControl
Amazon MTurk
CloudPeeps
Growth Geeks
Speedlancer
Clearvoice
Lemon
Huh! That is a massive list. So, let us dive in and learn a bit more about each of these companies.
Ready?
#1.

UpWork
UpWork is perhaps the most popular name. With a collective list of 12 million freelancers waiting to get your job done. UpWork is not a specialized platform. So, you can find freelancers who can create videos to those who can accomplish complex coding tasks, to those who can work only on data entry tasks.
Post a job, and you will find someone or the other having experience in the relevant field. Sometimes it may take hours for the first bid to show up, and sometime, you can get dozens of proposals within a few minutes. It all depends on the complexity of your job as well as your budget.
You can decide to go for a fixed pricing model or an hourly pricing model. The hourly pricing model is perfect if you are unsure about the work volume, or if you are unsure about how much time it will take to complete the work.
You will find all kinds of talents on Upwork. Writers, designers, animators, video creators, data entry professionals, translators and transcribers, engineers, coders, doctors – you name it and UpWork has someone or the other for you.
Your money will be safe. You start by hiring a freelancer and putting the money in Escrow. UpWork will hold the money on your behalf. Once the freelancer completes the work and you accept it, you can request UpWork to release the fund and pay the freelancer.
#2.

Freelancer
Like UpWork, Freelancer is a massive freelancing website with millions of freelancers waiting to bid on the projects people post.
You can find just about any type of talent you need. They have data entry folks to high end coders and designers, animators, writers, and what not.
The moment your project goes live, you will start receiving bids from across the world. You do not need to limit yourself to freelancers from your country. You can hire someone halfway across the world on the other hemisphere.
As always, the hiring process is all dependent on you. You may or may not choose to interview the potential freelancers. However, it is advised that you do to prevent potential hiccups during the project.
There is no pricing model. You are free to choose the price for your project but be reasonable. Do not offer an exceptionally low price for something big. You will not find people willing to work for you.
Once you hire someone, you need to fund the project and put the money in escrow with Freelancer. Upon successful completion, you need to release the fund so that Freelancer can pay to the person who worked on your project.
#3.

PeoplePerHour
The name says it all. Most of the jobs on that platform are based on hourly pricing model. So, if you are looking for a freelancer of this platform, you should go for that model.
While you can find freelancers for just about anything, PeoplePerHour put more focus on SEO, social media marketing, and developers.
You can find people who can design logos for you or build you a website from scratch using your preferred coding language, or write content for your website, or edit videos and photos, and more.
The platform might not be as massive as UpWork or Freelancer, but they boast a collective freelancer strength of 3 million skilled individuals ready to get your job done.
Big brands like BBC, Forbes, Financial Times, Business Insider, CNBC, etc. hire freelancers from this platform.
On this platform, you can rest assured that your project will be completed the way you want it, irrespective of the project size.
You do not have to worry about losing your money. The company has a safe escrow system in place that will ensure that neither you nor the freelancer is losing money. And yes, they also have anti-fraud mechanism in place to protect both the clients and the freelancers.
#4.

SimplyHired
SimplyHired may appear to be a completely different world where people can hire only full-time employees for working from office.
That is not the case. You can use this platform for hiring freelancers to work remotely as well. You just need to post your job requirements and you will start receiving proposals.
What is interesting about this platform is that a freelancer from your local area can find your job and send a proposal.
Over three million employers worldwide find their perfect employees from this platform. You too, can get your perfect freelancer!
#5.

Toptal
Toptal is no ordinary freelancing platform. Only the top 3% of the freelancers across the globe make it to this platform. So, if you have a project that requires huge experience and absolute precision, Toptal might be your best bet.
World's most famous brands and startups hire freelancers from this platform. Some of the notable names are Airbnb, Duolingo, Bridgestone, Shopify, USC, etc.
The platform focuses on only a few specific niches that include Developers (engineers and coders), Designers (UI, UX, Visual), Product Managers, Project Managers, and Finance Experts.
The hiring process is completely different from what you find in platforms like UpWork or Freelancer. Here, you need to contact one of the Toptal experts and explain your needs. That person will then find a freelancer who can get your job done with precision. Usually, the matching period is 24 hours. You can start working with the freelancer on a trial basis and pay only if you are satisfied.
Toptal does not allow any Tom, Dick, and Harry to get into their platform as a freelancer. They have a very tight selection procedure to filter out the noise and select only the best professionals.
With Toptal, you can rest assured that your job will be completed with precision and within the set deadline.
They also have something called Toptal Enterprise where they cherry-pick the freelancers creating a pool of only and only the best in businesses. Toptal Enterprise is an elite network of freelancers that you can use for building your high-performance team, or just fill up the missing talent in your existing team.
#6.

Fiverr
Fiverr is not like the usual freelancing platforms where you will publish your job requirements and wait for freelancers to bid on your project. Rather, it is the exact opposite.
Freelancers of Fiverr post their exact offering with a price quote. You browse through the listings and hire the one you like the most.
On Fiverr, freelancers will post gigs like "I will design your logo with 5 iterations," "I will give a voiceover to your video," etc.
You can find freelancers from different niches include things like designing, video and animation, digital marketing, programming and tech, lifestyle, data, music, writing and translation, dropshipping, etc.
If you decide to hire from Fiverr, make sure that you are asking the prospective freelancer to show work samples. Unlike Toptal, you will find freelancers of all skill levels. Some may be rookies with no bona fide experience, while others may be highly experienced.
You need to find the right person else; you will be disappointed. So, take your time!
The name Fiverr comes from the fact that gigs offered by freelancers start from $5. However, that does not mean that you cannot find freelancers charging thousands of dollars. It all depends on the complexity of the job they are offering.
Many business owners depend on Fiverr for their small tasks that they need within a brief time frame. Usually, Fiverr is perfect if you are looking for an inexpensive freelancer for a small project.
#7.

Crowded (Now Acquired by Valilly)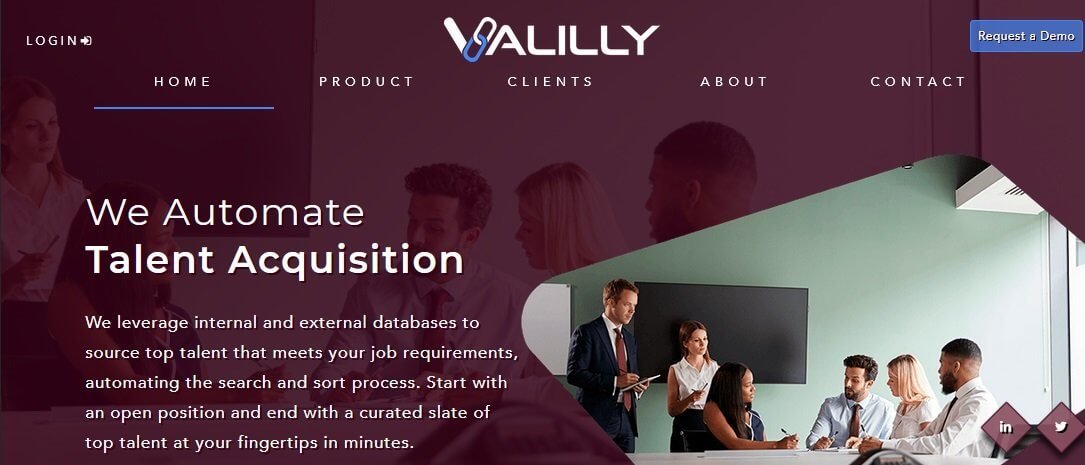 Crowded has now been acquired by Valilly. So, the original Crowded platform no longer works. It gives you a direct link to Valilly Inc.
The platform is powered by AI that will sort and rank all applicants for the job based on factors like how much they charge, their skills, and their experience level.
The platform finds, flags, and removes those candidates that have possibly fraudulent or questionable backgrounds, leaving behind only the best of the candidates.
The entire process takes only a few minutes so that you can start selecting the best candidate for your job.
With Valilly's talent acquisition platform, you can find your right candidate or build your team of highly skilled professionals who will get your job done in a jiffy.
Valilly has served many big brands including Amazon, Homer, Avlino, AWeber, Quicken Loans, etc. So, if you are looking for freelancers who know their job well, Valilly is a great platform to look for what you need.
#8.

99designs
Looking to have some design jobs done using freelancers? You can check out 99designs. This freelance website focuses on graphics and designing jobs. It can be anything from logo design to flyer or book cover design.
99designs offers 90 categories covering everything you can imagine in graphics and designing. Whether you are looking for WordPress theme design to app design, from landing page designs to illustrations or graphics, the platform will give you access to world-class freelancers.
You and employer need to provide your project brief. This will allow designers to get a clear understanding of what you need. You can connect with them and start collaborating instantly.
The various categories have different flexible pricing. For instance, logo designing starts from $299.
It does not matter how simple or complex your design requirements are. 99designs has a collection of some of the world's best designers.
The platform will allow you to review the portfolios of the designers before you request quotes from them.
99designs ranks all its designers in three categories – Entry, Mid, and Top level. If you need memorable designs with absolute perfection, you should go for the top freelancers.
#9.

FlexJobs
FlexJobs is a wonderful place to find incredibly talented freelancers for different projects that you might want to get done without hiring a full time professional. Some of the world's biggest brands hire professionals from this platform. Some well-known brands are Xerox, Dell, SAP, Kelly, Apple, CapitalOne, etc.
The company has existed since 2007 and currently has over 27,000 jobs from 5,000+ reputed companies.
As an employer, you can settle for a paid membership that will give you access to unlimited job posting and resume searches and other features like Applicant Tracking System, Geo-tagging of remote candidates, etc.
In case you do not want to become a paid member, you can also choose their free job listing option, but it will require you to be an employer with great online reputation.
If you decide to become a paid member (starting at $299 per month), you will get various upgrade options including things like premium placement of the job posting, promotional social media campaigns for the job posting, message and email blasts to targeted potential employees, and more.
Yes, FlexJobs is not as big a platform as UpWork in terms of numbers, but it one of the most advanced platforms dealing with incredibly talented professionals who can get your job done with precision.
#10.

Guru
Like UpWork and Freelancer, Guru is a great platform for hiring freelancers. However, Guru is not a massive platform. On the bright side, it has a highly curated list of jobs from verified employers.
All freelancers who join Guru are required to complete their verification steps. By forcing freelancers to verify themselves, Guru ensures that only the most serious and skilled people stay on their platform.
You can find freelancers in almost any niche including 'programming and development,' 'design and art,' 'writing and translation,' 'sales and marketing,' 'business and finance,' 'legal,' 'engineering and architecture,' and more.
There are different pricing models that you can use while selecting the right candidate for your job. You can opt for a fixed pricing model or hire someone on an hourly basis. You can even opt for recurring payment model or select a task-based pricing model.
There are 3 million people worldwide who use the platform to either find work or find a freelancer. The platform publishes the all-time transaction data and feedback scores of the freelancers so that employers can make an informed decision while hiring.
#11.

Designhill
Designhill is like 99designs. It focuses on graphics and design. If you are looking for some stunning design work Designhill is a great destination. There are various design categories to select from.
You can find designers in categories like logo, brand identity, business and advertisement, website and app, illustration, and art, etc. Each category comes with multiple options to meet specific needs.
Every design category has base price, but the price can increase depending on your specific needs.
You can settle for different pricing plans starting from $249 and moving all the way up to $999. All plans come with 100% money back guarantee. You get to keep and own what you pay for, which means that once you pay for the work, you will become the legal copyright owner.
With Designhill plans you are entitled for full copyright ownership, print-ready designs, high resolution files, unlimited revisions, and more. You can invite designers to work on your project, provide real-time feedback to designers, and you will get 24×7 free customer support.
The Designhill marketplace has 152,334 professional designers from across the world, all capable of churning out fabulous designs and artwork depending on your needs.
#12.

Writer Access
If your business is dependent on content marketing, Writer Access will be one of the best places to find world-class writers. Well, they even have designers!
The platform has AI-powered tools that can help you to find the right writers for your project. Those tools can help you optimize your content, track writer performance, and streamline your workflow.
The platform has over 14,000 professional writers that can write just about any type of content your business needs. Blog posts, emails, articles, social posts, legal writing – you name it, and they can do it!
Writer Access is not a free platform. You need to pay a monthly subscription fee starting from $39 a month. Irrespective of which plan you select; you need to pay for the content separately. You can ask for unlimited revisions, and if you are not satisfied with the work, you do not need to pay.
Writer Access is essentially an AI-powered software program with various tools. Depending on the subscription plan you choose, you will get access to diverse types of marketplaces.
Of instance, if you go for their Premium plan that costs $99 a month, you will get access to marketplaces where you can get translators, content strategists, content managers, copy editors, etc. You will also get access to their design marketplace, and even get access to image libraries like Shutterstock, Getty, StoryBlock, etc.
If you compare Writer Access head-on with options like Upwork, Guru, Freelancer, etc., you will quickly notice that Writer Access is way more expensive, but in return, you get access to finest freelancers in the world.
#13.

The Creative Group
The Creative Group is a creative and marketing staffing agency that will allow you to get access to skilled professional. You may look for freelancers willing to work on short-term and long-term assignment, or you can go for permanent placement. You can also access consulting solutions.
Here you can find professional specialized in accounting and finance, administrative and office, creative and marketing, legal, and technology.
Of course, this is not a talent marketplace like UpWork, Guru, Designhill, etc. However, under technology they cover things like applications architect, big data engineer, data security analyst, business intelligence analyst, network architect, web developer, systems engineer, software developer, mobile application developer, information systems security manager, and more.
#14.

Nexxt
It does not matter whether you are looking for a full-time salaried employee or a freelancer to get your job done. Nexxt can help you get the right candidate. Nexxt is one of the world's largest job and talents' marketplaces. They have a pool of 85 million users.
It is not free for employers looking forward to hire professionals. They must pay a monthly subscription fee starting from $199 a month and going all the way up to $499 a month.
With your subscription, you will get access to a state-of-the-art job matching technology, a job advertising software, a hiring software integrating job posting tools, applicant management and reporting, a job publishing engine, a candidate search solution, and a multi-channel platform for marketing your job.
Jobs found on Nexxt are categorized as career focus, diversity focus, local focus, and global focus. Diversity focus has a more inclusive work environment, but you as an employer should select the one that suits your needs the best.
When it comes to hiring, the company offers three solutions targeted towards enterprise businesses, small and medium-sized businesses, and agencies. You can select the one that suits your requirements the best.
#15.

Aquent
If you are hunting for freelancers that can take care of digital, creative, and marketing needs of your organization, Aquent is a solution that you cannot ignore. This freelancing firm has many accolades under its belt.
It offers workforce services, marketing and creative talent, managed talent services, and project management services.
Aquent is targeted toward freelancers and professionals who can engage with recruiters, see their performance ratings.
Aquent is also targeted towards employers. Companies can access Aquent's large network of staffing vendors to find talents that suit their needs.
As an employer, you can post your jobs on Aquent. Whether you are looking for frontend developers or hunting for digital marketing managers, Aquent has a pool of talented individuals who can fulfill your requirements.
The platform focuses on UX, UI, Creative & Design, Development, Marketing, and Content & Writing.
So, if your business needs any of these, you can rely on Aquent to find some of the finest freelance professionals across the world.
#16.

Hireable
Yet another popular freelancing platform where you can find fresh talents and hire them for your projects is Hireable. The platform is quite like UpWork as it allows people to find their dream jobs. Companies can also tap into a large pool of highly skilled freelancers from across the world (not just America).
The downside is that you can post your job on Hireable only if you are from the United States. However, you can always get applications from people in different countries.
Hireable works in the same way any typical freelancing website will work. Freelancers can search jobs, get recommendations, and job alerts, quickly shuffle through saved jobs and the jobs they applied for.
The entire process is simple and effective. However, as an employer, it will be your responsibility to assess the skills of the freelancers you choose for hiring.
#17.

TaskRabbit
Not every freelancing job needs to be digital. Sometimes people need help with smaller tasks like getting groceries, or assembling a table, or wall mounting a TV, or lifting furniture upstairs, and so on.
If you are looking for a person who can perform small tasks for your home or office or run errands for you in return for some money, TaskRabbit is the best platform you can get.
Of course, you cannot hire some halfway across the world. You will need local people to perform these tasks.
You can find taskers based on price, skills, and reviews. You can chat with them, pay them, or even tip them through TaskRabbit's unified platform. Want to schedule as per your convenience? Do that! You can schedule right today!
All taskers are background-checked by TaskRabbit to ensure safety and security. It is an interesting concept, and it works, making lives simpler for many people in different countries.
#18.

Skyword
Is your business dependent on content marketing for success? If so, Skyword can help you reach greater heights. This content marketing platform is a leader in Gartner 2021 Magic Quadrant for Content Marketing.
Skyword uses an award-winning technology for marketing and has a pool of specialized creatives and writers. If you need, they can even provide you with an expert content strategy that can help you to leave your competitors behind.
Not just writing content, Skyword can help you with a wide range of content including whitepapers, videos, infographics, animation, and print. They even provide social analytics if you need.
Skyword's talent pool is spread across 59 countries, with every talent required to pass their rigorous tests and evaluations. These talents can deliver any type of content you can think of. All of them are subject matter experts and active practitioners in their respective industries.
So, if you are in need to exceptional freelance content creators, Skyword is a perfect destination.
#19.

We Work Remotely
With over 3 million visitors, We Work Remotely is a great destination for finding skilled freelancers for a variety of jobs including programming, design, system admins, management and finance, customer support, sales & marketing, etc.
You may hire someone on a part-time basis or on a full-time contract. All work will be performed remotely.
Big companies like Amazon, Google, Basecamp, InVision, etc., use We Work Remotely to get jobs done.
Posting a job will require you to pay $299. You can settle for optional upgrades that will allow you to do special things like adding your company logo, create social media posts, distribute your job to partner networks, highlight your ad, pin your ad for a week, or get a featured email placement.
Even further, you can pay an additional $199 for filtering applicants.
While it may sound expensive, in the long run, We Work Remotely can help you to cut your costs significantly by eliminating the need for keeping an HR team, onboarding costs, and other relevant costs. Well, you run a business. You know what costs you incur!
#20.

Behance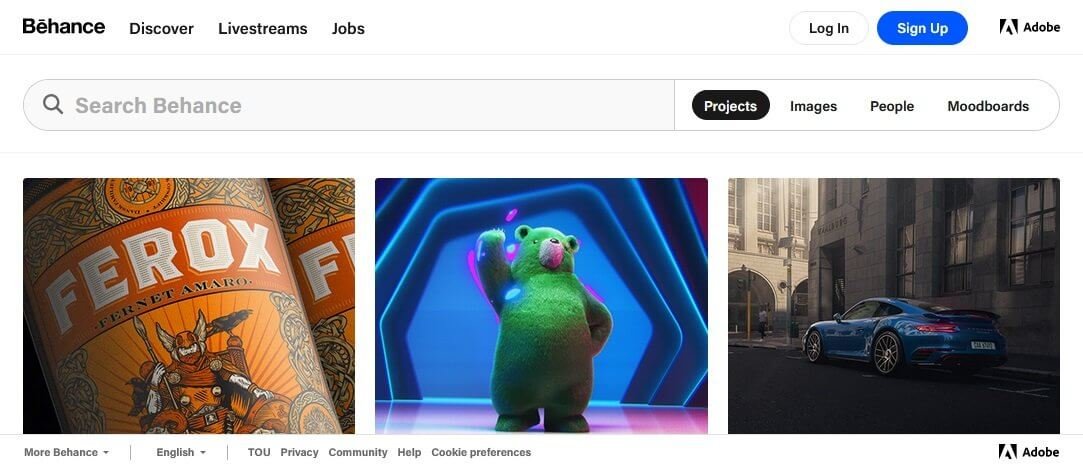 There cannot be a second thought that people take creative inspiration from Behance. Animations, web design, illustrations – there is so much on display that you can spend hours marveling at those creations.
But Behance is not just a display platform. It is much more. It is a social network where you can connect with those amazing designers and creative talents.
Guess what? They also have a job board where you can post your requirements if you want one of those expert designers to work for your project.
Of course, it is not a true marketplace, but you can always find some freelance talent to create stunning graphics and artwork for your business. Do not forget to check it out.
#21.

Dribble
Dribble is a place where you will find people sharing variety of stunning design and creative projects. It is not at all difficult to come across high-value Dribble profiles suitable for your needs.
In fact, Dribble is one of the world's top destinations for finding exceptionally talented designers and creative works.
For you as an employer, all it takes is searching through those profiles complete with bio, work availability, and portfolio.
If you do not want to spend time scanning through different profiles, you can always post your requirements on their job board available exclusively to those professionals to upgrade their account to a Pro account. Interested freelance designers will contact you with a proposal.
Just in case you are wondering whether people hire through Dribble or not, here is something you should know – over 60,000 companies have hired professional designers through Dribble. You can find your perfect talent through Dribble.
#22.

DesignCrowd
Yet another place to find talented designers from across the world is DesignCrowd. You can find designers for just about anything from web design to logo design, flyer design, T-shirt design, business card design and more.
More than 100,000 companies use DesignCrowd platform to get their design work done. In case you are not happy with the work you get through DesignCrowd, you will be entitled to get your money back.
You can post your job requirement through DesignCrowd, and if you want, you can mark it as a private job, making it visible only and only those freelancers who log into the DesignCrowd platform.
From DesignCrowd, you can get your perfect designs from as little as $99. Well, depending on the complexity of your project, the price you pay for a design can be higher.
Once you post a design job, you will start getting designs from different designers. Once you select a winning design, you get to keep it with full copyright ownership. You will also get all the raw files that you can use anytime in any way you need.
#23.

Webflow Experts
Looking for custom codes and integrations, platform migrations, design system setup, rebranding & redesigning, no code app creation, ecommerce websites, etc.? Webflow Experts can help you.
Webflow Experts are professional and enterprise partners of Webflow. Professional partners are freelancers and digital studios that work on both short term and long-term engagements. If you want, you can get full-service digital agencies that are termed as enterprise partners.
You can select a service provider who display the list of services they offer and define the minimum project price. If you are interested, you can submit your project details to them. If they respond, you can move forward.
Webflow partners are distributed all over the world. This will give you a chance to hire an expert individual or an agency from your own country or from anywhere else in the world.
#24.

YunoJuno
YunoJuno is a UK-based freelancing platform. This is a place where you get UK's best creative professionals. Good news is that you as an employer does not have to be from UK. You can be located anywhere in this world.
The process is as simple as creating a project brief and allocating a budget. Freelancers will send you proposals. Select the one that suits your needs and budget. Award the project to your selected freelancer and get it done!
Yes, the platform works just like popular freelancing platforms such as UpWork, Freelancer, Guru, PeoplePerHour, etc.
The platform will allow you to create a pool of your favorite freelancers so that you do not have to search for one every single time you post a job. You can keep rehiring people from your pool.
#25.

Authentic Jobs
Authentic Jobs is a job board where you can hire programmers, designers, and creatives. Posting jobs will attract a charge. For standard listing, you will be charged $149 dollars a month. If you want your job postings to be featured, you need to pay $199 a month.
Once you pay, you will get a dashboard for monitoring your job progress. Additionally, if you are not 100% satisfied with the job done, you can ask for a refund, or a free relisting of your job.
You can go for optional extras to have your job featured on Dribble job board, We Work Remotely job board, Remotive.io job board, etc.
You may decide to pay using your credit card or by check (through invoicing). The platform has thousands of exceptionally talented freelancers and professionals who can get your job done.
#26.

Codeable
If you are looking for specialized WordPress development, Codeable is a brilliant place to start your search. They do everything WordPress.
From custom WordPress development to theme development, plugin development, troubleshooting and maintenance, website design, page design, app design, custom API integration, e-commerce development, security & performance enhancements – you name it, and they have freelancers available for everything!
All freelancers of Codeable have at least six years of experience, and all of them are experts. You can rest assured that your WordPress job will be in secure hands.
The developers are spread across the world. You can select developers from your preferred country.
Depending on your project complexity, urgency, and scope, the pricing will vary. Pricing can reach as high as $16,000.
Codeable is insanely popular, and is often recommended by companies like Kinsta, WP Engine, Gravity, WooCommerce, etc.
#27.

EnvatoStudio
EnvatoStudio is yet another marketplace for hiring talented freelancers. It is remarkably like Fiverr, but they turnaround time at EnvatoStudio is much faster. You can expect your job to be completed within 2 days.
You can find freelancers for logo design & branding, design & graphics, e-commerce & CMS development, content writing & copywriting, video & animation, online marketing, audio, mobile app development, website & programming, WordPress development, and more.
Like on Fiverr, freelancers on EnvatoStudio post what they can do with their rates and turnaround times. You can browse through them and select the one that you need.
#28.

Gigster
If you are looking forward to hiring tech professionals who can perform tasks related to apps, software, and website, Gigster is a wonderful place to start searching for freelancers.
They do not accept any and every freelancer who wants to join the platform. They have a rigorous testing and selection mechanism in place, thereby ensuring that they pick up only the best talents to join their global team.
Gigster is ideal for creating a global team of freelance professionals who can work on your projects with out-of-the-box thing and infuse innovation into your projects.
To start, you need to provide a thorough description of what you need, and Gigster management will get back to you with a team they put together depending on your requirements.
Gigster may not have a massive network for now, but they do have a network of 1,000+ highly skilled professional software engineers, programmers, and developers with years of industry experience.
#29.

CodeControl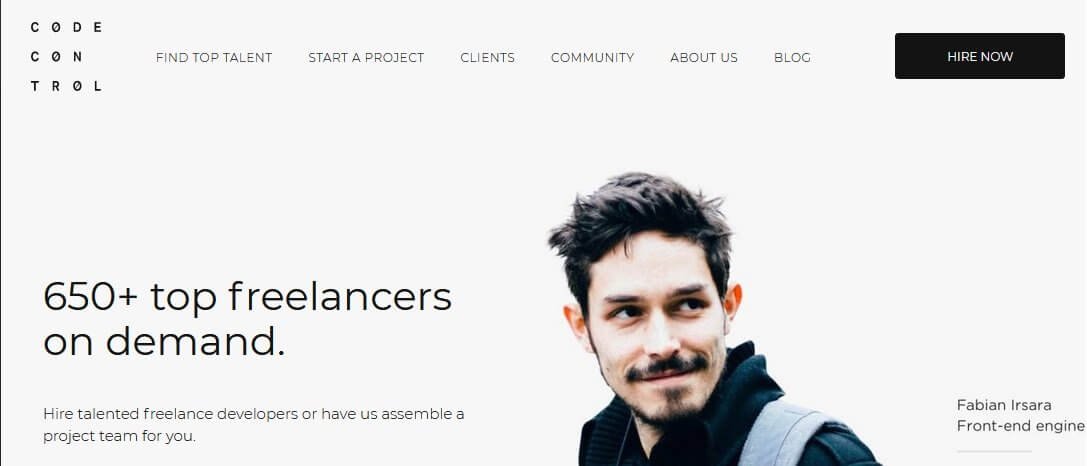 In case you are looking for freelancers who can perform technical tasks like building a software, fixing website issues, custom app development and programming, CodeControl is yet another place to start looking for talented individuals or teams.
CodeControl has 650+ highly skilled professionals that can take care of your needs. You can hire an individual, or you can build an entire team depending on your needs.
What is interesting about CodeControl is that even after you have selected a team or an individual, the platform will continue monitoring the performance of the freelancer(s) to ensure that you are satisfied with the work.
Though CodeControl has a small pool of developers and programmers, it is still used by some of the leading companies of the world including names like Lufthansa, Siemens, Universal Music, etc. You can trust the freelancers.
#30.

Amazon MTurk
Never heard of the name Amazon Mechanical Turk or Amazon MTurk? Well, it is a platform where you can find a globally distributed workforce ready to handle micro tasks.
You use this marketplace when you have mundane time-consuming tasks to be completed for your bigger projects.
It is a perfect place to find people to perform tasks like data duplication, research, content moderation, data entry, transcribing, data mining, product & image categorization, etc.
Because MTurk is not about complex and innovative work, you can expect your work to be done quickly by a globally distributed workforce, thereby saving your time, and reducing your expenses.
#31.

CloudPeeps
CloudPeeps is yet another platform where you can hire individual freelancers or build and entire team to get your work done. CloudPeeps has nothing to do with coding and development. In fact, it focuses on other niches like social media management, content writing, content strategy, emails, public relations, SEO, community engagement, etc.
The freelancers that work through CloudPeeps have been former employees of companies like Airbnb, L'Oréal, Lyft, Virgin America, etc.
So, you can rest assured that the freelancers you find or the team you build know their job very well.
Getting started with CloudPeeps is as simple as posting your job, getting hand-crafted proposals (or search for peeps aka freelancers), and hire!
Posting a job on CloudPeeps is free, but if you want hand-crafted proposals, or want CloudPeeps to match relevant freelancers with your job, or have your job listing promoted and featured, you can pay.
It works very much like UpWork, making it a viable alternative to UpWork, but only on a smaller scale.
#32.

Growth Geeks
Growth Geeks is like Fiverr, but with primary focus on digital marketing, content writing, social media management, email marketing campaigns, etc. You will have 50+ pre-defined gigs to select from. You need to select the one that suits your requirements, contact the provider, and get it done.
There are no contracts or fine prints to worry about. There are no hidden fees to bother you. If you are not happy with the work done, you are entitled for a refund under the 30-day money back guarantee.
Growth Geeks is all about cutting down your expenses of hiring and managing an in-house marketing team.
#33.

Speedlancer
Design, video editing, virtual assistant, podcasting, add development, WordPress development, content creation, marketing, strategy building, design & illustrations, etc. – Speedlancer is a place where you can find freelancers for performing all these tasks.
Freelancers at Speedlancer have worked with big brands like Facebook, Bloomberg, Dribble, BBC, Foundr, HuffPost, etc.
When you post your job requirement, Speedlancer will match you with hand-picked teams to accomplish your task.
Every team comes with a concierge for team management. If you are not satisfied with the work done, you can ask for a complete refund. Yes, they have a 100% money back guarantee.
They also offer 24/7 support in case you run into some trouble. Their most popular teams include podcasting team, content marketing team, design and development team, virtual assistant team, and thought leadership team.
#34.

Clearvoice
Clearvoice is all about brand awareness, lead generation, sales enablement, SEO, content marketing, customer retention, social media management, etc.
If you are looking for these services, Clearvoice is a great option. Once you post your requirement, the platform will match you with freelancers (individuals or teams) and help you with the recruitment process. They will plan and strategies your content, develop assignments, give you a dedicated success manager and more.
In short, once you associate with Clearvoice, they will spearhead the success of your brand. They will run long-term campaigns, build your brand with consistent content, and drive your business growth through lead generation, social media management, etc.
Big brands like Intuit, Cisco, Minted, HomeAdvisor, etc. have worked with Clearvoice. You can rest assured that your job will be in safe hands.
#35.

Lemon
Looking for almighty developers working remotely, but as closely knit to your project as you are? Lemon is the place where you can find full-stack developers with godly skills. Once you post your project requirement with Lemon, they will match you with a suitable developer within 24 hours.
Lemon guarantees to give you a replacement developer who is just as skilled, in case your first assigned developer fails to complete the task for some odd reason.
All the developers in the Lemon network are thoroughly tested and vetted against other developers to ensure that they are the finest in their field. They also have a highly responsive customer service to ensure that your project ends in a success.
Conclusion
It is not always necessary to have inhouse employees for every task. That is old-school and often, a costly affair. With the advent of Internet, borders are disappearing, giving businesses and talents across the world to come together and achieve awesomeness.
If you need some work done, and you are interested in hiring a freelancer or a freelance team with unparalleled work ethic, freelancing platforms will never cease to surprise you with the exceptionally skilled people tucked away in remote corners of the world.
Start exploring the world of possibilities!