What is GreenGeeks?
GreenGeeks is a web hosting company that takes pride in being an eco-friendly hosting company. According to them, they are powered by 300% renewable energy. What does that mean? It means that the company returns three times the total wind power credits it uses to power up its servers and data centers. That's a little over 600,000 kilowatt hours every year.
Being an eco-friendly hosting company means that it has a net positive carbon footprint. That's something you will not find easily. They aren't a big company like Bluehost or Hostgator or GoDaddy. However, since the inception of the company in 2006, it has experienced a slow and steady growth. Today, it has over 40,000 + customers and hosts over 500,000 websites.
The company in known for providing personal attention to its customers – one of the many perks of having a small customer base!
GreenGeeks – a Quick History
History is boring and I am fully aware of that! So, I will keep it short and sweet.
Trey Gardener started the company in 2006. Previously, he worked for a few web hosting companies like Globat, Dot5Hosting, StartLogic, iPage, Hostpapa, and Lunarpages.
The company using wind energy to power its data centers. The wind energy consumed by the company replaces 615,000 kilowatt hours of energy consumption per year.
The company has earned many awards and recognitions to become America's one of the top web hosting companies.
The company started with a strict policy of staying green and it maintains that policy by using only wind power.
GreenGeeks Hosting at a Glance
In case you want to glance through the key features of GreenGeeks before taking a deep dive, here is what you need to know:
| | |
| --- | --- |
| Year of foundation | 2006 |
| Headquarters | California |
| Server uptime | 99.9% claimed by the company |
| Server response time | 445 milliseconds (average) |
| Web apps available | WHMCS, PrestaShop, Joomla, WordPress |
| Hosting types | Shared hosting, WordPress hosting, and Reseller hosting. |
| Bandwidth | Unlimited |
| Storage | Unlimited |
| Email accounts | Unlimited |
| Free domain | Available only for the first year |
| Free SSL | Available |
| Free site transfer | Available for only one site |
| Starting price | $2.95 per month |
| Renewal price | $9.95 per month |
Okay, now that you are aware of the basic information about the company and its services, it is about time that I walk you through the core features of the hosting provider.
Features of GreenGeeks
GreenGeeks offers some interesting features as a part of their hosting packages. Some of the key features include:
Unlimited Storage
The company offers unlimited storage across all its hosting plans. That's something you wouldn't find under normal circumstances. There are very few shared hosting companies that offer this feature.
Just because you have unlimited storage space, it doesn't mean that you can use it as object storage. No, you are not allowed to store large audio or video files. You are not allowed to store other files that are extremely large.
Unlimited Transfer or Bandwidth
The company also offers unlimited transfer or bandwidth. Trust me, unlimited is not truly unlimited. As long as your website is getting traffic within the desired range, you are welcome to use as much data transfer as possible for as long as you want. There are fine prints that you need to read and understand.
SSL Certificate
Like nearly every other shared hosting company, GreenGeeks also offers a free SSL certificate for your website. The certificate is provided by Let's Encrypt, and it is a pretty decent one. You don't have to get a premium SSL certificate if you are running a small blog or information website. In case you want to build a big e-commerce store, you should consider getting a premium SSL certificate.
Free Site Transfer
You will also get a completely free site transfer if you are using GreenGeeks and you have a website hosted with some other hosting company. The migration is done manually by their experts. They don't use a plugin.
Free Domain
Irrespective of which plan you purchasing, you are entitled to get a free domain for the first year. From the second year onwards, you need to pay for the domain. However, you have a choice. You may or may not take the free domain.
Unlimited Domains
If you are purchasing the pro or the premium plan, you will get to host as many websites as you want on a single hosting plan.
Free Email Accounts
You will get to create as many free email accounts as you want. These are all professional business emails in the form something@yourdomain.com.
SSD Storage and Accelerated RAID-10 Local Array
SSD storage drives are way faster than traditional spinning drives. Different hosting companies are now offering SSD storage and GreenGeeks is one of them. This ensures that you website loads faster and the server responds quickly to user queries.
Free CDN
The company also offers a free CDN service to ensure that your website's static files are served to users from locations close to them. This increases the website speed significantly.
LiteSpeed Server
The LiteSpeed server is one reason why I love GreenGeeks. Apache, Nginx, etc. are some of the most famous web servers that exist today. LiteSpeed is a comparatively new option, but it has proved its metal. It is one of the fastest know web servers in the world, and I use it and recommend it. It is great to see that LiteSpeed server is a part of GreenGeeks' default offering.
LS Cache
Combine LiteSpeed server with LiteSpeed Cache on an SSD storage drive, and what you get is a blazing-fast website. GreenGeeks throws in the LS cache as well, ensuring that your website loads very quickly on their servers. Google loves fast websites.
Nightly Backups
Bad things happen, and they happen without any warning. That's the reason why GreenGeeks offers nightly backups. The company will take a backup of your website every night and ensure that your data remains safe from accidental server failure or data erasure.
Real Time Security Scans
They have real time security scans to keep your website protected against malware injections and hacking attempts.
Spam Protection
The company also offers spam protection that is built right into their system. This ensures that your website is not blasted with dozens of spams every day.
Scalable Resources
GreenGeeks is one of the very few shared hosting companies that offer scalable resources. It means that you can increase the RAM and the processing power whenever you need. You don't have to switch from one hosting plan to another.
cPanel and Softaculous
GreenGeeks offers the famous cPanel for controlling different elements of your web hosting server. You also get a nice file manager to get access to your website files. cPanel offered by Softaculous comes with the famous Softaculous that allows one-click installation of hundreds of web apps. It is a different story that most of those web apps are terribly coded and you should not be using them. The one that should draw your interest is the one-click installation of WordPress.
Hosting Account Isolation
This is something new and I just love it! Unlike other shared hosting providers that cram in as many websites as possible in a single disk, GreenGeeks creates a separate isolation environment for all websites sitting in a single disk. This ensures that the actions of one website doesn't impact the other websites on the server (very similar to VPS hosting).
Refund Policy
The company has a 30-day refund policy in place. However, there is one fine print that you need to keep in mind. If you are taking the free domain with your hosting plan and then you ask for a refund, the company will deduct the price of the domain for that one year and refund the remaining amount. So, the free domain is not truly free!
Multiple PHP Version
It is good to know that GreenGeeks offers multiple PHP versions. You can switch between the versions quickly. This is an essential feature because there are some web applications that require specific PHP versions to work.
Support
Their support system is amazing. They have 24/7 technical support available, and they provide support through three channels – live chat, ticket, and phone calls. You are free to choose whichever suits you the best. If you want, you are always free to scout through their extensive knowledge base and get detailed description of resolution to various problems.
Okay, GreenGeeks has some interesting features. The question is, how good is the hosting provider in reality? Will the company really ensure that your website loads fast? You may ask a question about their uptime guarantee too! Let's answer those questions one by one.
Uptime Guarantee
The company offers 99.9% uptime guarantee. It means about 40-50 minutes of downtime a month. That's normal for any shared hosting company. There cannot be a 100% uptime guarantee. Why? That's because there has to be scheduled maintenance, even if there is no downtime caused by problems like a sudden large-scale DDoS attack or an unexpected hack!
I tested the server for three weeks straight! And found it to provide 100% uptime in those three weeks. I know that a three-period is too less, but trust me, it is literally not possible to test a web server for a whole year as claimed by many websites. That's plain ridiculous because of two reasons:
A whole year of testing means a lot of money spent! I don't believe that any website is willing to do that. That's a lot of investment.
Websites that provide a simple handwritten (typed) table of uptimes per month for 12 months straight forget one thing! "Just about anyone in this world can create a table like that. It barely takes a minute!" Where is the actual proof? Where are screenshots and data?
The problem with uptime testing is that you need to pay some premium services to actually run those tests. That's another big amount of money! Who one earth is so generous to spend that kind of money? There is a free alternative for keeping a track of uptimes and downtimes. You can always use Jetpack. But where are the emails that Jetpack sends whenever the server experiences downtime.
As far as my three-week stunt is concerned, I didn't get any email from Jetpack (that's the option I used for recording uptime and downtime). So, there is nothing to show!
Website Speed
This is the most important thing that you need to worry about. If your website is slow, your Google search rankings will take a hit. That shouldn't happen. To test out the website, I created a test URL and built an entire website on it using the Lite Plan of GreenGeeks. Not really built, but replicated. Yes, I replicated a website I have on a cloud hosting platform. That's is a far easier option than building a new one.
Here are the test results:
Google PageSpeed Insights: Mobile
That's the page speed achieved on a mobile device. That's incredibly impressive. Look at the initial server response time. It is 0.81 seconds. That makes me believe that GreenGeeks is not using NVMe SSD. Instead, they are using SATA SSD. It is still a great option.
Google PageSpeed Insights: Desktop
There is absolutely nothing to say, is there?
You need to focus on three vital elements when you are testing your website using Google PageSpeed Insights or Lighthouse (the technology behind PageSpeed Insights) and they are:
First Contentful Paint
Largest Contentful Paint
Cumulative Layout Shift
All of them are important ranking factors. The Cumulative Layout Shift was never an important factor earlier, but with the November update, it has become important. You need to ensure that all these three parameters are in 'Green' in both mobile and desktop tests.
GTmetrix Result for Desktop
PageSpeed score of 99 and YSlow score of 97 on a desktop connection is something you should feel proud of!
What about mobile?
GTmetrix Result for Mobile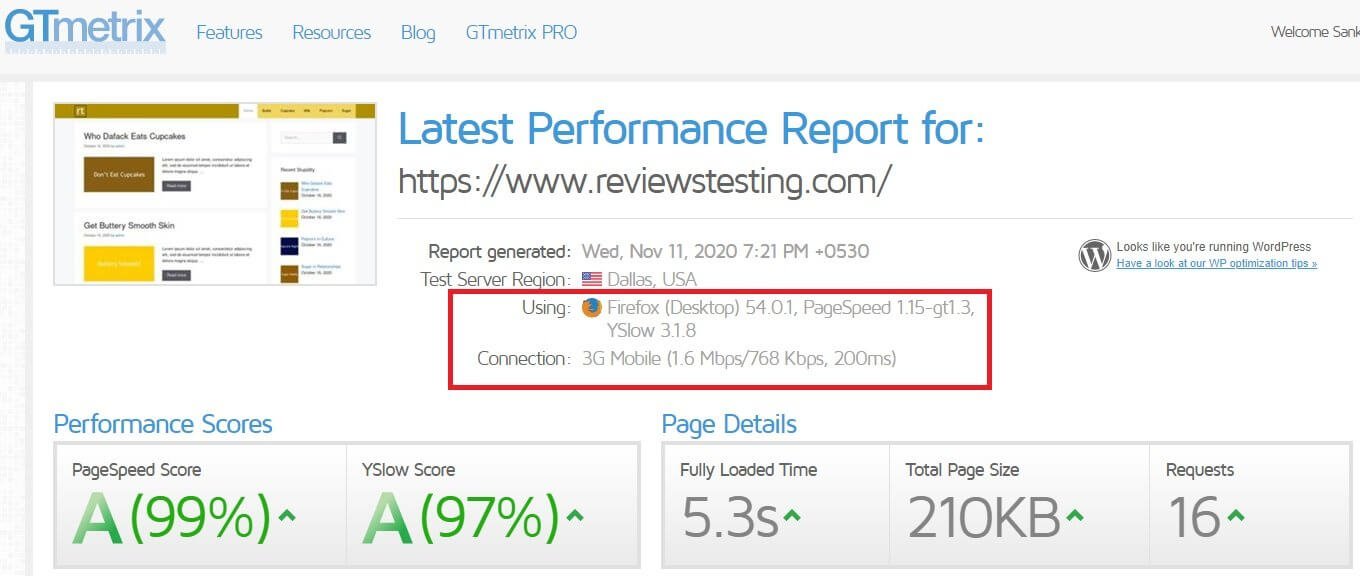 Okay, the desktop and mobile results are identical. That's the type of speed you should always aim for and that is what Google loves!
GreenGeeks passes with flying colors when it comes to website speed. That, I will say is the fastest speed I have seen on any shared hosting platform!
However, there are a few things you need to keep in mind:
The speed will drop when you add ads on your site.
There will be a speed drop when you add third-party scripts like Google Analytics code.
There are two ways you can overcome the problem of slowdown.
First, you will have LS Cache available by default. So, configure it properly. There is a lot you can achieve with proper configuration.
Second, put your website behind Cloudflare's CDN and configure it properly. You can still achieve such incredible speeds even with ads and third-party scripts on your site.
Also, make sure that you are using Asynchronous ads and you are not using too many ads per page.
Customer Support
The customer support is fast to respond. At least that is what I found when I talked to their sales chat during with some pre-sale questions. I was pleasantly surprised with their response time on chat.
What was disturbing was that the support professional was not aware of a few technical things. I asked whether they used SATA SSD or NVMe SSD. The staff said that they use RAID 10 SSD.
Well, RAID 10 is a configuration used for redundancy and maximizing performance. It is a method in which two or more storage drives are mirrored on two (or more) hard drives. This ensures that when the original drives fail, the mirrored ones kick in to give continued performance.
Unfortunately, the customer support member was unable to resolve my query. He had no idea whether the actual hardware was SATA SSD or NVMe SSD. NVMe SSDs are 6 times faster than SATA SSDs.
The server response time that you noted earlier clearly indicates that they use SATA SSDs. For NVMe SSDs, the response time should be typically within 200 milliseconds. In my test case, it was 800 milliseconds.
Here is the chat transcript:
Pricing Structure of GreenGeeks
Honestly, I don't see a point why I should be writing about this in the first place. You can go and check the pricing on their website directly! Isn't it a good thing to hear about something directly from the horse's mouth?
Still, since I kept this segment in this review, here is what you need to know:
| | | |
| --- | --- | --- |
| Plan Name | Price Per Month | Renewal Price Per Month |
| Lite | $ 2.95 | $ 9.95 |
| Pro | $ 5.95 | $ 14.95 |
| Premium | $ 11.95 | $ 24.95 |
If you want to know about the available features against each plan, just head over to their website. I don't need to write it all here and make this writeup a painfully long blurb with unnecessary things.
Pros and Cons of GreenGeeks
The Pros
Fast SSD servers
Free SSL
Free Domain
Unlimited storage
Unlimited bandwidth
Free site migration
Free CDN
LS Cache included.
LiteSpeed server
Multi PHP version
cPanel and 1-click installation
Scalable resources
Nightly backups
The Cons
Uses SATA SSD (most likely)
If you ask for refund, they will deduct money for free domain (if you take one)
Pricing manipulation (lower price for long term plans). You get that price only if you take a 3-year plan.
Conclusion
Is GreenGeeks a worthy hosting provider? Do I recommend it? Yes! It is one of the finest shared hosting providers I have see so far. They do offer super-fast website loading times and they have some interesting features. The most interesting of all features is the hosting account isolation feature that keeps your website safeguarded from the wrong doings of other websites on the same shared server.
I strongly recommend GreenGeeks!