Are you on the lookout for the top Google Forms alternatives?
Google Forms is a famous form builder, but it lacks security, powerful conditional logic, and the ability to collect money. It also has a tendency to seem amateurish. As a result, the majority of site owners want a simple yet efficient replacement for their forms if they wish to earn money online via their small company.
On the plus side, Google Forms happens to be one of the most widely used online form builders. It's completely free, in perpetuity, very rookie-friendly and simple to use, and quick to set up. However, the forms are rudimentary and have limits.
As a result, we combed the web and will discuss our top selections for the finest Google Forms replacements available in this piece.
But before we get started with the list, let's have a look at the characteristics that define an excellent online form builder.
Ready?
The Qualities That an Online Form Builder Should Have
A great online form builder is the one that should have the following qualities:
Conditional Logic: Google Forms is unable to support sophisticated Conditional Logic. Conditional logic is one of the easiest ways to improve the intelligence of web forms. If you're serious about decreasing form abandonment by ensuring that customers stay engaged and your forms appear professional, seek for a solution that includes it.
Customization: Not only will a decent online form builder allow you to design your forms, but it will also allow you to modify your landing pages to reflect your brand.
Email Notifications: To rapidly follow up with users who complete your forms, you'll want to learn whenever anyone submits. Select a form builder that enables you to configure various, personalized, and automated email alerts. That way, your team members and you can keep track of new additions.
Form Landing Pages: Google Forms is famous because it is an easy-to-use tool for collecting information from your visitors. A decent online form builder will provide a landing page option that you may utilize in place of Google Forms.
Integrations: If a smart form builder can communicate automatically with your email marketing provider, CRM, and other tools, it may become a valuable addition to your online small company toolset.
Security: Protecting your users and yourself should be a key consideration while collecting sensitive data such as payment or login credentials on your forms. To further safeguard your forms, you'll want to choose an online form creator that allows you to install reCAPTCHA and / or other anti-spam measures to keep spammers at bay.
Simplicity: Google Forms is effective because it is straightforward. Even though it lacks capabilities, customers and company owners alike like how simple it is to use. The most important feature to look for in an online form maker is simplicity of use.
Support: Your web forms are critical. If you have a question regarding how to use Google Forms, you are out of luck in terms of speaking with a Google representative. You'll want a form builder program that offers courteous, informative, and easily accessible tailored service.
WordPress Integration: It is critical that your form builder is compatible with your WordPress blog. This way, you may host your form page right on your website and monitor its performance using Google Analytics. Given that all company owners want a form builder for their websites, search for a Google Forms replacement that can handle both — simple WordPress integration, and a powerful landing page.
Okay, now that you know what to look for in online form builders, let us find out the options that you can rely on.
Let's start!
Best Google Form Alternatives
#1.

ClickUp Forms – Best in the ease of Use
ClickUp is an all-in-one productivity platform that allows teams of all sizes to manage their own work. ClickUp's powerful Forms streamlines your build and intake process, both internally and externally. After submission, form responses automatically turn into actionable tasks under a ClickUp List!
ClickUp Core Features
Powerful Ecosystem: Includes powerful task management, resource management, document collaboration, automations and more
Save Time: Pre-populate known respondent's information into the Form so they can skip filling out this information
Sharing: Easily share your Forms with anyone by copying the direct link and sharing it with them or build the form into a page via the HTML code
Customization: Create multiple custom fields in Forms and automate form submissions
Integrations: Choose from 1000+ integrations including those available through Zapier and Integromat
Templates: Save custom templates for repeated workflows or use the Template Center
Permissions: Invite anyone to your ClickUp Workspace to collaborate
ClickUp Pricing
ClickUp has a robust Free Forever plan. Forms are a paid feature, starting at $5/user per month.
#2. WPForms – Best In Business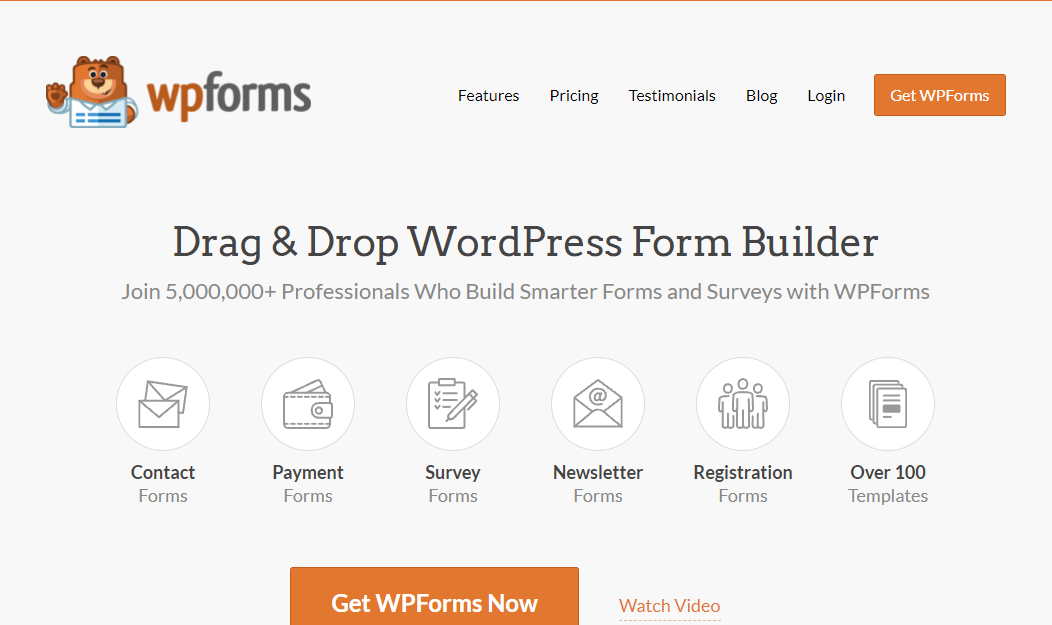 There cannot be a second thought about this. Those who have used WPForms always vouch for it. And that's because WPForms is indeed the best option you can get today.
Unlike other feature-rich online form builders that integrate with WordPress, WPForms is an ideal Google Forms replacement because of its simple addons for Form Pages and Survey & Polls. Rather than utilizing the Google form generator that is widely available, you may create far more professional-looking forms.
WPForms Core Features
Conditional Logic: Conditional Logic makes it simple to tailor your inquiries depending on the user's response.
Ease of Use: For newcomers, form development is made easy using a drag-and-drop visual editor that allows for real-time form generation.
Elementor integration: WPForms makes it simple to create an Elementor contact form right inside the UI of Elementor – a famed page builder.
Form Notifications: Automatically send email alerts to the members of your team or to yourself on your forms' activities.
Form Templates: WPForms includes templates for every type of form imaginable, including Likert survey forms, NPS survey forms, and simple survey forms.
Landing Form Pages: The very popular Form Pages extension was created expressly to assist you in creating a customized, independent form.
Mobile Friendly: Forms that are 100 percent responsive look beautiful on any device, and WPForms delivers exactly that.
Multiple Integrations: WPForms integrates with the most prominent email marketing services, QuickBooks, Google Drive, CRMs, as well as over 2,000 more services using the Zapier addon.
Spam Prevention: With anti-spam protection, reCAPTCHA, hCaptcha, and custom Captcha, you can build confidence with your users and increase the likelihood that they will finish your form.
Stellar Support: Customer assistance of WPForms is knowledgeable and pleasant. Customer service is accessible through a number of channels, in addition to rich documentation.
Surveys and Polls: Customizable online polls and surveys that enable you to gather data quickly and then visualize it in stunning graphs.
WordPress Compatibility: WPForms is a WordPress plugin that was created to function in conjunction with WordPress – the blogging platform that powers over 40% of the websites across the world.
WPForms Pricing
There are four pricing plans that include:
Basic: $39.50 a year.
Plus: $99.50 a year.
Pro: $199.50 a year.
Elite: $299.50 a year.
Typeform is a viable alternative to Google Forms if you want to create unique and attractive forms and have intermediate technical abilities. Because it is costly, it is best suited for marketing teams with large budgets.
Typeform Core Features
Conditional Logic: Typeform contact forms may take advantage of the Logic Jumps functionality.
Conversational Marketing: Utilizes conversational marketing by displaying one question at a time.
File Upload Capability: As with WPForms, Typeform forms support file uploads.
Mobile Friendly: On mobile devices, large CTA buttons perform great.
Surveys: Typeform offers a number of survey types, including customer satisfaction surveys and employee satisfaction surveys.
Typeform Pricing
There are three pricing plans:
Basic: $25 a month with yearly billing.
Plus: $50 a month with yearly billing.
Business: $83 a month with yearly billing.
If your organization currently utilizes Zoho Apps, you can quickly use the capabilities of Zoho Forms as a substitute for Google Forms.
Zoho Forms Core Features
Analytics: Keep tabs on the performance of your forms and share them with others with readily exportable data and statistics.
Collaborative: Numerous tools for collaborative work.
Customizations: Customize the appearance of your forms.
Form Embedding: Embed the forms directly into your website.
Safety: Integral security measures for data protection and assignment of access roles and settings.
Zoho CRM Compatible: A straightforward transfer if you or your team is already familiar with Zoho CRM.
Zoho Survey: Connect applications inside Zoho to take advantage of online survey data collecting.
Zoho Forms Pricing
There are four pricing plans that include:
Basic: $10 a month with annual billing.
Standard: $25 a month with annual billing.
Professional: $50 a month with annual billing.
Premium: $90 a month with annual billing.
HubSpot Forms is an integrated component of the HubSpot CRM platform. This means you may develop forms and the contact information will be synchronized instantly to your CRM. Best of all, it's completely free.
HubSpot Forms Core Features
Additional Tools: Includes email marketing, a free landing page maker, and live chat.
Conditional Logic: Depending on prior responses, display or conceal form fields.
Easy: Form creation is a breeze with the drag-and-drop builder.
Form Fields: Utilize up to 1,000 form fields and a variety of different field types.
Form Types: Create independent popup forms, pages, slide-in boxes, and dropdown banners, among other types of content.
Templates: Templates for goal-based forms to get you started fast.
WordPress: Integrate with your WordPress website through a WordPress plugin.
HubSpot Forms Pricing
It is completely free!
If you're a technical user seeking for a Google Forms competitor that enables complex web development such as mathematical computations with your forms, Formidable Forms may be a suitable fit.
Formidable Forms Core Features
Conditional Logic: Create forms with fields that are customized depending on past responses.
Form Entry Management: Send an infinite number of email alerts and configure further sophisticated capabilities.
Free Plan: While the WordPress.org repository offers a limited free plan; you'll need to upgrade to the premium version to get all of the capabilities.
Integrated Views: Create graphs from your data.
Integrations: Submit your form data to well-known third parties.
Math Calculations: Provide consumers with rapid online estimates and sophisticated product choices calculations.
Quiz Maker: Create forms that include quizzes and show results based on your own grading scheme.
Visual Builder: A drag-and-drop builder enables you to design complicated forms in real time, so you can see how they will appear immediately.
Formidable Forms Pricing
There are four paid plans available, and they are:
Basic: $39.50 a year.
Plus: $99.50 a year.
Business: $199.50 a year.
Elite: $299.50 a year.
Yes, the cost is the same as WPForms.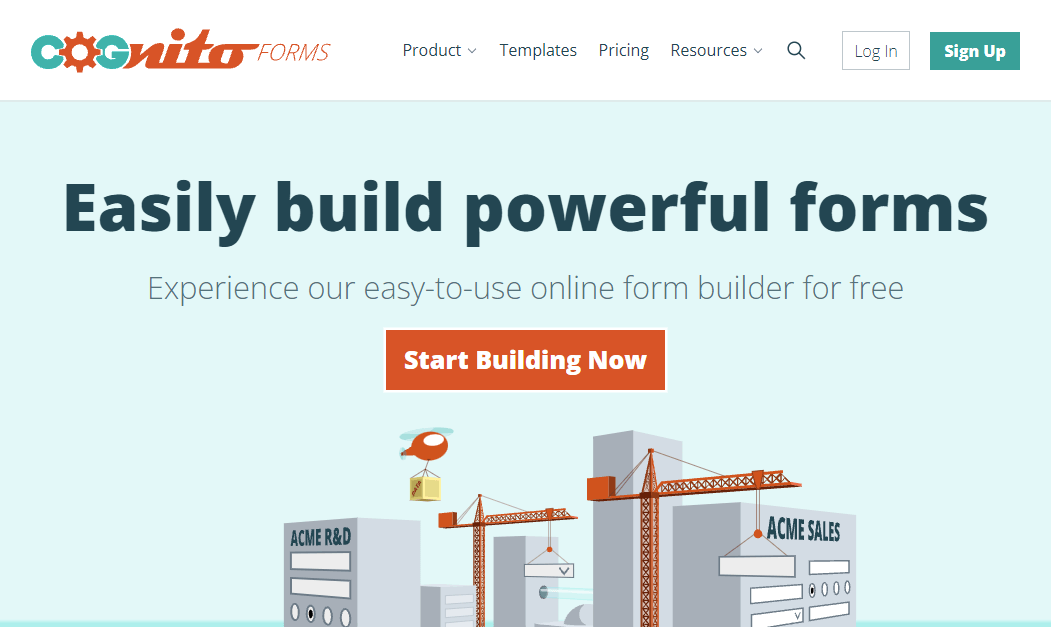 Cognito Forms is a Google Forms substitute if you want to utilize Square to collect payments, although the package that includes integrated payment options is extremely expensive.
Cognito Forms Core Features
Analytics: Connects to Google Analytics.
Calculations: Forms can do calculations to assist with tasks such as total cost.
Conditionals: Allows you to include conditional logic into your forms.
Payments: PayPal and Square integrations for online purchase forms.
Templates: Pre-built forms are available for exploration so you may get started immediately developing a form.
Visual Builder: A drag-and-drop editor simplifies the process of creating forms.
Cognito Forms Pricing
They have a free plan available that allows unlimited forms but puts other very stringent conditions. If you want more, they have three paid plans that include:
Pro: $15 a month.
Team: $35 a month.
Enterprise: $99 a month.
If you're looking for a Google Forms replacement that integrates with Excel rather than Google Sheets, consider Microsoft Forms. It's Microsoft's free equivalent of Google Forms for collecting data from web forms, but it lacks the ability for users to submit files to a form.
Microsoft Forms Core Features
Easy: The graphical drag and drop editor enables you to easily create forms.
Excel: Using the seamless Microsoft Office connection, you can effortlessly export your form data to Excel for analysis.
Outlook Integration: The Microsoft Office integration enables you to deliver your form to individuals through email using Outlook.
Surveys: Additionally, the capability to conduct simple Net Promoter Score (NPS) surveys is included.
Microsoft Forms Pricing
Microsoft Forms comes as a part of Office 365 subscription. Now, Office 365 has various pricing plans targeted towards families, businesses, enterprises, and the education sector. Check out the pricing on Microsoft's website.
Conclusion
Are these the only online form builders that you can use as an alternative to Google Forms? That will be criminal to claim so. Honestly, they aren't the only ones. There are many more and if I start listing them here, the blurb will become painstakingly long. So, I settled for the 8 best Google Forms alternatives that you can use in 2021. I will always bat for WPForms because that is the one that I extensively use on several websites that I run. You can give it a try. I am pretty sure you will fall in love with it.