Keeping your important files safe is necessary. Those good old days where you extensively used a file cabinet to tuck in all your files are most gone. Today, it is the digital era, and to say the least, we depend on gadgets for everything.
Our computer mostly holds everything important to us. From our work files and documents to our personal memories and intimate cozy moments – we keep everything on our computer's hard disk – a piece of tech that can fail anytime upon us.
If such failures happen, we will be in a mess. Everything will be lost in a blink of an eye. Is that scenario scary enough for you? Well, it is for me!
That is the reason why I keep backups in external drives and even online storage platforms. You should do that too! If you do not know where to start, you can go for cloud storage solutions like pCloud, Sync, Icedrive, IDrive, Google Drive, OneDrive, MEGA, Box, Dropbox, and more! There is absolutely no shortage.
If none of them suits you, you can move on and look at GoodSync. So, what is GoodSync? How to use it? How good or bad is it? How much does GoodSync cost?
Only if you have the patience to read through this guide and review, you can find all the answers you see for all the questions your mind is throwing at you.
Let us begin!
What is GoodSync?
GoodSync is an extremely powerful backup and synchronization software. Yes, you read it right! It is a software program that you need to install on your computer, and even on your mobile devices. Yes, you have the choice of installing it on your Windows PC, Mac, Android devices, and iOS devices.
While GoodSync can be used for personal needs, you can also use GoodSync for your Windows or Linux server. While setting it up for your server will require a lot of technical knowledge, once you do it, it will be a fully automated service. Kind of a fire-and-forget missile.
Did you know?
According to GoodSync website, the product is trusted by large organizations like Lockheed Martin, Bayer, Adobe, Applied Materials, Kaiser Permamente, and more. If that claim is true, then the product must be outstanding.
Just how good it is? I intend to find that out.
Continue reading.
How to Use GoodSync?
Initiate the Installation and Account Creation Process
As an individual user, you need to start by installing GoodSync on your computer or device. So, I started out by downloading the installer file for GoodSync. It is 44.2 MB in size. That is a small one.
Clicking on the installer file start the installation process where you are greeted by this screen:
When you click on the Install button, the next screen will ask you to login to your GoodSync account, and if you do not have one, it will ask you to create a new account. It will automatically pick up your computer name.
This is the screen you will notice:
On the next window the installer will ask you to provide the Windows password. This is where you need to take care of the following:
If you have set a PIN, you cannot use it. You must provide the actual password.
If you do not have a password set, you can leave that field blank. Also, you can leave the password field empty if you do not wany GoodSync to access Windows Shares, Encrypted Disks, etc. It is your choice.
This is the screen you will see: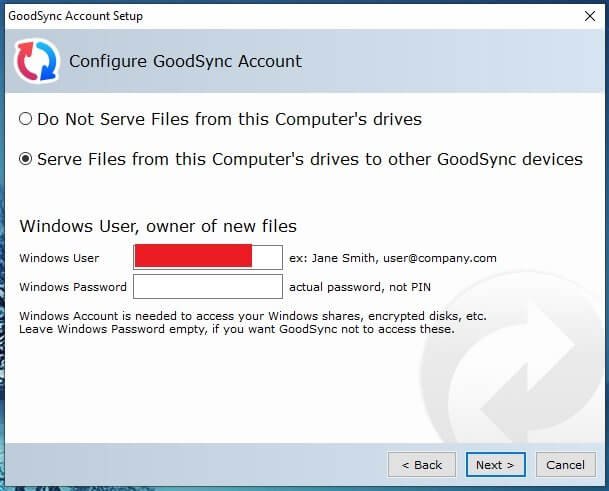 Once you move forward from this screen, GoodSync will finish creating your account and it will show that you are on a trial license.
This is the screen you will see at this stage:
Once you click close, a popup will show up that will ask whether you want to start GoodSync or not. You will have 30 seconds to respond. If you do not respond, the popup will close by itself. You can open GoodSync later.
This is the popup you will notice:
The Interface of GoodSync & Syncing Process
Whenever you open the software program, the interface that will greet you will look like this:
To start syncing and/or backup, you need to start by creating a new job. To do that, click on the blue circular button with a plus (+) sign in it. You can see the button on the top left.
When you click on that button, you will be asked to enter a name for the job, and you need to select the type of job you need. There are two types:
Backup – It is a one-way job in which the program will take files and folders from your computer and save it safely in your selected destination.
Synchronize – It is a two-way job in which the program will synchronize files and folders between your computer and the remote destination.
When you try to create a new job, this is what you will notice:
After you create a job, this is how it will look like:
In the interface you see, the left panel will show all the jobs you created. In the right panel you need to add folder. Notice the two folder icons on the top (highlighted with red boxes).
Click on the folder icons to pull up your folders.
This is what you will see:
You need to select a folder from the left that you want to back up. Once you select a folder on the left, you need to select a folder on the right where you want to backup and/or set synchronization.
Here is an example of one SVG folder selected on the left. On the right I want to set up a folder in GoodSync Storage. When I click on GoodSync Storage, I see an error message:
When I select GoodSync Storage on the right, I can see an error message on the top which says:
"Right: cannot be backup/sync folder: not a folder, drill down."
That error occurs because I did not select a folder. In fact, there is no storage space allocated in my GoodSync account. I need to get storage from GoodSync.
Clicking on the email ID pulls up the storage options. This is what you will notice if you repeat the same:
In the Request Storage window, you need to select the amount of storage you need. The default that is selected is 10GB. You can change it as per your requirement. Remember that the storage is not free. You must pay for it.
Once you click on the Request Storage button, the storage space will be provisioned immediately. This is what you will see:
Once the space is provisioned, you can start using it immediately.
At this stage I clicked on the OK button, and this is what I notice:
At this stage you can create a new folder inside the default folder or select the default folder on the right side and click on the green Apply button you see on the top.
Clicking on the Apply button will give you a screen where it will ask you to start analyzing. This is what you will notice:
You can see the analyze button on the top. Click on it and the application will analyze all files present on your device. Once the analysis is complete, this is what you will see:
You will see the list of all files analyzed on the left. You can select all the files and then click on the Sync button you can see on the top.
Once you click on it, the syncing process will begin and all the files from your computer will be copied to the remote storage folder.
If you want to stop the sync in between, you can always click the "Stop" button you see on the top. That button appears only and only after the syncing process has started.
Once all files are synced, you will receive a notification.
What About Auto Syncing?
What if you change a file on your computer? Do you need to perform syncing manually? No, you do not have to. You can set GoodSync to automatically detect changes and sync it.
To activate that feature on a job-by-job basis, click on the job name on the left side of the screen and select it. Then click on Option button on the top. This will pull out a popup. window.
On the popup window, click on Auto option and configure it. There are several options you can use for automatic syncing.
The steps you need to follow are marked as 1, 2, and 3 in the image above.
This feature is a great advantage. You do not have to manually update the sync folder. This kind of automation is important when you are working with many files that keep changing frequently.
Some Interesting Features of GoodSync
GoodSync is a powerful program with some amazing features that are perfect for power users. Here is what you can expect when you purchase a GoodSync subscription:
Real time data transfer
You can automate and schedule to perform real time data transfer. Once you set it, no user interaction will be required.
Unattended service
To run backups and sync, you do not even need to open the software application. It will run based on your calendar schedule. It can run as a background service performing all the tedious task that otherwise eat up a lot of time.
Block level data transfer
The program is capable of performing block level data transfer. If some file changes, it will analyze the file and transfer only that segment of the file that has changed. It will not transfer the entire file once again. This helps to save time, bandwidth, and storage.
End-to-end encryption
GoodSync applies end-to-end encryption using AES 256-bit encryption. All your important data will remain safe during transfer (in transit) and at rest.
Version control
You can save one or multiple versions of your data. Just in case you need to revert to older data, you can do that with ease, thereby saving time.
Locked file copying
Even if some file is open simultaneously on different user devices, this program can still copy and back it up or sync it!
Detects file/folder moving and renaming
This program is very smart to detect whether files and folders have been renamed or moved and performs the tasks accordingly.
Bandwidth throttling
You can control the maximum bandwidth each job can consume. This will ensure that you have enough bandwidth left for other important tasks.
Security attribute propagation
If your files and folders have security attributes (such as file access permission), those attributes will also be transferred in any location you select.
Pros and Cons of GoodSync
Just like any software program, even GoodSync has its fair share of advantages and disadvantages. Let us quickly learn about them.
The advantages
It can perform multiple sync/backup jobs at ones. If you are using their free version, that will be restricted to only three simultaneous tasks.
Allows automatic and schedule backup and syncing. This will not require you to open the application for task initiation. It will do so by itself because it can work with your calendar settings. Once the automated jobs are finished, the application will stop running by itself.
It has bi-directional backup and sync available. This is great if you constantly keep juggling between online storage and your computer.
Syncing and backup is quite fast. I multiple tests I found that the average time it takes to backup/sync a 2 GB file is around 10 minutes.
It has some advanced features available, and you can configure the program to follow different configurations for different jobs.
It is available for Linux, Mac, Windows, iOS, and Android users. It also works with Linux and Windows servers.
It also works with various NAS devices like Synology, ASUSTOR, Western Digital, etc.
It supports multiple cloud storage platforms like Amazon S3, Backblaze, Box.com, SharePoint, Private Cloud, OneDrive, Office 365, Microsoft Azure, Dropbox, and Google Drive.
It is compatible with protocols and file systems like local & remote networks, Windows Shares, GoodSync Connect, SFTP, FTP, and WebDAV.
You can use GoodSync Connect to connect and sync multiple computers on your home network.
They do have sharing options available that allows sharing a whole computer, a folder, a specific server, or a specific folder. It allows sharing in read only mode, or 'can share' mode, or both.
The disadvantages
The program is quite complicated and difficult to configure. People with little to no technical knowledge will find it extremely difficult to handle it.
The Left / Right terminology seems odd. You must be incredibly careful about the Left / Right thing. The application considers the Left to be the origin source. If you delete something from the left, the program will also delete the file from the right.
Setting up GoodSync on home network will be quite difficult for people with little to no technical knowledge.
There is no web-based interface to work with.
GoodSync Pricing
To use the GoodSync program you need to pay $29.95 for a year. You can decide to purchase a three-year license for $89.85, or you can opt for a 5-year license for $149.75.
Additionally, if you are looking for GoodSync storage, you will be charged separate. For 10 GB the yearly price will be $9.99. For 100 GB you must pay $19.99 a year. The company charges $99.99 a year for 1 TB storage. For 2 TB, 4 TB, and 8 TB, the charges are $199.99, $349.99, and $699.99 a year respectively!
GoodSync storage is too costly. It is way higher than popular options like Google Drive, OneDrive etc.
Conclusion
GoodSync is a powerful online backup and syncing program. However, such power comes with enormous complexity, making it unsuitable for rookies. The absence of a proper web interface is startling, to say the least. However, for seasoned users and businesses, the program can be a boon, especially for those people who are looking forward to using it with servers.
For regular use, I will never recommend using GoodSync unless you have the technical knowhow of what to do. Configuring this thing and setting up automation seems to be a Herculean task.
If you are looking for online backup and sync programs, I will suggest that you opt for those with a web interface and are easy to use. I strongly recommend using Sync.com or pCloud, both of which are not only good for files and folders but are also well-suited for those who want to store their large video and audio files.