Started a new business and now you are looking for an email marketing solution that helps you reach your customers better? Well, you are in the right place.
Today, I will be reviewing GetResponse — an email marketing solution and more! By more, I mean, it can do other nifty things as well, including the ability to do marketing automation, webinars and landing pages.
So, with GetResponse, you get a good collection of tools and solutions that help you bring your audience closer to your brand philosophy and create loyalty that can last years.
However, if you are in a hurry, then I have also created a handy table of GetResponse Review. Check it out to learn more about GetResponse.
GetResponse QuickView
GetResponse in a nutshell
All-in-one marketing platform
Founded In
1999 by Simon Grabowski
Origin
GetResponse is a polish-based company that serves worldwide
Ideal For
Small and medium scale growing business. Enterprises can effectively use Their solution. With great pricing, they are also a good fit for NGOs.
Pricing
Pricing starts at $15 per month for 1000 subscribers
Trial
Offers a 30-days trial
Money-back guarantee
No
Onboarding process
None, but the excellent dashboard makes up for it
Key Features

Email marketing
Marketing automation
Landing pages
Image Editor
Responsive Design
Perfect Timing
Webinars
Forms

Email marketing
Excellent!
Drag and Drop builder
Yes!
Email templates
Yes
A/B Testing
Yes
Marketing automation
Yes
Templates
Yes
Languages Supported
27 languages supported
Support
They offer 24/7 live chat and email support.
To make sure that you can make better sense of what it has to offer, I have also created a GetResponse review rating table.
GetResponse Ratings
| | |
| --- | --- |
| Ease of use | 4.9/5 |
| Onboarding | Not applicable |
| Editor | 4.7/5 |
| Deliverability rates | 4.2/5 |
| Design-templates | 4.7/5 |
| Marketing automation | 4.8/5 |
| Integrations | 4.3/5 |
| Final Score | 4.6/5 |
What is GetResponse?
GetResponse is basically an email marketing solution but has evolved a lot in the last few years to provide more features that cover all your marketing efforts.
So, it is easy to term it as an all-in-one marketing solution that gives you access to email marketing and CRM, automation features, and landing pages. This wide range of features make it a good choice for businesses in the growing phase and need one platform to do almost everything.
If you visit their About Us page, you will quickly learn that they are serving customers all across the world. Right now, they are providing their services to more than 350K+ customers that are spread across 183 countries. They started their journey in 1998 when they registered the domain and established a company. Simon Grabowski is the founder of the company.
As they are a polish company, their main office is situated in Poland. However, as they are a global company, they also have offices in Canada, U.S, Russia and Malaysia.
They give their customers access to a great collection of solutions that help organizations and businesses to improve their marketing ROI by effectively implementing their campaigns.
Getting Started
GetResponse is very generous when it comes to new users. To help new users get a taste of what they have to offer, they provide a 30-day trial period.
However, if you are looking for a free plan, then do not waste your time here. Once your 30-day trial period is over, you need to shift to one of their paid plans which starts at just $15 per month for 1000 subscribers.
Once you login in the backend, you will be greeted by an excellent, easy-to-use dashboard. I really liked how they have ensured that the features are accessible to the users.
As you can see, the dashboard uses a cardboard-layout widget design with access to quick actions, tips and tricks, and other useful cards. But, the best part of the dashboard is that it is customizable to your needs. You can add or remove a widget if you want and completely make it your own!
That's helpful. The widget library also offers 17 widgets, including Funnels report, workflows, live webinars, list building program, signup source, list size, and more! Each one of the widgets has their own usage — as they give access to quick actions or information that help you better handle your marketing efforts.
Also, there is no limit on the number of widgets you can add. Yes, I tried adding them all, and it did work. 😉 Anyway, you will not need every widget, but the fact that you have the option to do so gives you the flexibility.
Apart from the widget, you also get access to the top-left Menu and a navigation bar at the top-middle.
The menu is also categorized well so that you can access the features easily and more intuitively.
Lastly, you get a nifty navigation bar menu with important actions such as Lists, Reports, Drafts, and Create.
Overall, I loved their dashboard and its customizability. Infact, this explains why they do not have an onboarding process. When I reviewed ActiveCampaign, I emphasized heavily on their onboarding process and how it helps the new users. GetResponse uses a different approach and I think it works. Also, you need to consider the onboarding email sent by them that helps you get started with the platform.
GetResponse Features
GetResponse is feature-rich and that's awesome for you, right? When we talk about features, it also includes the cost associated with it. I mean to say that if it is not affordable, then the features might not be as "worth" that they would have been if they are in your grasp or budget.
Anyway, GetResposne offers a complete suite of solutions that can be customized and scaled according to your requirement.
The key features that it offers include:
Email marketing
Landing pages
Marketing automation
Image editor
Responsive Design
Webinars
Forms
Perfect Timing
Let's explore each of these features one by one.
Email marketing
Email marketing is the bread and butter for businesses. It is how businesses communicate with their customers and create a bonding that results in profit for the business. Of Course, the customers or subscribers get value for their money when they buy a product or service.
But why am I discussing all these? Well, for running a successful email marketing campaign, you need to have an excellent tool, just like GetResponse.
GetResponse offers a complete end-to-end email marketing solution that lets you do:
Create a mailing list
Send emails
Automate emails when needed using autoresponders
Analyze data through statistics to improve the email marketing campaign
GetResponse started initially with a focus on email marketing, but now they are shifting to a more comprehensive all-in-one marketing solution.
Getting back to point, the email marketing tools are pretty solid!
When you go to the email marketing section on the platform, you will be able to create Newsletters, A/B tests, My template, RSS-to-email, and Statistics.
As with any other email marketing solution, the first step you need to take is importing a list!
Creating Lists
To test this feature, I created a random list of persons with a random email list. Sounds interesting? Well, you can do it if you are using their trial and do not want to use your actual subscribers' list.
Now, to upload the contact list, you need to create a new list by going to Lists and then Create List.
Once created, you need to click on "Add Contacts" and then choose the list you just created.
Uploading Contacts
Next, all you need to do is connect the file or database for it to store it on the site.
It offers quite a good option when it comes to importing contacts.
As you can see you can connect to the service, upload files, paste from file, and even migrate lists when needed.
I used a simple .csv file upload option and everything went smooth as possible. You can also choose three options while updating, i.e., add and update existing, only add new and only update existing.
Next, you will be assigned columns based on your CSV file. In my case, it has three fields: First_name, Last_name and Email. GetResponse captured it nicely and also gave me the option to select or deselect the columns.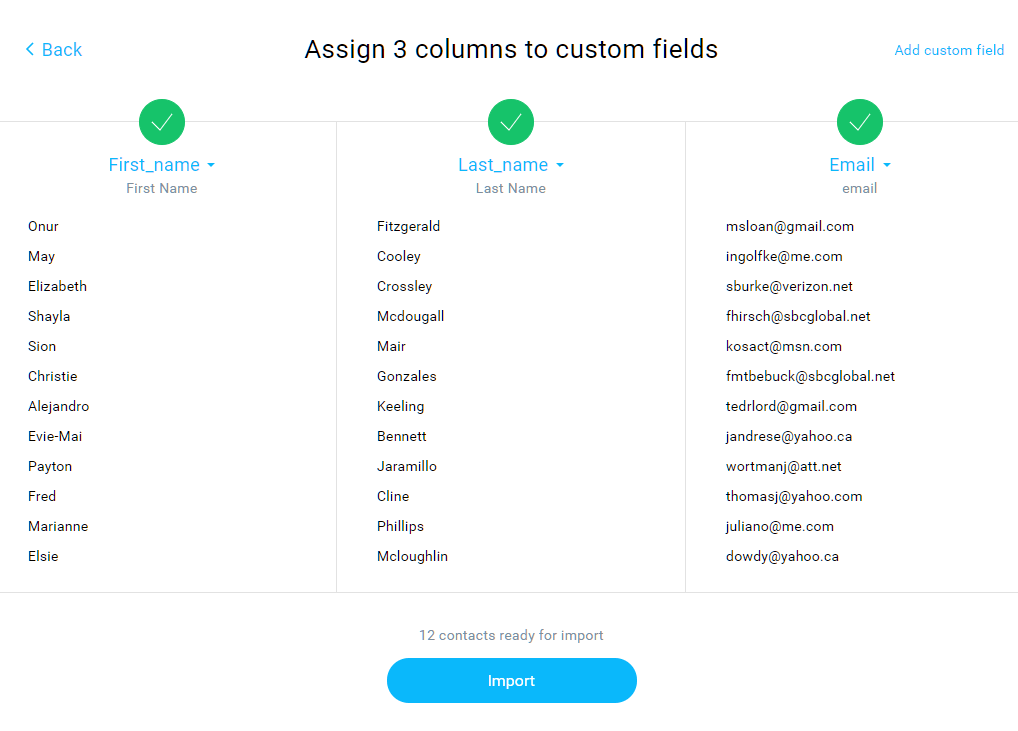 It should take a while before it can be uploaded.
One more thing that you should is that they will check if the list is harmful or not. I am not sure how they check it, but during the upload, my initial list was rejected as it contains randomly created emails. To fix it, I needed to enter some of my known emails and create the sheet again. After I did it, the upload went smoothly. In your case, I don't think that would be the case. However, if it does happen, you should connect with the support and get it resolved.
Newsletter Creation
Once we are done with the list creation process, it is now time for us to check out the newsletter creation process.
To create a newsletter, you can go to the top middle menu and click on Create >> Create a newsletter. Alternatively, you can also go to their MENU and from there select email marketing. There you should find the "Create newsletter" option, as shown below.
If you clicked on Create newsletter, you will be redirected to a form-like option where you will be able to do a lot of things including naming the newsletter, The From and Reply To emails, Subject Line, Recipients, Design and content, Tracking and perfect timing.
The whole process should be straight-forward from here. However, we need to talk about a few key things that I noticed here.
You need to select the Linked list either during the newsletter creation or select it beforehand creating the newsletter.
You are free to use emojis with a subject line — This is important as emojis help you convey an emotion to your emails.

You can also use the contact data field in the subject line which gives you the ability to customize the email based to whom you are sending the email to.

You can add recipients using a list and even manually.

Next, you can design and add content to the newsletter with their HTML editor. You can choose to use a template or start from scratch. I will cover this in the next subsection.

In tracking, you can do click tracking and also enable click tracking with Google Analytics.

Lastly, you can schedule the newsletter or send it right away.

You can also select perfect timing which is a way for GetResponse to analyze subscribers behavior and guess when is the best time they will open the email. This option is only useful when there is no hurry. If you need to send an urgent email newsletter, it is better to turn this option off.
Design and Content
Email marketing tools give the user the ability to customize your emails the way you want. This is an important feature and mostly determines the quality of the email marketing solution.
Predefined templates
In my testing, I found GetResponse to match those standards by providing excellent pre-designed templates that you can use and edit accordingly. They give you 100+ predefined templates that are completely customizable.
This means that you edit the templates as per your requirement. If you are not sure which template to use or have a good understanding of how to create email from scratch, then you can also use blank templates, giving you access to 1 column, 3 columns, 2 columns and a complete blank template with just LOGO.
Editor
GetResponse gives you access to a drag-and-drop builder/editor for your emails. In my testing, I found the editor to have adequate features. So, I started with a three-section basic template and then added a few blocks with ease. You can also remove blocks or completely change how your email looks and feels.
The editor gives you access to basic blocks, eCommerce, and my blocks.
Here, the most interesting thing that I found is My Blocks. This you can use to create your own collection of blocks which you can use later.
The editor also provides access to sections that breaks the template into sections. This is a good addition as it lets you customize a certain section by changing options such as background color, background image, background width, rounded corners, and more!
You can also send a test message to see how the email will look like when it lands in the actual mailbox.
A/B Testing
You can also fine-tune your email campaign by trying out their A/B testing feature. Just like how you create a newsletter, here also, they give you access to a form where you fill up things like name, subject lines A and B(you can also add more), Recipients, design and content and A/B test settings.
Overall, I found the A/B testing functional as it helps you to figure out which aspects of your email are working great — so that you can shift to it for better ROI.
Deliverability rates
When it comes to deliverability rates, GetResponse falls behind when compared to other competitors. For example, if you compare it to ActiveCampaign, they lack behind around 5-6% deliverability rates. However, GetResponse claims that they provide 99% of the deliverability rates.
Auto-responders
One of the key features of GetResponse is their auto-responders. Infact, it was also one of the first features that they created while forming the company.
With autoresponders, you can create automated emails that can be sent out automatically to the subscribers. For instance, you can send the email to the subscriber when he signs up or after some delay. You can set up multiple autoresponders and create an onboarding experience!
The process of creating auto-responders is easy and matches with that of the template and A/B testing.
Marketing Automation
Until now, we discussed the GetResponse email marketing solution. It is comprehensive and offers a good number of options without confusing them. However, GetResponse is more than email marketing as it offers other marketing automation solutions such as an abandoned cart, web event tracking, tags, scoring, and automation segmentation.
You can create a workflow with the help of templates. It offers quite a lot of templates and you also get the option to import templates.
Once you select the template, you are redirected to an excellent drag-and-drop workflow builder.
As you can see you can choose conditions, filters and actions to make the workflow.
Webinars
There is one more unique feature offered by GetResponse is webinars. With it, you can create a live webinar which can be used to address existing customers or attract new ones! Apart from that, you can also offer on-demand webinars and recordings.
Landing pages
With GetResponse, you also get the option to create landing pages.
Landing pages are critical to the success of marketing efforts. You can use the landing pages to improve your subscribers' list, sell your services or product using funnels or advertise your company.
Also, GetResponse doesn't require you to know any coding skills to create landing pages. With their drag-and-drop editor, you can create landing pages that help you grow your business.
The landing pages templates give you a good head-start. You can also opt to build from scratch.
Support
When it comes to supporting, they provide 24/7 chat support. I reached them in 4 minutes through their live chat and answered my questions pretty fast!
Apart from the live chat support, you can also email them at support@cs.getresponse.com. Their email support is available in 8 different languages, which is pretty neat!
You can also take a look at the help center, which gives me answers to basic questions.
Pricing
When it comes to pricing, GetResponse offers one of the best models. Yes, their pricing is far better compared to other service providers. However, the low price can be attributed to lower deliverability rates compared to competitors and other lack of features.
But that doesn't mean they are bad. They are a perfect pick for growing businesses with limited budgets.
The four plan that they offer include:
Basic: $15/mo., 1000 list size, includes email marketing autoresponders, unlimited landing pages, unlimited automation templates, sales funnels, Facebook ads, unlimited lead funnels and ability to sell e-products.
Plus: $49/mo, 1000 list size, everything is basic and access to other key features such as webinars, automation builder, sales funnels, webinar funnels and so on!
Professional: $99/mo., everything in plus and access to more features such as unlimited automation builder, paid webinars, on-demand webinars.
MAX: It is personalized and flexible.
GetResponse Pros and Cons
So, what are the pros and cons? Let's list them below.
GetResponse Pros
Their automation list features are excellent as it allows you to customize it and make it work with a subscribers list.
They provide excellent spam and design testing and allow you to improve your email deliverability rates.
The landing page feature lets you create exciting landing pages with drag-and-drop features.
Their landing page template collection is good.
The GetResponse pricing model is good for businesses with tight budgets.
They offer good integration options for popular services and solutions.
GetResponse Cons
Their deliverability rates can be improved.
Conclusion — Is it for you?
GetResponse delivers on what they promise. Their email marketing solution works great and does what it intends to. You can create newsletters, design them, and also schedule them when needed. Apart from that, you also get templates to create those newsletters or build from scratch using their drag-and-drop builder.
The auto-responders are excellent, too, as they let you automate a lot of email marketing tasks. Other key features include webinars, landing pages, conversion funnel and more!
However, deliverability rates are questionable and can surely be improved for sure.
But, is GetResponse good for you?
Well, I recommend GetResponse if you are trying to capture leads. Their landing pages let you create the right way to capture them and process them using a sales funnel. Their solution is also great for eCommerce stores, thanks to their auto funnel feature.
Finally, if you are looking for a good market automation solution with email marketing capabilities, GetResponse can do it.
So, what do you think about GetResponse? Comment below and let us know.