Free doesn't necessarily mean bad. If that is the notion you are holding, you should look at some of the most incredible open-source software available today. They are so powerful that they can happily compete with many of their paid or premium peers.
This is true even from drawing software. Some of them started with humble beginnings with only one or two people conceiving the idea. Later, developers from across the globe came together to build something incredible.
In this list of the best free drawing software, I will walk you through such software programs that will amaze you. If you are looking for something free to create your next masterpiece, this is the article you should be reading thoroughly.
Unlike many other lists on the web, this article carefully eliminates those drawing software programs that are premium options, but with free trial. I will not be placing free trial options in this list, because once the trial is gone, you must shell out money.
This list is all about free drawing software. So, the only criteria to be on this list is that they need to be free forever.
So, let's begin!
Just in case you are short on time and want to get only the list, here are the programs included in the list:
Krita
GIMP
Inkscape
MyPaint
Vectr
MediBang Paint
Microsoft Paint 3D
Microsoft Expression Design 4
Microsoft Fresh Paint
Artweaver (Free version)
Paint.NET
Okay, now that you know what to expect from this list, let us go through each option and find out what they have to offer.
Ready?
Let us start!
#1. Krita
This open-source, free drawing software enables you to draw and create images. Krita contains basic vector tools and animation routines, as well as over 100 complex color engines and customizable brushes that ensure your creations come out just how you intended.
This freeware application incorporates some of GIMP's (next on the list) most popular creative features into its own. Krita has support for layer masks and a variety of tools for stabilizing and smoothing your brush strokes. Additionally, it offers filters and effects. If desired, you may easily change the colors.
Krita is compatible with drawing tablets such as the Wacom and Huion. It features an uncomplicated and beautiful user interface that is simple to master. Another excellent feature is Krita's default two-layer setup. One layer serves as a blank canvas, while the other includes a layer for drawing underneath the image's lines.
With Krita's advanced onion skinning and keyframes, you can create cell animations and instantly view the previous or next frame of your work. Krita allows both 2D and 3D animations and comes with advanced layer management and mirroring tools.
However, the program does have certain shortcomings. In contrast to its relatives, it lacks the camera RAW mode. Additionally, it lacks a history feature. In case you want to use Krita for editing pictures, you are going to have a tough time, because Krita is essentially a painting tool that allows creating artwork from scratch.
The Pros of Krita
Supports HDR images.
Supports PSD files.
Highly customizable.
Unique and intelligent brush engines.
Enhanced OpenGL for increased speed and canvas size.
Completely free. You never have to pay for it.
The Cons of Krita
The text tool is slightly cumbersome.
Supported Platforms
Supports three major operating systems – Linux, Mac, and Windows.
#2. GIMP
If you want to create raster drawings, GIMP is one of the best options you will get. It is an image manipulation program, and an open-source alternative to Adobe Photoshop. Though free, it is immensely powerful.
On the downside, however, using GIMP can be a painful experience. You need to go through a steep learning curve. However, if you have some experience with Adobe Photoshop, you can learn it quickly.
The program is highly advanced with full support for layers, masking, cloning, advanced filters, color adjustments, lasso, smudge tool, healing brush tool, and more. The user interface is also customizable, allowing you to create an UI that suits your needs.
The core feature of GIMP is image manipulation and retouching, but that does not mean you cannot use it for drawing from scratch. It is totally possible. You can increase the power of the tool using various plugins that are also freely available.
If you want to retouch your artwork (created using another program), you can do that with ease. There are many features like automatic image enhancement, noise reduction, brush customizations and more that will allow you to create your next masterpiece.
If you are new to GIMP, you can access tons of tutorials available on YouTube. Though they are not from the developers, these tutorials come from real users who create incredible artwork using GIMP. You can do it too!
The Pros of GIMP
A professional image editing program with powerful tools like smudge tool, fuzzy select tool, healing brush tool, and more.
It can not only edit images, but also create artwork from scratch.
Has full support for PSD.
Comes with plugin support for extended functionality.
Allows loading and saving of files from remote locations using SMB, HTTP, FTP, etc.
The Cons of GIMP
Pretty difficult to learn. Has a steep learning curve.
Slow updates.
Supported Platforms
Supports three major operating systems natively – Linux, Mac, and Windows.
#3. Inkscape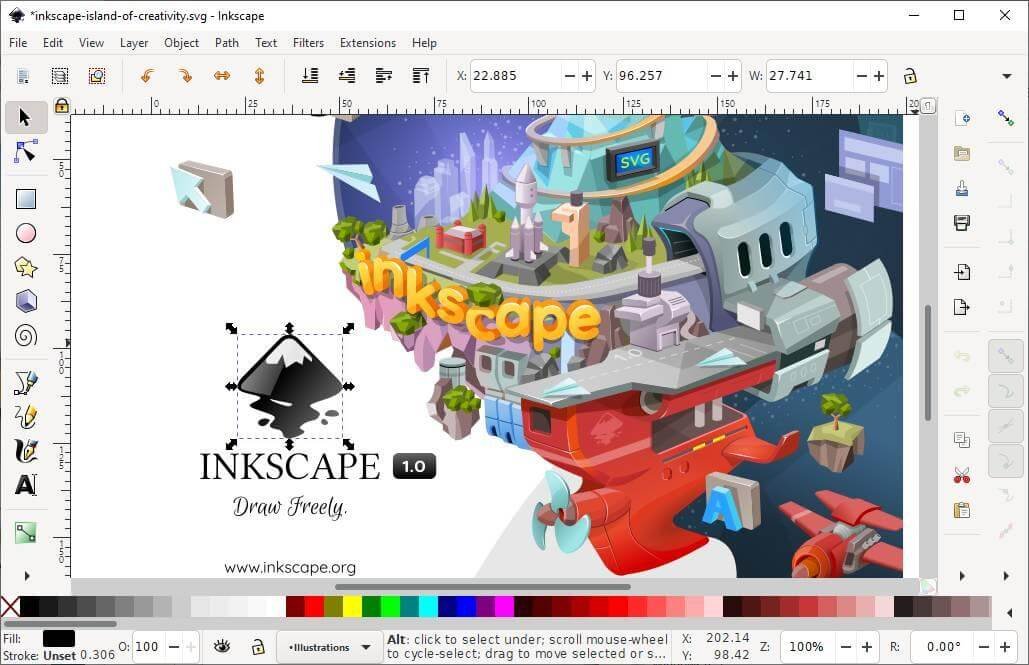 If graphic designing is on your mind and you are looking for a powerful tool that is not only free, but also a viable alternative to Adobe Illustrator, Inkscape is the one you should be looking for.
Just like GIMP, which is a program for working with raster graphics, Inkscape is for vector graphics. It is incredibly powerful and allows creating captivating graphics from scratch. However, it is a highly advanced tool, making it quite unsuitable for rookies.
The interface of Inkscape is highly customizable, allowing users to get the interface that works best for their needs and taste. It comes with a great collection of vector editing tools, advanced effects and filters, a broad range of snapping tools, various export options, and much more.
The slew of tools and features available with Inkscape makes it one of the best tools for graphic designing and drawing.
The Pros of Inkscape
Offers a wide range of vector editing tools.
Great support for various file formats.
It has precise path and placement tools.
Offers great typographic controls.
Allows editing XML text of the documents.
Allows adding custom filters and extensions.
Open-source and completely free.
The Cons of Inkscape
Does not have stylus support.
Interportability with other graphic editors still requires a lot of work.
Very difficult to use for rookies.
Supported Platforms
It supports three platforms natively – Linux, Mac, and Windows.
#4. MyPaint
MyPaint is the creation of artist Martin Renold, who became dissatisfied with the restrictions of the proprietary software included with his Wacom tablet and decided to create his own. Today, MyPaint free sketching software has evolved into a capable tool for professional artists.
MyPaint operates a bit differently than other Windows applications due to its Linux origins, and it will take some time to learn its interface, but it's definitely worth the effort if you're a hobbyist artist and Krita's emphasis on comics doesn't exactly suit your requirements.
MyPaint works best with a graphics tablet, but it is also compatible with various input devices, including touchscreens.
There is the standard range of customizable brushes, as well as layer support and a useful scratchpad for sketching. Additionally, you may download and install additional brush packages made by other users without incurring any additional cost.
MyPaint is known for emulating the effects of ink, paints, charcoal, and pencils. It also throws in features like unlimited canvas size, pressure sensitive drawing, layer management, and more.
The Pros of MyPaint
Infinite canvas size.
Gamut masking coloring wheel.
Offers dynamic brush library.
Friendly user interface.
The Cons of MyPaint
Animation tools are absent.
Undo function is slow.
Requires some time to learn the interface.
Supported Platforms
It supports all three major operating systems natively, which include Linux, Mac, and Windows.
#5. Vectr
Vectr is a free drawing software. Though the developers have intentions of creating a pro version with additional features, the core software will remain free forever. It is a vector drawing tool (no surprises there) perfectly suitable for making logos, business cards, flyers, brochures, and other forms of digital illustration that does not involve extreme details.
Of course, you cannot use it as a replacement for options like Krita, Inkscape, or MyPaint, but it does come in super handy when it comes to creating basic vector art and you don't intend to scale up your skills to the level of a professional graphics artist.
Also, considering the limited usage of the tool, Vectr is quite easy to understand and master with a very low learning curve. The developers have done an excellent job in documenting thorough tutorials that can be covered in less than an hour.
It has full support for layer-based drawing and offers a comprehensive set of tools to create art from scratch or even editing your work. The program comes with real-time collaboration features allowing you to share your work with others with editing capabilities so that they can edit the work simultaneously.
The Pros of Vectr
Very simple interface and very easy to learn.
Offers basic tools good enough for creating simple vector-based art like logos, cards, and so on.
Provide full support for layers.
Comes with a comprehensive text-editing tool.
Offers online collaboration features.
Completely free to use.
The Cons of Vectr
The tool is not meant for advanced creative work and misses many of the advanced tools often found in options like Inkscape, GIMP, Krita, etc.
The online interface has a lot of ads that can be quite distracting.
Supported Platforms
Vectr is a cross-platform application in the sense that it is a browser-based tool, and hence, it can be used on just about any platform. It also offers installable files for Windows, Linux, and Chromebook users. Unfortunately, Mac users do not have the option for installing it as a desktop application.
#6. MediBang Paint
If you are inclined towards creating manga and comics, MediBang Paint is one of the best options for you. Yes, it is free, and it is a perfect tool for creating ingenious and appealing digital art. Since it is more geared towards manga and comic designers, do not be surprised to see a great comic panel along with features like layer management, smooth workflow, and more.
This free drawing software comes with 800+ templates and backgrounds preinstalled, and of course, there are various fonts, styles, and customizable brushes available to help you create a masterpiece.
MediBang Paint also allows uploading your creation directly to a free cloud storage just in case you do not want to waste your computer's storage. Online storage is great if you want to access the same work across different devices.
The Pros of MediBang Paint
The interface is simple and user-friendly. However, there will be some learning curve.
It has complete support for PSD files.
There are various brush presets to work with.
It has full support for layers and layer management.
It comes with preinstalled templates and backgrounds.
The Cons of MediBang Paint
On startup, the application shows various popup ads, and that can be annoying.
Support Platforms
Currently it supports Windows, Mac, iOS, and Android. There is no support for Linux.
#7. Microsoft Paint 3D
Microsoft Paint 3D is designed primarily for kids so that they can get an idea of digital painting and of course, have some fun with 3D modelling at a tender age. The application is very basic with premade 3D models available for use. There are several 3D models available ranging from biology to futuristic structures to animals and more.
While working with premade models is fun, the real fun comes in when you create a shape or draw something and then inflate it to give a 3D shape. Other fun elements include things like rotating your work to view it from different angles, coloring shapes and backgrounds with various options like matte, dull metal, gloss, and polished metal.
There is absolutely no way to control or play with the thickness of the 3D effect, and of course, you do not get to work with layers and stuff.
What is interesting is that you can combine different 3D models to create an entire scene. Even better you can also use some of the premade models for professional work such as using the model for plant and animal cells for a website or presentation.
The Pros of Microsoft Paint 3D
It is free.
It is a great tool for engaging kids and introducing them to the world of graphics designing and 3D modelling.
It can convert any drawing or doodle into a 3D model.
Allows up to 6400% magnification.
Offers to play with lighting effects to make 3D models look more realistic.
The Cons of Microsoft Paint 3D
Not meant for advanced users and artists.
No control over 3D effects.
Not very smooth.
Supported Platforms
It is available only on platforms running Microsoft Windows. So, you can use it on a Windows PC or laptop or a tablet running Windows OS.
#8. Microsoft Expression Design 4
First thing first, Expression Design 4 is no longer supported by Microsoft. The company decided to halt its development. It is independently available for download. So, if you want to use it, you must download it from this site.
The development of Expression Design 4 stopped in 2012. It was initially intended to be a professional tool for both raster and vector graphics drawing, and it was a commercial product designed to challenge the likes of Adobe Illustrator.
The product is still compatible with Windows 10. Despite being discontinued, there are people who still use this product for personal use. It is needless to say that it cannot stand a chance when compared to products like Inkscape or Adobe Illustrator or Corel Draw, which happen to be in active development.
Still, the product has some interesting composing tools like B-Spline with full curve control, layer support and management, lasso selection, color & attribute dropper, and so on.
Expression Design 4 is not meant for professional digital drawing. You can use it to get some idea about how vector drawing works. There are various image editing options available, and it supports various file formats.
The Pros of Expression Design 4
It comes with several powerful composing tools.
Allows Bitmap export.
Offers a super preview mode for viewing a website design in multiple browsers at once.
The Cons of Expression Design 4
Advanced features are absent.
No longer in active development and not supported by Microsoft.
Supported Platforms
Works only on Windows operating system.
#9. Microsoft Fresh Paint
Fresh Paint is another Microsoft-developed painting software that is intended to mimic the sensation of placing a pen, pencil, or brush to paper.
Skeumorphism is used in the interface, with a palette of plastic colors that splatters as the virtual brush is dipped into it, indicating whatever shade you're presently using and creating an appealing splat. You can mimic washing the bristles in a water cup before selecting a new color or use them consecutively to mix the colors on the brush.
Fresh Paint is capable of simulating gouache, watercolors, and a wide variety of other materials. As the name suggests, you may interact with your work as if it were still wet, spreading and blending colors on the canvas.
Experienced painters will be able to produce excellent works using tools that react realistically, while children and beginners will create an equally realistic mess. Everyone can benefit from free drawing software.
The Pros of Fresh Paint
Gives realistic blending effects.
Amazing for touchscreens and tablets with stylus support.
Can be used by pros and noobs alike.
Kid-friendly drawing application.
Completely free.
Syncs work with OneDrive.
The Cons of Fresh Paint
Not really a suitable option for desktops.
Supported Platforms
It is available only on Microsoft Windows platform.
#10. Artweaver (Free Version)
Artweaver has both free and premium versions available. This one that I am talking about is the free version. Even with the free version you can create realistic artwork. It is compatible with mouse input, stylus input, and touchscreen devices. This free drawing software is capable of applying ultra-realistic brush effects with ease.
The software includes things like calligraphy pens, conte brushes, airbrushes, patterns, and different pens that you can use for creating simple to complex art. It has full support for layers, which means that you can create your masterpiece using layers of art and edit them individually without losing anything.
Though the interface looks ultra-simple and specifically designed for kids, it can still be used by experienced people to create captivating artwork with minimal effort.
The Pros of Artweaver
The brush editor is configurable.
It can create ultra-realistic effects.
It is loaded with several creative editing tools.
The interface is very simple and easy to use.
It is a kid-friendly software, but equally capable of catering to the needs of the pros.
The Cons of Artweaver
The texture features available are fewer compared to other tools.
Supported Platforms
It is available only for Windows users.
#11. Paint.NET
Paint.NET is a simple image and picture editor. It was created to be a more powerful version of Microsoft Paint and hence, shares a great deal of its functionality.
Paint.NET is much behind GIMP, Krita, MyPaint, etc. in terms of sophistication. It is, nevertheless, a decent choice for anybody searching for a free Windows image editing and drawing program. While its user interface may seem to be outdated, it is basic and easy to use.
Paint.NET allows layers with varying blending settings and even allows for an endless history. There are many special effects to choose from, like red-eye removal, sharpening, noise reduction, and blurring. Furthermore, it has a plethora of useful tools for Bezier curves, drawing splines, and more.
Furthermore, it has a recolor tool, a clone stamp tool, a selection tool, a magic wand tool, a text editor tool, a gradient tool, and a zoom tool. Furthermore, Paint.NET has significant options for enhancing the brightness, contrast, saturation, and color of any image.
Paint.NET is not particularly kid-friendly, but it is not even suitable for pros. It is somewhere in between. Those who are matured enough to understand the concepts of digital drawing, but do not have any experience working with complex tools like Krita, GIMP, Inkscape, MyPaint, etc., will find Paint.NET a great option to start with.
The Pros of Paint.NET
Brings in many features of the simple Microsoft Paint.
Includes many powerful features like blending, noise reduction, clone stamp, magic wand, etc., to give a sneak peek into more advanced digital drawing software.
It has support for layers.
It is a free program.
The Cons of Paint.NET
It has a very archaic interface.
It is not suitable for kids and/or pros. It is somewhere in between.
Supported Platform
Paint.NET is available only for Windows users.
Conclusion
Okay, now that you have learned about the list of best free drawing software of 2022, here is my advice for you. If you are starting your journey towards digital drawing, start with something simpler like Paint.NET or Artweaver, or perhaps, Microsoft Fresh Paint. Get the basic understanding on how digital drawing works and then you can scale up to more powerful and complex tools like Kirta, GIMP, Inkscape, and MyPaint.
No matter what you select, please understand the basic fact that the options that fall under the open-source category will have fewer tools and features compared to the more powerful proprietary tools. However, despite being free, some of the open-source drawing software mentioned in this list are extremely powerful with a steep learning curve. Once you master them, you can create masterpieces that will captivate the viewers.
Happy drawing!