What is FastComet?
FastComet is a web hosting company that offers various types of hosting solutions including the famous shared hosting. They also have cloud VPS hosting and dedicated servers. The company also offers Magento hosting, WooCommerce hosting, OpenCart hosting, and WordPress hosting. The company offers SSD-only servers irrespective of which hosting solution you choose.
In case you are looking for registering a domain, the company also allows purchasing one through them. They offer 500+ TLDs to select from. They have 11 data centers spread globally and some of them are in places where other competing companies do not provide data centers.
FastComet positions itself as a premium hosting company boasts high ratings from various hosting review platforms. Naturally, I wanted to find out whether the services are really as premium as they claim it to be?
To find out what they have to offer, I decided to review their shared hosting service and ended up purchasing their most basic shared hosting plan that they call FastCloud.
Don't be confused! Just because the plan is called FastCloud, it is not really the cloud infrastructure of tomorrow. On the contrary, it is actually the shared hosting infrastructure that we have known since times immemorial.
I will really blame FastComet for this confusion. They should have chosen some other name that could have probably made it clear that what they are offering is shared hosting and not cloud hosting.
Anyway, I don't really care about names. What I care about is the services that a web hosting company offers, and trust me, it is not really easy to satisfy me. Just because some company is positioning itself as an ace player, it doesn't mean it is. Everyone says so! Only a few manage to be on the top.
So, here is a complete review of the FastComet shared hosting service that you must read before purchasing a subscription with this company…
The Features Offered by FastComet
FastComet has some interesting features to offer. Well, I will not say that they are offering something extraordinary, but they are definitely better than most shared hosting providers. Let me walk you through some of the most important features that FastComet has to offer.
Let's go…
SSD Storage
You rarely find shared hosting providers offering SSD storage. FastComet is one of the very few that do that. GreenGeeks is one such hosting provider that offers SSDs.
You must already be aware of the fact that SSD storages are faster than traditional spinning drives. The higher Input/Output Per Second in SSD storages allow the servers to respond faster.
Web Application Firewall
The company offers a web application firewall. Well, the company did not develop it. Rather, the WAF in question is a combination of six different components with each component working as a security layer. This helps to prevent issues like DDoS and brute-force attacks.
The thing is, the WAF works on a server level. This means that you don't have much control over it except for one component – ClamAV. It is a virus scanner that you can access through the cPanel.
RocketBooster
The shared hosting servers do not run LiteSpeed web server. However, they do use lsapi – a module of Apache web server (yes, their shared hosting servers have Apache web server). The lsapi is based on LiteSpeed Technologies API designed for Python, Ruby and PHP.
The lsapi module offers excellent PHP performance and has a very low memory footprint. It also offers amazing security and even supports opcode caching.
Cloudflare CDN & Caching
I have been extremely vocal about using Cloudflare. Not only is it a world-class CDN provider, it is also known for blocking the most massive DDoS attacks the world has ever seen. Talking of CDN, Cloudflare's global presence remains unmatched to this date. That's why Cloudflare CDN is the most preferred CDN. FastComet offers easy integration of Cloudflare CDN and caching right from inside the cPanel.
It is not that FastComet is doing a great service by offering Cloudflare CDN. You can use Cloudflare for free. It is just that the integration through the cPanel is simple and you don't need to worry about the technical aspects.
SpamExperts
The company offers one of the most advanced spam protections for emails and promises 100% guaranteed delivery of emails to the inbox. They achieve this by using 100% clean IP address.
Daily Backups
The hosting company offers free daily backups for your website files and database. Yes, that something you can hardly find today. Many shared hosting companies offer this backup service, but at an extra cost.
Free SSL
This is one of the staples among shared hosting companies. Almost every company offers free SSL certificates through Let's Encrypt. FastComet is no exception to this. You can quickly install SSL certificate on your domain using Let's Encrypt directly from their cPanel.
Website Builder
The company also offers a free website builder if you don't want to use popular platforms like WordPress or Joomla or Drupal. The site builder is known as SitePad and it is a simple drag-and-drop website builder. It will allow you to get a website up and running in a few minutes.
PHP Versions
The company will allow selecting between different PHP versions. The default is version 7.2, but if you want, you can always use up to 7.4, which is the latest version available. If you need or desire, you can use version 5.6 as well. It is extremely easy to select the PHP version and you can accomplish that directly from inside the cPanel.
cPanel
With FastComet shared hosting, you will get access to the famous cPanel that will allow you to accomplish many tasks including accessing your website files through File Manager, enabling leech and hotlink protection, managing email accounts, selecting PHP version, installing web applications, and much more.
Free Domain Transfer
If you want, you can always have your existing domain transferred from your current registrar to FastComet. Usually domain transfers attract a price. FastComet will not charge you a single penny for it. In fact, once you transfer your domain to them, they will renew your domain for free for a year.
Website Migration
The company also offers a free website migration using human expertise. They don't rely on automated processes. They call it express transfer and they promise to get it done without downtime.
Money-Back Guarantee
They offer a 45-day money-back guarantee on every shared hosting plan. That's more than the usual 30-day period you find with most of the other shared hosting companies. However, if you are purchasing a VPS hosting or a dedicated server, you will have only seven days for requesting a full refund.
User-Friendliness of FastComet
Of the many things that you need to check while purchasing a hosting service is the user-friendliness. If the overall interface is clumsy or if you find it difficult to navigate around, you should quickly decide against it.
The first thing I noticed about FastComet after purchasing their basic shared hosting plan is how well organized their account management area is. They also have a nice walk-through feature that will tell you everything you need to know to have a nice experience.
You don't even have to move through the menu items on the left to find everything you need. You can simply scroll down on the Home area to find everything from support tickets to invoices, active products list and even domain registration option. You can even access their live chat support directly from the interface.
There are options for quick access to cPanel, website builder, SSL installation, application installer, and even usage statistics.
I have to agree that FastComet's account management interface is one of the finest I have seen so far. It is neatly designed and it very intuitive. Even a novice with zero-experience of dealing with web hosting can handle it with ease.
If I were to compare this with another host that is terrible, I will pick up BigRock! BigRock's interface is horrible and confusing. Even with over a decade's experience with websites and hosting, I still find dealing with BigRock a scary and Herculean task.
The cPanel is neatly arranged with some extras that allow you to access FastComet website builder's themes quickly. If you are working with WordPress on their shared hosting, you can also find an option of quickly accessing various famous WordPress theme markets!
Overall, I am super impressed with FastComet's interface for both account management and cPanel.
Performance of FastComet Shared Hosting
This is segment where things get really dirty for most of the shared hosting providers. I had to find out whether FastComet was just another average Joe or was it really good as it claimed. So, built a website on the domain 'acasualaffiliate.com' that you can see in the image below (it is also present in one of the images above):
Here are my test results:
Google PageSpeed Insights [Mobile]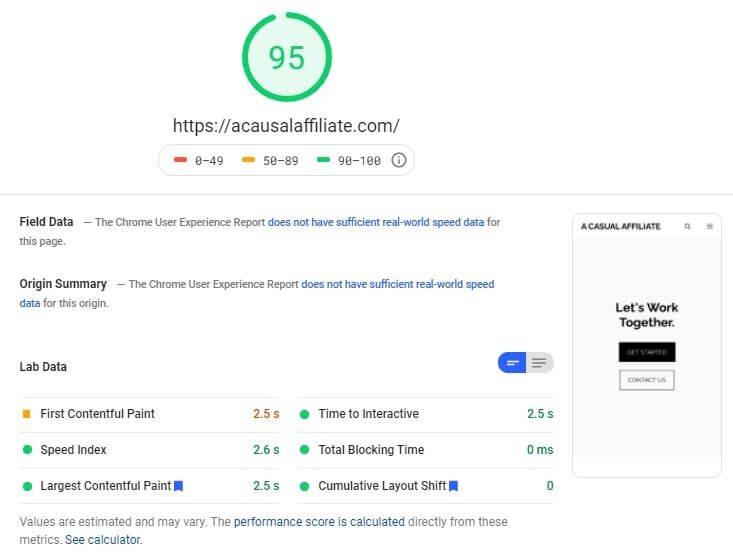 That's incredibly fast without Cloudflare CDN. Yes, I didn't implement the CDN feature and wanted to see how fast the website loads! The result was amazing. This can be partially attributed to the SSD storage drives that the company offers with all its shared hosting plans.
Of course, there are other factors like PHP version in use (I used the version 7.4), data center location, etc. The website that I built uses GeneratePress (premium) theme and contains only two plugins – Akismet and Yoast.
There are no scripts or codes used anywhere on the website and there are no ads running on the site! It is a sample website, and hence, using those things don't make any sense.
Google PageSpeed Insights [Desktop]
The speed on mobile devices was incredible. This got me curious and I wanted to see the desktop test results. This is what I found:
Of course, implementing Cloudflare CDN will improve the over all page load time. However, I have to say that even without an active CDN provider, the website performance was just amazing!
GTmetrix Speed Test
As a slave of my habits, I decided to check the same website and the same URL using GTmetrix. GTmetrix recently changed the way it evaluates the speed scores by adding Lighthouse to system. Here are my GTmetrix test results:
That's one of the most impressive speeds I have seen for shared hosting servers. I must say that the website passed with flying colors. I don't care much about Pingdom tests because it doesn't support Brotli compression offered by Cloudflare.
Looking at the performance, I will always recommend FastComet, however, there is one more important thing to evaluate – the customer service!
Customer Service of FastComet
Customer service is a dreadful thing. While almost every host says they are the best in business, most of them actually are terrible. I found GreenGeeks customer service to be one of the finest so far. What about FastComet?
Having over 10 years of experience with websites, I don't really face many technical issues with hosting services, and more so with cloud hosting services. That's the reason why I don't care about asking anything to technical support teams.
In the case of FastComet, I approached their sales team (after I purchased a plan) and to my surprise, the guys were splendidly well-informed even for several technical stuff. Here is a quick chat transcript:
To my utter surprise, not only did the sales guy give proper answers to my questions, he even responded quickly (usually within a minute). They have 24×7 chat support available. However, you can always opt for their ticket system. Additionally, they also have an extensive list of help articles and guides. There are over 3000+ help articles and guides.
Pricing Structure of FastComet Shared Hosting
The usual industry-standard practice comes to play when it comes to pricing. The introductory prices are low but the renewal rates are too high. For FastComet, you will get three different shared hosting plans which include:
FastCloud – The most basic plan
Under this plan, you will get 15 GB SSD storage, one website, free website migration, free domain transfer, free SSL, cPanel, daily backups and more. This plan will cost you $2.95 per month irrespective of the duration of the plan. The renewal price, however, is 9.95 USD a month!
FastCloud Plus – The second-highest plan
Under this plan, you will get 25 GB SSD storage, multiple websites, three free website migration, 2x more CPU and RAM, free GlobalSign SSL, free Dynamic SSL seal, free one-click restoration, cPanel, etc. The plan will cost 4.45 USD a month, but it will renew at 14.95 USD a month.
FastCloud Extra – The highest plan
This is the highest plan you can get for shared hosting in which you will get 35 GB SSD storage, RocketBooster, and everything else you get under FastCloud Plus plan. This plan will cost $5.95 a month, but renews as 19.95 USD a month.
Pros and Cons of FastComet
The Pros
SSD storage.
Free SSL and website migration.
Web Application Firewall.
Free domain transfer.
Fast website load times.
Amazing customer support.
Free daily backups.
Very user-friendly interface.
The Cons
Very high renewal price.
Website builder has limited theme collection.
RocketBooster available only on the highest plan.
Conclusion & Verdict (Recommended)
FastComet is indeed a great shared hosting provider. The platform has a very user-friendly design and it is easy to navigate. The most important of all, it provides excellent website load speeds even without Cloudflare CDN activated. Yes, there are a lot of freebies, but most important of all is their daily backup that comes free of cost. It is an important aspect and often a life-saver. It is one of the rarest shared hosting providers that comes with server-side web application firewall without additional charges.
I highly recommend FastComet to anyone who is looking for a reliable shared hosting service. If you are looking for a similar alternative or two, you can always look at GreenGeeks and SiteGround.