Emails are an important part of any business. Proper email communication can help a business grow and acquire new customers, thereby helping to bump up the revenue. In correct usage of email communications can destroy the image of any business.
It doesn't matter whether you are using emails for internal communications or for communicating with your customers, emails remain the most important mode of communication since the dawn of the information age.
A business mailbox is the storehouse of very important messages, critical communications, and business information that are vital for day-to-day business operations.
Given the importance of emails, it is not at all surprising that you are looking for best email hosting solutions for your small business.
Lucky for you, there are numerous providers of email hosting. You can choose the one that fits your budget and requirements. Of course, it is important to understand the features that each of them provides to ensure that all your needs are addressed.
In this article, we are going to look at the 17 best email hosting providers available in 2022 for small businesses.
I will recommend that you read through the entire article, because it is going to hand over some very vital information that can help you with decision making.
Before I lay down the list in front of you, it is vital that I answer a few questions related to email hosting. Once you have the answers to those questions, you will have sufficient knowledge to understand the remaining.
Sounds good?
Let us begin…
What is Email Hosting?
Email hosting is a service in which all your emails and its related files are stored on a server. These servers are known as email servers. Email hosting services are all usually premium services, making them quite different from the free webmail services such as Google, Yahoo, AOL, etc.
Email hosting is targeted towards businesses that have high email traffic and require their own domain so that they can distinguish themselves from others.
What Are the Benefits of Email Hosting?
There are several benefits of going for business email hosting instead of webmail services like Gmail, Yahoo, etc. First thing first, in the business landscape, such services look extremely unprofessional. Imagine Samsung electronics shooting you an email using sam.help@gmail.com.
Does that look unprofessional? Yes, it does.
On top of that, the customers of a business using simple third-party webmail can send a wrong message to its customers. For instance, the customers can think that the business is not a serious one, and that it might not stick around for a long time.
Yet another problem is a security vulnerability. Cybercriminals pry on such webmail services and often manage to successfully hack them. As a business owner, this should be a major concern for you. Such a successful hack on your business can lead to loss of critical data, and even business espionage. Of course, no one wants that. This is where professional email hosting comes into play.
Here is a list of important benefits that you are going to enjoy when you settle for a professional business email hosting solution for your business:
Trust Building
Having an anonymous identity will not work if you want your consumers to consider your company seriously. Nowadays, obtaining a free email account is not nuclear science, and if you are a company seeking to build trust, you must stand apart from the crowd. Using a business email, you can establish trust with your customers, which would be the first step in running a successful company. Even if you have few employees, you may give your company a varied appearance by using distinct email addresses for sales, billing, employment, and very importantly, support.
Display a Professional Image
There is a saying – 'First Impression is the Last Impression.'
Indeed, this is true in business. The majority of the time, you communicate with your customer through email. You must establish that connection as soon as your prospect or client reads the email in order to propel your company forward.
Maintaining a business email establishes a highly professional image for your company in the eyes of your customers and target audience, which may help you get a competitive edge over the competition.
Prevent Emails from Landing in Spam
Spammers and malwares may easily take advantage of free email addresses. If you rely on email marketing to generate sales, utilising free emails may have an adverse effect on your income. This is because the emails you send may be flagged as spam. As a result, if your consumers do not have a habit of checking their spam folders, your efforts will be fruitless.
However, if you use professional email hosting, you can prevent your emails from being bounced or ending up in spam folders of the recipients. Thus, you may continue to connect with your consumers through email and reap the advantages.
Sensitive Data Protection
Free email hosting providers are often attacked by viruses and are vulnerable to spam and targeted advertising. They lack critical security safeguards necessary to safeguard users' interests. Additionally, you lack complete control over your emails.
If you own a company, you must protect your assets and your business interests and data of your consumers. As a result, you should avoid putting your company at danger by using free email services.
Privacy and Backups
Free emails have a significant danger of collapsing, closing without notice, or even being hacked. When this occurs without proper backups, it may result in the loss of critical company information. You misplace sensitive data and critical communications from your clients and prospects.
Branding
Professional email establishes a strong brand identification for your firm by publicizing its name. It establishes your brand's credibility in the eyes of consumers just by glancing at the name.
Okay, now that you know what email hosting is and its benefits, it is time to go through the list of the best email hosting for small business in 2022.
In case you are short on time, and you just want to grab the names of the providers, here is a quick list:
Google Workspace (previously known as G Suite)
Zoho Mail
Office 365
Mailgun
SendGrid
Rackspace
Amazon SES
FastMail
PostMark
MXRoute
Namecheap
A2 Hosting
DreamHost
ScalaHosting
Yandex Mail
Mail-in-a-Box
Mailcow Email
If you have enough time to spare, I will urge you to go through the details of each option available on the list. This will help you with decision making.
Best Email Hosting for Small Business
#1. Google Workspace
Create a professional email account for your company with Google Workspace, which was previously known by the name G Suite, which is identical to the Gmail you already use. It has administrative controls and a slew of fascinating features without the use of intrusive advertisements. The email hosting package includes features that can help you increase your company productivity by allowing you to work quicker and smarter!
Google Workspace has revolutionized email communication by enabling real-time collaboration on files and access to important tools like calendar to plan meetings. The powerful cloud infrastructure, Google workspace protects all your company data, devices, and user information. Additionally, it offers cloud-based data storage and gives you complete control over your email.
Gmail, Currents, Calendar, vault, Meet, Chat, Apps Scripts, Sheets, Docs, Slides, Forms, Sites, Drive, Keep, Cloud Search, Admin, Endpoint, and several other add-ons are included in the features.
What is interesting is that Google Workspace allows using custom domains and it also easily integrates with various third-party apps that you may find beneficial for improving the productivity even further.
Google Workspace pricing begins at $6 per user per month, and it can go all the way up to $25 per user per month. You also get 30GB to 1TB of storage depending on the plan you select. There is no limit on the number of accounts you can create. The attachment limit is capped at 25 MB. This might not be sufficient. However, you can use Google Drive for sharing larger files.
#2. Zoho Mail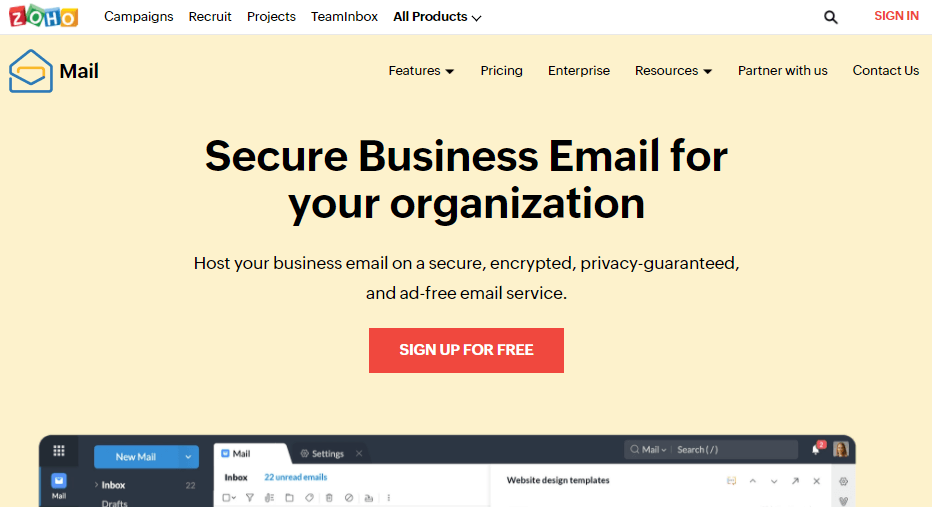 Zoho is a popular name. It offers various business products of which Zoho Mail is one of them. Zoho is known for offering secure, encrypted, and ad-free email hosting.
You may get agile and improved security against viruses and spam with this powerful email hosting. It offers professional email addresses to increase your brand's exposure and legitimacy.
Zoho Mail's data centers are monitored and secured to ensure consistent uptime. Zoho allows you to secure your emails using end-to-end and at-rest encryption, as well as message encryption via S/MIME.
You can manage all settings, personalization, and setup through Zoho's sophisticated and simple control panel. You can easily add users, configure your rules, and manage group names, among other things. Zoho also enables you to retain your emails for a certain length of time to protect yourself against legal assaults. Additionally, it includes e-Discovery to assist you in rapidly locating your retained emails.
Managing corporate communication is a breeze now that the Zoho Mail app is available for Android and iOS smartphones. Zoho even allows quickly adding social media flavors to your inbox through tag teams and Streams, as well as remarking on, managing, and sharing assignments.
Zoho's basic plan starts at $12 per user per year and offers 5GB storage. If you select more advanced plans, you will get 30GB storage per user, along with access to Zoho Office Suite and Zoho Docs cloud storage.
#3. Microsoft 365
With Microsoft 365, you can create business-class emails and remain in sync at all times. It allows accessing emails, contacts, and shared calendars from any device like PC, smartphone, tablet, laptop, etc.
Just in case you accidentally lose your phone with your business email configured on it, you get the option of remotely deleting emails to safeguard your business's information. Microsoft 365 enables you to personalize each email by generating unique formats, including your business domain name and pictures, and so on.
This email hosting service allows you to transmit files that are as large as 150 MB. Additionally, it includes 100 GB of storage that allows users to see emails with unique formats and pictures. With a simple admin center, you can handle your emails more effectively, including the creation of new accounts, account deletion, and the development of custom scripts.
Microsoft 365 provides the industry's finest anti-malware and anti-spam security, ensuring that your emails are protected from possible criminality. Additionally, you get archiving capabilities and eDiscovery.
In addition, with Microsoft 365, you get 1TB of storage and Microsoft Office Suite, that allows you to enhance your productivity, and indulge in collaboration in real time.
#4. Mailgun
Mailgun is an SMTP email service provider geared for software engineers. It's very popular since it enables them to easily send mass emails and also significantly boosts interaction.
Having said that, Mailgun is not designed to be a tool for email marketing; it is just an API for sending and receiving email. Mailgun is essentially a transactional email service for sending, receiving, and tracking emails. It does support burst sending, and it employs secure methods to ensure that your emails are always secure.
Additionally, it has an outstanding tool for performance prediction, which alerts you of the folder in which your email is likely to fall in when it gets in the inbox of your recipient.
Mailgun isn't free; their entry-level subscription includes three months of free email. After that first time has expired, you will be charged based on the number of emails you send in the following months. Once the first three months elapse, the fee is $0.8 per 1,000 emails.
If one of the aspects of your business' marketing strategy is sending out bulk emails, Mailgun is an excellent email provider that you can rely on.
#5. SendGrid
SendGrid is yet another powerful cloud-based SMTP service that enables customers to send emails effortlessly without the need for email servers. It's another popular option for many companies since it handles all technical aspects, from infrastructure management to scaling your business' email requirements.
Additionally, it provides real-time data on analytics and also offers built-in reputation monitoring capabilities. SendGrid is a very dependable and trustworthy option, with over 45,000 paying clients and 1 trillion emails delivered.
#6. Rackspace
Rackspace provides small companies with business-class email hosting. It is ideal for customers seeking a dependable email server capable of handling their email campaigns. Rackspace hosts email using Outlook and the Rackspace email service. Both the services have a range of costs.
Rackspace provides email filtering solutions that ensure your inbox is spam free and junk-free. Additionally, Rackspace promises that user data will not be sold. It adheres to the California Consumer Privacy Act (CCPA) and the European Union's General Data Protection Regulation (GDPR) (GDPR).
Rackspace provides live chat, in-person, and ticketing system assistance 24 hours a day, 7 days a week. Additionally, all email plans from Rackspace include 25GB of email storage. The entry-level plan begins at $2.99 per month per user.
#7. Amazon SES
Amazon SES (Simple Email Service) is a cost-effective and highly configurable email service that scales with your company. Amazon is very well known for its cloud-based services (you must know about Amazon Web Services), and the SES fits into their company fast and effectively.
Amazon SES comes with a reputation dashboard allowing users to monitor the success of the email campaigns you are running and get additional spam feedback in order to optimize their performance. It has a number of built-in security features, such as the DomainKeys Identified Mail and Sender Policy Framework, both of which encrypt and authentic emails on both ends.
#8. Fastmail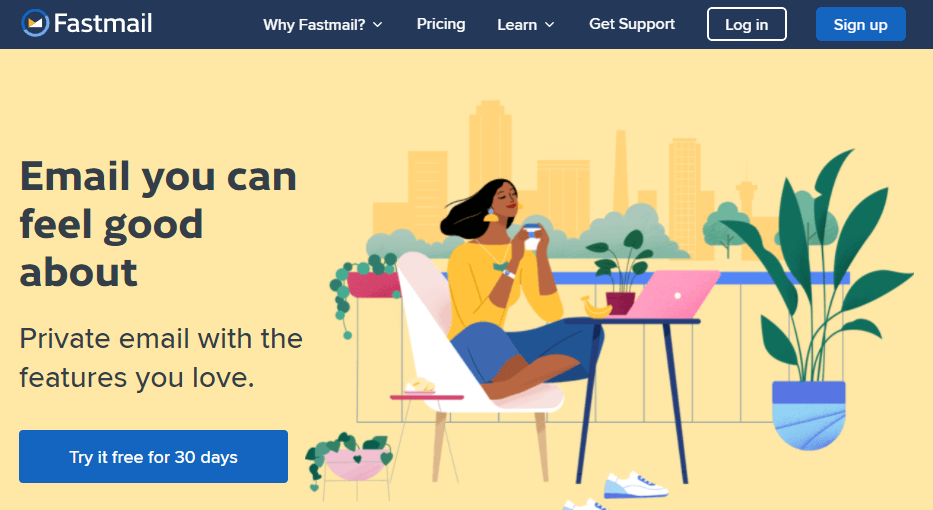 Fastmail enables you to generate emails for your company that are easily customized to fit your website. You may handle your emails intelligently by utilising a single inbox for both sending and receiving emails. You can collaborate with your team on contacts, calendar, and email folders to ensure a seamless information flow and to quickly arrange meetings.
It includes a Topicbox designed to allow team members to exchange resources and ideas, and it enables you to communicate with your whole team in one location. Additionally, you may use this tool to create and manage your company's archive. FastMail enables you to control email access levels and use sophisticated security features to keep your data safe.
There is no free edition, and monthly price begins at $3. However, they do have a free trial. They have different tiers of plans that you can use.
#9. PostMark
PostMark is yet another email service provider. Developers find it a very useful service. It is mainly focused on transactional emails. Because PostMark does not provide mass promotional email distribution, it has developed a solid reputation.
PostMark is a no-fuss email service provider, and it provides performance and email monitoring data, and its feature of email automation makes it a great choice for small companies. PostMark's pricing begins at $10 per month, which is rather costly in comparison to other service providers on this list.
You get 10,000 emails for $10. Pricing is based on the quantity of emails sent and may go as high as $1,200 a month if you have 5 million emails to send. You may even get a dedicated or static IP address if desired.
#10. MXRoute
MXRoute is an email hosting service powered by cPanel that offers unlimited email accounts and unlimited domains beginning at $30 per year.
This is a desirable characteristic. You may establish email addresses for different websites with a single account. The majority of other email hosting companies charge per email account.
The storage capacity available on your MXRoute account is the sole constraint. The most expensive package has just 50GB of storage. If your business needs more email storage, you must subscribe to additional accounts. It sometimes runs enticing promotions, which are publicized on its blog. Ensure that you get yours before they sell out!
While MXRoute does utilize cPanel for email hosting, it is not another oversold shared hosting server. They have a robust email infrastructure in place to manage your email accounts. If an email is refused owing to the IP reputation of the sender, it is immediately sent to another mail replay.
MXRoute is compatible with all commonly used email protocols including IMAP, POP3, email alias, SMTP, mail forwarding, etc. Regular backups are performed on the servers. They provide minimal assistance and are in the process of converting to a public support forum. However, make a note that MXRoute does not provide a tool for email migration.
#11. Namecheap
Namecheap is an email hosting solution that is quick, dependable, and secure, and is tailored to your business's particular requirements. Using this service, managing your contacts, calendar, emails, and general email marketing is a breeze.
You can even sign up for a two-month free trial offered by the company to test the platform's effectiveness and then upgrade to a paid plan to continue exploiting its advantages throughout your whole company. It integrates seamlessly with your devices, whether they are Android, iOS, or Windows. With each package, it includes domain-based email, anti-spam protection, POP3 access, IMAP access, a unified inbox, HTML signatures, and secure email access.
Utilize your business email to collaborate seamlessly and securely by exchanging emails, contacts, spreadsheets, appointments, documents, and task lists. You can anticipate a high level of performance from NameCheap email hosting, which means you won't have to worry about whether your emails made it to their intended destination; Namecheap will take care of that for you!
Two-Factor Authentication adds an additional layer of protection to your emails while safeguarding your credentials. It offers superior security utilizing Universal Two-Factor Authentication and TOTP or Time-based One-Time Password.
Namecheap email hosting plans start at $0.99 a month, giving access to one free mailbox. For additional mailboxes, you must pay extra.
#12. A2 Hosting
A2 Hosting email hosting has a plethora of helpful email tools and services to assist you with email marketing. You may send and receive emails using POP3 or IMAP. Additionally, if you want to utilise webmail, Horde and RoundCube are pre-installed. Additionally, it contains Mailman, which enables you to contact subscribers to an opt-in email list.
A2 Hosting's email hosting service guarantees a higher level of uptime in exchange for a more dependable performance. Each email hosting account comes pre-loaded with a slew of free email resources. You may access and administer these resources via the company's management panel, dubbed cPanel.
Among these complimentary resources are the following:
Accounts for email hosting that allow you to manage accounts and the passwords, and setup IMAP or POP3 settings.
Webmail is available through Horde and Roundcube.
BoxTrapper is used to authenticate the sender.
SpamAssassin is used to filter out spam.
Barracuda for improved spam filtering by manually inspecting every incoming email.
Authentication and forwarding of email.
MX Records are used to transmit emails.
Autoresponders, email lists, and encryption are just a few of the features available.
A2 Hosting's email hosting is rather pricey and comes with a price tag of $10.99 a month. However, you can have the prices slashed to just $2.99 a month if you go for a three-year plan.
#

13. DreamHost
Utilize DreamHost's professional email hosting to project a positive company image to your clients and prospects. You'd be able to send messages using the email address associated with your website.
To get started with DreamHost, you are not needed to alter your hosting package. This dependable, simple, but robust platform works with any domain name you control.
With DreamHost you get the ability to drag-and-drop emails between different folders, use custom names for routing messages, and automatically configure delivery filters. It syncs your emails constantly as a consequence of revolutionary IMAP compatibility, regardless of whether you are using a smartphone, a tablet, or a laptop, a wristwatch, or of course, your desktop.
DreamHost automatically implements an incoming spam filter to protect your mailbox from phishing attempts, malware, and other online dangers. Additionally, the hosting package provides a built-in webmail that is free of all forms of ads.
DreamHost's robust email hosting package is cheap, starting at only $1.67 per month per mailbox, which includes 25 GB of storage. Additionally, you may subscribe to Google Workspace.
#14. ScalaHosting
ScalaHosting is a safe email hosting service that ensures optimal deliverability and security for your business emails. There are many advantages to hosting your email in a separate cloud environment offered by ScalaHosting.
ScalaHosting is the optimal solution for bypassing spam filters and increasing brand exposure.
Additionally, it helps you in creating email and sales addresses that enable your staff to respond promptly to any lead or request. Additionally, it utilizes SShield, which is their in-house designed ultimate cybersecurity solution. SShield employs straightforward logic, validates and inspects code, and detects harmful activity in order to protect companies from hackers.
ScalaHosting offers SWordPressManager and SPanel, which are created and developed by the company in-house based on the research and practical expertise of the team over the last 11 years. Each plan offers a variety of standard features, including a free email domain, a dedicated environment, free migration, a dedicated or static IP address, pro spam protection, protection from blocklists, and daily backups.
You can choose a plan beginning at $9.95/month, which includes one CPU core, two GB of RAM, and a storage of 20 GB SSD, as well as a money-back guarantee for 30 days.
#15. Yandex Mail
Yandex is a famous Russian search engine. It is also known for hosting email. It is ideal for anybody interested in setting up an email hosting server with their own domain name. Not only is it quick and adaptable, but it is also more affordable than many of the other service providers on this list. A paid account will cost you as little as $3 per month.
Three email users are allowed for a website; but, if you join up as an organization, you may receive 1,000 free accounts. F Yandex provides unlimited storage at no charge. Additionally, you may easily connect Yandex and Yandex Mail.
Additionally, you'll get collaborative features such as forms, issue tracking, a wiki, a calendar, a messenger, and a cloud disk. Each Yandex customer get ten gigabytes of online storage space every year. It protects your inbox with anti-spam and anti-virus technology and includes two-factor authentication for enhanced migration and login security.
#16. Mail-in-a-Box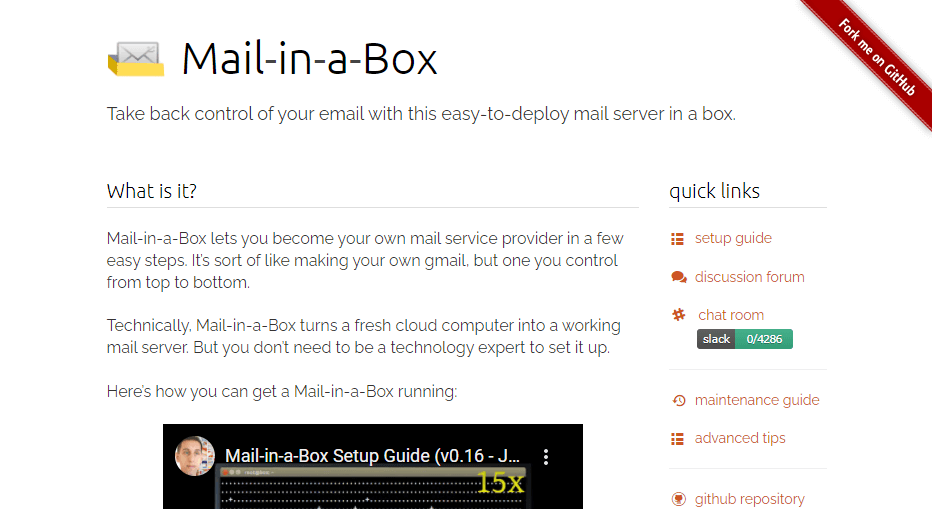 Mail-in-a-Box is an open source software bundle that makes it easy to turn a cloud server into your own email server for multiple domains. Mail-in-a-Box features include the following:
Amazon S3 backup.
CalDAV/CardDAV via Nextcloud.
DNS server auto configures DKIM, SPF, and DMARC.
Email hosting for multiple domains and multiple users.
Exchange ActiveSync
Free TLS(SSL) certificates provided by Let's Encrypt.
Greylisting and spam filtering.
IMAP and SMTP support.
NGINX-based static web hosting.
RoundCube webmail
Web administration.
However, do remember that if you want to use Mail-in-a-Box, you will need a server with at least 512MB RAM (however, 1GB RAM is recommended), and 64-bit Ubuntu 18.04.
#17. MailCow Email
MailCow is an open source email server package built on top of Docker. It is a network of connected containers. Each container is associated with a single application, for example, Postfix, Memcached, Dovecot, PHP, MySQL, or Nginx. MailCow has a web-based management interface for administering the mail server and email accounts.
MailCow features include the following:
Brute force protection and two-factor authentication.
Easy configuration of email client.
IMAP and SMTP support.
Process isolation using docker containers.
SOGo web-based email.
Spam thresholds.
Web administration.
Whitelisting and blacklisting of emails.
Okay, now that you have the list of the best email hosting for small business in 2022, it is time to conclude this blurb with answers to a series of frequently asked questions. Let's begin and wrap it up quickly.
General FAQ
Should you be using a separate email hosting?
It all depends on your current situation. If your website is already hosted on a server that offers email hosting as a complimentary service, you don't need a separate email hosting account. You can use that with a domain name.
What should be the server bandwidth for email hosting?
Unless you intend to send thousands and thousands of emails in bulk, you should not be worried about the server bandwidth for email hosting. Just about any email hosting with any bandwidth should work fine if you are sending less than 10,000 emails a day, just about any hosting service with any bandwidth will work.
What essential software should you have for email hosting?
Your chosen email hosting service should have POP3, IMAP, and SMTP installed. These allow seamless sending and receiving of emails. In case you need other tools like calendar, docs, spreadsheets, slides, messaging capabilities, sharing capabilities, etc., you should consider an appropriate email hosting provider like Microsoft 365, Zoho Mail, Google Workspace, etc.
Which one is the best email hosting provider for small business?
There is no clear answer to this. It completely depends on your business needs. Whichever covers all your requirements and gives you high uptime and least number of hassles is the best email hosting provider for your small business. That same email hosting provider may be a nightmare for some other business.
How much do email hosting services for small businesses cost?
In almost all cases, email hosting services for small businesses are highly cost-effective. Pricing can be as low as 99 cents a month. However, do look for other surprises like hidden costs for additional services and features, additional costs for extra mailboxes, and so on.
Conclusion
Remember, a proper email hosting can help you to build trust, display a professional image, keep your business data safe, ensure privacy and backups for your emails. So, do not use a free webmail provider like Yahoo, Gmail, AOL, etc. Doing so can jeopardize your business image. So, ensure that you are selecting an appropriate email hosting solution for your business after carefully evaluating your needs.