Dropbox was one of the first companies to introduce clouding services to the masses at a time when physical devices like USBs were the ubiquitous storage options. While it was originally released in 2008, it has come a long way in providing seamless sharing and syncing services to users of all platforms, namely Windows, MacOS, Android and iOS. Primarily Dropbox offers synced desktop folders which are accessible from anywhere.
While Dropbox is ostensibly one of the pricier clouding services, it offers a plethora of unique features and tools such as Paper, Showcase, and Hellosign digital signature that distinguish it from other providers in the market. Having said that, Dropbox is still a third-party storage provider that faces stiff competition from the built-in cloud services of aforementioned platforms like Google Drive, Apple iCloud, and Microsoft's OneDrive; these are often deemed to be better integrated with the holistic experience being provided by their respective platforms. On the other hand, Dropbox is still a pretty nifty cloud service, especially for those seeking to store their data on multiple platforms.
Considering the competition that has risen over the years in the Cloud storage market, Dropbox is now constantly rolling out effective new features and services. For example, they recently revamped privacy protection through their password management service titled Dropbox Passwords, the PIN-protected Dropbox Vault, and HelloSign digital signatures.
Pricing and Storage
Dropbox starts off with a meagre 2 GB of free space, which is a big turn off for users looking for some extra free storage. However, it allows you to earn more space through referrals; which can earn you additional 500MB of storage for every friend or family member who joins, up to 16 GB. On the other hand, competitors like Box and the nifty Google Drive give much more free space in comparison, 10 GB and 15 GB respectively.
Besides the free storage, Dropbox has two separate account offers for individual consumers and two for business users. The Plus account, which comes with 2 TB of storage, is priced at $11.99 a month or $119.88 a year. Moreover, it also allows offline file access, remote device wipe, Smart or auto Sync, and prioritized email support. The professional account comes with 3 TB of space and is priced at $19.99 a month or $199 a year. The professional account offers some additional features for individual use such as the ability to present and monitor work, sharable link controls, textual search, watermarking, and live char support.
While carrying out a price comparison, it is important to note that SugarSync offers only 250 GB space for $9.99 a month. On the other hand, however, IDrive allows consumers to use 5 TB of space for just $69.50 a year. Microsoft's OneDrive gets you 1 TB of space for just $6.99 a month, or $69.99 per year, but this comes equipped with Office 365 subscription. Google Drive's 2 TB account is conveniently priced at $9.99 per month.
Having said that, you can get more free space with Box, which is 10 GB to be exact. However, Box puts a limit on the sharable file size of approximately 250MB. Box storage allotment can be expanded to 100 GB for $10 a month, whereas unlimited storage is also available under the business plan for $15 a month. The maximum file upload size is 5 GB for both of these.
Furthermore, coming to the free storage space being provided by other cloud service, OneDrive is giving 5 GB of initial free storage, whereas Google's Drive offers a whopping 15 GB of initial storage right of the bat. However, it is imperative to note that Google's storage is also used by Gmail and Google photos so it is liable to get filled earlier than expected. Other documents or files created through Docs, Sheets or Slides do not get stored in the drive storage.
On the other hand, the price for Business Dropbox accounts varies with the number of employees for him the cloud service is being purchased. Tentatively, the price starts at $15 per month per user, given that there are a minimum of 3 users. Business accounts incorporates nifty features and gimmicks such as multiple team management, audit log, and granular sharing permissions.
App Support and Compatibility
Dropbox, being one of the oldest and consequently experienced service providers in the market, offers compatible applications for Windows, Linus, MacOS, iOS, Android, Kindle Fire, BlackBerry, and UWP store for Windows tablet. Furthermore, its own web app works well too.
When installed on your system, Dropbox works almost invisibly, appearing as an imbedded part of your software system than a different app altogether. This is majorly different from other cloud syncing services, like SugarSync, which feature a complete app interface even on the desktop. However, other providers like OneDrive, iCloud, and Google Drive blend with the software even more seamlessly.
One of the biggest advantages of using Dropbox as a cloud service is that it integrates seamlessly with almost every other app and web service. Dropbox also acts as a supported app on IFTTT and Zapier. It rarely faces any compatibility issues with other apps.
Dropbox Cloud and its Basics
Dropbox can be downloaded as a desktop application from the company's official website. Its mobile versions are available on the respective app-stores of each OS. In fact, the company's website automatically detects the type of platform or operating system being used by the visitors or potential users and recommends them the relevant program accordingly. Furthermore, Sign ins are easy since it allows you to access your Dropbox account with either an Apple ID, or Google, or an email account.
It is very easy to download and install the client from the Dropbox's website. Upon the completion of installation, you get a folder called Dropbox on your computer, at either the preferred location or default location in the system.
After the installation, a neat Dropbox icon pops in the top menu bar in macOS or system tray in the Windows system which lets one access Dropbox with just one click. Through this icon, one can also select one's Preferences and Settings to adjust with regard to folder locations or upload/ download speeds.
Using Dropbox is quite easy since you are only required to place or drop files in the Dropbox folder. Dropbox quite conveniently syncs your opted files automatically with the cloud storage and across all devices in which you have installed Dropbox. In addition, the Professional paid account offered by Dropbox does not require you to install a hefty client on your computer; it can act as a completely online storage allowing you to download files only when required.
Backups
Despite being more of a file synching service, Dropbox can back-up a some of the folders that do not reside within the service's master folder: Documents, Desktop, and Downloads. However, note that Dropbox backup service would fail if these folders are already being backed up through other services. Once Dropbox backup is setup, the folders can be assessed and used normally, and any files stored in them is directly available on the web and in your mobile applications.
If the files are deleted from the Dropbox folder, they are automatically deleted from Dropbox web storage and all other systems and devices on which you are using your Dropbox account. There are not archiving features offered by Dropbox like the ones present in IDrive and SOS.
Privacy & Security
For security and privacy purposes, Dropbox employs standard SSL/TLS for transferring files, and carries out encryption of the data using 256-bit Advanced Encryption Standard (AES). Two Factor authentication (2FA) can additionally be used through SMS text messages or an authenticator app like Microsoft Authenticator. Dropbox itself claims that:
"Like most major online services, we have a small number of employees who must be able to access user data when legally required to do so. That's the exception—not the rule. We have strict policy and technical access controls that prohibit employee access except in these rare circumstances. In addition, we use a number of physical and electronic security measures to protect user information from unauthorized access."
Furthermore, Dropbox goes on to officially record that it "won't sell private information to advertisers or other third parties." Lastly, being a U.S. based firm, it categorically complies with the Department of Commerce's Privacy Shield framework.
Collaboration through Dropbox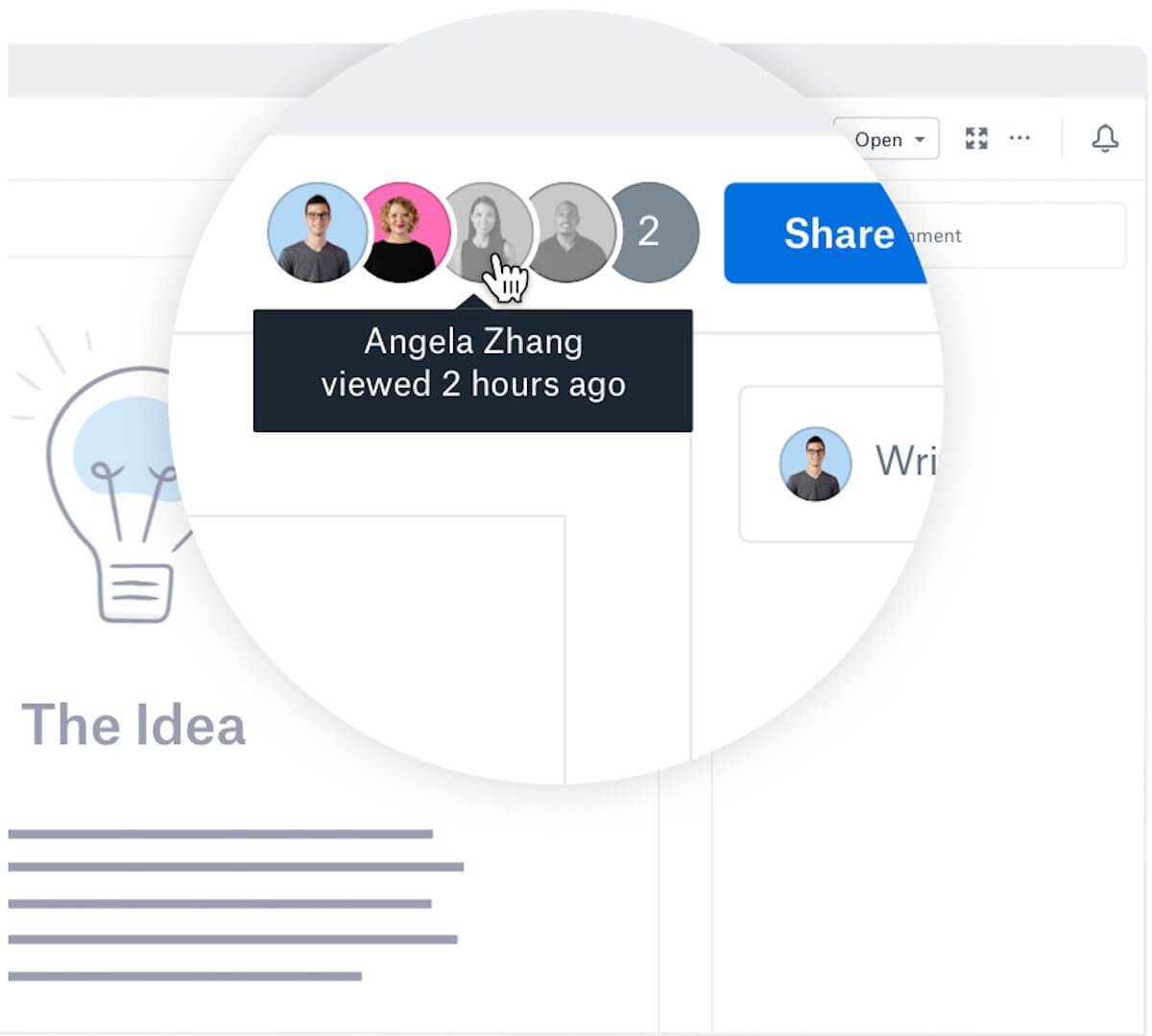 Dropbox has over the years introduced a few ways which allow users to share files and collaborate on them. The latest tool that they introduced is a suite of collaboration tools collectively known as Dropbox Paper. It can be accessed from within the Dropbox web client to create new Paper documents, to which collaborators can add videos, images, tables, emojis, stickers, etc.
However, Dropbox Paper is only available in the web browser or in the Dropbox's websites. While you cannot directly access Paper from the Dropbox desktop client, you can follow a link from the system icon that opens up Paper in the browser. It includes commenting tools nearly everywhere, and nearly all its features can be used under collaboration.
One precise and nifty collaboration option is to comment directly on a particular point in an image. One could even add Dropbox-stored files to a Paper doc. Comments resemble those in Word processors, with balloons within the margin, which collaborators can react to with emoji or mark resolved. whilst you share a Paper with someone, they are able to view it while not having a Dropbox account, but ought to have one so as to edit—standard in workplace collaboration products.
One can convert any Paper doc right into a template—accessible in case you want more than one instances of a document with a fixed layout of text, tables, and images, for instance. Paper additionally gives a meeting note for monitoring and tracking of time table objects that could hook into your calendar and become relevant to a meeting which is in your schedule. A general brainstorming document offers you and others a place to dream up new thoughts.
Whilst you collaborate on a Dropbox Paper file, you cannot see the flags displaying who is typing; you do see initials and a unique-colour insertion point for every collaborator, however, as you do in office online. A Paper document may be exported to word, PDF, or markdown (.md) document format. Paper is a modern-day take on workplace collaboration, however do not confuse it with a full-scale project management app like Asana.
In addition to Paper, Dropbox offers different ways to collaborate. One is by means of connecting with Microsoft office. One can use office on-line with a free Dropbox account without even having an office on-line account—Dropbox created one on the fly. The internet address remains that of Dropbox, in preference to office, however, you cannot select word account settings or add-ins the way you could with Microsoft-hosted word online. In action, it looks similar to other collaborative editing in office on-line, only the file is saved to your Dropbox account in place of OneDrive.
You could create a new office file immediately inside the Dropbox website, and can also see the document on-display screen and colour-coded flags for every contributor as they edit. As you and your collaborators edit, everyone sees the changes appear as they occur. But the usage of Dropbox for this provides an unnecessary greater layer of complexity over the simple use of OneDrive.
Digital Signing With HelloSign
Getting secure digital signatures is now possible with the Digital Signing option of Dropbox. This feature is especially useful for business users who can put online or digital signatures while sharing files through Dropbox. Unlimited use of HelloSign, however, requires a separate subscription of $13 a month.
Sharing
Another manner through which collaboration can be carried out in Dropbox is to share documents. The provider discontinued support for Public folders, which was once automatically created at setup. Now you have to share documents and folders to specific contacts. You could share any document or folder in Dropbox. Just press the percentage button close to the folder or document. You get choices of Can Edit and Can View, however, most effective Dropbox professional and commercial customers get sharing options like restricting link access to distinct users, link expiration, and password safety. On the other hand, OneDrive does all this free of charge. Furthermore, in Dropbox, you can share any folder instantly by right-clicking it, choosing Dropbox Link, and then copying link to your clipboard without having to visit the website directly.
Another worthy collaboration feature, called File Request, helps you to form a folder and request that individuals put stuff into it. Imagine a professor who wants students to upload assignments, instead of delivering them by email. In fact, it would even be a convenient way to collect documents from job candidates. Other services, including Google Drive, also allow you to share folders, but the permissions work differently. With Google Drive, a collaborator can either have view-only access or editing access. In either case, the person can see all the content within the folder, whether or not some other person uploaded it. The efficacy of the File Request feature is that the collaborators can't see what's within the folder. They will only blindly drop files into it, which could be a necessity in many cases.
Lastly, Dropbox also offers the well-known Showcase feature in Dropbox Professional accounts. This offers a way to present documents using a drag-and-drop page designer. Text blocks, images, links, documents, sections, and titles, all can be added here. A nice touch is the option for a background image faded behind your title. Video links that you include will play right on the page. You can also monitor the progress by seeing who has viewed or downloaded your Showcase. This is identical the endless possibilities offered by Microsoft Sway or Adobe Spark. Unlike those, however, Dropbox requires viewers to have an account to particularly comment on Showcases.
Conclusion
Dropbox is one of the oldest cloud services in the market. In fact, over the years, it has significantly improved it storage platform and support system. Being an independent third-party service, Dropbox is assessable through almost all the available platforms. One can store or assess files on Dropbox's website, desktop applications for Mac, Windows, Linux, the native file systems, iOS, Android, Kindle Fire mobile application, and even the older Blackberry phones which are rarely supported by other providers.
Besides its versatile support capabilities, Dropbox holds some crafty features up its sleeves. Through Dropbox paper allows the cloud users to smoothly share files with each other. Similarly, it allows users to synch their files or photos with the cloud automatically through the Dropbox desktop application. Lastly, Dropbox offers some nifty collaboration tools for professionals and teams alike.