Is DreamHost a good shared hosting company?
Despite not being very popular as Bluehost or HostGator, DreamHost is one of the most reliable hosting companies when it comes to shared hosting. Just like Bluehost, WordPress.org officially recommends this hosting provider to bloggers. It offers cheap hosting plans with nearly 100% server uptime. Just like any other web hosting company, DreamHost engages in aggressive upselling.
Before I start saying anything, I will clarify that this review is targeted for WordPress users. So, this whole review will revolve around WordPress.
DreamHost positions itself as a reliable WordPress hosting company. Well, don't be confused. WordPress hosting is simple shared hosting with servers optimized for running the WordPress CMS without hiccups.
In this DreamHost review, I will focus on its shared hosting, especially looking into its performance with a production website complete with plugins, caching, CDN, etc.
Unlike many reviews that use the basic 'Twenty Twenty' theme to find out the server impact, I will look into the server impact when all desired website features are up and running.
Do not expect a pricing list for Cloud, or VPS, or Dedicated hosting options. That's not what I intend to cover here.
Let us begin…
A Quick Overview of DreamHost
Before I take you through the detailed review, here is a quick overview of this hosting company in a tabular format.
Perfect for?
Shared Hosting.
Speed
A fully-established site powered by WordPress and 8 plugins, it takes approximately 500 ms to load.
Uptime
99.99%
Great for which platforms?
WordPress, Joomla, Drupal, Magento, etc.
Classic Features
Plan-dependent:

Free domain
Free website migration
Free SSL certificate
Free/paid email
Unlimited or unmetered bandwidth

Site Transfer
Yes, available for free!
Hosting Types

Shared hosting
VPS hosting
Dedicated hosting
WordPress hosting
Cloud hosting
WooCommerce hosting
DreamPress (managed WordPress)

Pricing
Plan-dependent and hosting-type-dependent pricing starting at $2.59
Refund Policy
They offer a 97-day refund policy. It means that once you make a purchase and feel that their services are not up to the mark, you can ask for a full refund within 97 days from the date of purchase. Be aware! Customers have reported that getting a refund for the month-by-month payment plan is nearly impossible.
Support
They have a 24/7 chat support (not really) and they also have Email support that works from 5:30 AM to 9:30 PM PT.
Ease of Use
It is easy to use, but for those who are absolutely new in the business, it can be slightly intimidating.
cPanel Availability
No, they do not offer a cPanel. Instead, they offer a custom web-based control panel.
Security Features
They offer free privacy protection, which will mask your personal information.
Company Establishment Year
1996
Company Owned By
New Dream Network, LLC
DreamHost Server Uptime
Shared hosting is perfect for small blogs and startup sites. It is cheap and easy to use. However, there are many things that you need to worry about when using a shared hosting server.
Server uptime is one of the biggest concerns. You need to understand that shared servers cram in many thousands of websites in a single server. All websites use the same server resources.
If one website suddenly starts using more resources, other websites will be in trouble. If one freak site starts running a script, the server may even become unusable.
What if a server suddenly stops working? What if the server where your website is hosted freezes for a few hours? In the worst-case scenario, what if such server breakdowns keep happening frequently?
Here is what happens to your business:
Your website visitors will become frustrated, and they will eventually stop coming to your website or blog.
Google will take a note of this problem, and gradually push your website down in its search rankings.
In the worst-case scenarios, a complete server breakdown may lead to the complete loss of your data.
Do you really want these things to happen? I guess not! No one wants that. So, server uptime should be the first thing you should look at while selecting a hosting company.
This is where DreamHost excels. Here is a quick look into how DreamHost performed in this segment for the past 12 months:
| | |
| --- | --- |
| Period | Uptime |
| August 2019 | 100% |
| September 2019 | 100% |
| October 2019 | 100% |
| November 2019 | 99.98% |
| December 2019 | 99.99% |
| January 2020 | 100% |
| February 2020 | 99.99% |
| March 2020 | 99.99% |
| April 2020 | 99.99% |
| May 2020 | 100% |
| June 2020 | 100% |
| July 2020 | 99.99% |
| Average | 99.994166% |
The average uptime that DreamHost maintains is 99.994%. This data is for the server where my website is hosted. I don't vouch for other servers.
However, if DreamHost gives 99.99% uptime for one server, it is reasonable to assume that they will have the same uptime for other servers as well.
This is one of the primary reasons why WordPress.org speaks so highly of DreamHost.
Checking server uptime
Checking server uptime is quite easy. You can install the JetPack plugin, or you can use a service like Pingdom to check the server status. I will not recommend going for Pingdom if you have a new website. The free plan of Pingdom will not give you all the data you need. Paying for the premium plan right now doesn't make sense.
So, stick with JetPack. It sends you an email every time the server is down. This is an excellent way to keep a tab on your server performance.
DreamHost Server Speed
It is not hidden anymore! Website speed plays a vital role in Google search rankings. If your website is slow, especially on mobile devices, Google will push your website or blog down in the search results.
Google says that a website should not take more than 3 seconds to load completely. The first fold of the website should load within 1 second. Now, that is a difficult thing to achieve, not impossible!
One thing that plays a vital role is server speed. How quickly your host server responds to browser queries will determine how fast your website loads. However, server speed is not the only thing.
Other things like the number of plugins you use, the ads that you use, the image size, caching policy, etc. all determine the website speed.
So, I decided to test my website (not a staging site, but a production site) using the Pingdom speed test tool to find out how well my server responds.
Remember, testing a test site with no plugins, or ads running will not really help in getting the accurate picture. If your site depends on ads for revenue, you will experience slow speeds. This happens because the ads on your website are served from different ad servers.
The extra HTTPS calls that are made will slow down your website. So, you will have to work on optimizing your ads as well. It is better that you go for an ad network that offers lazy loading of ads. Mediavine, for instance, is one such ad network that offers 200% faster ad load times.
Coming to the point, here are the test results:
This production website uses:
5 plugins to attain full functionality.
It doesn't have any ads running on it, because it is an affiliate website.
It has Cloudflare CDN active on it.
It uses a premium theme purchased from themeforest.net.
It serves webp images to users.
All images are optimized to have a specific size.
If you see the screenshot above, it takes 912 milliseconds to load completely, and become interactive.
There are a total of 19 requests made, which is perfect, and the overall page size is 529.3 KB.
The website is perfect. It takes less than 1 second to load completely. No wonder, Pingdom gives it a performance grade of A.
Now the question is, how much time does the server take to respond? Take a look at this screenshot:
Look at the blue boxes in the image above. They show how long the server takes to respond and what the color codes mean.
In total, the server takes 513.6 milliseconds to respond to a user query. This means that starting from the time a user looks up for my website on his or her browser to the time when the user sees my website, the total time spent is 513.6 milliseconds.
Didn't Pingdom initially say that the website took 912 milliseconds to load?
Yes, that's true. The extra time you see is the time the website takes to become fully interactive. That is, all links become visible, all images become visible, and the user can click around happily.
The question here is, 'how accurate are these results?'
Well, I could re-run the test on Pingdom, but I wanted to know what Google's PageSpeed Insights has to say about this.
Here is the test result:
Look at the green dots, especially the ones with the names 'Speed Index' and 'Time to Interactive.'
Both are showing 0.8 seconds.
Look at the Speed Index factor. It represents the total time your website is taking to load completely.
The First Contentful Paint tells you how quickly the first fold of your website loads. The first fold means the first part of the web page that your visitor sees when he or she opens the website.
Largest Contentful Paint tells you how long it takes to load the main content of the webpage. Elements like images, the text you wrote, etc., all fall under this.
The website takes only 0.8 seconds to become interactive. That means that a user will be able to click around and navigate the website only after 0.8 seconds of waiting.
One of the various factors contributing to this speed is server speed.
Comparing the results of Google Pagespeed Insights and Pingdom speed test tool, this is what I see:
| | |
| --- | --- |
| Tool | Speed (Time taken to load the website completely) |
| Pingdom | 912 milliseconds |
| PageSpeed Insights | 800 milliseconds |
That's less than 1 second in both cases.
But is speed consistent?
I tested the server speed using the Pingdom tool once every month for one year. Here is a table that summarizes that study.
| | |
| --- | --- |
| Period | Uptime |
| August 2019 | 522 milliseconds |
| September 2019 | 500 milliseconds |
| October 2019 | 514 milliseconds |
| November 2019 | 498 milliseconds |
| December 2019 | 521 milliseconds |
| January 2020 | 503 milliseconds |
| February 2020 | 544 milliseconds |
| March 2020 | 552 milliseconds |
| April 2020 | 519 milliseconds |
| May 2020 | 513 milliseconds |
| June 2020 | 510 milliseconds |
| July 2020 | 543 milliseconds |
| Average | 519.91 milliseconds |
That's pretty consistent. Yes, there were months when the server response time increased slightly, and then there were months where the server response time decreased slightly.
It happens because of various factors, including the search trends. If the server is hosting any website that deals with the search trend of a particular month, the website may experience an increase in the search volume.
Increased traffic to that website can lead to increased server load, and hence, increased server response time.
I should be satisfied by now. Don't you think so?
Not really!
I wanted to test further. So, I decided to use two more tools – LoadImpact and Bitcatcha. LoadImpact is a tool that you use to test how well the server holds up when the traffic increases.
The service sends virtual users to the server to test the impact. This is the result I see with DreamHost:
The blue line shows the increase in virtual users. The green line shows the server response time.
See carefully. The server responded surprisingly well. The response time was approximately 200 ms, even though the virtual user count gradually increased to 100. That's an exceptionally excellent performance for a shared server.
Now, I wanted to know how quickly the server responds to visitors from different parts of the world. The basic rule is that farther away from the server the user is, the longer the server will take to respond.
This is what I found with Bitcatcha test:
The DreamHost server that I use is located in the US (West). So, whenever a visitor from the US (West) visits my site, the server responds very quickly. When people from far off places visit the site, the server responds slightly slower.
Still, the server response time never exceeds 1 second. It consistently remains below 1 second. This is what you need. You need a server that has not only high uptime but also excellent response time.
After all these test results, I can say with absolute surety that DreamHost servers are fast, and they are reliable. No wonder, they are only WordPress.org's official recommendation list.
Ease of Use – How Easily Can You Install WordPress on DreamHost?
DreamHost offers a separate WordPress hosting feature. This means that if you are choosing any of the WordPress hosting plans, you will get WordPress pre-installed on them.
All you have to do is to point your domain to their nameservers, and bingo! You are done. Your WordPress site will be ready for use.
What if you are going for a simple shared hosting? You will not get WordPress pre-installed on it. You have to install it.
This is what DreamHost will offer if you go for their basic WordPress hosting plans: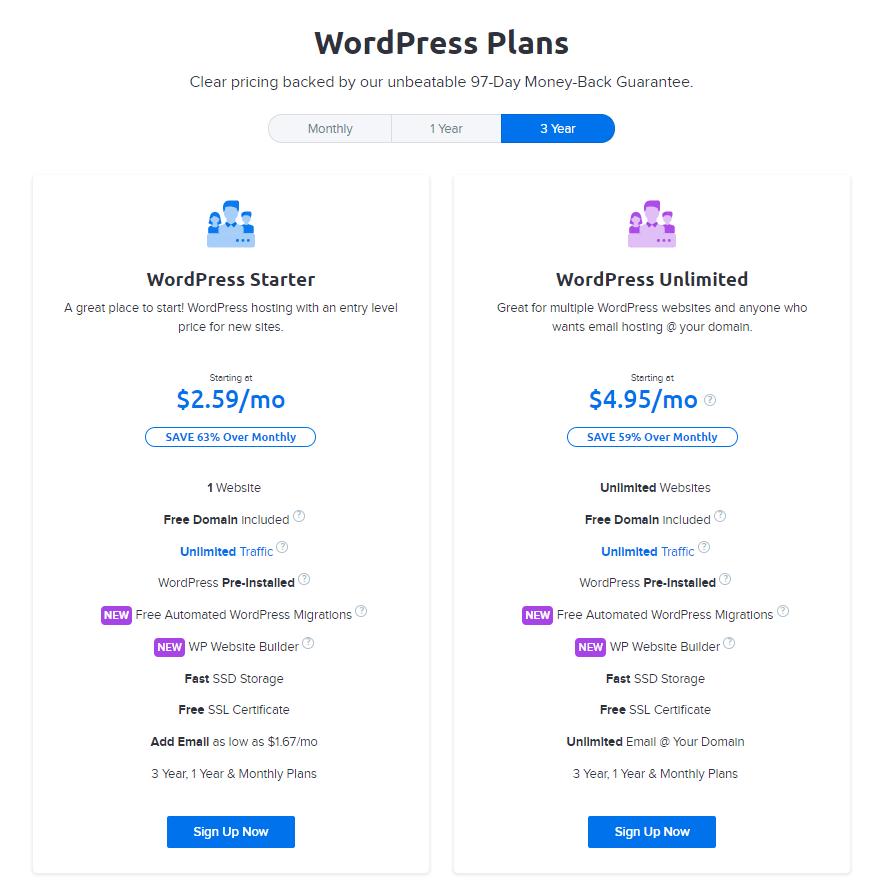 Both the plans clearly state that you will have WordPress pre-installed. So, there shouldn't be an issue.
What about the simple Shared hosting?
Even they come with WordPress pre-installed. That's fun! You don't have to worry about installing the CMS.
What's great is that you will have a choice of installing WordPress during purchase. You may choose not to install WordPress automatically if you want to install something else.
Since I am focusing on WordPress, I will assume that you will want to install WordPress automatically.
Here is a quick step-by-step guide on how to install WordPress on a DreamHost server.
Head over to DreamHost website and select a plan. For the purpose of this review, I will use the example of the Shared Unlimited plan.
If you want a free domain, you have to purchase a yearly package. If you select a month-to-month payment package, you will not qualify for a free domain. You have to purchase one.
Once you click on Sign Up Now, you will see this page:
You can choose a domain later. You may register a new domain right now, or if you already have an existing domain, you can select the "I already have a domain."
For this example, I select a domain, as you can see in the image.
Once the domain selection is complete, you will see this page: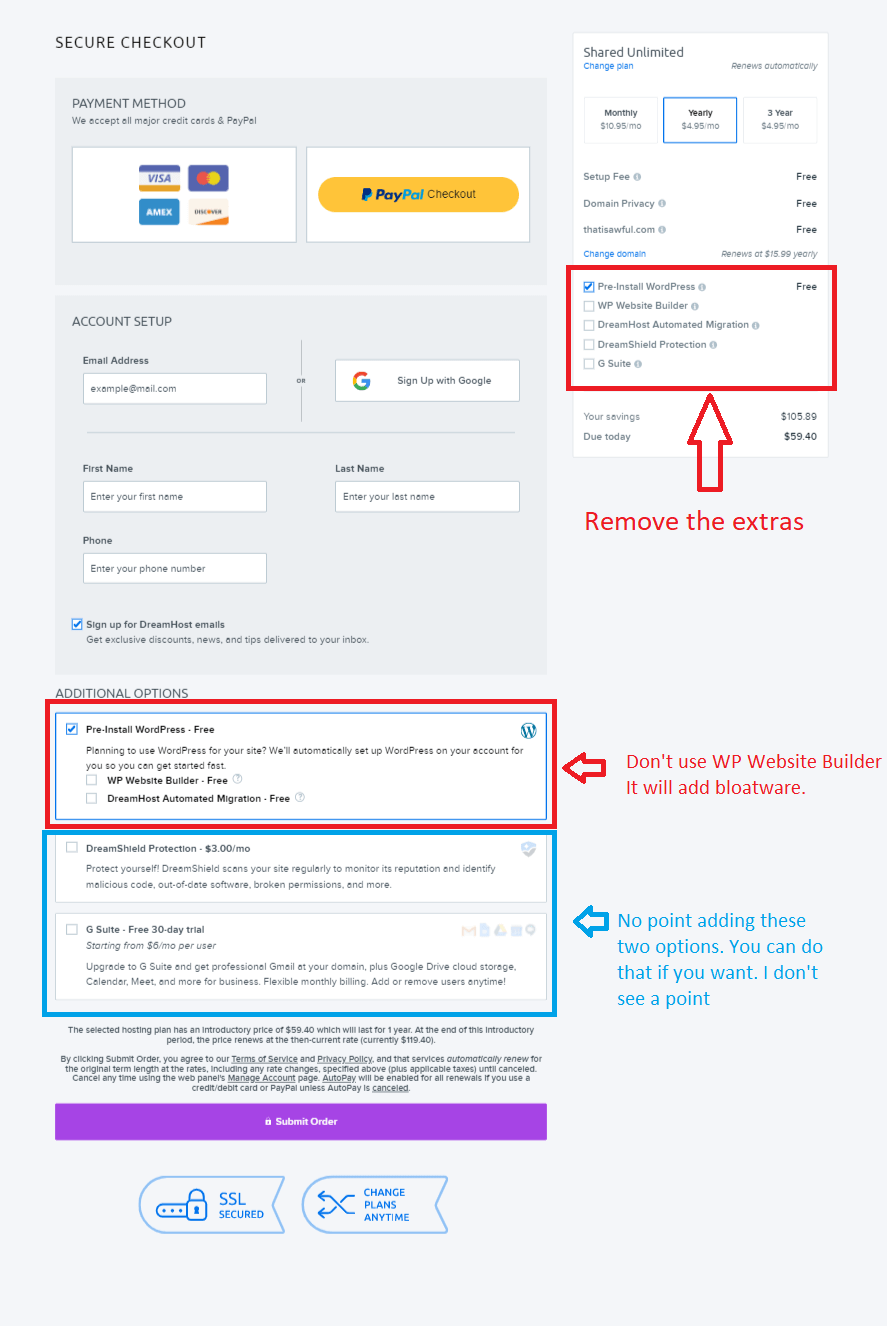 In the image above, you can see the red box on the top right. It shows the upsells. They are trying to sell you extra stuff that you can happily live without. Remove all but one (which says, Pre-Install WordPress).
You can see additional options at the bottom of the page highlighted with a red box and a blue box.
In the red box, do not choose the "WP Website Builder – Free." It will add a page builder plugin to your WordPress installation. It is more like bloatware. You can happily live without it.
In the segment highlighted with the blue box, you can select the options, but I will recommend not to. That's because you can live with G Suite, and you can protect your website without DreamShield.
When you are happy with your selections, add the account details like name, email ID, phone number, etc. and click on the 'Submit Order' button at the bottom.
Once the payment is complete, you will see this:
Once you click on Continue to Your Control Panel, you will reach the web-based control panel of DreamHost.
On the control panel, you can see this:
Once the setup is complete, you will see this message on the control panel:
Underneath that message, you can see a link that will send you to WordPress editor. It will look like this:
You can see the "Open WordPress Editor" link in the blue box.
Clicking on that link will take you to your WordPress site. You can go ahead and customize your website from the WordPress dashboard, which will look like this:
That's all! You have successfully installed WordPress.
Now install themes, plugins, etc. and finally create your first blog post!
Wasn't that easy?
In fact, the ease of installing WordPress on a DreamHost server is more comfortable than installing WordPress on a Bluehost server. At least, that is what I feel.
Using DreamHost is simple. Anyone with zero knowledge can get it done within 15 minutes. Yes, that's all that you need for creating your first blog or website using WordPress on a DreamHost server.
DreamHost Pricing Plans
Since I have been talking about small and startup website all along, I will tell about the pricing plans for WordPress hosting and Shared hosting only.
I will skip the VPS, Dedicated, and Cloud hosting segments because they are pricey, and they are more suitable for big websites.
Fair enough?
Before I can tell you anything about the pricing, you need to know the different types of hosting plans you can get from DreamHost.
The table below will tell you all that you need to know:
Plan Types
WordPress Hosting
Shared Hosting
WordPress Basic
Shared Starter
DreamPress
Shared Unlimited
VPS WordPress
The WordPress hosting option gives you three different categories to choose from, with each category having different plans.
The Shared hosting option gives you two different plans to choose from, with each plan having three different packages to select from.
Under WordPress Basic, you will get the following plans:
WordPress Starter
WordPress Unlimited
Under DreamPress, you will get the following plans:
DreamPress
DreamPress Plus
DreamPress Pro
Under VPS WordPress, you will get the following plans:
VPS Basic
VPS Business
VPS Professional
VPS Enterprise
VPS WordPress is for large websites. You don't need them. DreamPress, on the other hand, is managed WordPress hosting.
Managed WordPress hosting is a type where not only the servers are optimized for hosting WordPress CMS, but DreamHost takes care of all the technical aspects, which include backup, SSL certificate installation, updates, etc. All you need to do is to create content.
You can always go for DreamPress, but that is something I don't usually recommend. You can quickly learn those basic things without spending an extra dime. Managed WordPress hosting is always far more expensive than unmanaged WordPress hosting, which in this case, is WordPress Basic.
Shared hosting, on the other hand, is the classic hosting type we all know about. There will be no server-side optimization, especially for WordPress. You can run just about any blogging software you want as long as the server fulfils the basic technical requirements.
I prefer performing my optimizations. I don't like others doing that for me. I can give you an example with DreamHost.
This company gives managed WordPress hosting, but it gives too much weight to one specific plugin – Jetpack.
I don't depend heavily on Jetpack. There are better options available. In fact, I found Jetpack slowing down by websites. It is a resource-intensive plugin, and I almost always avoid using it unless absolutely necessary (such a condition never presented itself to me).
So, my suggestion to everyone is to opt for unmanaged WordPress hosting or simple shared hosting. They are perfectly fine for starting a new website.
Now, the pricing…
One good thing about DreamHost, unlike Bluehost, is that it allows monthly payments. Yes, you can choose a month-by-month payment plan irrespective of which hosting plan you select.
There are three different billing options available:
Pay each month – Priciest option.
Pay once a year – Cheaper option.
Pay once every 3 years – The cheapest option.
I will not suggest going for a long-term plan at the beginning. You can do that later. My advice is to opt for a monthly payment plan so that you can figure out whether the hosting plan and the hosting company are suitable for your needs or not.
However, if you are looking for a free domain, you can get that only if you are opting for a yearly plan or a 3-year plan.
In the case of DreamHost, they have a money-back guarantee. So, even if you are opting for a long-term plan, and later decide to move out of the hosting company, you can invoke the money-back guarantee clause.
The money-back-guarantee is difficult to invoke in the case of a monthly payment plan.
Here is a table that shows you the prices for unmanaged WordPress hosting and shared hosting plans. You will also see the renewal prices for the same.
Plan
Intro Price
Shared Starter

$4.95/month for a monthly payment
$3.95/month for a yearly payment plan
$2.59/month for a 3-yearly payment plan

Shared Unlimited

$10.95/month for a monthly payment
$4.95/month for a yearly payment plan
$4.95/month for a 3-yearly payment plan

WordPress Starter [WordPress Basic]

$4.95/month for a monthly payment
$3.95/month for a yearly payment plan
$2.59/month for a 3-yearly payment plan

WordPress Unlimited [WordPress Basic]

$10.95/month for a monthly payment
$4.95/month for a yearly payment plan
$2.59/month for a 3-yearly payment plan

DreamPress [Managed WP Hosting]

$19.95/month for a monthly payment
$16.95/month for a yearly payment plan

DreamPress Plus [Managed WP Hosting]

$29.95/month for a monthly payment
$24.95/month for a yearly payment plan

DreamPress Pro [Managed WP Hosting]

$79.95/month for a monthly payment
$71.95/month for a yearly payment plan
Note that the managed WordPress hosting doesn't come with a 3-year package for any plan.
The reason is simple. This type of hosting costs a lot of money, and paying for 3 years in advance will burn a hole in your pocket.
What about the renewal prices?
Unlike Bluehost or many other hosting companies, Dreamhost doesn't charge higher for the renewal of any hosting plan. So, the price you are paying today will be the price you will be paying upon renewal unless the company decides to increase the price by the time the renewal date arrives.
Money-Back Policy
To be honest, DreamHost's money-back policy is one of the finest you will find in the market.
They offer a whopping 97-day money-back guarantee. On top of that, it is a no-questions-asked policy.
This means that they will refund your entire amount if you ask for a refund within the first 97 days after purchasing a plan.
There are two problems that you will face while opting for a refund:
If you are going for a monthly payment package (that is, you pay each month), it is highly unlikely that you will get any refund.
If you are going for a long-term plan and you take a free domain, DreamHost will issue a refund after deducting the year's worth of price for the domain if you want to retain it. If you want a 100% refund, they will take away the domain.
This issue with the domain name is not new. You will find the same policy with Bluehost as well. However, unlike Bluehost, DreamHost never speaks of this domain part in its refund policy. They should maintain more clarity.
There is another thing that you should know. If you are opting for DreamPress (managed WordPress hosting solution of DreamHost), you will get a 30-day money-back guarantee. This means that you have to cancel your plan and ask for a refund within 30 days from the purchase date.
I am not a big fan of such differential treatment. Are you?
Site Migration
Offering a free site migration is quite common in the hosting industry. There are some hosting companies like Bluehost who charge for site migration. Barring that handful of hosting companies, almost everyone offers free website migration.
DreamHost is one such company that offers a free site migration. If you have a WordPress site hosted with some other company, you can enjoy a free site migration. The system is automated. It works with a plugin.
However, I do not prefer a plugin doing this for me. Plugins can malfunction, and leave your site broken. It will be a wise decision to manually migrate your site.
Features of DreamHost
DreamHost provides a lot of exciting features. Of course, there will be fine prints that can catch you by surprise. So, keep your eyes open.
Here is a quick list of features that DreamHost offers (keep in mind that some of them are available only for specific plans):
Free Site Migration
They offer a WordPress plugin to automate the process of migrating a site from another hosting server to a DreamHost server. This is available across all WordPress hosting plans and shared hosting plans.
Free SSL Certificate
This is nothing new. Almost every hosting company offers a free SSL certificate from Let's Encrypt. Offering free SSL from Let's Encrypt doesn't cost money because Let's Encrypt is a non-profit organization. Anyone and everyone can use their SSL certificates.
Some plans will have the SSL certificate pre-installed. For other plans, the SSL certificate will be free, but you have to install it.
Free WP Website Builder
DreamHost also offers a website builder for all its WordPress hosting (except VPS WordPress) and shared hosting plans. It is a drag-and-drop website-builder, page-builder sort of thing.
I don't like it. It is more like bloatware. That's an unnecessary plugin and is often useless for simple blogs that want a classic blog layout. You can use it if you want to.
Email Account
You can get email@yourdomain.com for your website. For some plans, you need to buy it separately; for some, you get it for free. For instance, for WordPress Starter, you have to buy it separately. For WordPress Unlimited, you will get it for free. So, check out your preferred hosting plan features before committing a purchase.
SSD Storage
One of the primary reasons why DreamHost servers are fast is that they use SSD storage. SSD storage is faster than traditional HDD storage. DreamHost offers SSD storage across all plans.
Unlimited Bandwidth
DreamHost will not restrict the network transfer when your site gets popular, and it starts receiving tons of traffic. However, it is not truly unlimited. If your website is hogging RAM, using a lot of CPU power, doing tons of disk I/O, you will be in trouble. You cannot have databases larger than only a few GB.
DreamHost doesn't mention anything clearly as Bluehost does. In general, you should not be running things like:
Porn affiliate sites.
Anime video trading forums.
Pirated rips of games, movies, etc.
These sites are memory hogs. They have immensely large databases. If you want to run something like that on DreamHost, you better go for VPS or Dedicated hosting plans. These things are not allowed on their shared hosting servers.
Free Privacy Protection
Unlike other hosting companies, DreamHost will offer privacy protection to you completely free of cost. There is no hidden clause here. Irrespective of which hosting plan you choose, you will get it.
Privacy protection will mask your personal data and prevent bad things like spam, phishing, etc.
Free Domain
Offering a free domain has become an industry norm these days. DreamHost, too, offers a free domain. However, you can get a domain for free only and only if you are opting for their long-term plans.
If you are going for a month-to-month payment plan, you are out of luck!
Custom Control Panel
No, DreamHost will not give you cPanel. They have their custom control panel that allows you to perform everything that cPanel allows. For instance, you can use one-click installations for various Content Management Systems like WordPress, Joomla, Drupal, etc.
You can also add SSL certificates, forward your domain, add new users, and much more. However, those who are habituated with cPanel will find it slightly difficult at the beginning.
Free CDN
You will not get this for any shared hosting plan. You can get it only for DreamPress Plus and DreamPress Pro plans (managed WordPress Hosting). A CDN can significantly increase your website speed.
A CDN works by distributing copies of your web pages and their assets to various servers spread all over the world.
When a user requests one of the web pages of your website or blog, the CDN server closest to the user serves that page.
Regular Backups
Only DreamPress plans come with both daily backup and on-demand backups. It is always wise to keep a backup copy of your website. If the server breaks down, you can restore a backup copy quickly.
Also, in scenarios like malware infection, you may need to wipe out the entire website from the server. You can use the backup copies to restore your website.
Staging Websites
This feature is exclusive to all DreamPress hosting plans. This feature will allow you to create a staging site or a test site before using them on a live or production site.
For instance, whenever you install a plugin, testing it on a staging site is an excellent option to ensure that it is not a memory hog and that it doesn't slow down your website's speed or breaks your website design and layout.
DreamHost allows you to deploy a staging site with a single click.
DreamHost Support System
DreamHost takes pride in its support system. However, my experience with DreamHost support hasn't been good.
I asked a non-technical question, and they took forever to reply. I didn't expect that. Their 24×7 chat support is nothing more than a bot. If you want to talk to their support executives, you have to shoot them an email.
Yes, they do have a proper tech support team that usually offers support using the email system, but they are slow.
You can, however, opt for their knowledge-base. It found it to be extensive and well-organized. The descriptive articles you find there are capable of solving most of your technical issues.
Pros and Cons of DreamHost
DreamHost has its strengths and weaknesses. If you are thinking DreamHost is a perfect hosting company simply because WordPress.org recommends it, you are far from being true. Here is a quick look into the strengths and weaknesses of the hosting company:
The Pros
All its servers use SSD storage, making them fast and reliable.
They offer free privacy protection against all hosting plans.
It takes less than 10 minutes to purchase a hosting plan and then deploy your WordPress site.
If you stay within their legal policies, you will enjoy unlimited bandwidth.
They offer free site migration.
They also provide a free SSL certificate.
They have a proprietary control panel, which has a polished interface.
They maintain near 100% uptime.
They have a monthly payment plan, eliminating the need for a long-term commitment.
They have an amazing money-back policy. It is one of the finest in the market.
The Cons
They are one of the cheapest hosting providers in the market, provided you opt for a long-term plan.
Their support system is quite terrible.
Their proprietary control panel can be confusing to those who are habituated with cPanel.
They guarantee 100% uptime, but that is not true. There are outages mostly caused by server maintenance.
Their managed WordPress hosting plans have an over-dependence on one plugin – Jetpack, which is often not a great choice when it comes to website speed.
They have servers only in the US.
They do not offer Windows hosting. They offer only Linux hosting.
Is DreamHost Right for You?
If you are starting your website journey, yes, DreamHost is a great option. However, it can be pricy if you are opting for managed WordPress hosting.
If you already have an established blog receiving more than 50,000 visitors a month, DreamHost's shared hosting is never a good option. You may look for VPS, Dedicated, or Cloud hosting that the company offers.
However, if you do feel the need for a Cloud hosting, I will suggest that you opt for hosting companies that specialize in Cloud hosting. Some big names will be Amazon AWS, Digital Ocean, Cloudways, etc.
DreamHost FAQ
What should you go for – Shared or WordPress hosting?
If you are building a site powered by WordPress, going for WordPress hosting makes more sense because those servers are optimized for running the WordPress CMS without any glitch.
I prefer simple Shared hosting because it allows me to learn a lot. If you are like me, and if you prefer to learn website optimization, shared hosting is a better bet.
Any good alternatives to DreamHost?
There are a few that I can think of. You can look at InMotion Hosting, Bluehost, SiteGround, A2 Hosting, HostGator, etc.
All of them are known for their great performance, low pricing structure, and high server uptime. You can check them out.
Is managed WordPress hosting from DreamHost a good choice?
In my opinion, NO! They heavily depend on Jetpack. Jetpack has mixed reviews. I don't like that plugin because it compromises the site speed in the name of security.
I can achieve the same security level with basic tweaks and a simple, lightweight security plugin like Sucuri.
Also, when you use a managed WordPress hosting, you will never learn the tidbits of WordPress site optimization. You will, forever, keep paying high prices.
However, if you do not want to take the technical burden on your shoulders, and you have the financial power, managed WordPress hosting plans from Dreamhost are pretty good!