ClickUp is an awesome project management program. It features a great free plan and more choices than you can throw a stick at, but its usability is a bit lacking. Check out our whole ClickUp review to see whether it's the perfect fit for your needs.
If you're searching for the finest project management software, you're likely to come across ClickUp. It has a loyal user base who laud it for its flexibility, huge number of choices, and, obviously, its cheap cost. We'll go over all of these aspects and more in our comprehensive ClickUp review to determine whether it's a suitable fit for you.
Most Important Points:
ClickUp is teeming with features, but due to an overly steep learning curve, getting to grips with it may be difficult.
ClickUp has some of the most competitive prices, especially when you consider all of its features.
The free version is one of the best project management choices, restricting you just in terms of how often you use it while providing you with a nearly complete set of capabilities.
Overall, ClickUp offers a lot that you will learn to appreciate quickly, but it falls short in a few important aspects when compared to industry leaders such as Asana and Monday.com. For one thing, we don't like how ClickUp works, and while it has a lot of features, we think that it lacks several specialized tools that advanced users prefer.
ClickUp, on the other hand, is a strong candidate for your attention due to its competitive pricing: only nTask is cheaper among the finest project management applications. Because of its outstanding free version, ClickUp also happens to be one of the best project management software you can find today.
ClickUp Strengths & Weaknesses
Pros:
Amazing free plan.
Cheap.
Paid plans offer unlimited file storage.
Several useful features.
Cons:
Certain important areas lack depth.
Documentation is not very robust.
Steep learning curve and quite annoying at times while using.
While moving tasks, you may experience lags.
Features ClickUp Offers
ClickUp offers one of the most comprehensive features lists we've encountered, outperforming several of its competitors, including industry heavyweights like Wrike and Monday.com. However, number does not equal quality, and several of ClickUp's features lack the depth and refinement that we find in other programs. Let's take a look at everything ClickUp has to offer in its both free and paid plans.
The Free Version of ClickUp
One of our favorite aspects of ClickUp is that the bulk of its services are free to use. The free version of most project management software acts as a teaser, providing only a few views and functionalities before putting the remainder behind a paywall. ClickUp, on the other hand, provides a comprehensive task management system with certain limitations.
As a result, the free tier includes the majority of ClickUp's functionality. We'll go through the most essential ones first, followed by a description of what the premium plans bring. We won't go through every single doohickey accessible because of space constraints. Please see ClickUp's pricing page for a complete list.
Let's begin with the perspectives that ClickUp has to offer. These can range from lists like kanban boards to those seen on Monday.com. ClickUp is definitely one of the top kanban apps simply because the board view is excellent.
Advanced Free Features
Aside from these mundane alternatives, there are a slew of additional task management views to choose from, including calendars, timelines, and Gantt charts, as well as some truly bizarre items such as boxes and maps, and, most notably, mind maps. It's all really nice, and only a handful of other project management programs offer as many possibilities as this one.
However, we have the impression that many features were added to this project management program just because they happen to be nice features, with little attention given to their value. The mind map is a perfect example. It is truly convenient to brainstorm ideas and quickly place them on a kanban board, the way ClickUp has set it up is essentially the same as Gantt charts.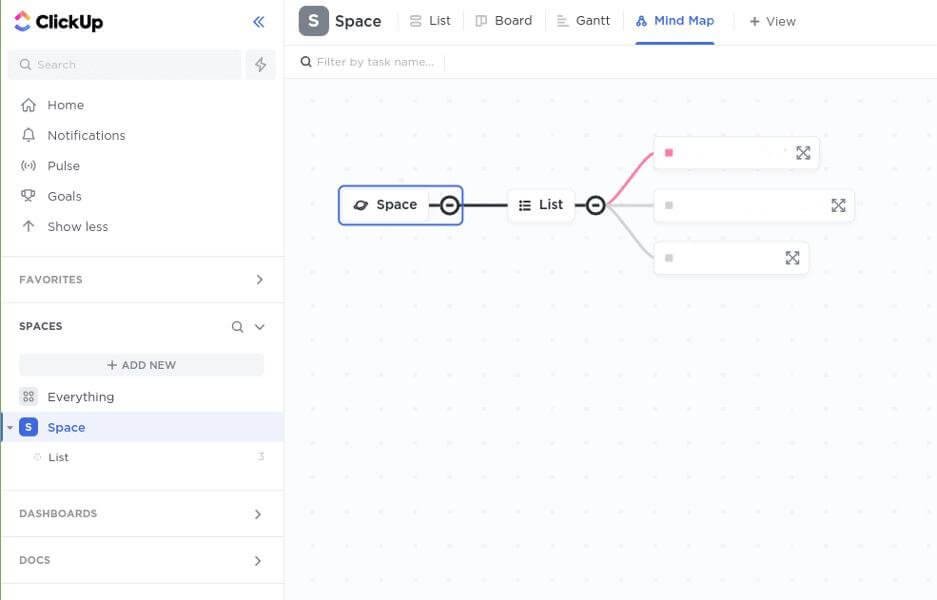 In that vein, ClickUp's Gantt chart is decent, but it lacks the power of a dedicated application like TeamGantt. Overall, we appreciate the sheer number of views this program provides, although we wish it provided fewer but more in-depth views.
The Paid Version of ClickUp
As previously stated, the features of premium plans are nearly comparable to those of free users, ClickUp's features enable you to do the following: with the exception that free users are frequently limited to 100 usages. When you don't pay for ClickUp, the program will allow using timelines, Gantt charts and maps up to 100 times before their availability is shut down until the next month. The only way to get rid of these restrictions is to pay – price information may be found in the following section.
Paying for ClickUp enables several more capabilities in addition to removing restrictions. The ability to invite visitors to access the board (this is particularly helpful if you have freelancers working with you), the inclusion of the box view, and a slew of other minor, quality-of-life enhancements, such as enhanced connections with cloud storage solutions such as Google Drive and Dropbox, are just a few examples.
Higher levels also grant access to more complex security features that most small firms would not require, but bigger organizations will. These choices include choosing who may and cannot invite guests, setting up SSO, and limiting user access.
ClickUp Features Overview
ClickUp's features enable you to do the following:
Creating to-do lists.
Creating projects using tools that can be customized.
Creating knowledge bases, wikis, and documents.
Migrating Airtable Bases Google Sheets over to ClickUp. Those files can then be edited directly from ClickUp.
Keeping emails related to projects and various online communications in a single place.
Planning events, creating schedules, and creating tasks, using ClickUp's calendar view. It also allows real time syncing with Outlook, Google, and Apple.
Creating reminders that you can use repeatedly. This is particularly helpful when you do repeated tasks.
Setting goals, tracking their progress, and creating project reports in real-time.
ClickUp Proprietary Features
"All the functionality, without all the clutter," says the app program's description. The functionalities of ClickUp are categorized as follows:
Process management.
Task management.
Time management.
Complete customization.
Integrations.
Reporting and collaboration.
Apps and devices.
Other.
Each of the categories above has its own set of characteristics. So, let's have a look at what some of them are down below:
Process Management
Users may utilize ClickUp's process management capabilities to simplify projects. You may use these tools to keep track of all of your assignments and plans in one location, making it easier to monitor and find them.
You may accomplish the following using the process management tools:
Your workflows' task statuses may be updated.
For repeated activities, use recurring checklists and checklist templates.
Assign responsibilities to a variety of individuals.
Convey to your team which tasks are on hold and which are ready to proceed.
You can build wikis and papers for any project you're working on to keep everything organized.
When a workflow comment includes an action, you may label it as "complete." This method is very effective for staying on top of the to-do lists you have.
Additionally, you can establish and monitor project objectives, track who is working on what, and generate task reminders.
Task Management
This tool enables you to manage different tasks within an ongoing project and reprioritize or rearrange them as necessary.
With this tool, you can:
Establish recurring tasks.
Use different filters for locating particular workstreams.
Create monthly, weekly, or daily reminders for certain tasks.
List jobs in various categories or in different order as you deem fit.
When deadlines and priorities change, you may adjust the tasks' due dates and even modify tasks that are overdue.
Additionally, you may use ClickUp's drag-and-drop functionality and templates from this location (note that all the templates are customizable).
Time Management
ClickUp's time management tools enable users to manage their milestones, team capacity, and calendars. It's possible to sync data with Google Calendar and see tasks on a daily, weekly, or monthly basis.
Additionally, you may automate time tracking and set due dates to ensure that no deadlines are ever missed by you. This contains the ability to assign start and end dates to tasks, as well as the ability to monitor the duration of jobs. Additionally, users may create a Gantt Chart to plan, organize, and prioritize activities by establishing a project timetable.
Additionally, you may define when tasks are to be finished and delivered, including the time of delivery. It will give you notifications for the tasks that are due or that have been successfully completed. You will also receive notifications if certain deadlines are not met.
Complete Customization
You may tweak and customize projects in this section by:
Assigning tasks to certain individuals
Categorizing activities to make them more easily discoverable
Configuring privacy settings for individual team members
Establishing workflows
Integrating spreadsheets
Marking finished activities as complete and adding new projects that need attention
Using customized color schemes to denote distinct project streams
Utilizing 'Dark Mode' while working at night
Reporting and Collaboration
Teams may collaborate using a number of collaboration and reporting tools. Using real-time editing, you can see what different team members are working on and track progress on projects.
Additionally, you can:
Determine if you are late for a deadline.
Edit comments
Sync workflows
Assign a variety of duties to a various members of the team
Add start and due dates for workflows and paste images
Add visitors to projects with restricted access. This will allow them to see a high-level overview of the lists and projects. They cannot see the details.
Additionally, you may publish work publicly and conduct conversations about a project stream with all or selected stakeholders.
Apps and Devices
The ClickUp app is available for a variety of platforms, including Image Markup, desktop, mobile, Chrome, Alexa, Google Assistant, and Gmail.
For instance, Gmail allows you to create tasks directly from your email account. As a result, you may associate emails with tasks without ever having to leave your Gmail account.
Additionally, ClickUp is compatible with most of the major browsers, as well as Amazon Fire devices, Android, and iOS. Additionally, you may use it on Windows, Linux, or Mac.
Other
This is the category under which ClickUp highlights all of the unique features developed by their own team. Among them are /Slash Commands, which enable you to enter / in ClickUp without ever using your mouse. Additionally, there is QuickSwitch, which allows you to move between various Spaces and Lists by typing K.
Additionally, a Referral Program is available to encourage customers to promote ClickUp to their friends, family, and coworkers. If they join, you get reward points that may be used for cash. 150 points equals $1.50.
ClickUp Templates
ClickUp provides a variety of template options. A cursory look reveals that there are at least 19 distinct model types to select from.
However, some of the most prominent ones pushed by ClickUp include the following:
Design
Development
Education
Event Planning
Finance
Marketing
Media
We examined many of the templates listed above. They happen to be very well-designed and simple to browse. Several examples of how you could utilize them include the following:
Design: These are the templates geared towards designers who wish to store all of their work in one location. They are excellent for companies that specialize in architecture, fashion design, and interior design, among other things. Additionally, if you are a graphic designer, there is a template with integrated design samples and a design process timeline.
Development: These templates assist you in tracking the progress, objectives, and growth of your project. There are even templates dubbed "Epics" by the ClickUp team that enable you to divide the project into more manageable chunks, thereby allowing you to fine-tune the objectives of the projects and your targets.
Education: Here is a collection of college and university templates, including those used by the University of Waterloo, Ohio State, and Berkeley. The models are intended to be used to manage admissions, advertise prospective students, and schedule classes and syllabuses. There is a 35% discount on these templates for educational institutes.
Additionally, there are templates that enable students to keep track of exams, papers, projects, and assignments, in one location. Teachers may use the templates to keep track of their pupils' development.
Event Planning: Event businesses such as Stubhub, Warner Music Group, and Live Nation use these templates. Event planners may create and maintain a comprehensive list of all elements of their event in a singular location.
Finance: These templates enable you to keep track of your money and budgets in an organized manner. Accounting templates are available to handle invoices, sales data, forecasted revenue, and spending. There are also templates to assist you during an audit of your business and during tax planning.
Marketing: These are templates designed for A/B testing. You may use it to monitor the effectiveness of all of your marketing initiatives. They'll assist you in determining which campaigns and advertisements generate the greatest outcomes. Additionally, you may use them to create campaign timetables, track the rate of conversions, and zero in on certain phases of your campaigns. You'll never lose track of their whereabouts, rest assured.
Additionally, you can monitor campaign expenses using the integrated promotional calendar. Thus, if you're conducting a marketing campaign that involves special promotions and discounts, there is a location where you can track the campaign's start & end dates and other pertinent information.
Media: For content producers, media templates are ideal. If you're a blogger, you may use it to keep track of and organize your blog articles, as well as create a content calendar. This way, you'll always know when you are publishing new posts, and how often you do so. The same is true for everyone who uses social media in their professional capacity. Using these templates, you may schedule social media updates and track the frequency of such updates. Additionally, there is a template for anybody who produces YouTube videos; this template allows you to save all of your videos, ideas, and images, in a single location.
You may also create a template yourself if you want. This just has to be done once and then saved. Then you may reuse it for any future projects.
ClickUp User-Friendliness
ClickUp is extremely user friendly in a variety of ways, with a pleasant user interface that utilizes a lot of negative space. However, its usability suffers as a result of its many choices and high learning curve. It's very difficult to provide a large number of functions in an intuitive manner, and ClickUp is just the right example.
How to Utilize ClickUp's Project Management Software
It is really a simple task to sign up for ClickUp. Just visit clickup.com and provide your email address in the provided field. The only aspect of the setup procedure worth noting is selecting which ClickApps (these are basically extensions) you want to add. While the selection may seem overwhelming at first, you may always alter your mind later.
You're then sent to the primary screen, where you may begin working. This is also the point at which your misunderstanding may begin. ClickUp touts many differences between various elements of the software, yet it's sometimes unclear what makes it so unique. Additionally, the identical naming conventions may be perplexing.
For instance, the hierarchy lies at the heart of this project management software. At the very top you can find "workspaces," which correspond to the corporate level. Below that are "spaces," which the software or the program suggests you use to represent your company's various divisions, such as human resources, advertising, and marketing. It's reminiscent of how Basecamp allocates resources.
Below that are supposed to be "folders," but you will end up finding various views for our jobs. You may add views by navigating to the top bar and adding them as desired. This is very simple, and we like ClickUp's implementation.
You can also find a dashboard, similar to monday.com. On the dashboard you can add widgets to assist you manage numerous projects, although we're not sure if ClickUp refers to spaces or projects in this instance.
Fortunately, the fundamentals of ClickUp work very nicely. With a single click of a button, the program will allow assigning tasks to different members of the team, establish due dates, and communicate task information. It's very capable as a system for task management.
ClickUp Security & Privacy
In terms of security and privacy, ClickUp is competitive with the rest of the business, which is a positive thing in this instance. In its privacy statement, ClickUp promises to never sell your data and/or use it only to enhance its services and promote its own goods. As far as it appears, your data remains secure with ClickUp.
Is ClickUp Secure?
Your data is protected from outside intrusion. ClickUp never encountered any security breaches and uses AWS for storing user data. While AWS did encounter some security problems in the past, you can generally trust AWS with your data as it adheres to a lengthy number of security standards.
The few functions that ClickUp performs in-house, such as in-app conversations and transfers to AWS are also up to scratch. With ClickUp, your data should remain safe.
ClickUp Documentation
There is, however, one significant problem remaining: ClickUp's documentation. ClickUp is taking a unique approach, which is commendable, but the most critical thing to remember when venturing into new terrain is to ensure that people can follow your lead. ClickUp skips a couple beats in this section.
It's uncertain if video lessons or written instructions are the best method to learn how to use ClickUp; after experimenting with both, we can infer that the software's developers were unsure as well. There are many videos, and they are lengthy and comprehensive, but in an unfavorable way: they take most of ClickUp's vocabulary for granted and yet go into agonizing detail about fundamental concepts such as clicking.
Additionally, the quality of the audio in those videos is poor, making viewing the videos an annoyance.
Additionally, the video clips are arranged very randomly, with simple and complex subjects thrown into a list at random. This is reflected in the written instructions as well, with articles addressing very specialized problems being prioritized above beginner's guidelines. Additionally, the instructions differ significantly in terms of quality and tone, which may soon become irritating.
While ClickUp obviously did come up with a lot of tutorials, we wish it was all executed much more effectively. As is, there are many competitors who make ordinary day-to-day usage and getting started much more enjoyable.
ClickUp Service & Support
As is the case with the majority of the finest software for project management, ClickUp's support and service are heavily dependent on the documentation that the company provides. However, since the documentation is not user-friendly, you can expect to face certain problems.
Getting started with ClickUp requires traversing a labyrinth of video and textual instructions, which, although not impossible, is made more difficult than necessary. This is a pity, since a few little changes here would elevate ClickUp significantly.
If you're still having trouble, you may contact ClickUp's support staff through live chat. They can handover a link to the appropriate lesson. This is not always beneficial for the reasons stated before, but at least, it is much better than having nothing. Additionally, you may contact ClickUp using email or phone, but only for sales-related questions.
ClickUp Pricing
ClickUp is one of the more affordable choices available, outperforming many of the other top project management solutions available. nTask, however, comes quite close. Despite the limitations discussed before, ClickUp's cheap pricing makes it a viable competitor, particularly for companies seeking to take advantage of the more sophisticated features included in the Unlimited and Business subscriptions.
ClickUp Pricing Comparison
In comparison to Monday.com or Asana, ClickUp is a bargain if you pay annually. If you want to settle for the month-to-month fee, it is almost twice and doesn't really make a worthwhile investment. Paying monthly, on the other hand, implies you're paying next to nothing for a rather excellent service that does a lot. If you're on a budget, ClickUp is a must-consider.
Here is a quick look at the pricing structure of ClickUp:
Free plan: It is forever free and offers 100 MB of storage.
Unlimited plan: It costs $5 each month for each user when paid yearly. For a month-to-month billing, the price increases to $9 each month for each user. You get unlimited storage.
Business plan: It costs $9 each month for each user when paid yearly. For a month-to-month billing, the price increases to $19 each month for each user. Here you get many advanced features.
They also have an Enterprise plan for which you get bespoke pricing. You must contact their sales team to get a customized price.
Is ClickUp Really Free?
ClickUp's primary selling point is its free offering. The limitations it does impose are very few, which means you receive an almost fully functioning project management application for free. In contrast to many of the other free services like Wrike and Trello, there are no restrictions on functionality or the number of team members you may add.
If you're looking for a free solution for task management, ClickUp should make it to the very beginning of your list.
Conclusion
It is impossible to say that ClickUp is a great solution. However, we can't even say that it is an awful option. There is a lot that this program offers, and of course, there are elements that could have been better, but again, there are elements that are brilliant.
The application interface and instructions are a little rough around the edges, which means you need to spend a significant amount of time understanding everything. Nonetheless, the free plan is very excellent, so give it a try and see if it works for your needs or not. You can upgrade anytime later.
You can also check out our 15 Best Bitrix24 Alternatives for more project management tools