Chemicloud is a web hosting business that specializes in shared hosting, WordPress hosting, reseller hosting, and virtual private server hosting. The business is a relatively recent entrant to the market and is yet to establish a strong following.
In the shared hosting market, the business promotes itself as a reputable supplier with a 99.99 percent uptime guarantee. Naturally, Chemicloud, like any other shared hosting provider, engages in free offers and price gimmicks that may ultimately burn a hole in your wallet.
But that is shared hosting. What about their WordPress hosting? Chemicloud is not an avant-grade WordPress hosting comparable to the likes of Rocket, Nexcess, Kinsta, Pressable, WPX, etc. With Chemicloud you will not get a custom dashboard that doesn't depend on cPanel.
In fact, the WordPress hosting that Chemicloud offers is only a shared hosting service optimized for hosting WordPress site. All the controls are provided through the cPanel. So, be ready to experience the feeling of any shared hosting.
What you do get, however, is a cloud platform running CloudLinux OS, and advanced security with CageFS-based isolation for accounts. That last one simply means that each website resides inside an isolated cage (virtual environment), staying immune to the ill fate of the neighboring resident sites.
Put in simpler words, if one neighboring site is infected by malware injections, the risk of infection spreading to other sites on the server will be limited because of account isolation. Not just that, each virtual cage comes with its dedicated memory and CPU cores. So, no website on a shared WordPress hosting server can draw in more resources, leaving the rest to run on fumes.
So, technically it is the same approach that traditional shared hosting providers like GreenGeeks, SiteGround, etc. take. It is just shared hosting optimized for WordPress sites on a cloud platform.
Okay, so, is Chemicloud WordPress hosting worth investing in? That is precisely what I intend to find out in this Chemicloud WordPress hosting review.
But before I jump straight into the details, let me quickly walk you through the core features of Chemicloud WordPress hosting, and its strengths & weaknesses. Sounds good?
Let us begin!
Core Features of Chemicloud WordPress Hosting
The core features offered by Chemicloud include the following:
Storage on Solid State Drives
Chemicloud offers solid-state drives (SSD) storage for all its WordPress hosting packages. If you're unaware, SSD storage plays a critical part in speeding up your website and even guaranteeing that your server responds quickly.
Free Domain for Life
When you buy a WordPress hosting package from Chemicloud, you will get a free domain registration. Unlike other hosting companies, this business will renew your domain for free for the first year and then the next year, and the next, forever as long as you stay a client. If you no longer use their hosting service, you must pay for the domain or risk losing it.
CloudLinux OS
Chemicloud is a cloud computing platform that runs on the Cloud Linux operating system. This is very safe and steady. Another advantage of Cloud Linux is that if a single account consumes an excessive amount of system resources, the account is caged to ensure that the performance of other accounts is not affected.
Similarly, if a server account is affected by security threats or viruses, it will be caged to prevent it from compromising additional server accounts.
Data Dissemination
Chemicloud guarantees that all data on a server is redundantly spread across several servers. As a result, data is never lost due to hardware failure. This guarantees that your data is completely secure regardless of the server location you choose.
Web Server LiteSpeed
It is very uncommon to find a hosting provider offering a hosting solution with LiteSpeed web server. LiteSpeed is the newest advancement in web server technology, and it is renowned for its speed. I've always preferred the LiteSpeed web server (or at least the OpenLiteSpeed server). Cloudflare's mix of SSD storage and LiteSpeed servers is all the magic you'll ever need to achieve lightning-fast websites!
Free Cloudflare
To be fair, Cloudflare is free, but if you want to utilize it, you must do it manually. Cloudflare is pre-configured for Chemicloud. You may activate it directly from cPanel, eliminating the need to fiddle with DNS settings.
Daily Backups
Daily backups are included with every hosting package. The majority of hosting providers demand an additional fee for backups (unless they are dedicated WordPress hosting providers). That is not the case in this instance. All options have the option of free daily backups. What is interesting to note here is that the backs will be stored for 10, 20, or 30 days depending on the hosting plan you are selecting.
RAM and CPU Cores
Chemicloud WordPress hosting offers a guaranteed finite amount of RAM and CPU cores depending on the hosting plan you select. The minimum you get is 1 GB RAM and 1 CPU core and the maximum you get is 3 GB RAM and 3 CPU cores.
Other Features
Free Let's Encrypt SSL with options for purchasing premium SSL.
Free same-day website migration.
Plan-dependent Imunify360 Malware Protection, Memcached, Cloudflare Railgun.
Free emails through MailChannels.
Free drag-and-drop website builder.
Network firewall and protection against DDoS & brute force attacks.
HTTP/3-enabled servers.
LiteSpeed Cache.
Multiple PHP versions.
Plan-dependent WordPress staging site.
Well, on records, everything sounds hunky dory. In fact, the overall specifications sound good enough to ensure that your WordPress site will perform great.
But in practice, will things change? We will find out shortly.
Pros & Cons of Chemicloud WordPress Hosting
Before I jump into my experience with the Chemicloud platform, let me quickly walk you through the pros and cons of using this hosting provider.
The Pros
SLA with a 99.99 percent uptime guarantee or a full refund.
45-day money-back guarantee in the event that you are dissatisfied with your purchase.
A lifetime free domain registration as long as you remain an active client.
Solid State Drives are available for all hosting types and plans.
Live chat assistance is accessible 24 hours a day.
SSL for free, Cloudflare CDN for free, and migration for free.
A drag-and-drop website builder.
Nicely categorized knowledge base for self-help.
The Cons
You have to commit for a minimum of 12 months to get a discounted price. 36 months is the longest commitment, but that will yield you the lost price tag.
Renewal prices are significantly high.
Malware protection, Memcached, and Cloudflare Railgun are not available for the basic plan users.
The WordPress hosting is still a shared hosting with some refinements and adjustments.
The website builder is a paid service.
Okay, now that you know the pros and cons of Chemicloud WordPress hosting, let us go through the detailed review where I will share my whole experience with Chemicloud.
The Interface & The cPanel
Once you purchase a plan and create an account with Chemicloud, you will get access to your account dashboard, which is quite neatly arranged.
The screen that you will see is known as the "Lab."
This is where you will get the bird's eye view of everything from the services and domains you have to the billing information, addons, support access, and affiliate earning details.
There is nothing complex in here. You will notice you plan, plan price, plan duration, disk space and much more.
The dashboard will also give you shortcuts (direct access) to the Softaculous app installer, cPanel, and emails.
You will have the option of accessing the cPanel using the direct link Chemicloud provides after you sign up for one of their hosting plans.
The cPanel has nothing new. It is the same old thing.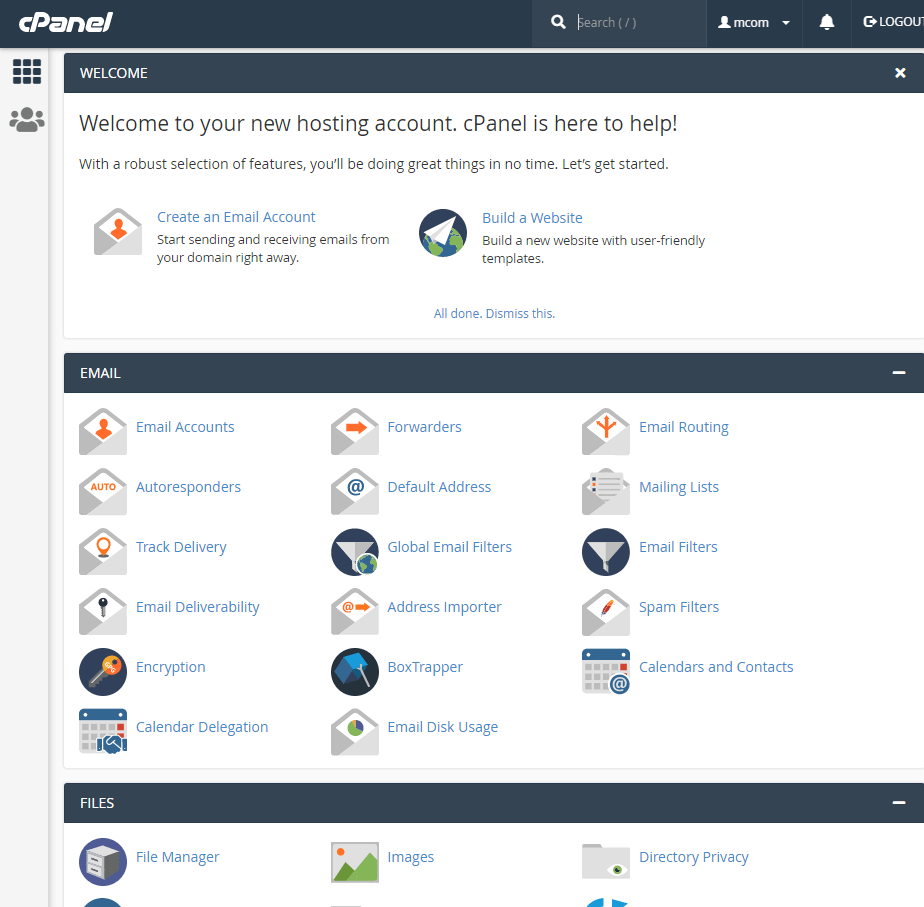 If you have experience with another cPanel-based hosting, the only difference you will notice is the order of arrangement of all the features available in cPanel. Chemicloud, for instance, puts the segment related emails right on the top. Others may put the segment for security right on the top, while some others may put the Softaculous segment on the top.
There is absolutely nothing new there. Depending on the plan you select, you may find a few extras like access to Imunify360, JetBackup, etc.
That's all!
Installing WordPress is also simple using Softaculous. Though it says one-click installation, it is not really so. You need to complete several steps before you can install WordPress, which include things like determining whether you want https or http, www or non-www, folder location, admin details, and so on. This will barely take a minute. Once done, you can install WordPress on your selected domain.
No LiteSpeed Cache To Begin With
Though you will notice that the cPanel has LiteSpeed web cache manager, there is no LiteSpeed cache installed on your newly installed website.
Though it was a bit surprising to me, I wouldn't get stressed over this simple issue. Technically, the LiteSpeed Cache plugin should be installed automatically.
However, here is the twist.
LiteSpeed Cache will automatically get installed later. It can take around 10-20 minutes. You will see LiteSpeed Cache suddenly popping up in your WordPress dashboard.
If you don't see that happening, you can install it manually.
You need not worry about the price, because LiteSpeed Cache is free for everyone. It is available directly from the WordPress plugins repository.
You can install it just the way you would install any other plugin.
The only problem you will face is that LiteSpeed Cache is quite difficult and confusing to configure. You can follow this guide for assistance. I have installed and configured LS cache on so many websites now that I almost know it like the back of my hand. If you find something in the guide that you do not understand, just drop a comment.
The absence of LiteSpeed Cache actually presented an opportunity to me. I could test the virgin site with any additional caching and find out just how fast or slow the website loads. Interestingly LiteSpeed Cache did not show up on the site backend until I finished the testing and then installed Jetpack (read below in downtime segment).
Read on to learn about my findings.
Website Speed Test – MOST IMPORTANT
Google wants your website to be fast. So, you better keep your website fast. Now, since Chemicloud is offering LiteSpeed web server along with LS web cache, I hoped to see a score of nothing less than 90 on Google Pagespeed Insight's both mobile and desktop tests.
Of course, I did not add anything to the site except for the default Twenty-Twenty One theme and the two default plugins – Akismet and Hello Dolly (both deactivated by default).
Here is how the website looked like:
I took the website as is and put it through the speed test.
Mobile Results
Of course, the results were great. The only problems I noticed were:
Initial server response time was high.
Notice about minifying CSS.
Desktop Results
Again, I noticed the same troubles of slow server response time and CSS minification.
Honestly, I wouldn't bother much about those two issues, because they can be easily fixed using the following fixes:
Implementation of a caching plugin that will allow CSS, JS, and HTML minification in addition to implementation of things like enabling Gzip or Brotli compression, leveraging browser caching, and so on.
Implementation of a CDN that can serve static pages from a server close to the website visitor.
So, these problems aren't real problems.
The real problem will show up when you start adding content to your site that includes written text, images (in-post images, logos, icons, etc.), videos, etc. If you add display ads, they will also slow down your site.
You must optimize your site accordingly. For images, I will always recommend using Imagify for image compression and WebP conversion. For videos, I will recommend hosting them on a video hosting service like YouTube or Vimeo and then embedding them on your site. For icons and logo (if the logo is not too complex), I will recommend using SVG image format.
For display ads, the only option will be to load the ads asynchronously and use lazy loading.
Again, a proper configuration will help you increase your website speed.
Your site speed will heavily depend on your website's structure and content. So, optimize, optimize, and optimize more! It will be an almost never-ending challenge.
But keeping aside these things, the virgin site passed the speed test with flying colors, indicating that Chemicloud WordPress hosting is capable of giving you highspeed sites. The degree of optimization you implement will be the final gamechanger.
Website Downtime
I will be honest. There is absolutely nothing I can tell for now. I left the website up and running for 24 hours with Jetpack installed. Jetpack sends notifications whenever your site goes down. I did not find any notification in 24 hours (at the time of this writing, it is 26 hours).
24 hours is never enough for getting any inferable data. I will keep updating this space for the next 3-4 months to give you updates on the downtime and finally conclude whether Chemicloud actually upholds its promise of 99.99% uptime guarantee or not.
So, watch this space.
Chemicloud WordPress Hosting Support
This is another department that everyone should worry about. If the support is not good, you will be left puzzled and frustrated. Luckily, that is not the case with Chemicloud. They have a 24×7 chat support available and they are quite courteous and polite. They genuinely try to resolve the issues you face.
Unfortunately, the live chat support staff happen to be the lowest level of support. They aren't equipped with high levels of technical knowledge. So, if you face anything seriously complicated, you must raise a ticket, or the live chat support will do that for you.
There is no point frowning over this because that is the story of every hosting company you will come across in this world.
They also have a well-documented knowledge base that gives solutions to basic problems you might face. Those knowledge base articles should be good enough to help you deal with your problems and make you feel like a superhero with no cape or red undies.
Chemicloud Pricing
Chemicloud has three pricing plans available. They are:
WordPress Starter
$3.95 a month for a three-year plan.
1 website
15 GB storage
Approximately 25,000 visitors a month
250,000 inodes (files and folders)
Unlimited bandwidth
Free domain for life
Free website transfer
10-day retention daily backup
1 CPU core
1 GB RAM
Free Cloudflare
45-day money back guarantee
No Imunify360 Proactive Defense
No Advanced Firewall
No malware detection and removal
No Memcached
No Cloudflare Railgun
WordPress Pro
$6.95 a month for a three-year plan.
Unlimited websites
25 GB storage
Approximately 50,000 visitors a month
350,000 inodes (files and folders)
Unlimited bandwidth
Free domain for life
Free website transfer
20-day retention daily backup
2 CPU core
2 GB RAM
Free Cloudflare
45-day money back guarantee
Imunify360 Proactive Defense
Advanced Firewall
No malware detection and removal
No Memcached
No Cloudflare Railgun
WordPress Turbo
$10.95 a month for a three-year plan.
Unlimited websites
35 GB storage
Approximately 100,000 visitors a month
500,000 inodes (files and folders)
Unlimited bandwidth
Free domain for life
Free website transfer
30-day retention daily backup
3 CPU core
3 GB RAM
Free Cloudflare
45-day money back guarantee
Imunify360 Proactive Defense
Advanced Firewall
Malware detection and removal
Memcached
Cloudflare Railgun
Things You Will Hate About Chemicloud
There are a few things that you will hate about Chemicloud. What are those? Read on!
Inode Limit: Inode limit refers to a file or a folder or an email or just about any Unix object found in a file system. If your website is image heavy, you are going to find this limit a terrible restriction. WordPress creates multiple images of different dimensions from a single image you upload. So, in case you have an image-heavy site, you will soon hit this limit.
Paid Website Builder: Many hosting companies just throw in a website builder for free. With Chemicloud that is not the case. You must pay for it if you want to use it. The website builder is provided by Weebly.
Only Long-Term Plans: If you are exceptionally good at marketing your website and performing SEO, you may experience a cosmic rise in the number of visitors in just a year or two. So much can be the growth that you outgrow Chemicloud's highest-tier plan offering only 100,000 visitors a month. If you are going for their very long-term plans, you may just be wasting your money. They should have put in place at least a 6-month plan.
However, in most of the cases, these issues will not even show up.
Final Verdict
Chemicloud is as such a great hosting company. Its WordPress hosting offering is quite decent and offers high speed for websites, thanks to their LiteSpeed web server and LiteSpeed Caching. I must admit that I was pleasantly surprised by the speed.
Overall, combining the features with great customer support, Chemicloud is a great choice if you are ready to commit for a long-term relationship with this hosting provider.
If you are indeed looking for a great hosting experience, you can count on Chemicloud. Despite being a relatively new company in the hosting space, it is performing exceptionally well.
I recommend using Chemicloud, but at the same time, I will recommend that you opt for their 1-year plan. It is not unnatural to think that over the years as the company grows, certain aspects of the business can become sloppy. At that point, you might find yourself in a pool of despair.
So, keep a short commitment period and go for it. You will not be disappointed for now!