Box is one of the first cloud storage providers in the market. Its focus has primarily been on providing business solutions pertaining to data storage rather than catering to individual users. To begin with, all Box plans offer unlimited cloud storage, with its starter pack being an exception. Such packages are not offered by other competitors in the market.
In essence, it is a well-established file syncing and storage service very similar to Dropbox. Despite it being more suitable for business or professional uses, it now has the ability to serve individual users as well.
Box Pricing and Plans
Box currently has the following payment and storage plans for its versatile consumer base:
Starter plan is priced at $5 per user per month with a maximum of 10 users. The storage amounts to 100 GB.
Business plan starts at $15 per user per month. The storage amount is unlimited with 5 GB maximum upload size.
Business Plus plan is priced at $25 per user per month and offers unlimited storage, 5 GB maximum upload size, advanced controls, and unlimited external collaborators.
The top tier custom plan titled 'Enterprise' requires users to contact Drop for custom-tailored quotes.
Box offers free accounts, paid personal accounts, and business-grade accounts. At 10GB, a free Box private account comes with five times as much space as a free Dropbox account, which only gives 2GB. Box imposes a 250MB restriction on the size of files you can upload or share with a free account. That limit may be a deal-killer for designers, video editors, or musicians working with huge documents, however, it should be plenty for users who are just storing documents and JPGs, instead of big files from multimedia content-creation programs. A paid Box personal pro plan, which charges $10 per month, allows you to upload files as large as 5GB and gives you a total of 100GB of space.
In comparison to Box, Dropbox provides at least twenty times as much storage, 2TB, for the same $9.99 per month in its Plus plan. Even SugarSync is giving away 250GB for the same $9.99 per month.
In fact, IDrive provides even better value with 2 TB of space for just $69.50 per year. OneDrive also presents itself as a valuable service provider with a 1TB account priced at just $6.99 a month or $69.99 a year. In fact, the 1 TB plan comes equipped with the Office 365 storage which has innumerable functional uses of its own.
Google Drive gives 15GB right of the bat, and its $9.99 per month paid option called Google One, ups that to 2TB. That allotted storage is spread across Google Drive, Gmail (including attachments), and Photos, but not all files count against your limit. Anything you create with Google Docs, Sheets, and Slides (what most people call Google Docs) doesn't count against your limit. See Google's help page on Drive storage limits for even more details regarding its storage allowances.
On the other hand, Apple iCloud also charges $9.99 per month for 2TB of storage that's tightly integrated with Macs, iOS device, and their apps. It even offers collaborative editing in Pages, Numbers, and Keynote.
Box Cloud Interface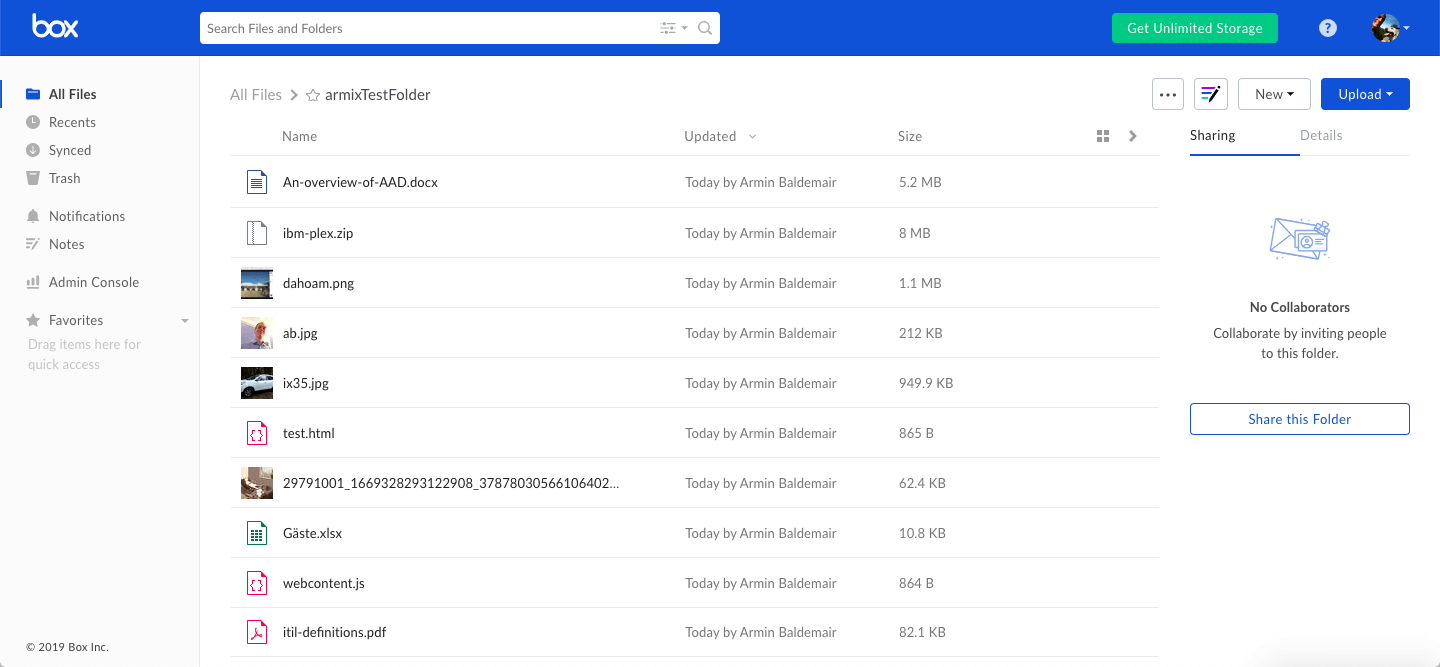 In addition to personal plans, Box also offers business accounts. The small business and enterprise plans include greater security and encryption, as well as more administrative control for sharing files. Box's UI is smooth and clean; there's no ambiguity because the whole thing is logically laid out. Its clear UI and layout is second only to Zoolz BigMind for business, which receives high marks for organizing data nicely within the confines of a browser web page.
Unlike Dropbox, the Box's website does not respect Dark Mode OS setting. Seven menu options are along the left, while four of them are on the right. The main window shows a File Explorer-like list of folders and files, which you can switch to a thumbnail grid view, which is useful for images and videos.
The menu options include All Files, Recent, Synced, Trash, Notes, Admin Console (for paid accounts only), and Favorites. The buttons next to the search box let you get help, see your tasks, notifications, and account info. It's a little tricky to see how much storage you've used and have left, but you can get there by scrolling down on the Account Settings pages. Most online services show this info more clearly in the interface.
Anything you put into the syncing Box folder also becomes accessible via Box's Web app, and the Web app is worth using. The Box site does offer more than just letting you see, download, and share files, which is roughly what Dropbox offers.
While exploring Box's web app, you see rich tools for actually working with your files. There are buttons for creating new folders, bookmarks, Box Notes, Microsoft Office documents, and Google Docs. You can also make new documents from Google Drive and OneDrive, but Dropbox does not offer this as a built-in option.
Box Notes is a nearly perfect feature-based Web text editor. Like Dropbox's Paper, Box Notes have a completely separate web page and interface from the main Dropbox site. Both even use different site icons. But Dropbox has the advantage of letting you embed images and video windows into Paper documents.
Box's ability to create files right from the website would be a huge deal if it weren't already available in Google Drive and OneDrive. Those services support more file formats and can convert files to other formats, such as .xlsx, .txt, .odt, and so forth. One handy thing you can do with documents in Box is assign a task to someone who's associated with the document. For example, you could assign your sister the task of editing a file or ask a friend to change some graphics. These features are well suited for business settings, but individual users can use them, too.
Also on the collaboration front, Box's Web app cleverly lets you import contacts from several major services, such as Outlook and Gmail, or from a .CSV file, making it much simpler to enter email addresses when you need to share files. Another useful collaboration feature is the ability to comment on any shared document.
When you share a file, anyone with the link can view it, but to edit, they need a Box account, which is standard for online collaboration tools. You can also share via email with two simple choices: Invite as Editor and Invite as Viewer. Business accounts get more granular sharing options, like expiration and password protection. OneDrive gives any user these options, but Google Drive does not.
Viewing images you save to your file-syncing account via a Web app is part and parcel of most syncing and storage services, but Box goes the extra mile by providing a built-in music player, too. That means if you store music or audiobooks in Box, you can play the tracks on any computer just by logging into your Box Web account. The same goes for the Box mobile apps. The playing capability does not extend to video files, however, unless you have a Business-level account.
Canceling a Box subscription is straightforward and may be completed from the Account & Billing section. Box makes use of the cancellation system to get a few insights from customers on why they are determined to cancel the provider. Box will try and maintain the status of current subscribers by providing them reductions which could make a difference if the heft price is a major concern. Other cloud provides can also learn profusely from Box's smart purchaser retention strategy.
The Box Clouding Basics
To get started with a box account, you create a login and respond to an e-mail confirmation. Non-paid accounts require a phone number but not a payment method. On wireless rst use, you tell container whether your account is for personal or business use, and then it asks you to offer acquaintances' emails for collaboration. you can pass that step, luckily. there is no step-by-step guide to onboard you into using box, and the assistance is community-based totally, requiring a separate account signup.
Unlike Dropbox and a few other offerings, box would not push you to install a nearby syncing customer; it seems happy to let you work completely online. You may, however, download and install desktop apps for windows or macOS, as well as cellular apps.
In truth, there are quite a few reliable box apps available at the page that comes when you opt Apps from the menu—some are for editing offline, and there is even one for kanban. In box's app shop, you spot two pages of reputable box Apps, with box Sync on the second web page. It is not clear which of those many choices is the principle box app. This is a far cry from Dropbox, Google force, or OneDrive, wherein there is just one main client for using the service. In case you are not logged into your account, it is actually clearer on the external box website.
The primary app is box drive, but box tools is some other program that lets you edit with your local applications even while saving the files to box's online storage, and there are box Notes downloadable apps for local editing. Box Sync is an older tool that does brute syncing, without the on-demand downloading of box drive. Box also has a mobile-optimized website for other devices.
Whilst you set up box drive, you get a touch tutorial about the way it works. The program creates a new folder for your computer, and everything you placed into that folder syncs across all the devices on which you've additionally installed the box app. We appreciate that it would not save all the files and data on your neighborhood storage, but rather downloads it when you open it. Conversely, you could designate folders for offline availability, say, if you are running on a pc out of Wifi-coverage. OneDrive works similarly if you permit it wireless on-demand choice, however, Google drive only does this in its business-class G Suite client.
The box drive software worked seamlessly at the home windows (both 32-bit and 64-bit flavors available) and macOS computer systems on which we installed it for testing, as well as on iPhone and Android. The desktop versions consist of a notification-area icon, which helpfully allows you to seek your cloud storage, open the box folder, or visit the box site. OneDrive's icon pop-up lacks this search, as does the Google Backup & Sync utility. You can drag and drop complete folder structures into the box folder, and all the contents are synced. You may prefer SugarSync's method, which lets you sync folders wherever they may be in your drive, however box's wifi solution works nicely, too, and it has been adopted by most syncing services to spare you the complexity of mapping drives among a couple of computer systems.
While box is active, icons in file Explorer display a cloud badge to indicate that file is not locally stored and whether syncing is in progress or not. If your device is offline and you upload something to its folder, box syncs all your files the next time you are online. Box only provides right-click options in its personal file Explorer folder for sharing, locking, and viewing cloud-stored data; other syncing services add context menus for adding or sharing any files on the drive. Right-click options additionally allow you to designate whether a folder should be available offline (i.e., locally stored) or only stored in the cloud.
Mobile Apps
Box offers seamless experience with its mobile apps, specifically the ones for iPhone and Box for Android, which are very responsive from the onset. Furthermore, like all other mobile apps, Box sends you tons of notifications which are very useful when you are using it for collaborative purposes. Navigating through the apps is easy and clear. Moreover, both types of apps, android and iOS, contain some unique and nifty smartphone features, such as the ability to add a passcode and an auto-upload option for backing up photos and videos you take on your mobile device to your Box account. The Box app can even play cloud-stored videos.
Most of the other online storage and syncing players also offer automatic photo and video uploading. It's a wonderful way to make sure you have copies of your smartphone photos, should your device go missing.
Box Extras
One of box's strengths is how well it performs with different apps. You may connect a Box account to a long list of services and programs, from Salesforce to Chatter to Asana, and more. Our personal account covered Chatter and DocuSign integrations, available from the sharing menu by default. Recent additions include integration with QuickBase, o.k. workflows, and Globalink translation.
A number of those associate services are suitable for people, but most are better suited for businesses. Businesses that use box will be content that it is incredibly accurate at integrating with other tools. Beyond the local integrations, box additionally supports IFTTT and Zapier, which in turn can connect with a wealth of extra services.
Conclusion
Box is literally brimming with nifty features and useful elements that you personally don't want to miss out. From online collaboration and customizable storage space to integrated syncing option, Box stands as one of the most convenient option amongst cloud providers. Countless third-part integrations and productivity collaborations offer a holistically seamless experience to all types of users. Having said that, other options, such as Microsoft OneDrive and Google Drive or Dropbox, are also worth exploring considering the utility that they bring to the table.