What is Bitdefender Antivirus Plus?
Bitdefender Antivirus Plus is a premium Antivirus (AV) designed for Windows Operating systems and is currently one of the best on the market. Bitdefender often comes rated very highly in numerous AV reviews and comparisons and with the number of security features they offer, it's well deserved. Their motto is "Continuous testing, continuous excellence, continuous innovating". Today we will analyse why this motto is deserving of the software they produce and go through the main features available to keep malware at bay, its pricing plans and why the software is as good as they claim it to be.
Overall Performance
Bitdefender performed remarkably well in some of the performance tests I did. I myself have been an avid MacAfee user for years and I'm sure some of you know, while the software is effective, it can really slow down your computer when running scans. Bitdefender on the other hand, when running scans, had no adverse performance impact on my computer, even when running full system scans.
There have been numerous lab tests performed on Bitdefender by researchers at AV-Comparatives. For products that pass these tests, they earn the Standard certification. Products which do significantly more than average earn an Advanced or even an Advanced+ certification. Bitdefender achieved Advanced+ in all tests performed with an aggregate score of 9.9.
The AV-Test Institute conducts a three part test which then scores products on their effectiveness. Products can earn a maximum of six points for good protection against malware, little effect on performance and good usability. Bitdefender blew the competition out of the water with a full 6 points for protection and performance. With a total score of 17.5 out of 18, it earned itself the designated Top Product.
Bitdefender won the Product of the Year award from AV-Comparatives in February 2020 and PC Mag commented saying "Outstanding scores in independent lab tests and out web penetration tests" in July 2019.
Interface
When you open Bitdefender, you are met with a clean security dashboard with a menu to the left containing all the security features available to you. At the top of the window, Bitdefender offers security recommendations such as installing the latest updates for your operating system. The rest of the window is taken up with quick actions which allow you to launch a quick scan, system scan, vulnerability scan, open the VPN and configure Safepay online protection. You can configure this quick actions menu to include whichever items you will use most, making it easier to access them when you open the app.
Clicking Protection, Privacy or Utilities pages in the menu on the left hand side will bring up detailed pages of features and settings. Some of these features, such as the Firewall and Antispam items, require an upgrade to be used, but we will discuss this more in the pricing section.
Bitdefender Antivirus Plus Protection Features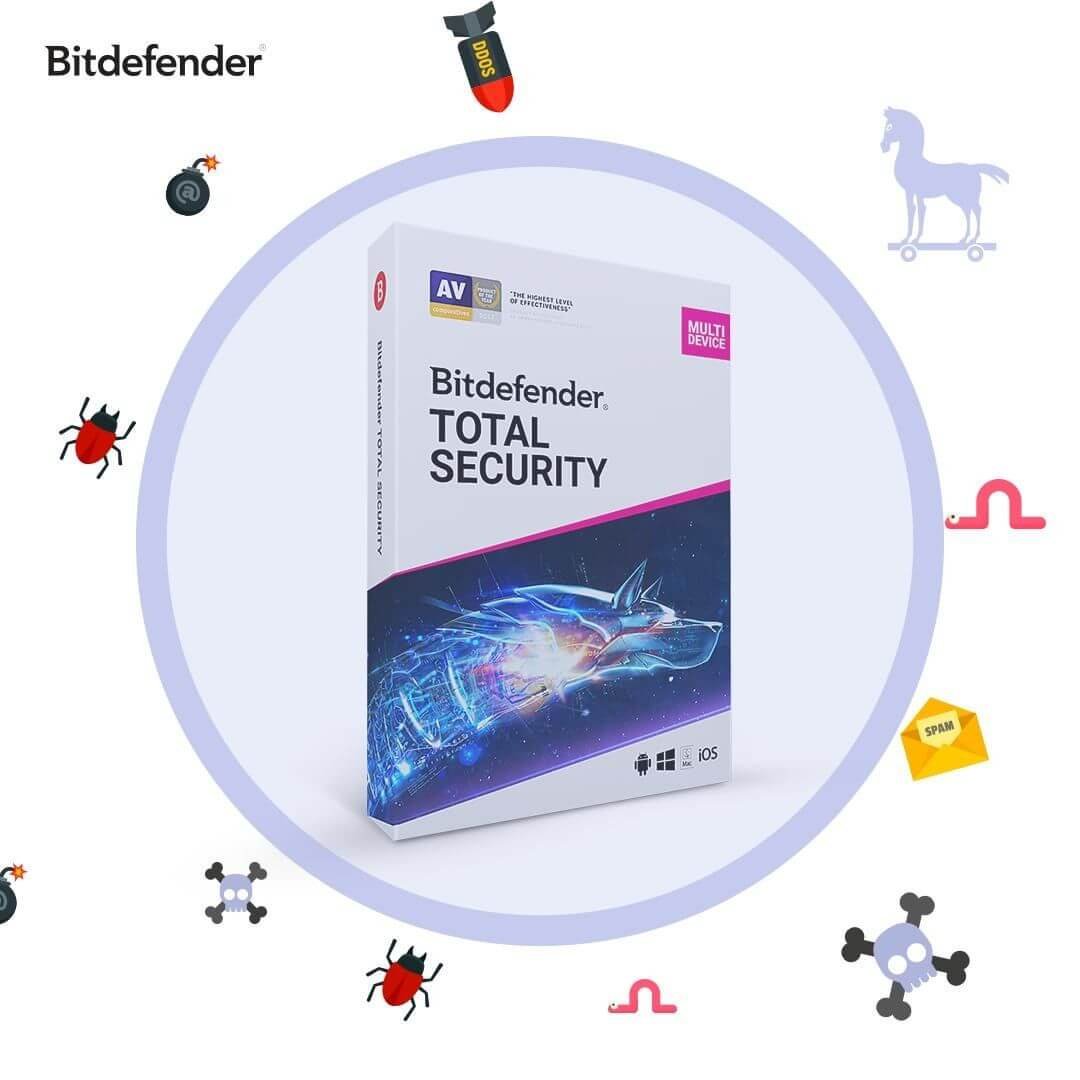 Bitdefender comes packed with features which make it more than your average AV. Bitdefender offers all the basics one would expect from an AV such as Real-Time Data Protection. It also comes with other features which make it stand out from the crowd. Here are the protection features offered by Bitdefender:
Real-Time Data Protection
The Real-Time Protection is a useful feature as it stops malicious files before they even have a chance to start downloading. In many cases, Bitdefender beats the browser notifications asking to verify the download, displaying a warning message and removing the threat without any interaction from the user necessary. Bitdefender also recognised the malicious sites URL and displayed a tag marking them as unsafe. A very useful feature, this stops potential malware from even downloading in the first place and keeps your computer safe without any effort on your part.
Network Threat Prevention
This is a new feature I have yet to see on any competitor AV. Keeping with the theme of stopping attacks before they even begin, Bitdefender incorporates new cyber threat intelligence technologies which can analyse network level activities. Bitdefender will then block any attempted exploits, malware and botnet-related URLs and brute force attacks.
This sort of protection is normally associated with a firewall but Bitdefender has included it along with their AV offering as a nice bonus. To test this, I installed Bitdefender on a test system in a virtual machine and launched 30 exploits generated by the CORE Impact security tool. The series of exploits were aimed at Windows, Internet Explorer, Microsoft Office, several Adobe products etc. Bitdefender stopped 74% of these exploits before they even reached the system, which is a good total score.
Advanced Threat Defence
Bitdefender uses behavioural detection. This technique monitors apps and determines what their typical function and behaviour should look like. If there is a deviation from the normal use of an app, this will look suspicious to Bitdefender and it will take instant action to prevent any possible infections.
For example, if notepad on your computer suddenly started to attempt to connect to the windows security manager application, Bitdefender would pick up on this suspicious activity and prevent the connection as well as scanning the notepad application for any potential malware. This is something, again, I have yet to see offered by competitors.
Online Protection
Bitdefender also offers online protection when surfing the internet. This online protection works by monitoring the sites you are visiting in real time and notifying you if it thinks the site contains malware or other malicious content. Bitdefender doesn't see any data you enter to the site, it simply scans the sites URL against a database of URLs which contain malicious content. If there is a match, Bitdefender will display a warning and advise you not to continue to the site.
In a test conducted by pcmag, Bitdefender blocked 89% of malware hosting URLs. These are URLs which host real malware used by attackers. Around 10% of the sites escaped Bitdefender's online protection and began downloading malware, but the AV component scanned the content of the download before it was fully downloaded and blocked the malicious files from downloading. This brings the total online protection offered by Bitdefender to 99%, essentially blocking all threats from online sources.
Bitdefender also includes an Anti-Tracker component, which can be installed as an extension in your browser. This will block sites installing tracking cookies in your browser which may slow down your searching speed.
Bitdefender Traffic Light is also a useful browser extension which marks search results with coloured tags indicating if the site is trusted or not. Green means safe, red means dangerous and grey means not yet checked.
Phishing Protection
Phishing is when an attacker sends you an email that looks perfectly normal, but actually contains malware. An example of this would be an attacker creating a fake site which looks identical to your bank's login screen and then sending you an email that looks like it is coming from your bank. This email will likely say that there has been fraudulent activity on your account or something along those lines, and will ask you to login to your account using the link they have provided. This link will lead to the fake login page, which looks the same as the real login page, and if you log in they then have your bank details which they can use to rob you.
Side Note: If you ever receive an email or text message from your bank such as the one described above, NEVER click on any links contained in the message. The best thing to do is to open your browser and go directly to your banks website to check your account yourself. You can also ring the bank, but do so from their official phone number which you can find online at the banks official website. Do not call any phone number provided in an email or text message. This may sound like common sense, but phishing scams cost people millions a year through this type of fraudulent activity.
A standard phishing protection system will use a phishing blacklist to steer users away from websites which have already been marked as malicious. A really good phishing solution however, will analyse sites in real time for signs of fraud and will block even those sites too new to be blacklisted.
Bitdefender blocked 99% of fraudulent pages visited, offering complete protection from phishing. With phishing and online fraud costing normal people millions every year, this is a very useful feature to have.
Ransomware Protection
There's no AV in the world that will catch every threat 100% of the time. In the case of ransomware, all it takes is one malicious version to get through and all your files are encrypted and stolen. Bitdefender however, has been on the cutting edge of ransomware protection. The Advanced Threat Defence feature includes behaviour-based detection, which can pick up on ransomware attempting to spread across your system before it actually does. The network Threat Prevention feature will block the exploit methods that some ransomware attacks rely on.
Possible the best feature offered by Bitdefender to combat ransomware is the Ransomware Remediation feature. This feature backs up important files at the first hint of a possible ransomware attack. You can specify which files should be backed up as most important. These files can then be restored after Bitdefender neutralizes the attack, essentially rendering the ransomware redundant.
PC Mag did some extensive testing of this feature. They disabled the web protections and copied some real ransomware samples into a virtual system. Bitdefender managed to disable all of them before they could encrypt any files or folders. The PC Mag team then placed some ransomware into the start-up folder which would allow the ransomware to start immediately and possible catch Bitdefender off-guard. Bitdefender disabled all of the malware types without any encryption damage done to the system.
Bitdefender is a great choice if you are worried about ransomware affecting your system. I managed to pick up on all ransomware samples exposed to it, even at start-up which many other ransomware protection software is unable to handle. With more and more ransomware attacks happening in the wild, Bitdefender is a wise choice to protect yourself and others on your network.
Bitdefender Antivirus Plus Privacy Features
Password Manager
Bitdefender includes a Wallet feature that stores passwords, personal information and credit card information which can be used on websites. This is useful as it incorporates your AV and password manager into one simple solution. It also saves passwords for applications and Wi-Fi networks.
Wallet requires a strong master password that is different to your Bitdefender Central password. You can create multiple wallets and you can also choose whether you want to sync this data between all your devices or keep it locally on one device.
If you read my previous review on LastPass, one of the best password managers on the market at the moment, you would know that there are features included in Bitdefender's Wallet which you would have to pay for with LastPass. It also automatically captures login credentials as you type them and replays them as needed.
Although useful and a nice bonus add-on to the AV, it isn't as up to scratch as some dedicated password managers. For example, it doesn't store as much personal information for web forms and can't handle some two-page login systems.
Bitdefender VPN
This is Bitdefender's solution to keeping your data in transit safe. This is data that you transmit over the network that you are connected to. Using a VPN is good practise in general, especially when using any form of public Wi-Fi, as it encrypts all your traffic and not even the owner of the Wi-Fi network can view the information you're sending. VPN's also make it harder to track you across the web, reducing the number of trackers on your browser.
Bitdefender uses an implementation of Hotspot Shield VPN service to provide the VPN to customers, but your information remains secure with Bitdefender. Hotspot Shield cannot see your online activities and only receives a Bitdefender identifier, rather than any of your personal information.
The free version of Bitdefender's VPN limits your use to 200MB per day, which will only be useful to the lightest of users. It also limits which VPN servers you can access, limiting your options to certain countries.
If you want to upgrade to Bitdefender VPN Premium, you will get 6GB of traffic per month with you Antivirus Plus subscription. If you want unlimited traffic, you will have to upgrade the VPN to a premium package. For the services it's offering, I think there are a number of dedicated VNP's with much better features for cheaper prices.
See Also: 10 Best VPN Apps for Android
Bitdefender Antivirus Plus Additional Features
Bitdefender has also thrown in a number of small but useful features along with your Antivirus Plus package including:
Wi-Fi security Advisor

This is a feature I haven't seen other competitors offering. Bitdefender claims to be able to assess the security of your Wi-Fi network and router, on any network that you connect to. I imagine it does this by looking at the router type and the encryption level on the Wi-Fi password, for example WPA2. This is useful information to know, but something that anyone should know by looking at the security protocol enabled before actually connecting (E.g. a WEP connection is unsafe to connect to).

Social Network Protection

Bitdefender claims to protect you from malicious links and any online threats your friends unwittingly pass on to you via social networks. I fail to see how this is an extra feature however as it sounds the same as what the Real-Time Data Protection and Network Threat Prevention features are supposed to be offering.

File Shredder

A fairly standard feature, most AV comes with some type of file shredder installed. This tool can be used to delete a file for good and leave no traces that it was ever on your PC.

Dedicated Secure Browser

Bitdefender offers a unique, dedicated browser for online banking called Safepay. Safepay is a separate desktop with a hardened browser built in. Process running in the Safepay desktop have no connection with the regular desktop. This feature can defeat any software keyloggers or other keystroke-stealing spyware, which is very useful for people who are paranoid about that sort of thing.

Vulnerability Scans

This feature runs in the background automatically and warns you about missing Windows security updates, missing security patches for popular apps and weak Windows account passwords. This is a very useful tool to have as it helps prevent your system from becoming vulnerability without you even realising it.
Bitdefender Antivirus Plus Pricing Plans
Bitdefender Antivirus Plus is the cheapest option available when it comes to payment plans. There are a number of options available. You can choose to protect 1, 3, 5, or 10 devices and you can also choose to have your protection spanning over 1, 2 or 3 years. The default plan is 3 devices protected for 1 year and comes in at $29.99. This plan come with features which protect against malware, spyware and adware as well as multi-layer ransomware protection.
In order to avail of the other services on offer from Bitdefender, an upgrade is required. The Bitdefender Internet Security is the next step up in plans and starts at $39.98 for 3 devices protected for a year. This plan adds features for parental controls and a privacy firewall. I think that for this price they should also enable support for other operating systems, such as Android and IOS, but if you want that feature you will again have to upgrade.
The final plan is the Bitdefender Total Security plan, which starts at $44.99 for 3 devices protected for a year. This plan includes features such as a device optimizer and protection for every operating system such as macOS, Android, IOS and not just Windows. Personally, I think this is quite expensive as only 3 devices are protected for a year at this price.
Conclusion
There is no doubt about it, Bitdefender Antivirus Plus is an excellent choice for an AV. It comes packed with features, many of which catch malware before it even gets on the system. Various tests have shown that it is especially effective against web-based threats, including phishing and malware-hosting sites.
For extra security, it even protects against ransomware which is one of the most feared threats faced by organisations and individuals nowadays. It uses behaviour analytics to monitor applications typical behaviour and steps in to prevent any malicious activity. It can even restore any files which were encrypted by ransomware, which offers huge peace of mind.
With the amount of security tools included in the bundle, Bitdefender Antivirus Plus could be considered a security suite. For the price of $29.99 you are really getting a top of the range Antivirus solution. I personally was a bit disappointed with the limit of only 3 devices, MacAffee and other AV usually allow 5. This makes it difficult to secure your families device with one account and forces your to upgrade to the hefty price of $69.99. I was also disappointed with the last of support for Android and IOS with this plan, as you have to upgrade to avail of this option.
Aside from these two small issues I found with the software, you can do much worse than choosing Bitdefender Antivirus Plus as your AV package for protection from even the most advanced threats.