Remote work and work from home already existed for some time now. However, when the world was hit by COVID 19, remote work and work from home skyrocketed. This is where Zoom became a regular name for businesses across the world.
However, even though Zoom has its fair share of benefits, it doesn't always offer the right set of features that your business might need. It can be anything from security protocols to features.
Zoom video conferencing can do a lot of things including one-on-one video calls, group conferences with up to 100 members, virtual events, and screen sharing, and so on. It even allows webinars with up to 1,000 participants, call recording, transcriptions, two-factor authentication and much more.
While all these may sound amazing, it doesn't necessarily mean that Zoom is the right option for you. If your business needs dictate that you settle for something else that can replace Zoom and become a valuable business asset for you, this list is for you.
So, read on to learn about the 15 best Zoom alternatives that you can work with in 2022.
If you are short on time and want to grab only the names of the options here on the list without going through the trouble of scrolling all the way down, here is the quick list:
GoToMeeting
Microsoft Teams
Cisco Webex
RingCentral
Zoho Meeting
8×8 Meet
Fuze Meetings
BlueJeans
Skype
Eyeson
Join.me
Jitsi Meet
Dialpad UberConference
Lifesize
Google Meet
For those of you who still want to continue and learn the details of each option mentioned on the list, let us begin.
#1. GoToMeeting
A web-based software for video conferencing, GoToMeeting enables users to host, manage, or join online meetings with a single click. It is without an iota of doubt the finest alternative to Zoom you can find on this list.
The basic plan allows for up to 150 participants. If you need to host more people, you can scale up to the Enterprise plan that allows 3000 members.
It is compatible with all platforms, including smartphones, Mac, and Windows PC, and it even throws in support for Polycom, Lifesize, and Cisco devices. Additionally, it is compatible with video conference room systems having H.323 enabled. GoToMeeting supports up to 25 camera streams at once.
It comes with several advanced features suitable for large-scale video meetings. A couple of them include Note Taking and Slide to PDF. Note Taking allows attendees to take live notes during the meeting. Those notes can later be shared with others. Slide to PDF allows presentation slide sharing with attendees.
Additionally, both attendees and meeting hosts may sketch right on their displays and share their keyboards and mouse to help colleagues understand concepts in a better way. Co-hosting features simplify the process of organizing large-scale meetings, and the active speaker function streamlines the process of hosting several panel speakers.
The platform even offers what is called the 'Commute Mode.' It will allow you to host meetings or participate in a meeting on the move, even if you are using low bandwidth.
GoToMeeting also has a 'Call Me' feature that will automatically call you right before a meeting is about to start. This feature serves as a reminder or a notification. GoToMeeting also allows joining a meeting using a phone call.
Important Features of GoToMeeting
Conference calling
Screen sharing
Mobile conferencing
Cloud-based recording
Video conferencing
Meeting transcription
Chat messaging
Unlimited meeting lengths
One-click access to meetings
Siri voice commands
Toll-free numbers available for dial-in and dial-out
Personal meeting rooms available
Offers SSL encryption
Drawing tools and virtual whiteboard
SAML SSO login available
Split screen feature available
Offers tight integrations with Google Workspace, Office 365, Slack and more
Offers add-on for conference room hardware
Pricing for GoToMeeting
GoToMeeting is a premium service that you can try for free for 14 days. If you like their and you are ready to upgrade, they have three plans to offer, which are:
Professional – It costs $12 a month.
Business – It costs $16 a month.
Enterprise – You will get a custom quotation.
#2. Microsoft Teams
Microsoft Teams, as the name suggests, comes from Microsoft. It is a tool designed for both team collaboration and web conferencing. Microsoft Teams is ideal for teams that primarily communicate internally through video conferencing services.
Apart from live meetings, users may work and collaborate on files and documents in real time. They can also seamlessly transition from text chats to video calls, and engage in audio calls either with groups or individuals. Everything happens from a clean and unified interface.
In a nutshell, it is the most realistic online representation of the in-office experience.
Live captioning, participant lists, and the ability to share meeting recordings allow the members of a team to keep up with the latest communications taking place in the office. They can stay updated regardless of whether they physically attended the video conference or not. Due to the fact that anybody may join a Teams meeting without establishing an account, Teams plays a role as an excellent platform for interacting with those belonging to the office network.
Furthermore, Microsoft Teams has partnered with Poly, Lenovo, Crestron, Yealink, HP, and Logitech to provide one-touch access to Team Room devices. Additionally, integration with the mobile app or Outlook enables users to plan meetings from anywhere they wish.
Microsoft Teams has been most successful in the education and healthcare sectors, but any remote workforce can harness its power. According to users, the greatest aspect of Teams is its sophisticated file sharing capability, but Microsoft needs to flatten the bumps in the alerts and notification segment as it sometimes fails to deliver certain notifications.
Important Features of Microsoft Teams
Custom backgrounds
One-click meetings
Scheduled meetings
Screen sharing
Chat messaging with search capabilities
Hosts online events for up to 10,000 people
Integrates with over 250 applications
Pricing for Microsoft Teams
Microsoft Teams has a free plan available. You do not have to pay for it. However, the capabilities are limited. Apart from that, there are three paid plans available that include:
Microsoft 365 Business Basic: It costs $5 per user per month.
Microsoft 365 Business Standard: It costs $12.50 per user per month.
Office 365 E3: It costs $20 per user per month.
The most expensive plan is the one that will allow hosting online video meetings for up to 10,000 attendees. All other plans (including the free one) will allow only 300 attendees.
#3. Cisco Webex
Webex by Cisco is designed to be a video conferencing tool that allows users to engage in video conferencing and meetings using HD quality. It also comes with an integrated messaging feature.
It also provides additional collaboration capabilities like file sharing, calling, screen sharing, AI transcriptions, whiteboarding, recording, etc. These features make Cisco Webex one of the strongest competitors of Zoom.
Moreover, Cisco Webex has numerous AI-based capabilities, too. For instance, you may now provide in-meeting responses using gifs or emojis, or even use hand gestures to give reactions. Artificial Intelligence also places essential communications right at the top while storing shared documents alongside the messages.
Another standout feature of Cisco Webex is its AI Meeting Assistant. Users configure for recognizing certain "trigger" phrases during a meeting. The Assistant then uses those phrases for automatically generating action items, notes, and summaries that can later be emailed to all meeting participants once the meeting comes to an end. The Assistant can be voice-activated and it has the capability of transcribing meetings in real time.
When WebEx is not used for video conferencing, it can be used by people for sending files and notes to team members, monitoring and updating work progress, and using the two-way whiteboard for better collaboration.
Important Features of Cisco Webex
Mobile screen sharing
Desktop screen sharing
Mobile apps for Android and iPhone
Unlimited chat messaging with features like polling, hand raising, etc.
Meeting recording with the ability to save the recording to local drive
People insights / attendee profile
End-to-end encryption
Breakout sessions
Password-protected rooms
Meeting locks
Note taking
Two-way whiteboard
4 layouts for video streams
Virtual backgrounds
Translation in 10 languages in real time
One-on-One telephone call within a meeting
Integrations with multiple apps like Microsoft Dynamics, Salesforce, Zendesk, etc.
Pricing for Cisco Webex
They have a free plan that doesn't cost anything. Apart from that, they have three paid plans that include:
Starter – It costs $13.50 per host per month.
Business – It costs $26.95 per host per month.
Enterprise – Offers a bespoke pricing plan.
#4. RingCentral
Designed for collaboration and communications, the RingCentral platform enables you to conduct online meetings with a maximum of 500 participants at the same time. Without installing the app, you may attend meetings straight from your web browser.
Additionally, it enables seamless transitions between video and audio calls and device swaps throughout the conference. There won't be any disruptions during such swaps
It merges basic business phone systems, chat messaging, video meetings in a single platform, making it one of the effective communications tools available for businesses. With features such as real time file editing and sharing, whiteboarding, and application and desktop screen sharing, it is a powerful tool that remote workers can utilize on a daily basis for close collaborations.
RingCentral comes with the breakout room function enabling administrators to split big meetings into many smaller user groups, ensuring that they can brainstorm, collaborate, or debate a preset subject in a more personal environment. These groupings may be randomly allocated or pre-assigned. Smaller teams can later rejoin the primary meeting and exchange their thoughts, enabling a more robust cross-departmental dialogue.
There is a dial-in access feature allowing people to quickly get into any pre-scheduled conference. The same can be accomplished using a call, clicking on an invitation link, or using the iOS and Android mobile apps. Any email message or chat can be converted into a video call using a single click.
Important Features of RingCentral
Unlimited SMS
Unlimited calling in both Canada and USA
Meeting duration of 24 hours
Task assignment in real time
Background noise suppression
Single Sign-On
Meeting analytics – both real-time and historical
Meeting recording and storage on the cloud for a period of 365 days
Switching devices during meetings
Private and public chat app with message threads
Search feature for text chat
File sharing with drag-and-drop feature
HIPPA compliant
99.999% uptime SLA
Tight integration with third-party tools such as Google Workspace, Google Drive, Dropbox, Outlook, Slack, Zendesk, Salesforce, and more
Maximum 50 breakout rooms
Whiteboard and annotation support
Built-in webinar tool supporting 10,000 attendees and 500 global moderators
Pricing for RingCentral
There are four paid plans available and all the prices you see will support up to 20 users. For more users, the pricing changes. The plans available are:
Essentials: It costs $19.99 a month per user.
Standard: It costs $24.99 a month per user.
Premium: It costs $34.99 a month per user.
Ultimate: It costs $49.99 a month per user.
#5. Zoho Meeting
Another notable Zoom competitor on our list is Zoho Meeting, which enables you to conduct broadcast demonstrations, online meetings, and webinars. There is no need to install any software for launching a meeting or joining one .
While hosting meetings requires an iOS app, users are free to attend meetings via both iOS and Android apps. The company also throws in extensions for both Chrome and Firefox browsers .
Additionally, it enables you to record sessions in the cloud. You can later download them, or if you wish, you can share them through a short link. Additionally, you may dial-in by phone using one of their 55 toll-free numbers distributed across multiple countries, or you can use one of the 100+ local numbers.
Further, Zoho Meeting has a 'Lock Meeting' function that enables you to conduct private discussions and manage participants' access. This allows you to prevent a person from accessing a meeting even if that person has an attendee link at his or her disposal .
Plus, this tool enables you to promote an attendee to a presenter status or designate a co-organizer at any point when the meeting is in progress. Co-branding webinars and meetings is also possible by including your brand's logo or name on email invites and reminders.
Additionally, the option to build customized add custom fields, registration forms, and the ability to embed those forms on any web page aids in lead generation. Security-wise, communication is protected using SSL/128-bit AES encryption.
Important Features of Zoho Meeting
Meetings do not have any time limit
Online meetings with screen sharing, video, and audio
Automatic scheduling and syncing of meetings using Zoho calendar or Google calendar
Engagement-boosting features like Q&A, polling, etc., allowed during video meetings and webinars
Moderators can remove attendees, mute attendees, or switch presenters
Attendees are allowed to talk between sessions
Moderating messages is allowed
Allows embedding meeting links
RSVP support
Allows sending email reminders
Allows in-session chats
Pricing for Zoho Meeting
Zoho Meeting has four pricing plans and they are:
Meeting-10: It allows up to 10 attendees and costs $2.5 a month.
Meeting-25: It allows up to 25 attendees and costs $5.0 a month.
Meeting-60: It allows up to 60 attendees and costs $7.5 a month.
Meeting-100: It allows up to 100 attendees and costs $10 a month.
They also have a free plan where you host online meetings and webinars with limited features. There is a 14-day free trial available for the paid versions.
#6. 8×8 Meet
On mobile and desktop devices, 8×8 Meet provides limitless meetings. Those meetings can have up to 100 attendees.
Private meeting rooms with dedicated links are allowed for congruous conferences. People are allowed to join temporary meeting rooms using email invitations, or by using a phone call, or by using the Meet Now feature that offers one-click joining. The company offers 11 toll-free numbers that can be used by people. People from over 50 countries can dial into meetings.
Browser support is available, which means that attendees can join a meeting directly from a web browser without the need for downloading and installing any application. 8×8 integrates with both Google Workspace and Outlook, thereby enabling easy planning of future meetings..
Cloud recording and transcribing capabilities enable the easy distribution of meeting recordings in HD quality to individuals who were unable to attend the live meeting. Additionally, users may trademark and personalize their meeting rooms and backdrops, further simulating the face-to-face experience.
Important Features of 8×8 Meet
Allows team chat messaging
Allows file sharing
Allows screen sharing
Offer real-time subtitles for audio
Allows live streaming of meeting on social media platforms
They offer a whiteboard feature
It allows remote desktop control
There is a Chrome extension available
Offers detailed meeting analytics
It integrates nicely with several third-party apps
Pricing for 8×8 Meet
They have three paid plans available, which are:
8×8 Express: It costs $12 per user per month and offers only small business phone system.
X2: It costs $24 per user per month and offers chat, voice, and video.
X4: It costs $44 per user per month and offers detailed analytics for supervisors and administrators.
Note that all the prices are applicable only when you go for an annual billing cycle. For monthly pricing, the prices increase.
#7. Fuze Meetings
Designed to be a cloud-based video collaboration tool, Fuze Meetings can support up to 1,000 people from across the world.
Fuze Meetings, which is available on mobile and desktop devices, provides worldwide dial-in access. The tool optimizes audio and video quality depending on the location of the attendees. One distinctive feature is the option to choose between several meeting formats, such as company-wide town halls, one-on-one meetings, check-ins, small team meetings, and training sessions.
This way, participants will have a clear understanding of what to anticipate from the meeting before they join in.
File sharing as well as editing from Dropbox or Box, whiteboarding, meeting notes, and integrations with third-party apps are all possible with Fuze Meetings.
Customization is one of the several features that Fuze customers appreciate the most. It includes a range of meeting kinds and add-ons, as well as the ability for customers to mix and match specific features across different subscriptions.
Important Features of Fuze Meetings
Call recordings available
Salesforce integration available
Allows integration with calendars
Allows recording meetings
Application sharing is allowed
Desktop sharing is allowed
Allows outbound audio calls
Apps available for both Android and iOS devices
Allows one-on-one messaging and team messaging
Whiteboard feature available
Usage data analytics available
Accessible via browser
Pricing for Fuze Meetings
Fuze Meetings offers five different pricing plans to choose from. They include:
Fuze Meetings: Costs $15 per user per month
Fuze Calling: Costs $25 per user per month
Fuze Pro: Costs $35 per user per month
Fuze International: Costs $45 per user per month
Fuze Unlimited Global: Costs $65 per user per month
#8. BlueJeans
This video conferencing application enables you to host online meetings and virtual events in high-definition video quality. Additionally, you may organize live interactive events, town hall meetings, and webcasts without worrying about the audience size.
The technology supports up to 50,000 participants (view-only) with 150 presenters. Those participating in the meeting may use their browser interface without the need for downloading and installing any program.
BlueJeans comes with what they call Smart Meetings feature. This feature enables users to categorize business-critical events, emphasize event highlights, and assign team tasks. Collaboration tools such as whiteboarding, file sharing, and annotations are available for all participants.
Additionally, Q&A, moderator controls, polls, hand-raising, and event discussion, features are available to make the meetings more interactive and engaging.
BlueJean's Command Center empowers you to take complete control using user-focused ROI, real-time actionable insights, and meeting performance. It enables monitoring and addressing problems before they escalate to a more serious level.
You may live-stream everything on Workplace by Facebook or Facebook and even record the events on the cloud. Additionally, BlueJeans comes with advanced security measures that assist you in fraud prevention, identity management, and maintenance of confidentiality of your meetings.
Plus, you can start meetings straight from other corporate applications such as Microsoft Teams, Google Calendar, Office 365, Trello, or Slack. Bluejeans also supports top meeting hardware devices from brands like Lifesize, Poly, Cisco, etc.
Important Features of BlueJeans
Allows unlimited meeting lengths
Allows recording meetings
Gallery view and active speaker view available
Scheduled meetings
One-click meetings
Mobile apps with safe driving mode
Dolby audio
Offers personal meeting ID
Screen sharing capability
Pricing for BlueJeans
There are three pricing plans available for BlueJeans and they are:
BlueJeans Standard: $9.99 per month per host.
BlueJeans Pro: $13.99 per month per host.
BlueJeans Enterprise: Bespoke pricing depending on your needs.
#9. Skype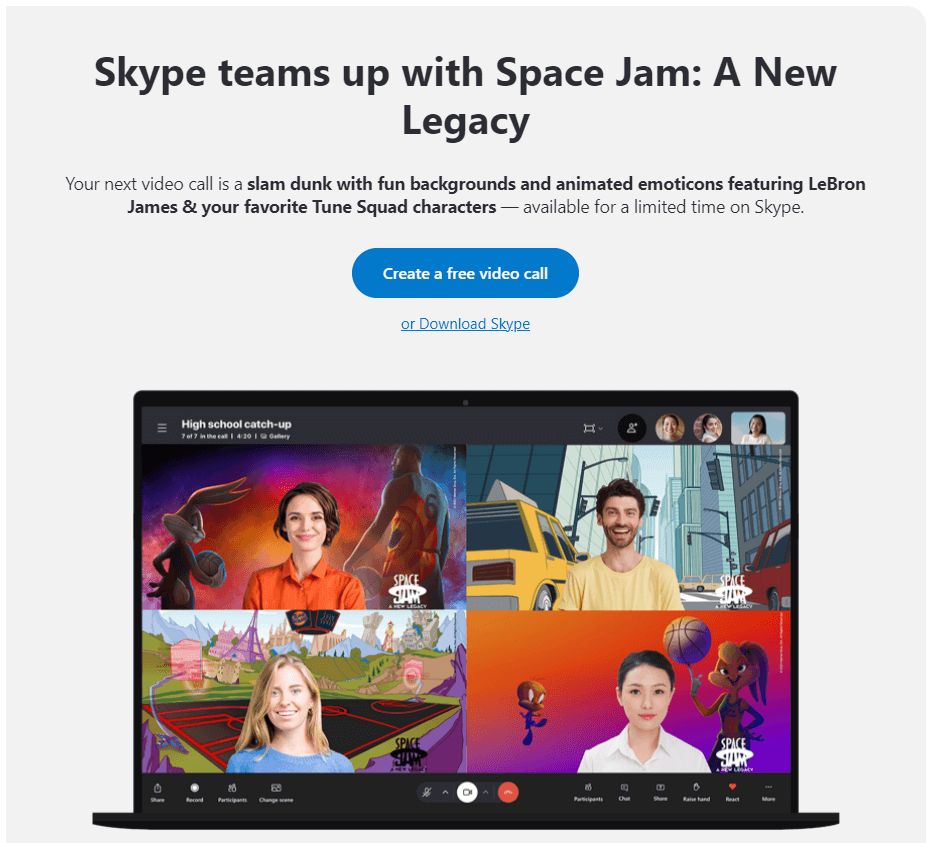 Skype has a lengthy history in the field of video calling and conferencing services. It is a prominent Zoom replacement that enables you to make free video conversations and host people from all around the globe.
The "Meet Now" feature of Skype allows organizing conference meetings in high definition for a maximum of 100 people from your smartphone, tablet, or computer. And you may do it without downloading any software – just generate a meeting link and share it with your audience. It will work on any browser.
Additionally, Skype enables recording both audio and video calls. You can even share your entire screen with all attendees. Skype even allows sharing audio, video, and PowerPoint presentations with your whole team in full screen mode.
Additionally, it enables you to disclose your present position with each video conference participant. Additionally, it has a file sharing feature with a drag-and-drop interface that enables you to share documents, presentations, audio, and video files. However, there is a file limit size. Files cannot exceed 300 MB.
To conceal your current backdrop, you may either blurr or alter it before initiating the call. Additionally, while you are unavailable, Skype redirects your calls either to a voicemail or to a different number.
Skype also enables you to make charges-based calls to mobile phones and landlines. Additionally, you may get a Skype number from some other area or nation to accept calls just as you would with a normal phone. Additionally, it enables text messaging (SMS) at any time and from any location.
Important Features of Skype
It offers tight integration with Outlook
It even offers live subtitles
You can indicate that you want to speak by using the hand-raising feature
It offers end-to-end encryption
Allows in-conversation searches
Can translate video calls, audio calls, and instant messages in real time
Allows mentioning people with @ and even allows reacting with funny emojis, emoticons, stickers, and gifs
Pricing for Skype
Skype is free, but if you want to use calling and landline services, pricing starts at $2.99 a month.
#10. Eyeson
Eyeson is a web-based video collaboration application that enables you to hold video meetings straight from the browser of your choice. It complies with GDPR and enables you to invite participants via a link. Anyone with the link can join the meeting from a browser without downloading and installing any application.
You may simply distribute the link through email, WhatsApp, or any other method of communication. Additionally, you may start the meeting at any moment using Eyeson's mobile app available for both iOS and Android devices.
Eyeson maintains the bandwidth at 1.5 Mbit/sec always to guarantee consistent quality regardless of the connection speed. You have the choice of saving your bandwidth hosting the conference in Eco Mode, which disables video and enables you to hear the conversation well with brilliant audio quality
Additionally, it enables you to establish an infinite number of conference rooms for various gatherings and accommodate up to 25 attendees each call. Additionally, the multi-speaker arrangement enables you to view up to nine participants inside a single video feed.
Eyeson allows screen sharing, media files sharing, and PDF sharing. It tightly integrates with third-party applications like Slack, Freshdesk, Jira, Trello, YouTube, Zendesk, Talkdesk, etc., thereby allowing you to streamline your tasks.
Important Features of Eyeson
It allows session recording and downloading the recorded sessions
It allows file sharing and screen sharing
It allows taking snapshots while in the middle of a video call and use them for future reference
It can send reminders and push notifications before the meeting starts
It allows live streaming on YouTube and Facebook
It allows inserting gifs from GIPHY library during chats – either group or one-on-one
Pricing for Eyeson
Eyeson has two pricing plans, which are:
Basic: It costs $9 per month per host.
Corporate: This one comes with bespoke pricing depending on your needs.
#11. Join.me
Join.me is a platform designed for video communications. LogMeIn owns this platform. Join.me's unique interface makes it stand out, because instead of giving the traditional gallery view, it gives a "floating bubbles" view for showing user video feed.
Join.me's features are pretty basic, but it is still a great tool because of its powerful integrations with many third-party tools. These integrations are what makes Join.me a powerful tool in the hands of teams that have their own communication tools, but are looking for a solution that will enable video chatting and meeting capabilities.
It supports up to 250 concurrent users, offers both link-click and dial-in access for meetings. Of course, there are certain collaboration features that include a whiteboard tool, file sharing, etc.
Join.me has several audio call features like conference numbers for the USA and more than 50 other countries. It also has toll-free numbers that users can use for joining meetings. It even allows controlling audio calls with various actions like individual mute, roll call, active speaker, etc. It allows audio conferences over VoIP without attracting additional costs.
Important Features of Join.me
Offers mobile apps for both Android and iOS devices
Whiteboard function available for desktop app and iOS
Allows controlling the keyboard and mouse of any team member
Offers one-click scheduling
Allows screen sharing
Integrates with Microsoft and Google calendars to allow meeting scheduling and syncing
Has browser support, but only for Google Chrome users
It offers chat options
There is a meeting lock function available
Pricing for Join.me
There are three pricing plans available that include:
Lite: This plan costs $10 a month and allows up to 5 participants.
Pro: This plan costs $20 a month and allows up to 250 participants in a single meeting.
Business: This plan costs $30 a month and allows up to 250 participants in a single meeting.
#12. Jitsi Meet
Jitsi Meet is an open-source software designed for video conferencing. It offers high definition video streaming and transmission with end-to-end encryption. Jitsi Meet's free meeting access allows participating in a meeting with 50 attendees. You can invite people to participate in a meeting by either calling them on their phones or by sharing a link with them. People participating in the meeting do not need to create accounts .
Jitsi Meet can integrate tightly with Microsoft, Apple, and Google calendars and allow starting a meeting directly from the calendar with just one click. Additionally, its sophisticated analytics and moderation capabilities help to track the effectiveness of virtual conferences you are hosting.
Jitsi as a Service enables building a unique video experience for your mobile and online applications. Additionally, it is compatible with a wide variety of platforms, including Web, Windows, macOS, iOS, Linux, and Android.
Important Features of Jitsi Meet
Offers control access to meeting rooms
Allows sending text messages while meetings are on
Allows screen sharing
Has features for recording and transcribing meetings
Allows lives streaming of meetings on YouTube
Supports real-time closed captions
Integrates with various third-party apps including Slack, Google, and Microsoft
Allows remote desktop control of all participants in the meeting
Pricing for Jitsi Meet
Jitsi Meet is an open-source program. You do not need to pay a dime for using the platform.
#13. Dialpad UberConference
Dialpad's UberConference is a video conferencing application that supports up to 100 attendees. You don't need to download and install anything.
Dialpad is a well-known corporate contact center communications and VoIP phone platform. Dialpad introduced UberConference that you can use as a stand-alone video conferencing tool, or you can use it as an additional video communication channel in conjunction with the current Dialpad UC account you hold.
PIN-free conference calls are supported by Dialpad UberConference, which means that meetings may be open to the public. However, there is also a password-protected version available in case you need it. UberConference offers sophisticated statistics on participant count, user engagement, meeting length, and screen sharing.
The greatest feature of Dialpad UberConference is undeniably the Voice Intelligence function. This function can automatically transcribe sessions and does automated jobs while a live conference is in progress. UberConference has the ability of generating an itemized list of items on which actions can or should be taken. It does that based on words and phrases it captures during an ongoing video conference.
Since it allows only a limited number of meeting attendees and restricts the video call durations to only 5 hours, it is unlikely to be suitable for bigger businesses. Also, it is not suitable for companies that use web conferencing for delivering long training sessions. It is good for startups and small businesses with fewer employees, and considering the limited duration, it is best used for brainstorming sessions and short discussions.
Important Features of Dialpad UberConference
It offers screen sharing
It has support for call recording
Allows toll-free conference calls
Offers international dial-in access
Support high definition video
Has provisions for audio-only access
Allows setting bespoke hold music
Offers post-call snapshots
Integrates tightly with various third-party applications like Google Calendar, Outlook, HubSpot, Slack, Salesforce, and more
Pricing for Dialpad UberConference
There is a free plan that supports up to 15 participants in a single meeting. There is only one paid plan for UberConference and it is called the Business Plan. It costs $15 a month per user when paid annually. This paid plan will allow up to 100 participants per meeting.
#14. Lifesize
Lifesize's video conferencing solution is a cloud-based enterprise-grade video conferencing platform with screen sharing in 4K high-definition.
You absolutely do not need to download and install anything to use Lifesize. You don't even need to create an account for participating in a video conference. It allows up to 10,000 people to watch a video conference from any device of their choice.
Lifesize has tight integrations with third-party applications such as Microsoft Teams, Slack, and Alexa for Business from Amazon, and so on. The platform allows meeting scheduling directly from your Google calendar or from Outlook . It even has provisions for allowing people to attend meetings with one-click.
Additionally, it offers a great free plan that enables meetings of up to ten people to last an infinite length of time.
Lifesize is a great match for big businesses who regularly conduct webinars or have a significant number of conference participants, owing to its guest capacity. Due to its compatibility with the majority of video equipment, it will also function well for businesses that have separate conference or meeting rooms dedicated to online meetings and video broadcasting.
For smaller companies it won't be cost effective to opt for all of Lifesize's features, which when put together, increase the cost of the service significantly.
Important Features of Lifesize
It supports chat messaging
It allows personal meeting IDs
It supports and allows unlimited audio conferencing
It allows unlimited recordings for meetings
It allows branding meeting backgrounds and dashboards
It throws in a whiteboard tool
There are mobile apps available for both Android and iOS platforms
Pricing of Lifesize
Lifesize has four plans, one of which is a free plan. The free plan will allow only 10 participants. The other three paid plans include:
Standard: It costs $12.50 per month per host.
Plus: It costs $14.95 per month per host.
Enterprise: It will attract bespoke pricing depending on your needs.
#15. Google Meet
Google Meet is an upgraded version of Google Hangouts. It is a simple-to-use video conferencing service for companies that need simple video communication on an as-needed basis.
Users may immediately start a meeting or a conference by clicking the "New Meeting" link displayed on the Google Meet site. It even allows creating a future meeting in Google Calendar and generating a meeting link that can be easily distributed among people. Additionally, users may input an existing link or code for joining a meeting that is already progressing or is planned to start shortly.
Though it is mainly utilized on desktops, it can also be used on mobile devices. Both Android and iOS platforms are supported. Users must have a Google account to start or join a meeting. Creating an account with Google doesn't cost anything!
Google Meet's greatest features, according to users, are the comfortable Google interface and a wide range of security features such as protection from data loss, searchable data, and live warnings for questionable behavior. While the fundamental functionalities are excellent for startups, the absence of integrations and advanced features makes it unsuitable for medium and large enterprises.
Important Features of Google Meet
It offers whiteboard tools
It has support for noise cancellation
It offers Outlook integrations
It allows setting custom background images
It has a pass presenter tool
It allows screen sharing
It allows chat messaging in video meetings
It has support for live closed captioning
It even has live polling and Q&A features for increased interaction
Allows sharing files through Google Drive
It has support for two-step authentication
It has support for breakout rooms
Pricing for Google Meet
Google Meet is free for up to 100 meeting attendees. The maximum duration of the meetings is limited to 60 minutes in the free version.
There are two paid plans available, and they are:
Google Workspace Essentials that costs $8 per user per month.
Google Workspace Enterprise that attracts bespoke pricing.
Note that the paid plans will allow no more than 250 attendees and meeting lengths not exceeding 300 hours. Also, breakout rooms are available only with paid plans.
Conclusion
The list above is our choice of the best Zoom alternatives for 2022. It is not that the options mentioned in the list are the only options available in the market. There are other platforms available too.
However, we have settled for the aforementioned options after testing them thoroughly. In the wake of COVID 19 pandemic and its aftermath, the world has understood the importance of video conferencing tools.
If you are looking for the best option from the list, we strongly recommend going for GoToMeeting, Microsoft Teams, Cisco Webex, RingCentral, and Zoho Meeting. They are among the finest options you will find today that can easily replace Zoom.
We will recommend that you evaluate your needs properly before settling for a platform. This will ensure that you don't have to start looking for another option all over again. At the same time, selecting the right one based on your needs will allow you to avoid a costly mistake.