As a webmaster, one of the things that you need to focus on is the security of your website. Unfortunately, most people often overlook standard practices for keeping their websites secure. Websites are hacked around the world every day. Some are hacked for fun, while others are hacked for specific purposes, like stealing information, or to damage the reputation of a company.
According to Security Magazine, an attack is launched every 39 seconds on average across the web. Hackers have a significantly higher chance of stealing non-secure passwords and usernames from webmasters. On top of that, Thycotic.com reports that 73% of black hat hackers think that the traditional antivirus security or firewalls deployed by website owners are obsolete, and can be bypassed easily.
Here's another one: 43% of all cyber attacks target small businesses, whereas 64% of companies around the globe have experienced web-based attacks. The reason why these stats need to be presented is so that you can appreciate the importance of shoring up your website's security.
The Importance of Web Security Solutions
Many entrepreneurs and e-commerce store owners are under the impression that their website can't be hacked. "Why would anyone want to hack my website?" is an all too common answer across the industry. But you need to understand that most hackers don't need a reason. They will hack your website for one reason: because it's there.
If you are too complacent when it comes to website security, you are making a big mistake. Don't think that only larger corporations are targeted by hackers; it's actually much easier for a hacker to steal information or install ransomware on a server owned and operated by a small business. They know that the company's future depends on it, so they are able to demand a high ransom as well.
Cyber security is more than just using strong usernames and passwords. It focuses on the protection of your computer systems, your hardware, and your software, as well as your electronic data, from malicious programs and hackers. You need to understand that cyber criminals don't really have specific websites in mind when they plan to attack.
Instead, they just use programs to identify websites with glaring vulnerabilities and exploit those to enter your network. This creates the perfect point of entry from which they are able to launch their attack. There are several things that you need to secure your website. Let's talk about a few of them.
SSL Certificate
The SSL Certificate protects all of the data that is collected by your website, and when it is transferred from your website to the server. This is the first step that you need to take, and despite the fact that it seems quite basic, it's necessary. Most search engines will label your website "insecure" if you don't have a SSL certificate.
Application Firewall
The Web Application Firewall will bolster your website's security by shielding it from automatic attacks designed to target websites that aren't as popular. Usually, bots looking for vulnerabilities launch such attacks. If successful, they can bring down a website, or result in a DDoS attack. You definitely don't want that.
Software Updates
If you are using a content management system (CMS), you need to make sure that you update it on a regular basis. Vulnerabilities and security issues are regularly patched by companies, and when a significant security update is released, you need to take notice. Updating all third-party plugins to your website is also important, and could make a significant difference to your website security.
Website Scanner
Instead of being made aware of threats by other hackers looking to exploit vulnerabilities, you might want to use a website scanner to identify and plug holes in your network. Sophisticated website scanners are not just able to detect vulnerabilities but can also identify malware and various types of security problems. They are usually built in most website security software solutions.
Millions of websites run WordPress, which is the most popular CMS in the world. In fact, almost 31% of all websites use it. Importantly, most WordPress website owners aren't really experienced programmers, so they often have to look for third-party security plugins, and there are quite a few.
One of the best things that you can do is to make use of a security plugin on your WordPress website. Website security software can give you much-needed peace of mind and help you keep your website secure. But, if you run a cursory search online, you will find that there are quite a few website software security solutions out there.
So, how do you pick the right one? Well, it can be a bit daunting for webmasters to compare each and every software program and weigh the pros and cons, so we have gone ahead and done it for you. If you are looking to invest in a suitable website security software solution, here are the top 5 that you can choose from.
Sucuri's homepage.
The first one on our list is Sucuri. It is one of the top website security companies in the world, and the Sucuri software suite is an excellent choice for people who want to secure their WordPress websites. Sucuri gives you an incredibly powerful WordPress plugin that you can install on your site, and it's going to work around the clock to protect it from hacks or malware attacks.
Sucuri deploys multiple layers to protect your website against threats. Sucuri was founded by Daniel B. Cid in 2010, and was eventually acquired by GoDaddy in 2017. It was founded in Brazil, and the company has since grown to become one of the leading security companies in the world, and for good reason. Fun fact: the name was coined by Danie's grandfather, and translates to "anaconda" in Brazilian Portuguese.
Why Choose the Sucuri WordPress Plugin?
There are plenty of reasons why Sucuri is at the top of this list. Here are some of the best reasons why Sucuri should be your top pick when it comes to boosting website security.
Support for Multiple Website Platforms
One of the main reasons why Sucuri is so popular is because its security services aren't just limited to WordPress. They also provide security plugins for websites using other content management systems like Joomla or Drupal. Even websites built on HTML, PHP, or .NET can be secured with Sucuri.
Top-notch Monitoring Services
The sitecheck scanner provided by Sucuri is one of the best in the industry right now. It automatically runs scans on your website to ensure that it's free from malware, link injections, or any suspicious redirects. You have the option of adjusting the frequency of the scanner. It also looks for WHOIS changes, DNS alterations, or any kind of content alterations in the website's core files.
On top of that, the scanner also checks if your websites are blacklisted or not by several blacklists, including Google, Yandex, PhishTank, and their own. You can also connect their Sucuri Firewall to the plugin through the WAF option, which offers greater protection.
Server Scanning
The dashboard provided by Sucuri also allows you to monitor all essential activities on your web server. It also checks your web server frequently to ensure there aren't any suspicious files. If there have been any changes to the files on the server, they will show up in the logs in the scans. This helps ensure that you are fully aware of what's happening on your server.
Excellent Support
Sucuri makes a bold claim stating that on average, their support staff takes less than 4 hours to answer a query. However, the response time is much shorter: usually an hour. There's also a streamlined ticketing system that you can use from your dashboard to keep track of any requests that you have initiated.
Cleanup
Their team won't just scan for malware on your website: they will clean it up for you. If you want, you can also purchase a subscription even if your website has been already hacked, and they'll clean it up for you. Not only that, but Sucuri can also help you with removing your website from Google's blacklist.
Pricing
Now, let's talk about the pricing. Sucuri offers four packages to its clients: Basic, Pro, Business, and the last one is custom-tailored for enterprise solutions.
The Basic package retails for $199.99 per year, and scans your website for malware and hacks every 12 hours. It doesn't include support for SSL certificates, or their service-level agreement for malware removal. Even the Pro package doesn't include this feature, despite the fact that it retails for $299.99 per year.
Finally, you have the Business package, which is a whopping $499.99 per year, and designed for web agencies or e-commerce store owners who are generating significant sales. For custom packages, you have to get in touch with their support. Here's their pricing chart for a better overview:
SiteLock homepage.
SiteLock comes a close second on this list. SiteLock is actually sold by a number of different hosts due to their licensing agreements. Hostgator, for instance, sells it, and it seems that the company has partnered with almost all the EIG owned companies that offer web hosting services.
SiteLock has won plenty of awards, and is run by Damon Fieldgate, who is also the board advisor to Convesio. The company was founded by Neill Feather and Scott Lovell in 2008, and was originally called TrueShield. For three years, the two kept the start-up a secret, as they were both working full-time jobs. Since its inception, the company has grown leaps and bounds, and now employs more than 170 members.
SiteLock also scans more than 6 million websites a day. It's based in Scottsdale, and has more than a million WordPress customers, so it's definitely one of the top website security tools out there.
Why Choose SiteLock?
SiteLock comes with an array of excellent features that make it an excellent choice for webmasters. Let's break down some of the best features of SiteLock.
SMART
SMART, as the company calls it, or the Secure Malware Alert and Removal Tool, is an in-depth site scanner patented by SiteLock, that searches for, and automatically removes malware from your website. It makes calls to the web server, and then replicates the files on their own servers to scan the contents and identify any vulnerabilities and fix them.
To use the tool, your FTP information and the port number must be added in the SiteLock panel, since it uses the FTP protocol.
Virtual Private Network
SiteLock also offers a VPN service to its clients as well. If you are worried about website tracking and want to stay anonymous, the high-speed VPN from SiteLock is a pretty good choice. It's received rave reviews, and is also available as a standalone service.
Business Verification
SiteLock also offers a business verification service, where it identifies the physical presence and the phone details of a company. You can add your phone number in the SiteLock panel, and you will receive an automated call for verification purposes. A postal verification is also made on the provided address, which can be used to provide peace of mind to your users.
Reputation Monitoring
SiteLock also offers reputation monitoring services, where they check for your website in search engine blacklists, spam blacklists, as well as SSL verification. They check the certification authority, the strength of the encryption, the expiry date, and the validity.
Pricing
SiteLock offers four distinct packages to its clientele, including the SecureAlert, the SecureStarter, SecureSpeed, and custom solutions. Their VPN packages start from $9.99 per month. SiteLock's pricing starts from $149.99 per year, and can go all the way up to $499.99 per year for their most expensive package. Custom Solutions must be discussed with their support team. Here's a brief overview of their pricing: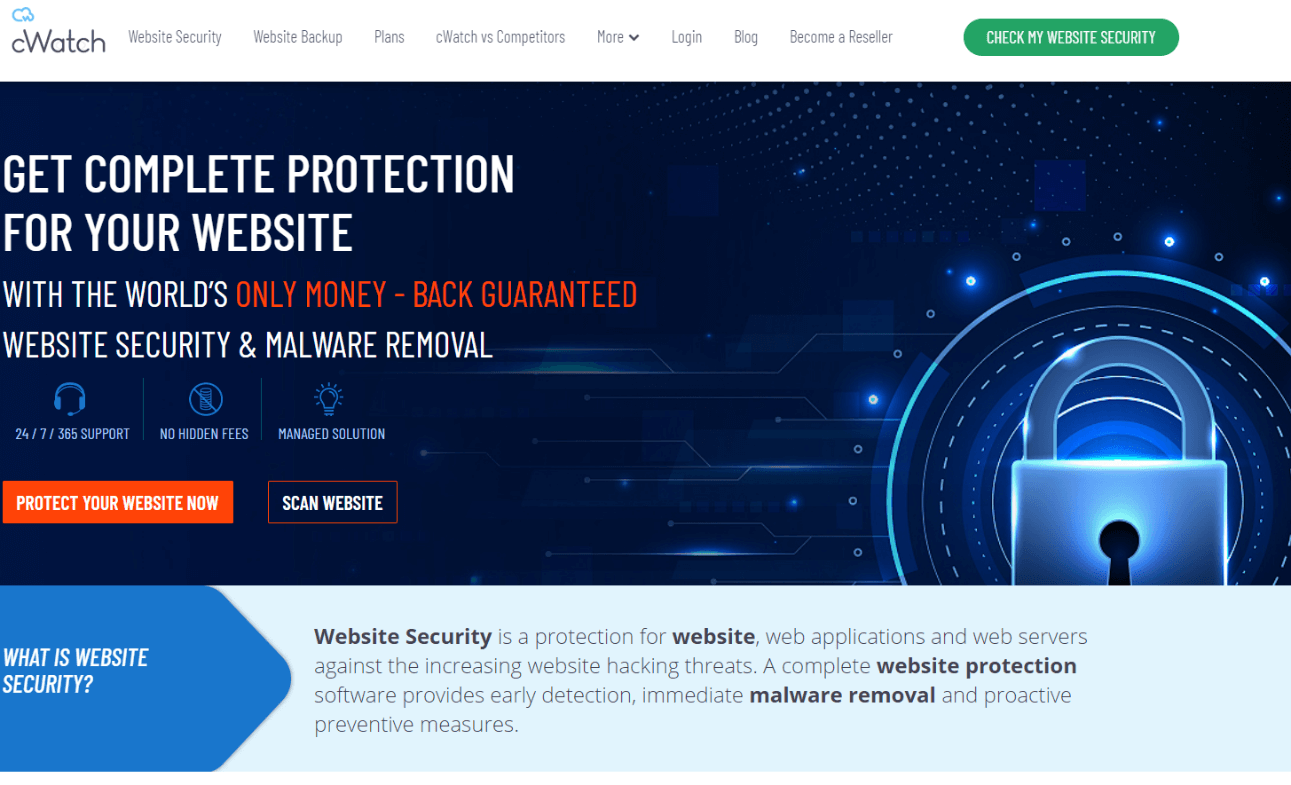 cWatch homepage.
cWatch is owned by Comodo, a company that was founded in 2001. They launched InstantSSL in 2002, and continued focusing on the web security industry, releasing a slew of products over the years. In 2013, they were ranked #1 by Matousec for the entire year. Needless to say, these guys know a thing or two about website security.
Comodo also offers a wide range of other products that are focused on network security, including endpoint security solutions, antispam gateways, and malware removal tools. In fact, there's also a chart on their website, pitting cWatch against SiteLock and Sucuri.
Why Choose cWatch?
cWatch is quite popular amongst WordPress users, and you will find thousands of reviews online singing praises of their security stack. But, why should you go for it? Well, there are quite a few features in cWatch that you are going to like, so let's break them down.
The cWatch Security Stack
First, let's talk about their security stack. The company breaks it down into six layers, as shown below:
cWatch Security Stack
This is a part of their web security platform, and boosts security of web apps by deploying a WAF. The stack is specially designed for applications and business websites in mind, and is available both as a paid and a free version. They also make use of a Security Information & Event Management network that receives data from more than 85 million endpoints.
Automated Backups
Backups are essential for website owners, and cWatch runs them regularly. You need to enter your SFTP or FTP details, and the security tool will make regular backups of your site. On top of that, it's also capable of restoring backups in a single click. All of the files are encrypted when stored.
Site Security Check
Their site security check involves a series of checks for cross-side scripting, outdated security configurations, injection mistakes, checking for authorization failure, and of course, looking for sensitive data that might have been exposed.
Instant Malware Removal
cWatch offers phenomenal support that promises instant malware removal. In fact, they offer free malware removal and then give you a choice to subscribe to one of their paid plans. It's a fantastic way of attracting new clients, and works like a charm.
Pricing
cWatch offers two plans to its clients: Pro and Premium. Both are competitively priced, and are an absolute steal when you consider the sheer number of features that it offers. The Pro plan starts at $7.92 per month, whereas the Premium costs $19.92 per month. Here's a brief overview:
cWatch pricing.
WordFence has more than 3 million active installs, and is widely regarded as one of the best security plugins for WordPress websites. It is capable of fighting malware, security threats, and spam attacks in real time on your site. WordFence is the flagship offering from Defiant Inc., a company incorporated in Delaware.
Defiant includes a team of more than 35 security professionals, and is a 100% remote working organization. Most of their team is based in the United States, though there are members spread across the globe. Needless to say, WordFence is quite popular, and has been featured in many prominent conferences, including WordCamp.
Why Choose the WordFence Security Plugin?
WordFence is the most popular security plugin for WordPress, and for numerous reasons. It comes with an endpoint firewall as well as a powerful malware scanning tool. But, that's not all. There are quite a few features here to like.
WordFence Malware Scanner
The scanner is capable of checking your website's files for any type of malware or URLs, and also monitors your server and various other tasks. It compares your files with those found in the WP repository, and if an infection is found, it restores them to the original repository version.
WordFence Firewall
WordFence offers an endpoint firewall, which offers protection against WordPress specific threats as well as common attacks. It also prevents against leaking of data, and protects against brute force attacks as well as letting the user set their own blocking rules.
WordFence Central
The WordFence Central is their dashboard, which is incredibly intuitive and user-friendly. It allows you to manage the security for multiple sites from a seamlessly designed interface. There are also quite a few templates to choose from.
Pricing
You can either use their free tool, or purchase WordFence Premium, which costs $99 per year. But, you can save money if you buy more licenses. Here's a handy chart that's available on their website to let you know how much you can save:
WordFence pricing.
Reviews on OneHourSiteFix's homepage.
OneHourSiteFix is a protection and malware removal tool offered by SharkGate Limited. The company's located in London, England, and has quite a few positive reviews. But, unlike the other tools mentioned on this website, this one works a bit differently. For starters, it's a service, and not a tool. If you have malware on your site, these guys will fix it for you.
Why Choose OneHourSiteFix?
Ideally, you would want to choose this company's services if your website has been hacked, because, as the name suggests, they can fix it for you in one hour. Here are a few reasons why you might want to use their services.
Free Virus Scan
One of the main reasons why so many people use their services is because they offer a free virus scan. If you want to know whether your website was hacked, you can do so. They have a team of security experts who will go through your site.
Instant Malware Removal
For people who start panicking once their website gets infected, this is an excellent fix. They will fix your website and bring it back online in 1 hour. They can also repair hacked websites and ensure that future attacks can be prevented.
SharkGate Web Security
If you subscribe to their monthly offering, they will secure your website with SharkGate's cloud-based firewall. This is exclusive to OneHourSiteFix, and also gives you a real-time view of your website's protection.
Pricing
OneHourSiteFix offers pretty basic pricing. The security scan is completely free, but if you want their monthly subscription package, you have to pay $14.95 per month. If you want a one-time fix for your website, it's going to cost you $250. If you pay yearly, you get 50% off your subscription, so for people who want to stick with OneHourSiteFix, this obviously makes more sense. Here's their pricing chart:
OneHourSiteFix pricing.
Conclusion
So, there you go. These are some of the best website security solutions in the market, and armed with the information provided above, I hope you will be able to make an informed decision. Website security is paramount to the longevity of your business, so this is definitely not an area that you want to skimp on.