For marketers, hosting webinars has become a norm, and using a webinar software is even more so!
Yes, webinars help marketers to engage with leads and then push them down the sales funnel.
But of the biggest challenges is that of a poor internet connection that keeps people pushing out of the webinar. Another problem is that they forget to hit the record button.
That sucks!
That being said, no one can guarantee that even if those problems are weeded out, webinars will lead to high conversion rates.
So, should you be ditching webinars?
Not really, no!
You need to understand that webinars are a great way of combining marketing automation and video conferencing. However, there are several questions that pop up immediately.
They are:
What type of experience do the viewers in the waiting room get?
For the viewers, is it easy or difficult to download the plugin and then join the meeting?
At once, how many presenters can be there?
At once, how many viewers can join in?
What about the audio quality? Is it high enough?
These questions lead to the search for the best webinar software of 2022, because online meetings have become important more than ever.
In case you don't have the time to read through the entire article, here is a quick list of my favorites.
The Best Webinar Software of 2022 – A Quick List
Demio
Livestorm
WebinarNinja
WebinarJam
LiveWebinar
GoToWebinar
BlueJeans
EverWebinar
EasyWebinar
My Own Conference
Okay, now that you know which software programs I prefer for webinars, let's go through the details.
#1. Demio – Best if you are looking for a great marketing solution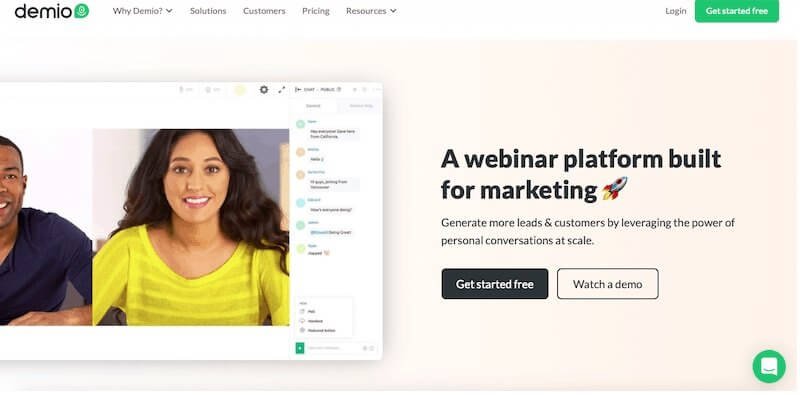 If you are looking for a simple no-download tool for webinars that comes with great marketing tools for lead generation, Demio is the one you should be considering serious.
This no-fuss solution can help you to generate more leads while giving you an aesthetically-pleasant platform with real-time HD video streaming.
Demio will allow customizing the setup according to your brand, and you will get all the features you need for video conferencing such as automated and live webinars, landing pages for registration, webinar replays, etc.
What's more? You get 24/7 support through both email and chat, advanced setup for webinar, 100 recordings storage, unlimited webinars, and solid analytics.
Here are some of the key features of Demio:
Cloud-based webinar events.
Automatic recordings.
Amazing experience for the waiting room.
Handouts, polls, chats.
Built-in insights and analytics.
Easy integration with various marketing tools.
Event reminders.
Email automation.
What price do you need to pay?
Well, you can use Demio for 14 days without paying a dime. Once you are convinced that it is good enough for you, you can pay for the product when the trial period ends.
After the trial period is over, there will be three different plans to select from:
The Starter Plan: This plan will allow 50 people in a room, and it costs $34 per month.
The Growth Plan: This plan will allow 150 people in a room, and it costs $69 a month.
The Business Plan: Designed for large enterprises, this plan accommodates 500 people in a room and comes with a price tag of $163 a month.
For most of the small and medium businesses, the Starter and the Growth plans are perfect.
#2. LiveStorm – Highly advanced
If you want to drive sales and show product demos, LiveStorm is a great option to use. The software is compatible with mobile devices, laptops, PCs, and can also be accessed from any browser.
LiveStorm will allow you to run automated webinars, on-demand webinars, and live webinars. If you are hosting any live event such as product demo and launch, technical sales topics, customer training, etc., going for the live webinars is the best way to approach.
If you are hosting online courses, video podcasts, or employee onboarding, automated or on-demand webinars work best.
The best part of LiveStorm (the unique selling point) is email logistics. It will allow you to send promotional emails to customers. You can automate the process of sending emails, and even check email status. Of course, you can personalize the emails.
If user engagement is your top priority, LiveStorm is not going to disappoint you. There are features like Up-Votes, Q&A Sessions, Polling, etc.
LiveStorm also gets rid of things like user registration and account creation. People can join the webinar with a single click.
Here are some key features of LiveStorm:
Easy set-up and adaptable webinar themes.
User engagement features like chats, Q&A, polls, etc.
High automation level with webinar sequence.
Multi-language support.
Detailed analytics and data on replay, source tracking, participation, etc.
Unlimited storage for recording.
Data export in XLS or CSV format.
Zapier integration and integration with 1,000+ other apps.
In-webinar call-to-actions.
What price do you need to pay?
There are three different plans to select from, and one of them is forever free! Yes, you read it right! One of them is free forever!
The three plans offered are:
Webinar Basic: It includes all features and allows unlimited webinars, but each webinar is restricted to only 20 minutes and only 10 people can join a webinar. It is always free.
Webinar Premium: Yes, you get all features with each webinar up to 4 hours, and it allows unlimited webinar registration. This plan is going to cost you €89 a month when billed annually.
Enterprise: Finally, you have the Enterprise plan where you will get a personalized price quotation depending on your requirements. This plan will give SLA availability, premium training, unified billing, and more.
#3. WebinarNinja – Perfect for High-End Coaches
Big brands like Printful, Podia, AppSumo, etc. trust WebinarNinja. It is an all-in-one solution that you can lay your hands on. It is super-easy to use and works out-of-the-box. It only takes about a minute to create a webinar.
There are four different types of webinars that you can create using WebinarNinja. They are:
Live webinar – live broadcasting and live audience interaction.
Automated webinar – pre-recorded webinars that run on-demand at specific times.
Series webinar – you can create a whole of group of webinars.
Hybrid webinar – it combines recorded videos with live webinars.
Here are the key features of WebinarNinja:
Live chat (lightning fast).
Instant screen sharing.
Run polls (before, during, and after webinar).
Drip campaigns and email automation.
Display timed offers during webinars.
Custom registration pages.
Advanced analytics with data export ability.
1,000+ app integration and Zapier integration.
What price do you need to pay?
There are four different packages available. However, before you settle for a package, you can try out the product for 14 days.
After the trial, you need to select from:
Starter Plan: This will cost you $39 per month billed annually, and it will allow maximum 100 live webinar attendees.
Pro Plan: This will cost you $79 per month billed annually, and it will allow 300 live webinar attendees at max. This plan will give you access to webinar series.
Plus Plan: This will cost you $129 per month billed annually, and it will allow 500 live webinar attendees. This plan will give you access to webinar series and hybrid webinars.
Power Plan: Priced at $199 per month billed annually, this plan will allow 1000 live webinar attendees.
#4. WebinarJam – Best if you want to sell products
Super easy to use, WebinarJam will not require you to have any technical knowledge of setting up a webinar.
It allows you to stream webinar directly to your YouTube page. Meetings can be password-protected to ensure completely security.
WebinarJam will allow you to show popups to your audience right in the middle of the webinar and allow them to purchase your products or services through the webinar.
There is also an advanced live chat that allows two-way communication by pulling video of the participant for one-on-one video communication.
The software creates a universal signal using what is known as Broadcast Distribution Technology. It also uses other advanced technologies like Flash, HLS, WebRTC, RTMP, etc., thereby ensuring it is compatible with every device and browser.
It has some other useful features like automatic recording (to send to your audience), HD video, user-friendly dashboard, customer-facing interface, and more.
The key features of WebinarJam include:
Social media integration.
Automatic recording.
Compatible with various operating systems and browsers.
Allows adding surveys and polls.
Built-in autoresponder.
Quick setup.
Amazing customer support.
What price do you need to pay?
There are three plans to select from:
Basic: It costs $499 a year and accommodates up to 500 participants in a single webinar. There can be three presenters tops, and you will get 24/7 support.
Professional: It costs $699 a year and allows up to 1,000 participants and four speakers.
Premium: It costs $999 a year and allows up 5,000 participants and six presenters.
#5. LiveWebinar – Perfect for live streaming
If your business model relies heavily on live streaking LiveWebinar is the best option you will have. It is a cloud-based tool that allows various things like social media broadcasting, screen recording, live streaming of videos, screen sharing, and of course, webinar hosting.
The company offers 42 data centers, hosts up to 1000 participants at once, and offers 99% SLA (service level agreement).
You don't need to download and install the application to host a webinar. Everything happens through their browser-based interface. You can even embed webinars directly into your website so that your website visitors can watch it.
You can easily integrate LiveWebinar with your email, text message, and phone so that you can invite people to your webinar.
You can stream live on Vimeo, YouTube, Facebook, etc. It can even connect with mobile phones, smart TVs, and PCs.
You can even record your webinars (full or some part of it) and share it wherever you want. The recording happens in HD quality.
During live streams, you get the ability to stream your desktop screen in real-time using a single click.
The advanced analytics allows you to monitor user engagement, and even generate and share advanced reports.
As far as user interaction is concerned, you can conduct surveys and polls, and even use live chat. There are call-to-action options that you can display during live webinars and encourage the participants to take action.
Task management is yet another important aspect of LiveWebinar that allows you to assign different tasks to different people.
Yes, customization is often very important, and LiveWebinar will allow you to do so. You can use your very own branding elements, colors, and use the variety or templates they have to offer.
LiveWebinar can also integrate with a variety of third-party applications including MailChimp, ActiveCampaign, Zapier, iContact, and more.
The key features of LiveWebinar include:
Includes a whiteboard feature for expressing ideas.
Main room can be split into small breakout rooms even during live meets.
You can host up to 1000 people.
You can embed ad banners right into your webinar.
Allows adding surveys, polls, and tests.
Allows playing YouTube video into webinar rooms.
Offers real-time chat language translation.
Allows adding Prezi forms into webinars.
What price do you need to pay?
There are four plans to select from. They are:
Free: You don't pay anything. The webinar will allow up to 5 people.
Pro: $11.99 a month that will allow up to 100 people to attend.
Business: It will cost $95.20 a month, and allows up to 500 participants.
Custom: If your requirements are way higher, you need to get a custom quote. However, this plan will allow up to 1000 attendees.
In case you want to go for their premium plans, but you want to try out their product before making a payment, you can use their 14-day trial.
#6. GoToWebinar – Good if you have a large organization
This is the type of webinar software that you should think of when you just want to focus on reaching out to your customers and not worry about setting up things and managing the webinars.
You have to select a date and everything else will be setup. You can enjoy flexible scheduling or even outsource the entire event management to them. They also have built-in webinar templates for complete business environments.
GoToWebinar offers customizable webinar invitations, automated email reminders, high-converting registration page, etc. Other features include automatic webinar recording, survey and poll integration, etc.
Here are the key features of GoToWebinar
Robust analytics
Built-in audience engagement with polls and surveys
Online sharable automatic recordings
GoToMeeting integration
HD video quality
Source tracking for discovering the channel that led to maximum signup for the webinar.
Seamless integration with Unbounce, Salesforce, Zapier, etc.
What price do you need to pay?
There are three plans to select from. They are:
$89 a month with annual billing – the Starter plan. This plan allows 100 participants.
$199 a month with annual billing – the Pro plan. This allows 500 participants per webinar.
$429 a month with annual billing – the Plus plan. This allows 1000 participants per webinar.
#7. BlueJeans – Perfect for large virtual events
In case you are not aware, BlueJeans is actually a video conferencing software with four products in one. One of the products is BlueJeans Events. BlueJeans Events, in particular, is meant for hosting large events for global audience such as interactive events, live streams, townhalls, etc.
With the ability to host up to 50,000 attendees, this tool is quite unique and even offers features like live polling, immersive video, Q&A sessions, etc.
The open interactive forum allows idea exchange and enables information sharing among audience.
The platform will give you three interactive screens that give full moderator control over Q&A sessions, will allow enabling or disabling audio, will allow viewing participant list, and allow to start broadcasting.
Here are the key features of BlueJeans:
Cloud recording of event.
Supports up to 50,000 attendees.
Live streaming to Facebook Live.
No need to download app. It works on all devices.
Event management with moderator control.
Robust analytics.
Recommendations and specs for A/V equipment.
Premium support available 24/7.
What price do you need to pay?
You can get BlueJeans Events for only $83 a month (billed yearly) that will allow up to 100 participants. If you want to add more participants, you can do that. Plans for 200 and 500 participants are available.
For townhalls, all-hands meetings, and large events, you need to get custom pricing by contacting their support.
#8. EverWebinar – Gives best automation features
It is considered as the most powerful automated webinar platform. EverWebinar has been built with direct integration to WebinarJam (#4 on this list). You may purchase the two products bundled as one or you can purchase each individually.
The tool will give fully automated email connections based on customer activity. It can even keep users in the loop, and all it takes for set up is less than 3 minutes if you are already a WebinarJam user.
It has automated webinar recording feature that you can play later for potential leads.
Here are the key features of EverWebinar:
Ability to swap between EverWebinar and WebinarJam with a single click.
Real-time performance stats.
Fake inflation of audience count (sometimes a tactic used in marketing).
Past live events can be converted into evergreen events.
Advanced scheduling to block unavailable dates.
Just-in-time webinars – as soon as people register, the webinar starts.
Auto-detection of time zone for ease of users globally.
Free unlimited hosting on the cloud.
What price do you need to pay?
Billed annually, it costs $41 a month. You can get a 60-day trial by paying just $1.
#9. EasyWebinar – Extremely user-friendly
Well, it is all described by the name! EasyWebinar is truly user-friendly. It is an only platform and the only one to successfully integrated marketing strategy with webinar technology.
You can use it for both automated and live webinars. There is a multi-presenter option, and it even integrates with various email marketing software, lead generation tools, and shopping carts.
Here are the key features of EasyWebinar:
Built-in analytics.
Integrates with WordPress.
Mobile app available.
Has a robust chat feature.
Using YouTube Live integration it allows unlimited viewers.
Interactive live chat.
HD videos.
Screen sharing.
Easy integration with services like GetResponse, MailChimp, etc.
What price do you need to pay?
There are three different options for you to select from. Here are the options:
Standard: $708 a year ($59 a month) and supports 100 attendees.
Pro: $1080 a year ($90 a month) and supports 500 attendees.
Enterprise: $4188 a year ($349 a month) and supports up to 2000 attendees.
You can switch to monthly billing at a higher price. Also, you can get custom pricing if your organization has more than 10,000 employees.
#10. My Own Conference – Good for small audience
This webinar tool is great if you want a cheap option for team collaboration and desire to hold multiple webinars for small audience groups.
However, if you want to hold webinars for up to 5000 attendees, the price will skyrocket where you have to pay $1,920 a month billed yearly! That's a very high price!
The platform has something called schedule view that will allow you to see multiple webinars in one place. The company also features an always-on webinar room.
Screen sharing, video conferencing, instant messaging, etc. are some of the common features available with the tool.
Here are the key features of My Own Conference:
Webinar recording in full HD and the ability to send the recordings to the attendees.
Screen sharing for teams.
Video conferencing.
Instant messaging.
Online quizzes to test audience's knowledge.
Share videos (even from YouTube) during broadcasting.
White label solution for brands and agencies.
Support for 16 languages.
Attendees do not need to download anything.
What price do you need to pay?
It is actually better that you go for their free option that will allow 20 attendees at a time. The free version will also give you 3 broadcasters or presenters, 500 MB storage, and SD & HD video recording.
If you are looking for the paid plans, the pricing will depend on the number of attendees, storage space and full HD videos.
For instance, if you want 60 attendees, you need to pay $30 a month with annual billing. For 1,000 attendees, the price jumps to $250 a month with annual billing.
Interestingly, you can also enjoy monthly or daily billing!
Conclusion
That completes my list of best webinar software. Of course, all the options here are paid tools or platforms. However, it is never the comprehensive list.
Some of the other platforms that you can look into include:
DaCast
Webex
AnyMeeting
Zoom
Livestream
Adobe Connect
BigMaker
ClickMeeting
Yes, you can even use Google Hangouts for free. Google Hangouts is not one of the professional webinar tools that you may require. It is best suited for people who want to optimize their sales funnels.
Some of the key features of Google Hangouts include:
30 people at once.
Easy screen sharing.
10-second webinar creation.
Automatic recording uploaded to YouTube channel immediately.
Multi-speaker support.
Integrates with Chrome and YouTube.
No software download required.
Unfortunately, there will be no additional marketing features like third-party email integration, paid events or analytics.
So, which one do you think is the best webinar software? Do let me know through the comments segment!