So, you want to know which are the best VPS hosting services? I have a list of the 7 best options for you.
But before I start with the list, let me answer three basic questions. They are:
What is a VPS hosting?
How much do you need to pay for a VPS hosting?
When do you need a VPS hosting?
Once I answer them, I will give you the list. After the list, I will tell you what you need to look for while selecting any VPS hosting provider.
Sounds good?
Let's begin…
But…
If you are in a hurry, here is the snapshot of the best VPS Hosting services of 2020:
| | | |
| --- | --- | --- |
| Ranking | Hosting Provider | Quick Reason |
| 1st | InMotion | Best overall hosting service |
| 2nd | Bluehost | Best features of VPS hosting |
| 3rd | DreamHost | Best if you want unlimited bandwidth |
| 4th | Liquid Web | The best provider for managed VPS server |
| 5th | A2 Hosting | Best for developers |
| 6th | HostGator | Best provider if you want to scale the VPS server |
| 7th | HostPapa | Best for enterprise-grade VPS |
What is VPS Hosting?
First, there was shared hosting, and then there was dedicated hosting. The problem? A leap from shared to dedicated hosting was very expensive.
Shared hosting is perfect for an entry-level business looking for an online presence. Dedicated hosting is best for big companies who can afford to not only rent an entire server but also hire developers and system managers to deal with the server.
What about the middle ground? What about those businesses that started growing, but do not have the necessary funds to get a dedicated server for themselves?
This is the exact situation that laid the foundation work for VPS or Virtual Private Server hosting. It is the perfect middle-of-the-road service segment that addresses the needs of growing businesses.
VPS hosting combines the best of both worlds. Just like shared hosting, a VPS hosting will place your website on a server where other sites are also present. However, there will be fewer websites on the server compared to a shared server.
Because there will be fewer sites per server, each website gets a bigger chunk of CPU cores, RAM, storage, etc. This is somewhat similar to dedicated servers where a single site gets all the resources of a single server.
Because a VPS hosting is between a shared hosting and a dedicated hosting, the price of a VPS server is higher than that of a shared server and lower than that of a dedicated server!
In the case of a VPS server, your site will not have to share server resources with any other website hosted on the server.
In shared hosting, multiple websites share the same resources. So, if some website, for instance, runs a script that consumes almost all of the available RAM on the server, your website and every other website will have to suffer.
In the case of a VPS hosting, the server has partitions. Each partition will have its separate operating system and separate RAM and storage. This will ensure that you are in a completely separate environment though you will be on the same server.
So, even if one website on a VPS server is running a memory-hog script, it can take only the amount available within its own partition. It is not going to impact you in any way.
How Much Do You Need to Pay for a VPS Hosting?
VPS hosting is a hybrid. So, it will not cost high as dedicated hosting, but not as low as a shared hosting either.
You can get shared hosting for as little as $4 a month. Dedicated hosting can burn a hole of $100 or more in a month (depending on the resources you are using) in your pocket.
If you are going for a hybrid VPS host, you can expect to pay anywhere in the range of $20 to $100 a month, depending on how much resource is allocated to you.
There is yet another consideration.
VPS hosting comes in two different flavors – Linux and Windows. Linux is more widespread because of many reasons like:
It is free, and hence, reduces the cost.
It has rock-solid security (Linux is known for its security).
Linux distros running on servers are very safe. Usually, you will find OpenSUSE, Ubuntu or RedHat Linux servers (RedHat is not free, but it has a free iteration called Fedora Core for regular desktop users).
Linux VPS servers are cheaper than Windows. One of the drawbacks of Linux is that you cannot run anything on that server that requires a Microsoft-compatible environment.
Microsoft, on the other hand, is proprietary, and a lot easier to use. If you need to run applications that required Microsoft-environment, you will have to go for a Windows-based VPS hosting.
A Linux VPS will save you some $10 to $20 a month.
Most of the websites you see are running on Linux servers. So, you can rest assured that the difficulty of handling Linux will not come on your way.
On the bright side, you will get clickable stuff on your Linux-based VPS servers. You can even install the famous cPanel that you find on shared hosting servers.
No matter what you install for ease of use, you will still need some knowledge. There are two many things that you will see. You need to be familiar with essential services so that you can build a VPS server with rock-solid security.
If you are not comfortable with this, I will suggest you go for what is called Managed VPS Hosting instead of Self-Managed VPS Hosting.
A Managed VPS Hosting will cost you more money because the hosting provider will manage the server for you. There will be technical experts who will carry out the setup process and harden your server with state-of-the-art security.
A Self-Managed VPS Hosting, as the name suggests, is something that you need to manage. You need to have the necessary expertise to carry out the setup process. Because you will not get any help from the hosting company, you will be paying less.
When Do You Need a VPS Server?
Typically, VPS hosting is for those websites that receive monthly traffic of 50,000 or more. Shared hosting servers are usually not equipped to hand such traffic.
In some cases, some websites getting 20,000 to 30,000 monthly traffic, make a switch to VPS hosting. They do so because they experience lags and slow down with shared hosting.
Generally, growing eCommerce sites are the ones that go for VPS hosting because they cannot afford to have downtimes and terrible website performance.
In general, information sites and news sites that depend on high traffic for revenue generation also prefer VPS servers.
How much traffic do you get? How much uptime do you get with your current shared hosting? Is your site experiencing slowdown during hours of high traffic?
Answer these questions, and you will immediately know whether you need VPS hosting or not.
Alright, now that I have answered the three basic questions, let me walk you through the list of 7 best VPS hosting services of 2020.
Best VPS Hosting Services of 2020
So, let's roll!
1. InMotion VPS Hosting
InMotion is one of the industry leaders in the overall hosting space. When it comes to VPS, they offer both managed and self-managed variants. They offer VPS servers that are fast, high-performing, and secure.
When it comes to migrating your website from another hosting provider to InMotion VPS hosting, they are the industry leaders. They guarantee seamless site migration with ZERO downtime.
So, even when your site is changing the server, your visitors won't even notice that. They will keep using the website as they always do.
Their managed VPS hosting is slightly expensive compared to the self-managed options they provide. The self-managed VPS hosting is perfect for system administrators, developers, expert users.
If you are looking for something easy, I will suggest going for managed VPS hosting. The price range for a managed VPS hosting starts with $29.99 a month. The highest price you need to pay for a managed VPS hosting with InMotion is 54.99 USD a month.
Now, this price range is applicable only if you buy a 3-year package at once. However, you can go for a 24-month, 12-month, a 6-month, or a monthly package if you want, but those packages will cost you more.
For instance, the one that costs $22.99 a month for a 3-year package will cost you $54.99 a month, if you choose to go for a month-by-month payment plan.
There is no point frowning about it. That's the business model you have to deal with any hosting company that you go for.
Here is the list of quick features that you can expect with InMotion VPS hosting:
All servers are optimized for e-Commerce. However, you can use it for any other purpose you want.
You will get access to both cPanel and WHM (Web Host Manager).
They will throw in a free SSL irrespective of what package you choose.
Their servers will take automatic backups.
You can get root access to your server if you need that.
The serves have unlocked CPU cores. This means that you will enjoy faster simultaneous processing power.
You will also get a secure email that you can access from any device you want.
You will enjoy free site migration with guaranteed ZERO downtime.
You will be free to choose your preferred data center. I will suggest you go for a data center that is closest to a country (or in the country) from where you get the majority of your visitors.
They will offer you 99.999% network uptime with their unique 24-hour real-time redundancy.
You will also get a 90-day money-back guarantee.
2. Bluehost VPS Hosting
By now, you already know the name Bluehost, don't you? It is the most preferred hosting company in the shared hosting space. You can read my full blurb on the 5 best WordPress hosting services of 2020.
Based on real tests, I found Bluehost to be the best option for shared hosting. So, no wonder, the company made it to the top list even in the VPS hosting space.
In this particular segment, the company has some fantastic features to offer. Bluehost might, at first glance, look a bit pricier than InMotion, but you need to know that they offer SSD storage. SSD storage is faster than regular HDD storage. SSD costs much more.
So, the high price of Bluehost is entirely justified, at least according to me! If you ask me, I will definitely go for the tradeoff. I will always pay a higher price if a server offers me a choice between SSD and HDD, and go for SSD storage.
SSD will make your website faster.
If you are already using shared hosting of Bluehost, I will suggest that you don't switch over to another hosting provider if you want to upgrade to VPS hosting. It is worth sticking with Bluehost.
The problem with Bluehost is that they will offer only self-managed VPS hosting. If you are looking for a managed VPS, Bluehost might not be a great choice after all.
However, if you settle for Bluehost, this is what you will get:
A free-domain for a year. You have to pay for the domain from the second year onwards.
They will throw in one or two dedicated IP addresses for you, depending on your plan.
They will also provide you with a free SSL certificate for your website that will remain free forever. The SSL you get is from Let's Encrypt. However, you have to keep renewing the SSL every 3 months or so.
Their servers will come with cPanel and WHM control. They made the cPanel far more polished and user-friendly.
In case you need additional storage and your storage capacity is not adequate, you don't need to change the current plan. You can add additional storage on-the-fly. This not currently available for RAM and CPU cores, but they will be adding it soon.
You will get root access to their CentOS-powered server (CentOS is a Linux distro). However, if you are not comfortable with Linux, I will suggest you need tinker around with this feature.
Bluehost prides itself on instant provisioning. This means that the moment you purchase a plan, your VPS server will be up and running within seconds. In general, VPS hosting providers take a few hours to a couple of days to provide you with the server.
Bluehost also guarantees high performance with KVM hypervisor.
In addition to all those, you will get a multi-server management feature. So, if you have dedicated or shared hosting along with VPS, you can manage them all from a single place.
The Bluehost servers have access control feature that will allow you to create passwords for specific aspects of the account you hold.
You will get full FTP access, and you can create as many FTP accounts as you want.
You can optionally go for services like SiteLock, Domain Privacy, etc.
You also get a 30-day money-back guarantee.
Well, Bluehost may not give an excellent 90-day money-back guarantee, but 30 days is good enough.
3. DreamHost VPS Hosting
Providing hosting plans to 1.5+ million websites, presence in 100 countries, and backed by 20 years of experience, DreamHost is quite a famous hosting company. If you don't remember, I ranked DreamHost as #3 in my previous article on the best WordPress hosting companies!
DreamHost makes it to this list as well because of one interesting thing – unlimited bandwidth! Yes, that is something you will usually not get from VPS hosting services. DreamHost has changed the rules of the game.
The company doesn't provide unmanaged or self-managed VPS hosting for its regular VPS hosting. However, if you do want self-managed VPS hosting, you are in luck, and in a better position! How so? That's because their self-managed hosting is powered by the 'Cloud.'
Unlimited bandwidth is not the only thing that makes DreamHost stand out from the herd. They are also one of the cheapest VPS hosting providers in the world. Their 3-year plan starts at $10 per month. Honestly, that's the cheapest I have seen so far.
However, going for the cheapest option might not be the right thing to do. This plan will offer only 1 GB of RAM. That cleanly defeats the very purpose of making a switch to a VPS server. So, choose wisely.
Just like Bluehost, DreamHost also offers SSD storage against all plans. Here is a quick list of features that you can enjoy if you choose to move to DreamHost VPS:
SSD storage, irrespective of what plan you choose.
100% uptime guarantee.
You will get the ability to host unlimited websites on your server.
You will enjoy unlimited bandwidth. So, no matter how much traffic you get, they will never throttle your bandwidth.
For every plan, they will throw in free SSL certificates.
You can also create unlimited SFTP users.
You will get automatic updates for server software. You need not manually update them.
You can select between Nginx and Apache servers.
Even if you are going to the "10 USD per month" package, you will be able to quickly scale your RAM right from inside your VPS control panel.
You can create unlimited MySQL databases and unlimited email accounts.
While these all sound appealing, there is a problem with DreamHost. The company doesn't provide any Windows VPS hosting. So, if you are looking for a Windows-based VPS hosting, the next option is to go for Liquid Web.
I forgot! They don't have any money-back guarantee either!
4. Liquid Web VPS Hosting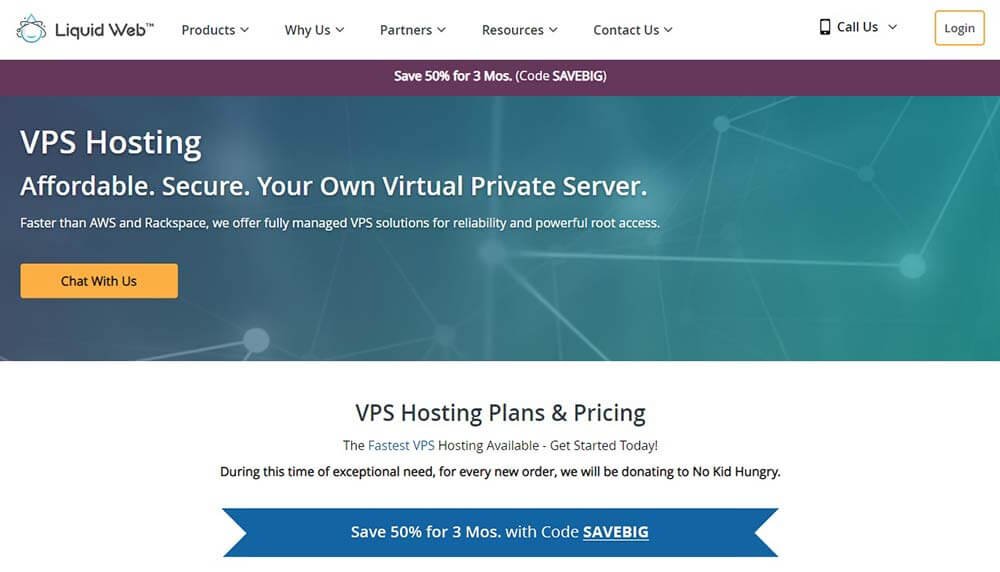 I am not sure whether you have heard of Liquid Web or not, but it is one of the most famous VPS hosting providers in the world.
If so far, you were only concerned about shared hosting, most likely you never heard of Liquid Web. They do not compete in the shared hosting space. They are all about dedicated hosting and VPS.
The VPS servers provided by Liquid Web are a bit costlier. That happens because they offer fully-managed VPS hosting. They also allow complete scalability. You can easily upgrade or downgrade depending on your needs.
They offer both Linux and Windows-based VPS hosting. If you are going for their Windows-based VPS, be ready to pay a much higher price.
Liquid Web is a service where people go for security and features. They are not concerned about the price. So, if you are one of those for whom money doesn't matter, here is what you get from the VPS hosting service Liquid Web:
Only SSD hard drives.
You will get 10 terabytes of bandwidth across any plan.
100 GB of free backup.
You get to choose from InterWork, cPanel Pro, or Plesk Web Pro.
You will also get a dedicated IP.
You can host unlimited websites.
You will get CloudFlare CDN for free.
All servers will have root access.
Every server from Liquid Web will have Server Secure Advanced Security.
All servers will have an integrated firewall.
You will also get protection from DDoS attacks.
They also guarantee 100% network uptime.
While the features are amazing, what many people have complained about is the absence of any money-back guarantee or a free trial.
However, my experience with Liquid Web says that you are not going to need any of those addon promotional features. Once you are in, you will not leave it! However, if you are happy with their services, you can always earn a few dollars with their affiliate program.
5. A2 Hosting VPS Hosting
"A2 Hosting" is one of the most famous names in the hosting industry. They provide shared, WordPress, VPS, and dedicated hosting.
Unfortunately, however, I did not find their shared hosting to be a great option. When it comes to VPS, they are incredibly good! They provide both managed and unmanaged VPS solutions. If you are looking for the cheapest unmanaged VPS hosting, A2 Hosting flattens all competition.
Their unmanaged VPS hosting starts at as little as $5 a month. That's the price you expect in the case of shared hosting.
However, an unmanaged VPS hosting requires a lot of technical skills, and most of the website or blog owners don't have those skills. They don't even have the necessary dollar power to hire system administrators.
This is where the managed VPS hosting from the company steps in. The starting price range of managed VPS hosting is $25 a month for a 2-year package. If you want to go for monthly billing, you will have to shell out a lot more.
You might find things a bit confusing here because they have 3 different types of VPS offerings. You already know two of them – unmanaged and managed. The third variant is Core VPS.
What on Earth is that?
Nothing special! It is managed VPS with root access! In the case of managed VPS, you will not get root access. In the case of Core VPS, you will get root access that will allow you to customize your server.
Don't worry, even the Core VPS is managed.
Whether you go for Core VPS or a managed VPS option, you get more options to choose from. A2 Hosting is limited when it comes to bandwidth. The maximum bandwidth that you can get is 4 TB, but that comes with the highest package.
Compare this with DreamHost's unlimited bandwidth with any package of your choice!
Coming to features, this particular company, I feel, is best suited for developers who need to show and deliver results to their clients. However, that doesn't mean that you cannot use it. You can always use it.
Here are some of the many features of VPS hosting with the company:
SSD storage is what you get with any plan you purchase.
They will give you two dedicated IP addresses with all plans.
You will also get free SSL and free site migration.
The company throws in free CloudFlare CDN and CloudFlare Firewall.
Unlimited website hosting comes with every package.
They give DDoS Attack protection.
They also offer automatic upgrades and updates.
They offer a 99.9% uptime guarantee.
They also provide an anytime money-back guarantee (This is on a prorated basis where you have to use their service for 30 days to become eligible for the offer. After 30 days, you will get a refund for the unused subscription time.).
Now, what's interesting is that there is something called Turbo Boost and Turbo Cache package that guarantees a 20 to 30% increase in site speed. If you want to get this feature, you will have to shell out an additional 30 dollars a month. If you want to get only Turbo Boost, you need to pay 22 dollars a month!
You can also get Softaculous for one-click installation of many applications. This, too, comes with an extra price tag of $3 a month.
So, if you want to get all, you have to pay 25+22+3 = 50 USD, or 25+30+3 = 58 USD a month (assuming that you go for the starter package, and that too for a 2-year plan). That's a ridiculously high price.
That price tag makes sense only if you are a developer and you have a lot of clients.
I am not saying that A2 Hosting is a lousy company. It is just too pricey! The servers are indeed fast, and their Turbo Boost and Turbo Cache are really great features!
6. HostGator VPS Hosting
HostGator is widely popular among people who use shared hosting. That didn't stop the company from offering exceptional VPS hosting services!
Unlike A2 Hosting, HostGator doesn't offer an awful lot of features that can bog you down. In fact, they keep it simple. What struck me most is its ability to scale the system resources as required.
So, if your website keeps growing and more traffic flows in, you don't have to worry about switching to a different package. You can stay with the package you already have and increase the resources like RAM, CPU cores, and storage.
This is incredible because you can start with the lowest package that costs $19.95 a month. Just like any other VPS hosting provider, you will get this price only if you purchase it for 3 years. If you want a monthly package, you need to pay $29.95 a month.
There is a catch! The $19.95 price tag comes without a cPanel. In case you don't have experience with VPS, you will need a cPanel, which is a standard feature in almost every shared hosting I have used to date.
The problem is that the moment you add cPanel, you will have to pay $29.95 per month under a 3-year contract. The monthly price will shoot up to 39.95 USD a month.
I don't know about you, but I personally never like such hidden surprises in the pricing structure.
HostGator is a managed VPS hosting, which means that you don't have to worry about the software upgrades.
Here is a quick list of features that you will get with HostGator VPS hosting:
You will get one free domain registration for one year.
You can enjoy unmetered or unlimited bandwidth across all plans.
You will get complete root access to your server that will allow a lot of configuration options and custom installs.
You can create unlimited FTP accounts, email addresses, databases, and subdomains.
You can host as many websites as you want. There will be no limits to that.
You will get access to a full suite of development tools that include script installers, website templates, etc.
There will be weekly off-site backups that will keep your data secure.
They also have centralized DDoS protection and Secured VPS firewall.
You will also get two dedicated IP addresses.
Unfortunately, HostGator doesn't offer CloudFlare CDN and SSD storage.
7. HostPapa VPS Hosting
I don't understand why they choose such names. I mean, HostPapa! You serious? Anyway, I have nothing to do with the name. After all, if the service is excellent, I am happy! HostPapa does offer exceptional VPS hosting (enterprise-grade).
Honestly, they offer way too much that what you will possibly ever need as a small or medium business.
You will be surprised to see the list of features they offer. That's something only system admins can handle with ease, and only big enterprises may need. I mean, why on Earth will you need a server that is compatible with Adobe Dreamweaver or Adobe GoLive? What will you do with Perl, or LAMP Stack, or Zend Optimizer?
You don't even know what these things are, do you? Come close, I will tell you a secret. Even I don't know what Zend Optimizer is!
Fooled you! I know what it is! Zend Optimizer is an application that will allow any file encoded with Zend Guard to run on PHP. Zend Optimizer is known for enhancing the performance of all PHP applications. That's a short story.
However, if you are now going to ask me about what Zend Guard it or what PHP is, I can't tell you that! It is totally out of line. You may have heard of PHP (most likely you did, because that is what WordPress uses).
The bottom line here is that you don't really need many things that HostPapa will offer you.
The company offers self-managed, managed (I better say partially managed), and fully-managed VPS hosting plans. If you are totally non-technical, I will suggest that you go for their fully-managed plans.
They will take care of all the technical stuff like site migration, patches, and updates, app installation, etc. You don't have to break a sweat or burn a hole in your pocket hiring system admins.
The pricing structure is also quite pocket-friendly, at least on the surface. For instance, you can get 4 CPU cores, 2GB RAM, 60GB SSD storage, and 1 TB of bandwidth for only $19.99 a month (that's the lowest configuration). But that's the price you get if you sign a 3-year contract. That takes your total price to $719.64.
Here is the trick! $719.64 is applicable only if you take a self-managed VPS. If you go for partially managed hosting, you have to provide an additional $684.00, which will take up the price to $1423.59 (as it will include Protection Power Website Security that will cost you $19.95 for a year).
If you want a fully-managed VPS and lock in the price of $19.99 a month, you have to shell out $4,644.00 extra for those three years. This will take your total price to a whopping $5,363.64.
Cloud hosting? Anyone?
Look, I told you that I don't like hidden surprises in the pricing plans. HostPapa aces in this aspect! They are too pricey if you want a fully-hosted VPS plan. No wonder I placed it at the bottom of the list.
If you are still okay with the price (damn, you must be rich!), and you still want to know the features of this VPS hosting provider, here is a quick glance:
You will get unlimited websites, unlimited emails, unlimited subdomains, unlimited FTPS accounts, etc.
You will get 2 dedicated IP addresses.
You will get SSD storage.
You will get free website migration.
You will also get root access.
Free SSL will also come with all packages.
You will get a server firewall and DDoS protection.
They will also give you a 30-day money-back guarantee and a 99.99% uptime guarantee.
And tons of things that system admins can handle, and only big enterprises need.
So, if you have to go to VPS hosting, I will suggest that you opt for InMotion, Bluehost, or DreamHost. They are great!
Okay, now that you have the list, it is time to answer a few more questions that will matter when you start shopping a VPS hosting. I will suggest you read on.
Essential Things to Consider While Selecting VPS Hosting
There are several things that you need to consider when you are out there to get yourself a VPS hosting. These are the questions that you need to ask:
Will you need a Windows-based VPS hosting?
If you need a VPS hosting that will allow you to install and run Windows-based applications, find some service provider that allows Window-based VPS hosting. Always remember that the Linux variants are cheaper, but Window-variants are easier.
Are there hidden clauses?
This is by far the most important one. Many hosting providers are not really transparent. Especially when it comes to pricing, they are not transparent at all. You just saw the case of HostPapa!
Before you buy a plan thinking that the price is meager, and it is perfect for your budget, do some digging. Remember, all that glitters is not gold! Also, take a good look at the features. There may be features that you can access only if you pay extra. A2 Hosting is a classic example of this.
Are there surprises in fine prints behind unlimited offerings?
Most of the time, YES! For example, a hosting provider may give you unlimited emails. That's great! But are they offering unlimited storage for every email account you create?
What if the hosting provider caps the storage for each email to only 2GB? One beautiful day you will be surprised by messaging limitations! That day, you will find me honking an air horn into your ears.
Are there surprises in money-back guarantees?
Mostly, YES! The money-back offers are mostly prorated. What does that mean? It means that you have to use their services for a certain amount of time (which is usually a month), and then they will issue a refund for the remaining unused subscription.
Hold on! There is more! When you try to cancel the subscription after a month's usage, they will charge you at the rate of monthly pricing plan instead of the discounted price that you received for a 2-year or a 3-year plan.
Sounds awful, right? I know. It hearts deep down in your heart. It reminds me of the meme cat who says, "Damn, it hurts right here in my meow meow."
Do you even need a VPS hosting?
I may sound cynical saying this here in this article, but 'do you even need a VPS hosting?' You need to find the answer to this question. There are alternatives, far better ones! They come at a fraction of the price of a VPS hosting.
Those services allow scaling in real-time without any downtime when your site gets heavy traffic. They give near 100% uptime.
I am talking about clouding hosting. In case you don't know, a website like Quora runs on clouding hosting provided by Amazon AWS. Do you have any idea about the traffic it receives? That's a whopping 112,382,146 per month!
Don't you believe me? Here is a screenshot from the data I derived from Ubersuggest:
Cloud hosting handles 112 million monthly traffic of Quora seamlessly! How many times do you see Quora going down? You won't experience that until the Amazon servers go down, or Quora goes into maintenance mode, or there is a natural disaster.
Servers can go down at any time because of forces beyond our control. For instance, a cyclone can disrupt internet services. It can hit a data center. There can be a solar flare causing problems.
You really don't need a VPS hosting if you are looking for scalable server resources only. Cloud hosting is perfectly suitable. If you need to tinker around with server settings, that's a different story altogether. I am not in a position to say anything about it!
I will rest my case here. If you have an alternate opinion, we can spar over it through the comments section! 😀