Streaming services are the television of the future in the truest sense of the word. Rigid broadcast schedules, inflexible devices, and dust collectors such as DVDs and Blu-rays are now almost a thing of the past. Amazon, Netflix, Disney, and Co. now dominate daily film and television entertainment with fast and flexible video streams anytime, anywhere, and on the device of your choice. But which video streaming service is the best?
The market for streaming services and platforms is now very large, diverse, and therefore also not easy to choose from. Therefore, we will look at the best video streaming services of 2022. In this article, you will find all the important information about the roundup winner, Amazon Prime Video, and the other top platforms, including their price overviews, and other valuable tips.
1. Amazon Prime Video
Price: From $7.49/month
Movies/series: 30,000/5,200
UHD quality: Yes
Amazon Prime Video is the video streaming service from internet giant Amazon and our top choice of the best streaming service this year. From being an online bookstore selling books, the mail order company has developed into a universal retailer that offers just about everything. This now includes a wide range of series and films.
In contrast to Netflix, however, there are often many movies outside the mainstream. Amazon Studio's notable productions include romantic comedy "The Big Sick" and Oscar-winning family drama "Manchester by the Sea." However, Amazon seems to be slowly changing this publication strategy: The political drama "The Report" and the adventure drama "The Aeronauts" found their way to viewers in home cinemas pretty quickly.
Amazon also seems to be rethinking its series productions. While the early focus was on quiet and slowly told dramas or thrillers like "Transparent," "Bosch" and "Goliath," they are now stepping on the gas and producing lively comedies like "The Marvelous Mrs. Maisel," space operas like "The Expanse" and spy thrillers like "Deutschland 83", "Deutschland 86" or "Tom Clancy's Jack Ryan" as well as the popular comic adaptation "The Boys."
After the "Game of Thrones" and "The Witcher" successes, Amazon wants to add to the fantasy genre soon and is investing a lot of money in the upcoming "Lord of the Rings" series and in an adaptation of the 14-part fantasy novel series called " The Wheel of Time."
In addition, the provider expanded its broadcasting rights in football. Some Champions League games have been broadcast on Amazon Prime since the 2021/2022 season.
A lot of content, especially newer content, is available on Amazon in HD and UHD quality. You can stream via smart TV, PC, laptop, or smartphone via the in-house Amazon Fire TV Stick.
Why we like Amazon Prime Video
Amazon Prime Video has a huge range of services and is very flexible: the service provider has more than 30,000 movies and 5,000 series.
You'll get what you want here, whether it's the latest blockbuster shortly after the cinema release or a new series to binge-watch. In addition, the Prime subscription does not cost the earth. You pay around 8 dollars monthly for full access to the flat rate offer, including all exclusive and original content.
What makes Amazon Prime Video different from other streaming services?
Amazon's biggest unique selling point is the very comprehensive Prime subscription. Prime customers not only get access to Amazon's VoD offer but also to Amazon Music, Prime Reading, and of course, free premium shipping for ordered items.
Amazon Prime puts together a complete multimedia package with different services. There are hardly any other compared competitors that offer more for the money.
Who is Amazon Prime Video suitable for?
Thanks to the double offer of single access and flat rate, Amazon is suitable for both frequent and occasional streamers. Some are happy about the constantly rotating selection of films and series and the always available original series.
You can also browse the shop for a blockbuster or a beloved classic. Amazon Prime Video is only suitable to a limited extent for families, as the stream is only possible on a maximum of 2 devices simultaneously, whereby the same video may not run on both devices.
Pros
Huge selection of films and series
High-quality Amazon originals
Offline mode
Some classics and films of the mainstream are on offer
No extra costs for the Champions League games
Cons
Complex subscription model
Confusing, not necessarily user-friendly service
Not all content is available in the original version
2. Netflix
Price: from $9.99/month
Movies/series: 3,600/1,500
UHD quality: Yes
Netflix is the forefather of all streaming services. It is one of the longest-running services and the streaming giant has quite a bit to offer. While Netflix used to focus on providing only third-party content, the streaming provider has focused more on its productions since 2013.
It has now developed into a serious player in the series market. Netflix-produced series highlights include the David Fincher-produced series "House of Cards" and "Mindhunter," the animated series "Bojack Horseman," and the comedy series "Sex Education."
Netflix continues to be known for giving its promising writing and directing talent as much creative freedom as possible on its projects.
Meanwhile, Netflix is ​​also represented with numerous productions at the Oscars. Recent hit movies include "The Irishman," "Marriage Story," and "The Two Popes." In addition, hardly any other provider offers a wide range of in-house and third-party productions for adults and children.
The younger audience, in particular, has discovered the cult Netflix Originals, the provider's trademark. You can stream Netflix at the standard rate on all common devices such as PC/laptops, Smart TV, Amazon Fire TV, iOS and Android smartphones, and game consoles. Depending on the price package selected, the quality of the stream ranges from SD to Ultra HD.
Why we like Netflix
Netflix has a lot of high-quality offers (especially for series lovers), a beautiful and user-friendly design, and excellent device coverage. The picture quality is also great since a lot of content on Netflix is ​​already available with 4K resolution (UHD).
These are available in the largest package, "Premium," for around $19.99 per month, in which you can also stream on up to four devices simultaneously.
What makes Netflix different from other streaming services?
Although the rest of the film and series offer is also decent and is constantly being expanded, it is above all the Netflix Originals that distinguish the flat rate portal.
With award-winning series like "House of Cards," "Orange is the New Black," and "Stranger Things," Netflix revolutionized the series market almost single-handedly and had huge successes. Netflix has already produced around 1500 original series and films to date. There is no end in sight to the success story.
Who is Netflix suitable for?
With the third-largest selection of series in comparison (and the largest of all flat-rate providers), Netflix is ​​particularly suitable for series junkies.
They get their money's worth with constantly new feeds and can work their way through many different categories, from action, comedy, and mystery to documentary and reality TV formats to anime series. But film fans can also be happy with Netflix if they don't mind the time of production of the often outdated movies.
Pros
All content available in multiple languages ​​and with multiple subtitles
Large selection of series and films from different countries
Several offers regarding prices and image quality can be selected
Exclusive Series/Netflix Originals
Videos in UHD quality
Access from many devices
Cons
Expensive premium offer
Lack of email support
Too many older films
3. Disney+
Price: From $7.99/month
Movies/series: 1,500/500
UHD quality: Yes
Disney+ (or Disney Plus) is a streaming service from the Walt Disney Company. Launched in November 12, 2019, it's one of the youngest in the current comparison.
A young-at-heart audience, in particular, will get their money's worth here because the Disney+ offer includes many animated films and cartoons, and series from Disney and Pixar. This means that you will be offered both classics and modern productions.
Since Disney has now also acquired Marvel Studio and Lucasfilm, numerous Marvel and Star Wars films and series are also being added. Since the acquisition, the group has been celebrating one cinema success after the other, many of which you can also see on Disney Plus+.
With Disney+ Star, there is now a huge range of adult content too. So there is something suitable for everyone.
The flat rate platform is available on most common devices such as PC or laptops, mobile devices, Smart TVs, streaming sticks, and game consoles. It includes 4K resolution as standard, and you can stream on up to 4 devices simultaneously.
Why we like Disney+
Disney+ combines classic Disney and Pixar content with franchises like Marvel and Star Wars and Star's VoD programming, which features a whole range of other Disney brands.
The mouse company has thus built up a manageable but high-quality range of films and series exclusively from house brands, which should primarily attract fans of the Marvel superheroes or Star Wars and Pirates of the Caribbean. Nostalgics also get their money's worth with classic Disney films.
What makes Disney+ different from other streaming services?
Similar to Netflix, Disney+ relies entirely on in-house productions and exclusive content. The Disney titles collected here cannot be found anywhere else in legal video streaming. New exclusive series from the Star Wars and Marvel franchises (such as recently the celebrated Marvel series "Loki") are intended to bind fans in the long term. In addition, future cinema films from Disney and Co. could also be distributed via the platform or be available earlier exclusively on it.
Who is Disney+ suitable for?
It is clear who Disney Plus wants to target with its offers: fans of classic cartoons and animated films and the big "new" Disney franchises will find a home here with all their favorite movies and series.
Disney+ is particularly interesting for families with children thanks to the stream on multiple devices and the family-friendly content; since February 2021, the content was added to "Star," but adult series fans can also feel addressed by the Disney offer.
Pros
Exclusive Disney, Pixar, Star Wars, and Marvel titles
You can stream on 4 devices simultaneously
Offline function available
Wide variety of adult content through Star integration
Good picture and sound quality
Cons
Few new original series and films so far
No free trial period
4. HBO Max
Price: From $9.99/month
Movies/series: 2,800+/580
UHD quality: Yes
HBO Max offers numerous high-quality shows and movies, many even exclusive. As an extensive HBO media library, the streaming service already has added value, and there is also access to the extensive Warner film archive.
HBO Max, now replacing the previous HBO services, is much more than just an HBO streaming service. The streaming from Warner Bros offers all kinds of classic films and series in addition to the programs from HBO. The name HBO Max was chosen because viewers were already familiar with the HBO brand.
HBO Max currently offers two subscription models. For $14.99 per month, you get access to the streaming service, and you can stream on up to three devices simultaneously and save up to 30 videos as downloads on your mobile devices. In addition, the streams are available in Full HD and 4K UHD.
A cheaper subscription for $9.99 a month removes the download function and videos in UHD, and there are also occasional commercial breaks. Here, the annual subscription costs $69.99.
Like so many streaming services, HBO Max initially offered a free trial, but nothing is given for free anymore. So you have to pay for at least one month to get an impression of HBO Max.
As a Warner Bros. streaming service, HBO Max rarely buys titles from other studios, so the selection is mainly limited to new and old Warner titles. Of course, the almost 100-year production history offers enough films and series to easily supply an entire streaming service, but not every Warner title can be found on HBO Max.
Hours of good entertainment await those interested in current and past HBO series. However, there are hardly any series from other channels, which is why HBO Max is more suitable in this respect as a supplement to Netflix, where there is a large range of HBO-free series.
If Warner Bros. has already passed on the exclusive streaming rights to Netflix, Amazon, or another provider in advance, HBO Max will first have to wait for the existing contracts to expire. So maybe one day, the entire Warner program will be on HBO Max, but the titles currently come and go without any visible logic.
Why we like HBO Max
The protection of minors from HBO Max is convincing. As soon as you create a child profile, HBO Max will ask you for the young user's birthday to adapt the program accordingly. You can also determine that a pin must be entered before switching from the child profile to the adult profile.
Regardless of the child's age, you can decide which age ratings are acceptable for your child. Your son is 10 years old, but should only see titles for viewers over 17? This works out! Of course, you can also ensure that your 16-year-old daughter can only see films and series from the age of 0. You are in control, and that is commendable.
As with most other streaming services, the navigation of HBO Max has been designed to be self-explanatory. The home page provides an overview of what is on offer and lists new products and other recommendations by category. Here you will also find your watch list and a list of titles you have started so you can quickly continue.
In the navigation, you can choose between the areas "Series," "Movies," "Originals," "Newly Added," "Last Chance," and "Preview." You will also find various genres here. The ability to sort films and series alphabetically ensures you won't miss a title when browsing the range.
Who is HBO Max suitable for?
Movie fans will certainly get their money's worth with HBO Max. New Warner productions appear on HBO Max just a few months after their theatrical release. For example, you can find the "Superman" and "Batman" films here, but also "Citizen Kane." The program catalog not only focuses on current titles but goes back to the 1930s.
Here you will find titles that cineastes sorely miss in the Netflix or Amazon Prime Video programs. That is the advantage of streaming services with their film studio behind them. Already at Disney+, users were able to enjoy numerous classics. HBO Max offers a good mix of mainstream and film history that only a few services provide and offers something suitable for every user.
The HBO program predominates in the series area. As a complete station archive, you will find series classics such as "The Sopranos," "Oz," "The Wire," or " Sex and the City. "Of course, newer titles such as " Westworld " or " Barry " are also available and are available as streams immediately after they have been broadcast in the linear HBO program.
Pros
Access to the complete HBO archive
Versatile film selection
Download function available at no extra charge
Cons
High monthly price
More like a supplement to Netflix
5. Hulu
Price: From $6.99/month
Movies/series: 2,500+/1650
UHD quality: Yes
Hulu is already an old hand in the US. The streaming service once started as a free media library for several broadcasters; later a paid subscription was added with Hulu Plus.
All Hulu users now have to pay, but not only do they get access to a gigantic series archive, but also to shows, films, and in-house productions. Since the Fox acquisition, Disney has owned Hulu, which is why the streaming service is bundled with Disney+ in the US and has become home to all productions that are too "grown up" for Disney+.
In general, the streaming service offers three different subscription models. Simply referred to as "Hulu," the subscription model lets you access all of the service's content for $6.99 a month.
However, the series and films are interrupted by short advertising blocks. For the "Hulu (No Ads)" package, you pay $12.99 and, with a few exceptions, have no ad breaks. You can also choose the "Hulu + Live TV" model, which allows you to access US television stations. However, at $75.99 a month, it's asking a hefty sum.
Why we like Hulu
Hulu gives new users their first month free. This applies to both "Hulu" and "Hulu (No Ads)," which is why it makes sense here to choose the ad-free offer. If you want to continue using Hulu, you can easily change the subscription model in the settings. If you're going to try out the subscription, including Live TV, you only have one week to do so.
If you want to watch a series directly after the US broadcast, you can't avoid a Hulu subscription. The program from channels like ABC or FOX can be found on the Hulu offer through Disney, but various series from channels like NBC or CBS are also available on Hulu.
Meanwhile, Hulu also has an impressive arsenal of in-house productions. Above all, of course, " The Handmaid's Tale, "the dramatic dystopia, has earned Hulu several Emmys and Golden Globes. Other Hulu Originals include "Castle Rock," "High Fidelity," "Pen 15," and "Normal People."
Who is Hulu suitable for?
The Hulu streaming service is for Americans and less for people outside the US without a VPN service. Hulu is a great option for watching live TV and streaming new and classic shows on every platform.
The streaming service Hulu offers a large selection of new and old films and TV series. The offer can only be used in the US, but you can access this service using some detours. The price is fair if you choose the cheapest subscription, but without ads and with add-ons, Hulu costs a bit much. For series fans who live with advertising and can do without HBO, Hulu is a worthwhile paradise.
Pros
Current series offer
Lots of American shows
In-house productions
Great image quality
Cons
Access outside of the USA cumbersome
Poor sound quality
Downloads are not possible with the lower subscription
Useless protection of minors
6. YouTube Movies & Shows
Price: from $2.99/video
Flat rate: No
Movies/series: 14,100/2,400
UHD quality: Yes
It has been known for a long time that Google offers films and series on demand via the Google Play Store; However, the fact that the same offer is also available on the video platform YouTube is not much known. But this service can be accessed on YouTube.com/movies.
The video streaming offer is hidden here but still has a large selection. The stream works on almost all devices (on some even in 4K resolution). The well-known YouTube player is used.
Why we like YouTube
Among our list of the best video streaming services of 2022, YouTube (after Amazon) has the second largest range of films and series you can stream individually.
Of particular interest are current films and blockbusters, which are increasingly available on YouTube 3 to 4 months after their cinema debut. This means that YouTube is in no way inferior to Amazon's single-access offering. YouTube only has to work on equipping the content with different language tracks and subtitles. There is a need to catch up here.
What makes YouTube different from other streaming services?
YouTube is not primarily known as a streaming service but as a platform for user-generated videos. With the "Movies & Shows" channel and the VoD content from the Google Play Store, Google is pursuing the strategy of bundling all video content on a single platform. This is an exciting idea, especially for users who are often on the go on YouTube anyway. Making things even easier is that all you need to stream is a PayPal account.
Who is YouTube suitable for?
The video streaming offer from YouTube know as Youtube TV is particularly suitable for occasional streamers: inside or those who would like to enjoy current blockbusters very early in VoD.
As a purely single-access portal, YouTube has no flat-rate offer; instead, you pay for each film and series episode or season individually. Fans of the platform are in good hands here thanks to the familiar look and feel and can switch between paid VoD content and free user-generated videos at will.
Pros
Large range of films and series
UHD and 5.1 surround sound
Large device coverage
Cons
Weaknesses in user guidance
Not across the board in the original sound
7. Rakuten TV
Price: From $4.99 a month
Films/series: 7,600/200
UHD quality: Yes
Rakuten TV is the video streaming service of the Japanese Rakuten Group. The platform offers a mix of films and series on demand, a free program with advertising, and two flat-rate models, each with a different concept.
You can stream Rakuten TV on your Smart TV and PC, and mobile devices. UHD quality is already available for individual films and series.
Why do we like Rakuten TV?
Rakuten TV's single-view offer is not as huge as that of YouTube or Amazon, but we like it because it is up-to-date. The films and series on demand are constantly changing and are often available on Rakuten just a few weeks after the cinema.
There is also an advertising-financed free offer consisting of B-Movies, some older and less well-known films and series (also for children), and various documentaries.
What makes Rakuten TV different from other streaming services?
In addition to single access, Rakuten TV offers not just one but two flat rate offers. With its partner "Filmtastic," Rakuten sells a series of hand-picked films from the 90s and noughties, which often include real classics and gems, for around 4 euros per month.
In addition, there is the "Starzplay" subscription for about 5 euros per month with films and series from Lionsgate Studios and the US broadcaster Starz, including "Spartacus," "The Tudors," and "Mad Men."
Who is Rakuten TV suitable for?
Rakuten TV is pretty much the most flexible streaming service in the current comparison. With the combination of current blockbusters on demand, classics in "Filmtastic," mainstream series and films in "Starzplay," and the free offer, Rakuten TV actually has something for everyone.
Except that the range of series could be larger. Single-access competitors like Amazon and YouTube and even flat-rate portals like Netflix have much more to offer.
Pros
Current blockbusters available
UHD and 5.1 sound
Registration via app and Smart TV
Cons
Incomplete offer
Poor protection of minors
8. Apple TV+
Price: from $4.99/month
Movies/series: 105+/50
UHD quality: Yes
With Apple TV Plus, the tech giant is trying its hand at the streaming market. Apple launched its streaming service at the end of 2019, the same period when Disney+ launched. While iTunes and Apple TV offer films and series to buy and rent, Apple TV+ relies on in-house productions and a subscription whose low price initially makes you prick up your ears.
However, the offer of the still young platform is very limited at the moment. Apple focuses primarily on in-house productions. Everything about series and films that goes beyond that, you have to buy or rent.
Highlights include the sci-fi series For all Mankind by Battlestar Galactica and Star Trek author Ronald D. Moore, the biopic series Dickinson, the star-studded journalist drama The Morning Show, the fantasy Series "See" and the mystery series "Servant" from The Sixth Sense director M. Night Shyamalan.
Why we like Apple TV+
The Apple TV+ streaming service offers prominently cast in-house productions in the best picture and sound quality for just five euros a month.
Many streaming services have said goodbye to free trials, but with Apple TV+, you can still stream for 7 days free. You can secure a longer free trial period with Apple TV+ if you buy a new Apple device. You can then use the streaming service for three months at no extra charge. Until mid-2021, Apple TV + was even more generous and gave a whole year out.
Who is Apple TV Plus suitable for?
Apple TV Plus is ideal for streamers looking for a low-budget service with a free trial. Three years after the start of the streaming service, Apple TV Plus has more than 105 titles. It is a mix of dramas, comedies, children's programs, documentaries, and specials. Every new subscriber should have enough to do with that, but the amount of content is, of course, still far behind what Netflix and Co.
But new series are released weekly on Apple TV+, with a new season usually starting with two or three episodes.
Pros
Excellent picture and sound quality
Low price
A large archive of movies and series
In-house productions, all of high quality
Cons
Not many movies and shows on offer
apps for Android and Windows
No classic films and series
9. Paramount Plus
Price: from $9.99/month
Movies/series: 2500/30,000
UHD quality: Yes
Paramount Plus is a streaming service offered by Paramount — an American media company that manages various entertainment-oriented content.
The platform offers a complete program with thousands of options for movies and series that attract many viewers. There are original productions from the brand, as well as comedy shows, music shows, reality shows, etc.
The Paramount Plus title catalog offers very diverse options for the general public, bringing together an offer of exclusive films, programs, and series, in addition to great movie classics. You can find content from various national and international brands, such as Showtime, MTV, Nickelodeon Comedy Central, and others.
Some channels in the Paramount Plus catalog are famous for producing great hit series. With original productions and others purchased for exhibition, the series catalog brings interesting titles such as Halo, Dexter, The Office, The Handmaid's Tale, Ray Donovan, and Yellowjackets.
If you doubt whether this is the best option to complement your range of entertainment options, know that it is possible to evaluate the program for 7 days, free of charge.
Why we like Paramount Plus
One positive point of the Paramount Plus streaming option is the exclusive and original productions. Some are still in production, and scheduled to debut this year. But you can also find different content that are already on display.
If you decide to become a Paramount Plus subscriber, you can enjoy benefits such as diversity in programming and simultaneous streaming.
Paramount Plus has a catalog that offers original movies and series, TV shows, movie classics, children's cartoons, and other options that can entertain the subscriber all day.
As a Paramount Plus subscriber, you will be able to play simultaneously on up to 3 different devices, and you can access your account on any device. If you change your cell phone, tablet or computer, just log in with your registered data.
Who is Paramount Plus suitable for?
If you're one of those who love having fun with comedy shows, you'll surely be pleased to know that some Comedy Central shows are available in the Paramount Plus catalog.
Although there is no extensive programming on the channel, the titles available are very exciting for fans of humorous programs.
Another theme that is successful on streaming platforms is Reality Shows. With them, it is possible to vibrate, get emotional and cheer for your favorite participant. If this is your thing, you can find series like Catfish, Rupaul's Drag Race, and more.
There are also film titles with themes of action, romance, horror, comedy, and many others. Some of the most popular are Infinite, Without Remorse, The Tomorrow War, Chicago's OS 7, Jackass: Forever, and more.
Great award-winning and Oscar-winning classics are available on Paramount Plus, and you can watch them for the first or tenth time.
Children's productions are also included in the selection of Paramount Plus titles. Thinking about entertaining adults and children, a partnership was signed with Nick JR. This large cartoon producer makes some of its classics available on the platform, such as PAW Patrol and Dora The Explorer.
In addition to these, you can also check out other options for children's animation and teen series.
Pros
With Paramount Plus, there is entertainment for the whole family and of any age
Free trial of seven days
More than 30,000 hours of video content
Cons
Not enough compelling original content
10. FuboTV
Price: from $69.99/month
Movies/series: 4,800+/1900
UHD quality: Yes
FuboTV is a fairly popular and quality live-streaming video service. Initially, only soccer content was broadcast, but over time it changed and incorporated more content. Now it is a streaming TV service.
Although the main objective of fuboTV is to provide quality content to football fans, it is not the only thing it offers. They currently have a lot of programming that can interest the whole family.
In 2018, a contract with Turner was signed, and contents from the channel have been transmitted. Also, in 2019 a deal was made for streaming Viacom content. On fuboTV, you can find news content, training, NBA games, MLB games, and seasonal games.
One great thing about fuboTV is that it includes local channels, allowing you to access various programming depending on your location. And what makes fuboTV stand out from other platforms is that they have more advanced technology that will enable you to enjoy the content without interruption.
The fuboTV free trial period only applies to new users who register on the platform. These will be given a free trial time to familiarize themselves with fuboTV.
For the free trial time to be valid, a credit or debit card must be provided to which the charge is made once the trial period ends. The trial period established by fuboTV is 7 days, and your first payment will be executed only when the trial ends and not before.
The renewal process is quite precise. If you registered on July 2 at 3:00, the trial period would end on July 9 at 3:00, which is when the charge will be made. If you do not want to pay the subscription, you can cancel the trial before the 7 days stipulated, and there will be no charge on your card.
Why we like fuboTV
First, we like that fuboTV is compatible with several popular streaming devices. Among the options you have are Fire TV devices, Apple TV, Apple TV 4k, Google Chromecast, and Roku streaming sticks.
Any smart TV that can incorporate the function of Roku, Amazon Fire, and Chromecast with HDMI input will be able to stream FuboTV content. Also, all Android TV devices are supported.
If you want to see the content of fuboTV from your computer, you can also do it without problems. This platform works perfectly in any browser, but the most recommended is Google Chrome.
You will also see everything fuboTV has available on Android devices, such as phones and tablets with operating system 5.0 or higher. It is compatible with iPhone 5 and above, iPad, iPad Pro, Ipad Air or above, iPad 4th gen or above, iPad Mini 2 or above, iPod Touch Gen 6 or above, and iOS v10.0 or below.
It is also compatible with Samsung Smart TVs manufactured from 2015 to now. And it can also be streamed on Xbox One, Xbox One S, and Xbox One X.
The fuboTV platform has excellent features that will make it much easier for you to use, such as CloudDVR. Cloud DVR is one of the best additions fuboTV has ever made. This feature will allow you to record content so you can watch it later. In case you want to have the basic package that is included with the purchase of the subscription, you can store up to 30 hours of content. If you're going to store more content for viewing, you can purchase the additional package per month, which gives you 500 hours of recording for just $9.99.
You will be able to watch the DVR content from iOS devices such as iPhone and iPad, and you will get it with "My fubo" you will also be able to watch the content from the computer browser, Roku, Android Mobile, Android TV, Amazon Fire TV, Apple TV (4th and 5th generation) and you will find it as "Recordings."
When it comes to streaming live content, sometimes we can be a little late to see the game you've been waiting so long to watch. If this has happened to you, this is not a problem on fuboTV. This is because it has the StartOver function that allows you to return to the beginning of the transmission that you have been recording to enjoy the entire game.
Who is fuboTV suitable for?
If you want to enjoy the most important football matches this season, it is best to get a live streaming service like fuboTV. Having fuboTV is one of the easiest ways to get access to all the best live football content of each season and also general entertainment. It has excellent offers, different packages, and plenty of entertainment. In addition, the content they offer is 4K High Dynamic Range so that you can see everything with the best quality.
Without a doubt, fubo TV is one of the best streaming platforms currently available. If you are 100% a fan of soccer content and also want to be entertained, this is a good option. Especially since new and more entertaining alternatives have been added and the display quality is much better.
You have to consider the price, which can be a bit high. Otherwise, it is one of the best alternatives that you can consider to be able to watch football and have fun with your family.
Pros
Great for live streamers
Complete content for football fans
Compatible with a lot of streaming devices
Cons
11. Philo TV
Price: from $25/month
Movies: 60,000 from 60 channels
UHD quality: No
Philo TV is a live TV streaming service that gives you access to over 60 live channels. It provides a low-cost alternative to other streaming services like Hulu Plus live TV, Youtube TV, and fubo.
If you're a cord cutter on a budget, Philo provides a low-cost way to keep many of the same channels you'd get with a cable subscription.
The monthly price for Philo has gone up from 20 dollars a month to 25 dollars a month. But you still get a free seven-day trial when you sign up. But even with this price hike, Philo offers one of the best value for what you're getting.
You have to note that their competitors' pricing has gone up too. Hulu Plus live tv, fuboTV, and DirecTV stream are all now $69.99 per month after any trial periods or sign-up discounts. Youtube TV is now $64.99 per month, Vidgo is $59.95, and Sling TV's plans start at $35 a month.
Why we like fuboTV?
If you want access to live sports or the expansive on-demand access that you get with Hulu Plus live tv and the Disney bundle, then you should go with one of those other options. But we understand and appreciate that not everyone has 70 dollars a month to put down on these live TV streaming services, particularly if you're signed up for other things like HBO Max, Netflix, or Hulu.
That's why we consider Philo TV the best live TV streaming service if you're on a budget.
Philo has expanded their channel lineup. What we like about Philo is it's straightforward. There's one simple package with one simple price when you get Philo TV. Philo is very focused on entertainment channels.
Who is Philo TV suitable for?
Philo is great for movie buffs. There are 60,000-plus movies on offer. You'll get access to some of the big shows on cable, like Yellowstone and the Walking Dead, way before they come to other streaming services like Paramount Plus or Discovery Plus, or Peacock.
So whether it's scripted shows like Yellowstone, reality shows like 90-day Fiance, or Rupaul's Drag Race, you'll find plenty to watch through Philo TV. And again, everything is under one roof. You don't have to subscribe to a bunch of different streaming services. All 60 plus channels are there whether you want to watch it live or watch their shows and movies on demand.
As for their channel lineup, you'll get AMC Networks. This is something you won't get on Hulu. These include AMC, BBC America, We TV, and Sundance TV. You get channels from A + E Networks. This is something you won't find on Youtube tv. You get the Hallmark channel, its sister channels Hallmark Movies and Mysteries, and Hallmark drama. You get channels from Discovery Networks, including TLC, Food Network, Discovery ID, Animal Planet, and more. There's Paramount Networks, including the Comedy Central, Nickelodeon, and more. There's channels they've added over the past year that include the GAC channels. One interesting thing they've recently done is partner with a company called Kin. They've started developing original content that you only get with Philo TV.
If you're into sports, it's probably not going to meet your needs. Also, when it comes to cable news, they do have Bbc World News, Cheddar News, and Bloomberg. Still, Philo TV will primarily focus on movies, drama, shows, sitcoms reality, and other live events like the MTV Movie and TV Awards.
Pros
On-demand selection of over 60 000 movies
Offers up to 60 channels
Unlimited cloud DVR storage
One of the cheapest video live-streaming services
Cons
It has no 4K UHD quality
Not an option for those who like sports and news content
12. Crunchyroll
Price: from $7.99/month
Series: 1,000+
UHD quality: No
Crunchyroll is an anime watching app for Android, iPhone ( iOS ), and smart TVs via Chromecast. The streaming service has a catalog with more than 1,000 Japanese drawings, manga, and dramas. Crunchyroll has Premium and free versions to watch dubbed or subtitled anime – in the latter case, the episode can be made available within an hour of its release in Japan.
Popular anime like My Hero Academia, Naruto Shippuuden, Hunter X Hunter, Fairy Tail, JoJo's Bizarre Adventure, One Piece, Boruto, and more are available in the Crunchyroll catalog. You can test the Premium version for free for 14 days.
Crunchyroll is known as the " Netflix of anime". Like the famous American streaming service, it is necessary to create an account with an email and password to access the anime-watching application. You can access the video platform for free or with a paid subscription (Premium Plan). The second option offers unlimited content, up to 1080p (HD) quality on the mobile screen, and is ad-free starting from $7.99 per month. The free version has limitations, such as 480p resolution, advertising during the episode, and limited access to the catalog.
Crunchyroll offers a 14-day free trial period for the Premium account for 14 days free, but you need to add your credit card details. If the subscription is not canceled within these days, the service is billed for future usage.
The Crunchyroll app allows you to read manga and watch anime and drama episodes with subtitles. In addition, the application has a list tool for the user to organize their favorite anime. Crunchyroll content is licensed and legal.
It offers over 1,000 titles, around 25,000 episodes, and 15,000 hours of the most popular and recent anime. Black Clover, Attack on Titan, Demon Slayer: Kimetsu no Yaiba, Mob Psycho 100, Food Wars! Shokugeki no Soma and JoJo's Bizarre Adventure are also part of the productions present in the streaming.
You can access Crunchyroll on various platforms, such as Android and iPhone mobile, consoles, and computers. The company partners with anime producers to keep the catalog updated and bring more content to recent users. The episodes came out in other regions already subtitled about an hour after the release in Japan.
Why we like Crunchyroll?
Crunchyroll makes it easy to watch your favorite anime in high quality on mobile. The free service is a great option for those who want to see the drawings legally and cannot pay for the service. The Premium version allows users to contribute to productions and be a direct funder of the content they like to watch.
One of the weaknesses pointed out by users in the comments of the Play Store is that the loading of videos takes time and episodes often freeze during playback. Therefore, it is necessary to have quality Internet to follow the productions.
Unlike competing platforms like Netflix and Prime Video, Crunchyroll makes manga available and is not restricted to streaming videos. On the other hand, rivals have a greater variety of content with a large catalog of drawings, films, and series of various genres and ages.
Regarding anime, both have well-known Japanese drawings and the genre's classics. Crunchyroll makes recent episodes and more content available faster. However, Netflix has more exclusive productions. Amazon Prime Video offers around 80 animes to its customers, such as the well-known Banana Fish and Dororo.
Who is Crunchyroll suitable for?
The platform is a good portal to meet new anime and people in chats and discussion forums about anime and manga. This makes the service a community of fans of Japanese culture — or otakus, as they are called.
Crunchyroll still holds giveaways on its social media. Something exclusive to the platform is the Anime Awards, a ceremony in which users vote for their favorite anime. The awards are online and presented annually by the Crunchyroll team.
Pros
Great for kids or anime content fans
Longer free trial of up to two weeks
You can read hundreds of chapters of manga content
Cons
Ads in videos for the free version
13. Funimation
Price: from $5.99/month
Movies/series: 600+/1,000+
UHD quality: Yes
Funimation is a streaming service specifically focused on anime, which offers, in addition to TV animations, feature films. Available in 47 countries around the world, the platform is operated by Sony and Aniplex, which is responsible for the distribution and production of anime. The platform is available as an Android and iOS app.
Funimation works similarly to the most popular platforms in the industry, such as Netflix. By accessing the site, the user can log in and create an account with an e-mail and password. From there, it will be possible to use the platform and watch some titles from the catalog — the service has a 14 days free plan, but it is more limited.
Without the paid plans, the site will show ads during the airing of the episodes, and some titles will not have dubs in other languages. The service's interface has a few ranks that classify anime into divisions with exclusive Funimation content, in addition to trending or recently dubbed titles.
Why we like Fumination?
Fumination is an anime streaming service that's not as pricier as others in its category. In addition to the free option, Funimation has two types of premium plans: one monthly and one annual. The first costs $5.99 per month and $72 for 12 months. The Premium Plus plan is available for $7.99 per month and $96.99 annually.
The Premium Plus plan allows the user to watch anime without ads, with the complete catalog of more than 200 series and movies and the availability of newly dubbed episodes. In addition, the subscription allows five simultaneous transmissions on the same account.
One of its main competitors is Crunchyroll, whose premium service starts at $7.99. But this is already more consolidated in the anime content service. On the other hand, the service happens to be something of a partner of Funimation since Sony bought Crunchyroll in December 2020.
Among the most popular services vying with Funimation in the anime streaming business, Netflix is ​​probably the best known. Even if it is not focused on the genre, the platform has a growing number of anime in its catalog, in addition to the company's original productions.
Another streaming giant, Amazon Prime Video, also has anime on its service and has heavy titles such as Pokémon and InuYasha. Among platforms focused exclusively on distributing anime, Funimation competes with Hidive and Viewster — the latter being free.­
Who is Fumination suitable for?
Fumination is suitable for anime lovers. In all, it has more than 600 titles between television animations and movies, which add up to thousands of hours of anime on the platform.
To watch anime content, it is possible to consult, on the website, the catalog in alphabetical order or among the 13 genres: Action/Adventure, Comedy, Drama, Fan Service, Fantasy, Horror, Live Action, Psychological, Romance, Sci-Fi, Shoujo, Shounen and Slice of Life. You can also filter by rating or search for the most popular anime, which appear in descending order.
Among the titles available on streaming, Funimation has hit exclusives, such as Assassination Classroom, and some of the most popular anime of recent years, such as My Hero Academia, Attack on Titan, Tokyo Ghoul, Fairy Tail, and Sword Art Online. In addition, older fans can also find some older anime, such as Cowboy Bebop.
Pros
Affordable service for anime fans
Extensive anime content library
Has some originals
You can make offline downloads
Cons
There are not a lot of subtitle options
14. ESPN Plus
Price: from $10/month
Movies/series: 50,000+ titles and sports events
UHD quality: Yes
ESPN Plus is a premium subscription service from ESPN. Yes, it is an additional cost to the ESPN family networks, but you get a lot now. First, if you are interested in ESPN Plus or just wondering how much it costs, it's now $10 per month or $100 for the year.
If you don't know, ESPN is owned by Disney. That includes Disney Plus, ESPN Plus, and Hulu. You can get ESPN Plus on every device, from your web browser to Roku, Android TV, XBOX, PS5, and more. You will get a lot of live sports, several specials, great documentaries, and more.
In addition to the myriad of live sports, when you narrow it down, there are combat sports, a ton of boxing, and mixed martial arts.
With ESPN Plus, you will get PFL and UFC content. You can also access the archives for the professional fighters league for the UFC. There are a lot of classic fights. Several pay-per-views are already available. And the nice thing is while you can't go back to the entire pay-per-view archive, when they are on ESPN Plus pay-per-view, they end up on the service within two weeks to a month which is great.
It's like HBO, where they used to air HBO boxing pay-per-views, and then a week or two later, it'd be available for HBO subscribers non-pay-per-view viewers. You also get the ultimate fighter. They also have other shows, including Dana White's contender series, which is usually entertaining.
They have a number of specials now if you're somebody that's not a combat sports fan. If you don't care about boxing, UFC, or PFL, you have the likes of the UEFA European Championship, Wimbledon, baseball games, and a number of other live sports.
They categorize everything from basketball to MMA, football, soccer, baseball, tennis, auto racing, golf, ice hockey, boxing, cricket, rugby, track and field, softball, volleyball, field hockey, and even eSports.
For football fans out there, there is no exclusive NFL live game content for ESPN Plus. So if you're looking for live games, you're probably going to stick with a Sunday ticket NFL game pass or NFL Red Zone. But there are featured leagues like UFC, UEFA, Wimbledon, NHL, MLS, PGA, FIBA, and the list goes.
They have everything broken down by different conferences as well. ESPN Plus has full playoff replays for NHL as part of their new NHL deal, which is cool.
They have content for non-combat sports fans as well, including the up-close quest for the Stanley Cup, which was originally hosted by the late great Kobe Bryant. There is the epic ESPN 30 for 30 specials which are some amazing sports documentaries. Some of them are a hit or miss for sure, but we'd say 80 percent of them are awesome. There have been so many great documentaries over the decade.
Why we like ESPN Plus
The great thing I like about ESPN Plus is the UFC content aired on the platform. There's almost a UFC every weekend. And if there's not a UFC, there's an ultimate fighter. And if there's not an ultimate fighter, there's Dana White's Contender Series or a pay-per-view archive that's uploaded.
They crank out a lot of content as an entity, so if you're a UFC or an MMA fan, ESPN Plus is worth the price of UFC alone, even without the pay-per-views.
Who is ESPN Plus suitable for?
ESPN Plus is ideal for people who want to access exclusive live events and original studio shows that are not found on ESPN networks. It's a good service for sports fans.
If you're a combat sports fan, you won't get the pay-per-views. That is the one drawback with ESPN Plus compared to Peacock, for example. If you're a WWE fan or a zone subscriber with the Canelo and Triple G fights and all the other boxing that they air, you do still have to pay extra.
Pros
Has a lot of live-streaming content
Great for sports fans
A lot of original sports shows
On-demand library
Cons
No access to live NBA or NFL games
15. Showtime
Price: from $10.99/month
Movies/series: 500+/50
UHD quality: Yes
Showtime has been putting out consistently good shows, and we think they're having a bit of a renaissance. So they're worth being included in this list of the best video streaming services.
There was a period before Netflix took off in the late 2000s or early 2010s when Showtime was one of those television outlets you wanted to watch. What we've noticed with Showtime over the past several months is it seems like they are amping up their game when it comes to new content. And they have produced consistently good shows.
So, what is on Showtime? We'll go through some of the big shows that have come out over the past couple of months. At the end of last year, they came out with a reboot of Dexter called Dexter New Blood. This was intended as a mini-series. The series that premiered around that time which we're super fond is the Yellow Jackets. If you like to look back in the day, you'll probably like the Yellow Jackets. Its sort of Lost meets Lord of the Flies but with a mostly female cast.
Other shows that have come out have been super pumped, from The Battle for Uber to The Man Who Fell to Earth, a sci-fi series, and The First Lady. The First Lady is an anthology – a series that talks about different first ladies, including Michelle Obama, Betty Ford, and Eleanor Roosevelt.
Showtime streaming service focuses on some kinds of smaller indie art house films. They have a contract with A24. So a bunch of A24's content is on here. They're a kind of cult favorite.
The standard subscription for show time includes a 30-day free trial. This gives you plenty of time if you want to check out a show or two. After that, you can either do a monthly or yearly subscription. The regular full price is either $10.99 a month or 99 for the year. However, they have different sales and promotions they do throughout the year. They have a promotion where you get 30 days free, and then you can get four separate months for $3.99.
Why we like Showtime
There are three ways to get Showtime: a cable, a satellite, or an over-the-air subscription. If you subscribe to certain streaming services like YouTube TV and Hulu, or you use the Roku channel, you can add Showtime as an add-on streaming service within those hubs. And this allows you to watch Showtime content with your other streaming services.
We also like their standalone streaming service. You don't need cable or anything else. It is all through either the Showtime app or at Showtime.com. When you look up Showtime in the app store, you will pull up both the Showtime Anytime app and the regular Showtime app. Showtime Anytime again is for people that have a cable subscription or satellite. The Showtime app is going to be for people that have a standalone Showtime subscription. The content through both apps is virtually the same. It's just they have to set it up differently because of the way cable providers work with their different contracts.
Who is Showtime suitable for?
A big driver for why people subscribe to Showtime is for sports specifically. They have a great deal of mixed martial arts and boxing contents. They have fights that are both live and on demand.
They also host some pay-per-view matches, but you do have to pay extra to watch those. And besides that, they have sports-related series and documentaries that mostly focus on boxing. When it comes to kids and family content, Showtime is very limited. It's just primarily a streaming service for adults.
Pros
A lot of popular movies and shows
You can make an offline download
You can subscribe as an add-on to other services like Hulu
Cons
The library is not extensive enough
A bit expensive compared to other services
16. Peacock TV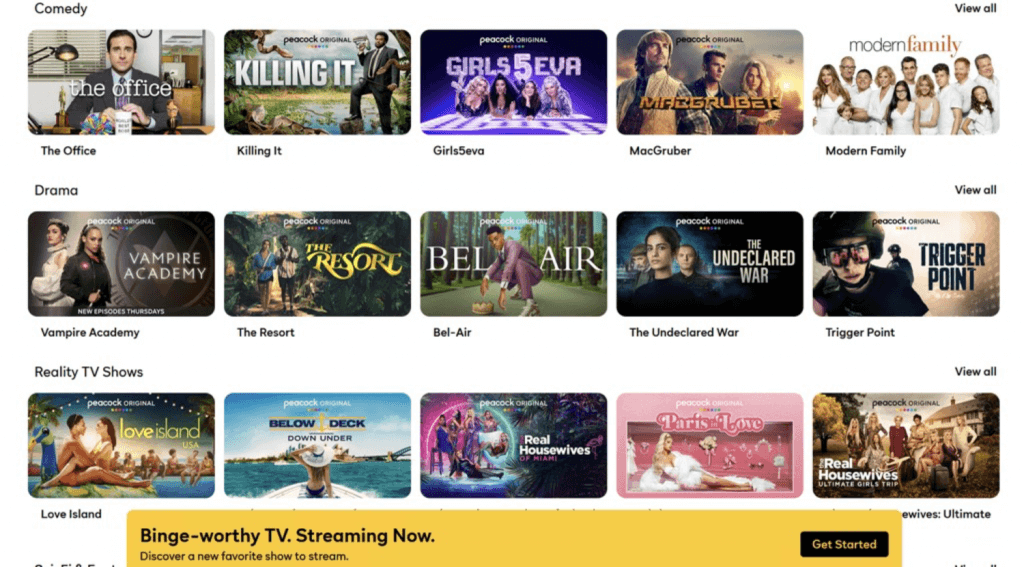 Price: from $4.99/month
Movies/shows: 910/345
UHD quality: Yes
Joining HBO Max as the 3rd major streaming service to launch in 2020, Peacock enters the great streaming war with over 20,000 hours of movies and TV shows to binge.
Peacock from the US media group Comcast is just at the start. However, like other streaming services, Peacock now has its app. The cheapest option to watch Peacock is currently for 4.99 dollars per month with ads. The next offer is on 9.99 dollars a month with no ads. However, the offer can then also be used on other devices, including, for example, Amazon's Fire TV and Android tablets.
Operation and navigation are identical to those of Sky Ticket or Sky Q, and the service is also available on all platforms where the Sky apps are available. Series and films are displayed to users directly on the start page under Highlights. You can also switch to the complete overview of all Peacock content offered. But this is exactly where we see the main sticking point.
The offer is simply too poor and consists only of series and films, most of which were already running on linear free TV. Apart from that, Peacock only offers a few originals, such as the series "Rutherford Falls," which, in our opinion, isn't exactly on the level of HBO productions either.
Currently, the service seems pretty immature and should certainly not persuade subscribers to pay extra for the offer or to attract new customers. The catalog would have to be massively expanded for this. However, that is rather unimaginable. With the content of the Comcast subsidiary NBCUniversal, and explicitly from Universal Studios, it would hardly be possible to create a comparably attractive catalog, as is possible with Disney, for example. As is well known, the Mickey Mouse group can also access content from 20th Century Studios, Marvel, Lucasfilm, and Pixar.
Why we like Peacock TV
We like that Peacock bundles many NBC shows, including original series, popular movies, and some live sports. For new users, Peacock TV offers a free trial of 7 days. We also like the low pricing.
Who is Peacock TV suitable for?
We wouldn't recommend a subscription for Peacock alone unless you're interested in Sky content anyway. For example, fans of the HBO series cannot (yet) avoid Sky.
Pros
The Peacock Premium is worth the money
Lots of content, even on the free plan
It's one of the most affordable on the streaming market
Cons
Peacock doesn't support multiple users
No offline viewing
FAQs
Which are the best streaming platforms?
Some of the best streaming services include Amazon Prime Video, Netflix, Disney+, YouTube, Hulu, and fuboTV, followed by Rakuten TV and Apple TV Plus. These streaming services have a solid selection of films and series, good transmission and picture quality and a fair price-performance ratio. But not all of these streaming services are suitable for everything and everyone. The review highlights who each platform is ideal for.
Which streaming service has the most/best movies?
When it comes to movies, Amazon Prime Video, iTunes, YouTube, and Google Play all come out on top. The absolute leader here is Amazon, with over 30,000 films available; around 4,200 of them are in the prime flat rate. There is something here from all genres and for every taste. The Amazon offer is so large that it is unlikely to find a film on any other VoD platform that is not also available on Amazon Prime Video.
Which streaming service has the most/best series?
The single-view providers Amazon Prime Video, iTunes, YouTube, and Google Play, as well as the flat-rate provider Netflix, have most of the series in comparison. In the series segment, too, Amazon offers the largest selection with around 5,000 series (of which around 1,000 in the flat rate).

But watch out: Especially with series, the rule of thumb is that a large selection is not everything. Firstly, streaming series is relatively expensive with single-demand providers. Secondly, even if you regularly need a new series feed, you are better off with a flat-rate provider like Netflix, as they regularly come up with new exclusive series and originals.
Which Streaming Service Has the Best Originals?
Netflix offers the largest selection of original and exclusive content of any streaming service. More and more streaming services no longer just want to sell content; they want to produce it themselves. The resulting originals are often what makes the decision between one or the other flat rate platform. In our review, the best and most well-known originals are Netflix and Amazon Prime Video. However, Disney+ also follows suit with original series from the Marvel or Star Wars franchises. Apple is also busy producing its own original series.
Conclusion
All of the featured streaming services have their pros and cons. They address different user groups and have completely different priorities: series junkies will be busy for months due to the enormous savings through the subscription model and great original productions with Amazon Prime Video.
However, Netflix is a great option for those interested in Originals. What distinguishes many streaming services (especially in the flat rate segment) is the originals they offer, i.e., exclusive in-house productions that are only available from this special provider. Originally set in motion by Netflix, the trend towards in-house production has now spread. Many platforms today want to distinguish themselves through the quality of their originals and also want to retain users in the long term.